This article is a contribution by Houston Golden, Founder and CEO of BAMF Media.
---
If you're not using LinkedIn for B2B lead generation, you're missing out.
LinkedIn is the largest professional social media network in the world, and although it's best known for hiring, it's a gigantic market that you can tap for leads.
In this article, let's talk about the basics of LinkedIn B2B lead generation and the techniques that you can use to start hacking your growth and scoring leads.
Let's begin.
Why Should You Trust Me?
My name is Houston Golden, I'm the founder and CEO of BAMF Media, a digital marketing group that specializes in growth hacking, LinkedIn optimization, and lead generation. I've worked with Fortune 500 companies and growing start-ups.
All the methods we use are data-driven, tested in-house, and are constantly tweaked for all our clients. We've been doing this for years and we've generated millions of dollars of revenue for our clients.
Why We Like LinkedIn
Think about it.
Everyone that you know in a professional capacity is on LinkedIn.
This means it's not just people from the workplace that are on there, but professionals from every field that want to connect with each other.
If you're looking to increase your network within a specific niche, it's highly likely that potential prospects are just waiting to be marketed to on the platform.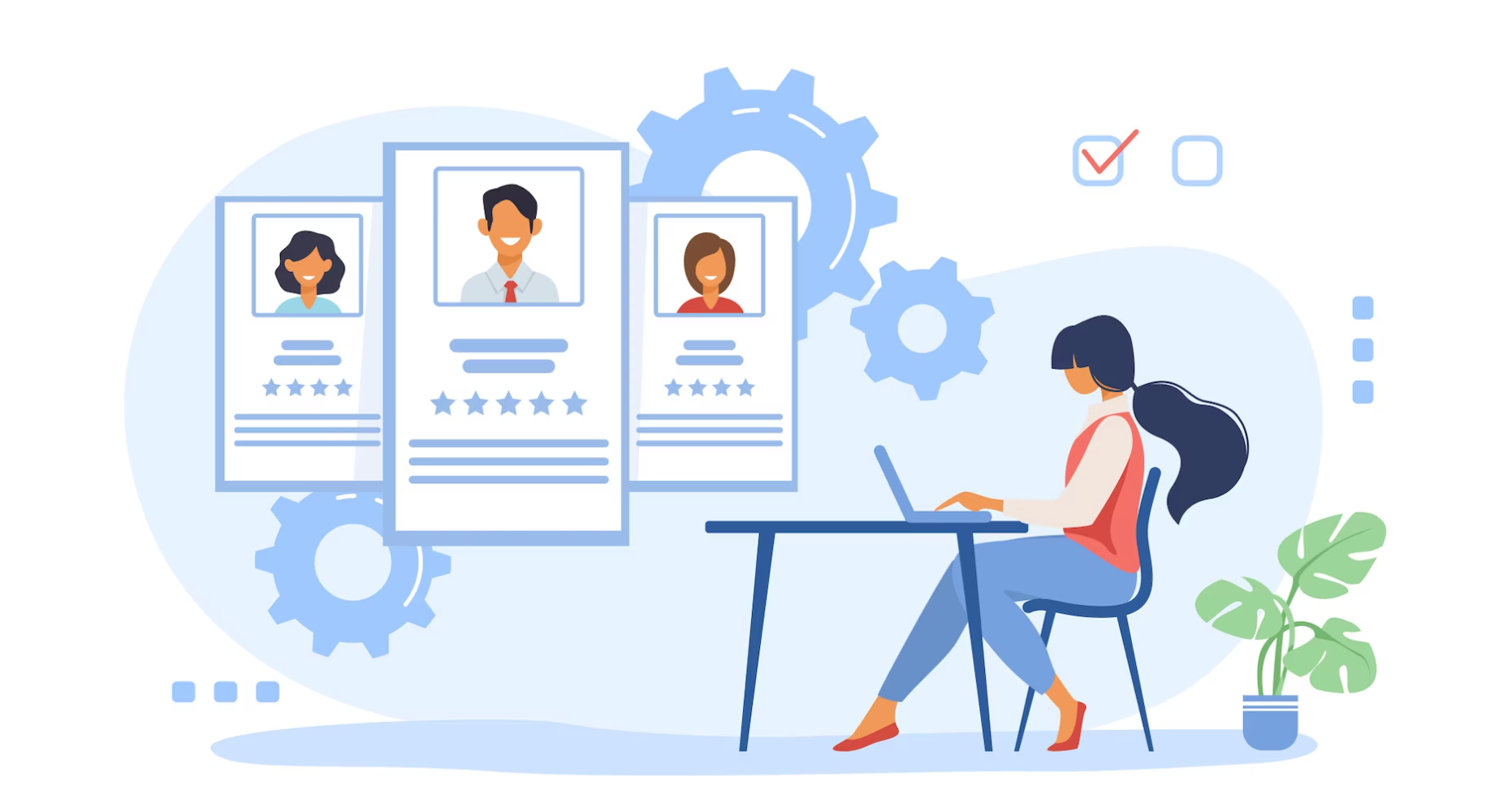 Here's the other reason why we LinkedIn so much.
It's a professional network. This means that people are more inclined to interact with you about professional deals and work-related topics on the platform than, on say, Facebook.
Combining the sheer number of potential customers on the platform plus the fact that they're already there for business makes for a crazy combination for B2B lead generation.
Identifying Your Ideal Customer
On LinkedIn, you want to take on the principles of ABM or Account-Based Marketing.
This means that since it's a more personal medium than email, you want to aim to personalize the messages and material that you send out.
Your first step in personalization is identifying your ideal customer profile.
Take into account your product or service, and picture who your ideal customer would be.
What is their demographic?
What are their pain points?
Who are their customers?
When can they purchase?
Why are they doing what they're doing?
A lot of people often forget that customer profiles are the first step to any part of B2B lead generation and it's the same step on LinkedIn.
Optimizing Your Profile
Here's something strange.
The next thing that you need to pay attention to is optimizing your profile.
Why?
Because your profile serves as the landing page for any campaign – passive or active – that you're running on LinkedIn. When a customer is interested in your message, post or article, the first place they'll go to is you profile, so optimizing it is a must.
Now, I've written books about LinkedIn profile optimization and lead generation, but here's the general idea.
Profile Photo – you don't need to smile, make sure that your face is prominent on the upload and that you're wearing clothes that you'd normally wear if you were going to meet a prospect face-to-face.
LinkedIn Cover Photo – this is one of the hardest working conversion elements of your profile, make sure that you use this valuable piece of web real estate. We advise our clients to put in CTAs, product examples, social handles, etc.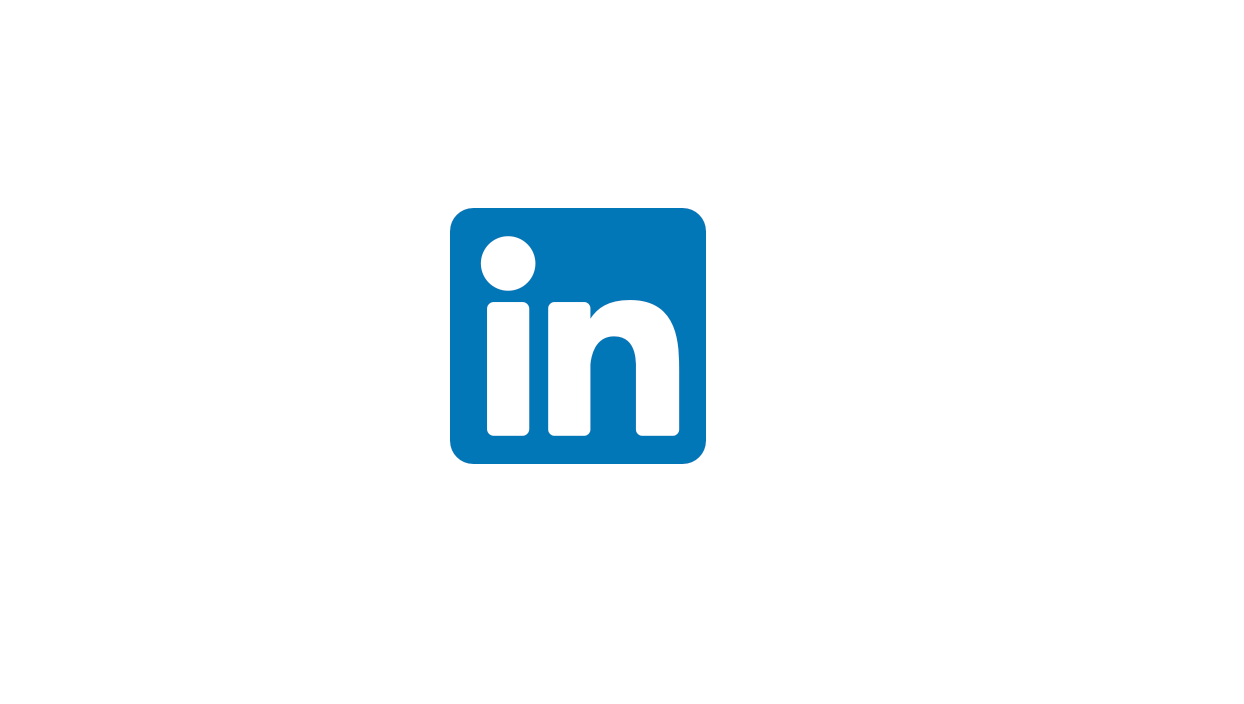 Headline – this is the second thing your prospect reads about you. Make it short, snappy and memorable. However, you also need to optimize it for proper LinkedIn SEO.
Summary – this isn't a resume, so don't turn it into one. Use storytelling and emotions to tell people not only what you do, but why you do it. Keep it concise and make sure you have CTA.
Links and Featured – create compelling content and make sure your photos look great.
There's more that we can talk about, but here are just a couple of the things that you have to keep in mind.
When people go through your profile, they need to be convinced that you are a person that knows what they're doing, but more importantly, someone that they can trust.
Here's another thing.
Make sure that your profile is appealing to your ideal customer, if you target fun-loving startups, you can't have a profile that is too stiff or else they won't like you.
Creating an Outreach List
Once you're done, it's to start looking for people to do outreach for.
Now, there's a lot of ways you can go about this, but we have entire guides dedicated to that on BAMF, and it will be too much for this "basics" guide.
You can pretty much target competitor lists, specific niches, LinkedIn groups, create passive lead generation lists, etc.
Start by building out your network, if your LinkedIn account is new, we suggest that you start out with a few connections a day before you ramp up the search. Make connections with people that you know, then start looking for people who are in your industry.
Search for people who are in the same industry and send them a simple connection message.
Build these lists up gradually and if they're too general, say they're from different parts of the country. Make sure that you segment these lists properly.
Try to prequalify these leads and make them richer by adding additional information about them. Things like emails, numbers, income, etc., are all great pieces of information to have.
Now if you really want to step up your game, you should look into using LinkedIn Sales Navigator which is their in-house tool that will help you do prospecting with ease using their numerous filters.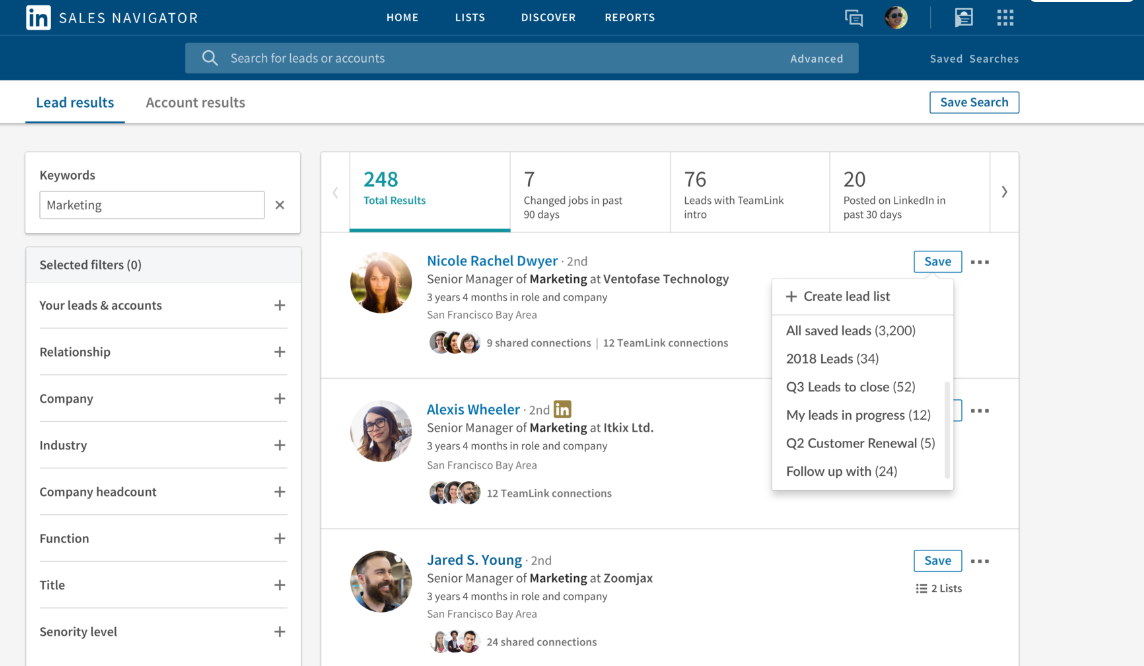 Reaching Out (Actively)
There are two ways to reach out: actively and passively.
Let's start with the first.
Active outreach involves creating highly personalized messages for your clients. And, if you did your homework a while ago, knowing what type of customers you have are essential to creating personalized messages.
Your first step is to get one of those segmented lists that you have and check out the underlying common denominator between them.
After that you will want to create a quick message – but you can't be too direct!
Here's a couple of ways to approach the first message.
Ask them for help
Say hi and ask if you can connect with them
Mention the last article they wrote
Tell them you want to partner up with them
Ask them for their opinion
Ask them for industry-specific information they might share with you
Whatever you do, don't be pushy.
If they still don't accept your message after a couple of weeks. You should think of removing your connection request.
Reaching Out (Passively)
Believe it or not, at BAMF, I highly encourage passive outreach.
Why?
Not because it's easier – in fact, it's more difficult – but it helps build you as someone that the industry trusts because you don't have to directly sell your services.
The way to do it is to build a following and post valuable content consistently.
This means that you consistently connect with people on a weekly basis and maintain at least three LinkedIn posts a week.
Every now and then you can promote your products, but you have to keep it to an absolute minimum.
What To Do After Reaching Out to Them?
The next goal is to nurture these leads and make sure they're guided properly through your funnel.
Make sure you check up on them, email them, and follow-up on them.
However, what's critical is that you keep on providing them with value even during the lead nurturing campaign.
Send them gated content that they can use with their organizations, access to special information, when you talk to them send them a quick transcript using fireflies.ai, set another meeting after the first one, etc.
There are so many different things that you can do, but what you need to ensure is that the ball is rolling.
And, also.
Always be active, post at least three times a week and reply to messages promptly!
Tips
Don't be fooled by passive lead generation, it can work wonders on platforms such as LinkedIn. The only problem with it is the speed, some growth hackers might find it too slow.
Don't hard sell on LinkedIn. I won't even explain why. Just don't.
Use growth hacking tools, they'll help you automate and integrate a lot of the lead generation that you. This helps you become more efficient with your efforts and time.
Don't connect with too many people at once, you need to warm up your account.
Don't be spammy.
Takeaways
You need to invest in LinkedIn.
It's one of the biggest networks out there, and almost all of your potential clients are active on the platform.
However, like any other social network, it has its own set of rules that it follows.
You need to make sure that you follow these rules to make the most out of your experience.
Stay organic, don't be spammy, and hyper-personalize.
These are my three techniques that will help you hack your growth on here.
If you want more, consider joining my LinkedIn Influencer Academy.
So, are you ready to growth hack on LinkedIn today?