Empathy. A cardinal human emotion that is often lost in the transition from personal to business.  Most companies fail the customer empathy criterion. Here's why.
According to a report by Bain and Company, "Closing the Delivery Gap ", 80% of the almost 400 organizations surveyed believed they delivered a superior experience to their customers. But only 8% of these companies had customers agreeing on the empathy factor during their interactions.
What factors are responsible for this delivery gap?
Lack of empathy figured as one of the biggest reasons for the lacuna in delivering full customer satisfaction.
There is a tiny difference between "knowing" what your customers need and "understanding" what your customers need. This hair-thin difference determines customer churn and retention.
A company's customer success team tries to bridge this gap by minimizing the churn and increasing retention.
Customer Support Vs Customer Success
There is a general confusion that often leads to interchanging of customer success with customer support and vice-versa. Though both these teams have to work in tandem for better customer satisfaction, there is still a fundamental difference between the two.
Customer support is the reactive response, whereas, customer success is the dynamic response. The job does not end once you are done assisting a customer. You must think of things and solutions to issues that the customer hasn't faced yet but have a strong possibility of popping up in the future.
The customer success team is dedicated to continuously and conscientiously uplifting the customer journey.
What is Customer Empathy and Why is it Important?
Emma Rose Snyder, the customer empathy specialist at Toast, defines customer empathy as "feeling with your clients instead of feeling for them"; which basically boils down to putting yourself in your customer's shoes. Empathizing, instead of just sympathizing with them.
The University of Michigan published a report,  Changes in Dispositional Empathy In American College Students Over Time: A Meta-Analysis, for which they conducted empathy tests over the last 30 years and found an alarming dip in people's ability to empathize with others. This decline in empathy largely happened after 2000.
This is a major red flag. As humans, one of the fundamental things that set us apart from the rest of the animal kingdom is our ability to empathize with other living beings. Losing the ability to do so raises questions about the future of the human race as a whole.
Apart from the humanitarian aspect, this is also a business crisis.
According to an extensive study conducted by M&C Saatchi, empathy deficit is causing businesses to lose over $300 million in revenue every year.
Over the course of a year, the brands lose 18% of their customers as the gap between marketing and actual experience widens.
The major cause for this? Brands lose touch with the everyday realities of their consumers and build marketing strategies around assumptions. This lack of connection and empathy translates into a loss for businesses.
When marketing, especially with social media marketing, you aren't just selling your products or services but also morals, values, and principles that form the core of the company. Their interaction with you is based on hope and sincere belief that you would provide them with an honest solution.
The more problems you solve, the more reliable the brand becomes.
In short, every communication is a means to build trust.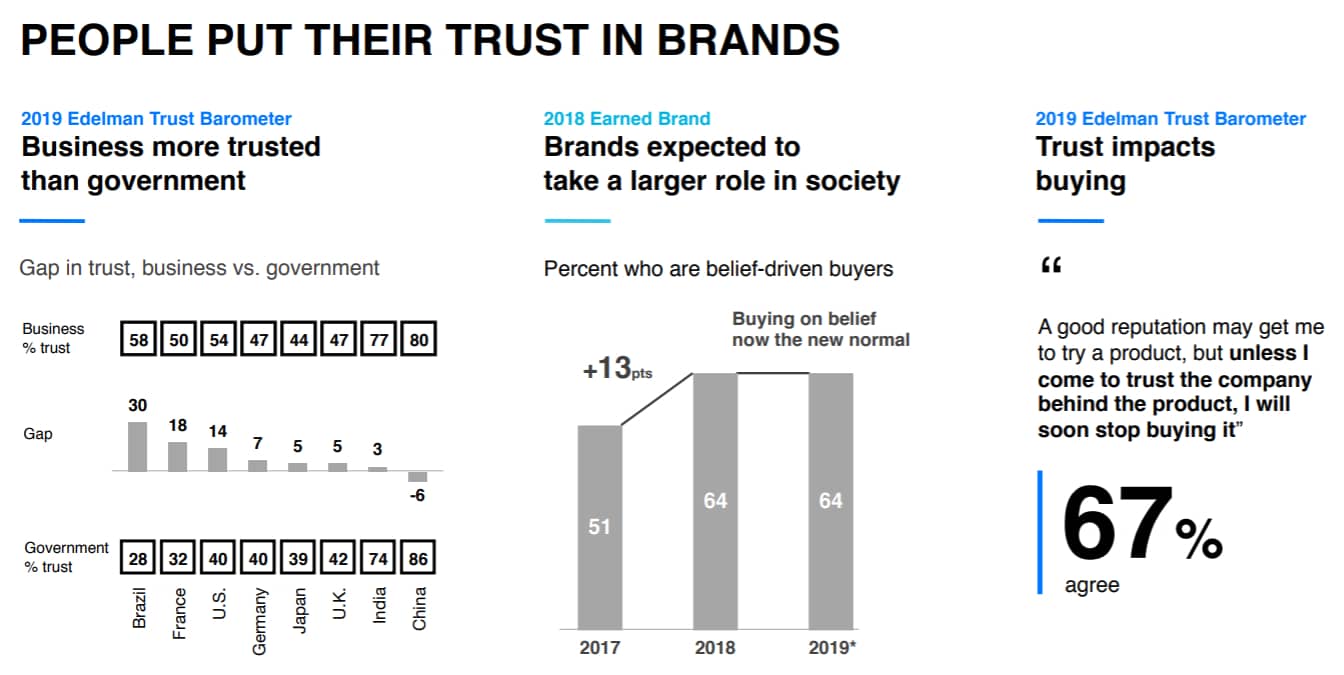 This statement is further validated by the 2019 Edelman Trust Barometer Special Report: In brands we trust, it states 81% of the customers believe that they should be able to trust the company before making a buying decision.
It also states that reliability is twice as important as popularity for most respondents.
The key to gaining trust isn't just based on oral claims anymore. Consumers are less likely to be swayed by just plain product marketing. They want to know the depth of your concern. How much you care about not just your product but also for society and its communities.
They seek a connection, something to connect with, something they can relate to.
Do things that concern them, concern you as well? Are you fulfilling your corporate responsibility and giving back to society? 53% of the respondents state that they expect the company to engage in at least one social issue.
This feeling of wanting to connect with the brand is also a major propeller for influencer marketing. While most big brands are often seen as faceless money-hoarding conglomerates, influencers are people creating relatable content. This relatability makes them trustworthy.
And that's what empathy-based marketing is all about. Building confidence, trust, and holding yourself accountable.
How To Empathize With Customers? Tips for Customer Empathy
Before learning about ways to better cultivate customer empathy, let's understand the different kinds of customer empathy.
Cognitive - Trying to consciously put yourself in other's shoes and empathize.
Emotional - Feeling emotions and compassion for others.
Affective - Innate ability to gauge other's emotions and respond attentively.
While some are born with the sensitivity to people's emotions and empathize naturally; there are others that need a hand with cultivating empathy for the customers and proactively work towards nullifying their concerns.
The need for empathy learning increases when you see a behavior gap such as  -- cutting off the client in between conversations, delayed follow-ups, and responses, or a lack of professional attitude.
Here are some tips to help you become better at showing empathy towards customers -
1. Body Language
Our body language is how we nonverbally communicate with someone. Being conscious about it is helpful in adopting an approachable stance. Greet your customers with a smile, keep your legs and hands uncrossed and lean a little forward when communicating.
2. Listen Instead of Just 'hearing'
Sometimes, customers might be in a bad mood or riled up, matching their energy would only result in unhelpful communication. Keep the tone of your voice polite, listen attentively, identify their emotion and act sensibly.
Try to listen, not just hear, really listen to what they have to say. What is really bothering them? What is it they are not conveying? What's the hidden problem here?
Keep your aura cool and collected so the customer sees you as someone who has everything under control and feels comfortable sharing their issues.
3. Personalize
People enjoy having personalized experiences. You can start to personalize your interaction by using their name and being respectful throughout. Be careful and kind with your words.
4. Create an Empathy Map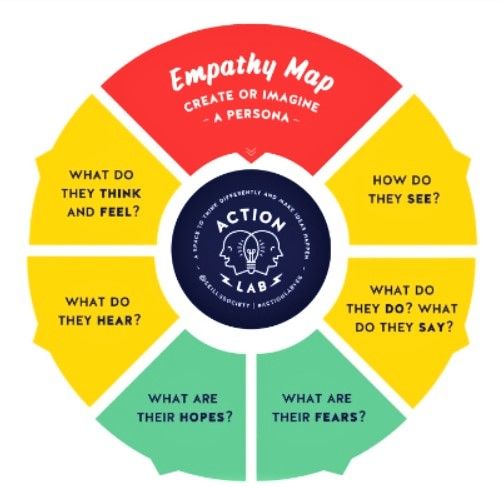 Creating an empathy map is an exercise all sales and marketers can do to better understand the customers. Make a customer persona from the target demographic. Associate an image, write all the little details--their name, occupation, pain points, hobbies, etc.
Then figuratively put yourself in their shoes and ask deeper questions - what are their worries, fears, aspirations-- and how does your product or service work in making their life easier.
Does your service/product make them go, "oh thank God, this XYZ service/product exists"? Or does it make their day even a tad bit easier?
If yes, great! Now make sure they know how it does that. If not, you need to reassess and work towards improving the brand.
5. Help, Not Just Sell
The first approach to listening to customer's woes should be about helping them. Of course, selling is the agenda here but instead of pushing your product down their throat. It should be a seamless next step, the obvious solution to their issues.
Don't try to jam your product in a box it doesn't fit.
6. Have a Brand Story in Place
A brand story shows how your brand adds value to the lives of the customers.
Why should they choose you instead of any other similar service in the market? How do you help your customers save time, money, and effort better than other competitors? Why adopting your particular brand is the best decision?
7. Be Concise and Clear
As the adage goes, don't confuse if you can't convince. Be clear and concise in your approach. If you are not clear about something, call somebody else for help. Or let the customer know you will get back to their query as soon as possible.
Avoid weaving long stories or overpromising things that your brand cannot deliver on.
Empathy makes interactions memorable for your customers and makes them want to continue this interaction and relationship.
Connecting with Customers Through Empathy
We are now working in a market where an EQ is as important a skill as an IQ. It might not feel like a priority needs for your business plan, but underestimating customer empathy, in the long run, will be erroneous.
Empathy just does not improve customer success teams' performance but is helpful in any business. As Steve Jobs famously said, 'You've got to start with the customer experience and work back toward the technology -  not the other way around.'
Empathy is the key factor that humanizes your company for your customers and cements better and long-term relationships. Empathy should be at the heart of any business venture.
---
Illustration by Julia Gnedina from Icons 8
Read Next: