You wanted it. We built it.
"Do you support video?" We get thousands of requests like this from users and potential users alike.
We now have it, and to be honest, even our internal team is excited about this feature. The new feature allows you to automatically capture screen recordings of your video meetings.
You can now listen, read, and watch what happened in every meeting that you were a part of, and even those you missed. 😉
It works with almost all your favorite video conferencing tools like Google Meet, Zoom, Microsoft Teams, Webex, Bluejeans, GoTo, and Skype. Here's how it works:

Benefits of combining video call recordings with transcriptions

More clarity when reviewing past meetings
Listening and reading your transcripts are great. But what if your teammate is presenting a deck? Listening and reading is not enough, right?
Information backup
Saving meeting videos and transcripts in one central place keeps you organized. It ensures you always have the backup in video and text form.
Provides non-verbal cues
Communication is only 7% verbal and 93% non-verbal, which includes body language and tone of voice. That's particularly important for sales, where more than half of the conversations are non verbal.
Nonverbal cues like posture, gestures, and voice inflection tell more about a prospect than just hearing them speak or reading post-meeting transcripts.
Having a video recording of sales calls can show you how your prospects react. You can add Sentiment Analysis to that for better assessment.


How to automatically capture screen recordings of your video meetings
How to enable Fireflies video in 1 step:
1. Go to Settings. Scroll down to Meeting Recordings. Toggle to enable or disable this feature.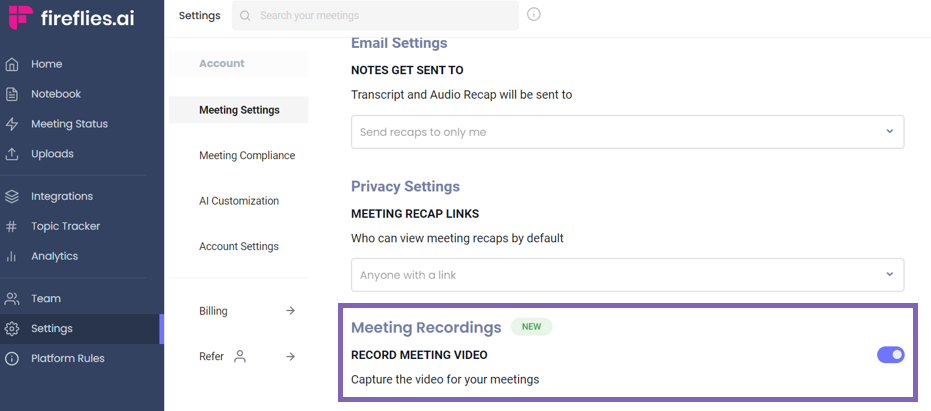 Once done, Fireflies will automatically record your screen. These recordings are saved inside each meeting transcript.
Just a quick note: this feature is available to Fireflies Business tier users. By the way, you'll get unlimited storage in your Fireflies Notebook to save all your recorded video meetings.