What if you could review an hour-long meeting in 5 mins?
Here's how you can use the Fireflies Topic Tracker feature to instantly filter to all the key parts of calls. So what are Topic Trackers?
Topic trackers lets you add keywords and phrases you want to track and search during calls. It shows how many times those words came up during a call and at what time.
For example, you want to track how often different CRM solutions were mentioned during your sales demo. You can create a topic name CRM and add phrases like HubSpot, Salesforce, Freshsales, and Pipedrive. The next time you are on a call, you can easily see when these phrases were mentioned and how many times it was said on calls.
Topic Tracker in action
Topic Tracker is different from Smart Search filters since the latter are provided by default. In contrast, Topic Trackers lets you create topics that you want it to automatically track and flag in meeting transcriptions.
How to use Topic Tracker: Step-by-step guide
To create your own topic filters, log in to Fireflies and click on Topic Tracker in the left sidebar.
Enter the topic name.
A topic name is a broader term that is related to your keywords. For example, Marketing can be the topic name, and all marketing-related words like content marketing, demand generation, and SEO can be the phrases.
Type the words you want to track and press Enter.
Fireflies will also auto-suggest keywords based on your input.
Add one or multiple related words you want to track under one topic name.
Once done, click Add.
You will be able to see your topic in the Existing Topics and Keywords section. It will also show who created it.
A team workspace admin can create topics for the entire team. Only workspace admins can modify or delete these topics. In such a scenario, you will notice Enabled by team admin mentioned.
Once the custom topics are created, it will show under Topic Trackers on the left side of the meeting transcript.
The number next to the topic name indicates how many times the words are mentioned during the meeting.
Clicking on the topic name will filter and highlight the transcript to show only those sections where these terms are mentioned.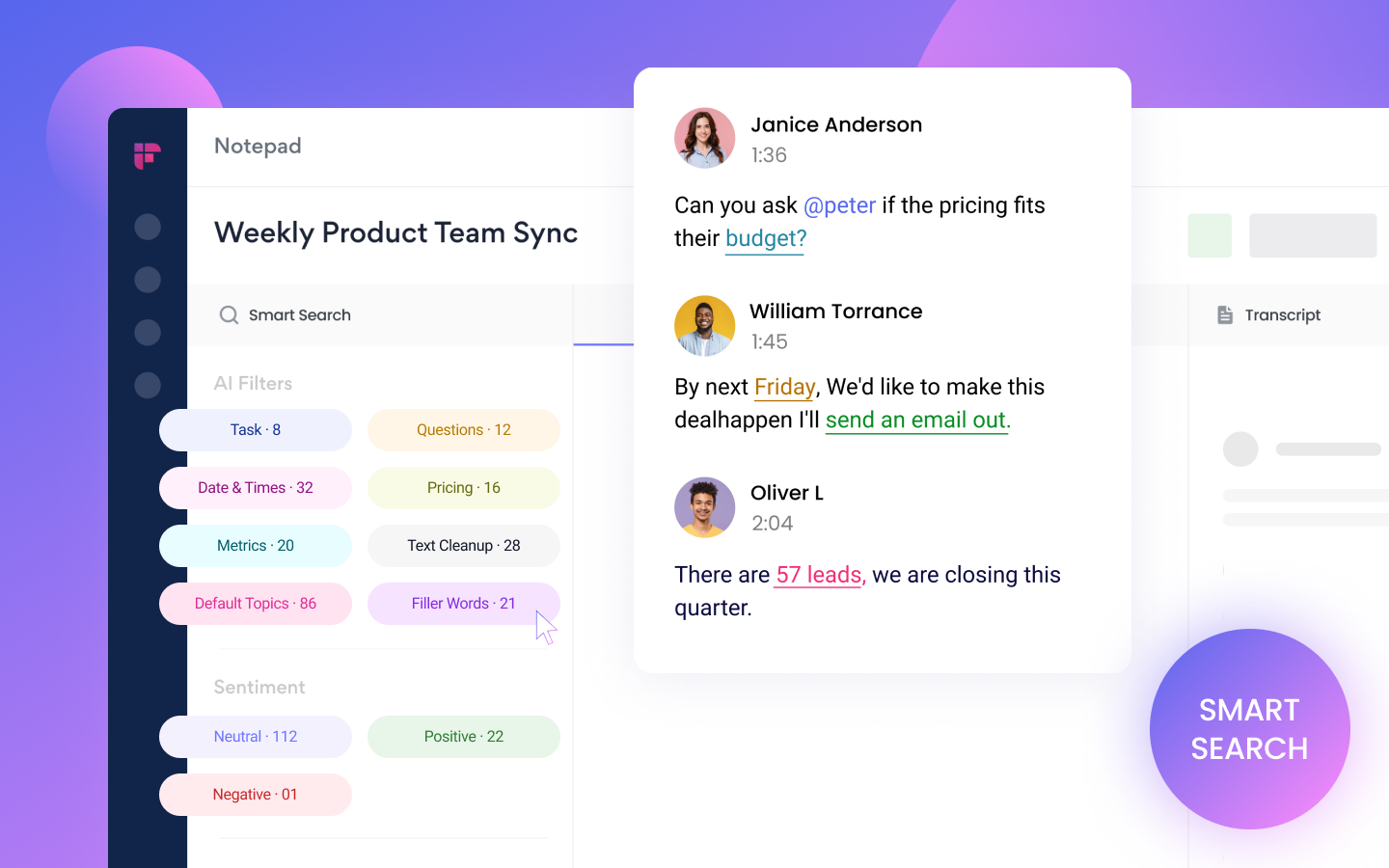 Topic Tracker Use cases
Different teams can use Fireflies' Topic Tracker. For instance, customer-facing teams can review calls in minutes, identify areas of improvement and coach their teams accordingly. The marketing team can track customer feedback to reduce churn or increase engagement, and HR can track conversations around compensation. Let's look at some of these use cases in more detail:
Sales
Topic Tracker lets you create various sales-related topics and get instant context without listening to the entire conversation. For instance, you can create pricing as a topic and add terms like billing, pricing, cost, credits, etc.
You can then filter those sections of the meetings where all these words are mentioned to see how your reps handled conversations around pricing. Similarly, you can create a topic on competitors to understand how your customers talk about them and devise a sales strategy if required.
Customer Success
Like sales, customer success teams can create product-related topics to understand how customers feel about it. Add a topic listing all your features and product name.
Next time when your customer success executive is on a call with a client, you can easily review the post-meeting transcripts to see what the customer says about your features/product. Are your customers satisfied? Did you rep answer all the product-related questions?
Based on your rep's response, you can leave a comment (using the Fireflies.ai Thread feature), thumbs up or down, pin a particular call section, and so on. Customer success teams can also monitor negative phrases to track instances of poor client experience and take prompt action to avoid it.
Marketing
Marketing teams have a lot of internal meetings to discuss action items, strategy execution or brainstorm ideas. You can, therefore, create topics related to campaigns, SEO strategy, email marketing, social media, or podcasts.
For example, at Fireflies, we use Topic Trackers to track words like SEO, podcasts, and social media to review what was discussed and identify any follow-up tasks.
Human Resources
Negotiating contracts with candidates requires a lot of practice and coaching. With the Topic Tracker filter, you can create contract-related topics such as experience, budget, CTC, and others. This will let you review how your HR specialists handle contract discussions and identify any areas of improvement.
Make Your Searches More Targeted
Sifting through information in long meetings is a thing of the past. Fireflies Topic Tracker is a better way to find relevant meeting insights in minutes. It's fast, automated, and highly efficient.
If you are on the Pro tier or above, you can start using Topic Tracker to coach your team and ensure you never overlook any important meeting details.