Integrating Fireflies with Aircall is an effective way to get visibility into every call. The Fireflies Aircall integration lets you record, transcribe and analyze calls made using the Aircall dialer.
In addition to voice calls, the integration also allows you to transcribe your voicemails and is available for all three Aircall plans: Essentials, Professionals, and Custom.
Connecting Aircall with Fireflies
Setting up the integration is simple and requires only a few clicks. To enable it, you need to:
Login to your Fireflies account and click on Integrations on the left sidebar.
Search for Aircall in the search bar.
Select Aircall and click Connect.
Sign in to your Aircall account and you'll be redirected to the authorization page. Click Authorize.
Select one or multiple phone numbers you want Fireflies to record and transcribe, and click Confirm.
You can also add more numbers and Fireflies will also record and transcribe calls made from them.
That's it. You'll be redirected to the Fireflies Integration page, where you'll notice a green tick on the Aircall icon and an Active badge.
On the same page, you'll also see the settings to record Aircall voicemails.

By default, the Process Aircall Voicemail setting is turned on. Toggle it off or keep it as is based on your preference, and click Save Settings.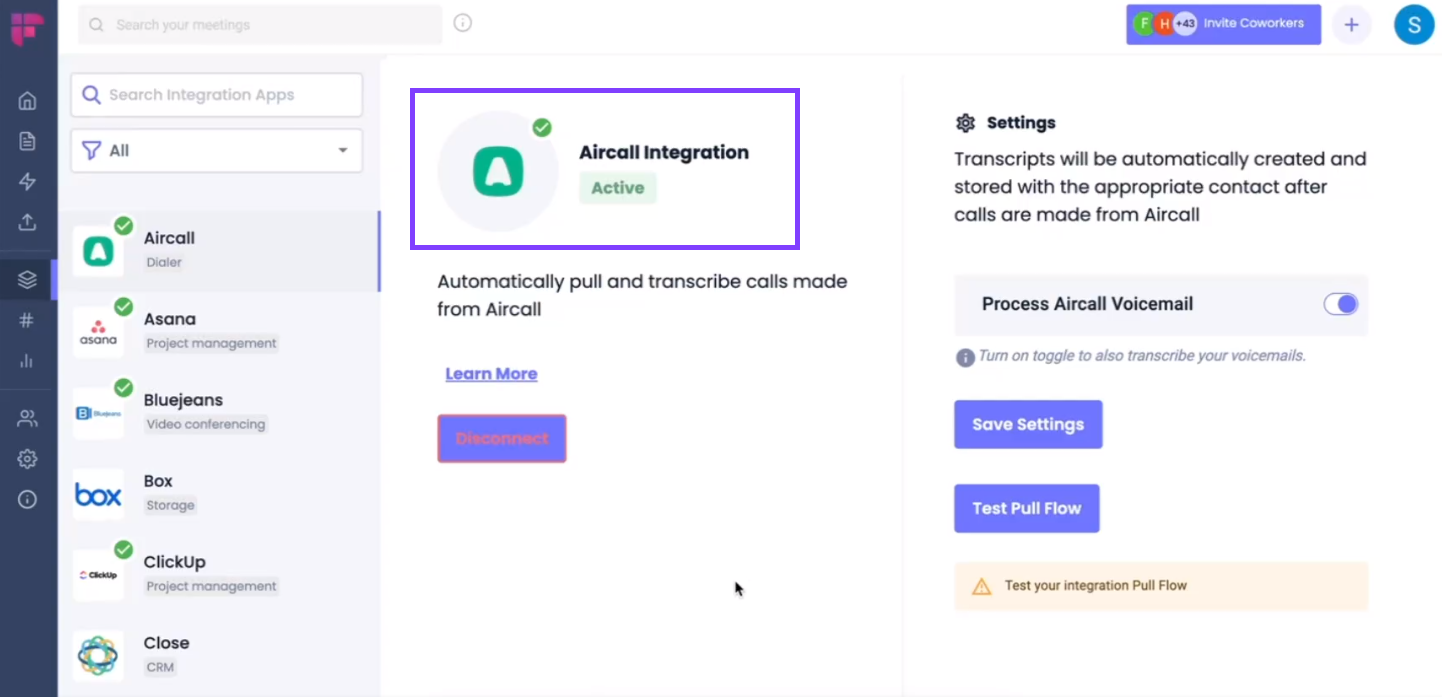 And there you have it! You have successfully enabled the Aircall integration.
All your transcribed calls and voicemails will be saved in one central location—your Fireflies Notebook.

There are, however, a few important things to remember:

Only Aircall account admins can enable this integration.
The call will only be processed if you are making the call from the Aircall dialer and have a Fireflies account.
Always click Start rec when receiving or starting a call from Aircall.



Benefits of Fireflies.ai + Aircall
With all your Aircall recordings in one place, you get unmatched insights and visibility into every customer interaction. It makes it easier for you to collaborate, coach, and learn from data from your voice conversations. Here's how:

Identify key sales metrics
Fireflies' conversation intelligence uncovers what your team, including the top performers, is doing differently while talking to prospects or customers. It can give key call insights like how they discuss pricing, how many questions they ask, how much average time they spend in conversations, their talk-to-listen ratio and talking speed, among other things. Review this data and other sales metrics and create a playbook to replicate best practices.
Quickly search conversations
Fireflies allows you to add relevant topics you want to track during conversations. These could be pricing, competitor's name, revenue, etc. Simply add these in Topic Tracker and quickly see instances where they are mentioned during client interactions.
You can get a high-level view of the number of times these words are mentioned during different team members' calls in a specific period. Or, you can open a meeting recording from the Fireflies Notebook, find Topic Tracker on the left side of the notepad and click on the topic you want to review.
Fireflies will filter only those areas of the transcripts where these words are said.
Alternatively, you can manually search for keywords or phrases using the search bar above each transcript. Just type the word, and Fireflies will pull up the sections where it is mentioned.
Fireflies also provides inbuilt Smart Search features such as AI Filters and Sentiment Filters to search conversations quickly. AI filters are predefined by the system and include Date and Time, Metrics, Questions, and more.
Whenever you click on the topics in Smart Search, the system automatically filters and presents only those sections of the transcript so you can review hour-long meetings in minutes.
Boost collaboration
Easily share critical moments of calls with teammates and other stakeholders by creating soundbites from recordings. Leave feedback on the transcript, pinpoint sections for improvement or leave thumbs up or down and collaborate on calls more effectively.
Eliminates manual data entry
In addition to the obvious benefits, Fireflies also integrates with several CRM solutions, so your reps don't have to enter data after each call manually. Suppose you connect Aircall and a CRM of your choice with Fireflies and make a call from the dialer.
Fireflies will identify the lead's phone number in the CRM and automatically log meeting notes under the same contact after the call is over. If no phone number is available, Fireflies creates a new contact with the lead's name and phone number in the CRM.

The note will include a link to the call recording, transcript, Smart Search topics, and topics you are tracking in the Topic Tracker.
Create better conversations from insights from all your Aircall interactions in one place. Try the Fireflies-Aircall integration now!