Conference calls are a business necessity in 2022. But an even bigger necessity—conference call transcription software.
Reports suggest that weekly meetings have jumped by 10% because of the pandemic, translating to an average of three additional weekly meetings per employee.
While conference calls have several benefits, like reduced travel and cost savings, they also have some challenges. According to a survey, 91% of average meeting goers confessed to daydreaming, 73% admitted doing other work, and 39% said they slept during business meetings.
Conference call transcription software can overcome these problems and make meetings more effective. It provides accurate meeting notes, lets you focus more on what's being said, and reduces the number of follow-up meetings.
There are several other reasons to get business transcription software. And in this article, we'll highlight the top 11 benefits of transcribing your business conference calls.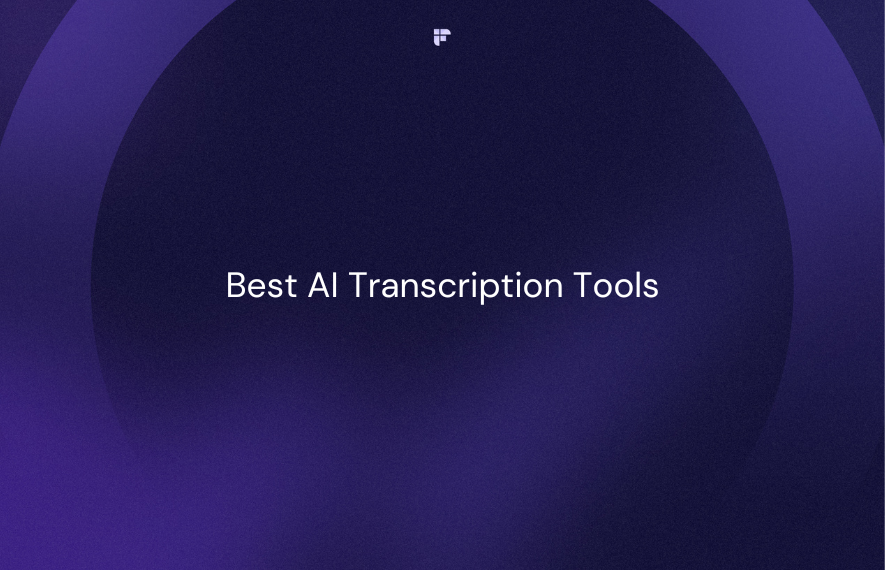 11 Benefits of Business Conference Call Transcription

1. Increase reach
Businesses operate in a small, interconnected world. There are no boundaries. Organizations are no longer restricted to hiring staff from within their country or doing business with local players.
But with all this comes the problem of different time zones, language barriers, and cultural differences, making it difficult for companies to facilitate business communications.

Conference call transcription promotes asynchronous communication between teams and customers in different time zones. It sends accurate, automated post-meeting notes to participants even if they cannot attend.
Non-English speakers can translate transcripts to understand what was discussed during the meeting. This way, business transcription software lets you reach a large audience and ensures everyone is on the same page and no one is left out.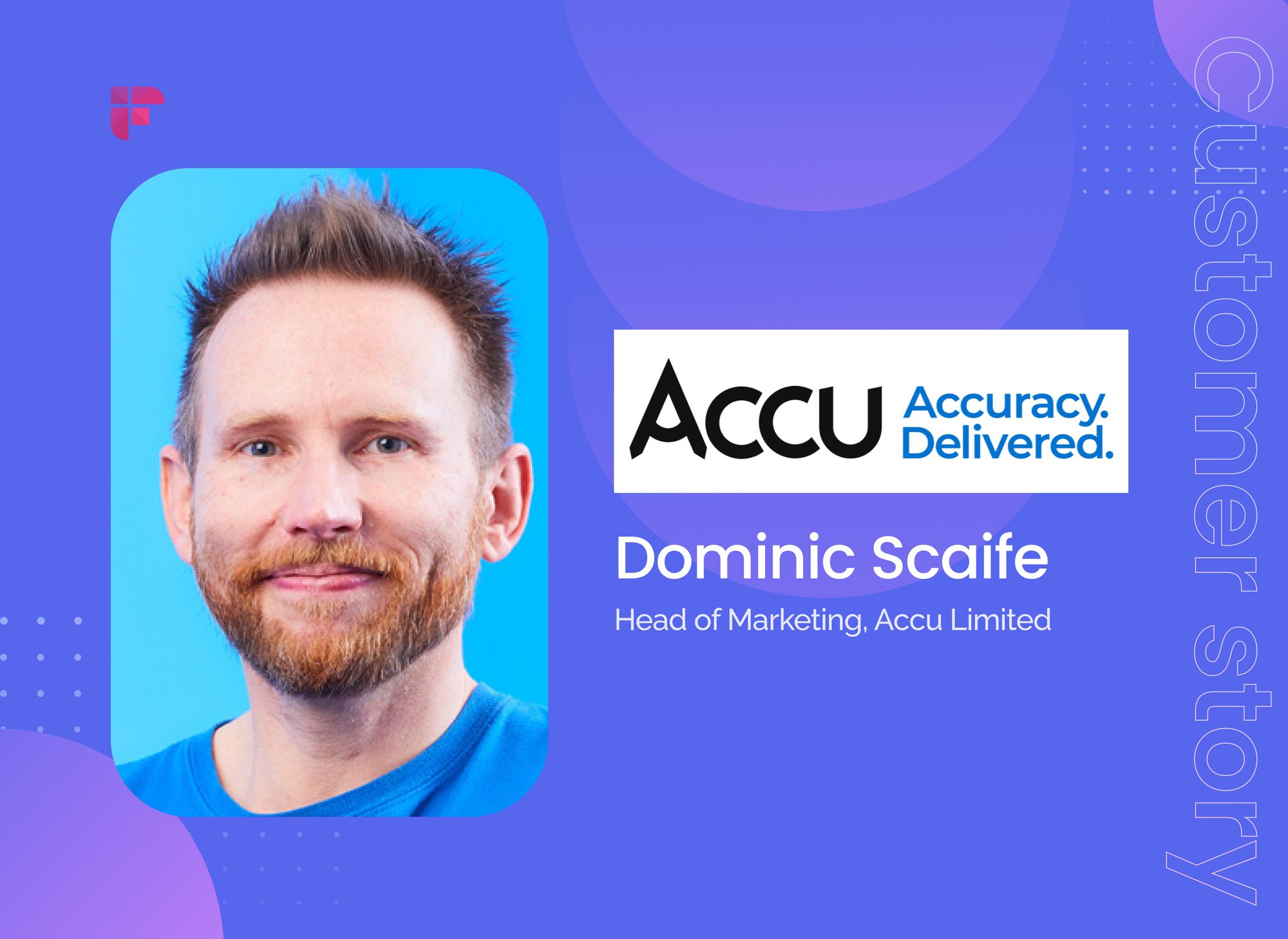 2. Improve accessibility and inclusion
As essential and informative as business conference calls are, they often overlook the problems of people with auditory sensory issues.
Recent statistical data shows there are 1.5bn people with hearing problems worldwide. By transcribing your business conference calls, you ensure those who cannot hear can still participate.
But it is not just about people with hearing impairments.
Attendees can miss critical information even if they have too much background noise or an unstable internet connection. Conference call transcripts help them fill this gap.
And for people who understand better by reading rather than listening, get distracted or "zoned out," and those who are habitual multi-taskers, it provides valuable information on demand.
3. Quickly search content
Conference calls are an effective way to share and brainstorm ideas, provide an update or train teams, and meet customers and upper management.
But how often have you left a call feeling like you can't remember anything? You are not alone. It happens to the best of us, especially after spending hours in meetings.
An average call lasts between 45 and 60 minutes. Listening to meeting recordings to find specific information can be time-consuming and frustrating. Luckily, conference transcription software helps search for valuable information in minutes.
You can search for a specific keyword or phrase in the transcript or filter information using speaker labels. Alternatively, you can track keywords or use timestamps to find action items and tasks. This ensures all the necessary information is never overlooked.
Conference call transcription tools like Fireflies transcribe business calls and let you filter through hours of conversations to find important information quickly.
Its Smart Search features—AI Filters, Sentiment Filters, and Topic Trackers—offer multiple ways to find information in seconds and save valuable time.
Want to see all the questions asked during meetings? Was there any important date or time mentioned during the call? Are there any follow-up tasks? AI Filters feature can filter such information and a lot more.
Similarly, you can track particular keywords to get an overview of the number of times they are mentioned during each meeting.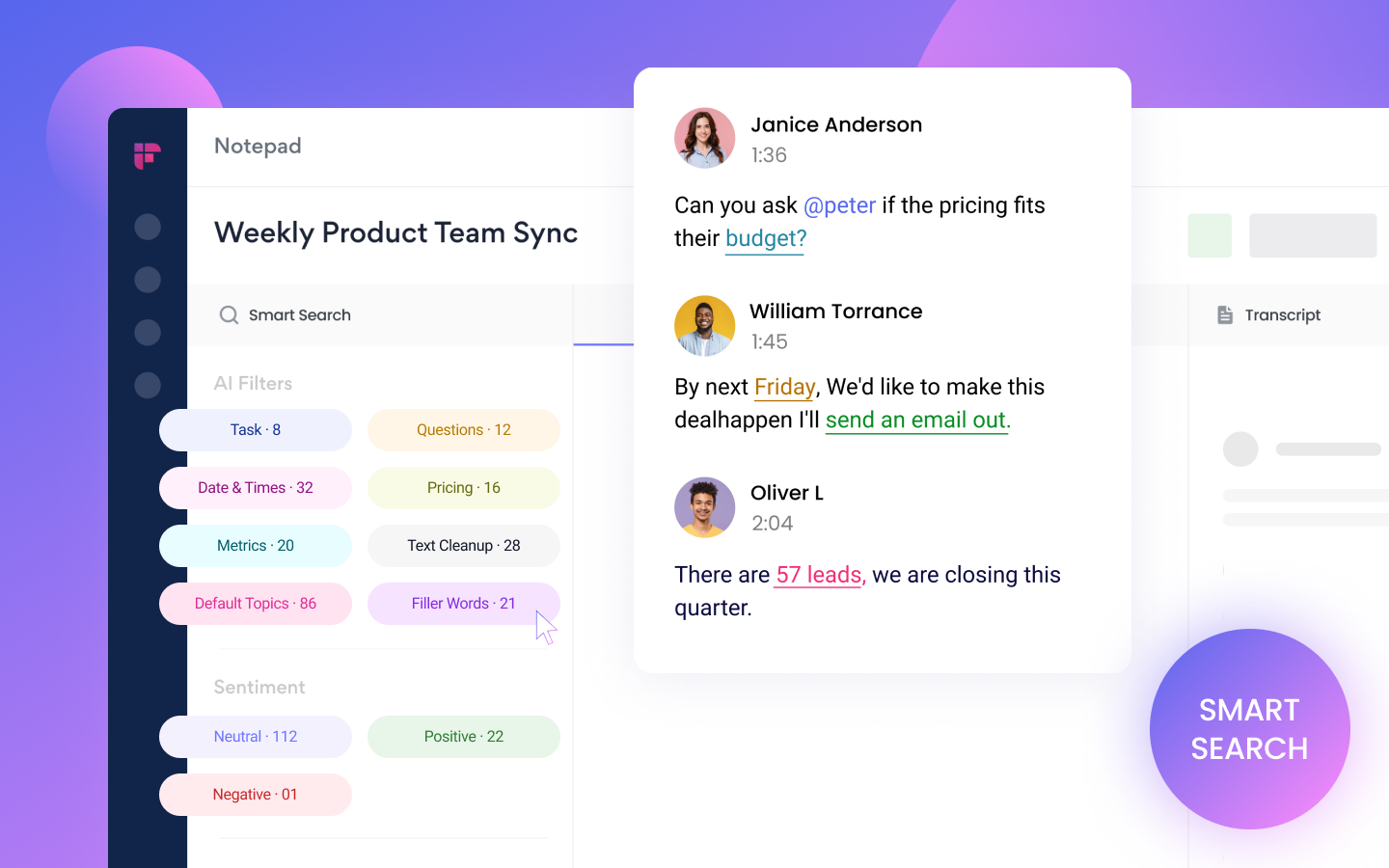 4. Enhance SEO
Search engines cannot index audio files. Google cannot "listen" to your content to rank it. Even Google's John Mueller admits Google doesn't "do anything with audio versions of content." Currently, search engines can only identify keywords in written content.
Having transcripts makes it easier for search engines to discover your audio content and rank them. It provides keyword-rich content with the smallest efforts and makes your audio content searchable.
This, in turn, can boost your online presence and let your website visitors learn more about your company.
With business conference call transcripts, you can create an effective backlink strategy to increase your website's rankings and organically promote your content.
5. Boost ROI
We've established that improved SEO and increased reach are some of the many business conference call transcription benefits.
The fact is that when your SEO is ranking favorably and you can reach larger audiences, you potentially boost your lead generation efforts and easily attract relevant audiences.
6. Have fewer, effective meetings
Remember Jeff Bezos's two-pizza rule—every internal team should be small enough that it can be fed with two pizzas? A transcription tool lets you implement this rule in your meetings.
When your teams have conference call transcripts, they don't have to join every meeting to leave a mark.
They can read the transcript, share their ideas, answer questions, give feedback or comment on the transcript, and foster collaboration. It ensures accountability and action- and data-oriented results.
7. Ensure legal compliance
Your company may be legally required to record all conference calls and provide transcriptions, depending on your industry.
The financial and legal sectors, along with some reporting and journalism platforms, are prone to this. Even if you are not required to do so, recording your calls for later review adds a strong layer of legal protection.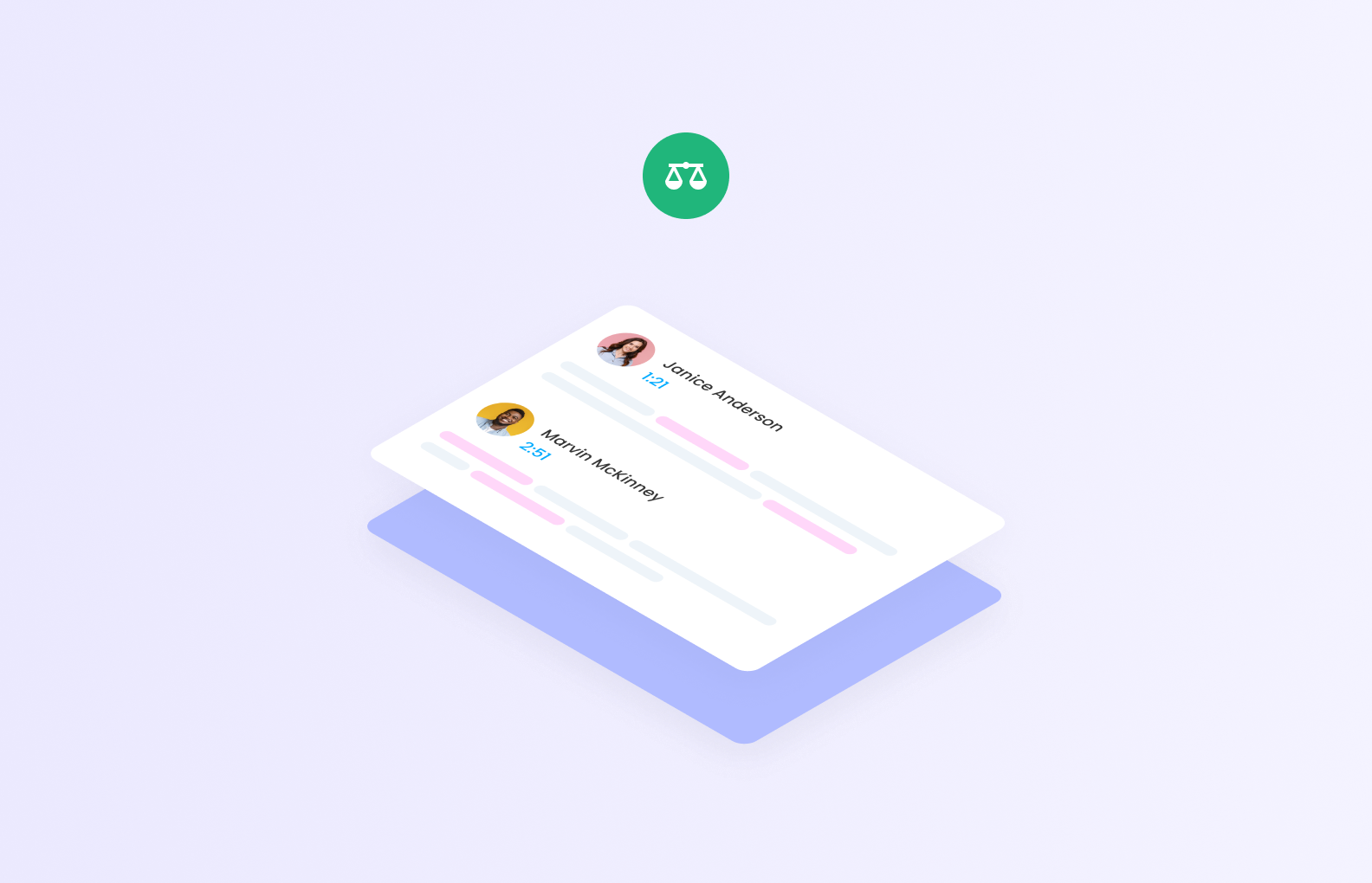 By incorporating conference call transcription into your business, you make it easier for legal practitioners to search through hours of conversations and eliminate the possibility of errors that come with manual note-taking.
This is especially critical when clients, third-party agencies, or interviewees claim a verbal contract, and you need to prove whether or not it happened.
For example, a customer claims your team had committed to a five-year deal with them for a certain amount. Now the customer accuses you of violating a verbal contract even though you are sure you never made such a promise.
In this case, you can review and share the transcript and the meeting recording with the client to avoid legal battles, fines, or other penalties.
8. Eliminate chances of miscommunication
Having too many attendees in a conference call with their half-baked notes is like having too many chefs in the kitchen. The broth is bound to spoil.
The Association for Psychological Science claims that making meeting notes results in better comprehension. Not surprisingly, 51% of attendees still make their notes based on their interpretations and understanding.
But there is a downside. Manually taking notes can lead to misinterpretation and distortion of facts. That's dangerous and distasteful, especially when dealing with clients and third parties.
Business transcription software provides a single source of information for everyone, eliminating chances of probable miscommunication. It takes notes verbatim to avoid biased opinions and views.
9. Increase transparency
Approximately 66% of customers consider brand transparency as one of the deciding factors before signing a contract.
When you transcribe your conference calls, you can share the meeting recaps with prospects and customers to make them feel valued and confident about your services.
Similarly, if you have calls with employees, board members, and other stakeholders, post-meeting summaries help foster a level of transparency and trust.
And, of course, compliance and transparency go hand-in-hand. It's a win-win for everyone.
10. Actively participate in meetings
Listening and participating while taking notes during a conference call is difficult. Humans, in general, are bad at multitasking. Multitasking is a myth.
Essentially, it means your brain switches between different tasks over and over to get the job done.
You don't have to worry about note-taking when transcribing your business meetings. The automated note-taker does it for you, allowing you to focus on the discussion and pay full attention.
And the best part, you can always refer to the conference call transcripts in the future without worrying about its accuracy.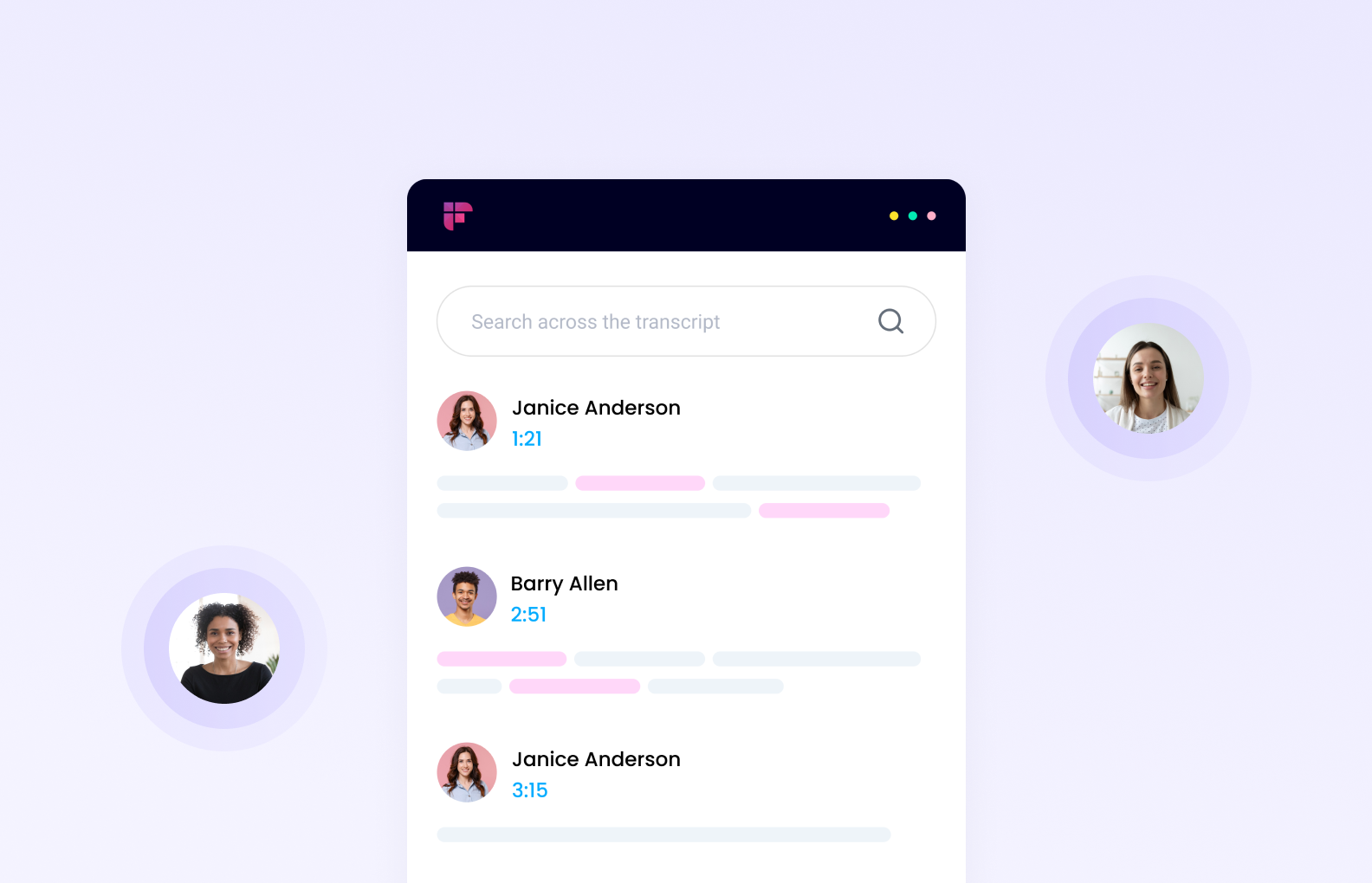 11. Repurpose content
Conference calls are a storehouse of information and offer golden bits of information that can be reused.
For example, a meeting with your product team can help you understand the science behind the product. However, this information is unavailable to your customers and other employees.

Whether this information is for public or private use, companies should harness any or all information with business transcription software.
By transcribing your business conference calls, you can repurpose transcripts into various content forms, such as videos, infographics, or blogs, to help people learn more about your company.
It helps archive data for future reference. It makes life easier for your organization, employees, partners, and clients.


Final Thoughts
The benefits of business conference call transcription cannot be overemphasized. It improves overall productivity and helps keep track of information shared, making it easier to filter through.
To summarize, here are the benefits of transcribing your business conference calls:
Increase reach
Improve accessibility and inclusion
Enhance SEO
Boost ROI
Quickly search content
Ensure legal compliance
Eliminate chances of miscommunication
Increase transparency
Have fewer, effective meetings
Actively participate in meetings
Repurpose content
Don't just take our word. Try conference call transcription software for your next meeting to experience these benefits. Get started for free!