Passion and an entrepreneurial spirit have led to hundreds breaking away from the corporate ladder and starting something of their own. Launching a business can seem daunting but the right approach and appropriate tools can be the difference between success and an also-ran.
Whether it's an e-commerce website or starting your own cafe, a suitable CRM is essential to gain loyalty, create demand, and retain customers. Customer relation management (CRM) systems for small businesses store, manage and analyze your customer data for better sales and more leads.
Most small-scale businesses start as a side hustle. Since the initial probability of failure is high, 50 % of them fail in the very first year. Therefore, most startup owners keep their day jobs to keep the risk minimum.
This divided attention can oftentimes lead to a very promising business fall through. Money crunch is another trouble most start-ups have to face. Finding investors, pitching business plans, promising success is grueling and taxing.
As a small business owner, you already have your hands full with trying to manage different aspects of the business. Staying organized and focused during such a time is the key to effective management. This is what good CRM software does for you.
Conducting market research and narrowing down your target audience is paramount to the success of any business.
And rightly so, a useful product may fail if marketed to the wrong audience and no amount of marketing can save a product that's faulty.
A big challenge for most small business owners is time management. Since any small business has limited resources--human and capital-- most owners over-exert and work overtime to make up for it.
Another area small businesses have a difficult time managing is balancing growth with sustainability.
Over 88% of companies believe that customer experience is significant for customer retention.
Some ways to focus on growing sustainably -
Monitor growth consistently and market your USP (Unique Value Proposition).

Focus on customer centricity and show an openness to new ideas.
Why Do You Need A CRM Software for Your Small Business
CRM is a mix of strategies, techniques, or tools that businesses utilize to maintain and access customer data.
A CRM software streamlines the process and organizes customer metrics onto a singular platform for easy engagement and interaction between different departments (customer service, marketing, sales).
Apart from maintaining customer data, let's look at some other basic features you should look for when selecting a CRM software for your small business -
Automates Tasks - The CRM software will form an automatic line of communication with customers nearing the end of trial periods or pay cycles and send reminders for renewal. This saves time and curtails any risk of missing out on business.

Timely Delivery of Information - CRM software sends quick follow-ups, updates regarding a new feature or change in policy, or any important information instantly to all the customers. That way you never have to worry about 'forgetting' to relay information.

Personalized Customer Experience - The stored customer preferences and communication data in the CRM software help in establishing a customer profile and delivering tailored customer experiences.

App Integrations - Some CRM software allows for multiple integrations with other applications like WordPress, Google Drive, etc. These integrations let you manage work from a single workplace instead of shuffling between applications. It allows you to save time and streamline work.

Team Collaboration - CRM software stores data from various inputs,  hence, the whole team can easily collaborate and extract information from one common source, feed it information and build customer profiles.

Customer Segmentation - Studying customer behavior and purchase history helps the system segment the customers. For example, a customer who signs up for a weekly newsletter will have a different interest from a customer that repeatedly buys one single item or plan from your website. Based on their choice, you then market interest-specific products to these different customer segments.

How to Choose a CRM Software For your Business
There are a few things to keep in mind when choosing a CRM software that is right for your business-
1. Alignment of your goals with the software - Pen down what problems you are looking to solve with the CRM, what do you want to accomplish here. Once you have a clear idea of your pain points, then study which CRM helps you solve them the best possible way.
2. Analytics - All CRM software churn out reports and analyses about the metrics. So while choosing software for your business, decide on which metrics you want to focus on. For example, if your focus includes managing leads as well as the reps, OnePageCRM allows leaders to generate reports for all sales reps on a set time.
3. Features - Most large-scale CRMs provide you with numerous integrations and high-end features to manage large-scale clients. This is not the case with CRMs meant for small-scale businesses. So do check on what kind of scalability features a CRM provides and whether it can evolve along with your business.
4. Ease-of-use - The more complicated a system is, the more time will your sales rep need to master it. If it's you and your team's first time using a CRM for business, you would want to look for one that is simple to use and can be picked up easily.
Being the owner of a small business means you are handling a lot of roles and clients by yourself. To stay quality assured, business owners need to outsource some of the work and if there are budget constraints then investing in a CRM tool is the next best option.

Best CRM Software for Small Business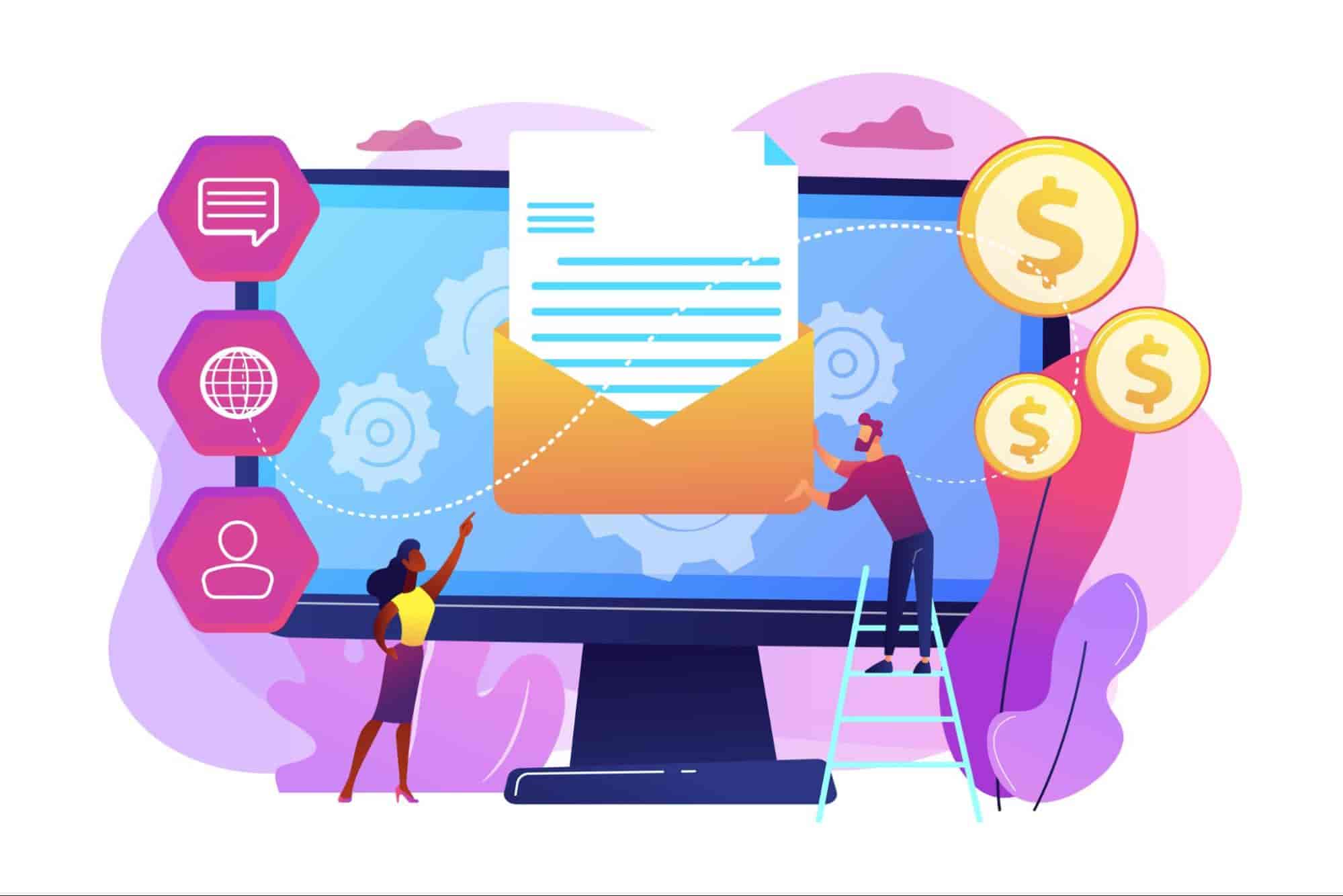 As a small business owner digitizing your CRM would be one of the best investments. If you feel anxious about spending money on a tool you aren't completely sold on, fret not. The market is brimming with CRM software that is user-friendly and completely free or has a free trial period.
You can try a few different software and select the one that suits your business style the best. Here are our picks for the best CRM software for small businesses that are effective and free of cost.
Free CRM software for small business
HubSpot CRM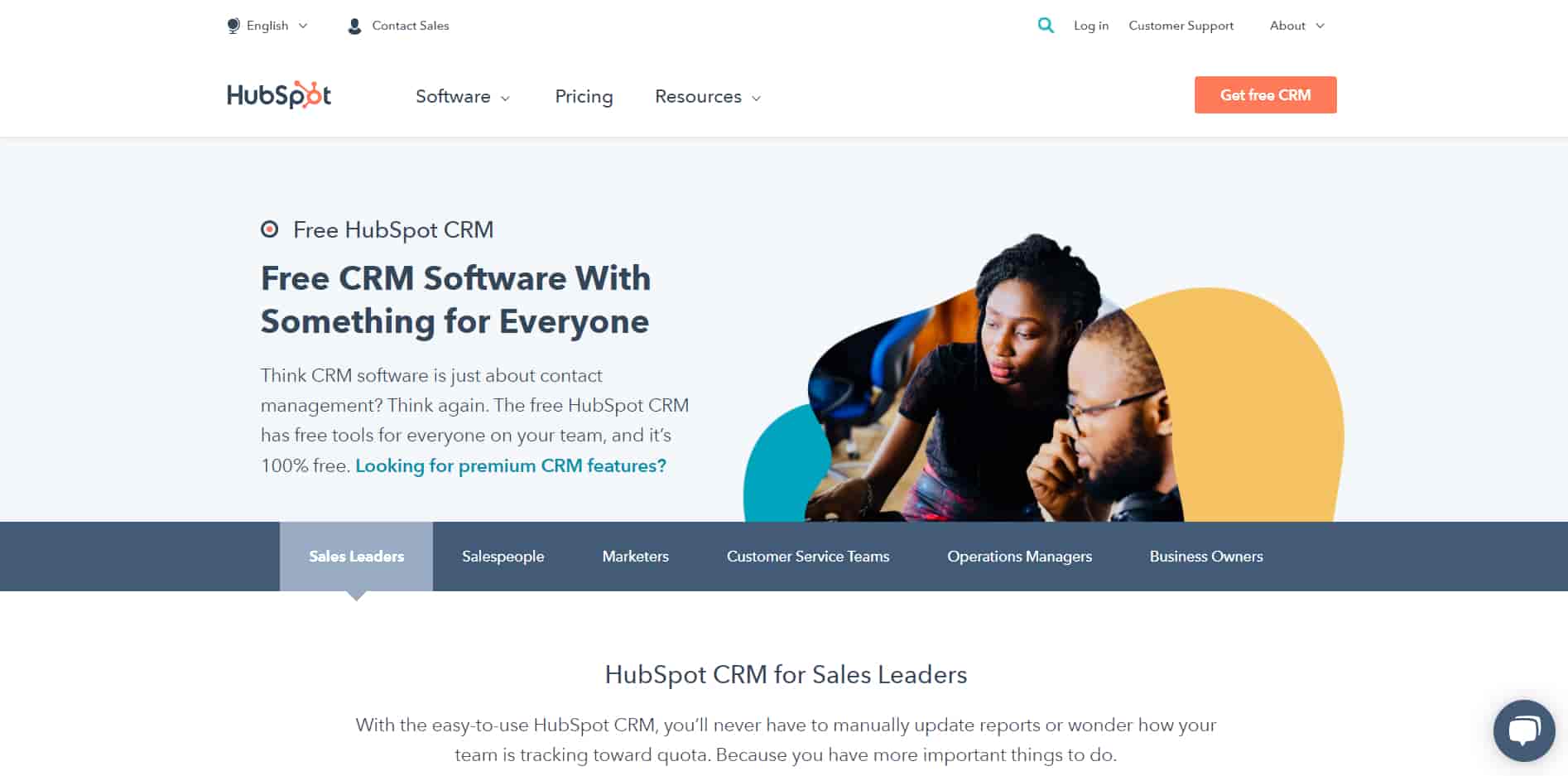 Hubspot CRM is for small businesses that are looking for integrations with multiple applications. It has a free start-up plan that offers email marketing, ads management, and live chat.
With over 600+ integrations, HubSpot compiles data from other applications and can be viewed from the dashboard. With HubSpot add-ons, you collect and combine more data for your customer profile.
For example, an Eventbrite registration will show up in the contact profile, similarly, Mailchimp conversation too is stored and can be viewed directly from the dashboard.

Bitrix24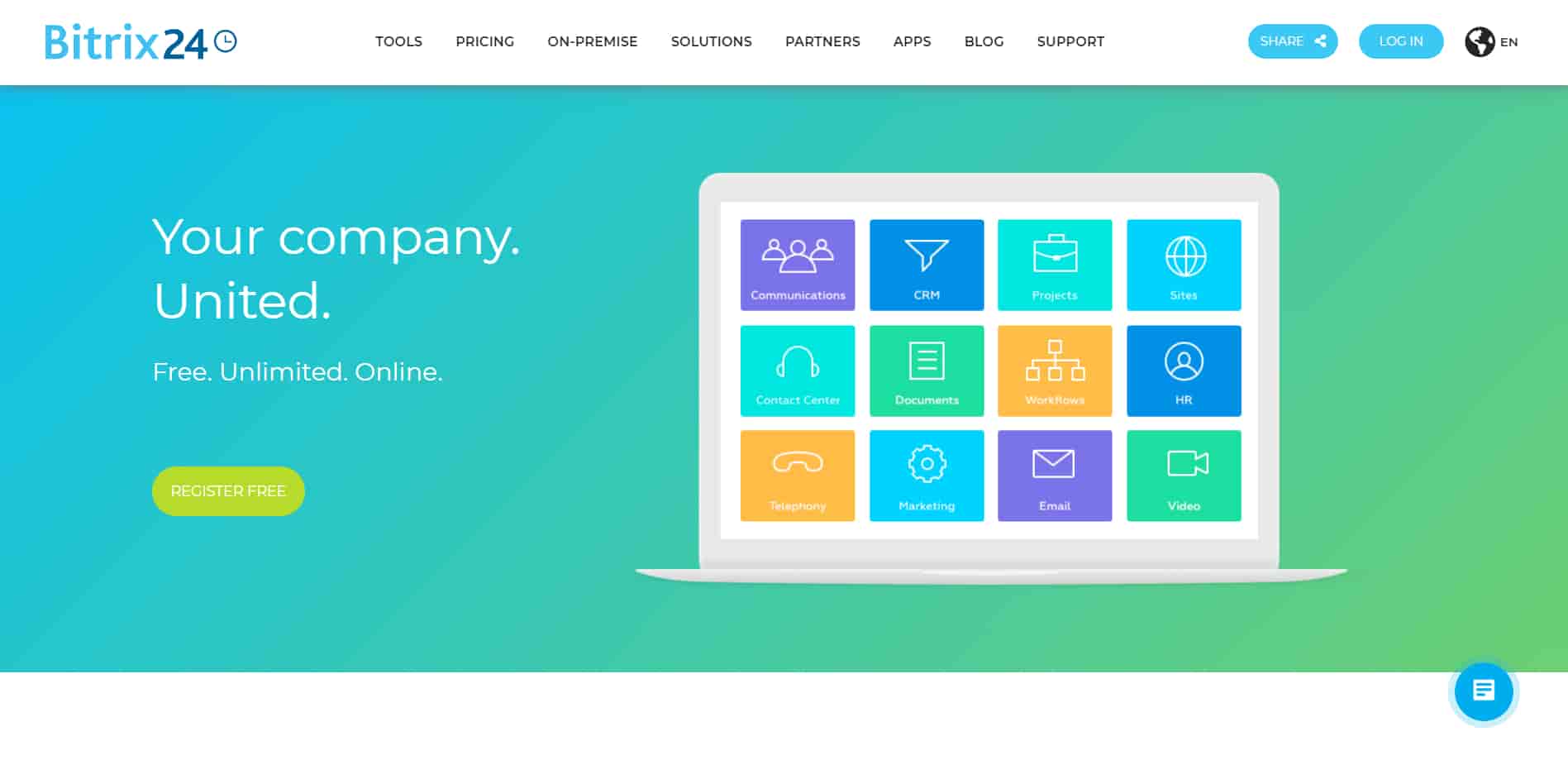 Bitrix24 as a CRM stands out because of its numerous additional features. Apart from all CRM features like sales intelligence, analytics, and webmail, it has amazing team collaboration tools such as workgroups and chats, pools, and internal working streams.
It lets you customize its menu where you can add, delete and change certain items according to your needs and understanding of the tool.
You can allocate your team to different departments right in the application through the 'activity streams' feature and assign tasks and internally chat with your team. You can create a public or private channel to share information and calendars for perfect communication.
The best thing of all is that the starter business suite is free for unlimited users. Perfect CRM for small business owners.

EngageBay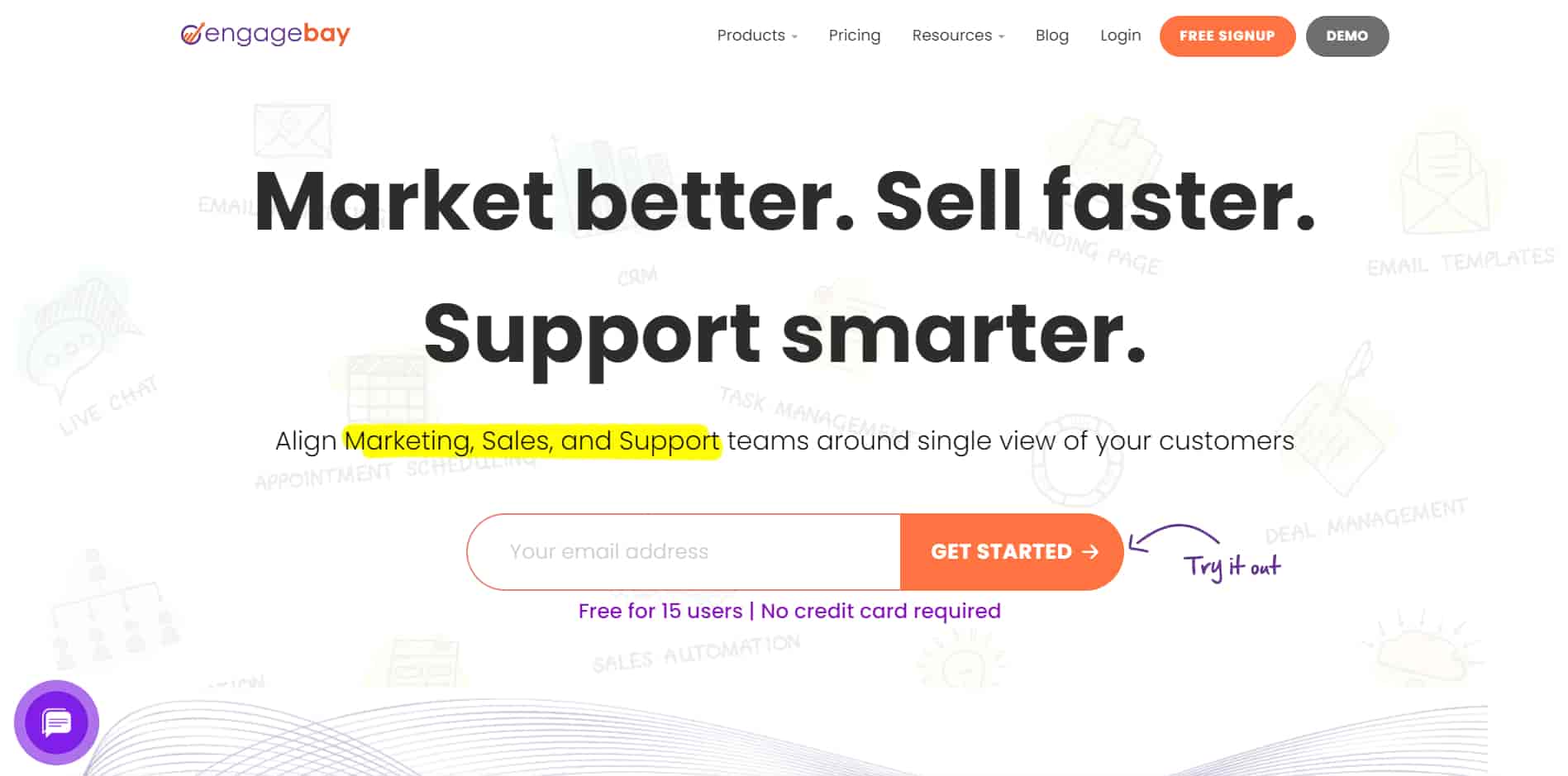 EngageBay offers an all-in-one tools box that covers marketing, sales, and service. The free version allows a complete 360 view of 1000 contacts. CRM and Sales Bay provide tools that aid in contact management and engagement.
It allows a lot of services that aren't usually part of the free option. You can see how contact has engaged with your company through various touchpoints like email, deals, purchases, etc. You can create your own automated workflow through tasks, notes, and email templates.
You can access the ticket dashboard and live chat option in the service feature. The marketing Bay provides you with a chance to manage your socials in-app. You can also track contacts' email response, open and click rate, activity, etc.

Insightly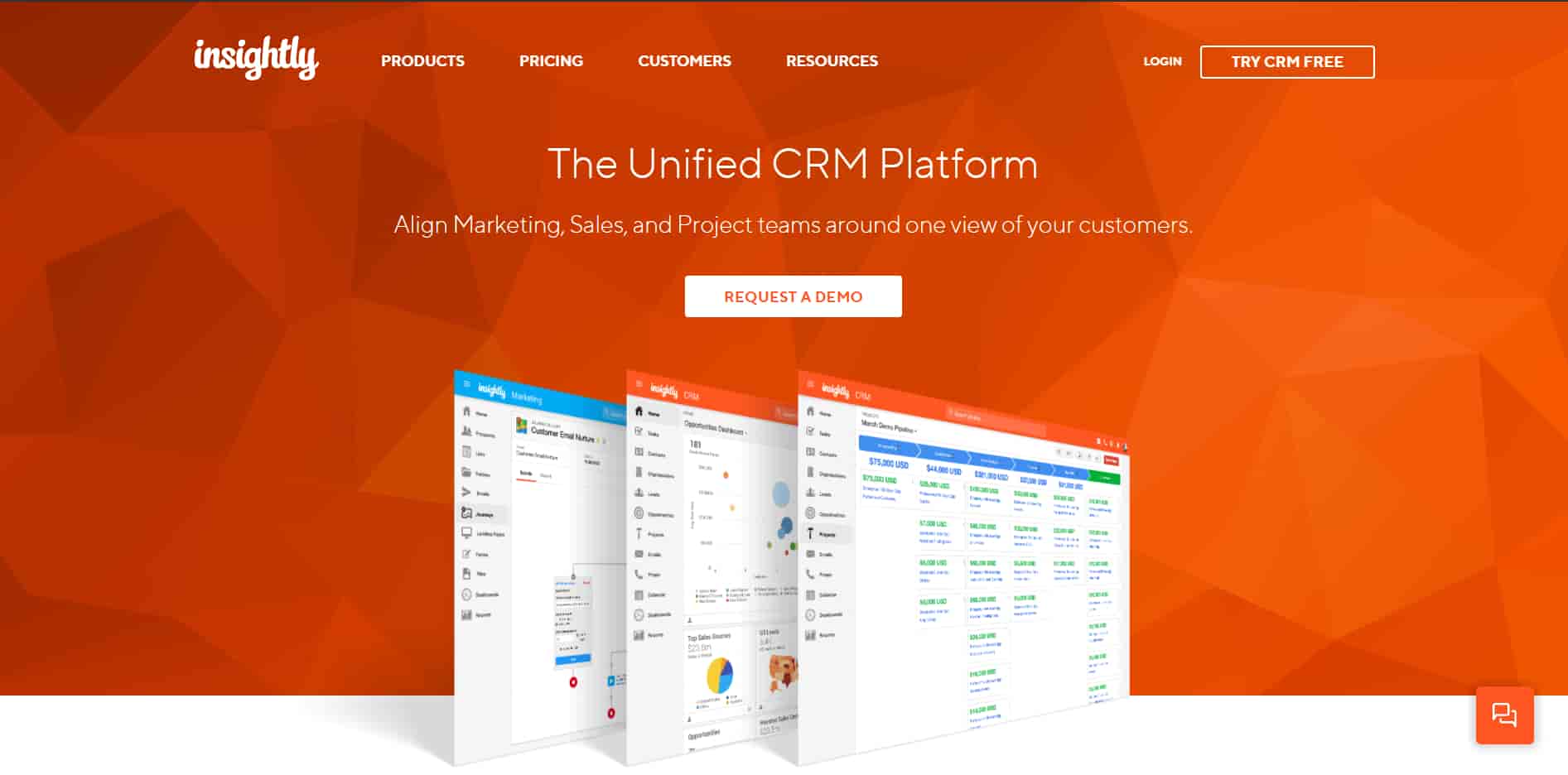 Insightly is one of the best CRM tools for small businesses that need some help with the project management aspect of their work. Apart from managing contacts, analyzing customer data and email marketing, Insightly, helps you in prospecting and workflow automation.
It has a simple and clean user interface and does not overwhelm new users. With centralized data, you can keep track of open rate, bounce rate, click-through rate and engage in collaborative learning experiences. It can integrate with a number of powerful tools like Gmail, Office 365, MailChimp, etc.
You can create customized reports and dashboards according to your business level.

Agile CRM
Agile CRM gives free what others charge you for - it provides free marketing capabilities for your business. Starting out as a small business owner means you need some initial help with charting out a marketing plan. Agile CRM helps you visualize through 'if'  and 'then' options and create a definite flow.
You can customize your own templates with different colors, designs, logos, and more.  All actions related to a customer are recorded, furthermore, you can add tasks, events, notes, and even campaign names to a contact profile.
It integrates all the three systems --sales, marketing, and customer service, all for free, and even offers free contact analysis.

Less Annoying CRM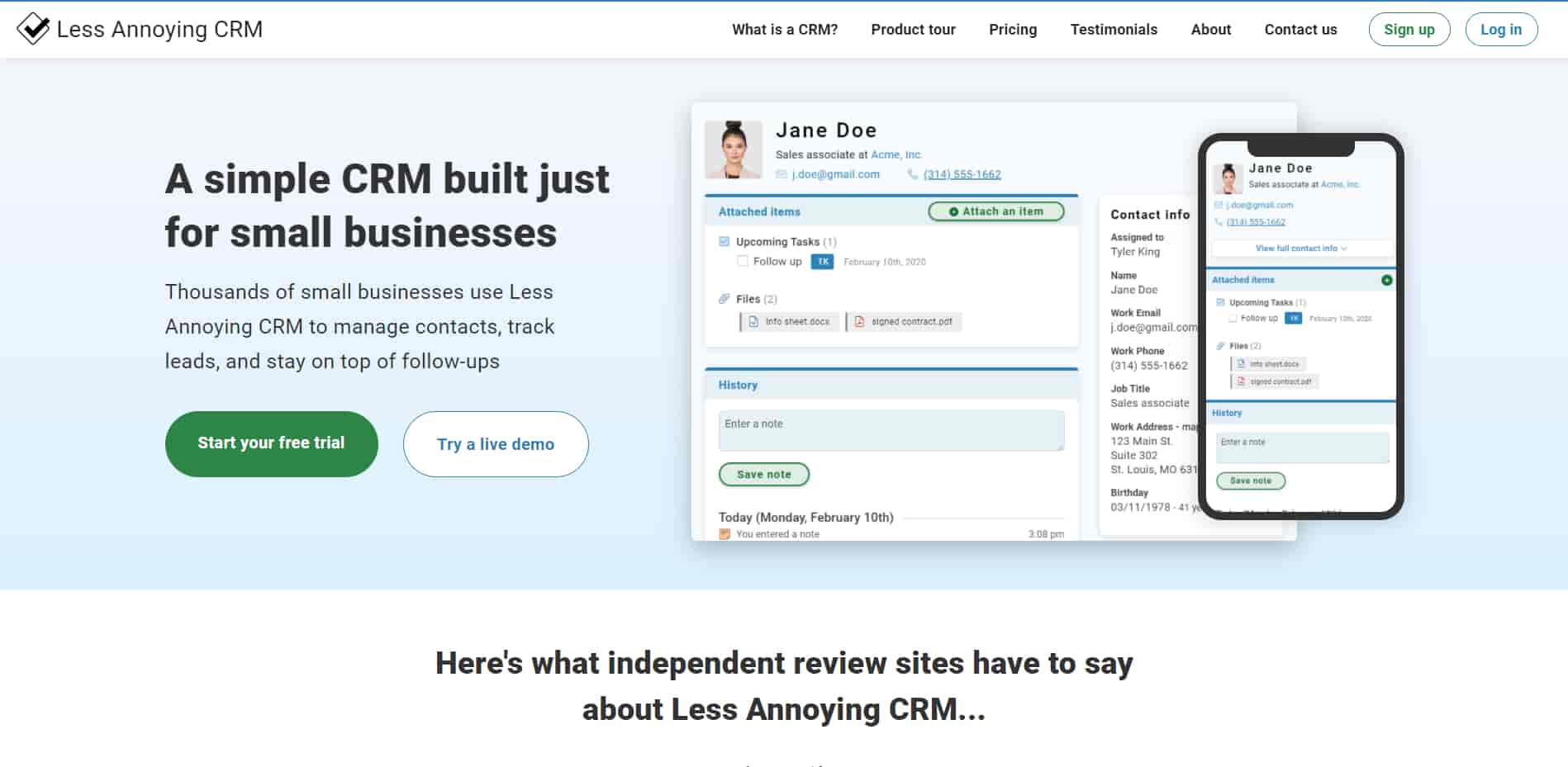 Less Annoying CRM or LACRM takes charge of task management,  follow-ups, and maintaining leads and customer contact. Your task can be viewed and kept track of through an in-built calendar and agenda through to-do lists.
The software is simple, thus reduces the learning curve and is easily operable by a first-timer. Emails sent to the customer can be logged in the database and tracked. The software sends timely notifications via email and SMS service.

Keap
Keap is an all-in-one marketing, sales, and CRM automation software. It manages the sales pipeline and contact management. It helps with lead generation and allows customer profiles to be customized according to business requirements.
You can input data by scanning business cards, with spreadsheets, and integrating with other CRM software. It makes repetitive tasks easy to handle with automation and saves marketers important man-hours.

Best CRM for small business (Paid)
Capsule CRM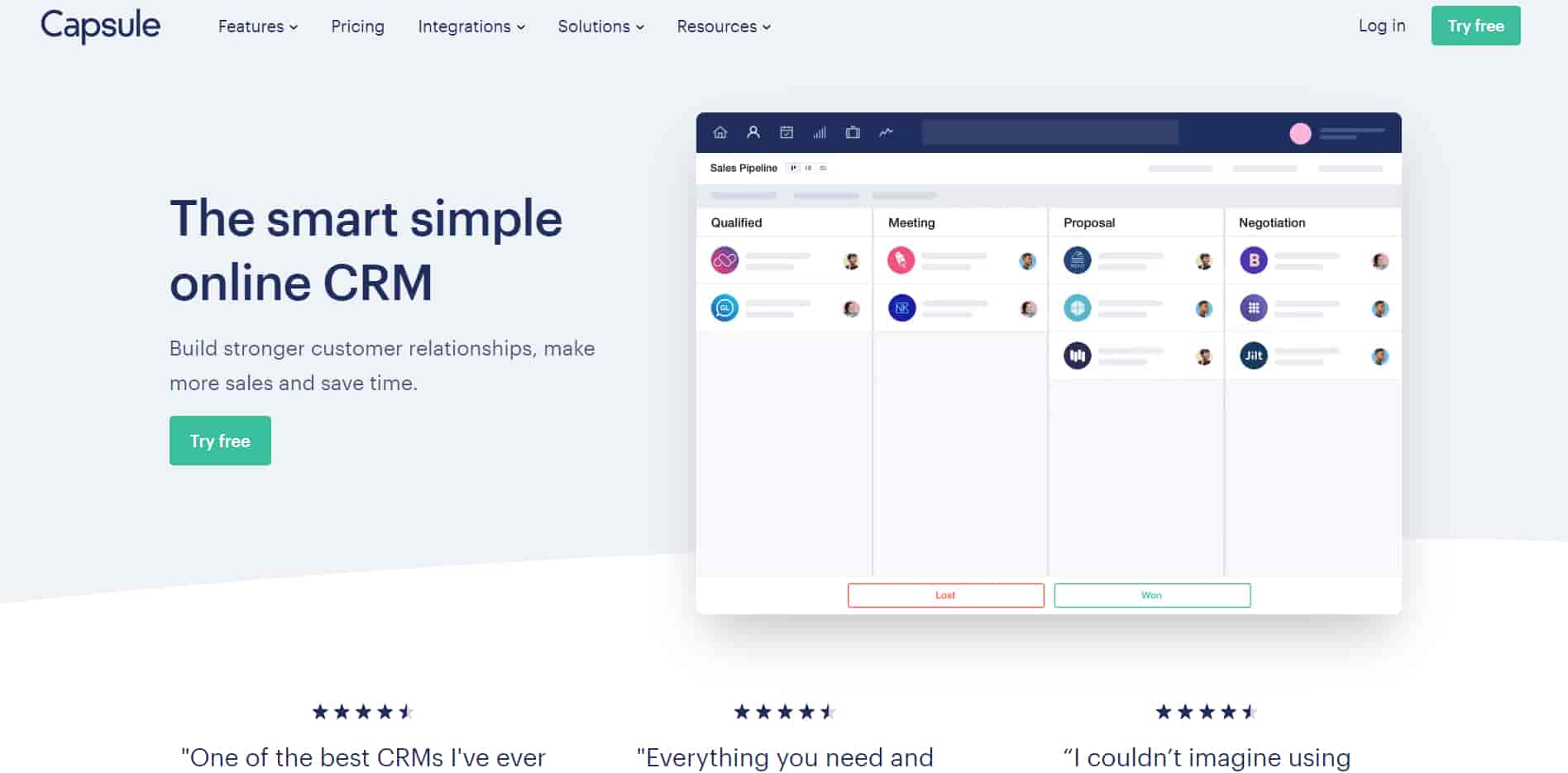 One of the biggest hiccups with adopting a CRM system is learning and training. Capsule CRM brings you one step closer with an easy-to-understand operating system and a super clean user interface.
Instead of trying to extend itself into more features, it does what it does best - manage daily workload. It has an excellent feature called 'tracks' that let you craft a set of activities that can be used for a new segment of customers, or even generate new leads.
Capsule is a fantastic tool for a startup or a new business that has contacts below 250. After which you will be asked to shell $18 per month and will be given an extended contact list of 50,000 contacts.

Zoho CRM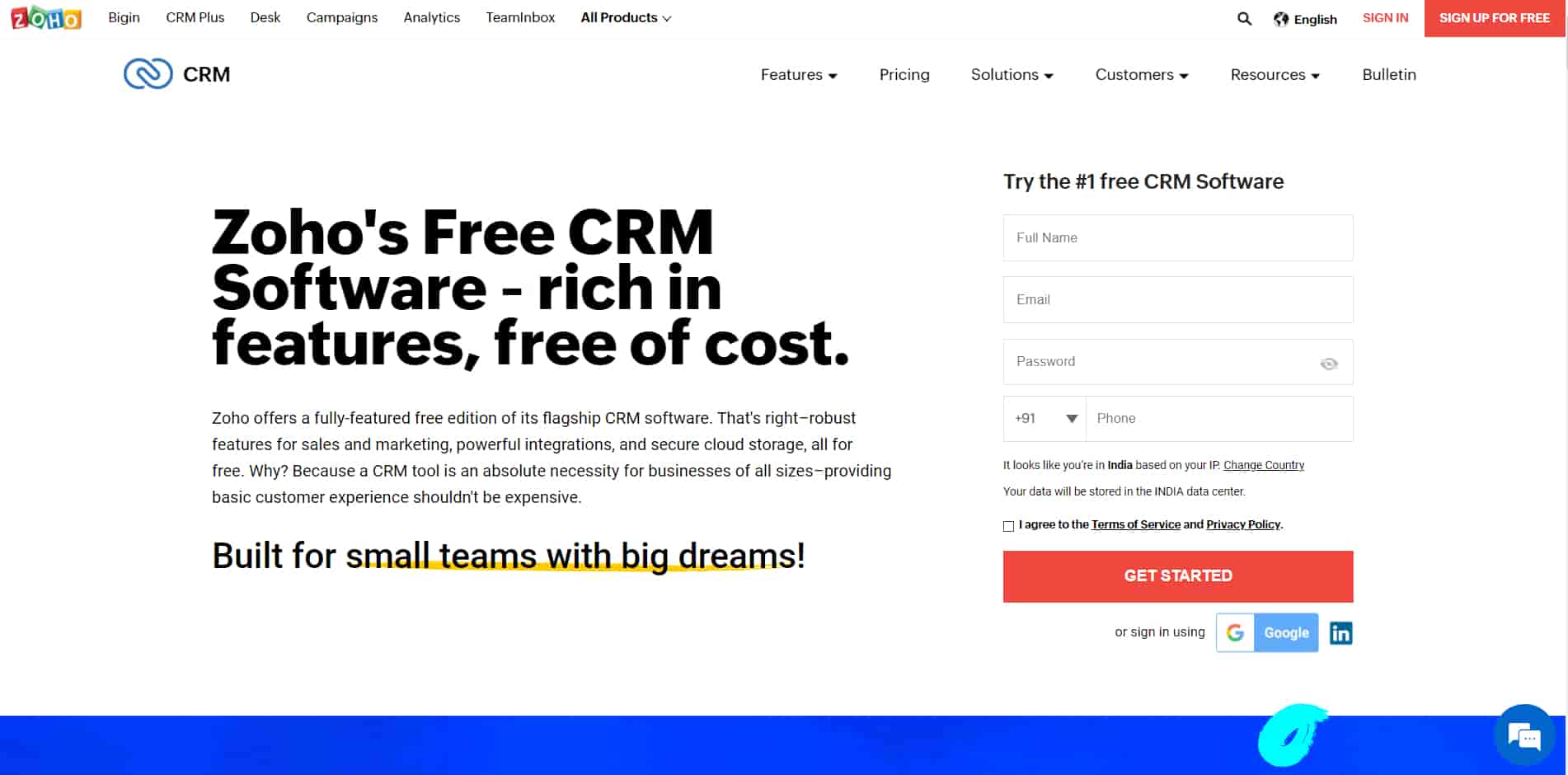 Zoho CRM is a full-stack CRM that provides small businesses with tools to scale up and grow. It has a clean UI with social media features, personalized modules, automation, and tools to help manage leads.
Zoho itself has different apps for different needs of an organization -- HR, marketing, e-commerce, sales, and finance. They can be combined and integrated to form one common centralized ecosystem for CRM. A good all-in-one solution for small businesses looking to grow.
The paid CRM also provides deal handling, task management, sales forecasting, funnel tracking, KPI tracking, data comparisons across regions, users, services, and much more.

Salesforce CRM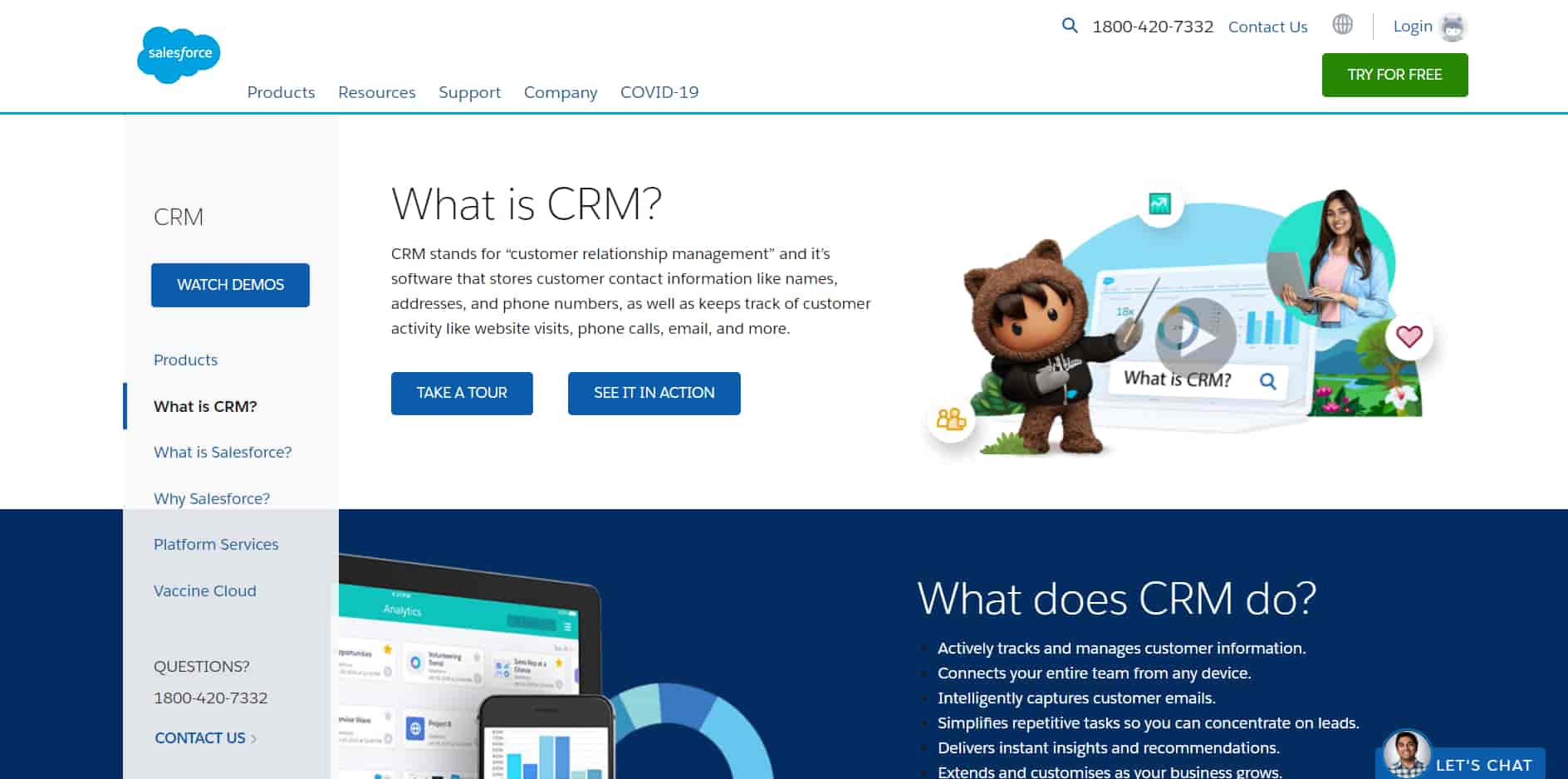 Salesforce CRM is a highly customizable tool with amazing features such as sales opportunity management, workflow rules and automation, and customizable reports and dashboards. It supports over 14 languages.
With Salesforce CRM you can create sales reports, tables, graphs, trends, and more. Your reports can be edited and easily shared. You can send emails in real-time. It's agile and intuitive to the point that new users can learn the tool fairly quickly.
They offer other great additional services like service cloud, sales and marketing cloud, and Einstein intelligence.

Active Campaign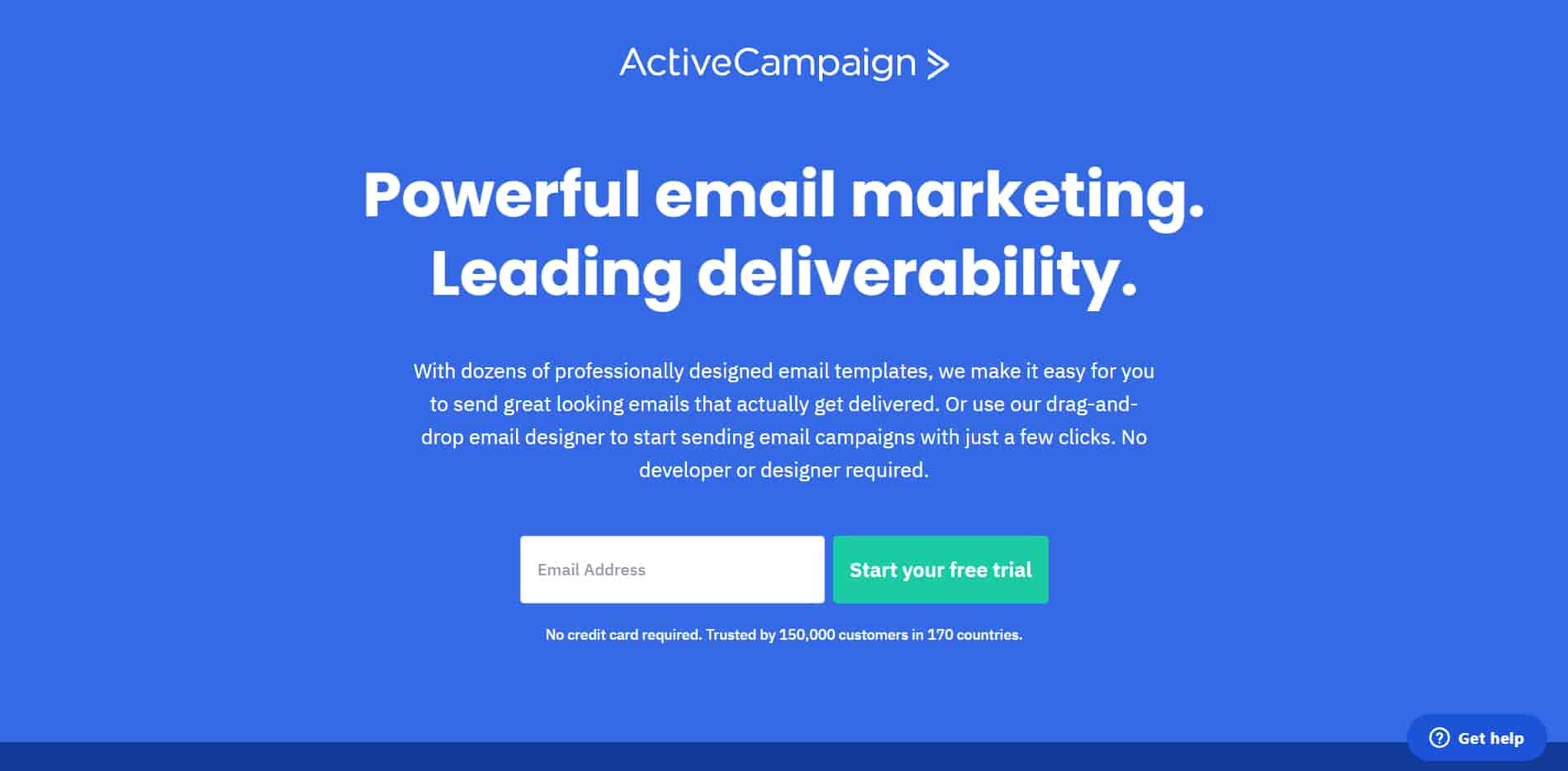 If you are not a tech person, Active Campaign is one of the easiest CRM software to operate. It helps your sales team segment your audience and create personalized email and social media messages for different segments.
Everything you need and wish to see is present in a well-organized dashboard. For a newbie, they offer video, email, and call support. Any query or help you need is provided instantly.
You can expand and combine numerous services like email marketing, CRM, marketing automatization, landing pages, etc, all under one roof. You can also use pre-designed templates to create automation sequences and campaigns.

Pipedrive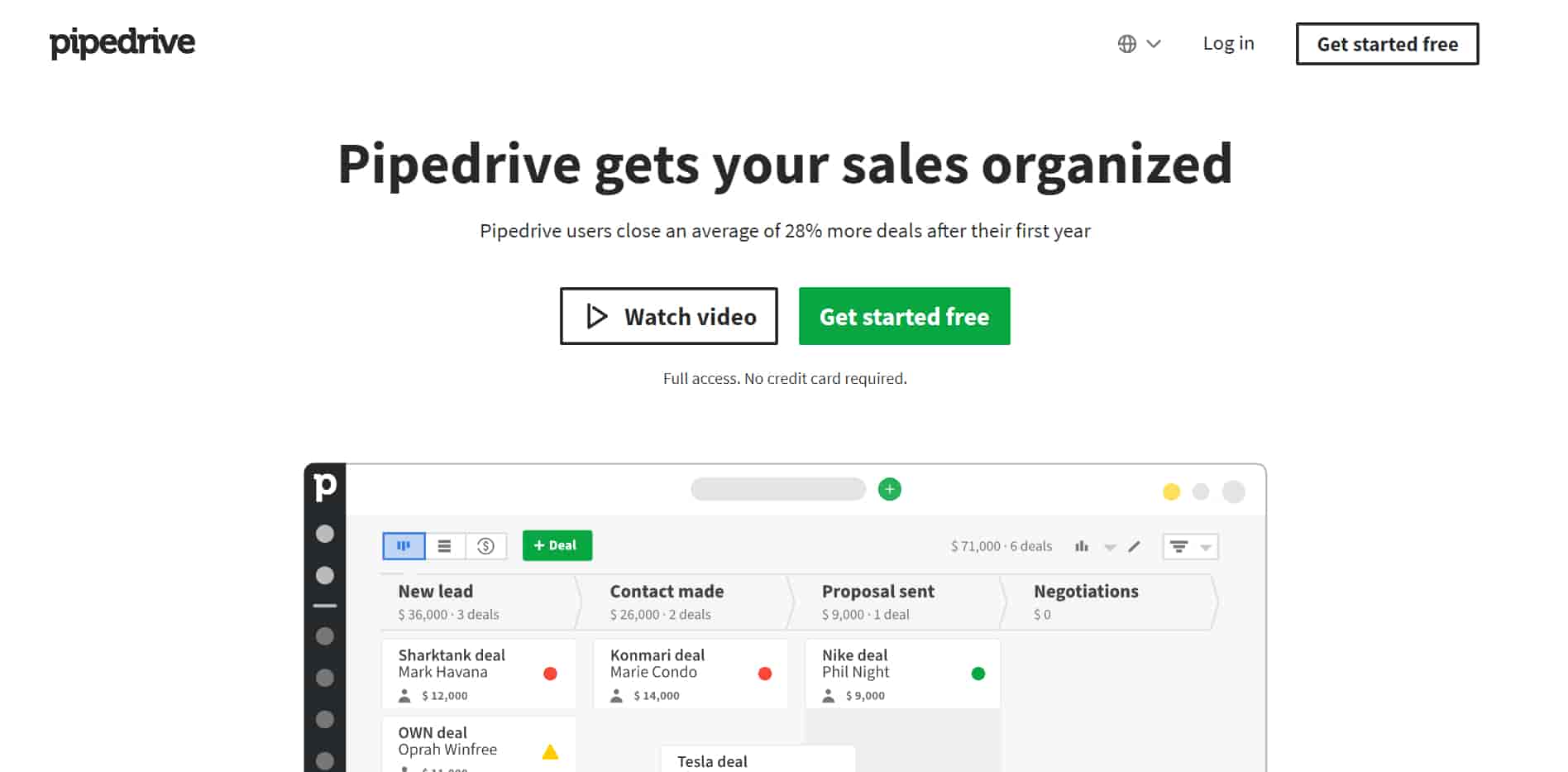 Probably a favorite of many small business owners, Pipedrive analyzes the sales pipeline and marks important activities and conversations. It easily integrates with numerous other tools like MailChimp, Zapier, and Google Applications. It has a powerful API and built-in forecasting features.
It is easy to understand and use, and is very intuitive, and recognizes which leads are in the sales process, their engagement, and if there is a need for follow-ups with them.
You can send emails directly from the application, and it provides reports for performance assessment.

Freshwork CRM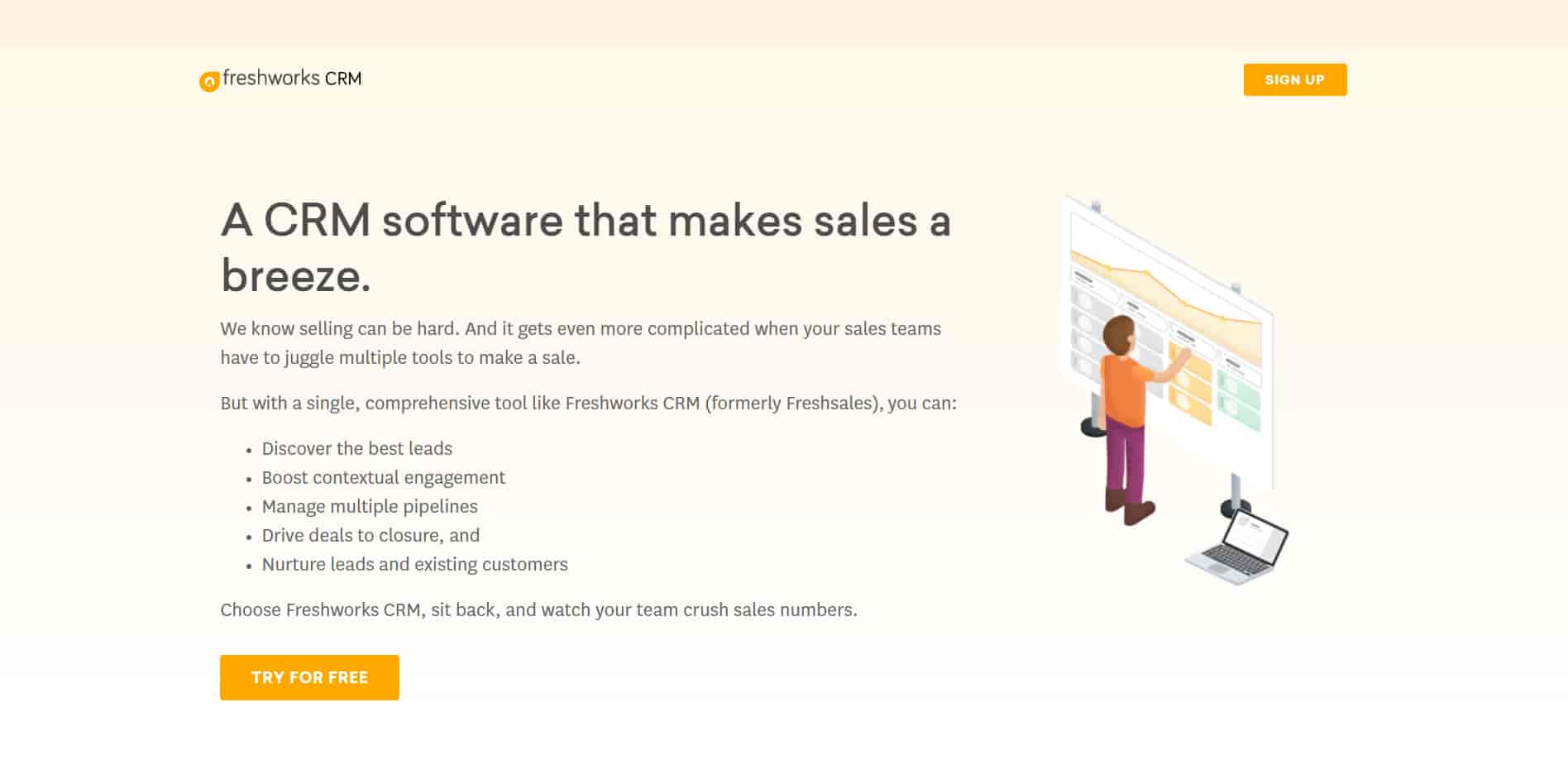 Freshwork CRM combines sales and marketing with AI. The AI provides you with insights to better engage at touchpoints and understand your customers. The AI machine assistant Freddy is there to assist you in your CRM goals.
The customer-for-life cloud offers tools to prospect new leads, combines live chat and telephony, and you get contact life cycle management and additional sales tools to move leads up the pipe.
The free version has basic features like Kanban pipeline, data transfers, activity timelines, and tasks. The paid version has upgraded features as sales lead nurturing, SMS alerts, chat support, lead scoring, workflow automation, and others.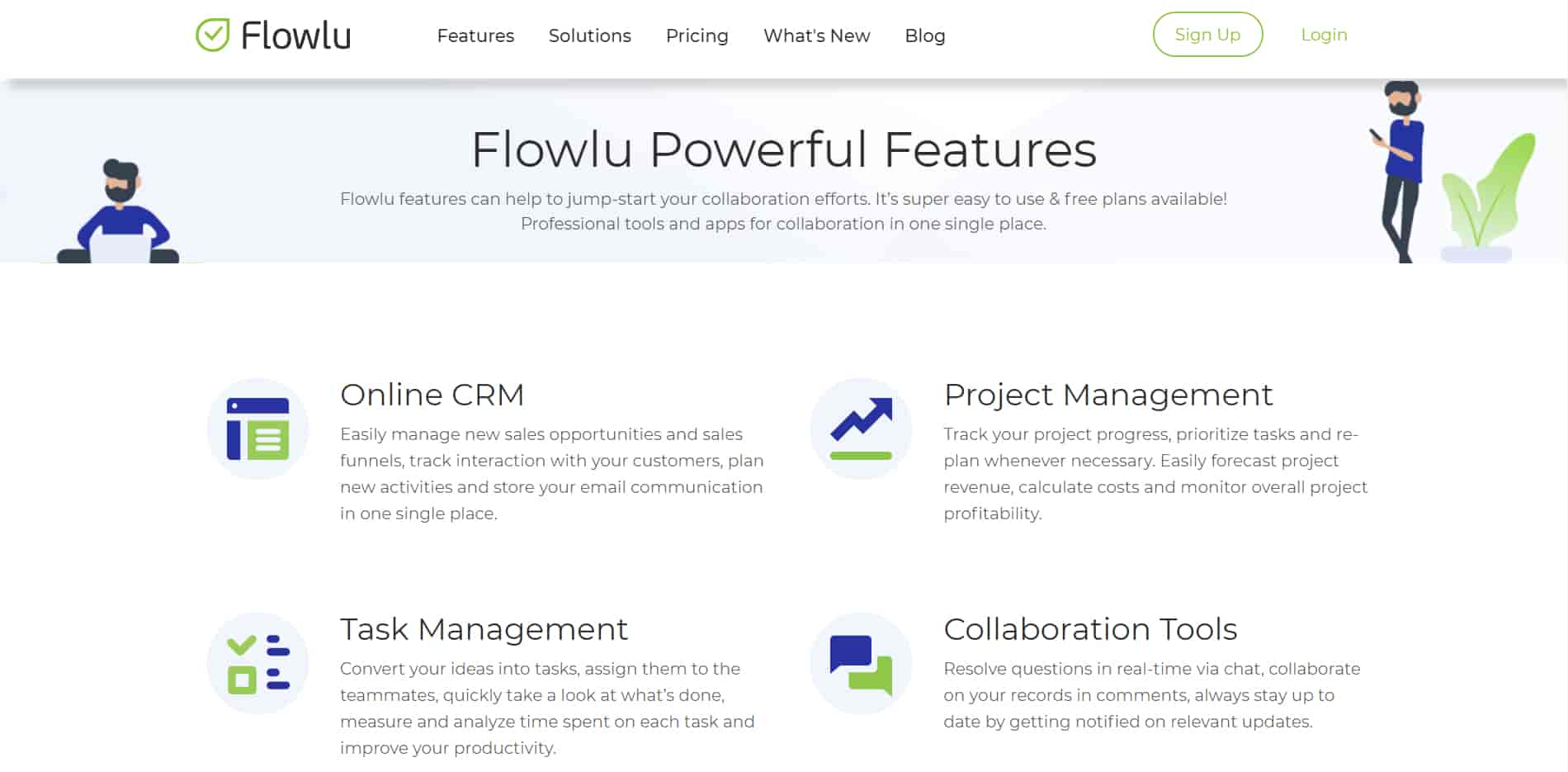 FlowLu CRM is a cloud-based operating system with all tools in one place. It "gives you a birds-eye view of everything that's going on within your company". The CRM is combined with project management and knowledge features.
You can create a knowledge base, store project expenses, and record tasks. With Agile Scrum, a company can also have scrum activities on a visual task management board. It also helps enhance project productivity by tracking and prioritizing tasks, which streamlines your workflow.

To Conclude
Loyalty drives good business.
Showing your customers that you care through follow-ups and experimenting with new engagement techniques will be helpful in the long run. Small businesses grow and scale into bigger ones by not just getting new clients but also by finding ways to retain the old ones.
Small businesses have different needs than bigger, established businesses. And sometimes that can be a good thing. Every decision is a big learning step. Since you are starting from the ground level, you EXPERIENCE the pros and cons of a decision instead of just being told.
And every experience turned into a life lesson is a big benefit when you are stuck in a similar situation later on in the process. So don't let that initial hesitation stop you. Adopt good tech and strategies to turn your dream into a reality.
Read Next: