Remember those good old school days—how we used to have different notebooks for different subjects? Some even had one large notebook with dividers. Either way, it helped us stay organized and easily find important details when needed.
Our latest feature update is quite similar.
Fireflies Notebook now organizes all your meetings in three different channels.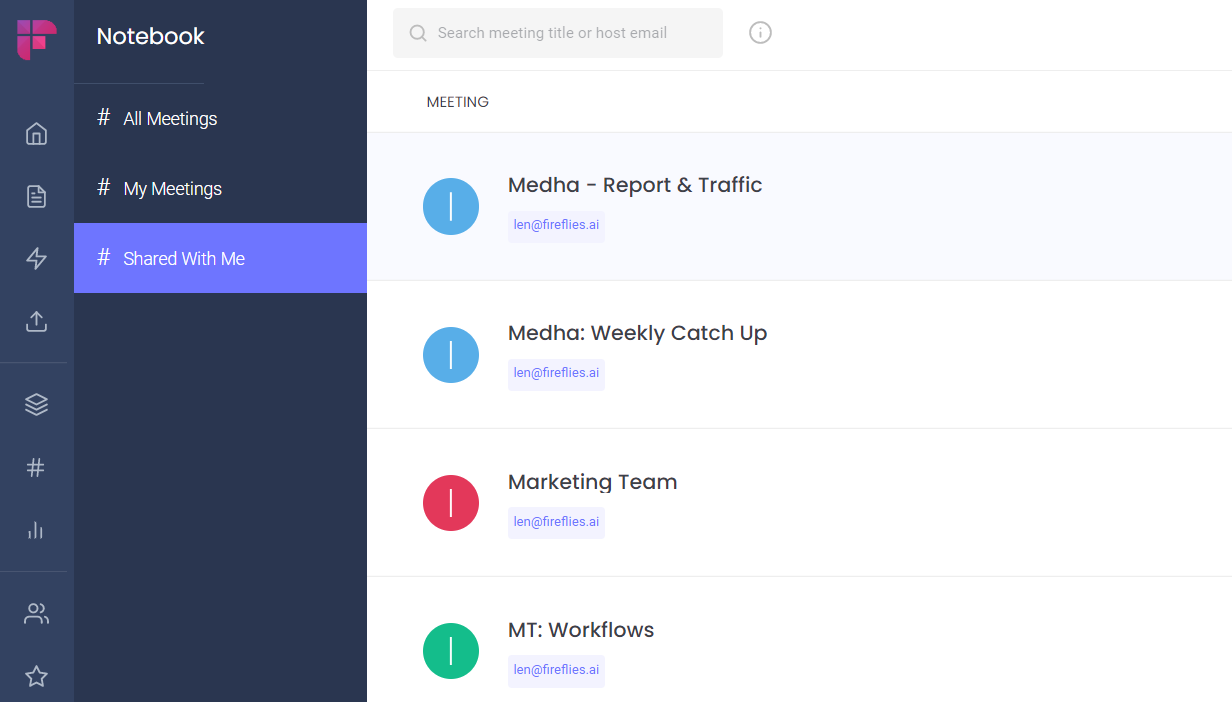 All Meetings: This channel stores the list of all the meetings since you joined the company. It includes meetings hosted by you or meetings shared by your colleagues.

My Meetings: This channel gives you access to the list of meetings where you were the host. You can edit or delete these meetings.

Shared with Me: This channel has a list of all the meetings where you were a participant. These meetings can be archived.

You can also use the  search bar to find the meeting without sifting through the entire list. Just type in the meeting name or the host's email address in the relevant channel to find your meeting in the blink of an eye.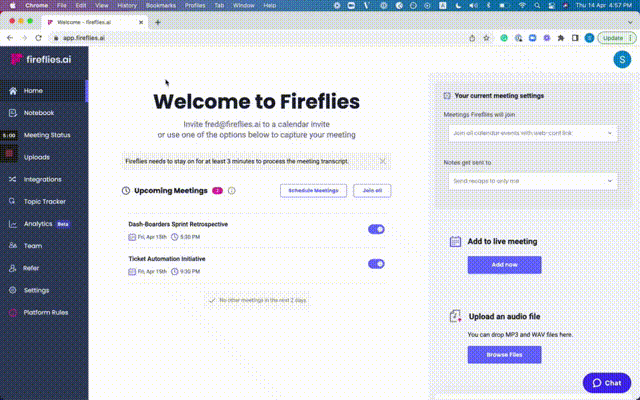 Read more about Fireflies Notebook
Different Channels = Organized Information

A recent survey claimed that 83% of people spend up to a third of their workweek in meetings and attend at least 8 meetings every week.
Now, multiply this by 52, and that's the minimum number of meetings you are involved in a year. We've done the math for you: it's 400+ meetings annually. Imagine the chaos if all this data isn't categorized correctly.
So, here are the benefits of having different channels in the notebook:

Stay organized with different categories: Differentiate between personal and team meetings to stay more organized. Makes information easy to retrieve and share.
Save time with targeted search: Easily search meetings using the title or host name and find it in the Notebook in just a few seconds.
Ease of access: Make meetings more accessible and meeting minutes more searchable, shareable, and actionable,


Conclusion
Organizing data is a painful and time-taking process—no wonder many people avoid doing it. Our new Notebook feature self-organizes this data for you based on the meeting host, making information more accessible. With a simple search, you can easily locate your notes and act on them immediately, making meetings the source of success and less stress.

Read Next: