Customer journeys used to be a simple one-to-many approach. A TV or radio jingle, a large billboard sign, and a magazine advertorial can drive intended actions from target audiences, or that's what marketers were hoping for then, at least. There was no analytics to see how each one was performing. It was more faith-based than anything else.
Today, things have changed. Offline ads. Search engine marketing and retargeting. Social media. Mobile apps. Websites. There are layers of journeys that one must take before buying a product. This constant bombardment of ads on different channels can sometimes be annoying and intrusive.
Sure, you know your target audience. You know what they like, perhaps have some intuition about them too. But that's not enough because the path from awareness to acquisition is not a straight one.
To navigate such a snaking route, you must create a customer journey map. It will give you a better understanding of what your potential customers go through before purchasing.
This blog will look at customer journey mapping in detail, including what it is and how to create one.
What is Customer Journey Mapping, and Why is it Important?
A customer journey is a diagram or flowchart that visualizes customers' engagement with your brand, service, or product. It includes all touchpoints customers have with your company: from, say, seeing a post from your brand's LinkedIn account to direct interactions with customer service or sales teams.
Knowing how your customers buy is crucial in acquiring, growing, and retaining customers. You'll be able to create a strategy that will meet them at every stage.
There are different models for this, AIDA being the most favored. Whatever model you choose, it is important to consider that customer journeys are circular, not linear—it doesn't end.
It starts with the trigger or the initial decision for the purchase. This could be a problem or a pain point.
The second part of the loop is evaluation. Your potential customers are looking for answers to their problems. They seek information, alternatives, and specific solutions that match their needs.
Sometimes, they already have a list of brands that they are considering. The big question is: is your brand part of that consideration list?
The third stage is every marketer's favorite type of conversation: purchase.
It doesn't end there. The customer journey extends to the post-purchase experience. Every brand needs to continuously nurture its relationship with the customers and be aware of any situation that will bring the customer back into the journey's first stage.
Example of Customer Journey Mapping
So how do you create a simple customer journey map?
Here's a customer journey map example from the popular coffeehouse giant Starbucks. Starbucks gathers customer feedback about their store visits and records their experience in this chart.
It is composed of three major elements:
1) Touchpoints: This is the extent of customer interaction with the brand. It could be in person, through a mobile app, or website.
2) Enriched experience: This reveals unpleasant customer experiences and how to resolve them.
3) Poached experience: It asks consumers their overall feelings about the store they have visited, especially during the rush hours.
How to Create a Customer Journey Map
Step 1. Set objectives
Ask yourself the reason behind creating this map. What do you want to achieve? Your objective is your North Star. It is the end goal of all your effort. There are different types of objectives, from building situational awareness to purchasing.
Step 2. Understand your target customers
The best way to create target personas is actually to talk to customers. The second best way is to send out customer surveys. Without doing either of the two, target personas are just merely make-believe templates.
Your questions should match your goal. It is best to refrain from asking unnecessary questions. Keep it short, sweet, and to the point. You'll get the right answers, and your customers won't hate you for wasting their time. Win-win.
Step 3. Stick to the right touchpoints
Focusing on the most critical touchpoints will be less painful when you understand your target audience well. It's still an uphill battle but doable.
Trying to cover every touchpoint imaginable will lead you astray. Apart from the numerous touchpoints, there are those you can't track, like dark socials.
A group of friends on WhatsApp talking about your brand could cause an uptick in conversations. But, unfortunately, you don't have concrete proof for that.
Step 4. Decide the map type
Based on your objectives, decide the type of map. This could be:
Current state: This map helps visualize your customer's actions, behaviors, and emotions while engaging with your brand.
Day-in-the-life: These maps detail your customer activities in a day, whether or not they interact with your brand.
Future state: As the name predicts, this map allows visualization of future actions, behaviors, and emotions of your customers while interacting with your brand.
Step 5. Resource planning and management
The customer interacts with your company on different channels. Chances are your prospects might reach out to your sales, customer success, or other teams to know more about the product. In such a scenario, you must have the resources required to design the customer experience. Take stock of your current resources and identify the ones you need to improve the buyer's journey.
For instance, imagine your map shows some shortcomings in your customer service offer; you notice your team members don't have the resources to follow up with customers after a sales call. With the help of your map, you could advise the management to invest in appropriate customer service tools to assist the team in managing customer demand.
Step 6. Walk in your customers' shoes.
Designing the customer map is only the first step to creating extraordinary experiences. Evaluating the results is just as important. Ask yourself these questions: How many touch points did the customer interact with? At which stage did the customer exit? How many people are visiting your website but not converting into customers?
Such questions highlight whether your customer's needs are being met or not. Walking in their shoes will help you go a long mile in building a robust strategy that improves business and pushes for practical solutions to your customers' problems.
Last Step: Take action, test, and improve
Now that you have a simple customer journey map, it is time to act on it. See what is working and what isn't, and then make the necessary changes.
Your tweaks will foster an improved journey since they address your customers' pain points. It's better to prioritize solving more significant problems first before tackling minor ones. Interpreting the data from your customer journey map gives you a clearer perspective about changes you should make to reach your business goals.
Congratulations on completing your customer journey map! It's not yet the end, though. As mentioned earlier, your customer journey map is a loop.
Don't forget to consider the shift in buyer behavior as you go through this never-ending journey. Make sure you constantly adapt to your target market's needs and interests.
If possible, test and improve regularly (every six months or so). Tweak it each time you make substantial changes to your product or service.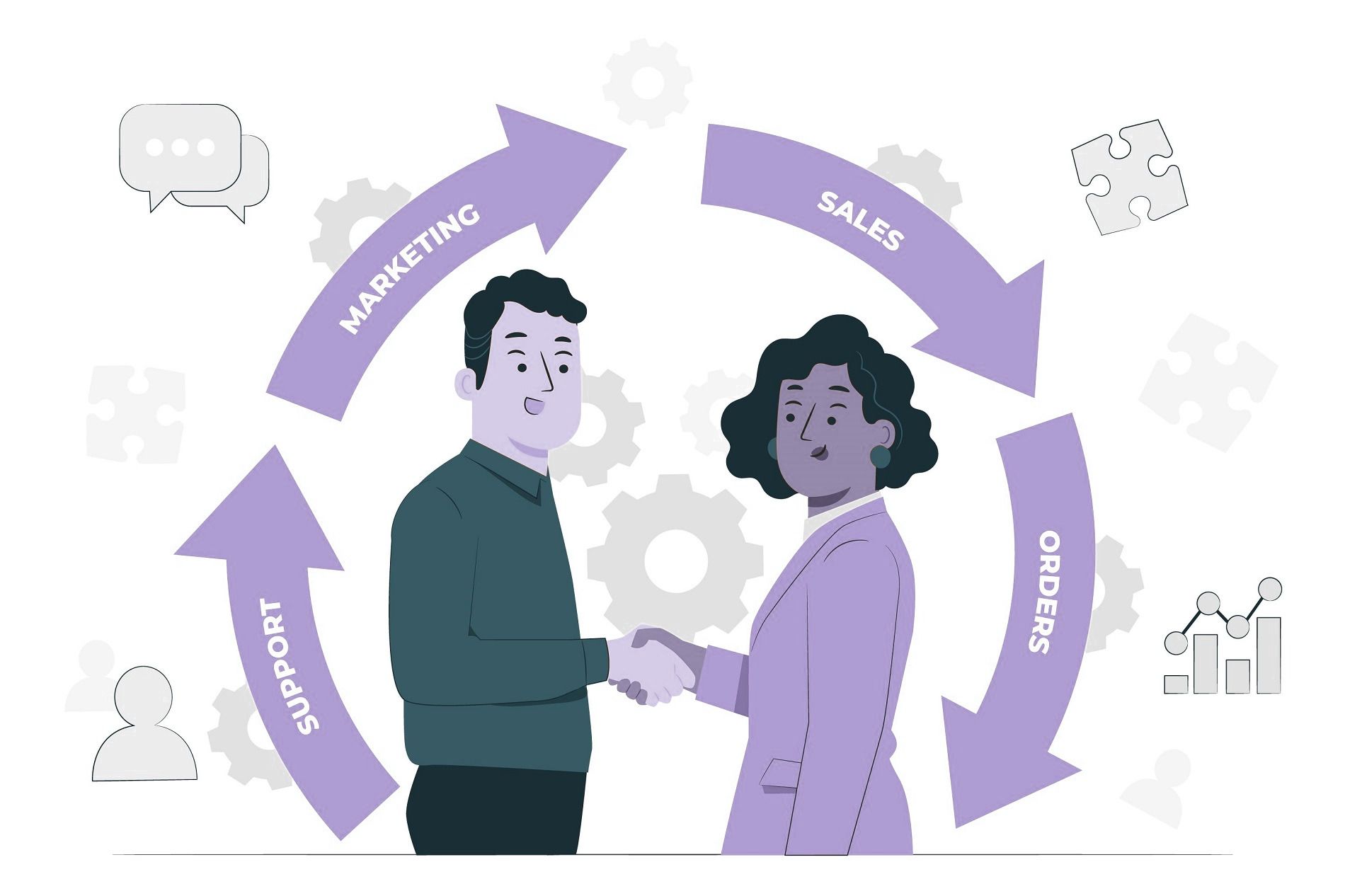 The Top 5 Tools to Help Create a Customer Journey Map
These are some of the most popular customer journey mapping tools used by companies worldwide:
1) Microsoft PowerPoint. Best for avid Microsoft Office users
Price. It is already included in the Microsoft Office package.
Pros
Cost: Microsoft Office users can use this feature at no additional charge. It's a familiar tool with a steep learning curve.
Document portability: Exporting or importing data to and from software is easy, so you're not stuck with only one platform.
Flexible: Offers tremendous flexibility in layouts, shapes, and linking elements that are easy to format.
2) Smaply. Best for simple drag-and-drop interface
Pricing: Free plan available. Paid plan starts at 19 Euros per user per month.
Pros
Exhaustive knowledge center: Comes with video guides for personas, journeys, and stakeholder maps.
Collaboration and sharing: Since Smaply is cloud-based software, users can share, view, and edit maps. Data is downloadable in PowerPoint, PNG, Excel, and PDF formats.
Customizable templates: It allows users to customize, reuse, and copy personas and stakeholder map templates.
Simple and easy to use. User-friendly for the technophobes, with its handy drag-and-drop tool interface.
Cons
Data security: As with any SaaS software, you must consider what will happen to the intellectual property you've developed once you stop using it. Is it transferable easily to other systems?
3. UX360. Best for sharing UX and CX assets in one platform
Pricing: For three authors: USD500 per month
For 10 Authors: USD2,500 per month, plus a one-time setup fee of $2,500.
Pros
Easily accessible: UX360 is convenient and can be accessed from anywhere. It is ideal for large teams.
Cons
Price: UX360 can be costly for small companies or teams with tight budgets.
Steep learning curve: This advanced customer journey mapping software might need you to change your management process to integrate it with your business correctly.
4. Canvanizer. Best free customer journey mapping tool by far.
Price. Free
Pros.
Price: This is a free service
Easy to use: Adding elements and moving them around is an easy drag and drop action. Same with setting up a new canvas–you can do it with just a single click.
Better Collaboration: You can share read-only and editable links to the canvas.
Cons
Low resolution: Printing high resolution or large sizes depends on your browser's printing functions.
Text-only format: Canvanizer's elements are in text and fixed-format only, so you can't add pictures or diagrams to the map.
5. Microsoft Visio. Best tool for simple flowchart mapping.
Price. ~ USD300
Pros
Print documents quickly: This tool is made for printing large documents easily and, by default, lets you design maps of different sizes.
Easy to learn interface. Microsoft Visio is like PowerPoint–-the interface is familiar and easy to understand.
Cons
Price: Microsoft Visio is a license-based tool. It may not be costly when you start, but it may not be cost-effective once you plan to scale it.
Limited collaboration: Microsoft Visio is unsuitable for multi-user sharing and editing purposes.
Final Thoughts
As a business, shifting focus on prospects and customers is a great way to understand their needs, wants, desires, frustrations, interests, and problems. You know what their pain points are.
Right offer + Right market + Right time = a more satisfying customer experience.
A customer journey map is a proven structure to drive deeper consumer insights. These are practical tools for helping businesses to analyze consumer behaviors, delight those consumers, and eventually reach their business goals.
Are you using customer journey maps in your organization? Among the tools mentioned above, which ones have you tried out? Which ones work for you? Why and why not? Feel free to share your experience with us.