Think of the last time you purchased a software. The sales and marketing were on point, but only until you swiped your card. As a user guide landed into your hands, you realized nothing worked as expected.
Retaining customers and building long-term relationships have always been key markers of successful companies. We are all familiar with the customer journey. We know it's vital in helping your customers achieve their desired results with the product or services you are offering.
This is where the need for effective customer success marketing comes into the picture. Customer experience is a team effort, and how you include customer success in your marketing defines your scaling efforts.
Studies show that attracting a new customer costs five times as much as keeping an existing one. Moreover, Increasing customer retention rates by 5% increases profits by 25% to 95%, according to Frederick Reichheld of Bain & Company.
A well-strategized customer success marketing plan is the cornerstone for growing your business.
What Is Customer Success Marketing?

Long before customer success in marketing or simply marketing automation was a thing, successful businesses often relied on word-of-mouth marketing or WOMM.
George Silverman, a psychologist, was hailed as the pioneer in word-of-mouth marketing. He created what he called "teleconferenced peer influence groups" in the early 1970s and found that when one or two physicians reported on their good experience with a drug, it could sway an entire group of skeptics.
His tactics were so compelling that even ex-prescribers—those with negative experiences with a drug—changed their minds after hearing a positive review of the drug from their peers.
The power of WOMM is a good example of how customer success in marketing can transform a business.
Customer success marketing, also known as customer marketing, retention marketing, or advocate marketing -  is the intersection of product, marketing, and customer success teams.
Businesses are more effective at nurturing and engaging with customers when marketing teams align with customer success. While marketing helps attract the right customers, customer success ensures you keep them.
CS in marketing relies on effective workflows between cross-department communication and collaboration. Customer success marketers help maintain a consistent experience throughout the customer lifecycle.
Marketing that's driven by customer success in mind, ensures that your customers see value in the product, renew or purchase from the company again, and most importantly - advocate the product within their network.
How to Align Your Marketing and Customer Success Teams
1. Include Customer Outcomes When Measuring Your Marketing
It's a common practice to base marketing goals on quantity. It works on the premise that while marketing generates demand, the sales team picks up leads and chooses the conversations they want to pursue with the best-fit customers.
But with the onset of dynamic assessment metrics like customer success, working towards a purely quantitative goal means you're setting a low bar for yourself.
Customer success in marketing addresses that issue. For example, If 100 people sign up for your free product, but only 10 make it through onboarding and only 2 become paying customers, you're better off targeting better fits instead of focusing purely on volume.
But this is not to say that your marketing should shift its focus from quantity to quality. This is where cross-department work efficiency becomes important. Instead, along with measuring your growth from just the perspective of your sales and marketing teams, create value for the insights your customer success team has, and include that as an important metric for judging your growth.
Balance out your goals by splitting your marketing team into a lead-generation focused team, and a customer outcomes-focused team.
2. Introduce A Customer Marketing Team
Things are easier said than done and your individual teams (sales, marketing, customer success, etc) probably have a lot on their plate already. This is why while it's easier to gather information, the real light shines for the ones who repurpose and utilize that information correctly.
Having a team that can serve as a bridge between your marketing and customer success teams is a good way to smoothen cross-department collaboration, ensuring that everyone has the right intel to work with.
Your customer marketing team should be working on essentially building the following pillars:
Generating customer leads
Nurture existing customer base
Own all customer communications
Activating customer base to evolve them into advocators
3. Invest in Customer Enablement
The tide of progress has always favored convenience. Think about how you used to get from one place to another. Earlier, your options were to walk, bike, drive, or take public transportation. Today, of course, you can order a ride on-demand anytime.
Modern buyers don't really want to wait for your help, but they want you to enable them to help themselves. Creating enablement for your customers means focusing more on the basics:
Give more to your customer when onboarding: Create campaigns that nurture and instruct customers on how to navigate the onboarding process. Save your customer team's time for more complicated issues like overall strategy or custom implementation.

Create a knowledge resource pool: This one is for your customer success team. Identify the most commonly asked questions, and create a repository of answers and other content that can serve as a common resource pool for the team.
Over time, you can build this up to a more robust knowledge base site that's
searchable and covers more areas of your product/service.
Practice customer enablement through the growing network: Once you've created a community of customers, consider how they can help each other. Creating forums or groups where customers can share issues and best practices is a great way to open up an entirely new line of support.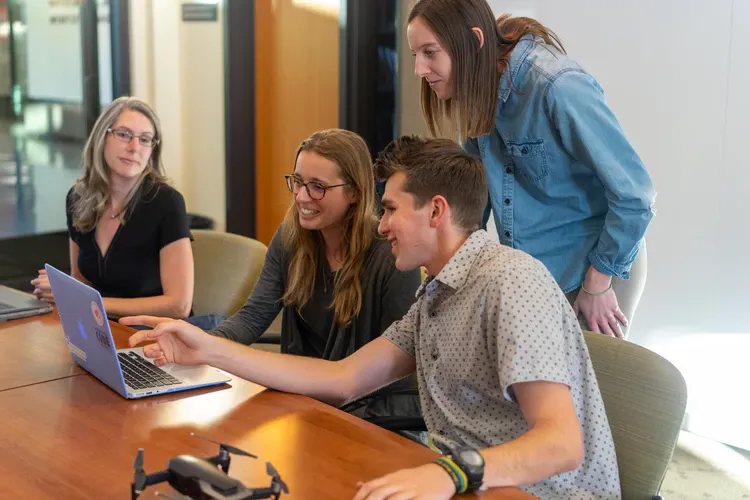 Customer Success Marketing Predictions and Trends to Watch in 2021
1. The Foremost Priority Will Be Proactive Engagement
"Customer Success is about being proactive. This is different from customer support which is reactive. Customer success requires us to understand how customers are adopting the platform, what points of friction they are dealing with during onboarding, and helping them solve their business goals. "
- Krish Ramineni, Founder, Fireflies
Since we've already established that the customer gets the driver seat, an ideal CSM should redefine what proactiveness means for the team - an approach that creates proactiveness towards a customer-centric approach across sectors and departments in an organization.
It's important to nurture your customer's ambitions, modify your delivery accordingly from time to time, and proactively improve your brand value. The byproducts of a strategically implemented proactiveness are new growth opportunities, lower churn rates, and better revenue models.
2. AI and Automation Will Find A Balance With Personalization To Lead With Empathy
"Empathy is a very important part of customer success. Whether they're on a free plan with you or have upgraded to a paid plan - you have to make each customer feel special. Even though AI is predicted to have a growing role to play in CS, nothing can replace the human touch that a real person can provide. You have to make your customer's problems your own, understand how it impacts them, and then solve them in line with your customer's expectations."
-Kalyan Jambavathi, Head of Customer Success team, Fireflies
Finding the right balance between automation and personalization is probably one of the biggest challenges for the customer success sector. A popular emerging opinion leans towards a split approach to finding the middle ground.
AI has revolutionized the customer experience. Once considered time-consuming and unrealistic, personalization is now mainstream – we have entered the age of behavioral marketing.
Deloitte's Global Marketing Trends Report published earlier this year did mention the arrival of an era of 'the human experience'. In other words, how enterprise values drive the human experience, and how virtual experiences have diminishing returns as technology can't fully compensate for in-person interactions.
AI and automation enable a customer success team to bring in the human touch that they would otherwise overlook, overwhelmed by the scale of operations. While automation helps the customer success program to be proactive, it can't replace your customer success marketers who bring in the human to your AI.
In the coming future, AI and other automation technologies will be leveraged more for automating customer success processes to support medium and low touch customers, while the CSMs provide a more personalized experience to strategic or high touch customers.
3. Increased Use Of Customer Health Score Metrics In Defining Customer Success

"Some people think upsells are the primary goal. But looking at your churn number alone isn't enough. Customer Success isn't about popping up at the end of the quarter or contract cycle and asking for the renewal. Many times a failed adoption in the first 30 to 60 days could indicate a failure to renew next year."
- Krish Ramineni, Founder, Fireflies
While customer success, unlike sales, focuses on quality versus quantity, your customer success program should scale by relying on metrics.
Look beyond your efforts and see if what you think provides 'great value' is actually creating more product value for your customers or not. All in all, if you're looking for customer retention, it is crucial to keep a quality health score.
Deciding on a scoring system is a subjective process, and will vary from company to company. Here are the top three ingredients that go into creating the foundation of your health score metric:
Frequency: How much time are users spending on the product? And how often are they coming back?
Breadth: How many users in a given account are using the product?
Depth: How many of the product's key features are being used?
To elaborate further:  Based on the three parameters above, a healthy score is one that has many users who are logging in frequently and use your product extensively.
An at-risk account would be one that has few users who use the product sparsely. This would be an indication that the account is probably not getting value out of the product, which should sound the alarm before renewal time.
4. Customer Education Will Revolutionise Customer Success
At Fireflies, our goal is to educate users not sell to them. Self-service is a big factor, but not all customers can get 100% of what they need through self-service. That is where our CSM team comes in. Our CSMs help the less technically savvy customers become power users. We want people to not just rely on Fireflies but also love it.
-Krish Ramineni, Founder, Fireflies
Leaders in the customer success space already understand that their scaling efforts need to happen through, and align with customer education. A well-implemented customer education program increases tech-touch and customer growth.
The right investment in customer education software can be a game-changer for your organization's growth and long-term success. It can have a huge impact on the business, including increasing customer satisfaction scores, reducing support ticket volume, improving product adoption, driving lead generation, generating services revenue, and increasing renewals.
Customer education offers customers the skills, information, and abilities to become more informed users.
Last 2 Cents
Just like your customer has a journey with your product, your customer success program will take time to evolve as well. Begin with smaller goals and then gradually work your way up the scaling process.
Improving customer success marketing means improving the productivity of your customer success team, which eventually affects other departments positively. With the tips above, you will be able to assess, create and up-scale your customer success team, and introduce that philosophy in your marketing efforts.
Read Next: