From communication and project management to task organization, maximizing productivity requires taking control of all aspects of our work. But, one crucial aspect that often goes overlooked is calendar management. Well, that ends today.
This blog will tell you everything you should know to make the most of your calendar. So, strap in for a transformative journey into the realm of effective time management.
Importance of calendar management
Calendar management has become a crucial skill, especially in the age of remote work. It helps you stay on top of your work and personal commitments, improves productivity, and avoids conflicts and schedule overload. Here are other reasons why it's important:
No overcommitments
Overcommitments lead to burnout. Attempting to do more than you have time for will always result in exhaustion. It's bad for your health, to say the least.
Calendar management helps solve overcommitment issues by visualizing a person's schedule, allowing them to see all their commitments, appointments, and deadlines at a glance. This can help them make informed decisions about accepting new commitments and avoid double-booking themselves.
💡
Fireflies
AI notetaker
eliminates the double-booking issues by attending a meeting on your behalf. It joins the meeting on time and takes notes which you can refer to later.
Also read: Accu Limited Receives Complete Details on Missed Meetings.
Better communication
Have you ever experienced the frustration of having two important meetings scheduled simultaneously?
With a well-organized calendar, you can avoid double bookings and conflicts in scheduling. When multiple people need to coordinate their schedules for a meeting or event, a shared calendar can provide a clear and up-to-date view of each person's availability, thereby improving communication.
A better sense of control
Seeing your entire schedule in one place can help reduce stress and give you greater control over your workload. Another advantage is predicting potential conflicts so that you can prepare better. It's time you take control of your ship and steer it fast but steady.
Maintain record
Calendar management can help maintain records by providing a centralized, accessible, and easily searchable repository of all appointments, meetings, and deadlines. It helps keep track of important events and dates and allows you to refer to all this information in the future when needed.

What is calendar management?
Calendar management is the art of staying organized with your work every day. It involves setting reminders, scheduling appointments, and allocating time for various activities. It usually involves using a calendar application to create, manage, and view a schedule of events.
Here are a few things a calendar management tool can help you do:
Schedule daily events, appointments, and meetings to your calendar and ensure they are up-to-date.
Coordinate with others to check when they are available, so there's no conflict.
Set reminders and notifications for meetings and tasks, so you never miss a beat.
Organize your tasks based on priority and deadlines so you can allocate your time accordingly.
Regularly update your calendar with any changes or cancellations.
Top 3 benefits of managing calendar
As you adapt some calendar management best practices, you'll realize that it has multiple benefits. Here are the top three benefits:
Enhances productivity
It may seem like an added chore to organize your calendar, but it can increase your productivity. You can prioritize tasks by organizing your entire week or month ahead.
A well-managed calendar gives an excellent understanding of your schedule, so you're always ready for any surprise challenges or exciting opportunities that arise.
Helps manage time
Time management can be challenging. But once you get a hold of your entire schedule and tasks, you'll know exactly how much time you should dedicate. It also means you'll know exactly how much free time you have. You can use it to get more work done or spend it doing something you love. Either way, you can say goodbye to piled-up tasks.
Ensures work-life balance
Striking a balance between your personal and professional life is tricky. Unsurprisingly, most people feel caught in the web of never-ending professional responsibilities.
With proper calendar management, put your free time to better use. You can watch that movie you added to your watchlist last month or go on that evening walk after work hours.
Top 10 calendar management tips

1. Schedule your meetings with care
It may be tempting to schedule meetings for 30 minutes or 1 hour. Don't. Always take a few minutes to think about how long this meeting needs to be. Who needs to attend this, and who doesn't?
It's possible that the meeting needs only 5 minutes, so why block more time for it? While it's critical to make the most of every meeting, it's also important to save precious minutes.
2. Space things out
A packed day isn't necessarily a bad thing. There's a sense of accomplishment ending your work after a busy (not overwhelming) day.
When you schedule your calendar, avoid back-to-back meetings or tasks that are similar. Take proper breaks throughout your workday. The mind needs to unwind every few hours, even for a few minutes, to maintain maximum efficiency.
3. Dedicate time for calendar management
Your calendar won't manage itself, so it's crucial to dedicate time to its upkeep. Set aside a few minutes daily to review and update your calendar schedule, or reserve a more extended block each week.
No matter what approach you choose, the important thing is that you make calendar management a priority.
4. Find a meeting time that everyone's comfortable with
Finding a time that works for everyone is difficult, but it is worth the effort to ensure a productive and successful meeting. Find a time that works best for most participants and consider each participant's schedule, including any conflicts or prior commitments.
By putting in the extra effort, you can set the stage for a meeting that brings people together and builds strong working relationships.
5. Make reminders for everything important
Setting reminders can greatly enhance your calendar management experience. With pop-up notifications on your phone, desktop alerts, or email reminders, you'll never miss a critical meeting or deadline again.
Even if you think you have a great memory, setting reminders can still be incredibly beneficial in helping your mind be better prepared.
6. Include different time zones
If you work in a remote team, chances are your working hours are different from your colleagues—-your morning can be their midnight.
Most calendar management tools allow you to add multiple time zones. Find comfortable times to collaborate and have meetings without disturbing them when they are OOO.
7. Find a calendar you're comfortable with
Find a calendar that helps you stay organized, manage your time effectively, and achieve your goals. The key is to find a calendar management software that works best for you based on your specific needs.
Take time to identify your needs, research, and try different options. Don't be afraid to switch to a different tool if the current one doesn't work as expected.
Some popular options are Google Calendar, Apple Calendar, Microsoft Outlook, etc.
8. Be ready for impromptu stuff
Unexpected meetings and tasks can pop up anytime and disrupt your schedule. Ensure that you can manage your time effectively.
Build some flexibility into your day by allocating buffer time for unscheduled events. When an unexpected meeting or task arises, prioritize it based on urgency. Just don't forget to adjust your calendar accordingly.
9. Assign a priority label to every task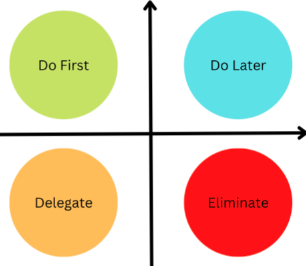 Start building a habit of prioritizing your tasks with colored labels. Use easily recognizable colors, so you know how important a task is just by looking at it.
This practice will ensure that you stay on top of deadlines and tackle the most pressing tasks first, leading to more efficient use of your time and energy.
10. Block time for tasks that require focus
A calendar isn't just for scheduling meetings and tasks. When shared across your organization, it's a window into your entire day. People can see how busy or free your day is.
So, if you see some tasks coming up that require extra time and attention, block that time on your calendar. It indicates to others that you are currently unavailable and dedicated to those tasks.
5 best calendar management tools
1. Google Calendar
Google Calendar, a part of the Google Workspace suite, is a popular calendar management tool with an easy-to-use interface.

Pros
Create shareable calendars and events without any hassle.
Highly customizable with colors and labels.
Highlights schedule conflicts.
Customizable emails and notifications.
Full integration with Google Workspace.
Cons
Google Calendar doesn't have a dedicated app for Windows and Mac OS. You can only access it through browsers on laptops and desktops. It, however, does have an app for smartphones.
Pricing: Free for individuals and comes as a part of Google Workspace for larger teams.
Also read - How to Use Google Calendar: Tips to Make the Most of it
2. Calendly
Calendly is a simple meeting scheduling software that intelligently streamlines your meetings. You can share a link highlighting all available meeting slots, eliminating the back-and-forth trail of confirming time slots.
Pros
Easily integrate it into popular calendar management and project management apps like Slack, ClickUp, Google Calendar, etc.
Allows you to create custom scheduling pages.
Get both email and mobile notifications for confirmed appointments.
Supports multiple time zones.
Cons
The free tier provides users with minimal functionality.
Not well-optimized for mobile devices.
Pricing: Free for individuals. For teams, the monthly cost starts at $8/user, billed annually.
3. Any.do
Any.do is a popular task management platform. The built-in calendar allows users to see all their tasks and appointments in one place, making it easier to manage their schedules.
Pros
Clean UI makes it simple to use.
Multiple platform support for mobile and desktop.
Calendar widgets for iOS and Android apps.
Integrates with other calendar apps like Google Calendar, Outlook, etc.
Cons
The Free tier has basic functionality and limited app integrations.
Not a great tool for teams who work with resource management.
It doesn't provide analytics or reports on task completion or other metrics.

Pricing: Free for individuals with basic features. The premium plan starts at $3/month, billed annually, and the Teams tier costs $5/user.
4. Microsoft Outlook Calendar
Microsoft Outlook is a comprehensive productivity tool that allows users to manage their email, calendar, and tasks from a single, integrated platform.
Pros
Allows calendar sharing and viewing group schedules.
Seamlessly integrates with other Microsoft apps like PowerPoint, OneDrive, OneNote, etc.
Allows users to set task tracking and deadline reminders.
Cons
It can be overwhelming with so many features.
Compatibility issues with other platforms apart from Microsoft.
Pricing: Available on request, depending on the tier and team size.
5. Asana
Asana is a popular project management tool. You can plan projects, keep track of your tasks, and see everything in a shared team calendar, making things transparent for your entire team.
Pros
User-friendly interface and clean UI.
Allows real-time collaboration on projects, and lets users share updates or communicate directly.
Integrates with multiple platforms like Google Calendar, Microsoft Outlook, etc.
Cons
While it is easy to use, the abundance of features demands a learning curve.
A single user can't be assigned multiple tasks at the same time.
Pricing: Asana has a Free tier that allows collaboration among 15 teammates. The premium tier costs $10.99/user/ month, billed annually. Business and Enterprise plans are also available.
The bottom line
Your calendar serves a greater purpose than to tell you the current date and day. It's a tool you can leverage to be more productive. No more stressing over missed appointments or forgotten tasks. With your calendar sorted, everything is at your fingertips, ready to be conquered.
It's time to take control of your calendar!