A customer success team is a touchstone that guides a company's most valuable customers in their buyer's journey.
Most companies have support teams as their product experts. When a customer raises queries and objections during a sales discovery call, reps rely on support for the resolution.
However, as the customer base increases, sales and support reps might struggle to resolve problems due to the high workload. Further, the support team acts reactively to the issues raised.
To build customer loyalty, you must build a team that acts proactively to aid the customer's journey. In short, you've to build a well-trained customer success team.
Building a customer success team helps in solving complex problems of customers. This improves your brand perception and initiates word-of-mouth marketing as buyers achieve their desired goal.
Setting Up Customer Success Mission and Responsibilities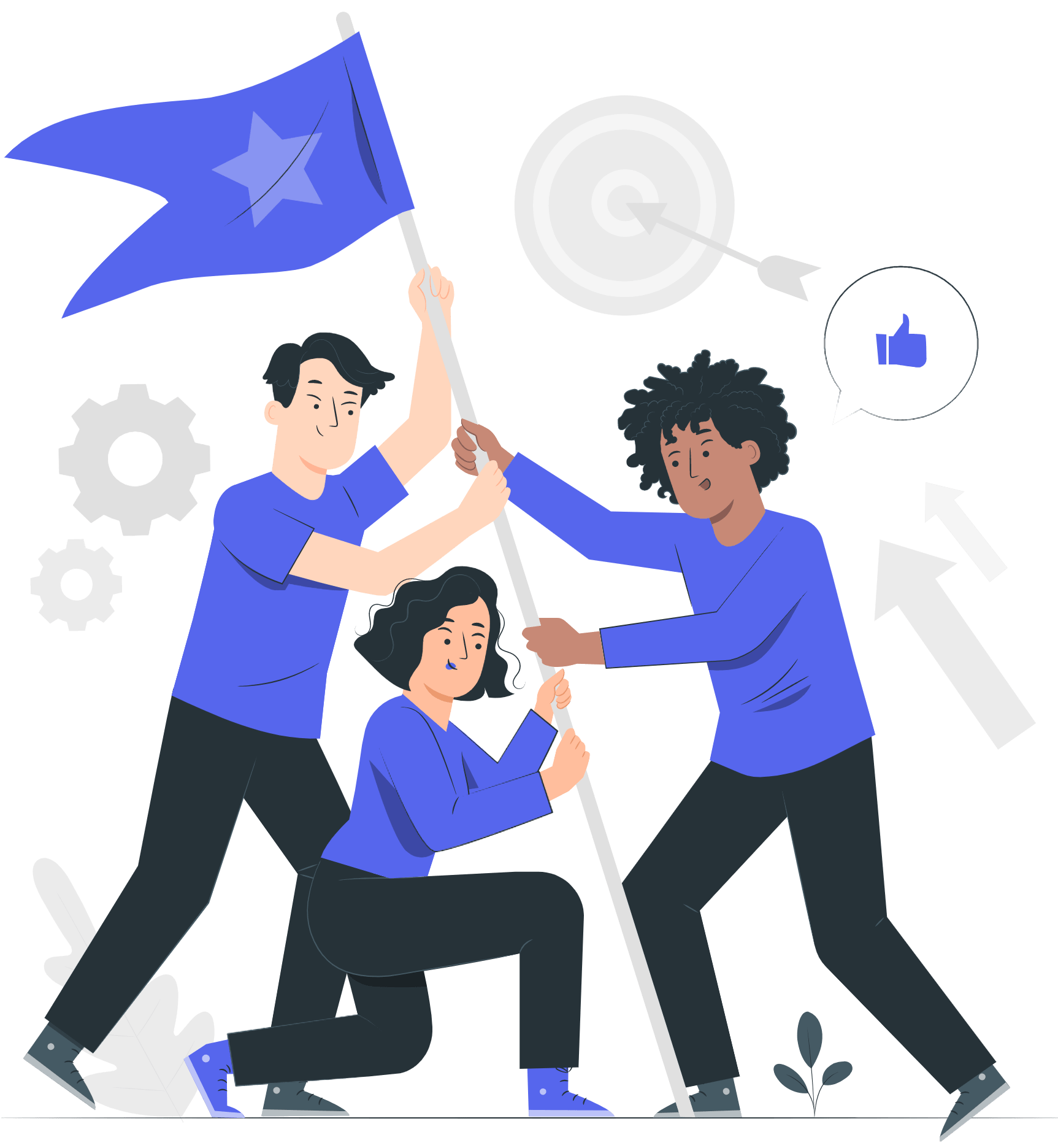 Before building a customer success team, you need to define its mission.
Establish a goal that you want to achieve with the team. Then outline its areas of work and responsibilities. Having a clear mission acts as a goalpost while setting up a team. During onboarding, it helps the candidate align with the expectations.
Customer Success Team Mission

The Customer Success Association defines the mission of a customer success team as—"to increase sustainable proven profitability both for customers and company."
The core themes here are: sustainable, proven, and profitability.
Sustainable refers to a dependable, reliable, and steady customer success strategy. CS team must find a balance to reap benefits for both sides—customers and company.
Proven refers to authentic, manifested, and tangible benefits for customers. They should be able to confirm that they reached their desired goal with the help of the CS team. In other words, customer success must be measurable and trackable.
Profitability refers to the value attained by both the customer and the company through the sales journey. Companies often confuse the outcome with the value provided. If the customer is satisfied with your product, the customer success manager shouldn't move ahead with a smile. Instead, ask:
What features do they like the most?
Why did a person buy it from us?
What is the reason for continuing the relationship with the company?
The motivations behind the purchase might not be immediately evident and accessible. But intentions are crucial and must be identified, analyzed, and documented—that's the ongoing critical task of the customer success team. This mission can be achieved only if a CS team has:
Strong organization and presentation skills.
Love for relationship building.
A well-defined customer success strategy.
Industry or domain knowledge.
Empathy towards every customer.
Leadership skills—customer success managers are in charge of leading the entire CS team.
This was about the mission statements for customer success to forge a foundation. The next step is headhunting perfect candidates and aligning them with the goals.
Customer Success Team Responsibilities
Customer success management teams are responsible for building relationships and boosting retention. They serve as strategic partners with customers in the following ways:
Onboarding: Also called enablement or implementation, the CS team will be responsible for onboarding new users one-to-one and at scale.
Proactive Support: While most of the customer issues will go to support, occasionally, the customer success team has to support the customer they're managing.
Customer Training and Education: Customer training can range from webinars, email campaigns to documentation.
Professional Services: The customer success team fulfills customers' tangential needs like design and coding.
Upsells: CS reps should understand customer's needs and evaluate them to identify opportunities to upsell new products.
Pre-Sales: CS team should expect to be involved with sales during the pre-sales cycle. It smooths the process of handing over responsibilities to the customer success team later in the cycle.
Gathering Customer Insights: Your customer success team will be the most familiar with your customers. They should document consumer insights and share them across the sales and marketing teams to refine the buyer's persona.
How to Build a Customer Success Team, Even If You've Never Done It Before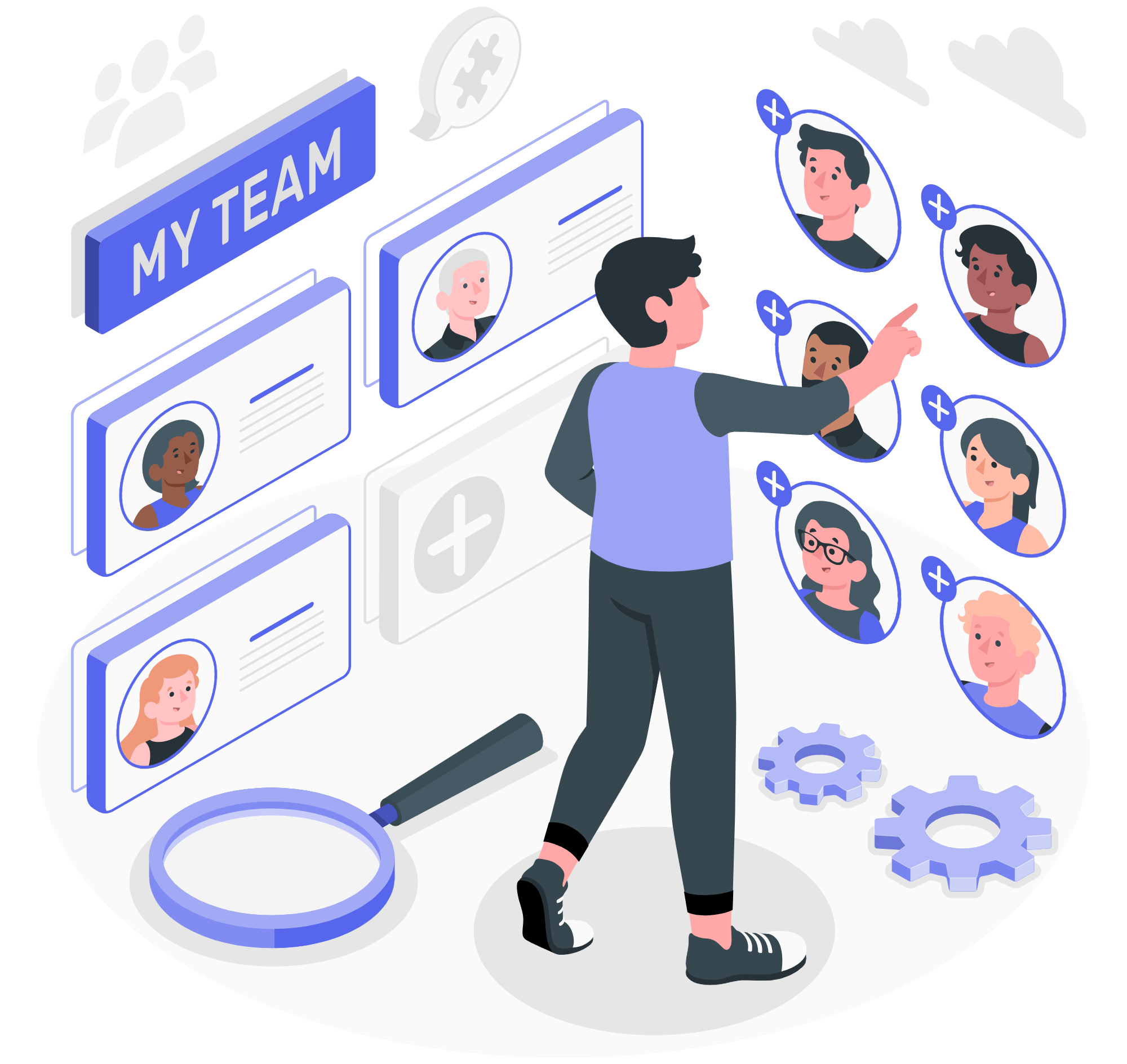 If you're starting to build a customer success team from the ground up, here are the steps to structure a top-performing CS team:
1. Hire Skilled People

The first step to building a customer success team structure is hiring the right people. The candidates must be well versed in technical knowledge and soft skills. You can also go one step ahead and examine if they're fit for the company's culture.
To start, look at the candidate's background and experience. Do they have the required technical skills? Are they well-equipped with tools?
Once you filter candidates, interview them and present customer challenges, and test their approach. This will help you understand how a rep will handle problems during operations.
2. Understand the Target Customer

Every individual in the customer success team would be working directly with the customers. They'd be the key touchpoint in fostering a solid customer relationship. So, as a first step, prime the candidates to figure out the target market and struggles and pain points of customers.
Start with making two lists of customers: one that includes brand loyalists who love your products and the other listing churned-out customers. Search them in your database and gather their contact information. Then reach out to them and dig into the motivation behind their actions. Uncover the 'why' force that propels them in decision-making.
Once you've made a database outlining the motivations of loyal customers and churned out ones, find the common threads. It'll help you zero in on the problem areas they're facing.
This is a critical step in developing a buyer's persona and aligning your CS team with it. If your new customer success team is unaware of the customer profiles and proclivities, they'd be struggling to pinpoint the exact problem.
3. Represent your Customers

The prime goal of the CS team is to help customers reach their desired goals. Since most customers aren't aware of solutions to their problems, CS reps should act as guides.
Your customer success team should work closely with the buyers. Thus, the CS reps are the best people to represent the customer's perception of the product.
You can gather this insight about what your customer actually feels about the product and collate it into a document.
For instance, draft something like "What's it like to be a customer of [your brand]?" Then list the perceptions your customers have about it. Describe the highlights of the feedback from the buyer's lens.
Ensure that you share these insights across the company, especially the new CS recruits. They must be aligned with the customer's pain points and feedback. The customer success team should act as a close friend of the buyers.
4. Build an Onboarding Process

It's natural to be passionate about your product. You are familiar with its interface and working. But your customers will face some roadblocks while using it for the first time. You're the expert on the product, but your customers need help in early adoption.
That's why you should create an onboarding process as a part of building a customer success team. Rather than expecting customers to figure it out themselves, your team can proactively lead them.
Your CS team can teach them the best way to use the product. This saves a lot of time for the customers and eases their experience while using the products to achieve their desired goal.
Once you map your buyer's journey, deploy your new hires to delve into it. They should understand how a new user interacts with the product, the roadblocks, and the reasons for quitting. Also, encourage them to collaborate with the sales and marketing teams to quickly resolve every problem that arises.
5. Deploy a customer Success Report Card

Tracking and measuring progress using KPIs is critical to keeping everyone on the same page. It also helps validate the effectiveness of CS strategy and the performance of the CS team.
The report should include KPIs such as customer success ROI, customer narrative, team process updates, relevant product changes, NPS, etc. These metrics provide an in-depth view of growth and overall performance.
Keep the customer success report card qualitative too. Don't just delve into the numbers; learn the intangible lessons too.
When you're building your customer success team, develop a routine to check how every rep is doing. Encourage them to learn from their past mistakes and amend them. They should keep refining their skills and approach using best practices.
6. Build a Customer Success Program that Scales

It's natural to be excited about the positive outcomes of your new customer success program. Creating a win-win strategy helps CS teams to foster strong relationships with customers.
However, as your company and team grow, you should revisit your program to see if it remains effective. As your company grows, your CS strategy might not scale.
Thus, develop a customer success framework that will be effective with 10x more customers. For instance, instead of manual working, your team can use customer success tools to automate tasks.
A ticketing system is a good example that manages incoming requests and assigns them to reps. You can also create standard templates (e.g., email) that reduce the time taken to reply to the customers. It saves a lot of time and offers more bandwidth to your CS team.

7. Empower your Team

Your CS team can't thrive if you don't empower every team member. They should be allowed to exercise their ideas and strategies to build customer relationships. Empowering customer success teams helps them become better at making cost-effective decisions.
Team members should have the freedom to make decisions to enhance customer experience. This can include flexibility in pricing, tailoring the unique selling proposition, or giving a free upgrade or renewal.
The customer success team is the voice of your customers; they engage directly with customers and know their daily challenges. Thus, a CS team must coordinate with other teams to enrich the user experience.
If there's a disconnect between departments, there'd be a delay in response. If everyone is on board, customer experience would be seamless at every touchpoint.
In a Nutshell

Building a customer success team is a dynamic process full of experiments. You can't just build your team one day and leave everything on autopilot.
The entire team needs constant training to brush up on their skills. Further, there are always new challenges in your company; the solutions can be documented and presented as case studies.
This will make the resolution process seamless as everyone would be ready to tackle issues—resulting in an enriched customer experience.
---
Read Next: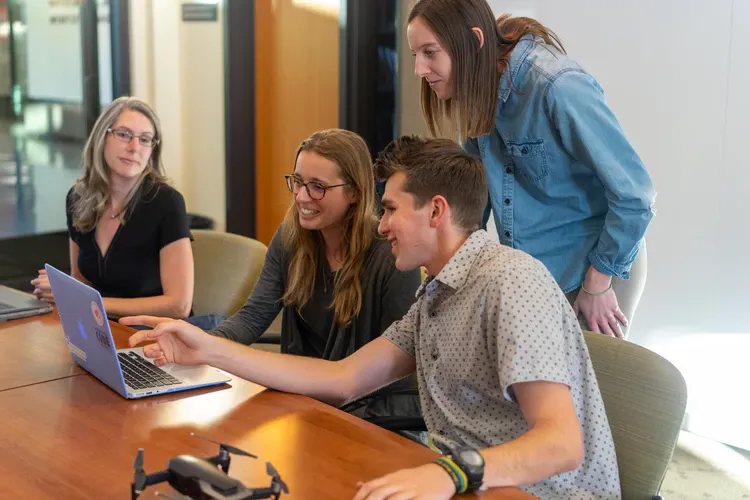 ---
Image illustrations by Storyset