Conversations are forgettable. Yet, recalling and sharing every meeting detail is critical for a project's success.
Avoid the dangers of Chinese whispers with Fireflies automatic transcription software, which not only transcribes meetings in real-time but also allows you to annotate transcripts.
With the Fireflies ai Thread feature, you can annotate the most important sections of your meeting for better collaboration and clear communication.
What is Fireflies Ai Thread?

If you want to review an hour-long meeting in just a few minutes, Fireflies ai Thread lets you do that!
Thread is one of the most useful post-meeting features on your Fireflies Notebook that allows you to add, reply and edit comments in the transcript.
Once your meeting is over, Fireflies ai gives a quick meeting summary in the Thread section. You can read the transcript and leave a comment using the "make a comment" section, and Fireflies Ai Thread will create a timestamped comment that others can refer to while reviewing and replying.
Another way to leave a comment is by using the "Add to Thread" feature, which copies the exact transcript directly to the Thread 'box' and leaves a marker on the audio players for users.
Fireflies ai Thread saves the hassle of sending emails to give feedback on meetings. It is handy for reviewing meetings or coaching sales teams as it allows you to hop on to the part of the call instead of listening to the entire meeting.
Benefits of Fireflies Ai Thread
Easy Collaboration: Thread allows you to jot down notes and sync them at specific parts of your transcript/audio recording. It can be used for referencing, adding memos, or giving feedback on certain parts of the call.
Time-Saving: Fireflies ai Thread makes it possible to review meetings in a few minutes. By allowing users to add, edit and reply to comments, you can focus on important parts of the meeting instead of reading the entire transcript.
Easy Referencing: Timestamps on each comment let you quickly find and reference critical sections of the call without the need to go through the transcripts again and again.
Effective communication:  With the possibility to annotate your transcript and easily parse it, you avoid the risk of misinterpretation when communicating verbally.
How to Use Fireflies Ai Thread?

Option 1: Adding Notes and Comments
Log in to your Fireflies account and click on Notebook in the main menu on the left.
Click the meeting you want to access.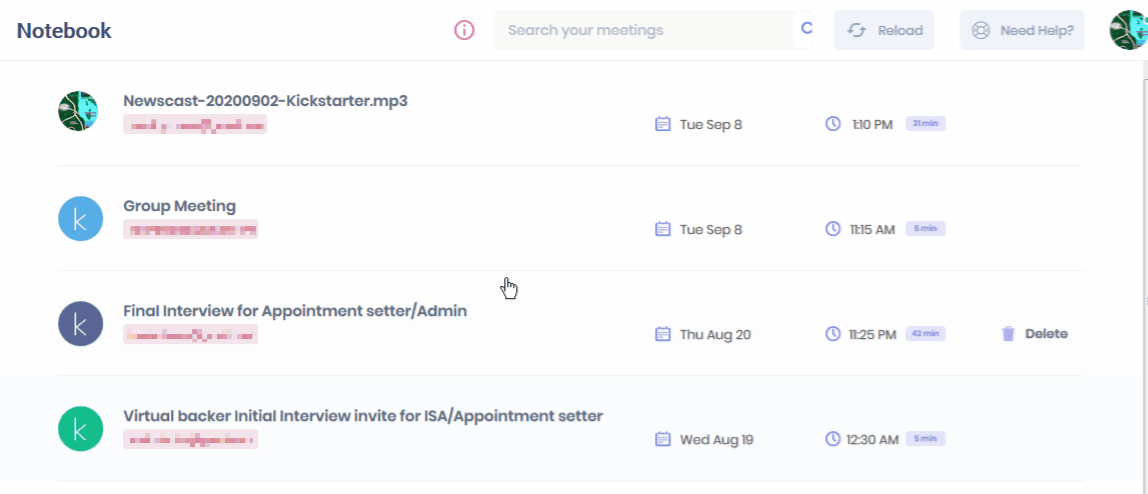 You can find the audio controls at the bottom of the Thread section, also known as the Meeting Marker.

Play the audio and click on the part where you want to comment.
Write your comment on the text field and presenter. You can pause the audio if needed.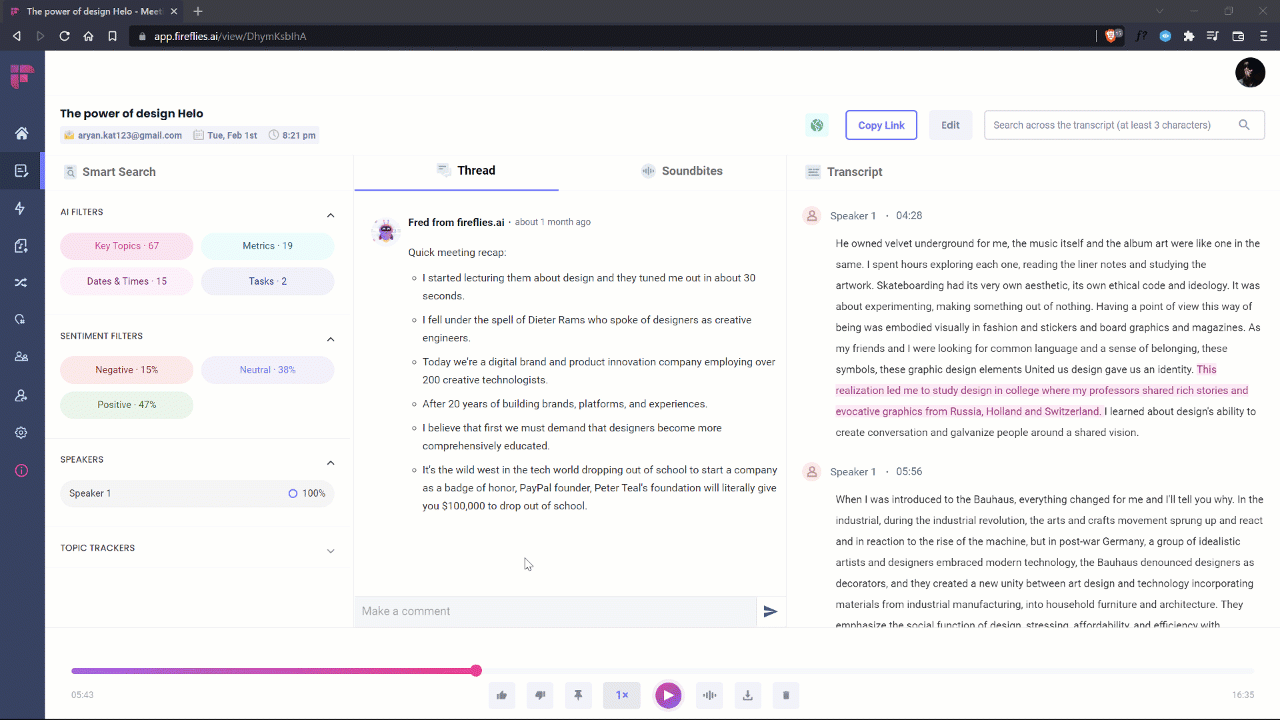 Every note that you create will show timestamps.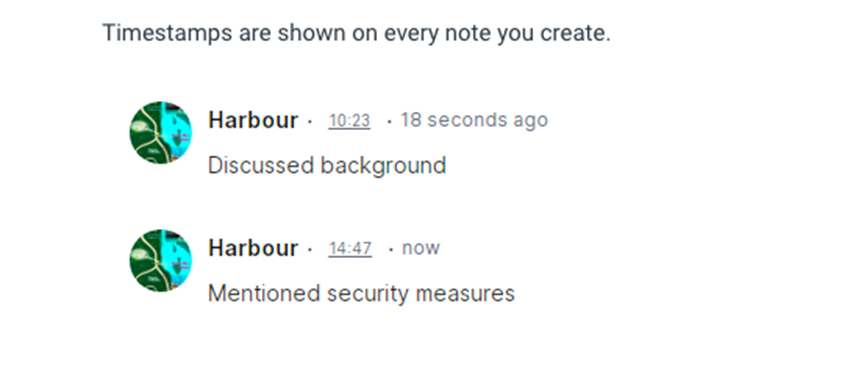 Option 2: Add to Thread
Another way to highlight a particular section of the call is by using the "Add to Thread" feature.
Highlight or select the sentence or phrase on the transcript.

A drop down with the three options will appear.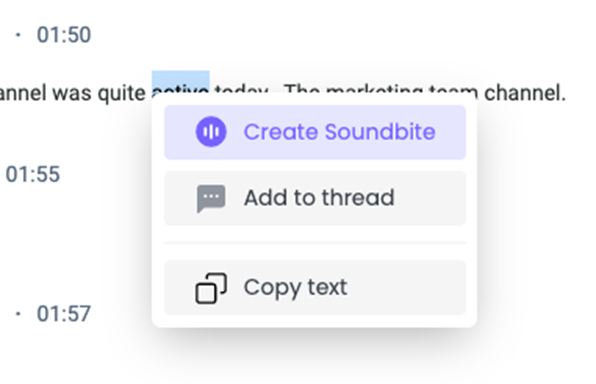 You'll see that the section you highlighted is pasted on the Thread.
Edit, Delete and Respond to Comments
Hover your mouse pointer over the comments.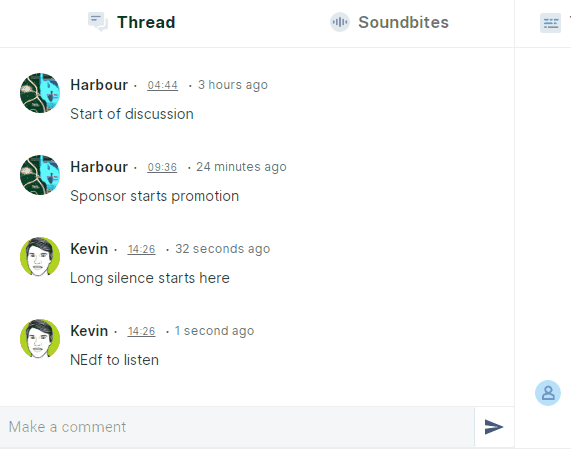 You'll find three icons: pencil, trash can, and an arrow to edit, delete and respond to comments, respectively.
Choose the desired icon–edit, delete or respond to the comment.
Conclusion
You could get into hour-long meetings to discuss a call OR write emails highlighting the critical sections. Either way, you can hope your team follows up on the feedback, and everything goes fine.
This tactic might work. Fingers crossed!
OR
You could just use Fireflies AI Thread to collaborate, effectively communicate, and save time. This feature is a game-changer for meetings and post-meeting collaboration. So, go ahead and leave that comment today! Get started for free.