Turn your meetings
into an
automated

knowledge base.
Capture from
anywhere
Fireflies makes it seamless to capture voice conversations anywhere you need it.
Video conferencing bot
Video conferencing bot
Fireflies can connect to your calendar and join meeting events that have a video-conferencing url. We support all of the major video-conferencing providers including Zoom, Google Meet, MSFT Teams, Webex, GoToMeeting & more.
Audio file upload
Audio file upload
If you have pre-recorded audio files you can upload them from the Fireflies dashboard. Several file formats are supported including MP3, M4A, and WAV.
Chrome recorder
Chrome recorder
Want more control and extensibility over meetings you want to capture? Use our chrome extension to capture meetings across not only video-conferencing, but also dialers, VOIP, and other web calling systems.
Storage upload
Storage upload
Turn on our Dropbox, Box, Onedrive integrations and select a folder you want to transcribe meetings from. Next time you upload a file there, it will be automatically transcribed by Fireflies.
Zapier upload
Zapier upload
Send audio files via your favorite apps using Zapier to have fireflies capture and transcribe them.
API
API
Need more flexibility? Use our API to send audio streams over to Fireflies to get processed and transcribed. Learn more.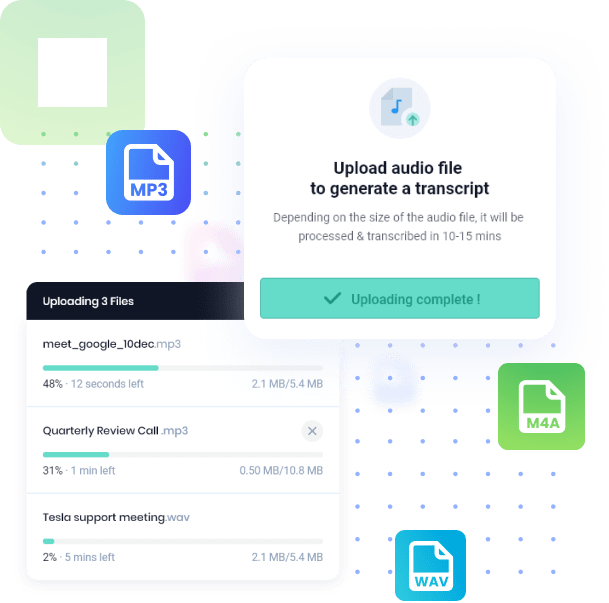 Highly accurate

transcription quality
Our english transcription system is trained specifically for conversations & meetings across a wide variety of industries and accents. Fireflies passes key accuracy benchmarks and has 90% accuracy for most types of meetings.


Foreign Language support for Spanish, French, Portuguese, Italian, and many more.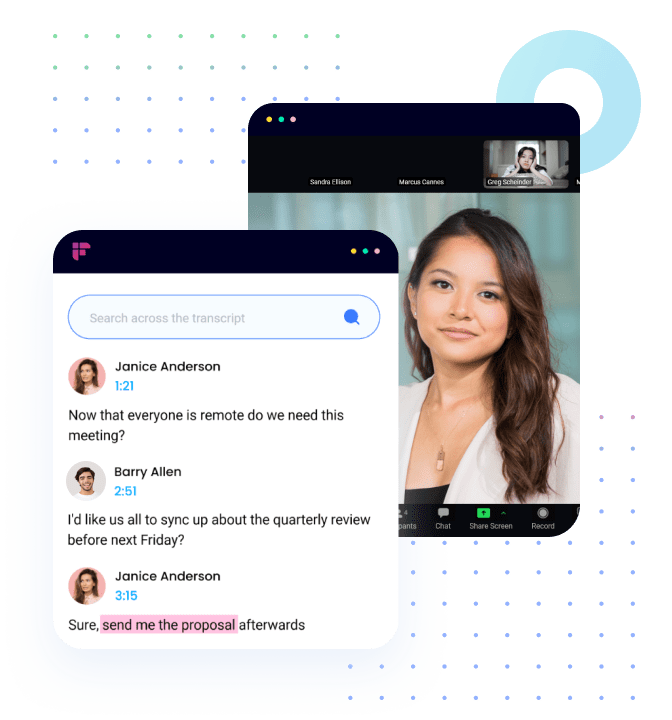 Powerful


search capabilities
Smart search
Fireflies lets you search not just keywords but also themes and topics such as action items, dates, times, metrics, questions, sentiment and more.
Topic trackers
You can even create your own custom topic trackers with the click of a button. Fireflies can help you automatically find discussions around objections, pricing, competitors, etc.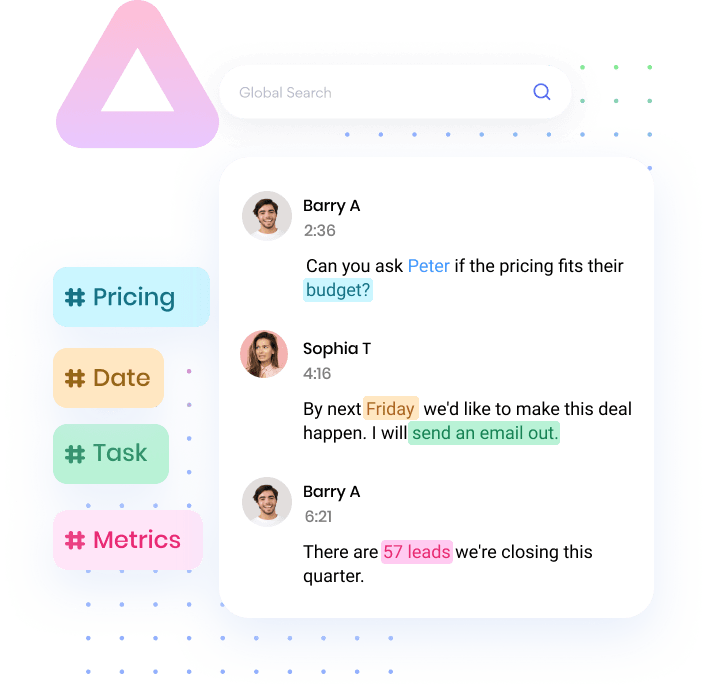 A new way to
share &
collaborate
Soundbites
Turn important parts of calls into shareable soundbite snippets that you can share straight from your dashboard.
Threads
Leave comments at different parts of calls and a time-stamped note will be created for your teammates to jump back to.
Reactions
Leave a pin, thumbs up, or thumbs down at different parts of the call so teammates can hop back to that part of the call and listen to what was said.
Embed
Embed the Fireflies transcript & audio player in places where you already work like Notion, Medium, Salesforce, etc.
Integrate

with
all your workflows
Fireflies takes an integration first approach to all the collaboration platforms out there. We believe that your meeting notes, transcripts, and recordings are more valuable when they are automatically synced up to the places where you already work.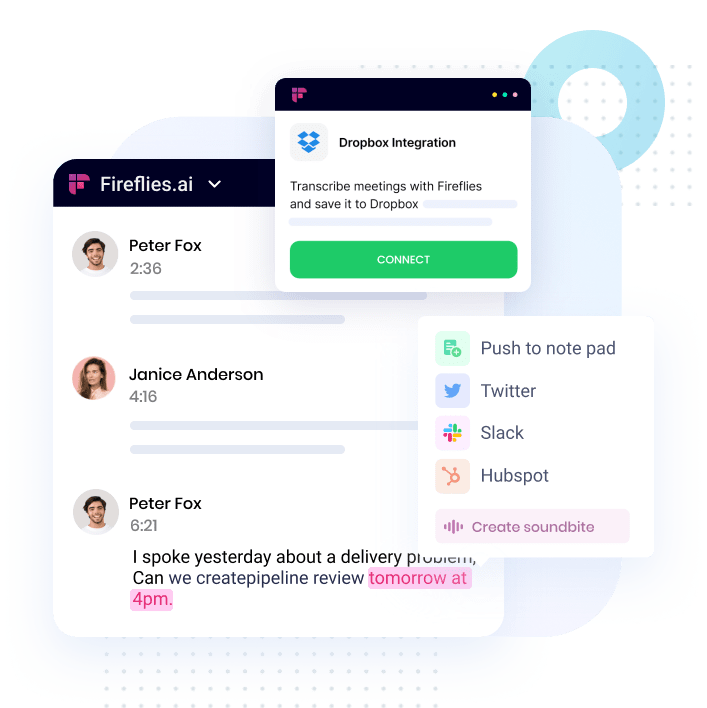 Built with security


& access controls in mind

Fireflies provides team admins as well as individual users the ability to control who can view and receive meeting recaps. We have advanced admin settings for teams to ensure everyone's settings are consistent. Learn more about security & access controls.