For as long we have lived, we have traded or bartered. We have always seen, understood, and exchanged value in some form or the other. Marketing in the most basic sense means promotion and selling of products or services.
Over the decades, marketing has evolved to accommodate changing times, technology, and mediums. Advertising moved from word-of-mouth to flyers and billboards to the age of influencers and social media.
Everything can be (and is) marketed today. The competition to grab the attention of your target audience is at an all-time high. Companies are opting for out-of-the-box marketing campaigns to bring in as much business as they can.
Marketing strategies are becoming more innovative and creative, with traditional marketing giving way to digital marketing and social media marketing.
With the expansion of the telecom sector, digital marketing has become an essential factor in determining and promoting any business's future scope.
As more and more companies are setting up their own marketing departments, let us see why it's a smart decision –
However, the march towards maximizing your digital presence comes with its pitfalls and misaligned market strategies.
It helps if you keep yourself updated on any new plans and strategies and develop one that caters to your needs.
What is a Marketing Strategy?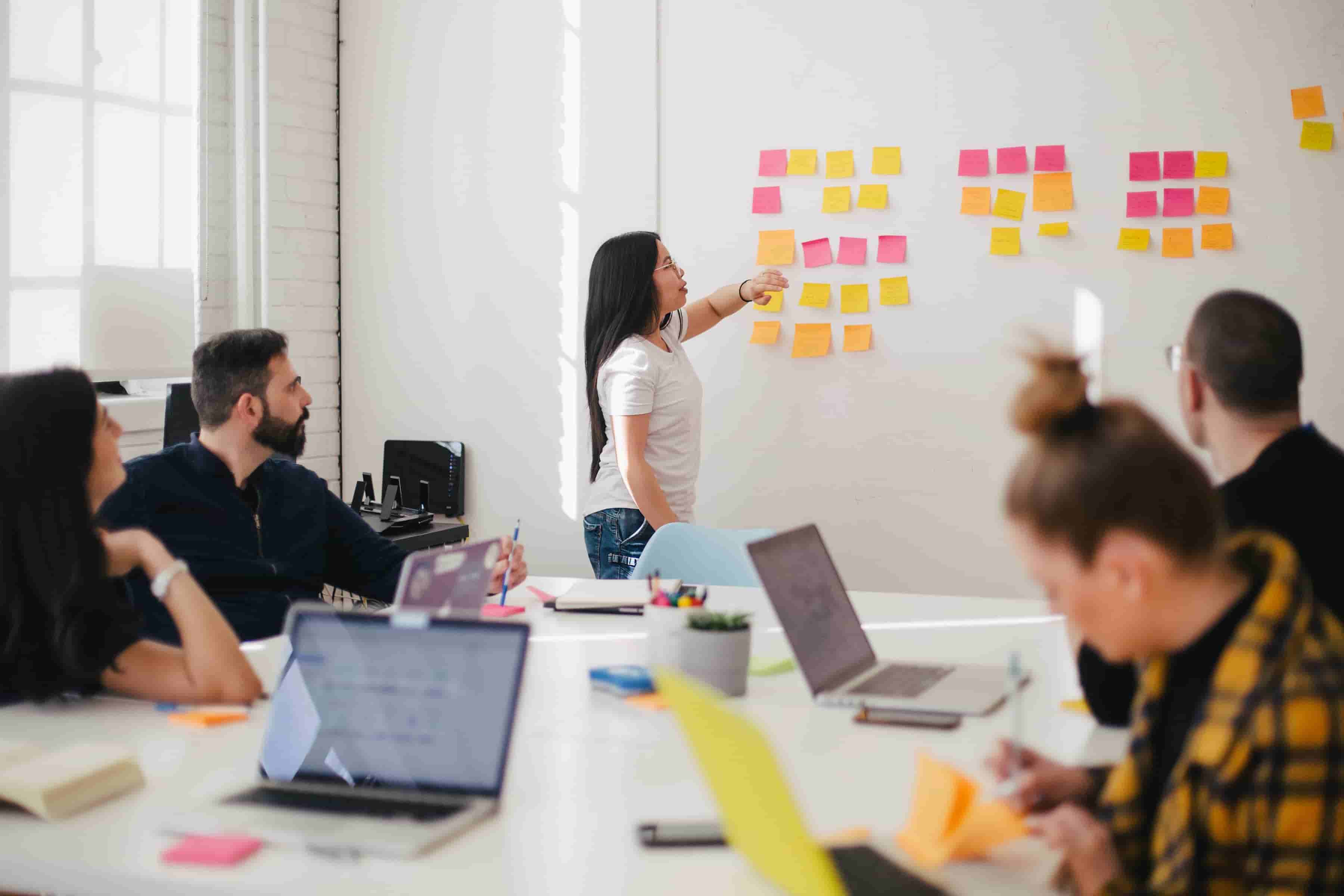 In the simplest terms, marketing strategy highlights a company's plan to reach its target audience and convert potential prospects into customers.
Creating a marketing strategy is crucial as it sets the ball rolling for the implementation of the marketing plan to get you optimal results. Your marketing strategy can be digital or traditional, or a blend of both.
You are probably wondering how a marketing plan is different from a marketing strategy. A marketing plan tells you how to get to the marketing strategy's goals through campaigns and projects.
A marketing strategy describes "what" are the goals, whereas a marketing plan tells you "how" to achieve those goals.
A map that leads you to your goals.
Yin yang your marketing plan and marketing strategy for perfect execution.
Marketers who plan their campaigns against their strategy are 356% more likely to report success.
There are some points common to a basic marketing plan.
1. Build Customer Personas
You must know who your target audience is and whom you are selling your product. The more detailed your buyer persona is, the better your chances of getting satisfied customers.
The next question is what kind of information you should gather. That depends on what type of business you have, B2B or B2C. You can have different segments.
Qualitative – Their challenges that your product can solve, their hobbies that your product aligns with, what do they prioritize in a business.
Quantitative – This covers the physical aspects: location from where most of your traffic is coming from, the average age of your customers, income bracket of your audience. You can get this information through online surveys or through conducting interviews.
2. Understand Market and Competitors
Today, there is no such thing as a completely unique idea. In this world of Simulacra and Simulation, the question is how you do it better than other players in the market.
Study what they are doing well, where they are lacking, and how you can innovatively add value and satisfy needs.
Your constant vigil of industry trends, especially remote work trends, will help you develop unique business insights.
3. Develop Marketing and Promotional Strategies
You must continually evaluate what is working for you and what is not.
Identify channels that bring you maximum revenue, and budget more in their favor in the next quarter, and cut or minimize spending on platforms that aren't worth the bucks.
Keep a tab on your owned media (digital assets owned by the company, i.e., website, blog, social media, etc.), paid media (Google ads, sponsored posts), and earned media (PR, customer experience, word of mouth).
Do not underestimate the power of word-of-mouth; 92% of consumers believe suggestions from their friends and family over advertising.
Establish quantifiable goals – Goals combined with action lead to desirable results. Set what your goals are for the given quarter. How many people you wish to reach, how much revenue you want to generate, number of conversions, and so on. Having a realistic goal keeps you motivated.

Analyze your results – Software like HubSpot CRM provides you with analytics that allows you to monitor developments and adjust the plan according to what is working and what is not.
It gives more profound insights into who your customers are and how effective your strategies are.
How To Create A Marketing Strategy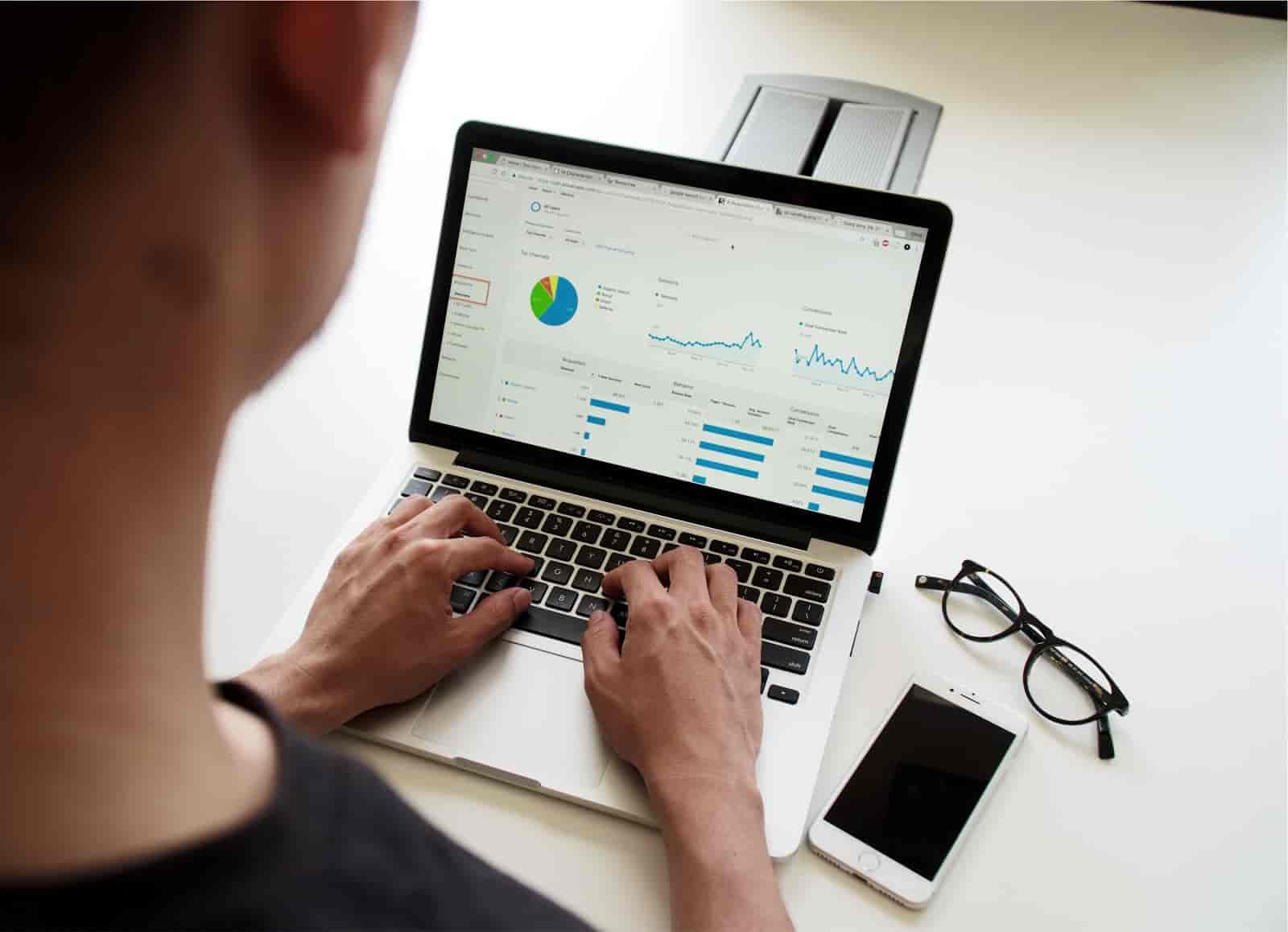 An effective marketing strategy can do wonders for your product or services if it is rightly planned. Let's see how to develop a marketing strategy to boost your business.
A marketing strategy follows the marketing concepts of the 7 Ps or the marketing mix. These concepts are managed by the company to satisfy their customers, outperform their competitors, and add value. These are –
Product
This concept urges you to think about the problems and pains your product or service is solving for its customers. The concept is that consumers favor well-made products that are better than the competitors' quality and performance.
Consumers prefer to go for slightly expensive products that are of better quality than those that are cheaper but poorly made.
Example: Each new iPhone model comes with slightly altered features and a bizarre price range; however, it continues to be the most sought-after product.
The reason, apart from Apple's brand value, is that it gives consumers the best-in-the-industry standard features, such as unparalleled camera quality, quick touchscreen response, and splendid software system.
Price
Your pricing strategy should also include discounts, payment arrangements, price-matching services, apart from the selling price.
The best way to get a pricing strategy is to evaluate your product or service in the current market landscape. Keep in mind your target audience and competitors.
Example: If your product is promoted as a high-quality tech tool, make sure your prices reflect that.
People
People refers to your target customers as well as your human resource, your staff, and salespeople. Your target customers are the key to the success of your product. Study the demographic.
See how your product satisfies their needs and how it can be improved further. Feedback is essential because, as noted in a study, 96% of unhappy customers never convey their dissatisfaction to the company.
On the ground level, people who work for your business, your employees, are the face of your business. Customer service is an integral part of any business, and you must choose how you want your staff to be viewed by your customers.
Keep in sync with your team by creating a daily stand-up meeting agenda. Or you can go for a more personal approach with routine one-on-one meetings.
Place
Place refers to your business's distribution, operational, and production location. You can opt for a local spot or go global, depending on your resources. Or you can start local and then go international based on the success.
To widen their area, businesses these days are going for a mixed approach. They start locally and partner with a third-party distributor in some other place or sell through an e-commerce site.
Your strategic location will also heavily influence your cost of production.
For example - H&M hires cloth factories in third-world countries for their production process. Apple has set up factories in China for cheaper costs of production.
Process
Process refers to all actions you take, from developing the product to its delivery. It underlines how efficient and streamlined your service is.
The smoother the process, the more "ease-of-use" marks your service or product gets. Your approach is made up of several components working together to form one pleasant experience.
For example - When a customer stays at a hotel, instead of having them call to check the availability, most of the businesses opt for the best scheduling software that books, cancels, and handles payment, all on one platform. Thus, smoothening the process.
Promotion
Promotion is how you market your product, and the channels and platforms you adopt to do it. Your target audience also determines your channel.
For example, social media would be more effective in getting the attention of the younger generation instead of newspaper ads.
When promoting, it is prudent to be aware of the common sales mistakes to avoid. Outbound strategy, which at times resorted to aggressive marketing, has been replaced by a more inbound approach.
SEO leads have a 14.6% close rate, while outbound leads like print advertisements have a 1.7% close rate.
Videos are one of the fastest rising media to get your message to a broader audience. 93% of brands claimed to have obtained a new customer from a video posted on their social media channels.
Physical Evidence
This is a sort of proof that your product or company exists. It is to check the authenticity and validation of your existence.
This legitimacy is established through two ways – evidence that a purchase happened, and confirmation that your brand is real and not just a fantasy.
For the first one, physical evidence can be in the form of receipts, product tracking, brochures, invoices, etc.
As for the confirmation of your brand, customers go for your social media presence, your company logo, website or business card, and your headquarters' location.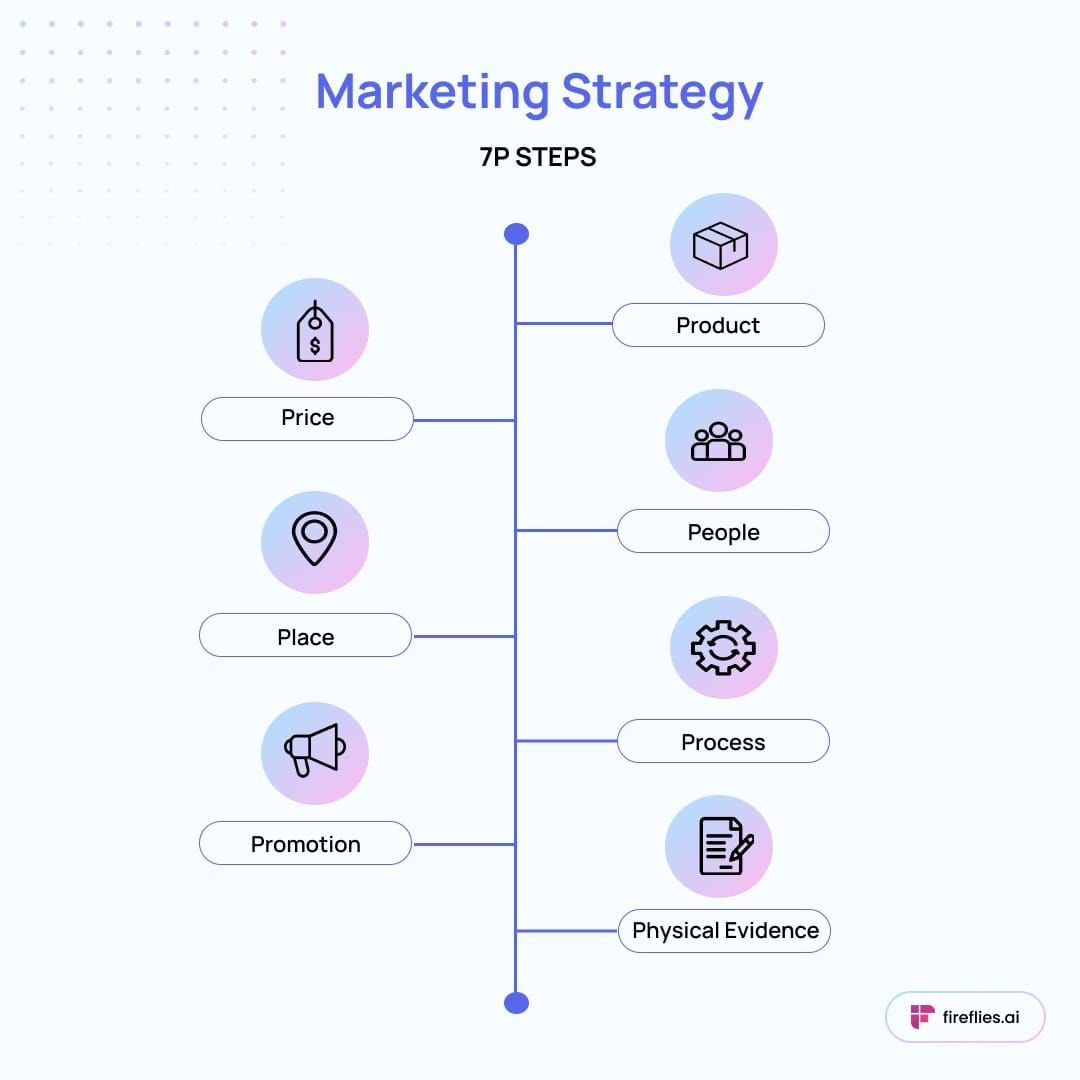 Example to Understand the 7Ps Better
Adam wishes to start a rental for bikes for tourists who want to explore the place (a valley) at their convenience during summer.
Adam uses the 7P marketing strategy for his business in the following way.
Product – Good quality bikes for rent by the hour. A security deposit and a signed liability form in case of damage.
Price – A lower price to beat buying second-hand bikes or renting cars. Can sell bike accessories on the side as well. A discounted offer if hired for 24 hours.
People – Catering to kids and adults. The number of bikes depends on the ratio of the demographic visiting. Hiring staff that is friendly and offers fantastic customer service.
Place – An accessible location. Closer to current transportation channels to catch the attention of tourists as soon as they arrive in the valley.
Process – Make booking and payment options available before the trip through web scheduling. Opportunity to choose any bike.
Promotion – Promotion through all social media pages. Add customer testimonials and referral options—partner with travel agencies for paid promotion.
Physical Evidence – Receipts and a digital signature of the customer when the bike is returned.
Fine-tuning Successful Marketing Strategy
How to build a marketing strategy varies from business to business. Conducting a S.W.O.T analysis will help you determine areas that need attention and the "P" you need to focus more on. What works for big businesses might not work for you, whereas a risk might pay off better.
The more market research you conduct, the better understanding you'll have regarding what style fits your business model better-- SEO, digital, outbound--or something else.
Take the 7Ps as a blueprint and add more Ps, Qs, or Ts as you build up from there.
READ NEXT :