Time is money, and unproductive meetings waste time and money. Unproductive meetings are estimated to cause a staggering loss of around $37 billion annually.
Level 10 Meetings are powerful for improving team communication, accountability, and problem-solving. Used by businesses of all sizes and industries, these meetings follow a structured format that encourages open dialogue, progress tracking, and action item assignment.
In this blog post, we'll explore what Level 10 Meetings are, how they work, and why they can be a game-changer for your team's productivity and success.
What is a Level 10 Meeting?
A Level 10 Meeting is a powerful tool in the Entrepreneurial Operating System (EOS) that helps leadership teams run more productive meetings.
The beauty of the Level 10 Meeting is that it cuts out all the fluff and gets right to the heart of what matters most—solving critical issues. Within a set timeframe, teams can identify the organization's three most pressing problems and work together to find solutions.
But here's the thing—the Level 10 Meeting isn't just about solving problems. It's also about staying on track, improving communication, and achieving goals. With a recurring touchpoint at each meeting, leaders can make informed decisions and tackle challenges head-on.
At the end of each meeting, participants rate the meeting on a scale of 1 to 10. The goal is to achieve a perfect 10, but even if you fall slightly short, it's okay—it provides an opportunity to reflect and improve for next time.
What is the duration and frequency of Level 10 Meetings?
EOS recommends a weekly 90-minute meeting for leadership teams. 90 minutes may seem like a lot of time, but we assure you it's worth it.
Investing 90 minutes weekly to address critical issues can save you 2-3 hours of potential firefighting, miscommunications, and roadblocks down the line. So it may feel like a lot of time upfront, but it's a wise investment for the future.
Establish a routine by having the meeting on the same day and time each week so everyone knows when to show up and what to expect.
Stick to the 90-minute time limit and follow a structured agenda.
Have everyone in the room a few minutes early to ensure you can start on time and stay on track.
By following these guidelines, you can ensure that your Level 10 Meetings are productive, efficient, and well worth the investment of time.
Pros and cons of Level 10 Meetings
All meetings have their advantages and disadvantages. Let's see what they are for Level 10 Meetings.
Pros
Level 10 Meetings are time-copped, keeping discussions short, succinct, and clear.
These meetings are goal-focused, addressing the most important challenges and obstacles.
The bulk of time in these meetings is spent discussing and solving issues.
EOS provides structure by laddering up other meetings into the Level 10 Meeting, ensuring that no part of the organization works in a silo.
Cons
Strict facilitation is crucial for effective EOS leadership meetings.
A lot of pre-work is required, including scorecard and issue list updates, for an effective Level 10 Meeting.
Meticulous documentation is necessary during and after the meeting to stay organized and track progress.
💡

Pro Tip

Level up you Level 10 with Fireflies.ai. Fireflies is an AI notetaker that automates note-taking during online meetings so you can focus on what's important.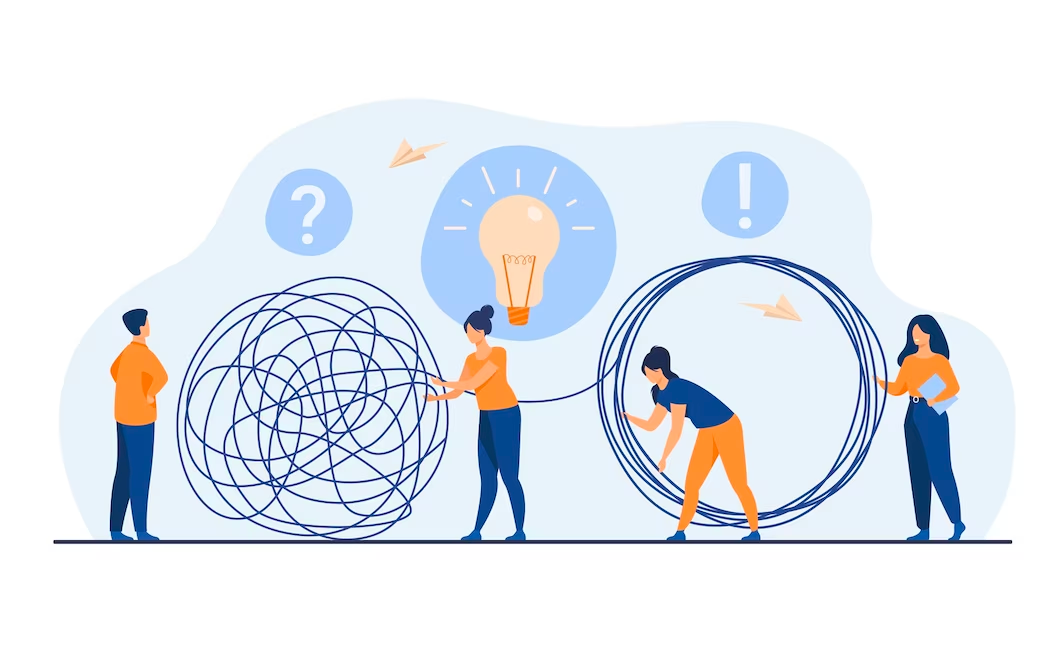 Components of a Level 10 Meeting
One of the key features of Level 10 Meetings is their strict agenda, which should be followed consistently every time.
The main objective is to quickly review ongoing or past issues and dedicate most of the time to identifying and resolving current issues.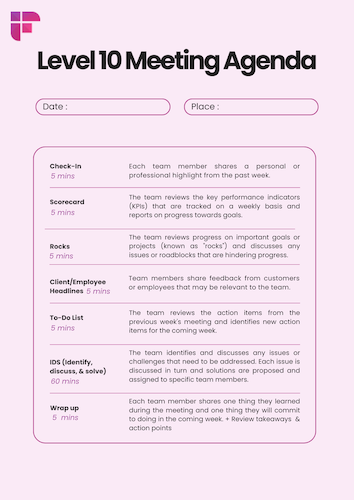 1. Check-in (5 minutes)
Share a personal win or "aha!" moment to start the meeting on a positive note.
2. Scorecard (5 minutes)
Discuss 3-5 metrics that are important to the company, department, or team.
Metrics should pass the "beach test," meaning it would warrant immediate attention and action if they are off track.
3. Rock updates (5 minutes)
Review the progress of ongoing "rocks," which are projects that take up a quarter's worth of work.
Add any off-track rocks to the issues portion of the agenda.
4. Client/employee headlines (5 minutes)
Each attendee shares one-sentence updates on important client and employee news.
5. To-do list (5 minutes)
Review the previous week's to-do list and report progress.
6. Identify, discuss, and solve [IDS®] issues (60 minutes)
Use the IDS process to:
Identify top issues and vote on the top 3 priorities.
Discuss the issue from all angles.
Settle a solution and action points to implement it.
7. Wrap-up (5 minutes)
Recap the to-do list and next steps from the meeting.
Discuss any cascading messages that need to be communicated to the rest of the organization.
Rate the meeting and ask for feedback to improve future meetings.
Fireflies, your Level 10 Meeting assistant
Fireflies.ai offers a powerful toolkit to make your Level 10 Meetings more efficient and productive. It helps you record, transcribe, summarize, search, and analyze voice conversations.
With it, you can identify and track action items and keywords across meetings, while the AskFred feature can assist you in generating post-meeting content. With Fireflies.ai, you can maximize the value of your Level 10 Meetings and stay on top of your team's progress, always.