Lead generation can be challenging for small businesses with limited budgets. Traditional ways of generating leads demand investments and result in low ROI due to non-targeted audiences.
That's why a lead generation strategy needs to be in place if you have a small budget, large budget, or no budget.
Remember: Traffic x Conversion Rate = Leads.
Thus, if you want to generate leads, increase the traffic along with the conversion rate. In this article, you'll understand the process of lead generation, how to qualify leads, and small business lead generation ideas that have high ROI.
What is the Lead Generation and Lead Generation Process?

Lead Generation

Any person who has a potential interest in your company's product or services is termed as a lead. They hear from companies after voluntarily submitting contact information for a free trial, offer, or subscription. Leads are not generated through random calls made through the purchased contact information.
Lead generation is the process of attracting and capturing interested prospects who have an interest in your product and nurturing them until they're ready.
It primes the prospects towards your product and services to give them an idea of what you're selling and how it can benefit them. In short, it's warming up prospects to your business and setting them on the path of the sales cycle.
Small business lead generation often includes the following strategies:
Blogging
Email marketing
Social media marketing
Networking
Coupons
Live events and seminars
Website landing pages
In the following article, we'll discuss how to generate leads for a small business effectively.
The main benefit of lead generation is that it helps in building initial relationships and gains the organic interest of prospects without being intrusive. Thus, lead generation is a key activity for B2B and B2C businesses—especially SMBs.
Lead Generation Process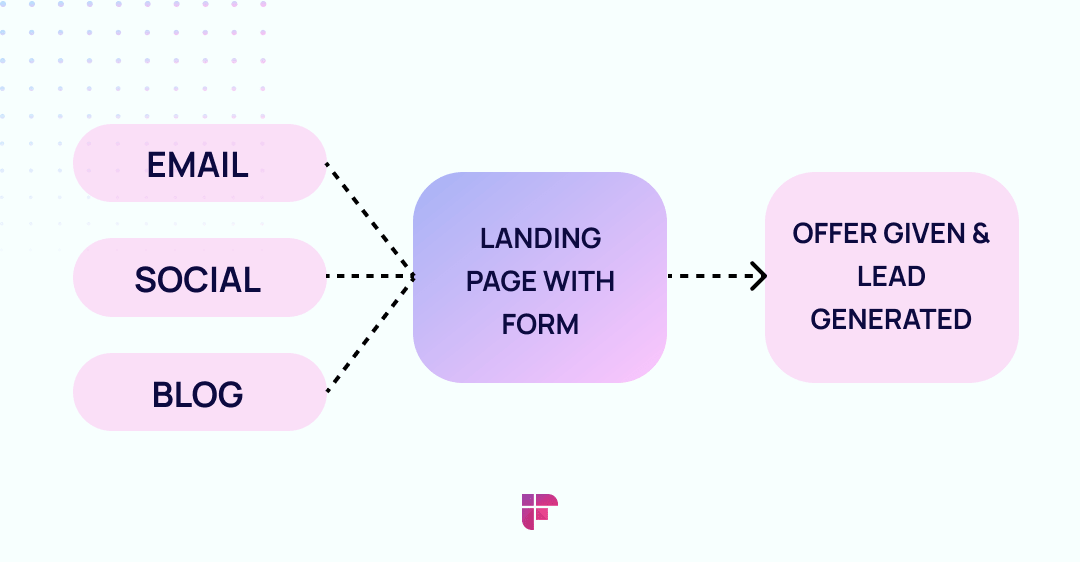 Lead generation starts after you've attracted an audience to your website or product/service and are ready to convert them into leads for the sales team. Here's how this process looks like:
An online visitor discovers your small business via marketing channels, e.g., website, blog, or social media page.
Then this visitor clicks on the CTA — an image, button, or message that encourages the website visitors to take an intended action.
This CTA then directs the visitor to a specific landing page—a web page designed to capture lead information in exchange for an offer. It can include an ebook, a course, a template, a whitepaper, or a free trial. Converting offers must have great perceived value to a visitor so that they can provide their personal information in exchange for access to the material.
After the visitor fills out a form in exchange for the offer on your landing page, he/she is termed as a lead. That's how you get a new lead waiting to get converted.
To sum up: a visitor comes to your website > clicks on the CTA > gets directed to a landing page > fills the information > becomes a new lead.
But after getting a new lead, you must know how to qualify it and rank it according to its potential conversion chances (lead scoring). The next section of this small business lead generation guide is how to qualify a lead:
How to Qualify a Lead: 5 Frameworks to Identify Quality Leads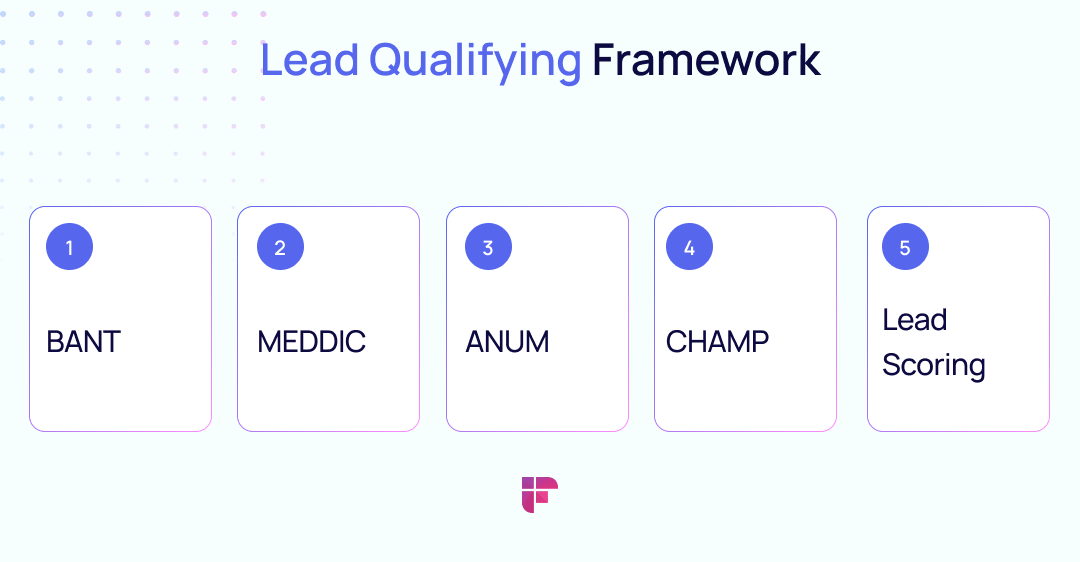 Every sale and every customer is different. Therefore, there aren't one-size-that-fits-all criteria to qualify leads.
However, all closed deals share similarities that can be characterized as Lead Generation Frameworks. The sales team can leverage these frameworks to gauge the lead's interests and end goals:
1. BANT Qualification Framework

BANT stands for Budget, Authority, Need, and Timeline (a framework created by IBM). It aims to uncover different levels of opportunities. The four aspects that BANT targets are:
Budget: Is the product/service suitable for the client's budget?
Authority: Does the prospect have authority to sign a deal, or is anyone else in charge?
Need: How does your product/ service fulfill the prospect's needs? Is this just exploring or in dire search of a solution?
Timeline: When is the prospect ready to buy?
The BANT framework addresses all the basic requirements but fails in two aspects: authority and timeline.
It may be possible that the 'ultimate' purchase authority resides in more than one person. Thus, you need to account for other individual stakeholders early in the process.
Second, a constrained 'timeline' qualification could make you lose a potential customer who won't be able to buy until the next quarter or year. So, it's better to contact and send educational resources until he's ready to buy.
2. MEDDIC Framework

MEDDIC stands for Metrics, Economic Buyer, Decision Criteria, Decision Process, Identify Pain, Champion. It's a complex framework but includes a wide range of overlapping factors.
Metrics: What result is your prospect looking for by using your products (quantitatively)?
Economic Buyer: Who's the person responsible for making a purchase decision?
Decision Criteria: On what factors does the prospect evaluate whether to buy or not?
Decision Process: What process does a prospect follow during decision-making?
Identify Pain: Which pain point is your prospect looking to solve?
Champion: Is there anyone inside the buyer's organization that trusts your product/ service and can be a 'champion' for it?
MEDDIC requires a lot of detailed information about the prospect and its organization. Thus, it makes sense for the companies selling low volume of high-price products (companies selling enterprise softwares ranging in thousands of dollars).
These companies can take extra time to dive into a prospect's details. But MEDDIC doesn't make much sense for teams selling high-volume, low-cost products (online retailers).
3. ANUM

ANUM stands for Authority, Need, Urgency, and Money. It includes the same factors as BANT but in a different order. Unlike BANT, ANUM prioritizes decision-makers and keeps the money factor—equivalent to BANT's budget—as the last priority.
This framework works well for teams that sell to companies where the decision-making process isn't always clear. For instance, most early-stage startups don't yet have a well-ordered purchasing model.
4. CHAMP

CHAMP framework includes four factors: Challenges, Authority, Money, and Prioritization. It's a spinoff strategy to BANT that prioritizes whether the lead can solve his challenges with the help of a product.
CHAMP also focuses on 'Prioritization'over a fixed timeline. As per this framework, the lead's timeline is determined by how the prospect prioritizes buying your product/ service.

This strategy is suitable for leads who don't have a clear idea of what you're selling. CHAMP will help understand if the product solves a prospect's problem or if there is a fit. This can help the sales team to disqualify leads that aren't a fit for the company's product/ service.
5. Lead Scoring

Lead Scoring is a quantitative method of qualifying leads where a score is given to determine how likely they are to get closed.
A score helps evaluate a lead from 'interested' on one end to 'ready to sell' on the other. There is no fixed scale; each company uses different metrics. However, ensure there is a small scale across your marketing and sales teams to unify the metrics.
Lead scoring can be done based on information a prospect has provided, actions they have taken, level and frequency of engagement to your marketing channels (social media, emails, etc.)
The higher the lead score, the closer they are to becoming a sales-qualified lead (SQL). You need to keep tweaking the lead scoring framework as per your metrics to find a formula that works, then deploy it across different teams.
9 Small Business Lead Generation Ideas (Or How to Acquire New Leads)

1. Leverage Video for Your Small Business

With over 1.9 billion users, YouTube is the second-largest search engine in the world. And that's where you can find your ideal audience too.
Video marketing helps you engage and explain your product in a better and quicker way. You can ace traffic generation and entice viewers to your video using storytelling and sharing value.
Here's how you can do video marketing for your small business:
Education: Are you an expert in your field? Educate your audience and provide unique insights and thought leadership content. Also, show them how to achieve their goals.
Introduce Yourself: Make an introductory video about your brand and its values. These are helpful to give a quick impression of who you are. Further, you can showcase these videos on your homepage too.
Celebrate Customers: Authentic testimonials serve as solid social proof for the product and service. You can start by sharing your customers' stories.
Show What you Do: Create detailed and appealing videos about how your product works. Also, demonstrate how it can solve customer's problems.
Example of Video Marketing: Dollar Shave Club
This video from Dollar Shave Club has garnered over 25 million views to date, thanks to raw and authentic video marketing.
The founder filmed a witty presentation of an everyday problem that resonated. People worldwide enjoyed the campaign, and it went viral—a perfect example of storytelling for small businesses.
2. Build a Content Marketing Funnel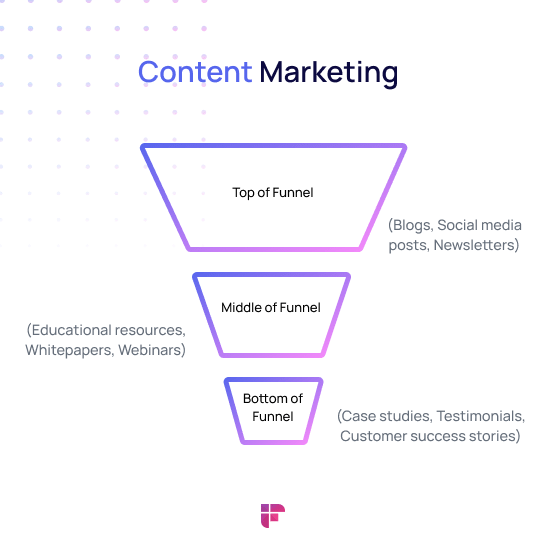 Content marketing is one of the most effective ways to improve brand awareness. It's at the core of inbound marketing—where you're attracting visitors by educating them.
You don't need to rely on paid media if you want to generate leads for your small business. Sure, paid media brings faster results, but content marketing gives a positive ROI that compounds over a period of time.
Example of Content Marketing for Small Business: SitStay
SitStay is a dog-product e-commerce small business that has a blog called the Good Dog blog. The blog gives advice and provides tips for better care of pet dogs.
The blog routinely tops search engines with keywords like 'quick health tips for dogs' or 'questions for dog and puppy adoption' and generates thousands of views per month.
People looking for these educational resources might not be ready to buy yet. But it builds brand awareness about your products and creates conversations around them for future buys.
Here's how to build a content marketing process for small business lead generation:
Discover customer's pain points: Deep dive into your ideal customer's daily struggles. What problem are they facing, and what solution do they need? Search for the product as well as non-product-related opportunities. Speak to existing customers face-to-face to further uncover hidden struggles.
Identify the core themes and topics: Research the keywords people are searching for that align with your brand and its products. For instance, SitStay writes about dog products, adoption, diseases, and dog health. And it sells products that relate to these topics.
Develop lead magnet: You need to build a lead magnet to convert readers into customers. Capture their details to nurture them in their buyer's journey. You can do this by offering a free guide, checklist, discounts, prize draws, ebooks, and webinars. Remember, provide value upfront and then ask for details.
Nurture leads with emails: Once you have an email list, nurture and engage with them via email marketing. Build relationships with your customers over time using 'drip marketing'—giving periodic content over time. Offer valuable content that they care about and improve their lives.
Convert leads into customers: In between these emails, send offers on your products like monthly sales or discounts to convert them to customers. Remember to tailor sales emails that fit the customer segment. Also, learn how to write sales emails that convert.
3. Don't Forget Traditional Media

No doubt digital marketing is cost-effective and easy to leverage, but traditional marketing still works. Especially for small businesses that target local customers, traditional media is a great way to kindle word-of-mouth awareness.
However, it's crucial to pitch your message on mediums that your ideal customers are reading. If you're giving ads in a newspaper, but your customers don't even read newspapers, there won't be a positive ROI.
Emails are a great way to learn about your customers. Use surveys to understand what topics they talk about and if they consume traditional media. Here are different ways to leverage traditional media:
Direct Mail
Print Media and Ads: Newspapers & Magazines
Broadcast Marketing: Television & Radio Channels
OOH (out of the house) Marketing: Public Transits like Buses and Trains, Billboards, etc.
Marketing via face-to-face meetings, phone calls, events, direct selling
4. Build your Personal Brand

Personal branding acts as a force multiplier for your small business. It's a long-term process, but once you've built a strong personal brand, you can capture millions of people. Entrepreneurs like Seth Godin and Gary Vee are always in the spotlight, which boosts awareness of their brand.
Small business entrepreneurs often forget the importance of building a personal brand. Personal branding helps develop a pipeline of qualified leads over time.
Create a website that acts as the center of everything you talk about. Showcase everything relevant to you and your business; list your events and social profiles.
Then, define Yourself: What do you want the audience to think about you? Do you have a specific topic that you're passionate about? Define your goals and align your actions with them.
5. Organize In-Person Events

Event marketing requires investment but gives an unparalleled boost in local brand awareness and lead generation. Select a specific and affordable way to attract and engage with your customers. For instance, you can put pop-ups in streets (or near another business location) to attract leads without extra venue costs.
For instance: BarkBox, a small business for dog products, held a 'Barkshop Live' street pop-up. They invited dogs with their owners and fitted RFID tags on each dog. The tags then indicated which toys the dog played with the most.
Then, BarkBox workers told pet-owners that they could buy the toys on-spot. This event generated many leads and customers for BarkBox and garnered press attention. Further, they even repurposed this event into a form of content.
6. Ace Search Engine Optimization

47% of buyers research online before making a purchase. But appearing on search engines isn't the tough part. You need to rank high in the SERP results to gain leads.
Only 10% of the visitors get past the first page. That's why SEO is very crucial for B2B and B2C businesses to gain leads. To begin with, you need to craft an SEO strategy and start utilizing it every time you create content.
Further, you need to implement local SEO too. It starts with claiming your Google My Business listing and optimizing it. Then, audit your website and optimize the meta descriptions to match target keywords. You need to create compelling descriptive text on each page to improve CTRs through search.
You can also get listings in online business directories such as Yelp, Merchant Circle, Citysearch, and other local directories. This will improve brand visibility and trust.
Finally, you can encourage customers to leave positive feedback on your business on Google Reviews. This will ensure your business has enough social proof for its products and services.
7. Offer Free Templates

Offering something for free always works to acquire more leads. Of course, not all of them will close. A good sales strategy will manage to convert most. Free templates help visitors extract value from your offer. T
Templates like employee schedules, content calendars, market research sheets are always in high demand. As a small business owner, you can create free templates that kick-start your relationship with buyers. If your template is valuable, most of the users will return to try your relevant product or services.
8. Offer Free Trial or Freemium Product

Free trials help businesses to get a customer halfway through the door. It's an excellent way of showcasing how your product can ease a prospect's life. If the user feels the product is valuable, they'll opt for premium plans. Instead of calling prospects to grab your Free Trial, you can put the offer on your website.
Buzzsumo does it well with its free trial offer:
Buzzsumo offers a payment-free process to signup and grabs their free trial. This makes it easy for the users to try the product without committing credit card information.
Alongside the form, it displays the actual dashboard of what the tool will offer. This simple tactic helps users gain trust, and improves lead generation.
Another version of a free trial is offering a part of your product that will remain free forever. Example: Fireflies.ai allows all users access to the automatic note-taking feature. Thus trial users get to understand how Fireflies can improve meeting productivity and collaboration seamlessly.
9. Create an Interactive Tool or Quiz

Implement an intuitive quiz or tool on your website that offers some valuable information. The goal is to obtain contact information in exchange for the results of the quiz. This method effectively generates leads that have high chances of converting.
A good example is the Hubspot Website Grader that helps visitors grade their website against key metrics for free. To use the free tool, users have to enter their contact information, which provides HubSpot with new leads interested in improving website performance.
Experiment and Iterate on Strategies

There is a multitude of small business lead generation strategies that can improve the ROI. The critical part is to choose the one that suits your business.
Not every lead generation idea will be applicable in your industry. Thus, you need to test different approaches on a small scale and measure the results.
Then, double down on the strategies that proved the most effective. Whatever strategy you follow, ensure the content is always relevant and targeted to your audience.

Read Next: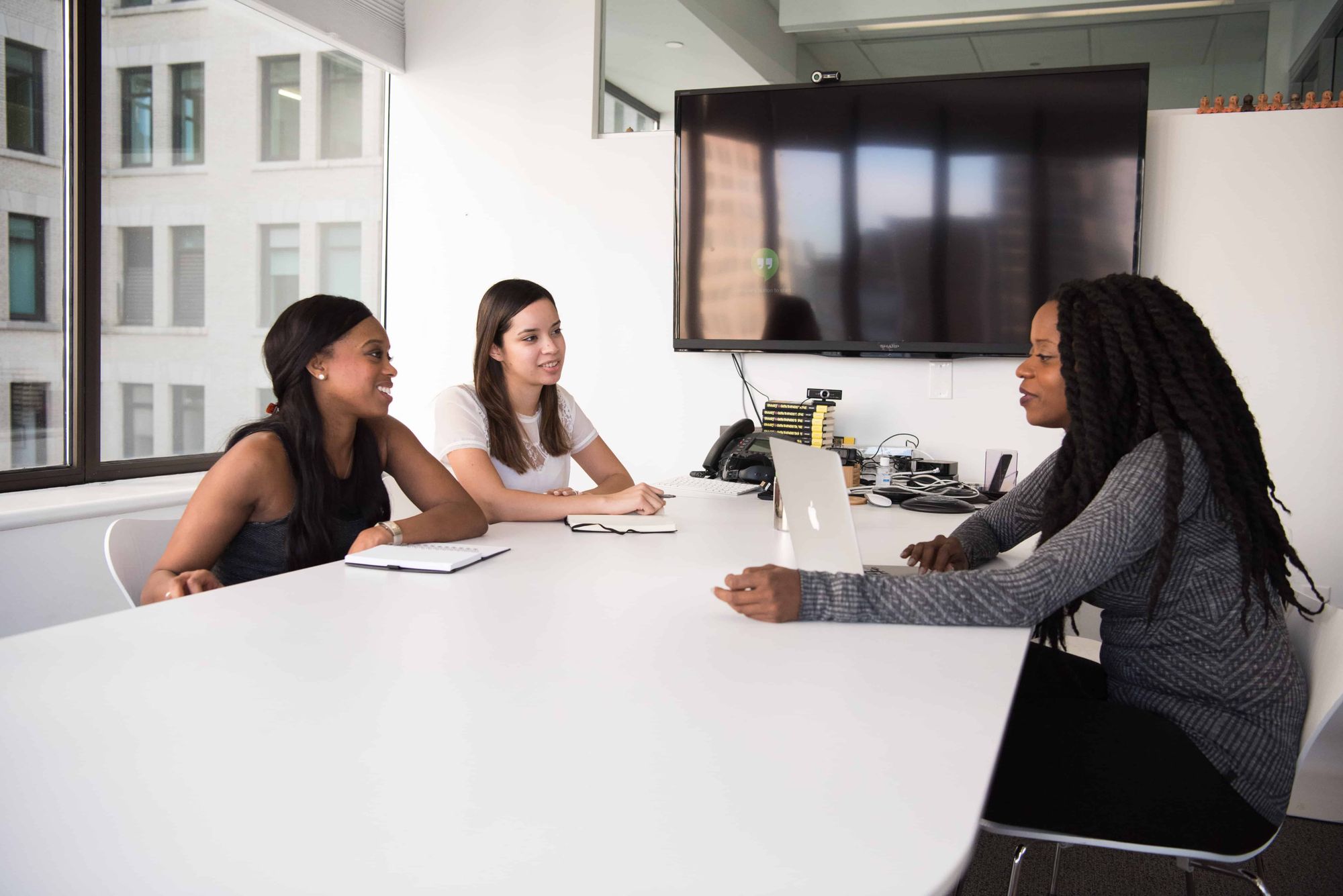 Featured Image illustration by Storyset