AI transcription has taken the world by storm. You can now turn your spoken words into written text faster than you can say "transcription."
Presenting the 10 best AI transcription tools you can choose from to boost your productivity and hop on to the AI transcription bandwagon.
But first, what is AI transcription?
What is AI transcription?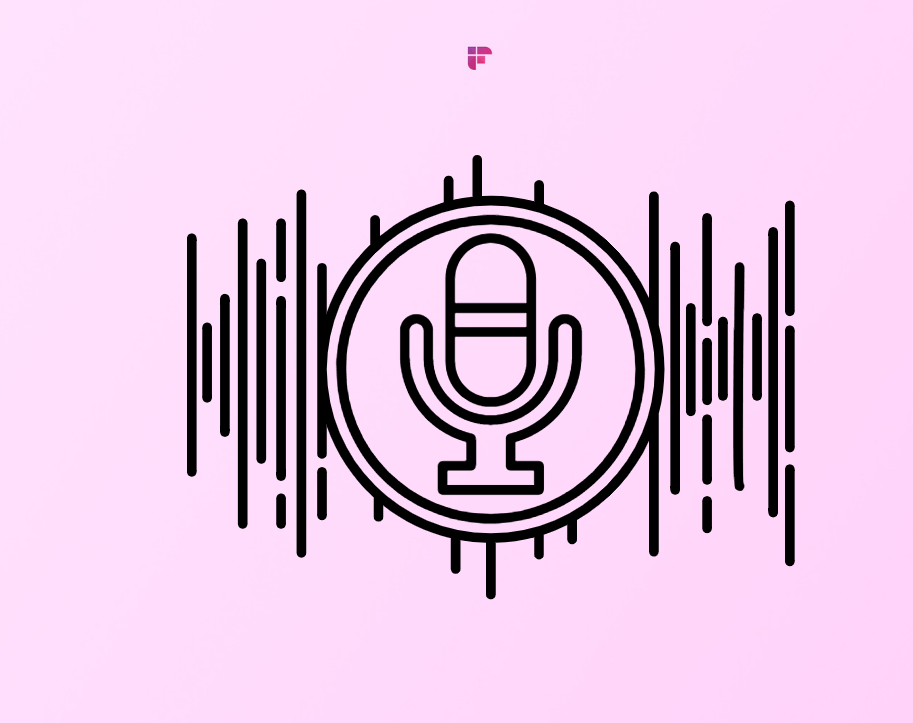 AI transcription means using computer programs to turn speech into text automatically. These AI transcription tools use machine learning algorithms to analyze and understand spoken language patterns and accents and then convert them into text format.
One of the major advantages of an AI transcription tool is that it enables you to transcribe large volumes of audio and video content accurately in minutes with minimum effort.
Mostly, you only need to upload the file you want to transcribe into the tool, which will then automatically generate the transcript.
This way, you can save time, reduce manual efforts, and focus that energy on more productive tasks.
10 Best AI transcription tools
According to Debatrix, an average speaker says about 120 words per minute. When manually transcribing this, you must listen to the spoken words, type them out accurately, and format them readable. This can become a time-consuming and tedious process.
Take that load off with these 10 best AI transcription tools that can automatically create accurate transcripts in minutes.
Fireflies.ai
MeetGeek
Otter.ai
Beey
Nova AI
Verbit.ai
Scribie.ai
TranscribeMe
Temi
Audext
For ease, let's break down this list in terms of their best use cases.
AI transcription tool for meetings
Here are the best AI transcription tools that you can use for transcribing your meetings:
Fireflies.ai
MeetGeek
Otter.ai
1. Fireflies.ai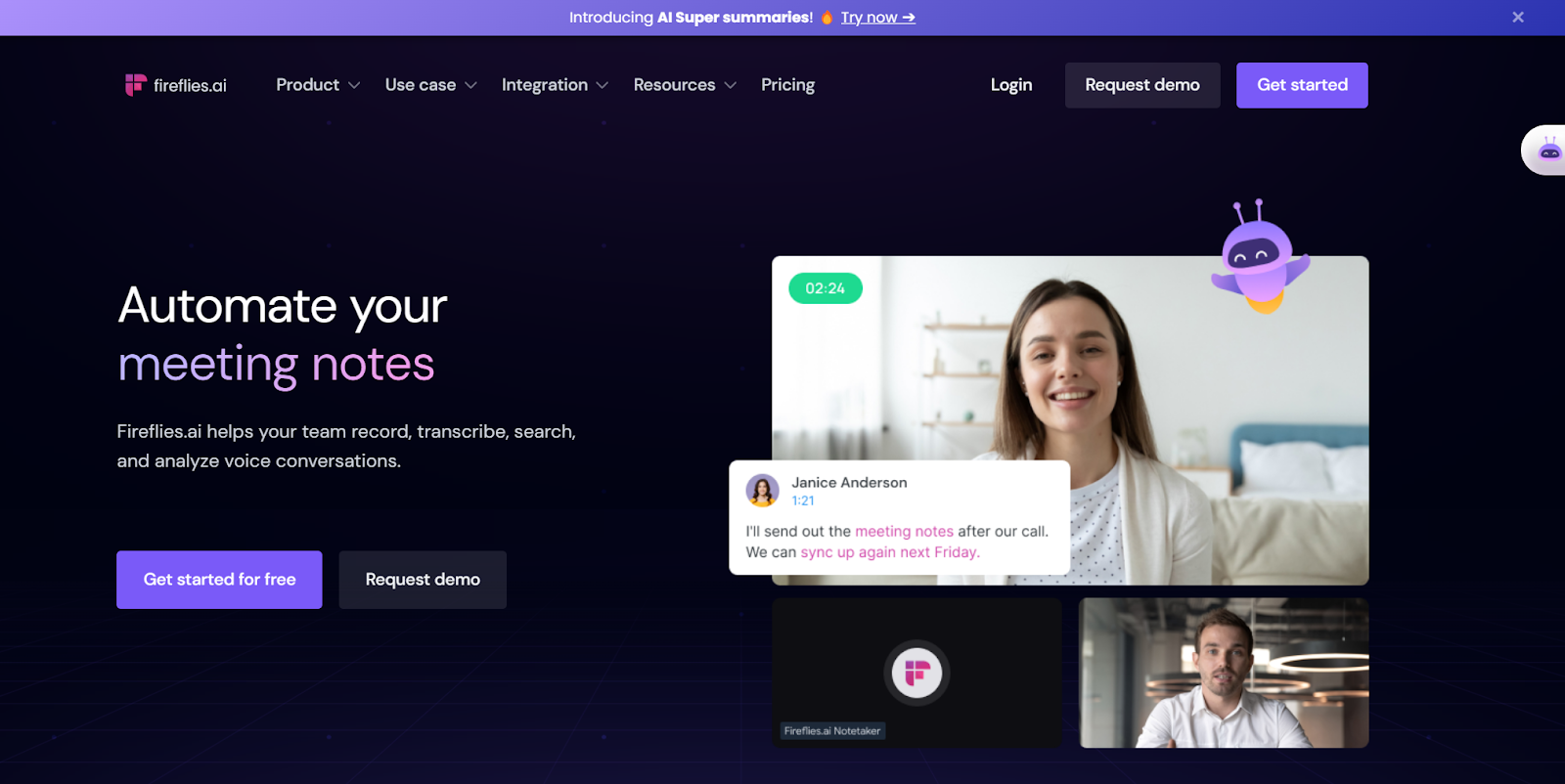 Fireflies is an AI transcription tool that primarily focuses on transcribing meetings. It can record, transcribe, summarize, and analyze your online meetings with 90% accuracy.
Apart from meetings, you can also use Fireflies to transcribe interviews, podcasts, voice memos, and other conversations.
There are three ways to create a transcript using Fireflies:
Invite Fireflies to join your meetings as a silent attendee and transcribe it for you.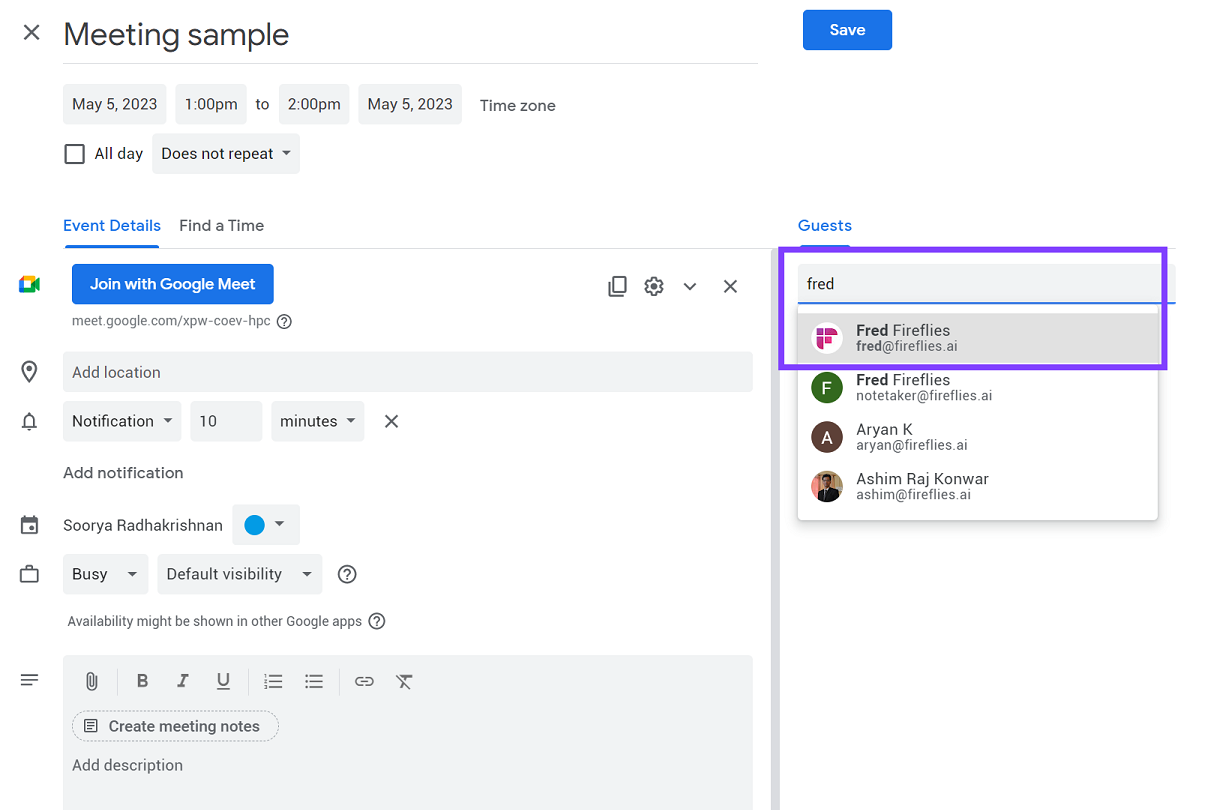 2. Allow Fireflies to auto-join your meetings and transcribe them.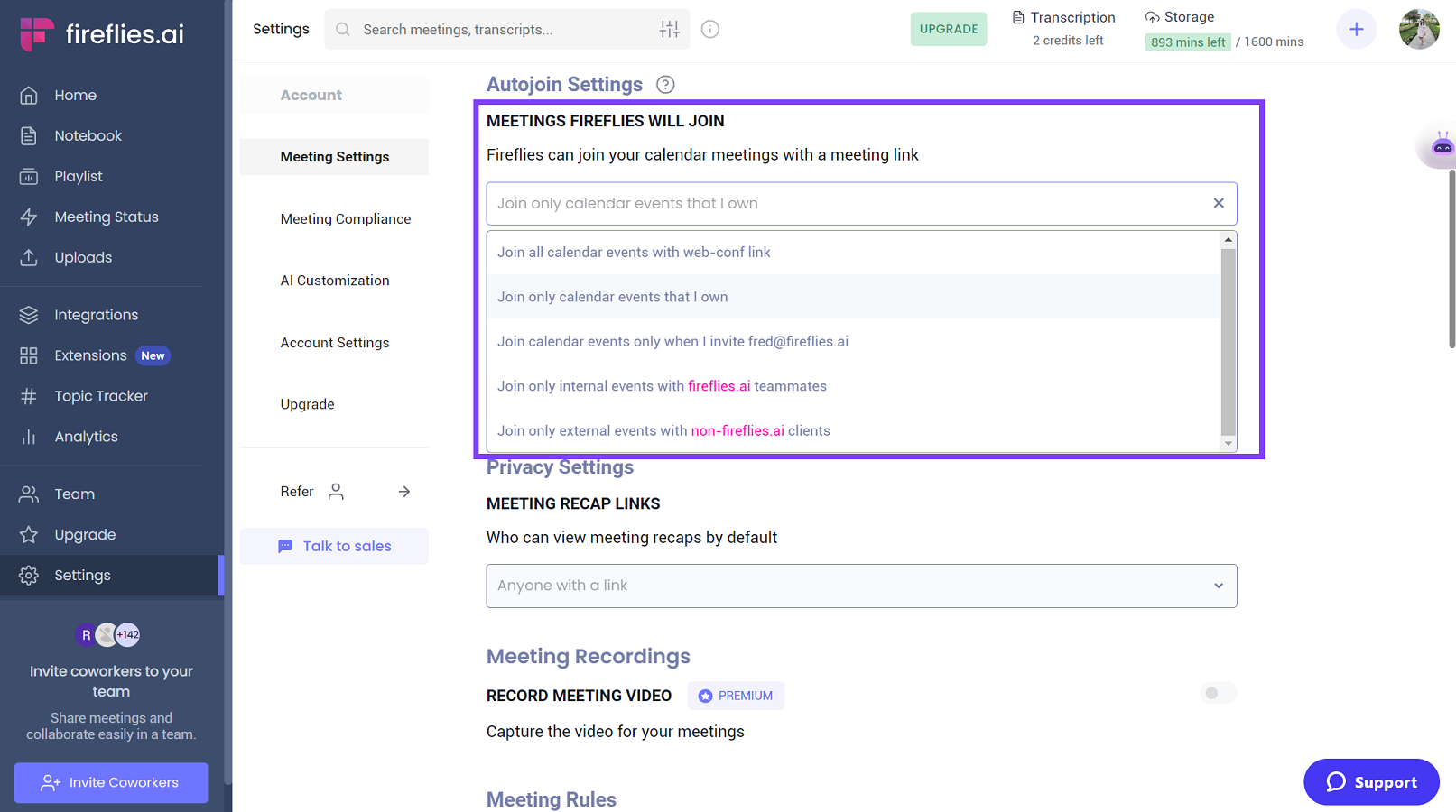 3. Upload your meeting recording to the Upload section and generate the transcript within minutes, depending on the file size. You can convert Mp3 to text, M4A to text, and other media files using this feature.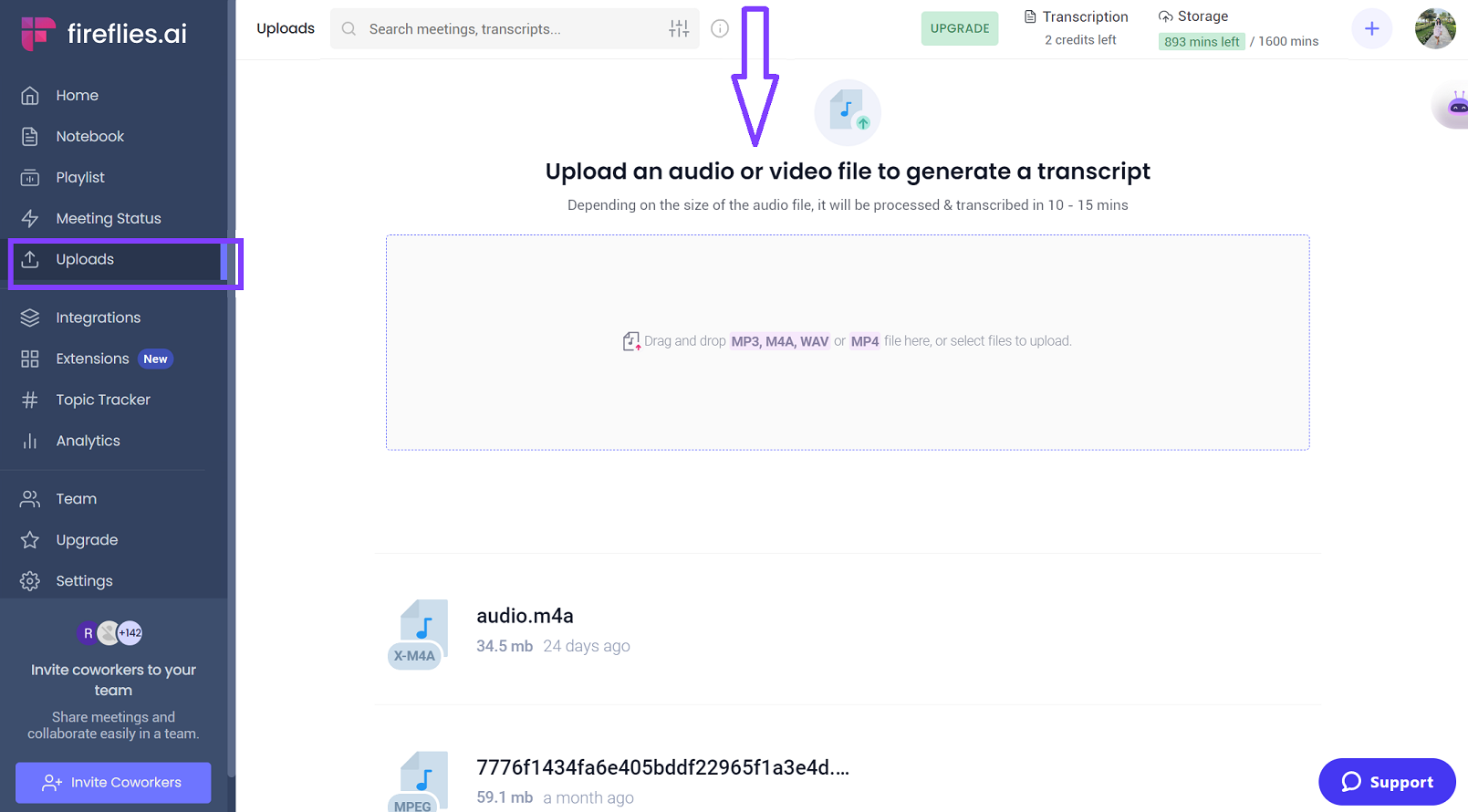 You can find the completed transcription, a high-level summary of your online meetings, and uploaded files in the Fireflies Notebook.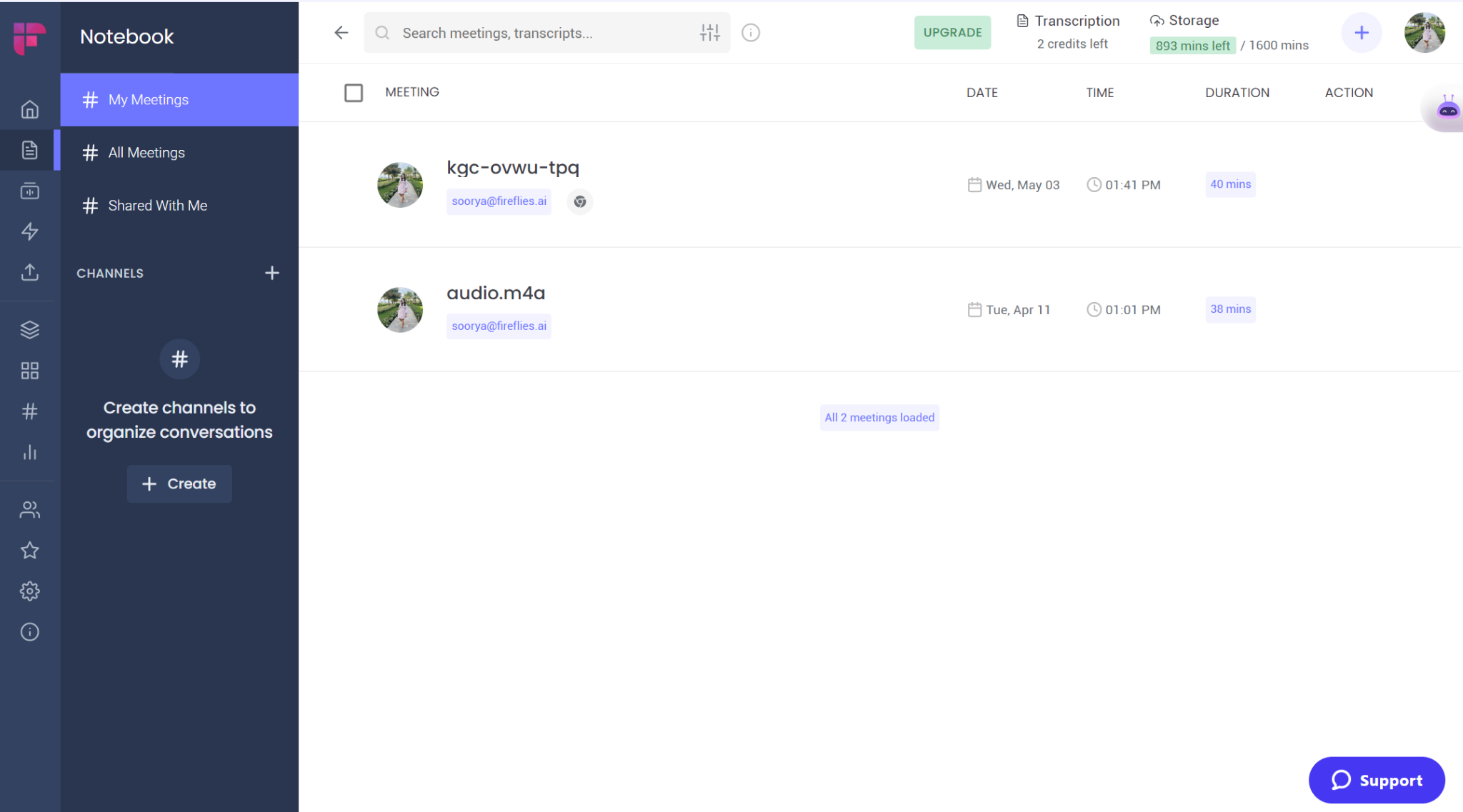 Pros of Fireflies.ai
Generates 90% accurate transcripts in minutes.
You can download the transcript in 5 formats—PDF, DOCX, SRT, CSV, or JSON.
Supports transcription of files in MP3, MP4, M4A, or WAV format.
Offers advanced smart search capabilities that enable you to review the transcription in minutes.
Supports multi-language transcription in 32 languages and 3 English accents.
Offers advanced collaboration features like threads and soundbites. Annotate the transcript or create and share sound clips of important meeting sections to bring everyone up to speed.
Provides deeper insights into meetings with conversational intelligence—speaker analytics, total time spent in conversation, talk-to-listen ratio, call sentiment, average words spoken per minute, and so on.
Offers a Playlist feature that enables you to create a collection of soundbites in a single space from multiple calls.
Integrates with around 50 popular apps, including CRMs, dialers, and video conferencing tools.
Offers a chatbot, AskFred, that brings the power of ChatGPT into meetings and answers any questions you have about the conversation. It can also automatically develop other forms of content, like social media posts, emails, blog posts, etc., from your conversations.
Highest security standards. Your transcripts are end-to-end encrypted at rest and in transit. Fireflies is also SOC 2 Type 2 and GDPR compliant.
Cons
It does not work offline and requires a stable internet connection to perform at its best.
No in-built translation options.
Pricing
Fireflies free plan offers limited storage of 800 minutes and up to 3 transcription credits.
They also offer a 7-day free trial to their Business Plan, the highest subscription tier. You can enroll in it to get access to all the premium features free for 7 days.
For unlimited transcription credits, you can upgrade to the paid plan that starts from $10/seat/month.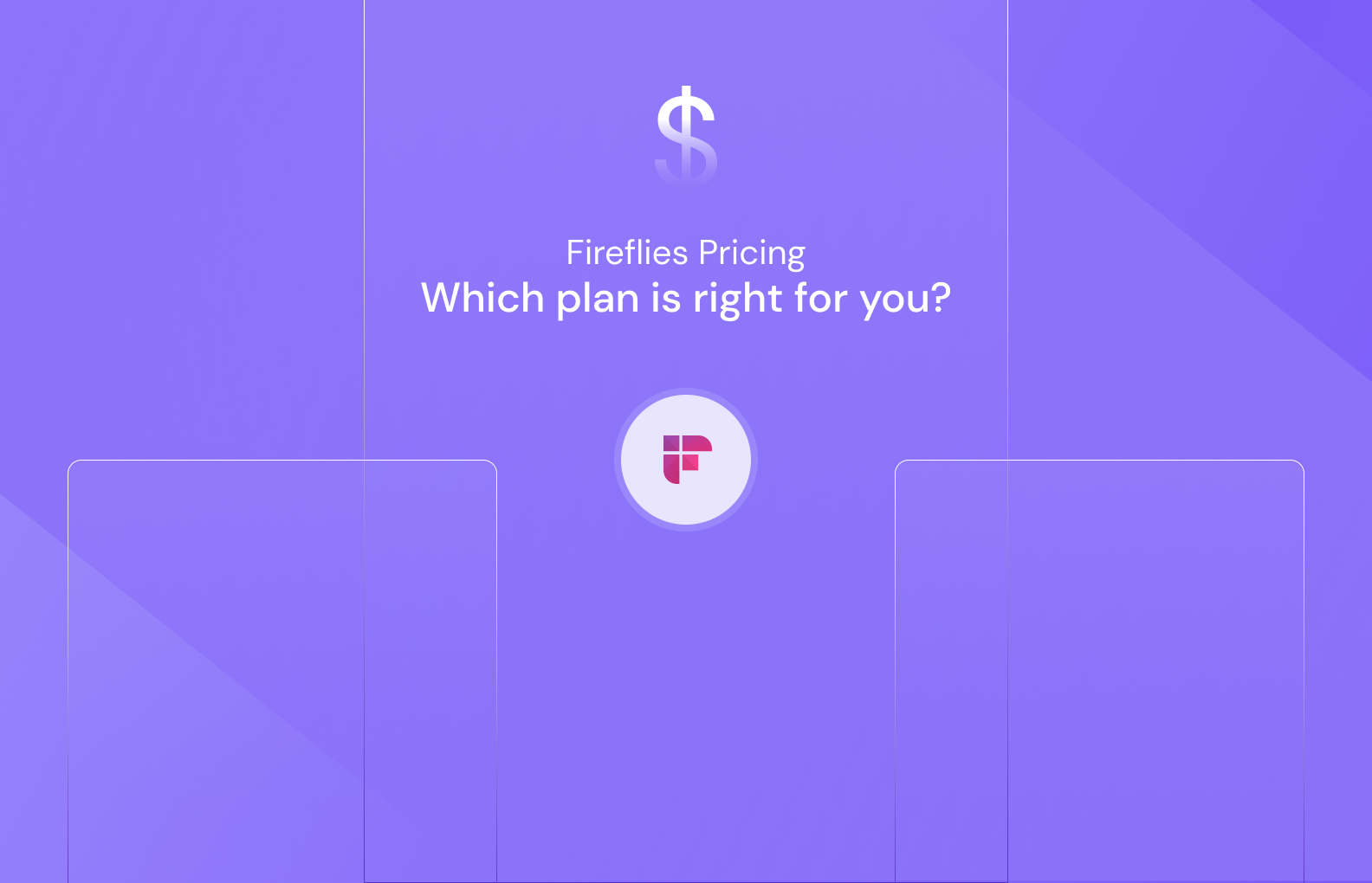 2. MeetGeek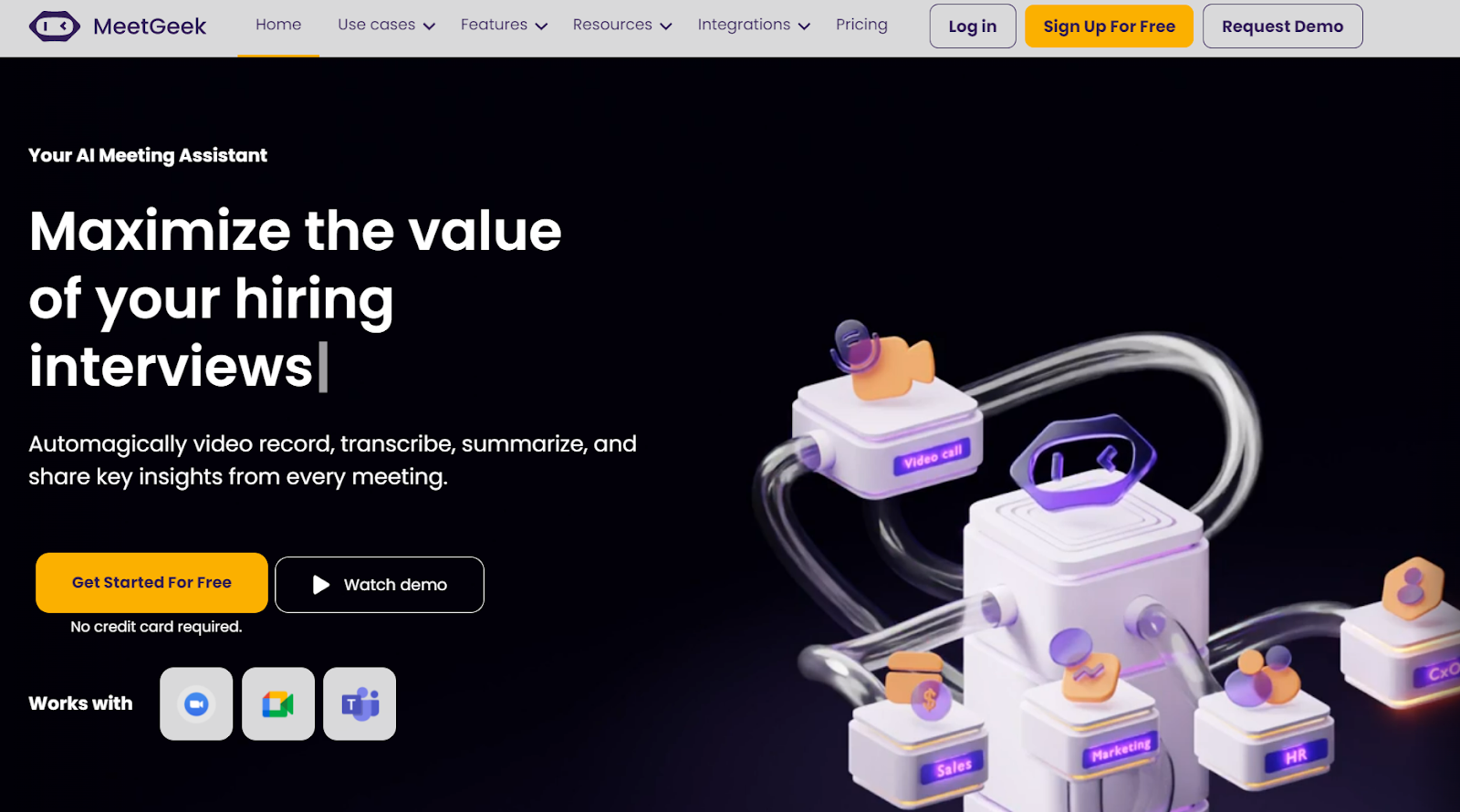 Like Fireflies, MeetGeek is another AI transcriber that helps you record, transcribe, summarize, and get insights from your meetings.
Enable MeetGeek to auto-join your meetings and record and transcribe them. It also provides an AI-generated summary for your meetings.
You can also interact with it through voice commands to create tasks or trigger automation workflows during meetings.
Pros
Generates transcripts with timestamps in minutes, along with AI-generated summaries
Supports transcription in 20+ languages
Integrates with major video conferencing platforms like Google Meet, Zoom, and Microsoft Teams
Provides an easy keyword search that allows you to search and find details from the past meeting transcripts
Auto-tags action items, points of concern, and other important details
Provides quantifiable insights on your meetings
Cons
Does not allow you to edit the transcripts
Users cannot transcribe a recorded file
Pricing
MeetGeek offers a free trial for 14 days. Their paid plan starts at $19/seat/month.
3. Otter.ai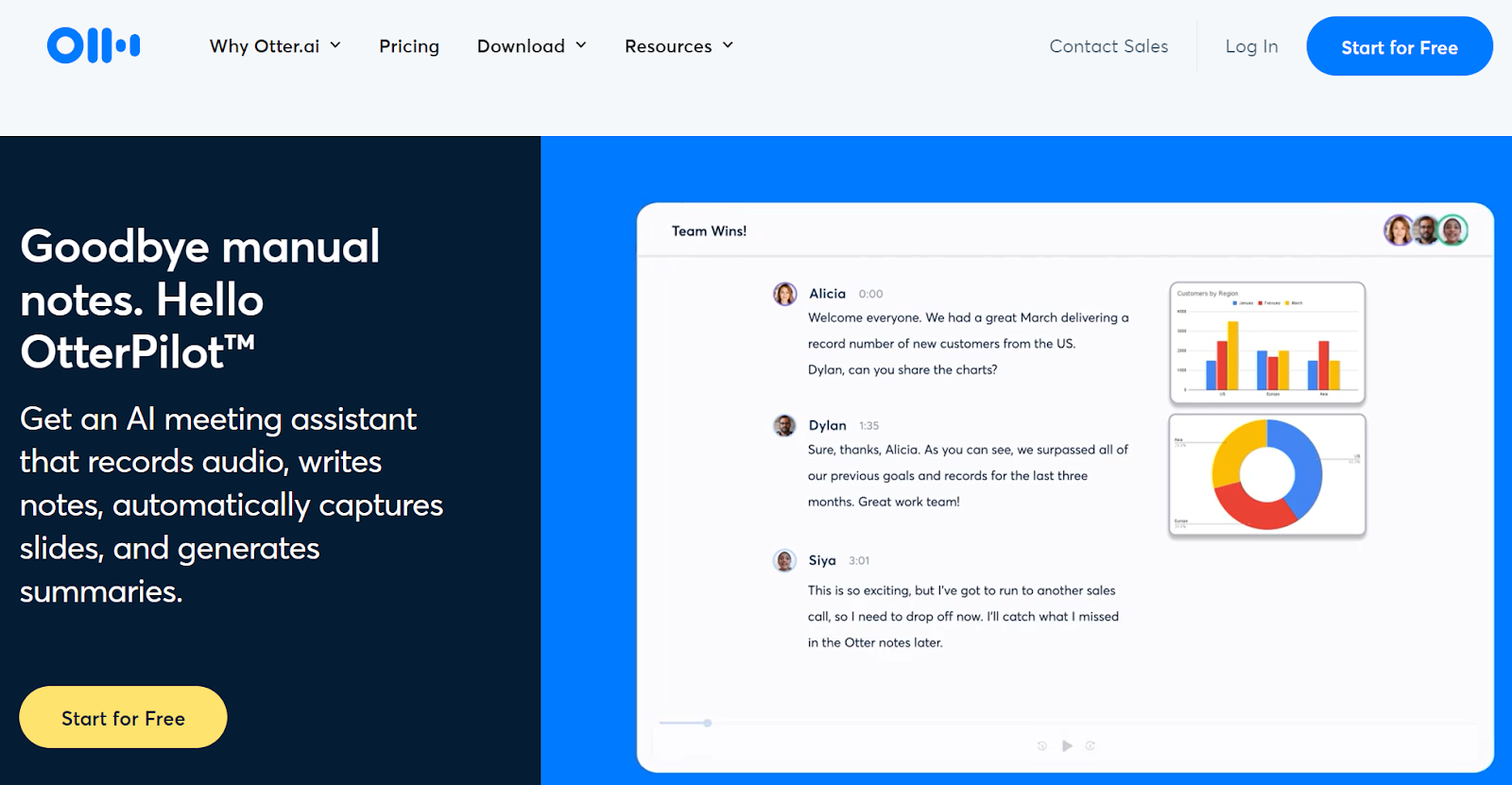 Otter.ai is an AI transcription tool that primarily helps you record, transcribe, and summarize live conversations.
Integrate the Otter AI transcription tool with your Google or Outlook calendar and set it up to join meetings automatically. From your next meeting, Otter Assistant will automatically join the meeting and take notes for you.
Pros
Generates transcripts of live meetings with speaker labels and time stamps
A secure tool with two-factor authentication and encryption of data
Supports transcription of recorded audio or video files in 15 formats
Enables you to search notes by keyword, speaker, and date easily
Allows you to add images or highlight text in the transcript
Offer collaboration features like comments and likes
Cons
Doesn't support multi-language transcription
Doesn't allow you to export transcripts in VTT format
Limited integrations. Also, you need a premium membership to benefit from the Otter.ai integrations.
Pricing
Otter offers free transcription for 300 minutes per month. The files should not exceed 30 minutes.
The paid plan starts at $16.99/seat/month with limited transcription credits of 1,200 minutes and 90 minutes per conversation.
AI transcription tools for captioning and subtitling
If you're looking for an AI transcriber that can do captioning and subtitling, try out:
1. Beey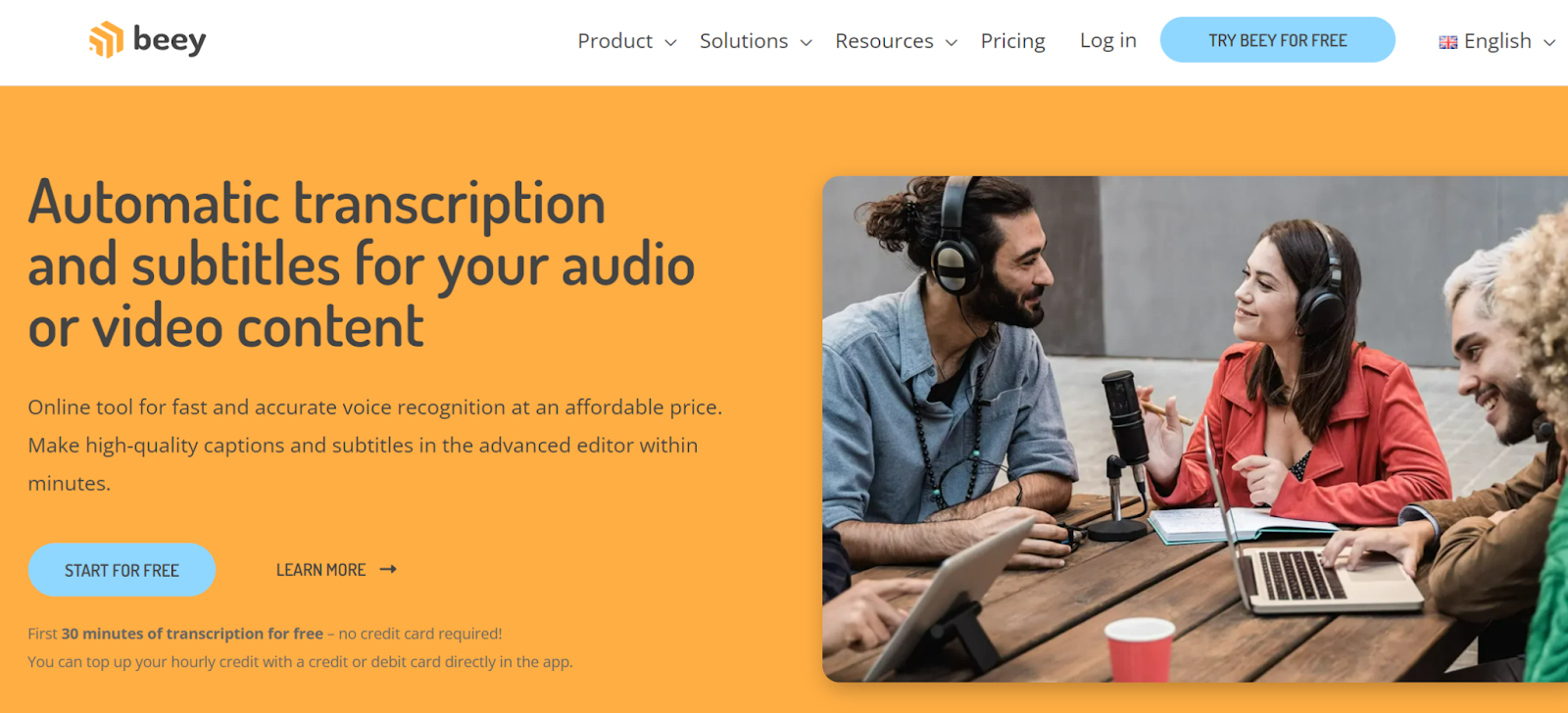 Beey is another AI transcription tool that automatically creates subtitles and transcription for your audio or video content.
Click on the Projects section in the Beey dashboard and upload your audio/video file into the Media Files to generate its transcription.
You can also transcribe an already published YouTube or Facebook video in Beey. Click on Link in the Apps section in the Beey dashboard and copy-paste its URL. Voila! The transcript is ready for review.
Pros
Create 90% accurate transcripts
Supports translation into 20 languages
Provides live transcription of streamed content
Offers an interactive subtitle editor
Provides professional proofreading services to ensure accuracy
Differentiates speakers using colored text
Offers smart playback function and automatic time alignment
Cons
Cannot read files in M4A format
Does not allow you to correct the text and play the recording simultaneously
Pricing
Beey charges $8.28 or €7.50 for transcribing a one-hour video/audio content.
2. Nova AI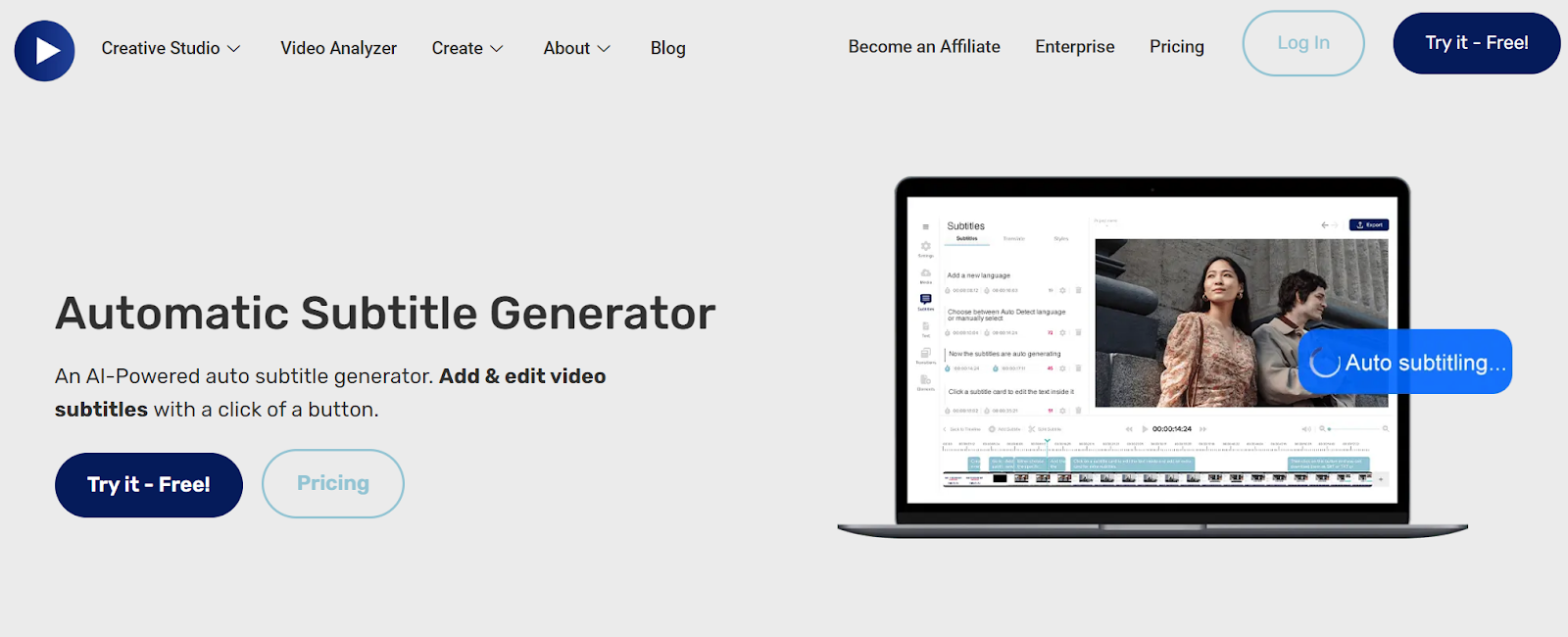 If you're looking for a single solution where you can edit, combine, transcribe, and translate your video content, Nova AI is one of the best options for you.
Nova AI is a multifunctional tool that offers video editing, transcription, and translation services in 40+ languages.
Upload your video in the Subtitle panel and select Auto Subtitle. Your video will be analyzed and transcoded to caption cards in minutes. Easily access the transcription from the Subtitles section.
Pros
Generate 96% accurate transcription in a few minutes
Allows you to transcode your video in 40+ languages and dialects
Offers translation services in 75 languages
Supports transcription of files in MP3, MP4, WAV, AAC, and more formats
Allows you to download the transcription in multiple formats—SRT, VTT, or TXT
Allows you to clip, combine, and format videos
Cons
Does not allow you to download a PDF of your transcripts
Limited collaboration features
Pricing
Nova AI charges start from $10/month for 150-minute transcription credits.
3. Verbit.ai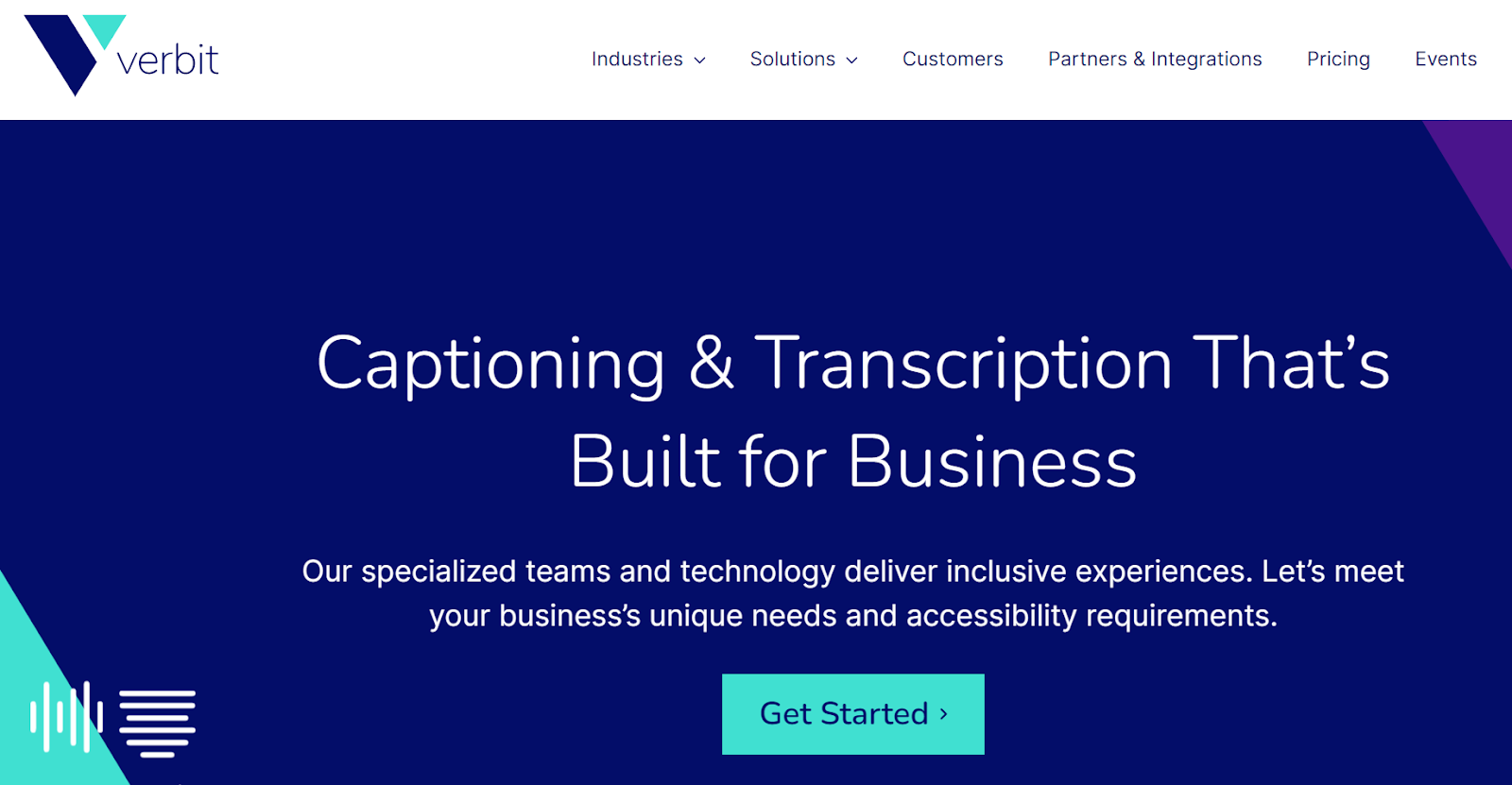 Verbit.ai combines the power of AI technology and human intelligence to deliver highly accurate transcription services to its users.
Submit your audio or video file to the Verbit platform. They will auto-generate the transcript in-house, perform quality analysis using human transcribers, and deliver it to you in your desired format.
Pros
Delivers 99% accurate transcripts
Provides speaker identification, SMPTE time codes, etc.
Offers custom templates for transcription
Provides transcripts in multiple formats, including DOCX, SRT, and VTT
Offers translation services in any language
Seamlessly integrates with popular platforms like Zoom, AWS, Vimeo, and more.
Cons
High turnaround time since human transcribers are involved in the transcription process to ensure accuracy
Confidentiality might be an issue since humans have access to your recordings
No proper pricing structure
Pricing
Verbit offers custom pricing for all projects.
AI transcription tools with human proofreaders
If you're looking for AI tools that also offer human proofreading services, these AI tools are for you:
1. Scribie.ai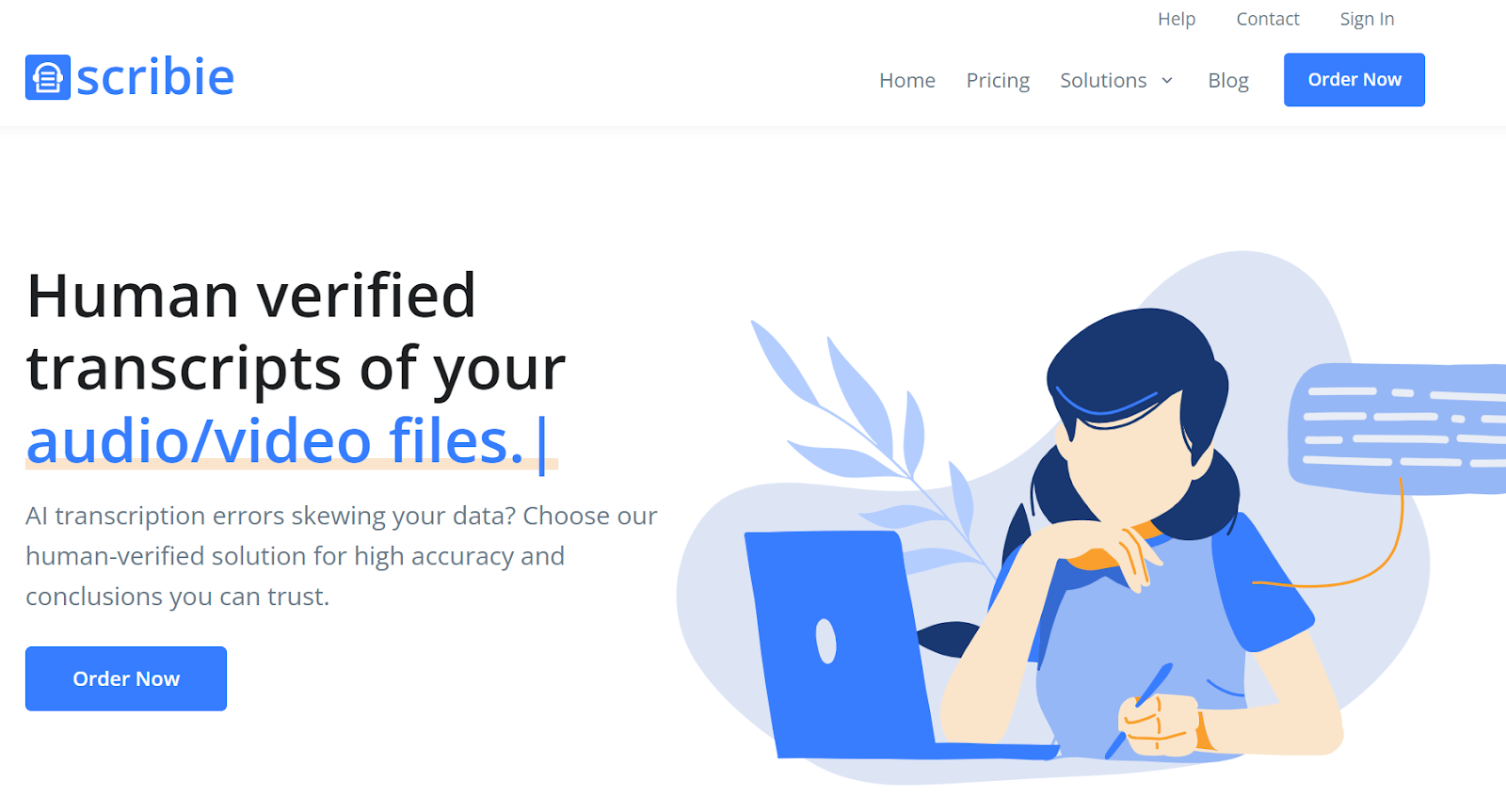 Scribie is another AI transcription service provider that combines AI technology and human services to deliver accurate transcripts. They offer 100% accurate transcripts and free re-reviews to ensure quality.
Click order now and upload your file to get an accurate transcription.
Pros
Guaranteed 100% accurate transcripts
Provides transcription services in 39+ languages
Easy-to-use in-app transcript editor
Free re-reviews to ensure quality
You can download transcripts in several formats—DOCX, PDF, SRT, VTT, etc.
Cons
Does not have a user-friendly interface
Not a good option to transcribe confidential files as they use freelance transcribers to proof and edit transcripts.
Pricing
Scribie charges $0.10/min for automated transcription
2. TranscribeMe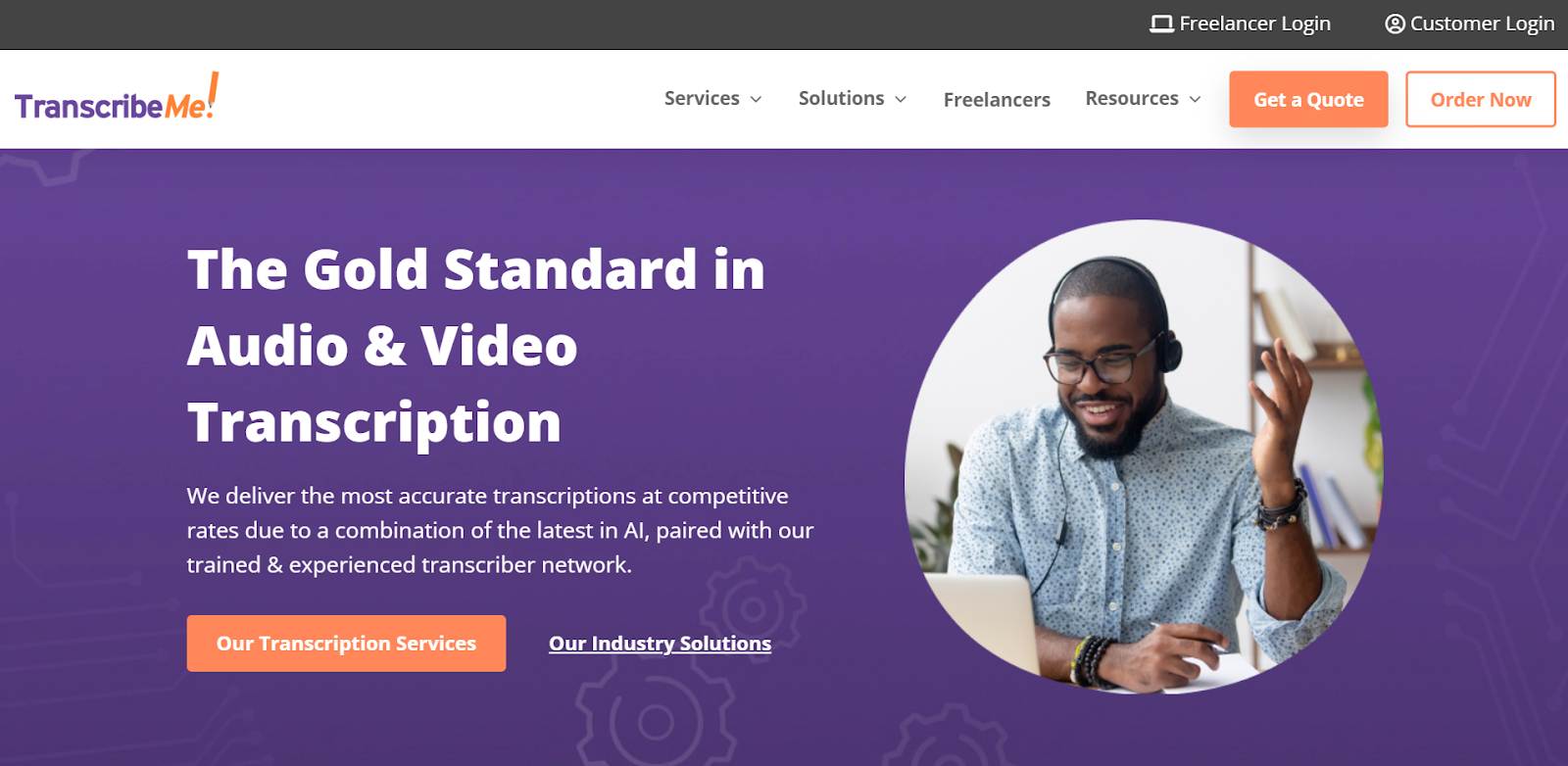 TranscribeMe offers a hybrid model transcription service that combines AI technology and human transcribers to create quality transcripts in minimum time.
Upload your audio or video file to TranscribeMe and place an order for its transcript. The TranscribeMe team will generate an accurate transcript for your file and deliver it to you as early as the next day.
Pros
Generates 98% accurate transcripts with time stamps
Provides transcription services for multiple languages
Offers enterprise-level security features
HIPAA compliant
Offers speaker identification
Provides 24/7 customer support
Cons
Does not provide direct access to their AI transcription tool
Turnaround time is higher compared to fully automated transcription software tools
It can be costly if you have a limited budget
Pricing
Pricing ranges from $0.79 to $2.00 per minute, depending on the scope of work.
Top AI transcription tools for audio files
If you need to transcribe an audio file quickly and affordably, log into these tools:
1. Temi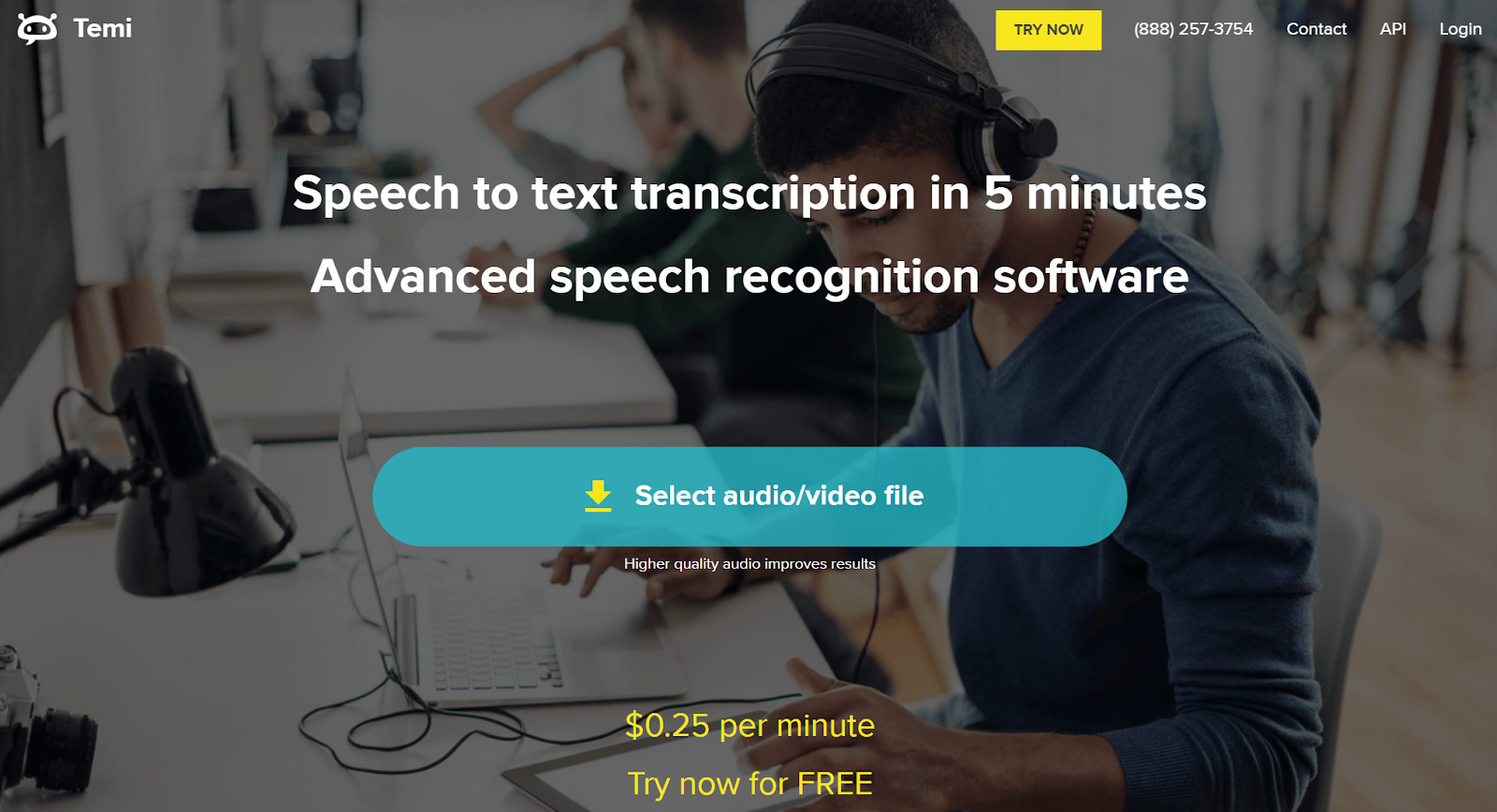 Temi is recognized in the transcription industry for the speed at which it delivers the transcript to its users.
Simply upload your audio/video file to Temi, and the software will generate a quality transcript in under 5 minutes.
Pros
Create quality transcripts within 5 minutes
Generate transcripts with timestamps and speaker labels
Supports transcription in 4 languages—English, Chinese, Japanese, and Deutsch
Provides an easy-to-use n-app transcript editor
Allows you to export transcripts in various formats (TXT, DOCX, PDF, etc.)
Supports multiple accents and dialects
Cons
Does not provide transcription services for live videos
No team collaboration space
Limited features and integrations
Pricing
Temi provides free service for 1 file under 45 minutes. For additional transcription, Temi charges $0.25 per minute.
2. Audext

Audext uses advanced AI algorithms to provide fast and reliable automatic audio-to-text conversion services.
Open Audext in your browser, upload the file, transcribe speech to text, edit the result online, and save it in DOCX or TXT format.
Pros
Provides both manual and automated transcription options
Offers transcription services in 60+ languages
99% accurate manual transcripts, even with unclear audio
Supports files in multiple formats—MP3, M4A, WAV, etc.
Cons
Guarantees only 80% accuracy for AI-generated transcripts, less compared to its competitors
Works slowly with large files
Pricing
Audext charges $5/hour for automatic transcription.
💡

Fireflies Tip

Looking for an affordable solution to transcribe audio to text? Let Fireflies help! Transcribe your MP3, MP4, M4A, and WAV files and download the transcripts in five different formats for just 10$ a month/user.
Wrapping up,
There you have it! The best AI transcription tools to give your fingers a well-deserved break!
While Fireflies and MeetGeek focus on transcribing meetings for you, Beey and Nova AI are the best choices for video creators. And, when you have enough time for humans to transcribe for you and give 100% accurate transcriptions, use Scribie or TranscribeMe.
Choose the transcription tool best suits your needs, and let AI do the heavy lifting.
And don't hesitate to put that newfound extra time into more important things in life—Netflix and cat videos!