Having an accurate transcript is beneficial in more ways than one. You can maximize the insights you gained from a call, preserve important details, and prevent misalignments that lead to inefficiency.
Manually searching a transcript for action items and key meeting details? Not so much.
We understand how painstaking this task can be, and that's one of the reasons why Fireflies Smart Search feature was born. It's the best and easiest way to track meeting action items and more.
What is Fireflies.ai Smart Search?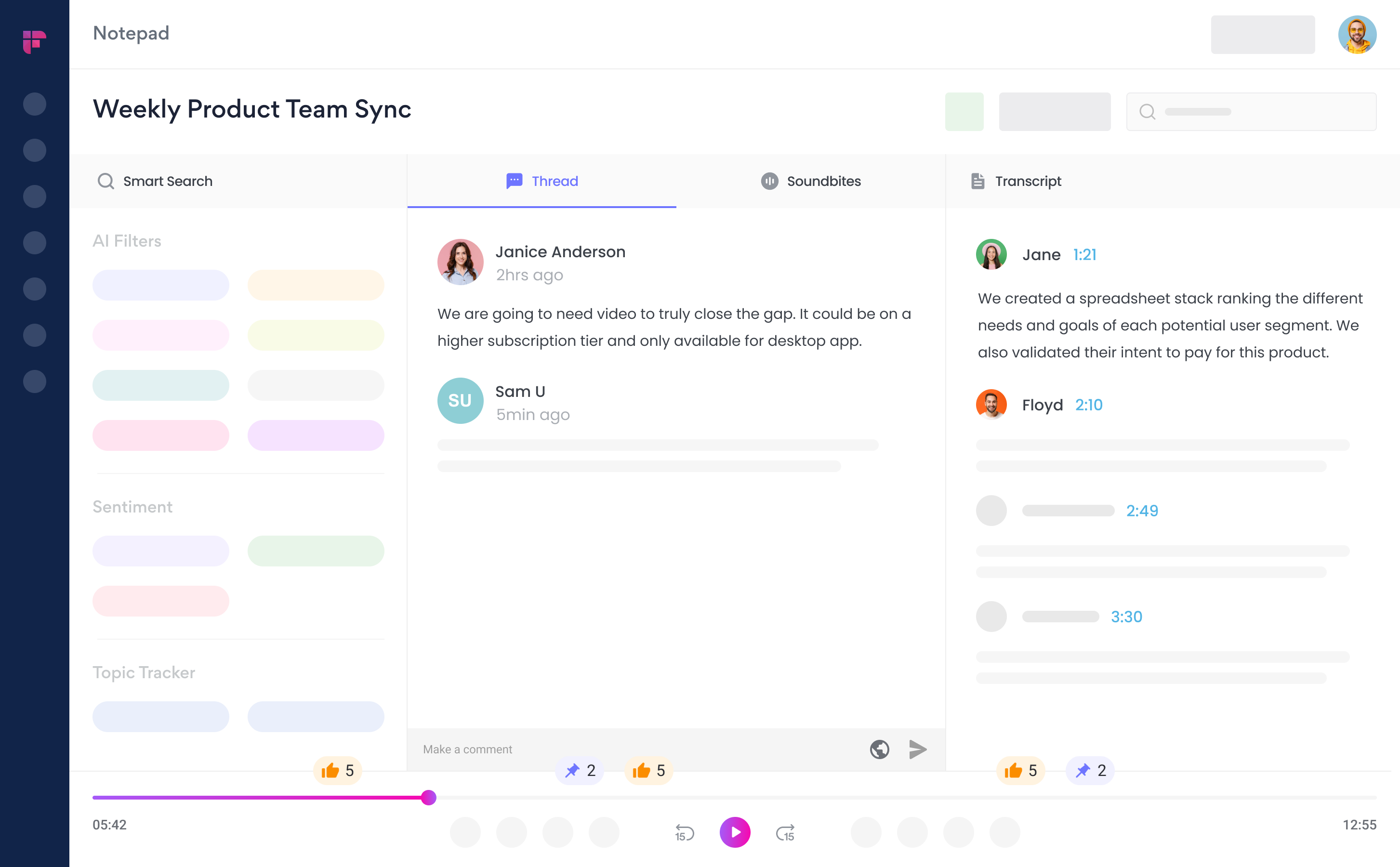 Smart Search is a powerful search feature that will help you find what you're looking for in seconds.
Fireflies Smart Search has three areas: AI Filters, Sentiment Filters, and Topic Trackers.
AI Filters
These are important topics that were mentioned during your call. Some of which are action items; dates and times; tasks; questions; and metrics.
Sentiment Filters
Would you like to know how the other person feels about the call you just had? If your answer is yes, then you're going to find the sentiment analysis very useful.
The importance of sentiment analysis in meetings runs the gamut: from having a good assessment of how the meeting attendees feel to enhancing the way you conduct meetings. It's a win-win.
Fireflies detects positive, negative, and neutral sentiments from your call. This is especially helpful when coaching, mentoring, or interviewing someone for a job. It allows you to quickly analyze their behaviors based on the words they used.
The sentiment filter will help you improve your approach, too. You can quickly gauge which words or phrases you should focus on to get your message across.
Topic Trackers
And if you want to filter through your meetings faster, Topic Tracker is a Smart Search category you should definitely make use of. It will help you track, organize, and search your call data faster and better.
To all Trello fans, we need your utmost attention here for a bit. Did you know that you can create and edit your voice command triggers using Topic Trackers?
More on Topic Trackers in a short while.
Benefits of using Smart Search
It Saves Time
Time-saving is one of the key benefits of using Smart Search. It eliminates manually searching for essential things that were said during your meeting. You can spend those extra time doing other important things.
Quick Access to Information
The Smart Search Feature allows you to sift through critical aspects of your call quickly. It's also the best way for your team members to track meeting action items and tasks so that they don't get overlooked.  
They don't need to follow up with you anymore.  They can just check the meeting action items and take the next steps.
Increases Productivity and Transparency
Zoning out during meetings isn't uncommon. To stay on the same page, you don't need to read the entire transcript to find the most relevant sections.
The Smart Search filters help to fill those gaps and ensure you're on track. The AI filters such as Key Topics, Questions, and Tasks help you bring clarity and execute tasks efficiently, promoting overall satisfaction and productivity.
How to Use Smart Search
Using the Smart Search filter is pretty straightforward. When you open your transcript from your Fireflies Notebook, you'll see the Smart Search tab on the left side.
AI Filter
Fireflies will automatically filter essential keywords so that you can easily search for them. Once your call is done, these keywords will appear on the AI Filter section as categorized buttons.
When you click a button—let's say you're looking for questions—you will immediately see the highlighted questions on the Transcript portion of your Fireflies Notebook.
Sentiment Analysis
The same simple step applies to Sentiment Filters. Just click on any of the filter buttons to gauge the participants' attitudes about the call.
You will see a list of words or phrases that are associated with each particular sentiment filter. By the way, the results are expressed in percentage.
Topic Trackers
Unlike AI Filters and Sentiment Filters, Topic Trackers require a simple setup.
Here's how to do it:
1. Select Topic Tracker from the dashboard's left side menu.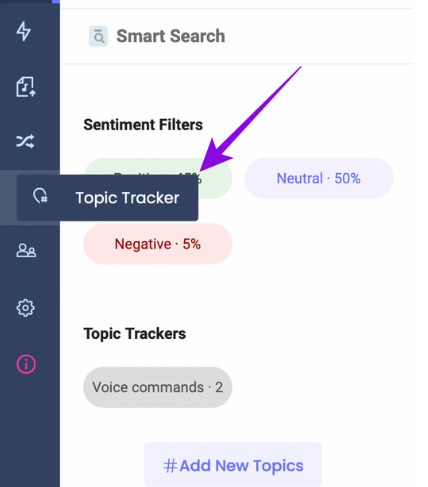 2. Click Add New Topics, then type the topic names and keywords on the given fields.
3.  Click the add button once you're done.
Once you've added your topics, you'll immediately see them in the Topic Tracker area. When you click on a particular topic, the words that are associated with that topic will be highlighted on the transcript.
For example, if you've added a topic called Pricing with the tags expensive, costly, or per-seat, your transcript will highlight these keywords within the transcript.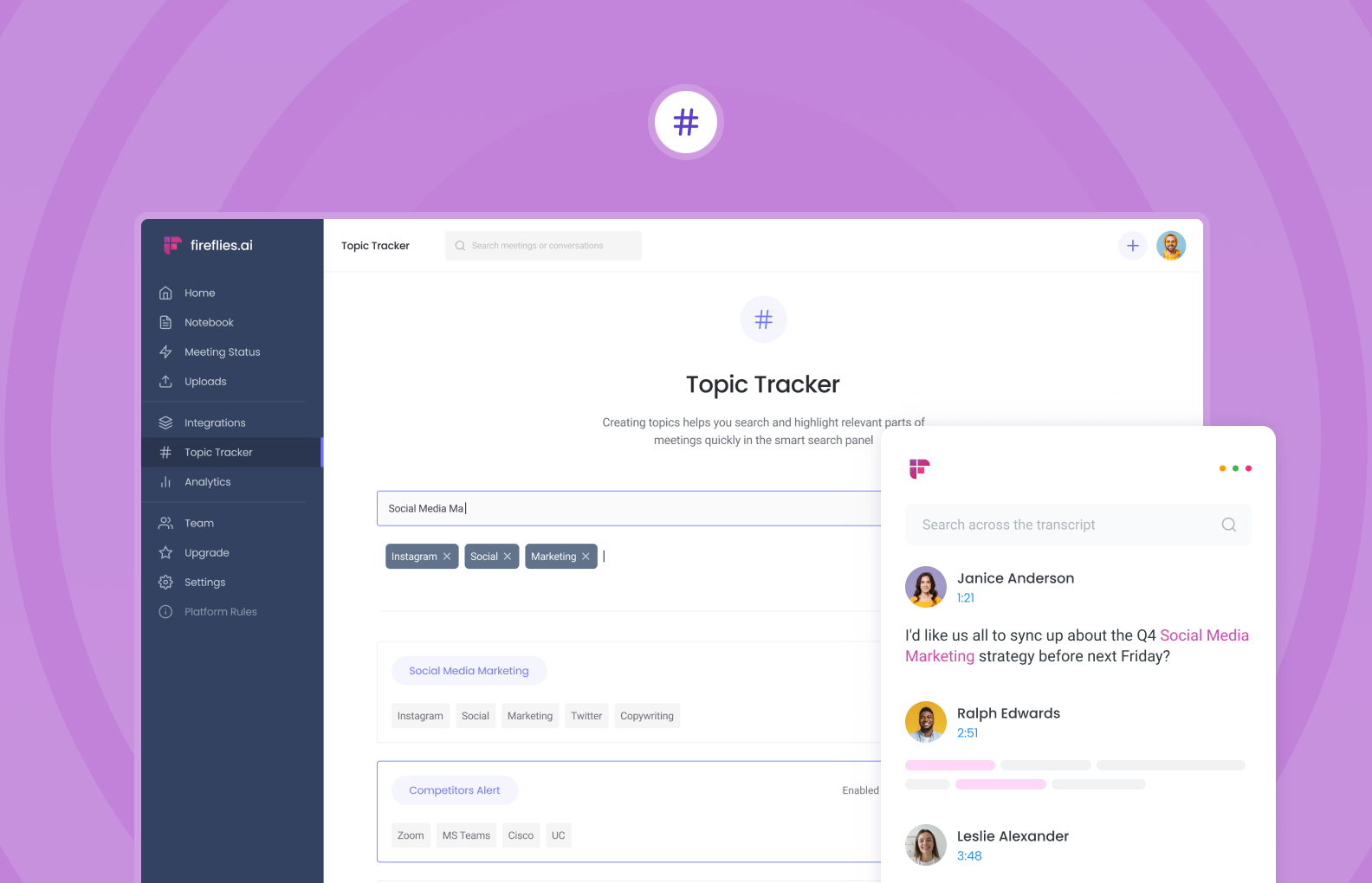 Final Thoughts
Gone are the days of manually searching a transcript. Combing through thousands of words is just as tedious as manually taking notes during a meeting, don't you think?
Fireflies.ai's Smart Search makes it possible for you to go through a one-hour meeting in minutes. Have you tried it?