Fireflies offers different pricing plans—Free, Pro, Business, and Enterprise.
But how do you decide which one will work for you?
In this guide, we've done that by highlighting a few key differences between these tiers, things you must consider, and our take on it. So, let's get started.
Transcription credits and storage
Transcription credits and transcription minutes
If you sign up for the Free tier from your personal account, you get 1 transcription credit. And if you sign up using your corporate email address, you get 3 free transcription credits.
A transcription credit lets you transcribe and record your meetings. Once you exhaust it, you can only record the meetings and not transcribe them.
In other words, 1 transcription credit = 1 meeting recorded and transcribed.
If you opt for the paid tier—Pro, Business, or Enterprise—you get unlimited transcription credits for transcribing meetings using the bot, dialers, or Fireflies Chrome extension. It means you can record and transcribe as many meetings as you want.
If you want to transcribe your past meetings or audio or video files, you can use the following options:
Upload audio/video files directly from the Fireflies dashboard
API for Audio Upload,
Zapier Audio Upload, or
Dropbox, Google Drive, OneDrive, and other storage app integrations.
However, there is a limit on the number of minutes you can transcribe in a month by using these methods.
If you are on the Pro or Business tier, you get 3000 mins/month/seat up to a limit of 150,000 mins/month for a team. If the team crosses the limit within the month they'll be charged $0.01/min
The number of minutes are calculated based on the duration of your audio files. It resets at the beginning of every month. The unused transcription minutes do not roll over to the next month.
You can increase the limit of the transcription minutes by inviting your colleagues to your Fireflies workspace. When you do that, you get a pool of transcription minutes. For example, if you have 3 team members in your Fireflies workspace, your total transcription minutes per month will increase to 3,000*3, which is 9,000 minutes.
Also read: How to invite teammates to Fireflies.
Storage
The Free tier comes with 800 minutes of storage per seat. In contrast, the Pro tier offers 8,000 minutes (a 10x increase from the Free plan) per seat, and Business and Enterprise plans have unlimited storage.
Storage is the sum of all meeting minutes stored in your Fireflies Notebook—whether it is audio files you uploaded or the live meetings you transcribed. Once you exhaust your storage limit, you cannot view any new meetings until you delete your old meetings to free up the space.  
The storage offered in Free and Pro plans is the all-time storage like GDrive or Dropbox and has no monthly rate limit.
Similar to transcription minutes, you can increase your account's storage limit by inviting people to your team workspace. This is only applicable to Free and Pro plan users since Enterprise and Business plans have unlimited storage.
Storage limit = Storage minutes of tier * the number of teammates in your workspace.
For instance, if you are on the Pro tier and have three teammates (including yourself) in your Fireflies workspace, you will get 8,000*3= 24,000 minutes in storage.
Difference between storage minutes and transcription minutes
Here's a quick overview of the differences between storage and transcription minutes
Storage minutes


Transcription minutes
These charges are applicable on the Pro, Business, and Enterprise tiers.
Verdict:
Choosing between the Pro or Business tier will depend on your storage needs. The Pro plan should suffice if you are an individual user or a small team of 2-3 people. Opting for the Business plan makes more sense if you are a growing business or a team, have more than 15-20 meetings a week, or need to transcribe several audio and video files.
Integrations
Fireflies integrates with close to 50 video conferencing and business apps. But the availability of these integrations depends on your plan.
For example, if you are on the Pro tier, you can access only limited integrations—CRM, Slack, and Zapier.
The Business and Enterprise plans offer unlimited integrations and Fireflies API so that you can integrate and get access to meeting notes and tasks on the tools you use.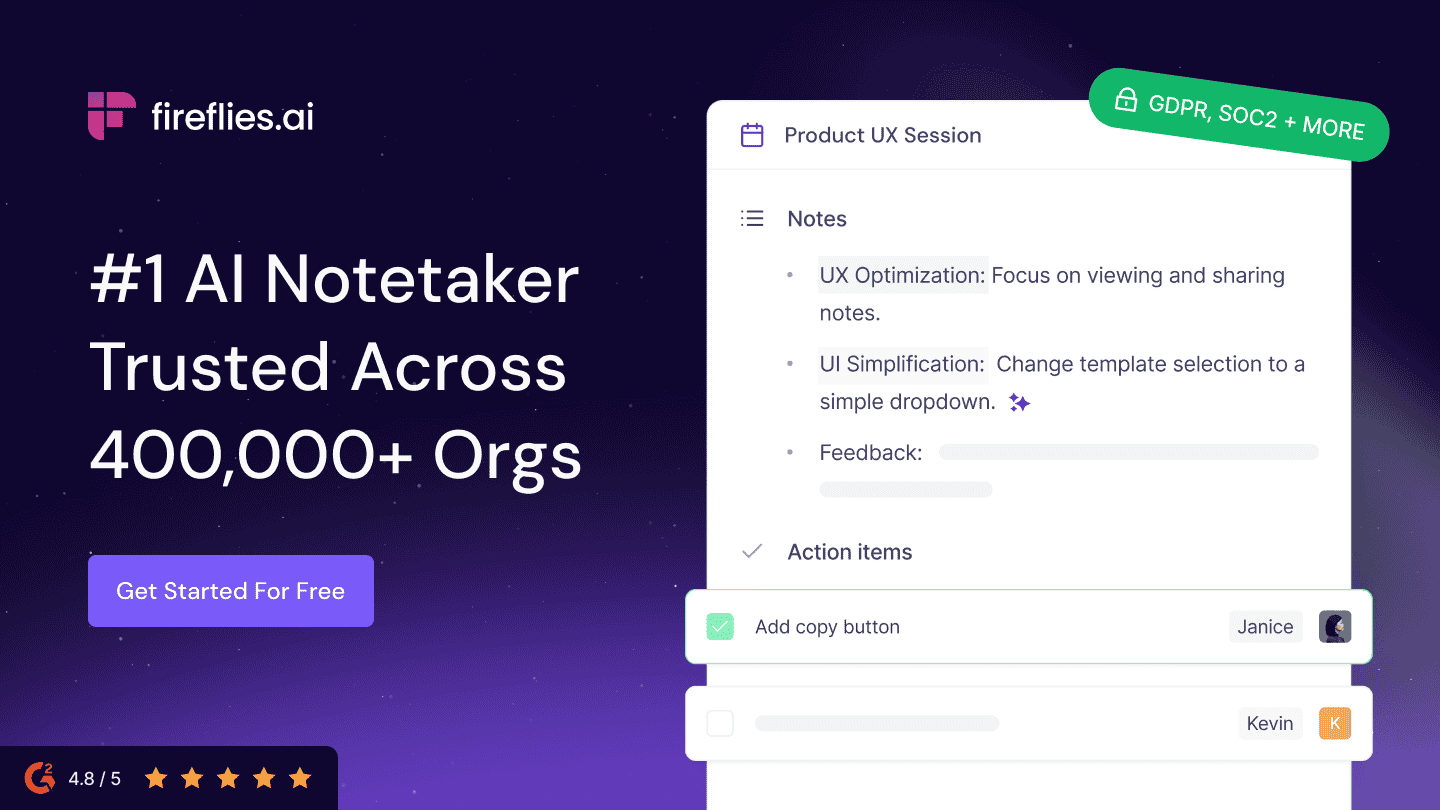 Verdict:
The Pro plan is excellent for small companies with a limited tech stack. However, the Business tier is for you if you have more than 20-30 meetings a week and use different technologies such as storage apps, project management tools, dialers, and so on.
Budget
Fireflies offers cost-effective plans even if you are on a tight budget. The pricing for the Pro, Business and Enterprise plans are as follows:
Pro Plan: $10 per seat/month, billed annually
Business Plan: $19 per seat/month, billed annually
Enterprise: Custom pricing based on the number of seats. We offer tiered discounts as you go up to 100 seats, 200 seats, and so on.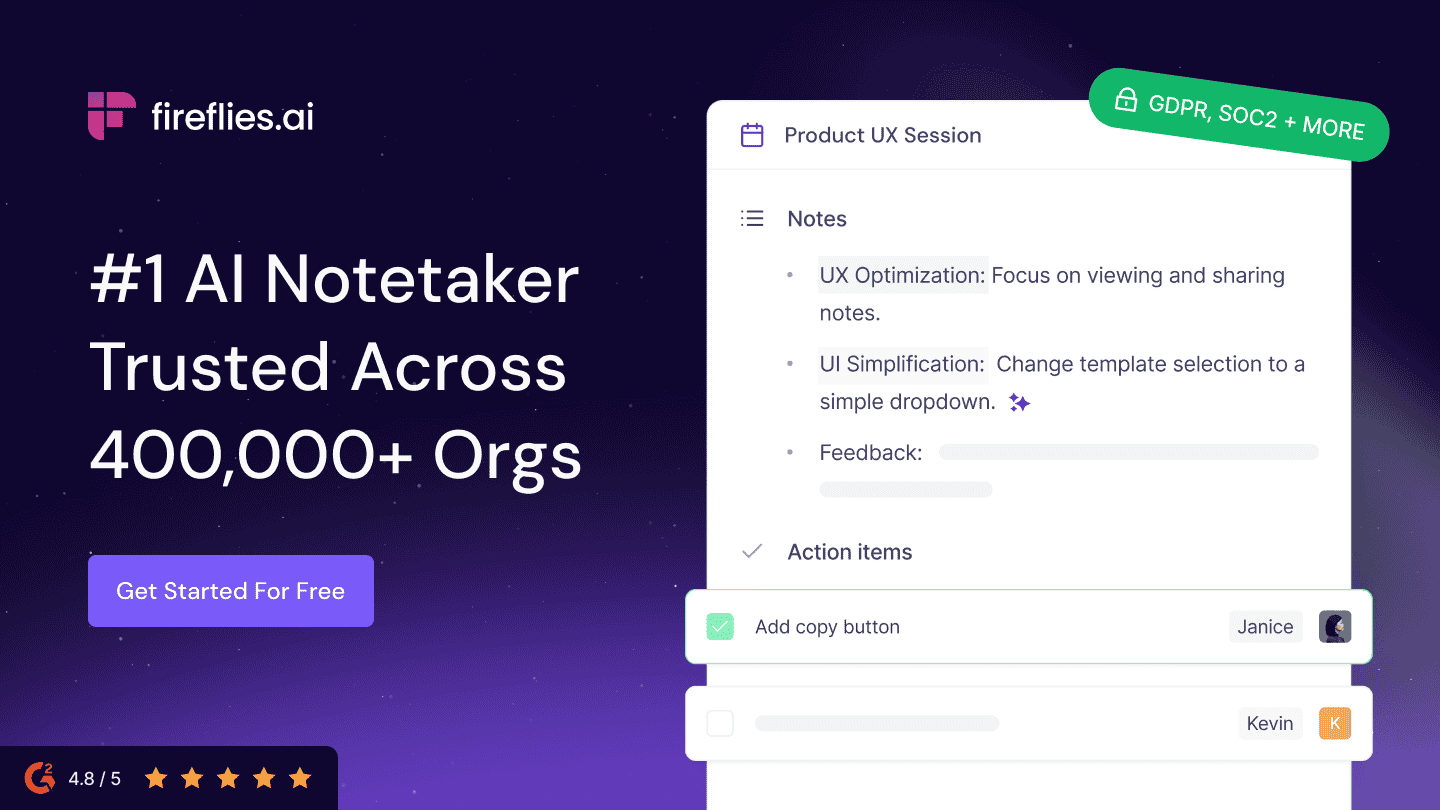 You can also adjust your subscription settings based on your usage and downgrade your plan. If you are a paid user wanting to downgrade to Free tier, you can do so by using the Downgrade button from the Account settings.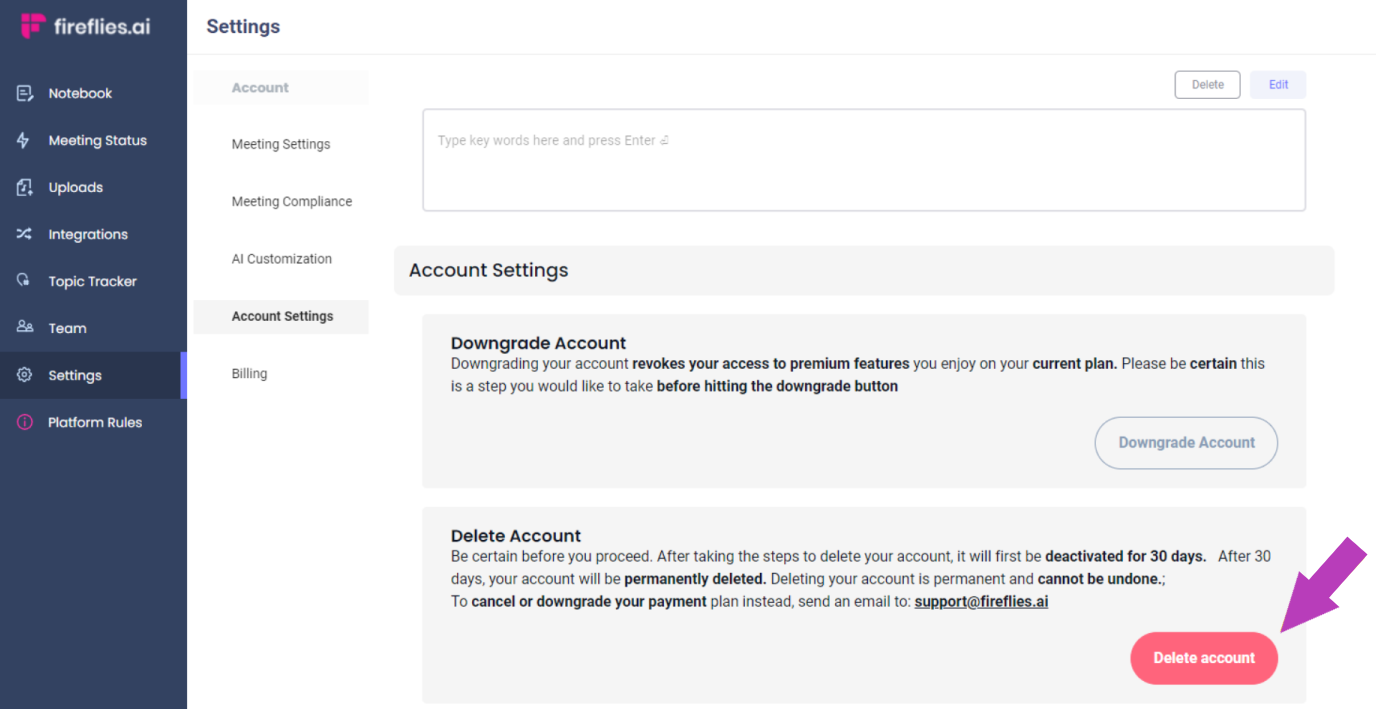 Even after downgrading to a lower tier, you can see your past meeting recordings and transcripts in your Fireflies Notebook. We also offer full or partial refunds based on usage. For example, if you are on a monthly plan and have used Fireflies for less than 3 meetings in 7 days, you get a complete refund.
All other refunds are prorated by the month. The annual plan doesn't have any refunds after the first 7 days or if over 20 meetings are processed within the first 7 days.
Verdict:
Pricing is one of the deciding factors for many organizations. Fireflies is one of the few AI transcription and conversation intelligence providers with a transparent pricing structure and doesn't require long-term commitments if you decide to be billed monthly.
Features
Pro, Business, and Enterprise plans are packed with valuable features. Knowing which one you need can be one factor in deciding which tier is suitable for you. Here are some notable features:
Smart Search: Pro, Business, and Enterprise plans have Smart Search filters that help you review meetings in minutes. Smart Search has system-generated AI Filters, Speaker labels, and Sentiment filters. When you click on them, Fireflies filters only that part of the transcription so you can review meetings quickly.
Topic Tracker: This feature is common across the three plans and allows users to add custom topics they want to track during meetings. When you add custom topics, Fireflies will identify them in transcripts, show how many times they were mentioned during the conversation, and let you filter the transcription based on these topics.
AI Super summaries: Fireflies uses GPT-4 to summarize what was discussed in meetings. These summaries are not as detailed in the Pro plan as in the Business and Enterprise tiers.
Conversation Intelligence: While the Pro plan includes individual-level conversation analytics like word-per-minute, speaker talk time, and conversation sentiments, the Business and Enterprise plans offer team- and individual-level analytics. These consolidated team analytics is essential to monitor your team's performance with filters like dates and teammates.
Video recording: Our video recording feature is only available for Business and Enterprise plans. Fireflies' video recording offers a wholesome meeting experience by providing post-meeting transcripts and capturing video and audio for better context.
Fireflies API: Another exclusive feature of the Business and Enterprise plan is the Fireflies API, which allows you to integrate with any business solution of your choice.
Why choosing the Business tier makes sense

1. Don't have to worry about storage limit
The storage limit can become a deciding factor in moving to the Enterprise plan when your team starts to grow. It's common to exhaust the Pro plan's storage limit, after which you must purge some old audio/video files to make space for the most recent files.
In contrast, the Business plan helps you create an archive of your voice data without ever worrying about deleting files.
2. Team insights and access control
The Business plan gives you access to key analytics, team insights, and admin controls. With it, you can get a consolidated overview of your team's conversation analytics and filter it based on an individual team member or date range.
Admin controls allow you to make meetings private or delete meetings. It gives you more control over your team's settings.
3. Premium features at a reasonable price
Fireflies' Business tier is cost effective when compared with other platforms and has all the premium features, including the much sought-after conversation intelligence platform.
In the Business tier, you also get access to video recording, detailed meeting summaries, and unmatched integrations with business and video conferencing apps.
When to opt for the Enterprise tier?
The Enterprise tier is our highest plan, customized individually for the needs of large teams. This plan is billed annually only and includes:
All the business tier features.
Custom speech models.
A dedicated account manager and support..
Access to advanced features like the upcoming SSO.
An onboarding program.
We advise the Enterprise tier to teams comprising 50 or more than 50 members.
What's the right plan for you?
We understand your needs are unique. That is why our plans and features are bundled in a way that cuts across the spectrum and caters to everyone—from individual users to large teams.
Sign up for a 7-day free trial to gain access to all the features of the Business tier.