Amongst the huge range of communication tools available out there, Slack is one of the most famous and most loved. Slack App offers many IRC-style features, including relentless chat rooms or channels, private groups, and direct messaging.
Due to its slick UI, many companies worldwide prefer using Slack over other applications and traditional tools. Slack has been known to help increase work efficiency as everything happens on one channel without having to switch up the tabs. You can follow everything related to individual topics, projects, or teams on your dedicated channels.
Another distinctive feature is that you can browse through history without any issues. No matter if projects end, teams change, Slack saves everything. Rather than trying to remember the crucial details, you can easily find what you're looking for with just a couple of clicks.
Slack supports collaborations at a global scale with unlimited channels to mirror the way your company works, while not compromising with security and privacy. You can use a specific URL to allow groups and teams to join a workspace. The admin or owner can do so by sending out invitations and having Slack teams to work under a common virtual roof as a collaborative community.
By its efficiency and efficacy in providing seamless organizational communication, Slack has successfully replaced social media groups and message boards across multiple organizations.
Slack differs hugely from a regular e-mail based interaction platform. Since the data is available on a private online platform, you do not have to forward vital email chains to new employees. And you do not have to worry about removing ex-employees from them either.
You can interact with the data in real-time, as Slack allows you to edit sent messages instead of stressing out over that typo in the email you just sent to your boss. You can also directly integrate it with a variety of tools, for example, to get real-time updates on the status of your deployments or new content from competitor blogs.
This platform could be useful to you for many reasons, depending on what you're looking to get out of it, for example, inspiration, scrapbooking, communication, or a portfolio. Depending on how you want to use Slack, this guide will help you move from a Slack novice to power communicator.
Getting started with Slack
1. When starting to use Slack, one has to choose a name for their "Slack instance". This eventually becomes part of their unique URL. So for example, if I want to create a Slack instance for Fireflies, my Slack instance would be https://fireflies.slack.com/Neha. I can then request anyone I want to be a member of my Slack instance.
2. Channels are the most important means by which Slack separates information into different slots for different themes, topics, and teams. Channels in Slack can be public, which means any member can see and join a particular channel, or private, which means only members of that certain channel can see it or invite others to join. Direct Messages are always private, although they can include a maximum of up to 8 people.
3. Regular chat messages are the principal communication structural chunk of Slack. They are what populate all the diverse channels in a Slack workspace. The chat window is the place where all the actual communiqué happens. You can read any reply to messages, use emoji reactions, add gifs, get notifications, and various other choices.
How To Use slack App To Boost Productivity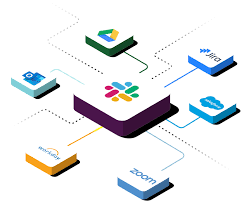 Over the past few weeks, companies from around the world have flocked over to the ambitious idea of remote working. Slack has been proven useful while managing remote clients and team members.  
It is natural for anyone to ask themselves about how to use slack effectively without hindering their productivity especially when they are working from home. To help you out with this, we've listed down some simple Slack tips and advice that you can follow.
1. Use Universal Abbreviations
Using appropriate abbreviations like RL (Respond Later) or NNTR (No Need To Respond) or KML (Keep Me in the loop) instead of full-fledged statements to convey your message will help you save time and relay the message across effectively.
But to make sure everyone understands the acronyms being used, circulate a list of commonly used phrases and abbreviations.
2. Change Your Status To "DND"
If you are engrossed in work and do not want to get disturbed or pinged, simply change your Slack status to do not disturb. Slack won't send you any notification till the time you have this DND status up. Your colleagues will also be able to see the status and think twice before pinging you.
3. Do Not "@" Or Mention People Unnecessarily
It diverts the whole teams' attention. @mntions should only be used when they are super important and require someone's immediate attention to an urgent piece of matter.
If your @mentions keep blowing up just because some unrelated communication is going on over a group that requires your minimum attention, then that is simply counterproductive.
4. Use Calendar Effectively
To make your life easier and to stay away from having to constantly schedule meetings and calls on your calendar, you can connect Slack with Google calendar and ask people to schedule meetings or calls as per your availability. You can even join zoom calls directly from Slack.
5. Use Reminders Effectively
Sometimes while working on a project you are suddenly hit with an idea that you feel like sharing with your colleagues. But sending it right away might affect their productivity or derail the processes being performed.
To avoid that, you can note that idea down and set up a reminder for a later time.
Using another app called Kyber, you can schedule that message's delivery as well.
6. Automate Daily Stand-Ups
Posting daily stand-ups is personally what I dislike the most. But by using apps like Status Hero you can automate them. It will ask you to input the daily questions and once you have done that, it will take care of the rest. It will message everyone at a designated time, even pull data from your GitHub or Jira and share it with the rest of the members as your standup.
Another app that you can use for this purpose is Dixi App. All you have to do is assign it a unique name to differentiate between multiple meetings and set the channel you want your reports to be posted on. You can also choose the questions that you need to discuss with the participants, based on the kind of meeting or the agenda. That's it, you are good to go!
7. Use Keyboard Shortcuts
You can make your life a lot easier by getting familiar with Slack keyboard shortcuts. Slack provides a whole bunch of keyboard shortcuts to help you save time while messaging.
You can access those keyboard shortcuts but simply pressing ctrl + /.
8. View All Activities Instantly
You can view all the activities associated with your account by clicking on @ from desktop or the three-dot menu from mobile. Doing so will fetch all the messages and other activities related to your Slack account.
9. Use slack Bot
Slackbot is one of the most underrated features of Slack. You can customize it as per your preferences. For example, you can ask it to fetch your passwords related to any app by setting a password keyword with all the data. This will allow the slack bot to respond by showing the related passwords when typed.
10. Keep Messages Unread Until Viewed
If your workday keeps you tremendously busy and if because of that you are unable to read certain messages, you can access them later as Slack keeps all the unnoticed messages as unread so that you can check them once you get free.
11. Message Yourself To Note Important Things
You can share important details and messages with you to revisit them later by sending it to yourself. This is an important feature that allows you to bookmark resources, create schedules, and even leave quick reminders for yourself.
12. Customize the Notification Sound
If the sound of messaging bothers you, you can mute it or simply customize it. You can do so on any channel or group that you like. You can also reduce the notification sound by simply setting the notification preference tab.
13. Pin All Your Key Messages
Slack allows you to pin over 100 messages per channel!
Exploit this feature to your benefit and pin essential messages to the channels. This way every person on the channel would be able to see it without you having to message it separately to them.
14. Make Use of Video Conference
Instead of integrating a third-party app with Slack just to video call, you can use Slack's very own inbuilt feature of video calling as well. You can do so by just clicking on the phone icon on the top right of the screen.
15. Integrate with Other Web Services
Slack allows you to power up by easily integrating with third-party apps. Just choose the native application that you want to integrate and you can do so instantly.
Even if you are not able to find the app, you can use third-party webhooks like Zapier and IFTTT to connect almost any app or service with Slack. Another app, MobileMonkey is a social media tool and multi-channel chatbot platform that enables companies to proactively engage with audiences on their website, Facebook Messenger, SMS text messaging, and other popular web chat applications.
16.  Use GIFs to make it fun
Slack allows you to use GIFs too in your communication process. GIFs can lighten up the mood during serious online conversations, which makes them especially popular in virtual workspaces. To enable Giphy in Slack:
Select Apps in the top-left corner of Slack.
In the search bar, look for Giphy, and then add it
Select Add to Slack just as the Giphy web page opens on the browser
Select Add Giphy Integration on the next page
Configure the Giphy settings, then select Save Integration.
To post a GIF in Slack, type /giphy followed by a word or phrase and press Enter or Return.  
Bonus tip:
17. Using different channels to optimize your work :
You can organize different groups working on different projects concurrently by adding them to channels. This also allows people to search within the channels for details and messages as they work on their respective projects or tasks. It is common for organizations to have multiple channels to keep track of different projects.  
Slack Integration with Fireflies
An integrated slack system will streamline your processes, reduce costs, and ensure efficiency.
Slack is one of the most versatile platforms when it comes to integration. By following these steps you can set up a FireFlies Slack Integration.
Sign-in to FireFlies
Navigate to Slack on Integration Page
Authenticate your Slack Account
Choose the channel
Fireflies integration with Slack has known to increase team collaboration by 20%! You can drastically reduce the number of useless meetings and focus more on the productive aspects that bring value to your business.
You can tweak Slack easily based on your business goals. This is what makes it unique. You can incorporate interactions specifically for your business and even eliminate the repetitive actions that cause a lot of wastage of time and resources when done in bulk. The tips provided here are a solid start and there are plenty out there you can implement to get the most from Slack.