Wondering how to transcribe voice memos as easily as you record them? Is it even possible?
It is, and in this blog, we will spill all the secrets. So, keep reading.
Voice memos are great for recording practically any type of audio—your random ideas, epiphanies, interviews, and whatnot. All you need is a smartphone (iOS or Android).
That's the easy part. What's difficult is skimming through the audio to find what you need. A transcript of your audio(s) helps you quickly search for the required information.
Let's discuss the possible ways to transcribe a memo to text.
3 Ways to transcribe a memo
Apple's Voice Memos app (or even Android's) comes in handy for making memos on the go. You don't need a pen or paper to make jittery notes you can't understand later.
Moreover, voice memos offer the advantage of capturing the nuances of speech, such as tone, emphasis, and inflection, that written notes lack. It is a great tool for recording interviews or conversations.
The real question is how to effortlessly transcribe iPhone voice memos or any recorded memo. There are currently three ways to do it:
Free transcription platforms
Manual or human transcription services
Automated transcription services/apps
Free transcription platforms
Some platforms provide free speech-to-text conversion. The problem, however, is that they don't always provide the most accurate and reliable transcripts. As a result, you need to spend additional time reviewing and editing the text.
These are some free transcription services:
Google's keyboard app Gboard has an option for voice typing.
Google Docs Voice typing feature can be found under the 'Tools' section while writing a document. Play your memos, and it will convert the audio to text. Microsoft Word also has a similar feature.
Apple has a dictation tool for transcribing live audio.
The drawbacks of using these platforms are:
They can't separate different voices and tones.
They rarely get the punctuation right.
Requires two separate devices: one that plays the audio and another that listens and transcribes.
Manual and human transcription services
Transcribing your voice memos is cost-effective if you have the time and patience. Manually transcribing yourself is time-consuming and prone to human error.
An easy alternative: hire transcription service providers. You can find plenty of professionals capable of accurately transcribing your memos. But they don't come cheap, and the turnaround times aren't always the fastest.
According to Proz, an online community of language professionals, transcribing one-minute audio takes around 4 to 8 minutes. Expect to pay $0.75 to $5 for every minute, depending on the complexity of the memo and the turnaround time.
That's roughly $45 to $300 for every hour of transcription, and you wait a day or longer to receive your memo's transcription.
Automated transcription apps
The best, and probably the most effective, way to transcribe your voice memos is by using automated transcription apps. It is an excellent option for making quick and affordable memo transcriptions.
Get your transcription within minutes, and since AI does it, it's cheaper.
One popular and easy-to-use app for automated transcription is Fireflies. Simply upload your memo, and within a few minutes, you will have your transcription ready to go. With over 90% accuracy, Fireflies is a reliable and secure option for transcribing and summarizing memos.
What will the Fireflies transcription have?
A completely searchable and editable transcript of the voice memo
Smart Search AI filters to help you identify important information in your memo, such as questions, tasks, metrics, and dates and times.
An option to increase the playback speed of the recording.
Sentiment filters to help you track positive, negative, and neutral tones.
Create small soundbites of the most important sections of the voice memos.
Premium AI Super Summaries that highlight all the keywords, meeting summary, meeting outline with clickable timestamps, human-like shorthand bullet points, and much more!
An option to download the transcript in 5 different formats—DOCX, PDF, SRT, CSV, and JSON.
Pricing
Fireflies has a free-forever plan and a 7-day free trial.
Upgrade to the Business tier to access all the amazing features, which cost $19/seat/month when billed annually. Based on your needs, you can also opt for the Pro package, priced at $10/seat/month.
Pro and Business tiers cost $10 and $19 per seat, billed annually.
Visit the Fireflies pricing page for more details.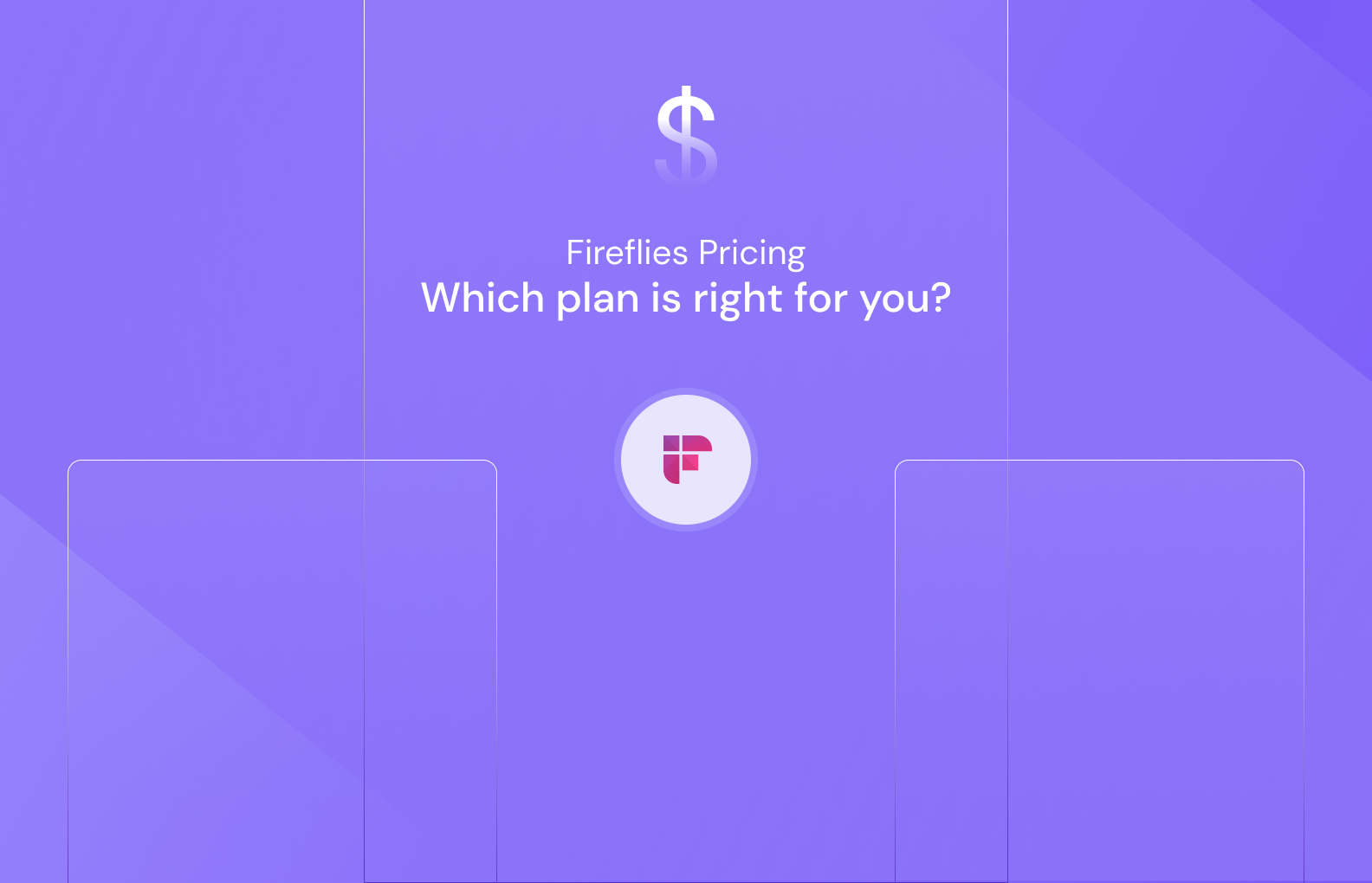 Transcribe voice memos using Fireflies: Step-by-step guide
Transcribing your voice memos using Fireflies is simple. Here are the steps you can follow:
Step 1. Login to Fireflies.
Step 2. Navigate to the bottom right corner of your Fireflies dashboard and upload your recording. Fireflies supports multiple formats like MP3, M4A, WAV, and MP4 files.
Step 3. Click on the Meeting Status from the left side of the navigation bar to see if your transcription is ready.
It takes only a few minutes to transcribe hour-long voice memo recordings.
Step 4. Once done, you can view your transcription under the My Meetings or All meetings channel.
💡
Create individual channels in your Fireflies Notebook to organize your voice memo transcripts. This way, you can quickly find the necessary memo without sifting through a pile of transcripts.
Finally, your accurate and searchable voice memo transcript is ready, and here's what it will look like.
Neat, right?
Ready to transcribe your next voice memos with Fireflies?
Who can benefit from transcribing voice memos?

Recording voice memos is a simple workaround if you struggle to remember conversations like interviews, lectures, etc. Or if you are always on the move and don't like taking notes, recording and transcribing voice memos are your best options.
Business Professionals
As a business professional, your day is packing multiple meetings, phone calls, and other tasks that require your attention. Amidst all this, it isn't easy to keep track of everything.
Use voice memos to capture information and ideas on the fly. You can record face-to-face conversations like brainstorming sessions and meetings. Later, upload them to Fireflies to maintain a consolidated record you can refer back to.
Journalists
Interviewing people is a large part of a journalist's work. Using your smartphone to make a voice memo of the entire conversation is convenient. Otherwise, it gets tough to track every question that was asked.
Transcribing voice memos ensures you never miss a beat and your story is factually correct. Journalists can use Fireflies to record, transcribe, and summarize memos. It also allows you to analyze the conversations' sentiments.
Researchers
Researchers often conduct interviews, focus groups, and surveys to gather data. Recording every bit of information in voice memos can help create a record of the research.
These memos can then be uploaded in Fireflies and automatically transcribed to create a knowledge base of voice conversations that's accurate, easily searchable, and accessible.
Content creators
Content creators constantly need to come up with engaging and creative articles. Recording voice memos can help you never forget your ideas. You can also record your interactions with your audience or fellow creators.
Then you can upload and transcribe your memos using Fireflies. With your ideas in one place, you can create engaging content that resonates with your audience.
Final thoughts
Whether you're a journalist conducting interviews, a busy professional with numerous daily meetings, or just someone who likes to jot down their ideas, transcribing your voice memos can greatly help.
This blog discussed the many services available to help you transcribe your voice memos, including the most convenient option: AI note-takers like Fireflies.
The question, 'how can I transcribe a voice memo?' will never trouble you again.
Just upload your voice memos and let Fireflies do its thing.
Happy transcribing!