What is remote closing?
It's the new way of doing business in the digital age.
Remote closings allow you to close deals from the comfort of your home or office with just a few clicks or taps. Isn't that amazing?
This article will discuss:
What is remote closing?
What's a remote closer?
Types of remote closing
What are the benefits of remote closing?
Tools needed for remote closing
Let's get right into it.
What is remote closing?
Remote closings are a game-changer for anyone who needs to sign important documents to finalize a deal but can't be there physically.
Initially, the term "remote closings" used to apply only to real estate transactions, but now it has a broader meaning. Today, it refers to any deal or agreement done online, not just for buying or selling property.
Remote closings (or E-closings) gained popularity due to their convenience and flexibility in the post-covid era, as people saw the benefits of working remotely. The shift gave rise to remote closers.
What's a remote closer?
As the name suggests, a remote closer's job is to close things remotely. That means they help people make decisions and agreements online without meeting anyone face-to-face.
For example, a remote closer could work for a software company that wants to acquire more customers. They talk to potential customers who have shown interest in the product and persuade them to buy it, and answer any questions or objections of the customer.
They also ensure that all necessary documentation is completed and properly filed. They may work with legal and financial professionals to ensure that transactions comply with relevant laws and regulations.
There are two types of remote closing:
Hybrid remote closing
Fully remote closing
Hybrid remote closing
Hybrid remote closing is when two parties finalize a deal through video conferencing, but the documents are delivered physically for final signature using a courier service.
Hybrid closing is helpful when one or both parties are uncomfortable with fully digital transactions. Or when there are legal or regulatory requirements that mandate physical signatures.
Fully remote closing
Fully remote closing is when two parties finalize a deal online without physically delivering documents. It is enabled using e-signature platforms, video conferencing, and automated transcription software.
Fully remote closing is faster, cheaper, and more convenient than hybrid or traditional closings. It eliminates the need for travel, printing, and mailing.
Remote closing is also more secure, reducing the risk of fraud, identity theft, and human error. The built-in security features such as encryption and authentication of digital signatures and documents prevent unauthorized access or tampering with documents.
What are the benefits of remote closing?
Saves time and money
Gone are the days of traveling great distances to seal a deal with a client or a partner. Remote closing allows you to finalize contracts and agreements without spending time and money on travel expenses. You can use the saved resources to invest in other aspects of your business.
Facilitates flexibility
Remote closing allows you to be flexible with your schedule and adapt to unexpected changes. If a client or partner cancels or reschedules a meeting, you can easily adjust your plans without the hassle of rearranging travel or accommodation arrangements.
Close deals from anywhere
Connect with your clients or partners from anywhere worldwide, as long as you have a reliable internet connection. Use online platforms and tools to share documents, sign electronically, and communicate effectively.
Reach customers across different time zones
You can close a wider market and cater to customers in different time zones. Schedule meetings and calls at convenient times for both parties and avoid missing out on opportunities due to geographical barriers.
Enhances security
Remote closing improves the security of your transactions and documents. You can use encryption, authentication, and cloud storage to protect your data from unauthorized access or loss. You can also track the progress and status of your deals digitally.
Accessibility
Remote closing provides accessibility for people with disabilities or mobility issues. They can participate in meetings and transactions without traveling or navigating through physical obstacles, allowing them to engage in business opportunities and partnerships.
Tools needed for remote closing
E-signature tools
With E-signature tools, you can easily sign documents online, as long as you have a stable internet connection.
It eliminates the need to print and scan documents.
It saves you time and money, helps reduce paper waste, and is more environmentally friendly.
Send, receive, and review documents faster and more conveniently without waiting for mail or courier services.
Some E-signature tools use encryption and authentication to ensure the signature is authentic and tamper-proof.
Here are three E-signature tools you should consider:
DocuSign: Great for businesses that sign many documents.
Dropbox Sign: Convenient integration with Dropbox cloud storage.
Adobe Sign: Comes with customizable templates, headers, footers, and logos.
Note: Before you use any E-signature tools, double-check if it's legally binding in your country. Otherwise, it won't hold up in court if a dispute arises.
Video conferencing tools
Video conferencing tools have become a staple in remote closings, allowing people to communicate via video and audio calls over the Internet. You can hold virtual meetings, negotiate deals, and finalize agreements without needing in-person interactions.
Video conferencing allows face-to-face communication over long distances.
Seeing and hearing the other person in real time can help build trust and rapport, making it easier to finalize agreements remotely.
You can pick up nonverbal cues, like body language and facial expressions when the camera is turned on.
It's a cost-effective and efficient way to communicate and collaborate remotely.
With virtual meetings, you can finalize contracts and agreements from anywhere worldwide, allowing you to close deals faster.
You can connect with clients or partners in different time zones without traveling.
Here are three E-signature tools you should consider:
Zoom: A cloud-based platform that lets you easily host meetings.
Google Meet: Available on both app and browser, this video-conferencing platform seamlessly integrates with other Google apps.
Microsoft Teams: Video conferencing, chatting, file sharing, and other features, all in one place. Easy integration with Microsoft 365 apps like Outlook and OneDrive.
Automated transcription software
Automated transcription software can help in remote closing by providing accurate and efficient transcription of meetings, negotiations, and other important communications.
You can refer to these transcriptions later to ensure all parties have a clear and accurate understanding of the deal or agreement being made.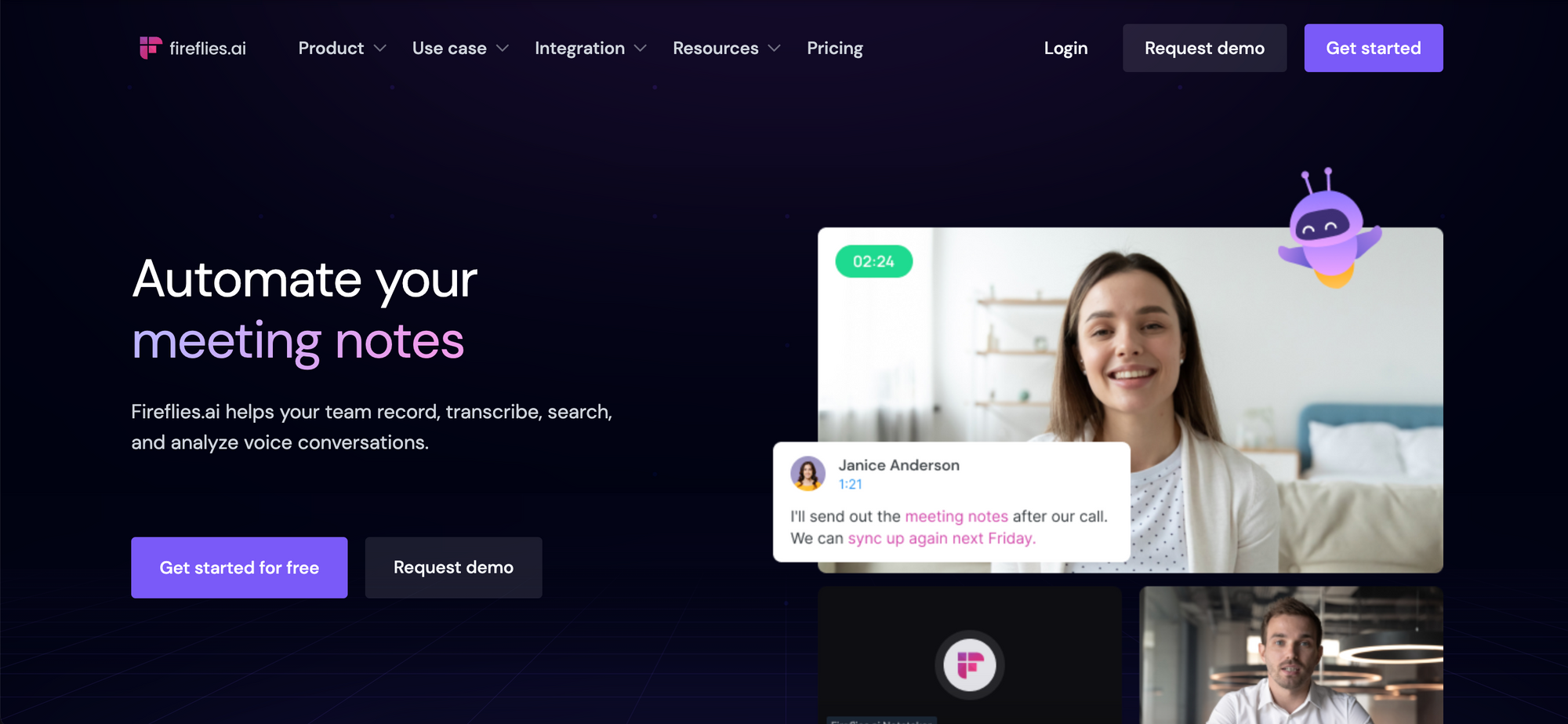 High accuracy: It should have high accuracy in transcribing speech into text, with a low error rate. This is especially necessary for legal or business transactions where accuracy is critical. Fireflies' transcription accuracy is more than 90%.
Speaker identification: It should accurately identify and label different speakers to clearly record who said what.
Customizable vocabulary: It should allow adding custom vocabulary, including technical terms or industry jargon, to ensure accurate transcription of specialized conversations.
Security and confidentiality: The software should have robust security features, such as encryption and secure storage, to protect the confidentiality of the transcribed information.
Collaboration features: It allows for easy sharing and collaboration of the transcript. People should be able to create soundbites of essential sections of the meetings or leave comments for effective communication and negotiation.
Integration with other tools: The software should integrate with other remote closing tools, such as video conferencing platforms or project management software, to provide a seamless and integrated remote closing experience.
Read more about Fireflies integration with video conferencing platforms.
Fireflies offers this and a lot more features like AI Super Summaries that give you a quick yet detailed overview of what was discussed during the meeting and system-generated AI-filters to sift through the information in seconds.
Here are two automated transcription software you should consider:
Fireflies: Automatically and accurately transcribe, summarize, and analyze your virtual meetings. Integrates with all major video conferencing platforms like Google Meet, Zoom, Microsoft Teams, Webex, BlueJeans, GoTo, Skype, and other business applications.
Fathom: Transcribe and highlight key points from your conversations. Available only on Zoom.
Digital notary (E-notary) tools
Digital notary tools have become essential to remote business transactions, providing a secure notarization functionality to verify the authenticity of important documents.
These tools offer a convenient digital solution to businesses and individuals who deal with notarizations daily.
Digital notary tools are generally more cost-effective than traditional notary services.
Advance encryption and security protocols ensure your documents are safe and secure.
They save time, eliminating the need to travel to a notary with your documents or mail them physically.
Here are three digital notary tools you should consider:
Notarize: An online notary service that allows you to notarize documents remotely. It uses live video technology to connect you with a licensed notary.
DocVerify: It integrates with popular business applications like Salesforce and Dropbox for streamlined workflows and provides multi-factor authentication and data encryption.
LiveNotary: This platform connects you with a nationwide network of commissioned notaries, offering online and in-person notarization services.
Document hubs
Document hubs provide an easy way to store, organize and share your important remote closing documents. It is a must-have for deals that happen remotely.
Document hubs offer easy and immediate access to your files from anywhere.
You can upload, share, and collaborate on documents in real time with team members, clients, or partners.
Advanced security measures protect your documents from unauthorized access or loss. You can also control who has access to the documents.
You can create folders, subfolders, and tags to keep your documents organized and easy to find during the closings.
Here are three document hub tools you should consider:
Google Drive: A cloud storage service that lets you store and share your files online. It also offers online collaboration tools like Google Docs, Sheets, and Slides.
Microsoft OneDrive: It integrates seamlessly with Microsoft Office, allowing you to upload your Word, Excel, OneNote, and other similar documents for ease of sharing.
Dropbox: A cloud storage service that lets you back up and sync your files online. It also offers features like Dropbox Paper, Dropbox Spaces, and Dropbox Transfer for teamwork and file sharing.
Let's bring it to a close
Remote closings are gaining momentum at the speed of light, which is the need of the hour. Some may be scared to conduct such important deals without being physically present, but remote closings can be smoother and more effective with the right tools and strategies.
Here's hoping that the question, "What is remote closing?" never bothers you again.

Happy closing, folks!