Board meetings play a crucial role in running any organization. However, if not planned effectively, they can be time-consuming and unproductive.
The key to effective board meetings lies in thorough planning and preparation, which can be achieved with a well-structured agenda.
Here's a list of 8 free board meeting agenda templates that you can use to streamline your meetings, save time, keep everyone on track, and achieve your objectives more efficiently.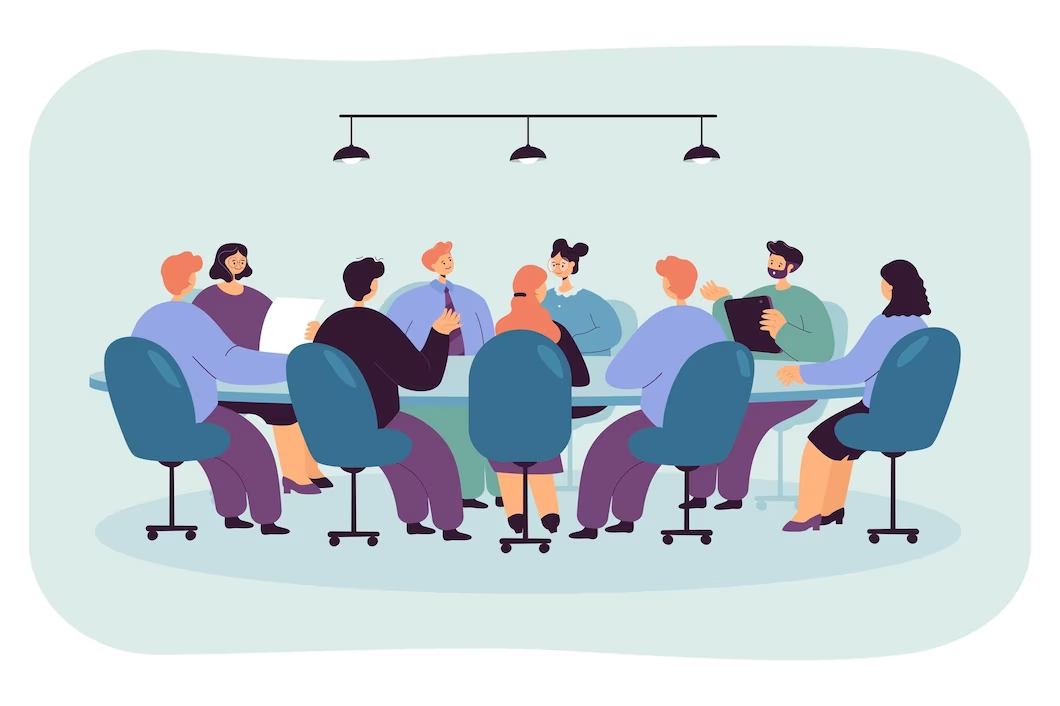 Board meeting agenda templates for a seamless session
Structure your meetings with these well-rounded agenda templates for board meetings.
1. Regular board meeting agenda template
A Regular Board Meeting is a monthly meeting where an organization's board of directors or trustees convenes to review and discuss the organization's activities, policies, and strategies.
Attendees
Board members
Trustees
Staff
Meeting Frequency
To create an effective agenda, prioritize topics and allocate time for open discussion. Avoid overloading the agenda and provide participants with the necessary information in advance so they have time to prepare.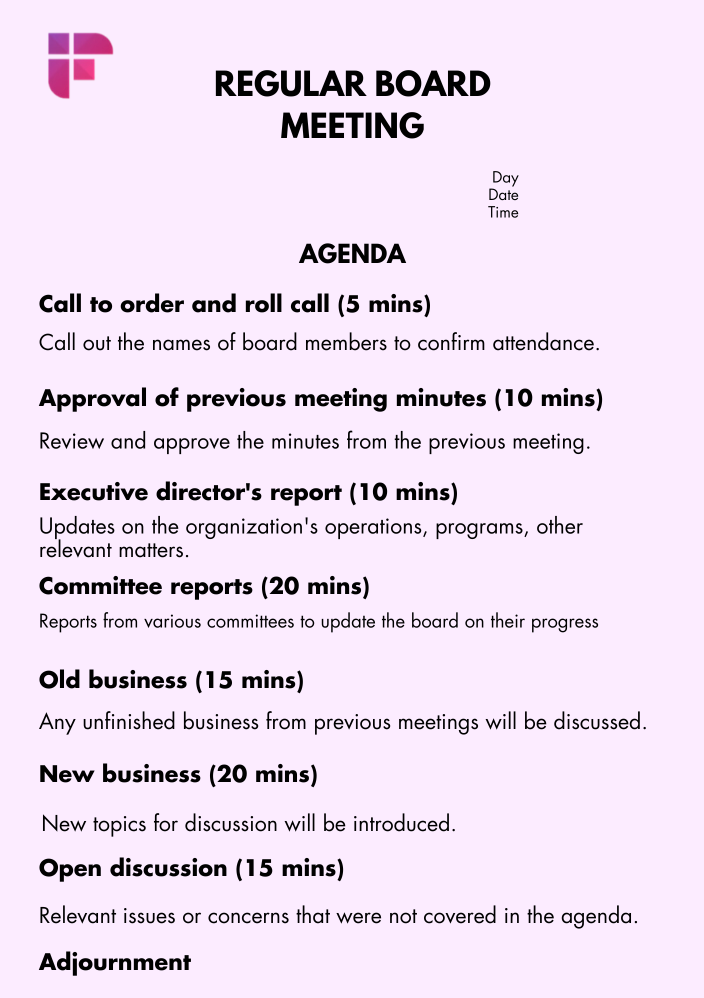 2. Strategic board meeting agenda
A strategy board meeting ensures the organization is on track to achieve its objectives and remain competitive.

Attendees
Board members
Stakeholders
Meeting Frequency
To set an agenda for these meetings, prioritize agenda topics based on strategic goals. Set clear objectives, allow discussion time, and follow up on action items.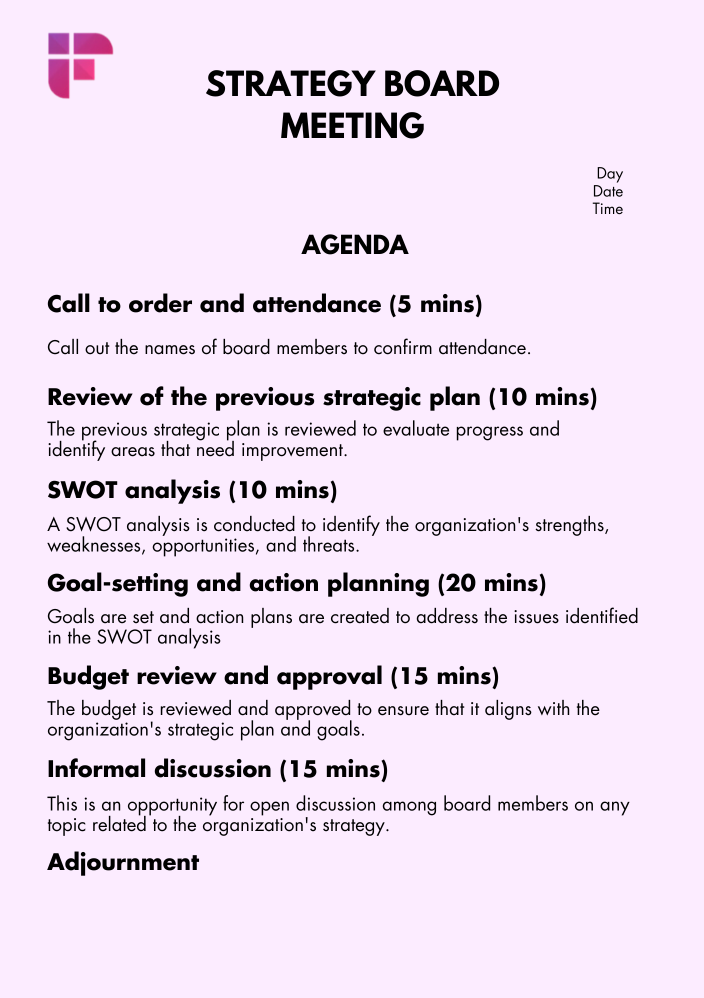 3. Nonprofit board meeting agenda
Typically created by the board chair or the organization's executive director, this meeting agenda helps to track the operations, finances, and governance.
Attendees
Board of directors
Trustees
Executive management team
Invited guests (if any)
Meeting Frequency
When creating this agenda, prioritize essential items and leave room for new topics. Setting clear goals and providing supporting materials is a must here. Also, follow up on unfinished business from previous meetings.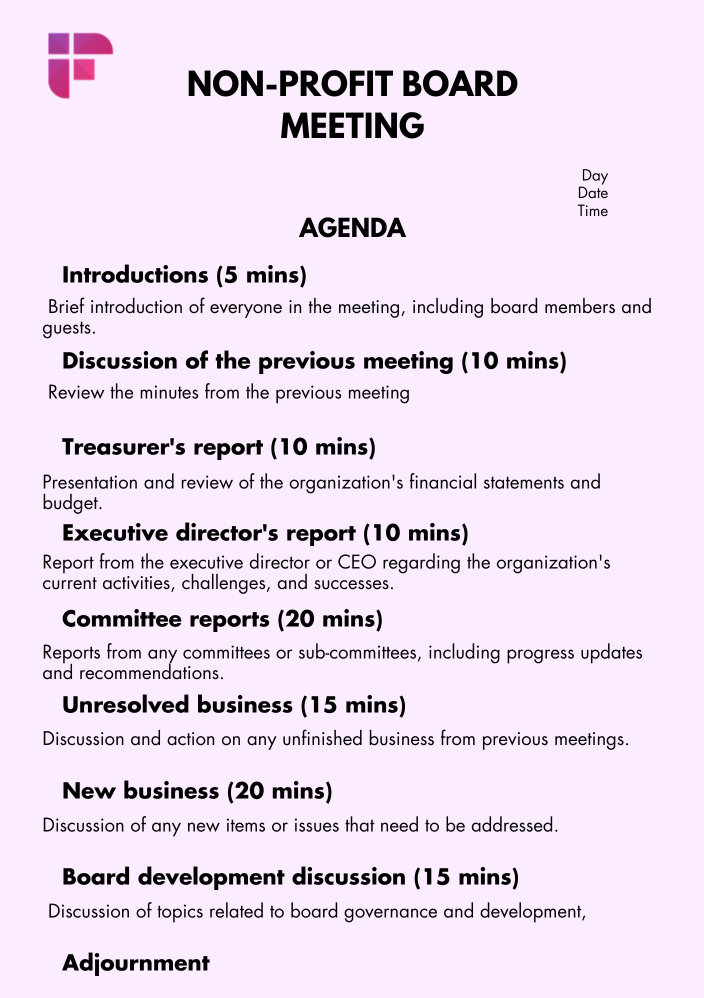 4. Annual board meeting agenda template
The annual board meeting is critical for the organization to review the previous year's performance and plan for the upcoming year's goals and priorities.
Attendees
The Board Chair or President
Board of directors
Trustees
Stakeholders
Invited guests(if any)
Meeting Cadence
Set clear goals and objectives, allowing for adequate time for discussion and including time for roundtable discussions. Do prioritize important items and keep them concise.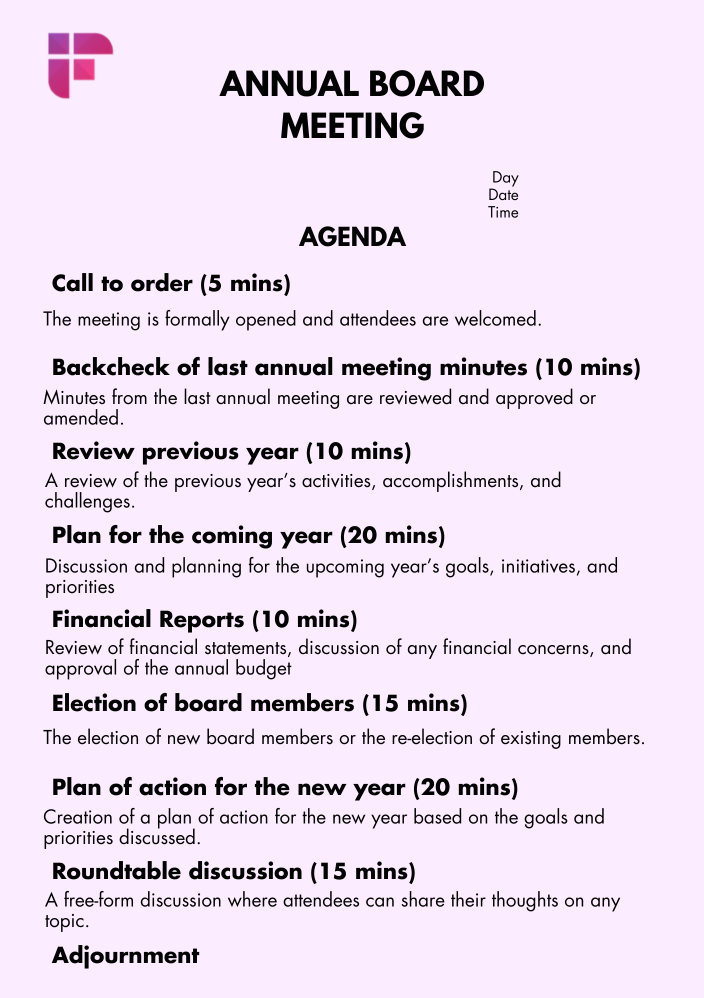 5. Emergency board meeting agenda template
Called on short notice to address unexpected and urgent situations, this type of meeting needs to ensure prompt action by the board.
Attendees
Board members
Individuals/ staff involved in the emergency
Meeting Cadence
This type of meeting should only be called in an actual emergency and may not have a set frequency or duration.
When creating the agenda, the focus should be on addressing the emergency situation and developing an action plan. It is important to keep the agenda concise and ensure all necessary individuals are notified and can attend the discussion.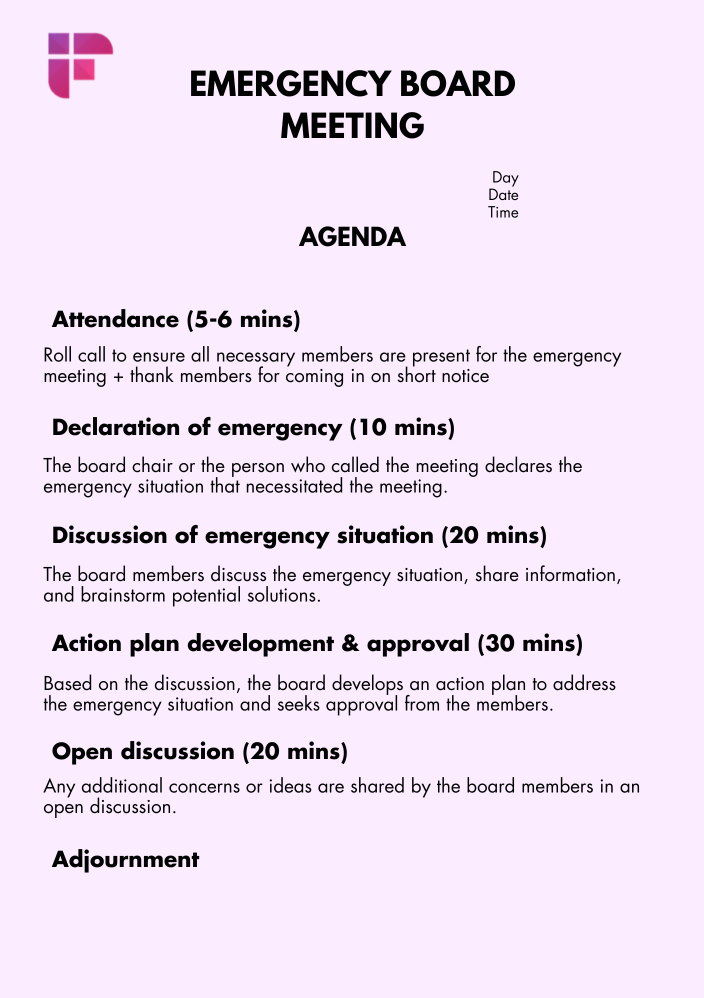 6. Start-Up board meeting agenda template
This start-up board meeting agenda template helps organizations establish a regular meeting rhythm and prepare for potential investors. It covers questions on revenue, long-term goals, and weekly team matters.
Attendees
CEO
Existing investors
Shareholders
Potential investors (occasionally)
Meeting Cadence
Monthly or quarterly basis.
Depends on the stage and needs of the company.
It is essential to come prepared as these meetings often address critical topics quickly, like the company's SWOT analysis, finances, and more.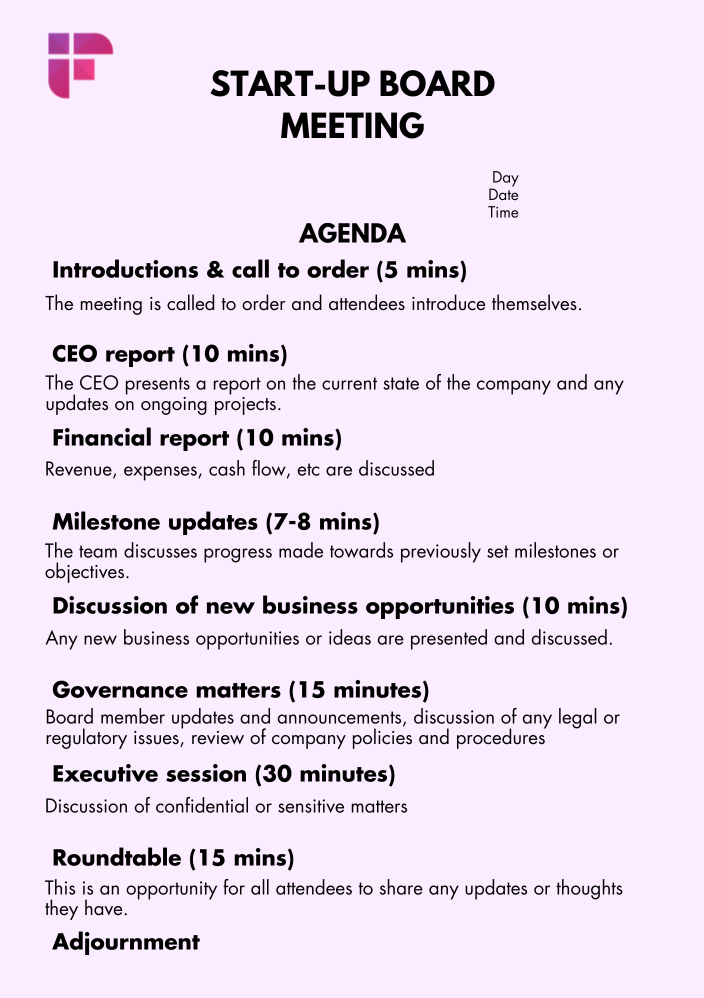 7. Quarterly board meeting agenda template
A quarterly board meeting is a regular review of the company's progress, performance, and goals.
The meeting covers assessments of the previous quarter's performance and plans for the next quarter.
Attendees
Board of directors
CEO, CFO & COO
Legal & Financial advisors
Make sure to prioritize topics and allocate appropriate time for each item. Gather input from board members and executives before finalizing the agenda.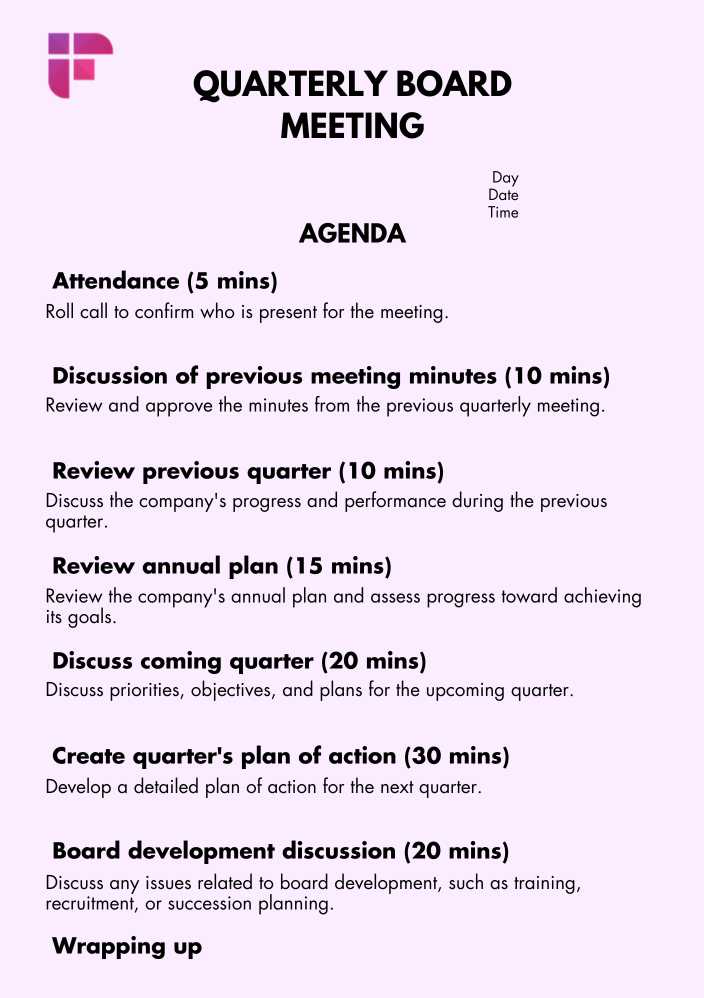 8. Board retreat agenda template
This board retreat agenda prioritizes work time over leisure, with all-hands sessions and smaller breakout groups for departmental or task-based teams. The focus on in-person idea exchange can make it highly effective.
Attendees
Board members
Executive team members
Staff members
Facilitators
Meeting Cadence
Tips for creating the agenda include setting clear objectives and providing opportunities for both structured and unstructured interactions.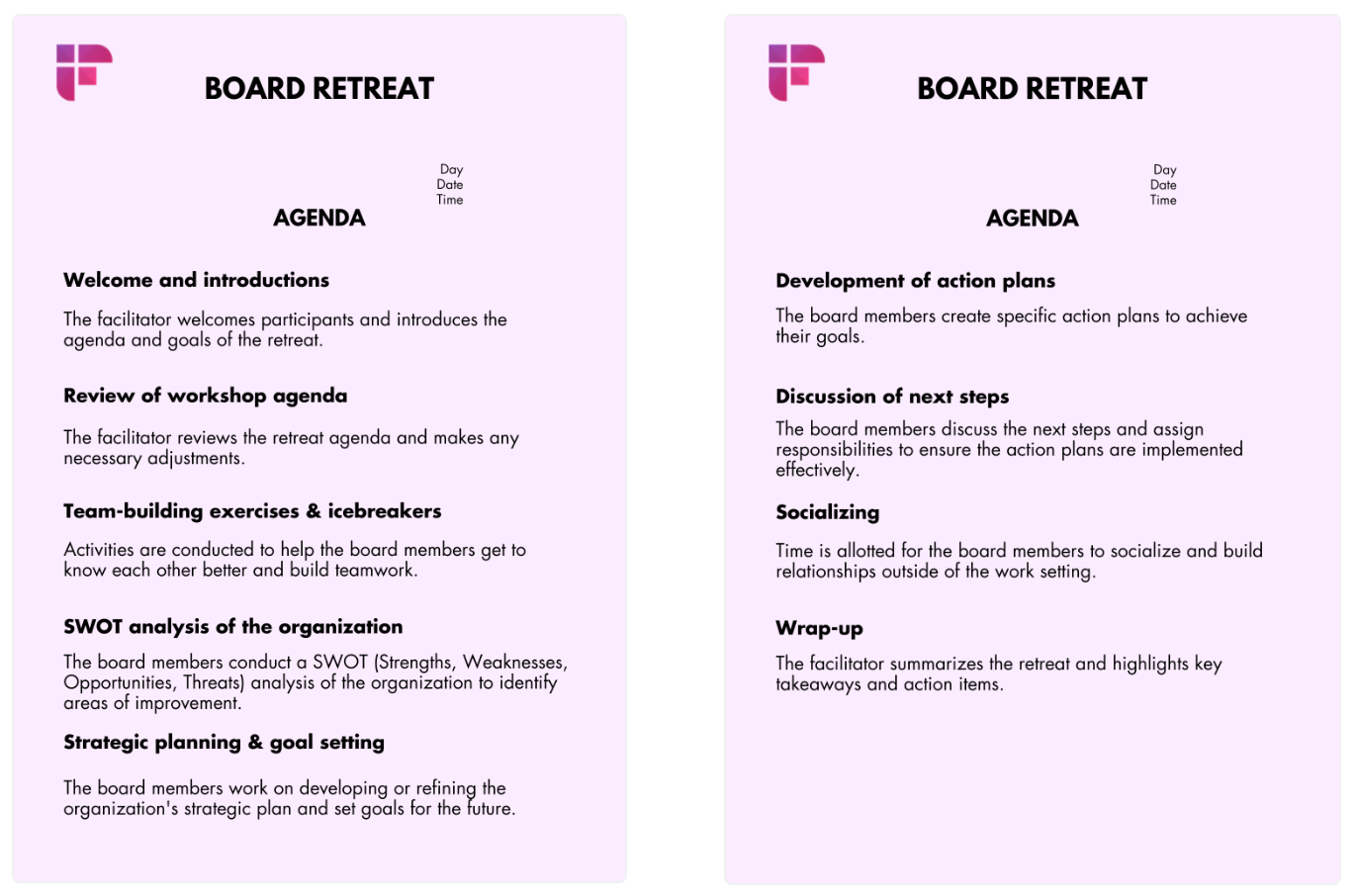 The takeaway

Solid agenda for every type of board meeting — ✅
But are you capturing and streamlining your meeting minutes efficiently?

Writing every detail of a board meeting discussion can be overwhelming. With so many critical decisions, ideas, and review points to note — missing out on an important detail can be a serious roadblock in planning and execution.
Overcome this challenge by using an AI notetaker like Fireflies.ai.
Fireflies lets you record, transcribe, summarize, and analyze your meetings and easily share the actionable items with your team. You can also review the minutes quickly with features such as Smart Search, AskFred, speaker analytics, and Topic Tracker, and even edit transcripts while listening to the meeting recording.