As old an adage as it sounds, good communication is key for effective engagement, and the case of classes moving online definitely doesn't make things easier.
While online engagement can bridge gaps of geography and time, it creates a few challenges of its own and effective online communication skills is one of them.
The improvement goes both ways, so whether you're an instructor or learner, a good communication strategy contributes to retention and provides a sense of community that is important for the learning process.
An expression is a fundamental unit of knowledge. With learning programs (across schools, universities, vocational institutes, and offices) unidirectionally moving online in the wake of the Coronavirus, millions of people are learning in an environment that feels completely alien to the majority.
The good news is that online education productivity tools available today are constantly getting better and allowing participants more flexibility to communicate in different forms. Now the hack lies in one thing-- revisiting tips that work in real scenarios, combined with online communication etiquettes.
Whether you're an educator or learner, we're here to make your online class experience more meaningful. In this article, you'll be looking at the top five tips for effective communication during online classes to enhance the learning/teaching experience.
Top 6 Tips for Communication During Online Classes That Actually Work

1. Learn the Difference Between Personal and Professional Communication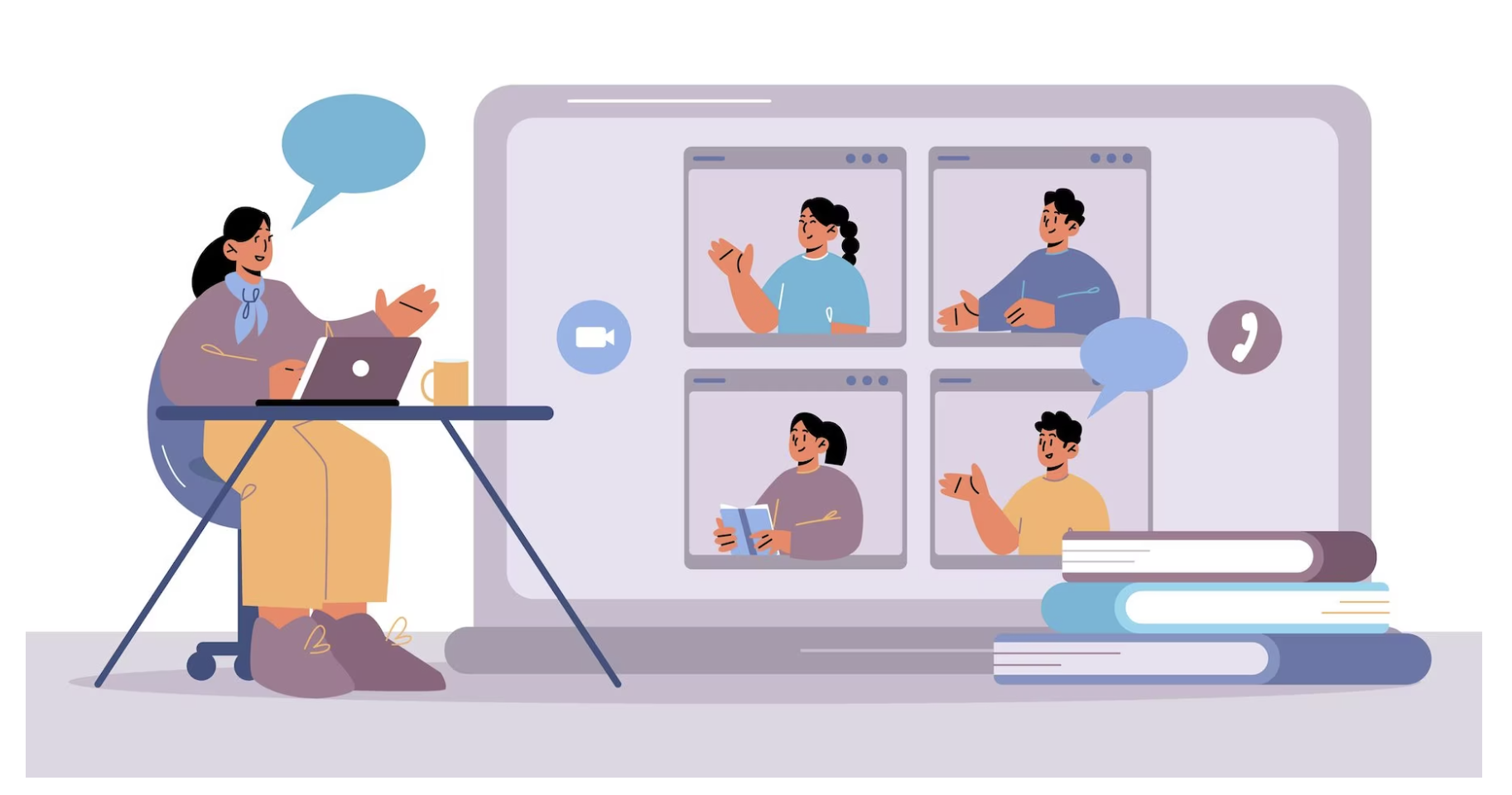 You could be using the same tool for both personal and professional engagements, so differentiate between the two. A small but meaningful consideration like this will allow you to make crucial decisions like which app or tool to use, where to set up your call, and how you express and engage with people on the other side of your screen.
For instance, your tone is essential for getting the proper communication across.
Whether you're an instructor or a learner, think about the tone you're using in your learning space.
A strident tone, for example, can be ill-received or create confusion for the task at hand. Write and speak as you would in a physical work/learning place, with a tone of respect and courtesy.
You might also like:
2. Mix Different Modes Of Communication
Online communication is versatile, just like it is in real-life scenarios. However, the factors that affect communication in an online class are different.
For example, lack of physical proximity means it is harder to understand non-verbal cues. Thus we're unable to apply the same communication patterns that the brain does in a physical scenario.
This is why it is essential to foster a habit of mixed communication during online classes:
When using Text
When communicating with learners online, composing text messages is the most efficient way of getting your instructions across clearly. Given that an online class setup tends to aid loss of information, writing things down helps your learners to register that information better.

When using Video
Videos are a great way to stay connected. Giving a face to a voice always helps people feel more connected. It is also a way of creating accountability, and prevents people from getting distracted.
Encourage learners to switch on their cameras for the session. However, we also need to start talking about new bi-products of video conferencing. Zoom fatigue, for example, is a very real feeling.
So while encouraging your learners to switch on their video, create a space for conversation if someone is feeling demotivated about it. Talk to them, maybe personally, find out what's going on, and don't push too hard.
3. Make Your Communication Personal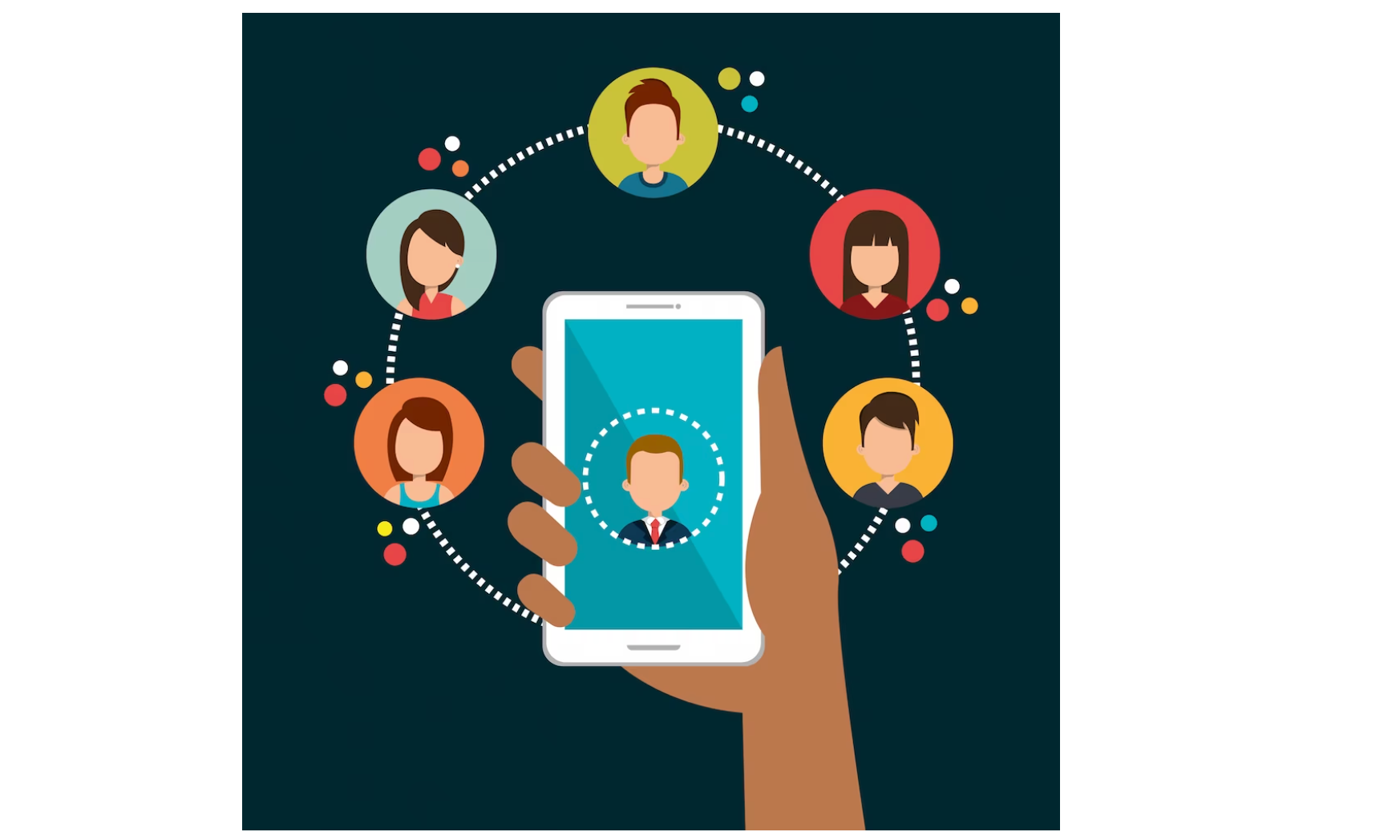 Even though we're using technology to present ourselves to our peers in an online class, we're still humans. We're all trying our best, and a little show of humanity goes a long way!
Creating discussion groups, feedback sessions, or just generally creating conversation beyond the curriculum can help bring your online class together. Communication that also cares about the 'personal' versus 'professional' makes people feel cared for, and in return, motivates them to engage with you.
A few things you can start doing to keep your communication personal:
Using names: A simple exercise that indicates familiarity and connection.
Self-disclosure: Try and create conversations about how a person's day was. Encourage learners to share personal stories or anecdotes to understand a particular concept you're teaching.
Off-topic chat: Set aside a space for general discussion online so that everyone can touch base and feel a sense of togetherness.
Be yourself: Nothing makes an online class more exciting than an authentic facilitator! Accept silly mistakes if you make any during the course, laugh at a joke one of your learners made, and encourage creativity in your classroom.
4. Develop a Communication Strategy and Discuss With Participants
Avoid crossing wires and create a direction for your sessions by establishing some ground rules or discussing the different ways in which the participants will interact.
Developing a clear communication strategy helps to pre-establish the workflow of your sessions.
Not only does it help students understand the overall trajectory of your lesson plan, but it also helps keep parents in the loop. While making outlines, for example, try to include the following things:
An overview of the channels/methods being used
Talk about the mediums you're using. For example, if you're taking a class on stop motion animation and students don't have the app installed on their phone already, it will waste time and extend a session. Make sure you also include information on pre-requisites to a session.  Break it down in simple, bullet-pointed instructions. Never assume parents or students will 'figure it out'

How can students and parents contact you in case they need to discuss something?
Share an email address with parents and students, or use telecommunication apps like Google Hangouts, Zoom, etc. Telecommunication provides all the benefits of a phone call, without you having to share your mobile number if you don't wish to.
Moreover, schedule frequent live Q&A sessions. This will help you address identical queries at once, helping everyone save some time. Remember to team this up with a few one-on-one slots each week in case learners/parents want to discuss something more personal.
5. Aim for Clear and Concise Messages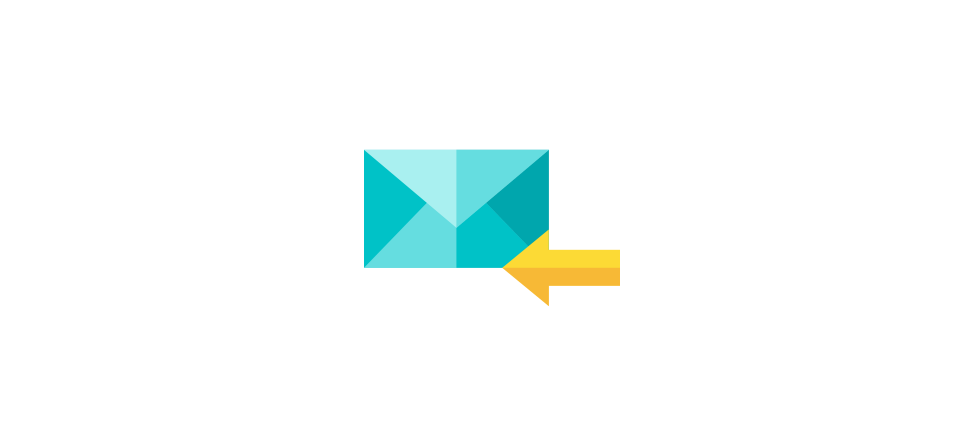 Given the nature of online classes, miscommunication can quickly occur. The easiest and most effective way to avoid any confusion is to write your instructions down.

Whether these are prerequisites to a class, a follow-up assignment, or even a virtual etiquette culture you want your learners to be mindful of- write it all down, and revisit them often. With so many media/assets/PDFs/presentations, the important things can get lost sometimes.
Making a habit of sending reminders or follow-up emails, for example, can significantly smoothen the workflow between you and the learners.
Here are a few tips that go a long way:
Less is more
Bullet points, lists and whitespace are more inviting to read versus chunks of paragraphs of text. Experiment with adding visual elements to your regular communication with learners.

Be clear
Maybe you like speaking in metaphors, or your construction of sentences feels like a garden of many colors. If you are issuing instructions via video, use some text too. Have a summary of the instructions on a visible whiteboard or piece of paper so that students can extract the essentials.

Use private communication for individual/sensitive discussions
Any sensitive feedback should be done individually and not in a group. Being in a virtual classroom can seem intimidating to many, and singling out someone specifically can trigger discomfort.
Use email, private messaging, or schedule an online call (with older students).

Check up on your students if they seem too quiet too often
It's easier to overlook minor details in an online class. Given the lack of verbal cues, size of classrooms, task overloading, and tech concerns, it's possible to miss a few signals. If someone in your class is often quiet and doesn't contribute as much, schedule a one-on-one with them.
6. Maintain Your Hardware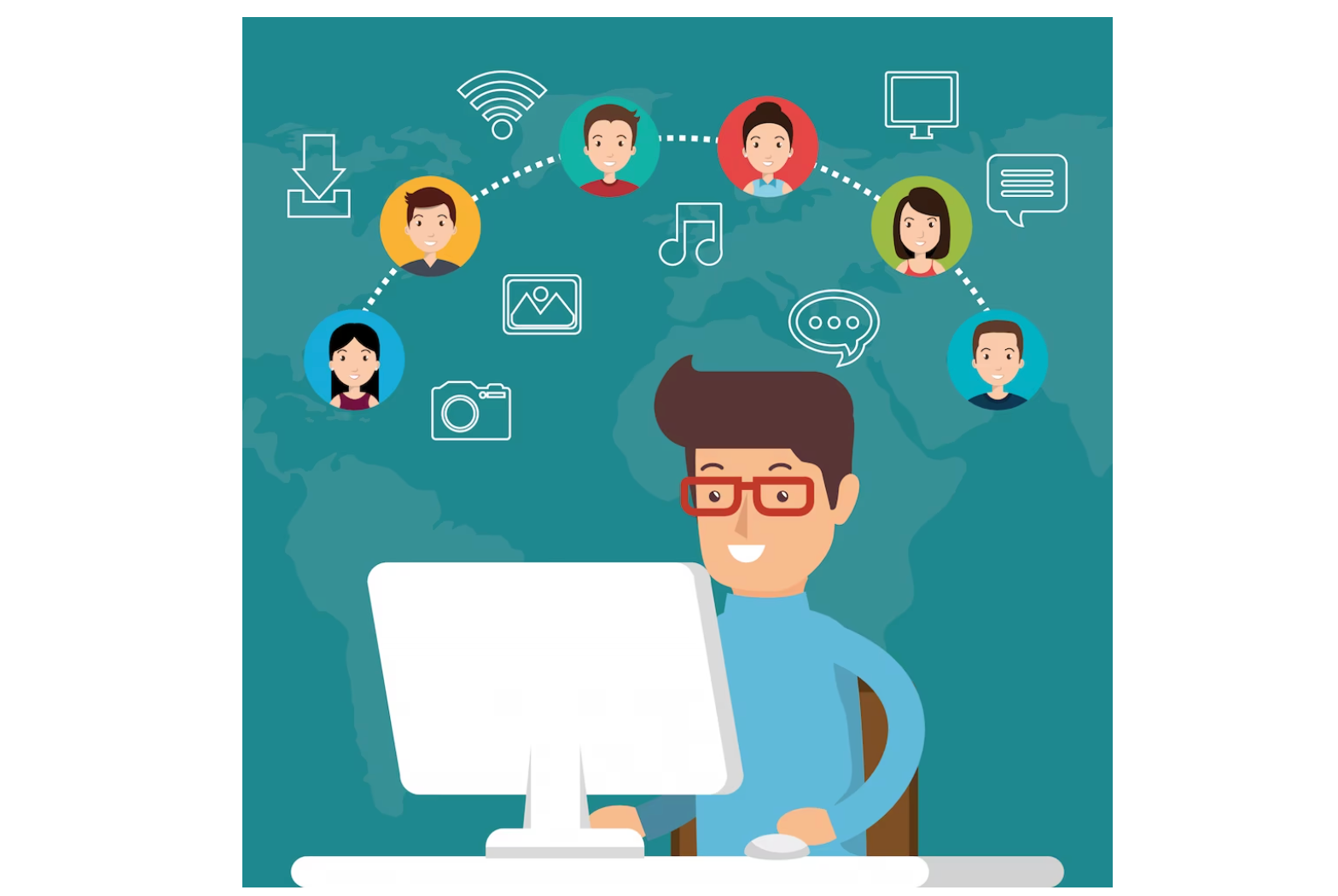 Online communication depends on you staying connected. Whether it is your laptop, microphone, or internet connection- try and not take these things for granted and fix small problems soon, instead of waiting for things to blow up before you think of a solution.
Another thing to care about is software hygiene. Invest in good antivirus software, for example, if you spend a lot of time surfing the internet gathering info and resources from across the web. It might seem like a small step but goes a long way in avoiding missed calls and assignments.
Moreover, talk to your peers about tech issues. Group discussions about problems that seem challenging individually often generate solutions that have worked in the past for someone else.
Top Habits of Good Communicators

One of the most important factors of online communication is the relationship you develop with your peers/ participants. Building these relationships impacts the engagement level of a session.
Here are the top qualities and habits of a good communicator:
1. Listening
Your listening skills define your expression. But technical glitches and other environmental distractions can be disrupting.
It is important to ensure that what you're planning to teach has a student-centered approach.
2. Empathy and compassion

Empathy and compassion lead to higher retention and motivation in a learning environment.
Respecting a person's personality, showing an interest in unique viewpoints, and being able to critically analyze your position are some of the factors that define empathy and open-mindedness.

For example, English is not a native language for most countries. When an online class comprises a diverse group, it's essential to build a lesson plan that can best explain the topic to all participants.
3. Assertiveness

Assertiveness is the place between shy & aggressive. It's the sweet spot that helps you express without losing your rationale or expressing feelings of offense, hurt, or anger while simultaneously respecting the thoughts and wishes of others.

Discussions don't have to be hostile, but a constructive conversation that benefits all parties keeps the spirit alive.
Last two cents

Developing a communication strategy that works perfectly for you is a process. It is something you will build upon as you engage with online classrooms more.

Remember, adaptability comes with experience and time. But if you try and make these small changes in your online classes, you'll be able to cultivate habits that only help you get better.
Read next