Ever looked at your notes after a meeting and wondered how you're ever going to organize them?
Running a meeting can be daunting, and organizing your notes after can be quite overwhelming. That's why having a meeting minutes template can be a lifesaver.
Keep reading to explore different types of meetings and templates that you can use to streamline your note-taking and ensure that nothing falls through the cracks.
But first, let's look at some tips for taking meeting minutes.
Quick tips to take meeting minutes
There is no specific format for taking meeting minutes. However, you can use these tips to effectively take note of everything that goes on in your meetings.
Record essential details such as date, time, attendees, agenda, decisions, actions, and responsibilities.
Use clear and simple language and avoid technical jargon or personal opinions.
Be objective and stick to the facts without making assumptions.
Summarize discussions and key points while avoiding irrelevant details.
9 Best meeting minutes templates
To streamline the process of creating meeting minutes, use a pre-designed template to organize and structure the information. Here are the 9 best ones to choose from for every meeting you will ever organize:
1. Basic meeting minutes template
It is ideal for routine meetings that require minimal details.
Use it for quick check-ins, small team huddles, or one-on-one meetings.
Track progress by recording attendees, agenda items, discussion points, and action items.
The template is simple and straightforward, ensuring that meetings are documented efficiently.
2. Project meeting minutes template
Typically used by project managers, this template helps document project updates, issues, and resolutions.
It's also useful in tracking project timelines, goals, action items, budgets, and the team's progress.
You can use it to track project milestones and ensure team accountability.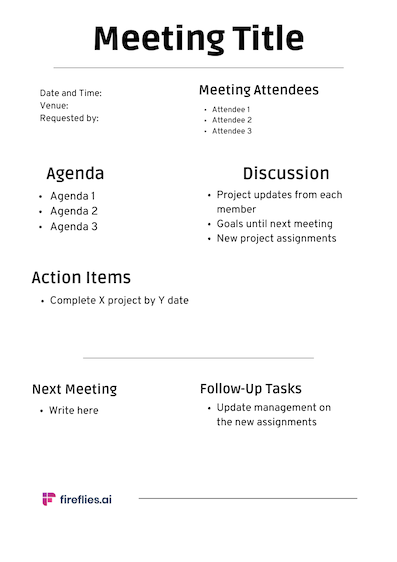 3. Board meeting minutes template
The board meeting minutes template is ideal for NPOs, government agencies, corporations, and healthcare organizations.
Along with adding the approval of previous minutes, list all agenda items and document all the decisions related to each item.
The template should also include reports, changes to policies, and voting. Ensure the meeting minutes are accurate and concise.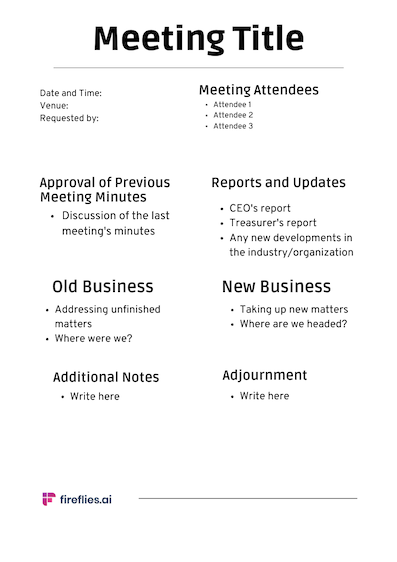 4. Staff meeting minutes template
The Staff Meeting Minutes Template is perfect for regular staff meetings.
It's essential for documenting organizational changes, reviewing performance metrics, and planning team-building activities.
The template should include agenda items, discussion points, action items, and follow-up tasks.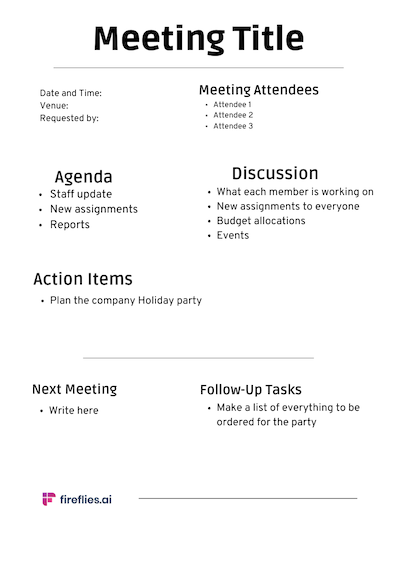 5. Finance/admin meeting minutes template
This template is typically used by finance managers, analysts, administrative staff, and executive assistants for financial reporting, administrative strategy, or to plan budgets.
It's essential to record financial decisions made during the meeting, such as budget allocation, expenses, and revenue.
The template should also include administrative tasks, such as record-keeping and follow-up tasks.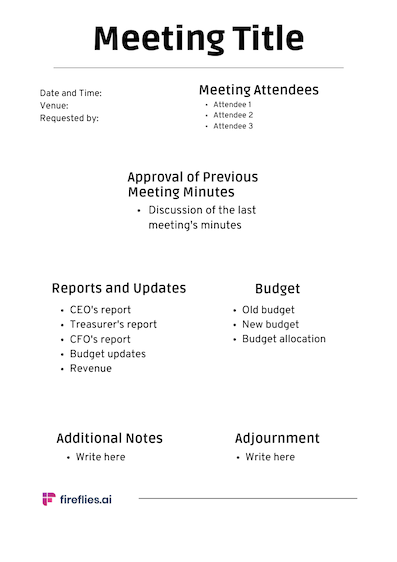 6. Roundtable meeting minutes template
The purpose of a roundtable meeting is to encourage open dialogue and brainstorming.
These meetings are often used to encourage collaboration, build consensus, and generate innovative solutions to complex problems.
Because roundtable meetings are fast-paced and generate a wealth of ideas that may not always translate into actionable items, it's important to record the main points of discussion, identify speakers, and highlight any action items — which is possible with 90%+ accuracy with this powerful AI note-taker.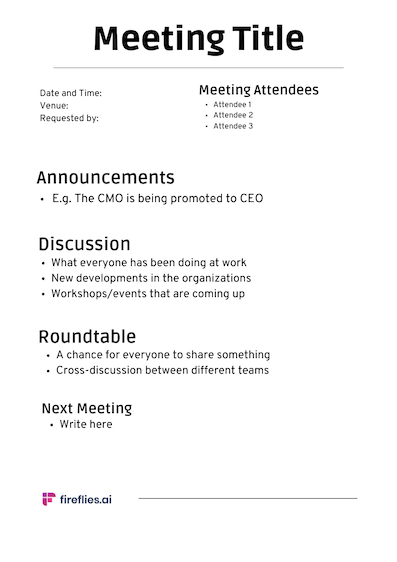 7. Annual meeting
The Annual Meeting Minutes Template is for the yearly meeting of shareholders, members, or stakeholders.
It's essential to record key decisions, financial statements, and reports. The template should also include the agenda, attendees list, and motions or votes.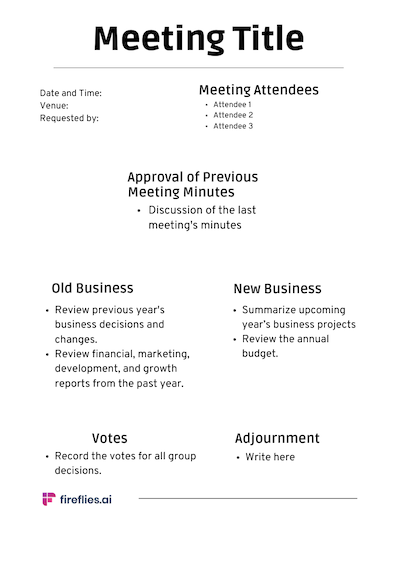 8. First-time meeting minutes template
The First-Time Meeting Minutes Template is for initial meetings, such as kick-off meetings for a new project or introductory meetings with a new client.
Establish goals and expectations and discuss roles and responsibilities in these meetings.
The template should include an elaborate agenda, discussion points, and action items.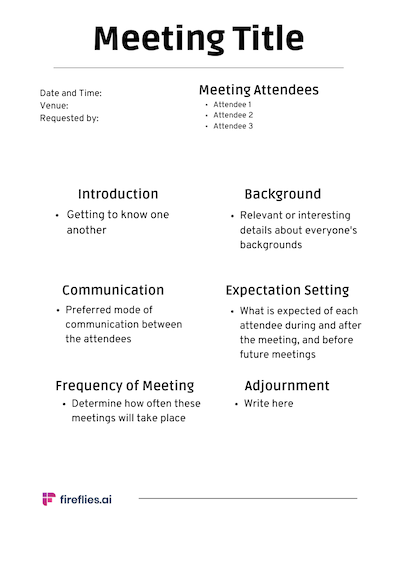 9. Partnership meeting minutes template
The Partnership Meeting Minutes Template is for meetings between two organizations or companies that have agreed to work together.
It's essential to record agreements made, timelines, action items, and follow-up tasks. The template should also include a list of attendees and an agenda to ensure the meeting stays on track.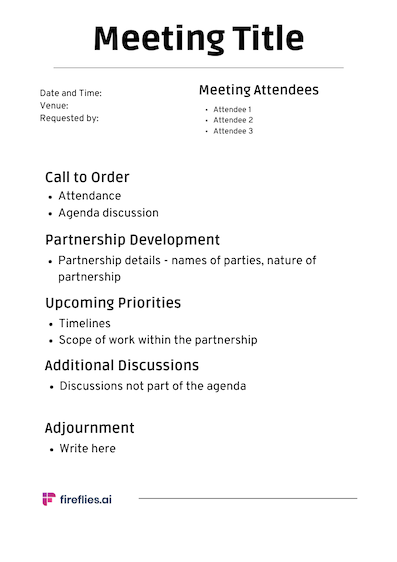 Maximize your meeting efficiency with an AI-powered note-taker
Manual note-taking can be a hassle because it's easy to make mistakes and miss important details.
Believe it or not, only an estimated 2% of the population is proficient at multitasking. So, unless you are among that 2%, you'll either focus too much on writing everything down or the conversation.
While meeting minutes templates can organize your notes and make them more presentable, what about getting the meeting details right?
That's why you need an AI-powered note-taker like Fireflies to help you stay on top of your minutes and record all your conversations.
Fireflies lets you record, transcribe, summarize, and analyze your meetings so you don't miss any critical details. That's not all. It lets you review meetings in minutes and edit transcripts with Smart Search, speaker analytics, and Topic Tracker features.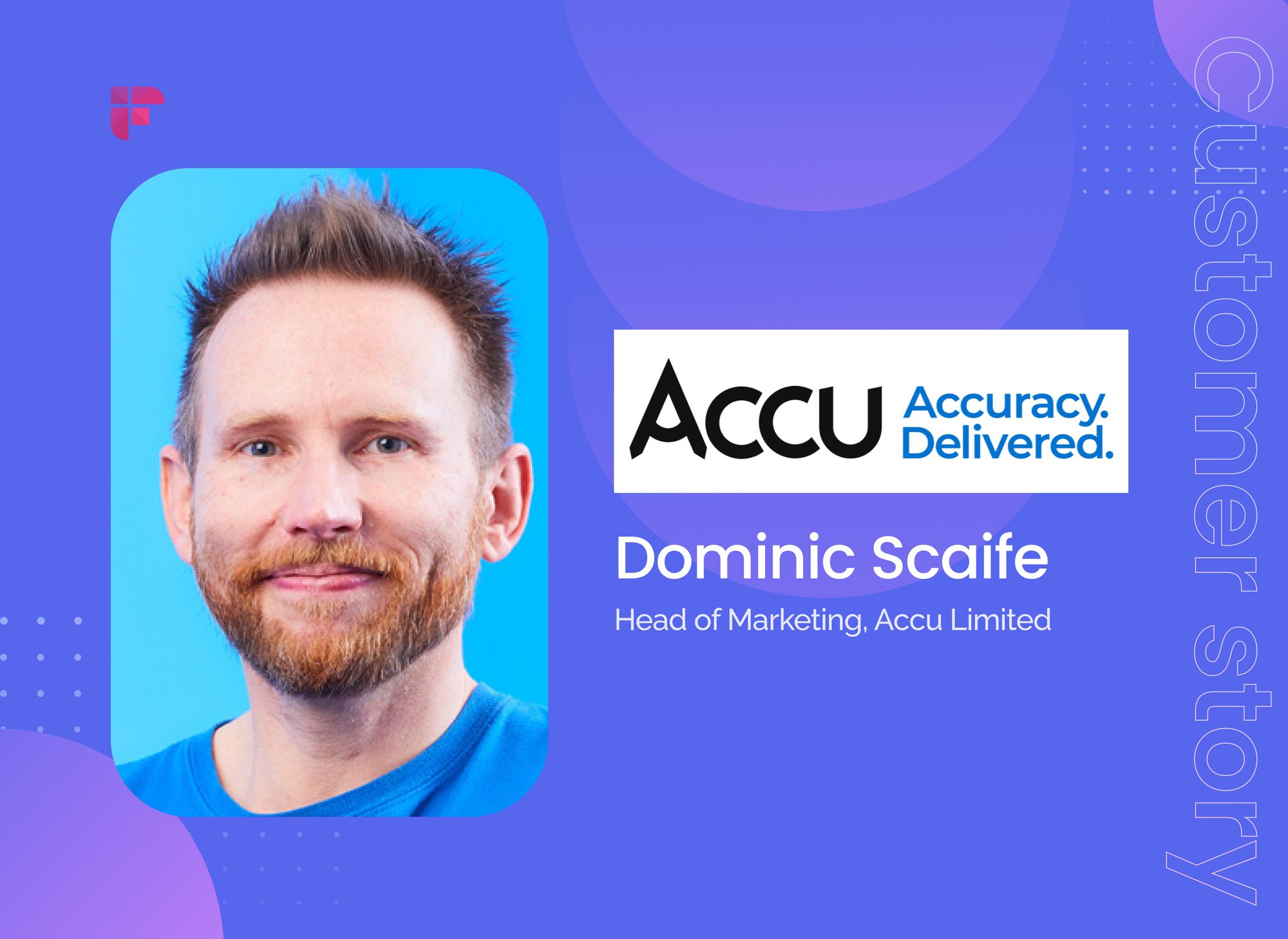 Use these nine versatile meeting minutes templates and Fireflies to streamline every meeting type for ultimate productivity and efficiency. Over to you now.