An agenda is the backbone of any successful meeting. It helps keep everyone on track, sets priorities, and ensures all necessary topics are covered in the time allotted.
But without a well-planned meeting agenda, board meetings can quickly turn into long, disorganized, and unproductive discussions that waste valuable time and resources.
So, we've compiled a list of 10 non-profit board meeting agenda templates for you to use in your next meeting. Plus, a tool to automate your note-taking, helping ensure the meeting is set up for maximum organization, efficiency, and productivity.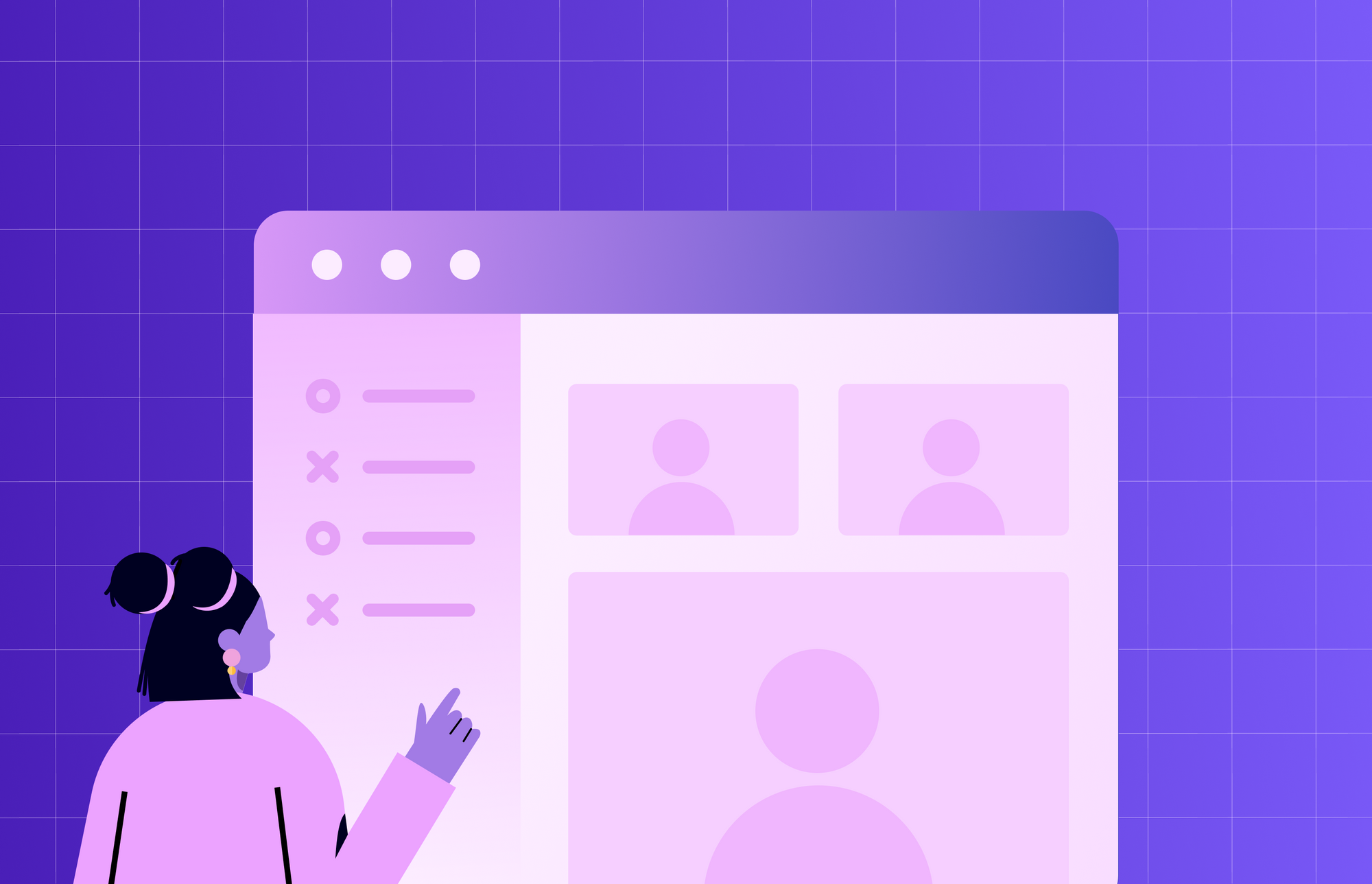 10 nonprofit board meeting agenda templates
Make your board meetings more actionable with these 10 agenda templates:
1. Simple board meeting agenda template
A simple or regular board meeting is where members meet to discuss and make decisions about the organization's project plans, operations, policies, and strategic matters.
Attendees:
Meeting frequency:
To create an effective agenda, include
a review of the previous meeting's minutes,
reports from board committees,
and any new business items that need to be discussed.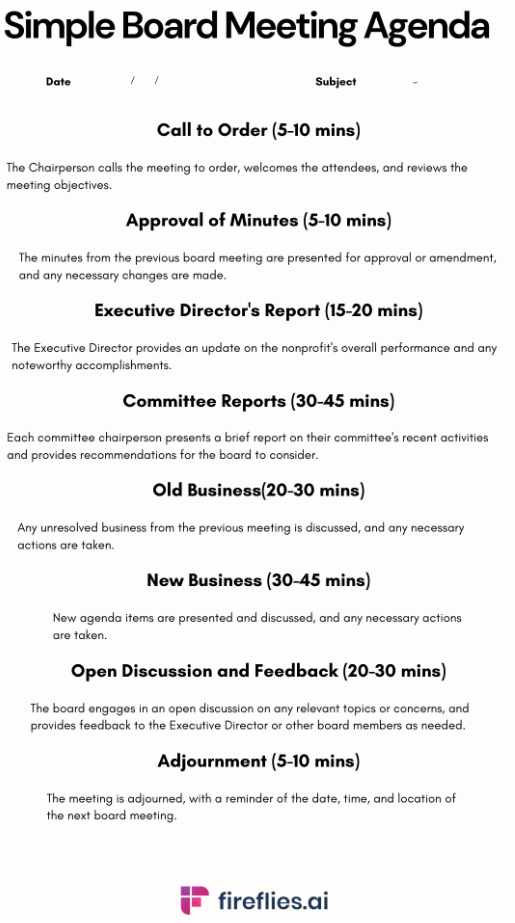 2. Strategic planning board meeting agenda template
In a strategic planning board meeting, the board of directors, executives, and key stakeholders come together to establish long-term goals and objectives, align resources, and develop action plans to achieve the organization's mission.
Attendees:
Staff members
Executive Committees
Meeting Frequency:
When creating an agenda for this type of board meeting, set clear expectations, allocate enough time for discussions, and encourage participation in the planning process.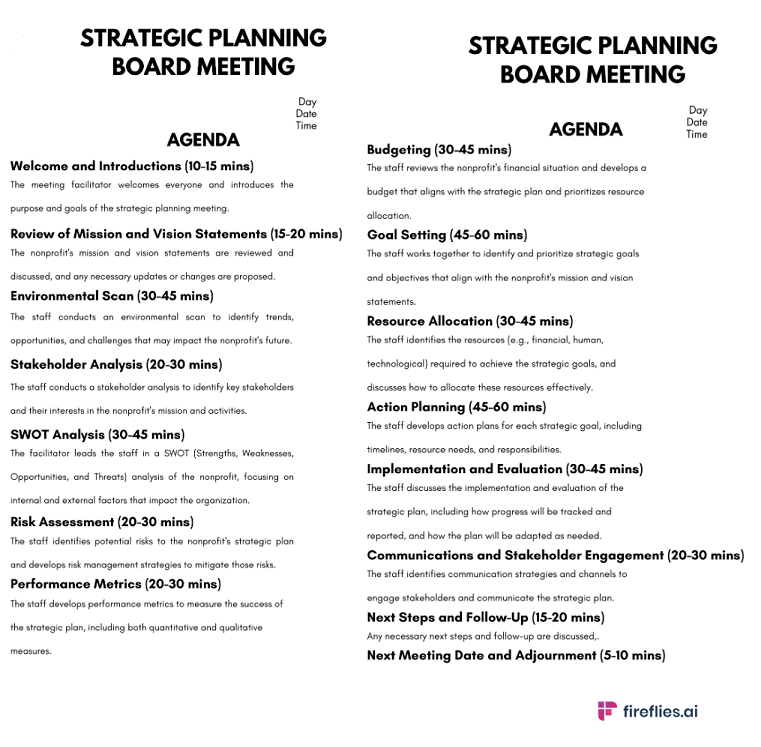 3. Conference board meeting agenda template
A conference meeting is usually bigger than your average meeting. It brings together individuals from a particular organization or field to discuss important matters and big ideas related to their work.
Attendees:
Key Stakeholders
Executives
Experts
Meeting Frequency:
This meeting type can last a day to several days, so it's important to develop an agenda for each day.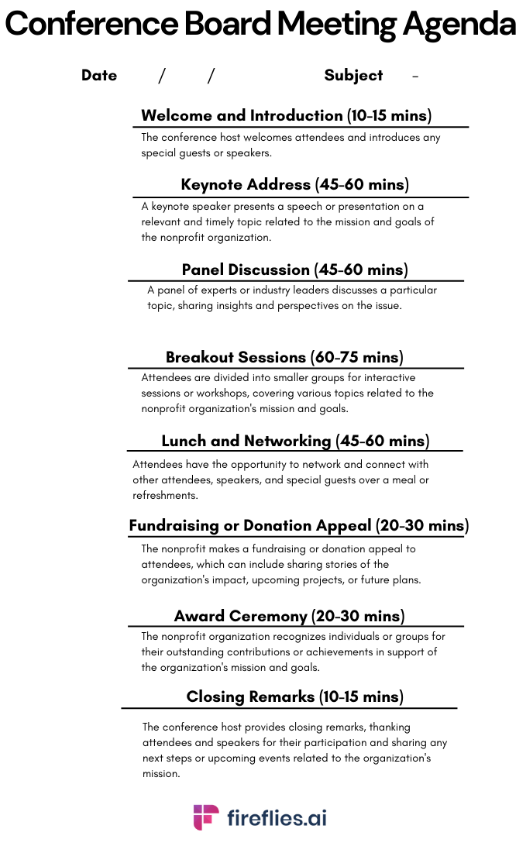 4. Executive committee board meeting agenda template
This type of board meeting is where the executive committee, a subsidiary, or a subcommittee of the board of directors convenes to discuss urgent matters that can't wait for an official board meeting.
Attendees:
Executive Committee Leaders(i.e., Chairs, Co-Chairs, President, Secretary, Treasurer)
Meeting Frequency:
While it is considered the core of the board, the executive committee operates under the board's authority and the scrutiny of each independent director.
Therefore, it is important to take efficient notes, which you can later share with the board. Use an automated note-taker to take accurate notes and ensure no important details are missed.
💡

Fireflies Tip

Say goodbye to frantic note-taking during meetings with Fireflies. Fireflies automatically take meeting notes, summarizes it, hightlight action items and more from your conversation.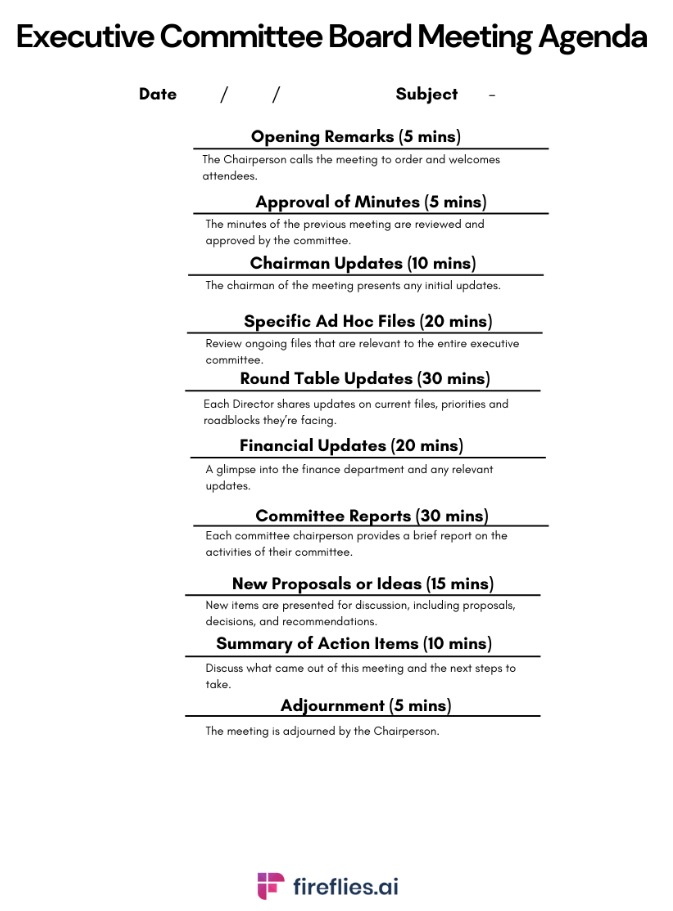 5. Partnership board meeting agenda template
Strategic plans, budgets, and many other organizational issues are discussed in a partnership board meeting.
Attendees:
Partners
Stakeholders
Board members
Meeting Frequency:
When creating an agenda for this meeting, it is essential to prioritize important topics and provide sufficient time for discussions. Recording meeting minutes and sharing them with all the attendees after the meeting is a must.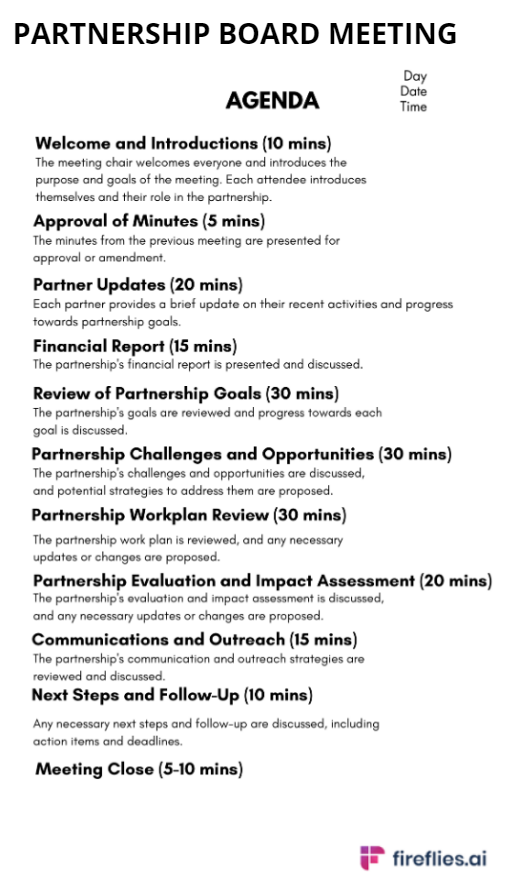 6. Consent Board Meeting Agenda Template
This type of non-profit board meeting is a regular gathering where board members come together to discuss and approve routine matters, such as financial reports or meeting minutes.
Attendees:
Board Members
Staff Members
Meeting Frequency:
The key to a successful consent board meeting is ensuring the board meeting agenda template focuses on routine items and avoids controversial or complex issues.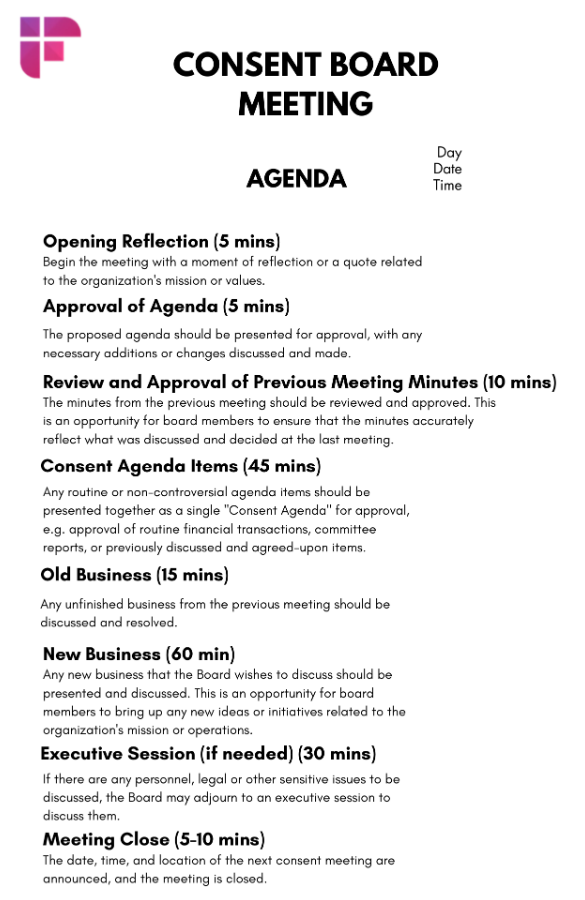 7. Retreat board meeting agenda template
In a retreat board meeting, board members gather offsite to focus on strategic planning and team building.
Attendees:
Board of directors
Key staff members
Invited guests
Meeting Frequency:
An agenda for this kind of meeting focuses on the organization's most pressing issues and allows for ample discussion time. Establish clear goals and objectives and minimize distractions or off-topic conversations.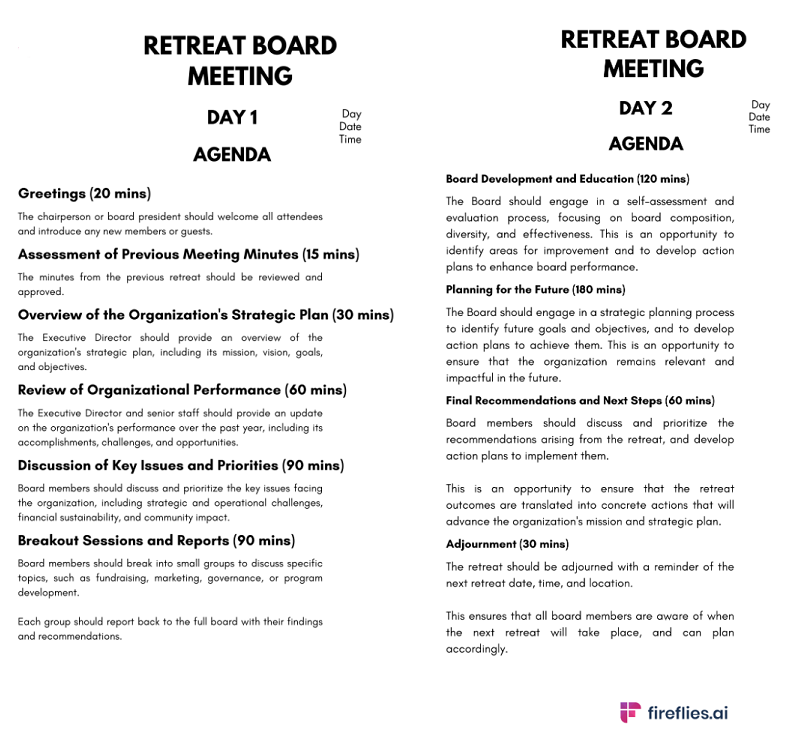 8. Annual board meeting agenda template
An annual board meeting is a gathering of a company's board of directors to discuss and make important decisions regarding the non-profit organization's overall plans, goals, and financial performance.
Attendees:
Board of directors
Key executives
Meeting Frequency:
Some helpful tips you can use for creating this non-profit meeting agenda include prioritizing important items and providing ample time for discussion for each topic.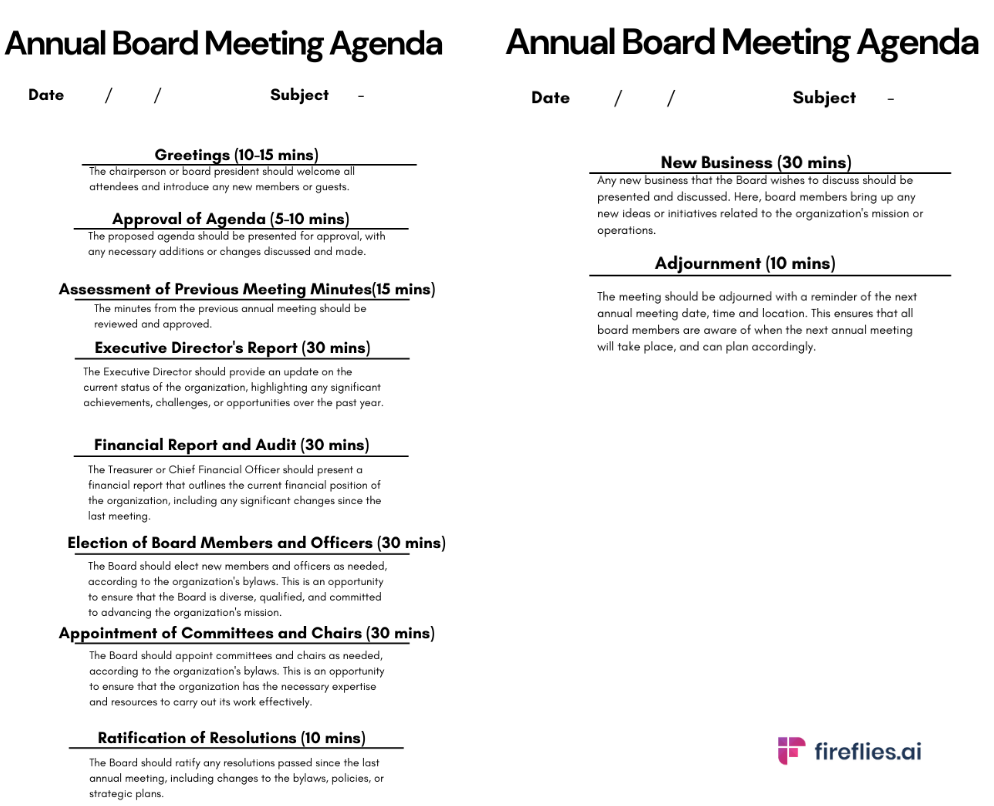 9. Funding board meeting agenda template
A funding board meeting gathers funders, stakeholders, and management to review and decide on fundraising goals and company finances.
Attendees:
Board members
Executives,
Investors or Key donors
Meeting Frequency:
A well-planned agenda that covers all key financial activities of the organizations is crucial to the success of the meeting.
Read: 19 types of organizational meetings and their importance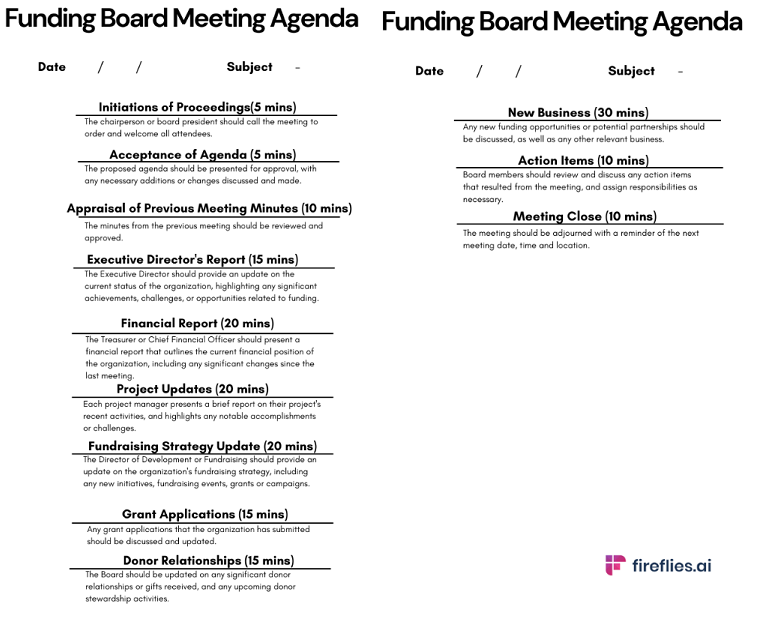 10. Emergency board meeting agenda template
An emergency board meeting is called to address urgent issues that require immediate attention from the board of directors.
Attendees:
Meeting Frequency:
The length of the meeting may vary depending on the issue's complexity. When writing an agenda for this meeting, ensure you give ample time to understand the scope of the problem and discuss solutions. For this type of meeting, take efficient notes and record key decisions.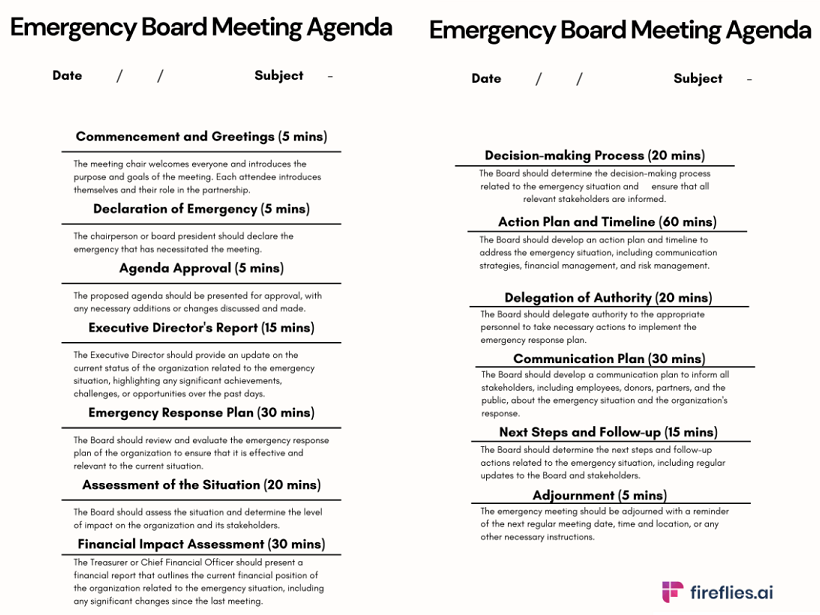 Final note,
Now that you have templates, you can easily streamline meetings, stay on track, and save time. But it shouldn't end here.
Once the meeting is over, share the meeting notes with your fellow attendees and other stakeholders. This helps record key points discussed during the meeting, ensure everyone's on the same page, and eases follow-up on action items assigned during the meeting.
But actively participating in the meeting and taking notes in parallel is challenging. That's where Fireflies comes in.
Fireflies is an AI notetaker app that acts as your virtual assistant during meetings. It automatically records, transcribes, summarizes, and analyses your meetings.
Additionally, it also offers a chatbot, AskFred, which can answer any question you have about what went down during the meeting. Instead of reading an entire transcript, simply ask AskFred and get the answer you need in just seconds.