Podcast transcription services providers: the unsung heroes of the podcasting world!
They tirelessly convert spoken words into written treasures, enabling accessibility, expanding audience reach, and enhancing the impact of every podcast. However, finding the right service from the vast sea of options isn't easy.
In this blog, we've done the heavy lifting for you and compiled a list of the 10 best podcast transcription services available today.
Dive in and discover the one that fits your needs and budget best!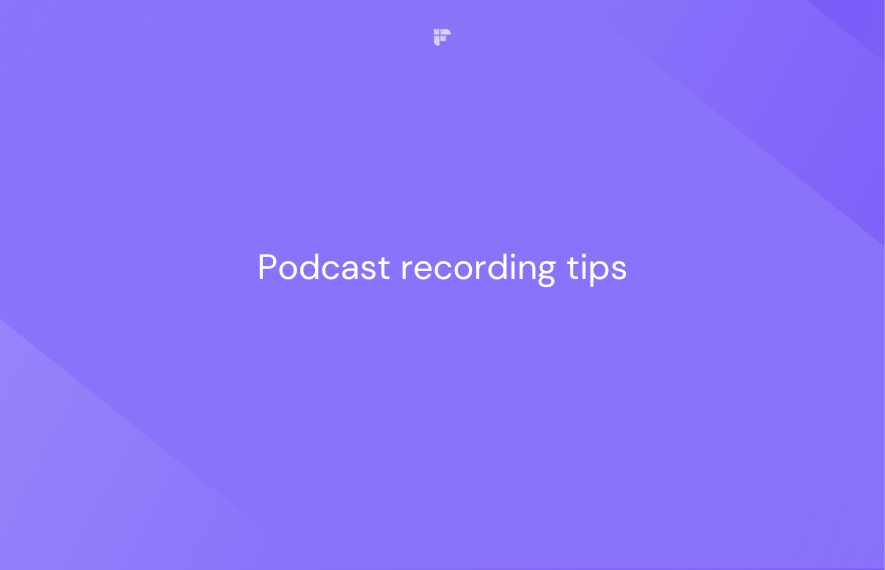 What are podcast transcription services?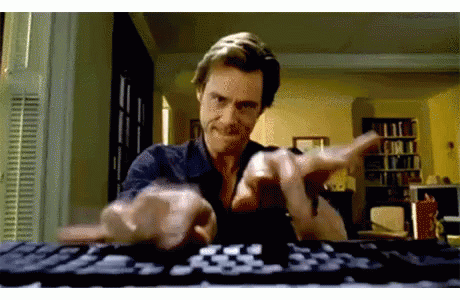 Podcast transcription services are specialized solutions that convert the spoken audio content from podcasts into written text.
These services use advanced technology, such as automatic speech recognition (ASR) systems, and sometimes human expertise to transcribe audio accurately. The resulting transcripts capture the dialogue, discussions, and other audio elements of the podcast episode, providing a written version that can be used for various purposes.
You can use transcriptions to increase accessibility, improve SEO scores, create show notes, enhance user experience, facilitate easy translation, and more.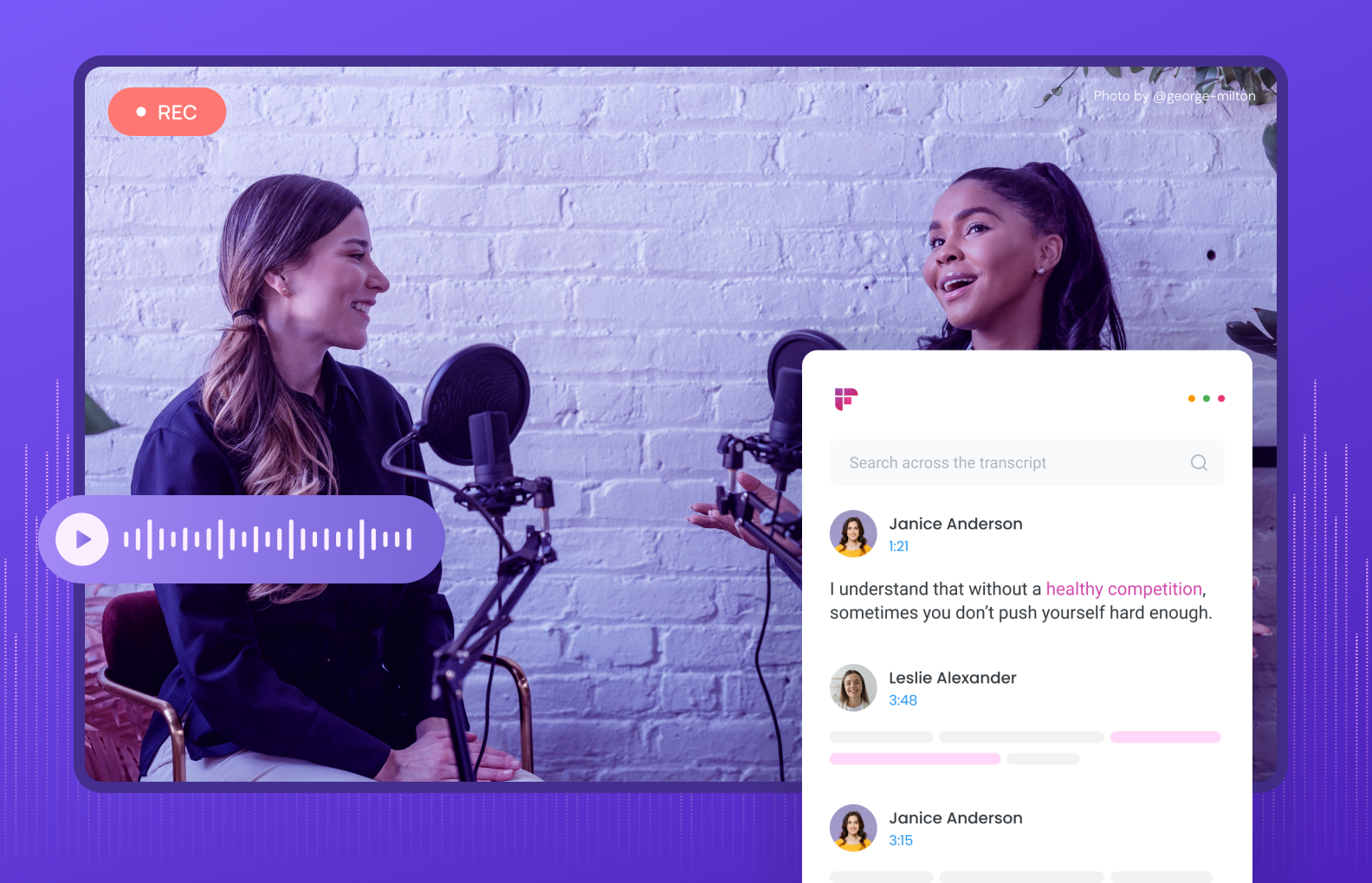 10 best podcast transcription services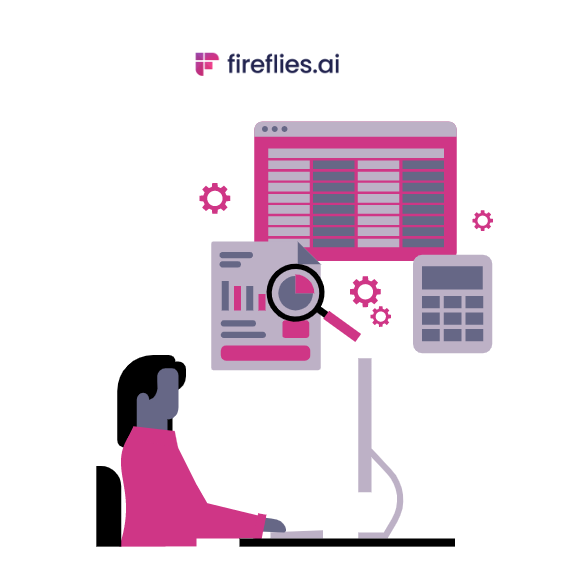 Davis Phinney Foundation achieved a 15% increase in organic traffic to their website by adding transcripts to their podcasts.
Even when the benefits are evident, creators tend to skip this step, considering the task laborious and expensive—manually typing every spoken word, pricey professional transcribers, costly tools, etc.
Here are the 10 best podcast transcription services you can use instead:
Fireflies.ai
Sonix
Temi
Trint
Audext
GoTranscript
TranscriptionStar
Happy Scribe
TranscribeMe
Scribie.ai
For ease, let's divide these tools based on their technology.
🤫
Fun fact:
According to a recent report by
Demandsage
, there are over 5 million podcasts with 700 million episodes today.
AI-based podcast transcription services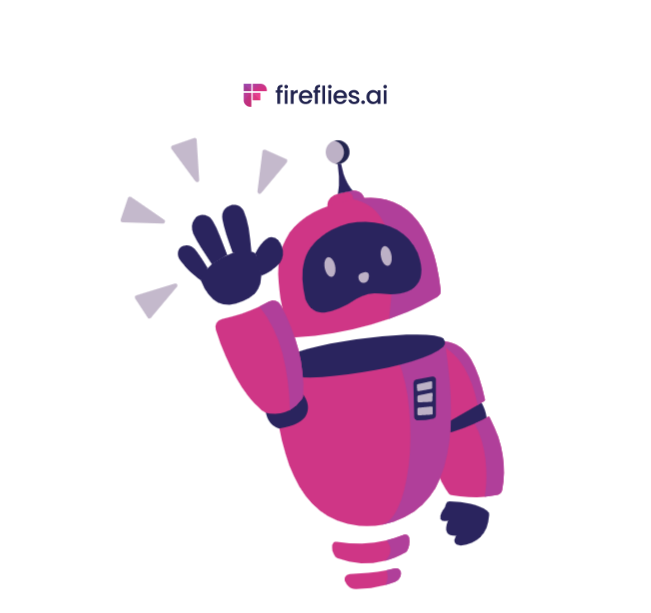 According to Debatrix, an average person speaks 140 words per minute. Creating transcripts by manually typing each spoken word is tedious and time-consuming.
Here are 5 AI-powered podcast transcription services that can transcribe a podcast in minutes:
Fireflies.ai
Sonix
Temi
Trint
Audext
1. Fireflies.ai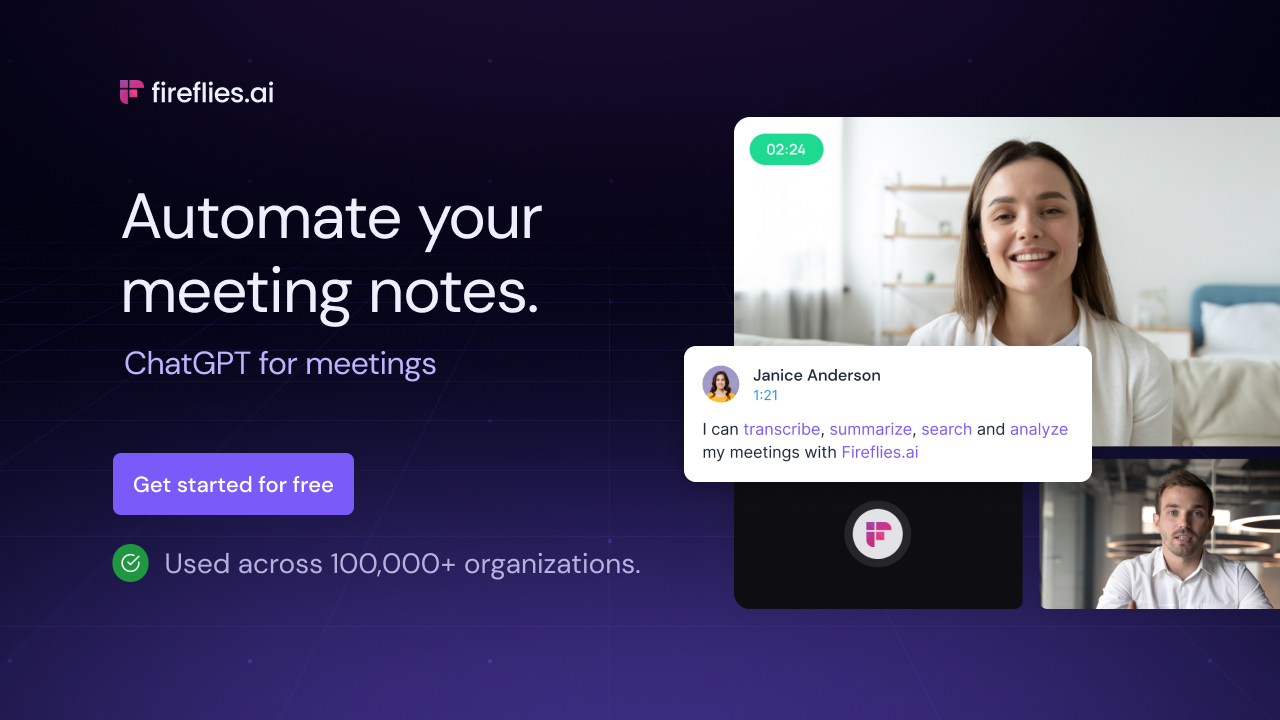 Fireflies is an AI notetaker that records, transcribes, summarizes, and analyzes online conversations with 90%+ accuracy.
If you're conducting an online podcast on a video conferencing platform, invite Fireflies to join the conversation as a silent attendee. The bot will automatically record, transcribe and summarize the episode within just a few minutes after the podcast is complete.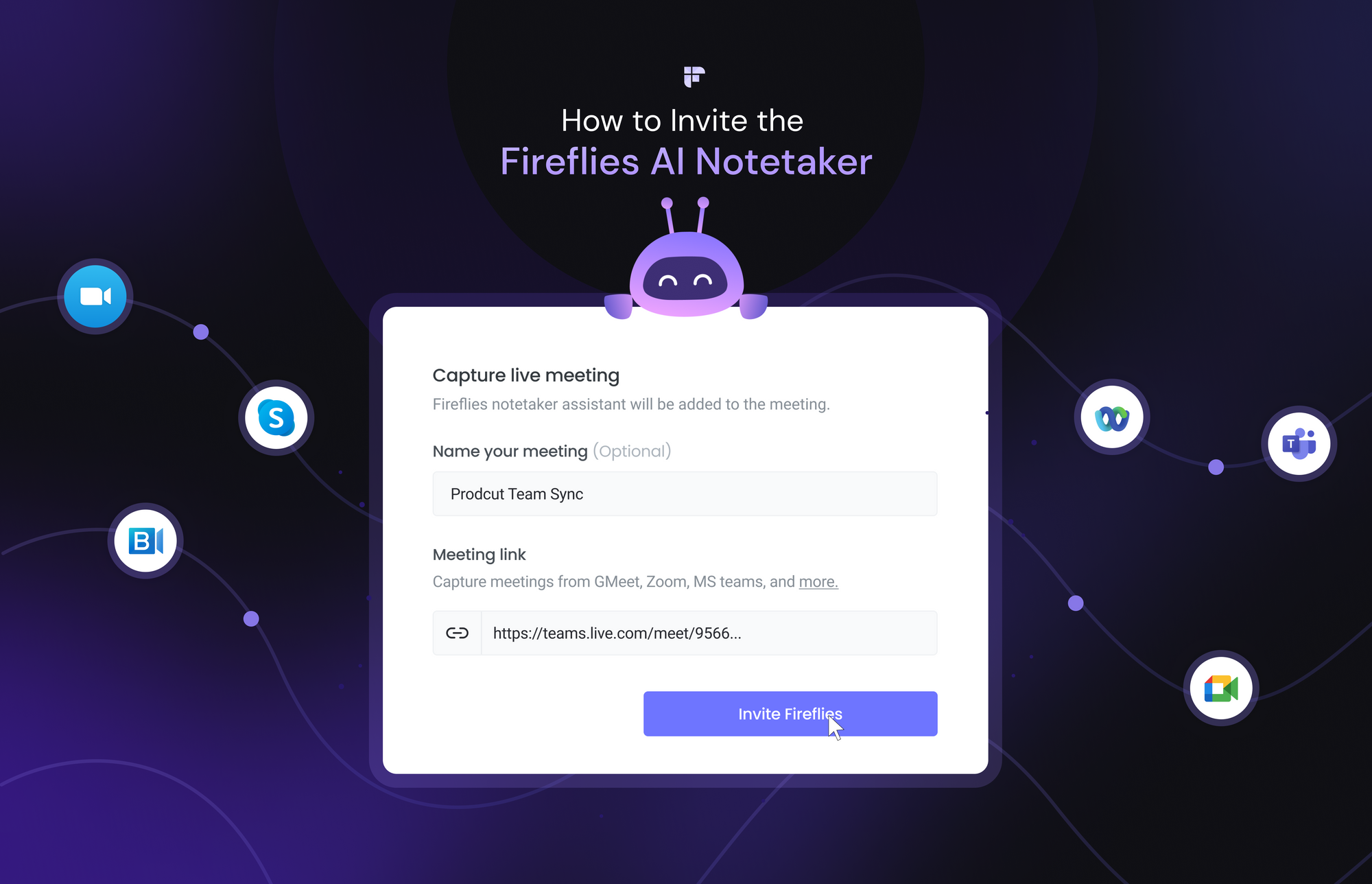 Alternatively, upload the video or audio recording of the podcast into Fireflies using the  Upload option. It will automatically transcribe the file in minutes.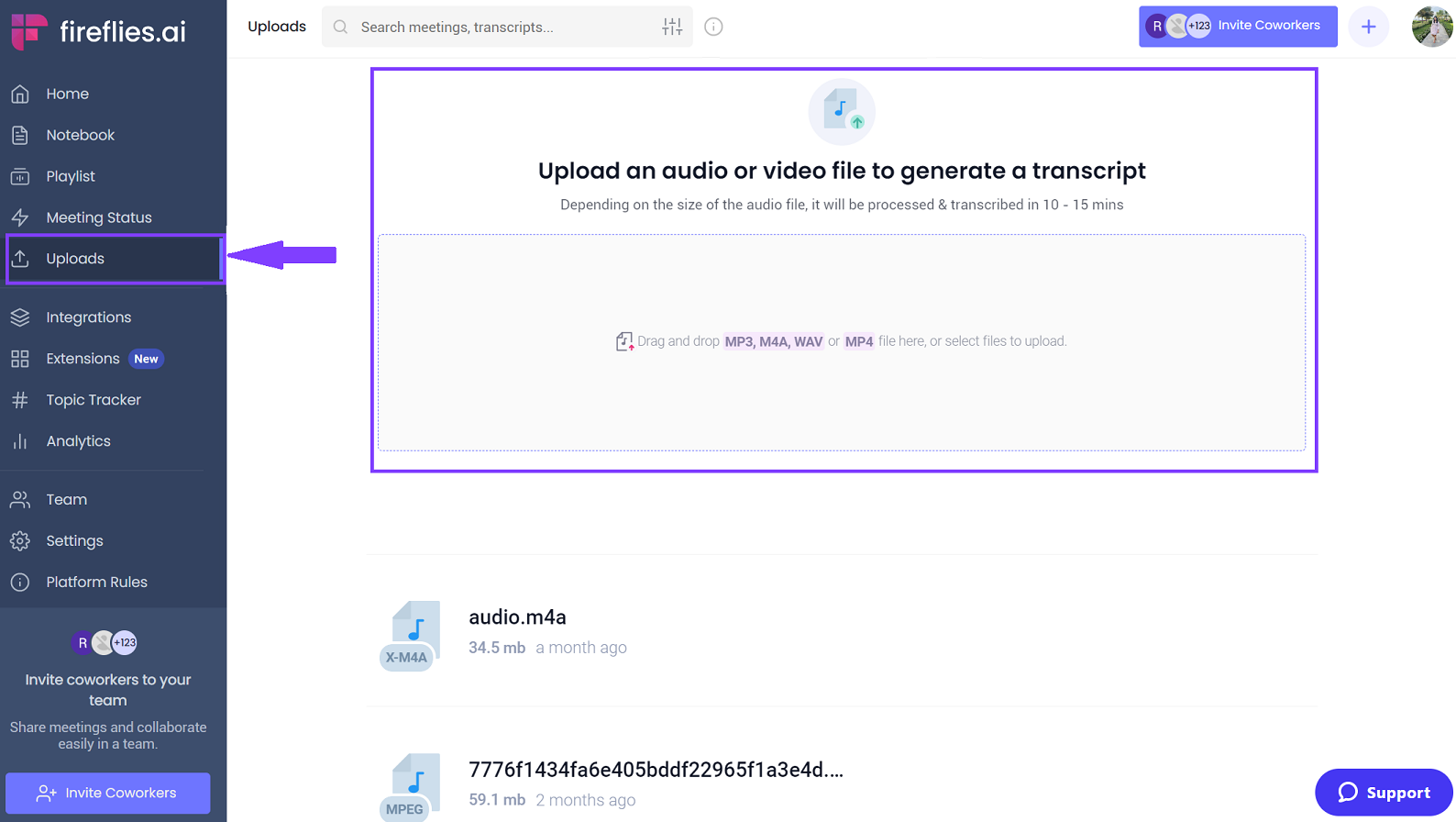 You can find the transcription of your recordings or uploads in the Fireflies Notebook.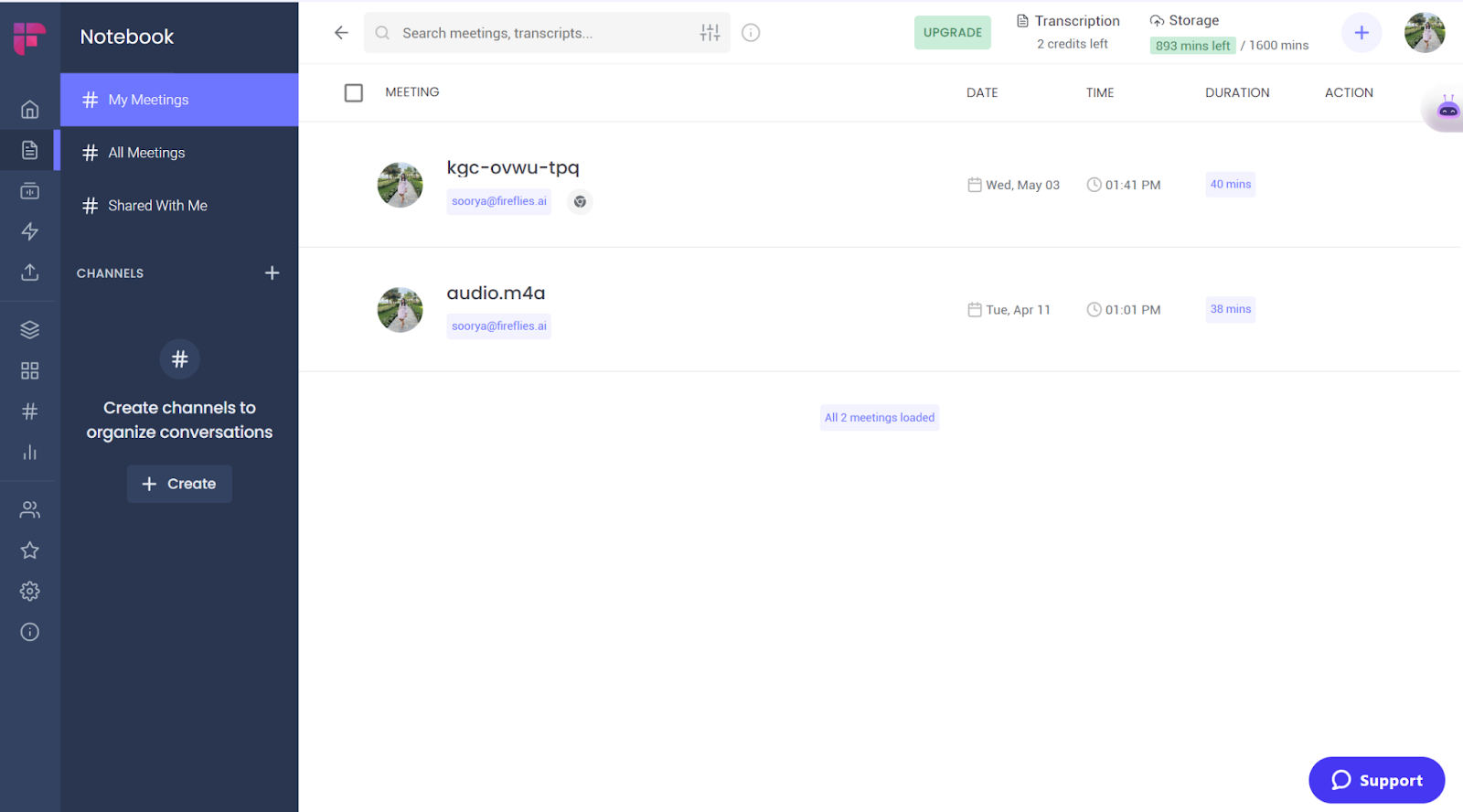 You can also use Fireflies to transcribe interviews, meetings, voice memos, and other conversations besides podcasts.
Pros
Generates 90% accurate transcripts in minutes
Download the transcript in 5 formats—PDF, DOCX, SRT, CSV, or JSON
Advanced smart search capabilities to find any information shared during a conversation within seconds
Offers multi-language transcription in 32 languages and 3 English accents
Allows you to control the playback speed in 5 levels—1x, 1.25x, 1.5x, 1.75x, and 2x
Lets you create sharable soundbites from the highlights of the conversation
Enables you to create a collection of soundbites in a single space from multiple conversations with the Playlist feature
In-app text editor for reviewing and editing transcripts. Various collaboration features like threads—annotate the transcript and leave markers on the transcript with pins and likes
Timestamps and speaker identification
Allows you to add a custom dictionary and vocabulary
Offers a chatbot, AskFred, that brings the power of ChatGPT into meetings and answers any questions you have about the conversation. It can also automatically develop other forms of content, like social media posts, emails, blog posts, etc., from your conversations
Integrates with around 50 popular apps, including storage and collaboration apps like Dropbox, Slack, and Box
Highest security standards. Your transcripts are end-to-end encrypted at rest and in transit. Fireflies is also SOC 2 Type 2 and GDPR compliant
Cons
Does not provide live captioning.
No in-built translation support.
Pricing
Fireflies offers a free plan that gives you a storage of 800 minutes and up to 3 transcription credits (if you sign up from your official email).  
Fireflies also offer a 7-day free trial to their Business Plan, the highest subscription tier. Sign up to get access to all its premium features for free.
For unlimited transcription credits, subscribe to the paid plan that starts from $10/seat/month.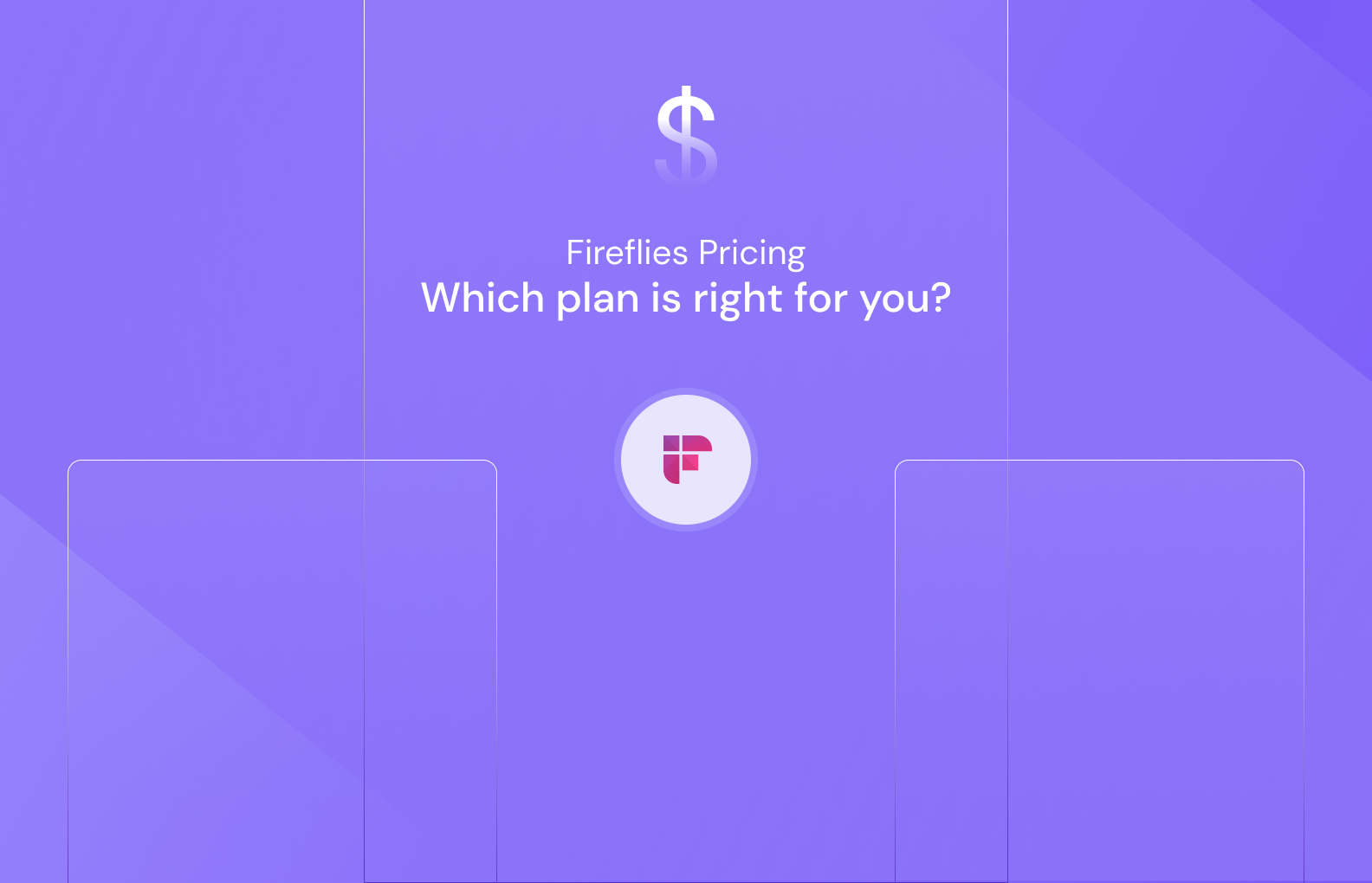 2. Sonix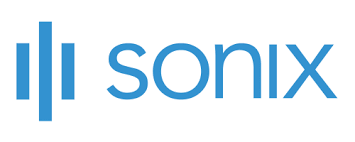 Sonix is another AI tool that offers podcast transcription services. Like Fireflies, Sonix also generates good-quality podcast transcripts within just a few minutes.
Simply upload your podcast file to Sonix, edit the generated podcast transcript if needed, and download the finished transcript in any desired format.
The platform is user-friendly and intuitive.
Pros
Automated transcription using artificial intelligence.
Supports transcription and translation in 40+ languages.
Allows you to add a custom dictionary and vocabulary.
Download transcripts in 5 formats—DOCX, TXT, PDF, SRT, and VTT.
In-app text editor for reviewing and editing transcripts.
Timestamps and speaker identification.
Enables you to upload and combine multiple files into one transcript.
Cons
Does not support multiple accents.
No real-time transcription.
Pricing
Sonix offers a pay-as-you-go plan that starts at $10/hour. Its premium subscription plan starts from $22/seat/month.
3. Temi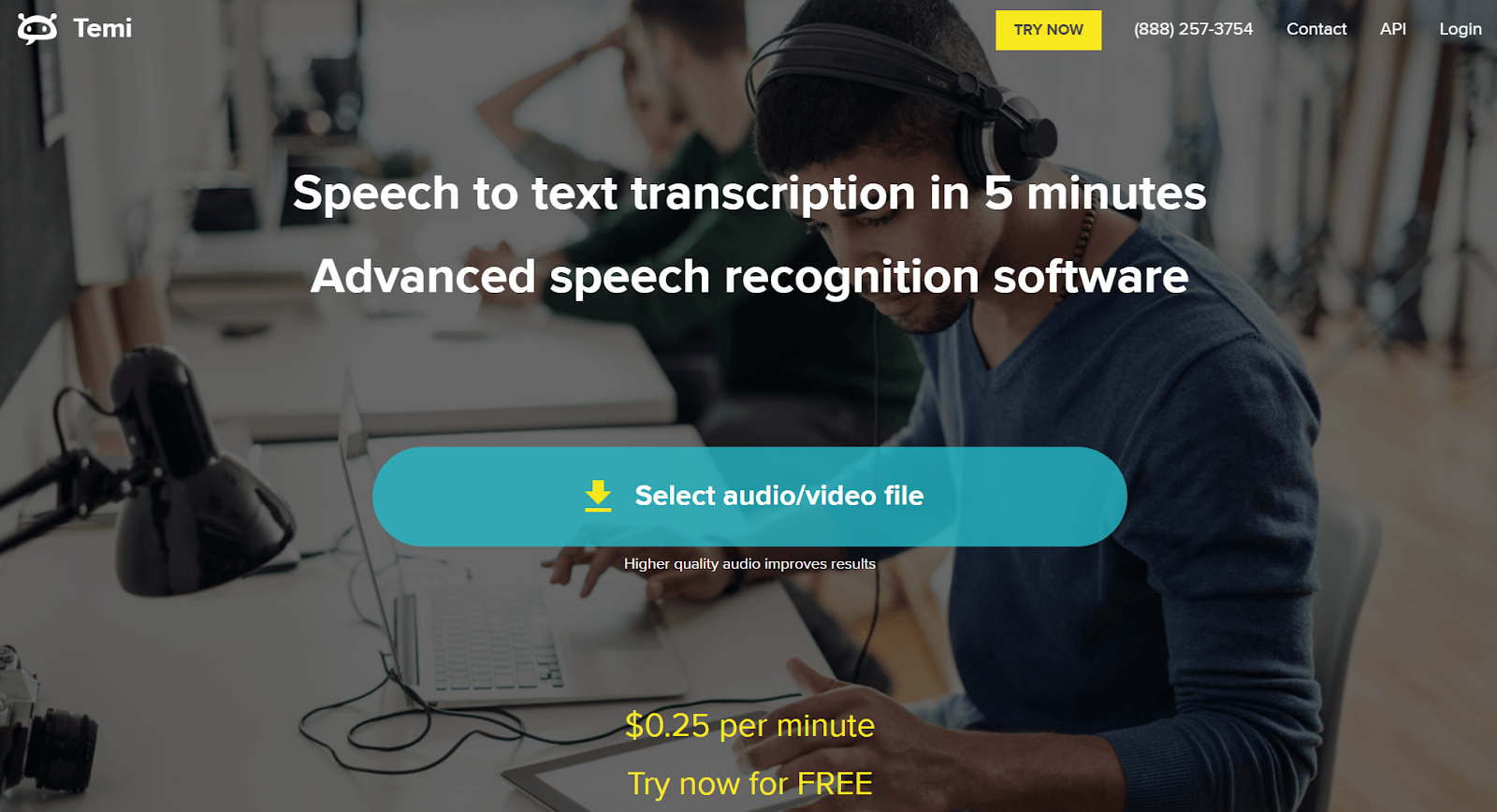 Temi is recognized among the podcast transcript generator tools for the speed at which it delivers the transcript to its users.
Simply upload your podcast audio/video file to Temi, and the software will generate a quality transcript in under 5 minutes.
Pros
Generate quality transcripts within 5 minutes.
Offers transcripts with timestamps and speaker labels.
Supports transcription in 4 languages—English, Chinese, Japanese, and Deutsch.
Provides an easy-to-use in-app transcript editor.
Allows you to export transcripts in multiple formats (TXT, DOCX, PDF, etc.).
Recognizes multiple accents and dialects.
Cons
Does not provide transcription services for live videos.
No team collaboration space.
Limited features and integrations.
Pricing
Temi provides free service for 1 file under 45 minutes. For additional transcription, Temi charges $0.25 per minute.
4. Trint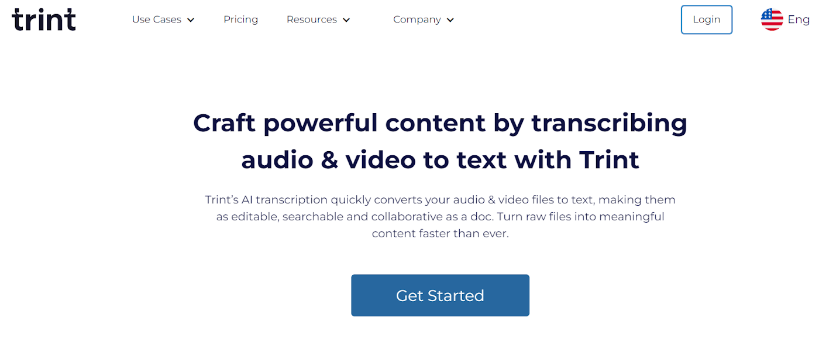 Trint is another AI-powered podcast transcription service that helps you create podcast transcripts that are editable, searchable, and collaborative as a Google Doc.
Upload your podcast recording to the Trint Upload section and click transcribe. The tool will generate accurate transcripts in just minutes.
Features
Supports transcription in 30+ languages.
Identifies speakers automatically.
Allows you to add custom vocabulary.
It seamlessly integrates with Zapier, Zoom, and Adobe Premiere.
Highly secure—ISO-certified security.
Provides powerful, accurate, and time-coded in-built search facilities.
Pricing
Trint offers a pay-as-you-go plan that charges $15/hour. The paid plan starts at $40/month.
5. Audext

Audext uses advanced AI algorithms to provide fast and reliable automatic podcast transcription services.
Open Audext in your browser, upload the file, transcribe speech to text, edit the result online, and save it in DOCX or TXT format.
Pros
Provides both manual and automated transcription options.
Offers transcription services in 60+ languages.
99% accurate manual transcripts, even with unclear audio.
Supports files in multiple formats—MP3, M4A, WAV, etc.
Cons
Guarantees only 80% accuracy for AI-generated transcripts, less than its competitors.
Works slowly with large files.
Pricing
Audext charges $5/hour for automatic transcription.
Human-based podcast transcription services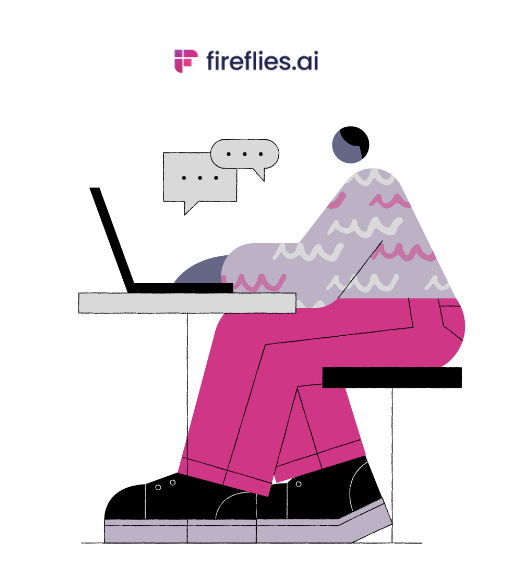 While automated transcription methods have their merits, human-generated transcription services offer an extra layer of precision, linguistic expertise, and attention to detail that is invaluable for certain applications.
Here are two best podcast transcription services that offer 100% human-generated transcripts:
GoTranscript
TranscriptionStar
1. GoTranscript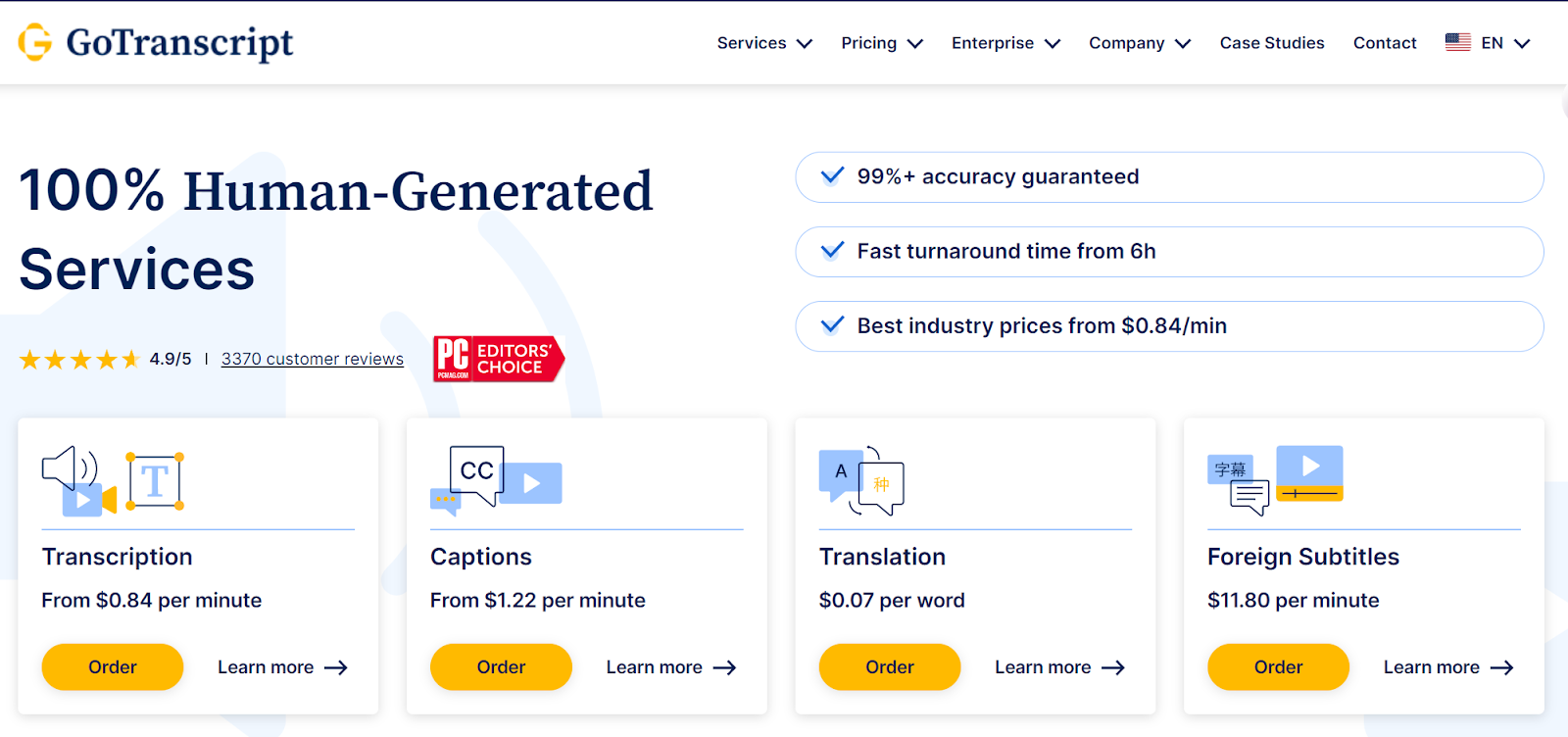 Gotranscript is a web-based transcription and translation company that offers 100% human-generated business transcription services.
It has a global team of professional transcriptionists who can handle different languages, accents, formats, and quality levels.
Pros
Guaranteed 99% accuracy.
Highly secure and confidential.
Fast turnaround time—6 hours.
Speaker identification and timestamps.
Dedicated customer support.
Free transcript editing and proofreading.
Offers transcript translations in different languages.
Cons
No free trial or money-back guarantee.
Limited control over the transcript.
Pricing
GoTranscript charges $0.84/minute for their transcription services.
2. TranscriptionStar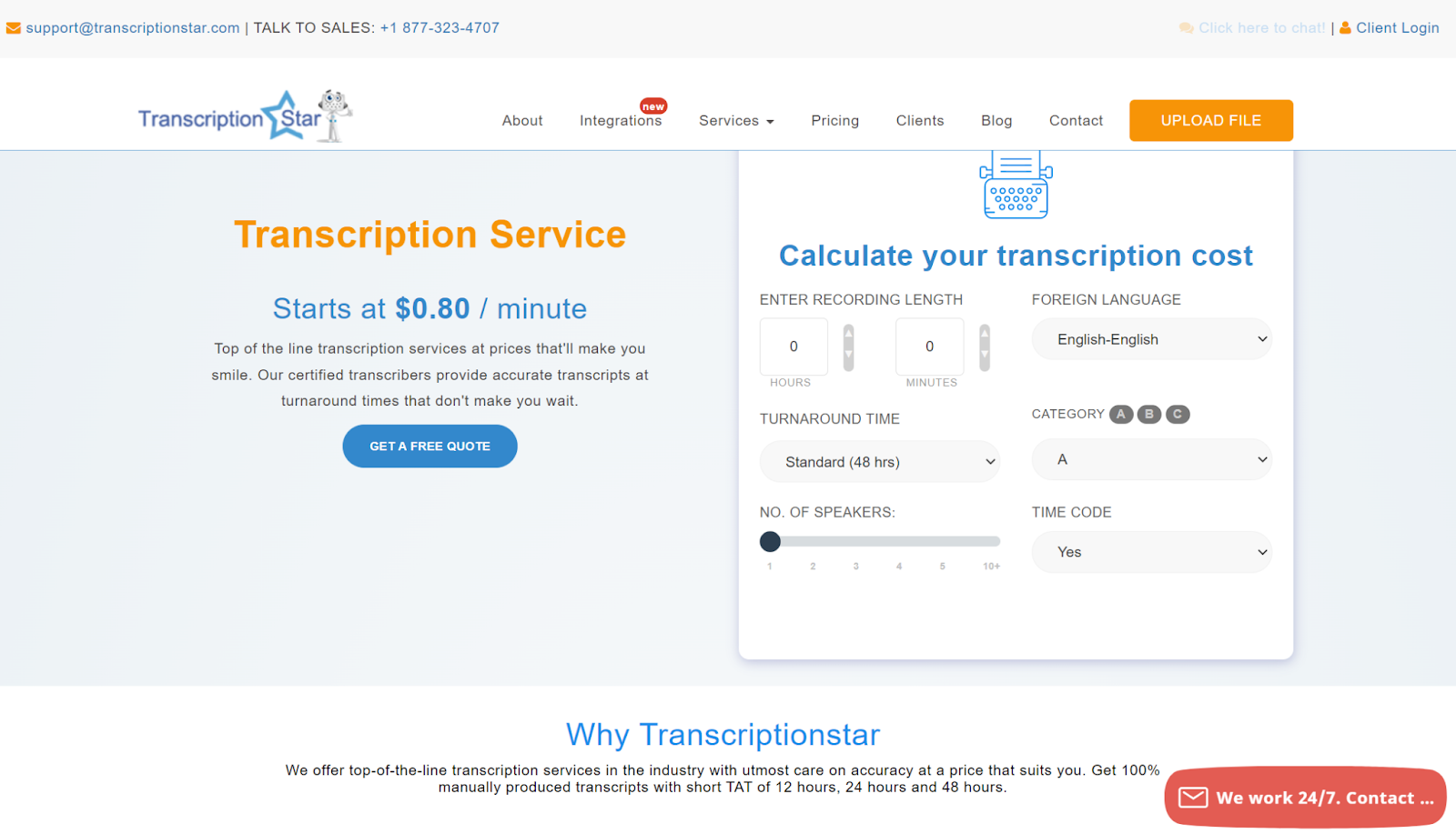 TranscriptionStar is another podcast transcription service that delivers 100% manually produced transcripts.
Upload your podcast recording to the platform and expect the transcript to be ready in 24 to 48 hours.
Pros
100% manually produced transcription.
Fastest turnaround time—12 to 48 hours.
Guarantees the highest accuracy with multiple quality checks.
HIPAA compliant.
Allows you to estimate the cost of transcription beforehand.
24/7 customer support.
Allows you to track the status of transcription in real time.
Cons
Does not provide live-captioning services.
Does not allow you to edit the transcription within the app.
Pricing
Offers four different plans whose pricing ranges from $0.75/minute to $2.50.
Hybrid podcast transcription services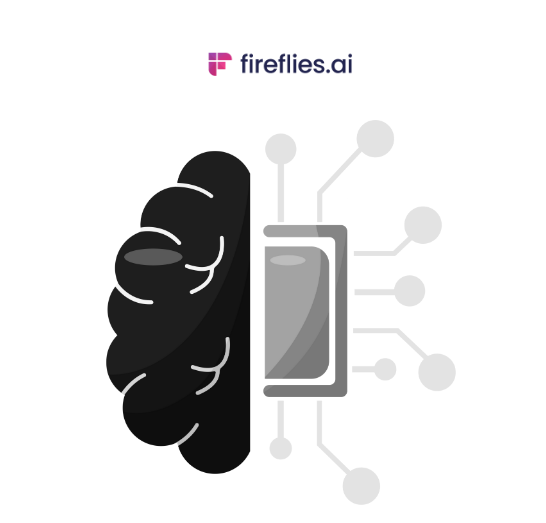 Hybrid podcast transcription services offer the best of both worlds by combining automated technology with human expertise. They provide fast and cost-effective transcriptions while ensuring accuracy, contextual understanding, and quality control.
Here are the three best podcast transcription services you can use to get the speed of automation and the precision of human review:
Happy Scribe
TranscribeMe
Scribie.ai
1. Happy Scribe

Happy Scribe is a comprehensive podcast transcription platform providing automated and human transcription services.
Submit your podcast recording file or URL to the Happy Scribe team. They will quickly transcribe it with the in-house AI tool. Once done, professional transcribers will review it to ensure accuracy and send the final revised transcription.
You can also use their in-app transcription editor to transcribe the podcast by yourself manually.
Pros
Generates an 85% accurate transcript in 5 minutes with AI-powered transcription software.
Guaranteed accuracy of 99% for human transcription services.
Supports over 60+ languages.
In-app transcript editor with timestamps.
Speaker identification.
Export transcripts in 11 formats, including .txt, .srt, and .doc.
Seamlessly integrates with Zapier, Zoom, and more.
Cons
No playback controls
No live customer support
Pricing
Happy Scribe charges $0.20/min for automated transcription and $1.95/min for human transcription.
2. TranscribeMe
TranscribeMe offers a hybrid model transcription service that combines AI technology and human transcribers to create quality transcripts in minimum time.
Upload your audio or video file to TranscribeMe and place an order for its transcript. The TranscribeMe team will generate an accurate transcript for your file and deliver it to you as early as the next day.
Pros
Generates 98% accurate transcripts with time stamps
Provides transcription services for multiple languages
Offers enterprise-level security features
HIPAA compliant
Offers speaker identification
Provides 24/7 customer support
Cons
Does not provide direct access to their AI transcription tool
Turnaround time is higher compared to fully automated transcription software tools
Pricing
Pricing ranges from $0.79 to $2.00 per minute, depending on the scope of work.
3. Scribie.ai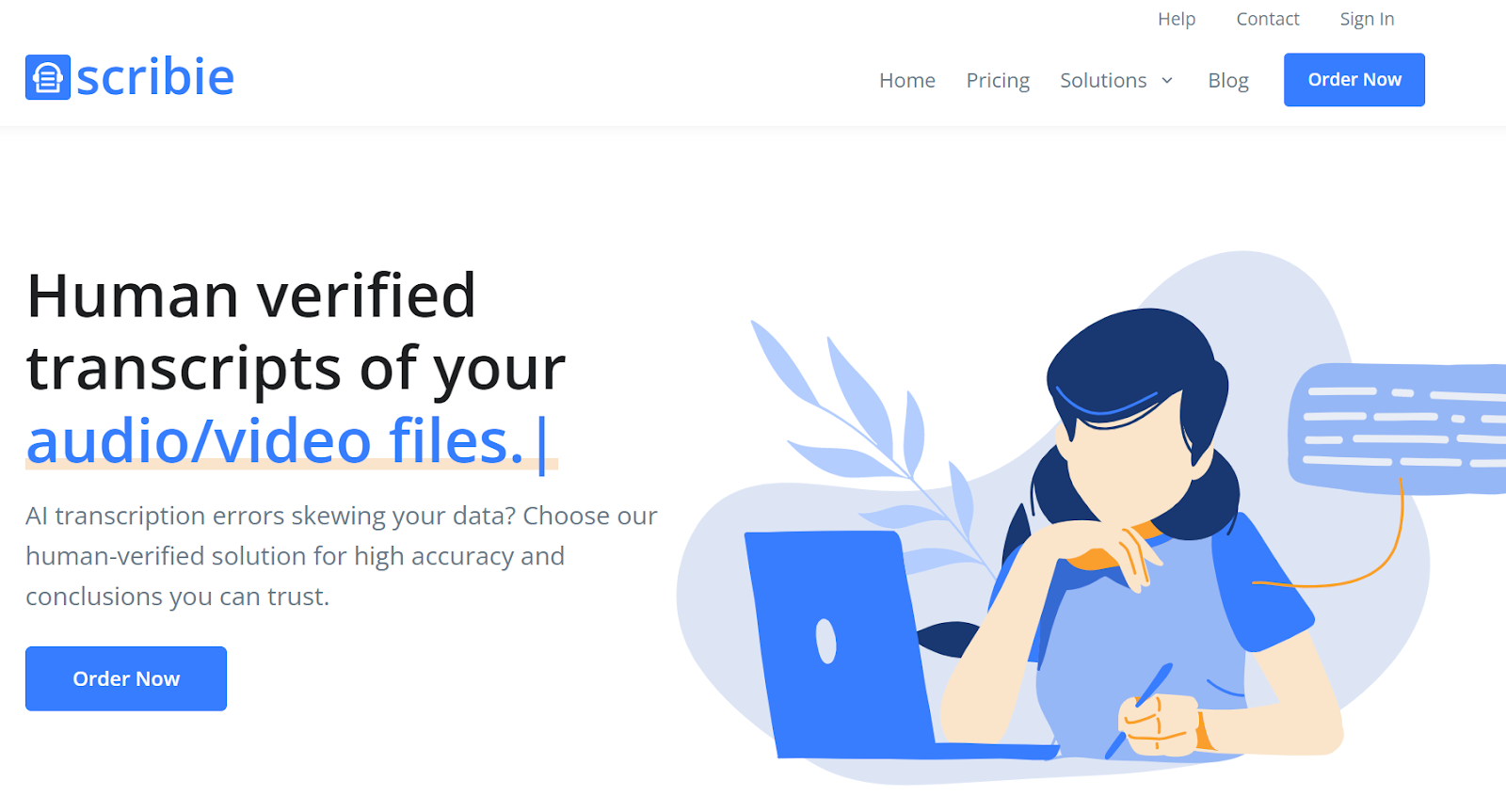 Scribie is one of the podcast transcription services that combines AI technology and human services to deliver accurate transcripts. They offer 100% accurate transcripts and free re-reviews to ensure quality.
Click order now and upload your file to get an accurate transcription.
Pros
Guaranteed 100% accurate transcripts.
Provides transcription services in 39+ languages.
Easy-to-use in-app transcript editor.
Free re-reviews to ensure quality.
You can download transcripts in several formats—DOCX, PDF, SRT, VTT, etc.
Cons
Does not have a user-friendly interface.
Not a good option to transcribe confidential files as they use freelance transcribers to proof and edit transcripts.
Pricing
Scribie charges $0.10/min for automated transcription.
Wrapping up,
There it is, the 10 best podcast transcription services that make converting audio to text a breeze.
While Fireflies, Sonix, and Temi use AI technology to generate high-quality transcripts in minutes, TranscriptionStar leverages the expertise of professional transcribers, and TranscribeMe strives to bring the best of both worlds.
On top of transcriptions, tools like Fireflies also offer advanced features like conversation intelligence, chatbot assistance for content repurposing, soundbites, and more.
Choose the service that suits you best from these ten, and let your podcast soar to new heights. Happy transcribing!