Fireflies.ai and Read.ai offer an impressive suite of features, making the choice between them somewhat challenging. We present a detailed comparison of Fireflies vs. Read.ai to assist you in this decision.
We'll stack them up across key categories like:
Transcription and accuracy
Recording capabilities
Privacy and security
Comprehensive meeting summaries
Meeting analytics
Collaboration features
Integrations
Pricing
Fireflies.ai vs. Read.ai: Overview
Here's an overview highlighting some standout capabilities of Fireflies.ai and Read.ai:
Fireflies
Read.ai
Transcription
Transcription accuracy
Over 90%
Undisclosed
Download transcripts
✅

DOCX, PDF, SRT, CSV, JSON

✅

.txt only

Edit transcripts
✅
✅
Share transcripts
✅
✅
Search across transcripts or past meetings
✅
✅
Multilingual transcription
✅
✅

2 languages only (English and Spanish)

Speaker identification
✅
✅
Transcribe uploaded files
✅

Unlimited on paid plans

✅

Max 300min/month

Customize bot name
✅
✅ Only to 4 presets
Record meeting video
✅
✅
Privacy and security
End-to-end encryption
✅
Undisclosed
Admin access controls
✅
✅
Private storage
✅
❌
HIPAA compliant
✅
❌
SOC 2 Type II and GDPR compliant
✅
✅
AI meeting summaries and notes
Meeting summaries
✅
✅
ChatGPT-like AI meeting assistant
✅
❌
Customizable summaries
✅
❌
Meeting analytics
Conversation intelligence
✅
✅
Meeting collaboration
AI filters to search transcripts
✅
❌
Sentiment filters
✅
✅
Track custom topics
✅
❌
Pin transcript sections
✅
❌
Leave time-stamped comments
✅
❌
Create manual audio snippets
✅
❌
AI-generated audio snippets
✅
✅
Organize audio snippets
✅
❌
Organize recorded meetings
Channels
✅
❌
Integrations
Conferencing platforms
✅

8 platforms supported

✅

4 platforms supported

CRMs
✅
Hubspot, Freshsales, Salesforce, +7 more
❌
Dialers
✅

Aircall, RingCentral +3 more

❌
Storage
✅

Dropbox, Onedrive, and Box

❌
Project Management
✅

Asana, Clickup + 2 more

❌
Collaboration
✅
Slack, Microsoft Teams, and Workspace
✅
Only Slack
Custom API
✅

Fireflies API, Zapier

✅ Zapier
Chrome extension
Record Google Meetings
✅
❌
Summarize web pages
✅
❌
Summarize YouTube videos
✅
❌
Suggests best time for meetings
❌
✅
Mobile App
Record offline conversations
✅
❌
Pricing
Free tier
✅
✅
Price
Starts at $10/month
Starts at $15/month
Free trial
✅
✅
At first glance, both tools check the boxes for core features like transcription, recording, summaries, and analytics. However, Fireflies checks a few more beyond the basic needs of transcription. Let's dive deeper.
Why Choose Fireflies.ai over Read.ai?
Transcription accuracy
Fireflies' transcripts are over 90% accurate. Its speech-to-text tech accurately captures speaker labels, questions, decisions, and other details.
Read.ai states that their transcription is highly accurate. So, we gave both tools a try. And here are the results:
Read.ai's transcripts are solid but occasionally fall short in areas like punctuation, catching names, and minor errors. The lapses are infrequent, but they are there.
Furthermore, Fireflies lets you download your transcripts in 5 different formats, including SRT, for those keen on adding subtitles to videos. Read.ai, on the other hand, only offers a .txt format.
Language support
In a world where companies are rapidly expanding their global footprint and embracing diversity, the ability to communicate seamlessly in multiple languages has become not just a luxury but a necessity. As highlighted in a McKinsey & Company report, diverse companies are 33% more likely to outperform their peers on profitability.
As teams within organizations become more multinational in makeup, the ability to effortlessly transcribe calls and meetings in native languages removes friction and ensures no data is lost.
Fireflies supports 60+ languages, including Portuguese, Spanish, French, Arabic, German, Dutch, and Italian.
Read.ai currently supports only two languages - English and Spanish.
For global teams, Fireflies has a clear edge with its multilingual capabilities.
Recording capabilities
1. Conferencing platform support
Choosing the right transcription tool often comes down to compatibility with video conferencing platforms. Fireflies extends its support to eight popular platforms, including:
Zoom
Google Meet
Microsoft Teams
Webex
GoToMeeting
Skype
Lifesize
Dialpad
Read.ai currently supports only:
Zoom
Google Meet
Microsoft Teams
Webex
While both tools capably capture audio and video, Fireflies gains an edge with its broader compatibility range. This ensures users can transition between various conferencing tools effortlessly without compromising their transcription needs.
1. Chrome extension
Fireflies and Read.ai both offer Chrome extensions to augment the meeting experience. But, their use cases and capabilities are different.
Fireflies lets you record and transcribe Google Meet sessions without prior scheduling or sending out invites, making ad hoc meetings a breeze. Further, it grants access to the Fireflies Notebook, an organized space with all your past recordings.
And, taking utility up another notch, Fireflies extends its transcription prowess to summarizing web content like web pages, articles, or video content from platforms like YouTube, Loom, and Soapbox with AskFred for Web, a ChatGPT-like chatbot.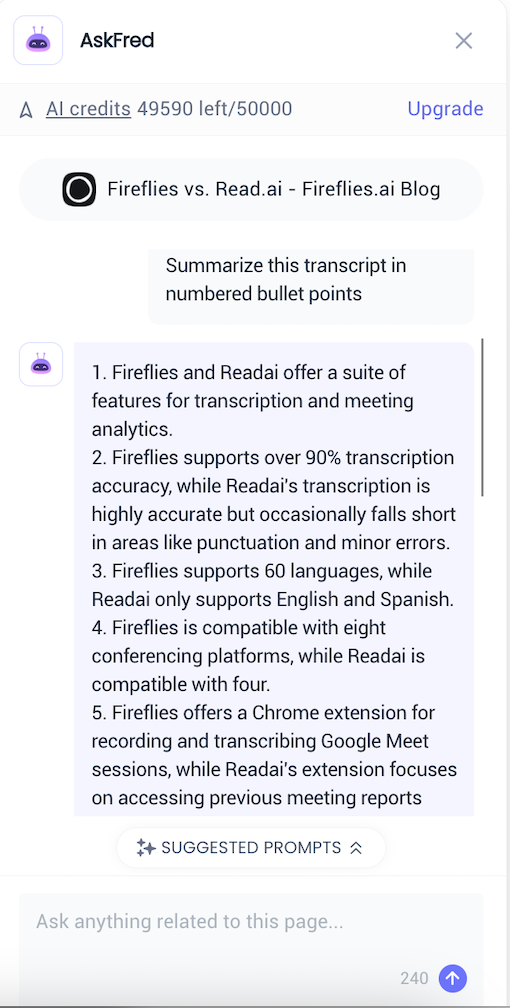 Here's the full AskFred summary:
✍️
1. Fireflies and Readai offer a suite of features for transcription and meeting analytics.
2. Fireflies supports over 90% transcription accuracy, while Readai's transcription is highly accurate but occasionally falls short in areas like punctuation and minor errors.
3. Fireflies supports 60 languages, while Readai only supports English and Spanish.
4. Fireflies is compatible with eight conferencing platforms, while Readai is compatible with four.
5. Fireflies offers a Chrome extension for recording and transcribing Google Meet sessions, while Readai's extension focuses on accessing previous meeting reports and calendars.
6. Fireflies has a dedicated mobile notetaking app, while Readai does not.
7. Fireflies provides AI Super Summaries that can be tailored to individual preferences, allowing users to modify each section and generate meeting intel the way they want.
8. Fireflies has a ChatGPT-like meeting assistant called AskFred, which can provide human-like responses and generate follow-up content based on meeting transcripts.
9. Readai offers meeting analytics and topic tracking, while Fireflies offers deeper topic insights and conversation intelligence metrics that can be filtered.
10. Fireflies allows users to create audio snippets manually, using keywords, or with AI, while Readai only offers automated clips.
11. Fireflies allows users to organize soundbites into playlists, while Readai does not have this feature.
12. Fireflies offers customizable channels for organizing meeting transcripts, while Readai has a single chronological transcript repository.
13. Fireflies integrates with over 40 apps, while Readai offers integrations with select platforms.
14. Fireflies starts at $10/month, making it budget-friendly for small teams, while Readai's Pro plan starts at $15/month.
15. Fireflies offers a more advanced and adaptable virtual assistant, while Readai provides straightforward transcription without customization options.
On the other side, Read.ai's extension takes a different approach. Instead of recording capabilities, it lets you access previous meeting reports and calendars. Its standout feature, though, is its intelligent scheduling. The extension can deduce common meeting times by cross-referencing the schedules of all team members.
These extensions reflect the priorities of each platform: Fireflies leans towards transcription and summarization, while Read.ai focuses on optimizing team coordination.
1. Mobile app
Fireflies takes the lead in mobile utility with its dedicated mobile note-taking app. This app is invaluable for recording and transcribing offline conversations, ensuring you never miss a discussion, even when you're out of the office. Adding to this, it provides a quick solution for voice memos, transcribing them with precision.
Fireflies mobile app can detect multiple speakers in offline recordings and assign speaker labels to each (Speaker 1, Speaker 2).
Furthermore, the Fireflies mobile app allows you to access full meeting transcripts conveniently on mobile devices.
In stark contrast, Read.ai doesn't have a mobile app, limiting accessibility and flexibility for on-the-go users.
The differentiation is clear: Fireflies addresses the evolving needs of the mobile workforce, while Read.ai might be leaving a segment of users wanting.
Privacy & security
Meeting data is sensitive, and choosing a platform that takes security seriously is important.Here's how Fireflies and Read.ai compare on data security:
Fireflies neither trains on user data nor shares it with any third party. Read.ai does, if permitted.
Fireflies uses end-to-end encryption in both rest and transit. On the other hand, Read.ai doesn't have end-to-end encryption.
Both platforms are GDPR and SOC 2 Type II compliant.
Fireflies also has a HIPAA-compliant version, so even healthcare and related companies can use it.
Fireflies also provides private storage options as an add-on for enterprises that want full control over their data.
Fireflies offers Single Sign-On (SSO) for better access security and reduced IT operations expense and complexity.
Overall, Fireflies instills greater confidence with its array of compliance certifications, solid track record, and granular data controls, making it a safer pick.
💡

Migrate to Fireflies Now

Switch to Fireflies from Read.ai or any other notetaker! We'll help you securely migrate your data. Fill out this form to provide your details, and our team will reach out to you.
Actionable meeting insights
1. Customizable AI summaries
Both Fireflies and Read.ai generate AI summaries highlighting important discussion points, keywords, decisions, action items, and more.
While both summaries are comprehensive and give a nice gist of the meeting, Fireflies' language is more crisp and specific, with less filler sentences.
Fireflies sets itself apart with its AI Super Summaries that can be tailored to individual preferences.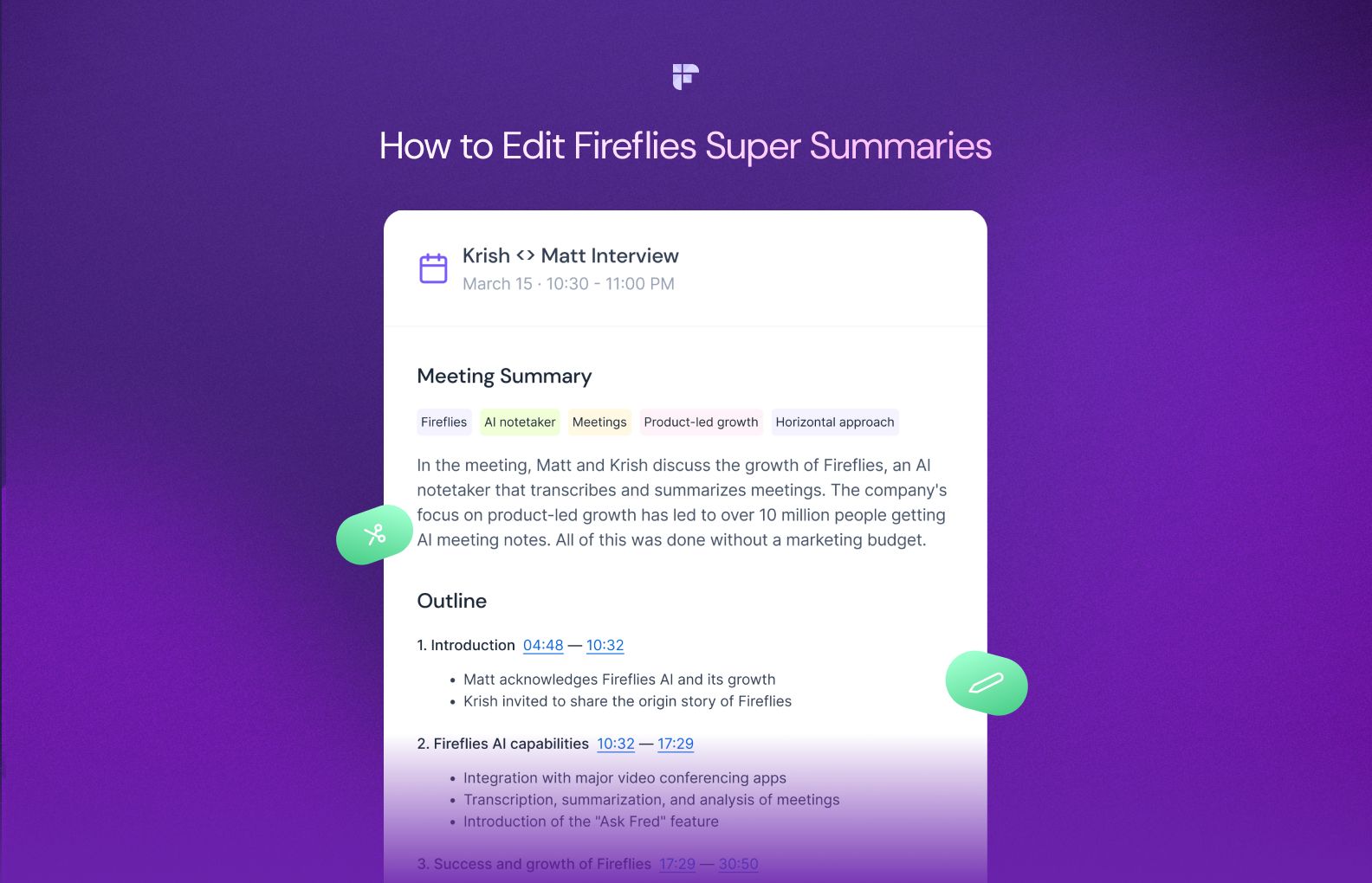 AI Super Summaries are structured into 5 comprehensive sections - keywords, meeting overview, meeting outline, action items, and meeting notes. You can customize each section and generate meeting intel the way you want.
To illustrate, let's delve into the Action Items summary. By default, it might produce a summary like this:
However, the adaptability of Fireflies lets you tweak the output. For this example, we've used the prompt "List tasks in priority order and include due dates and assigned owners for each task." Below is the new output:
Additionally, for enhanced precision, you can change the language model powering each section to GPT Advanced or GPT Advanced Large at the cost of AI credits.
In essence, Fireflies summaries can adapt so you aren't shoehorned into a generic summary mold.
💡
Pro tip: You can disable/enable any of the 5 AI Super Summaries sections with
AI Apps
.
2. ChatGPT-style meeting assistant
Fireflies pulls ahead of Read.ai by augmenting meetings with AskFred, a ChatGPT-like conversational chatbot.
AskFred can look at what was said in a meeting and provide human-like responses. You can ask any meeting-related questions like "What were the key takeaways?" and AskFred will respond accordingly.
You can even use it to generate follow-up emails, tweets, blogs, and other content based on the meeting transcript. So, instead of you writing everything, AskFred can do it for you.
Moreover, you can use the existing prompts in AskFred or the prompts library to extract essential meeting insights. Automate these prompts to run for every meeting and save time.
Read.ai, on the other hand, doesn't offer such advanced features.
Meeting analytics
Read.ai divides its analytics into two parts - Meeting Analytics and Coaching.
With Meeting Analytics, Read.ai gives you scores to see how good the meeting was in terms of quality, how involved people were, the general mood, and whether it started on time.
For coaching, it checks things like how fast you talk, if you're using too many filler words like "um" and "uh", non-inclusive terms, bias, etc.
On the other hand, Fireflies Conversation Intelligence gives you a deep look into how your meetings are going with metrics like:
Talk to listen ratio
Number of conversations
Total and average time spent in meetings
Average words spoken per minute
Number of questions asked
Filler words used by participants
Sentiment ratio of the conversation
These metrics help managers pinpoint exactly where reps excel or need help. While both platforms give you analytics, Fireflies has deeper insights and functionalities.
Fireflies lets you filter these analytics by title, duration, type, and internal or external meetings. Additionally, it allows you to create and track custom topics.
For example, you want to monitor key subjects like pricing, objection handling, competitors, or product features. When you define these topics, Fireflies will give you an overview of how often these topics were mentioned across how many meetings.
You can click on these topics to jump to those conversations to gain more context.
So, if you create a topic for "pricing," Fireflies will pinpoint every discussion about pricing across all your meetings. You can use this to ensure your team is aligned and handle pricing conversations effectively.
Custom topic tracking gives you a powerful way to focus on critical subjects. And with robust filters, you can uncover deep insights from your meeting analytics data.
Ultimately, selecting the right platform boils down to your business's specific analytics and customization requirements. While both options have their merits, Fireflies offers a distinct advantage over Read.ai when it comes to in-depth topic insights and conversation intelligence metrics that you can filter as you like.
Managers using Fireflies get actionable insights that can significantly enhance meeting efficacy and overall communication.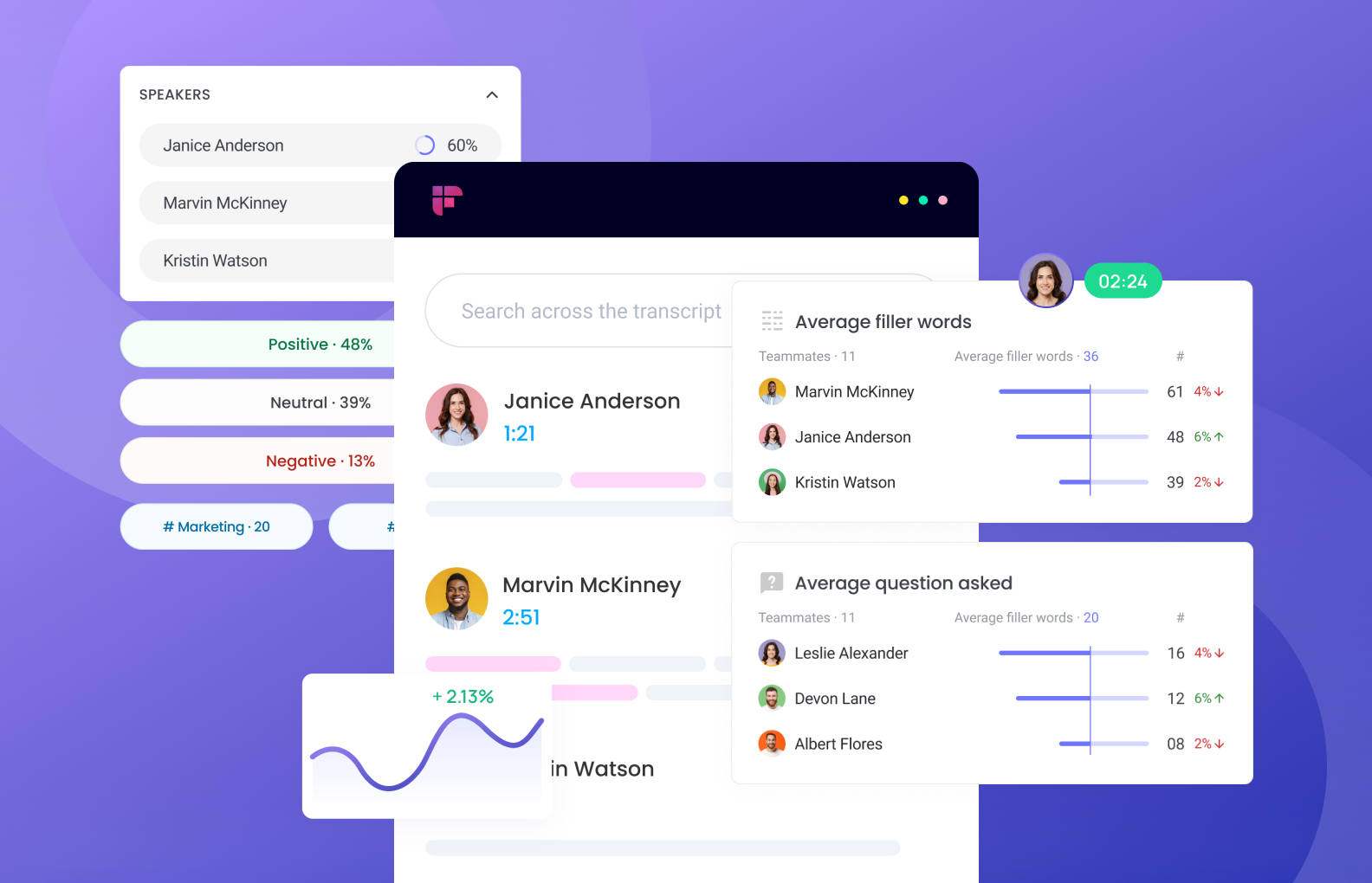 Collaboration features
1. Audio snippets
When it comes to clipping key moments from meetings, Fireflies provides more flexibility than Read.ai.
Fireflies users can create Soundbites in three ways:
Highlighting transcript text manually
Using keywords
Magic Soundbites with AI
The choice is yours: craft it with precision or let the AI work its magic. Whether you prefer direct sharing via a link or downloading, Fireflies puts the control firmly in your hands.
On the flip side, Read.ai's Highlights are fully automated clips. It doesn't allow users to manually pick audio, tweak the clips, or craft new Highlights. Your sharing option? Only copying the link.
Additionally, Fireflies enables organizing Soundbites into Playlists to curate collections around topics, customers, decisions, etc.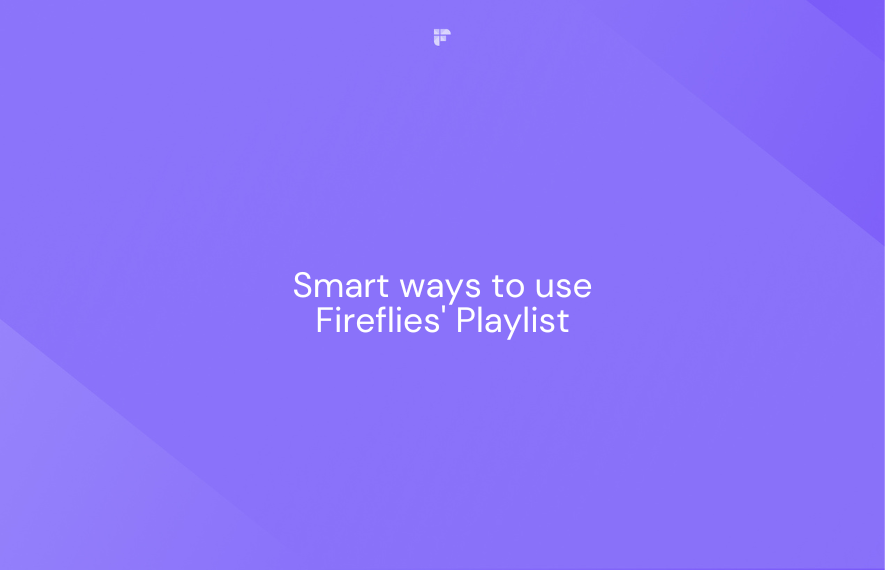 2. Searchable knowledge base
Both Fireflies and Read.ai save your meeting transcripts into a searchable database.
Fireflies lets you group related meetings into customizable Channels for easy access later. Read.ai offers a single chronological transcript repository and limited sorting options via meeting tags.
The search functionality is comparable between the two platforms. You can search the full transcript database to find specific text.
In essence, while both platforms archive meeting transcripts, Fireflies excels at organization with Channels.
3. Automate workflows
Integrations determine how easily meeting insights flow into your team's workflows.
Fireflies connects with over 40 apps like Salesforce, Hubspot, Freshsales, Aircall, Slack, and Notion.
For example, you can:
Automatically log meeting notes and summaries under your CRM contacts, eliminating manual data entry.
Create tasks in project management tools like Monday and Trello with voice commands.
Automatically share meeting notes to your preferred Slack channel.
Read.ai currently offers only three integrations: Webhook, Zapier, and Slack.
It is possible to integrate more apps through Read.ai's Zapier integration, but that process is time-consuming and involves several manual steps.
With more out-of-the-box integrations and custom API options, Fireflies significantly streamlines and enhances the automation of your team's workflows.
Flexible pricing
When evaluating meeting assistants, cost inevitably plays a major role. So, how do Fireflies and Read.ai price out?
Short answer - Fireflies is slightly more affordable than Read.ai.
Fireflies has 4 plans:
Free
Pro - $10/month/seat, billed annually
Business - $19/month/seat, billed annually
Enterprise - Custom pricing
Read.ai also has 4 plans:
Free
Pro - $15/month/license, billed annually
Enterprise - $22.50/month/license, billed annually
Enterprise+ - $29.75/month/license, billed annually
Notably, both platforms provide a 7-day free trial of their Business and Enterprise plan to experience full functionality before subscribing.
Bottom line - Fireflies' $10/month starting price makes it very budget-friendly for small teams. Read.ai's Pro plan starts at a higher $15.
The Verdict
In the face-off between Fireflies and Read.ai, who's decoding the nuances of your meetings?
While Read.ai provides straightforward transcription, its simplicity comes at the cost of customization. You take what the AI gives rather than tailoring it to your needs.
In contrast, Fireflies offers an advanced yet adaptable virtual assistant. You obtain robust security, multi-language support, customizable summaries, conversation analytics, seamless integrations, and budget-friendly pricing.
Now that you know the key distinctions, you can choose the AI meeting assistant that aligns with you.
We have no doubt which one truly makes meetings take flight.