Are you looking for a free Avoma alternative? If so, you're not alone. While Avoma is a great tool for meeting transcription and sales enablement, it can be expensive.

If you're on a tight budget, or if you just don't need all of Avoma's features, there are a number of great alternatives available.

In this blog post, we'll dive into seven free Avoma alternatives that you need to know about. These tools not only offer top-notch meeting transcription but also supercharge your sales enablement process.

So, let's get started and explore these powerful tools that can take your business communication and collaboration to the next level.

Here are 6 Top Avoma alternatives:

1. Fireflies.ai
2. Fathom
3. Descript
4. Otter
5. Airgram
6. tl;dv
6 Top Avoma alternatives
Ready to check out some of the best Avoma alternatives available today? Let's dive in.
Fireflies is a powerful AI meeting assistant that allows you to record, transcribe, summarize, and analyze all your online meetings. Through its automated and accurate transcriptions, this tool provides teams with valuable and actionable meeting insights.

With Fireflies, sales teams can effortlessly collaborate, analyze sales calls using conversation intelligence, perform sales coaching and onboarding, and keep track of conversations.

Fireflies isn't limited to sales teams, though. It can be used across all departments in your organization!

This Avoma alternative offers an all-in-one option to allow teams to accelerate their meeting and sales productivity — all without breaking the bank.
💸
Plus, if you switch to Fireflies today, we'll handle your data migration.
Just fill out the form
, and we'll take care of the rest.


Key features of Fireflies:
Records (both audio & video), transcribes and summarizes live meetings so you can extract actionable insights
Transcribes meetings in 30+ languages
Integrates with 50+ productivity apps, including video conferencing tools and dialers
Offers API for custom integrations
Enables documented and structured sales coaching through its Smart Search, Thread, and Soundbite features
Has a Chrome extension that automatically transcribes & captures Google Meet calls
Allows you to save and create best sales practices into a customized playbook
Facilitates sales onboarding, as new reps can learn from playbooks or past calls of experienced reps
Provides analytics that can improve team performance
Offers an AI Assistant "Fred" that can write post-meeting emails, reports, tweets, and blog post drafts based on meeting transcripts
🏛️
Pricing: Fireflies has a Free Forever, Pro, Business, and Enterprise plan. The Pro plan is priced at $10/user/month, while the Business plan is $19/user/month (both billed annually.) A 7-day free trial is available for the paid plans. The best Avoma alternative – Fireflies. Try it for free!
2. Fathom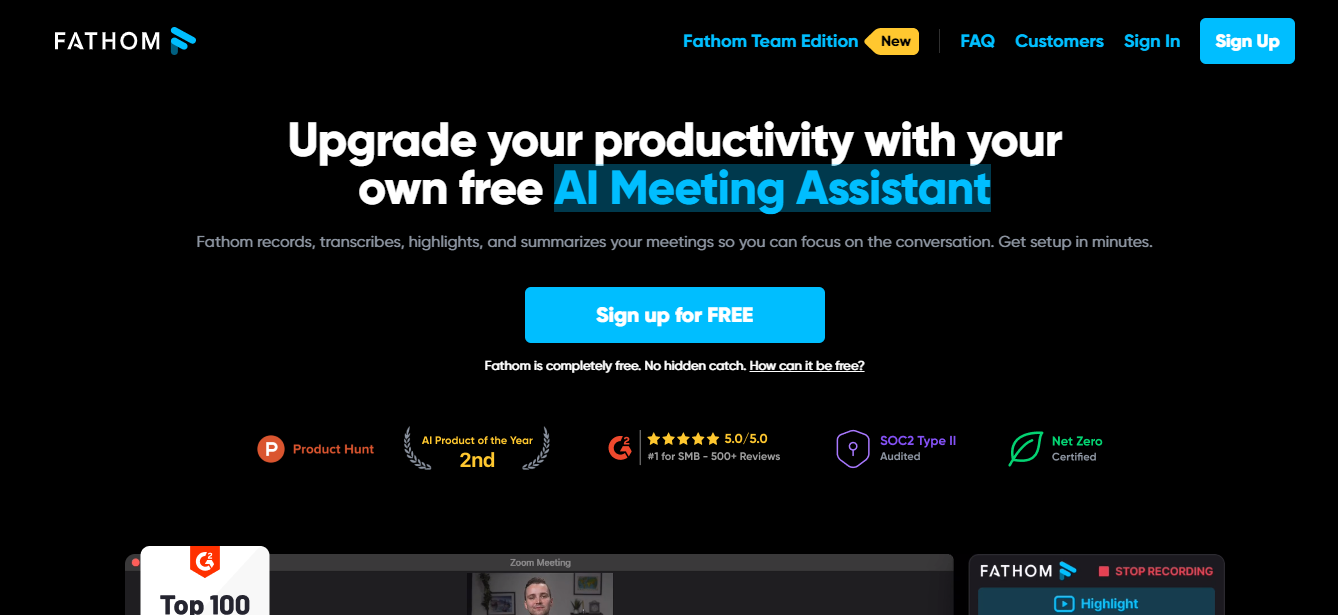 Fathom is a free meeting tool that records, transcribes, highlights and summarizes your meetings. After your meeting, this tool will automatically sync all call notes to your desired CRM.

To improve productivity, Fathom offers each team a single, organized overview of all meeting conversations with customers or prospects. Teams can also save and share highlights of significant meeting moments.

Key features of Fathom:
Supports seven languages
Automatically records, transcribes, and summarizes calls
Creates playlists of key call metrics
Offers in-meeting analytics such as meeting talk time
Allows you to share meeting highlights with clips
Integrates with CRM tools like Salesforce and Slack
Pricing: Fathom has a free and a 'Team Edition' plan. The latter plan is priced at $19 per user. A 14-day free trial is available.
3. Descript
Though not a traditional transcription tool, Descript still offers transcription, screen recording, and collaboration features that are helpful to all teams.

To ensure sales and customer success, Descript's "Quick Recorder" tool allows teams to send video messages instead of traditional emails and even enhance these videos by adding templates and other elements to make them visually appealing.

Key Features of Descript:
Records and transcribes meetings/calls
Offers transcription in 22 languages
Removes filler words like "um" from meeting transcripts
Has built-in team collaboration features like shared folders, comments, and annotations
Integrates with 30+ tools
Pricing: Descript has four plans: Free, Creator, Pro, and Enterprise.
The Creator plan is priced at $12/month (billed annually) or $15/month (billed monthly)
The Pro plan is priced at $24/month (billed annually) or $30/month (billed monthly)
The Enterprise plan has custom pricing.
4. Otter
This next Avoma alternative offers real-time automated note-taking and transcription features to enhance productivity and efficiency across all teams.

With Otter, sales professionals can highlight prospect requests, comment on team member questions, and insert images within meeting transcripts. To help businesses close deals faster, this tool provides an accurate record of customer requests and facilitates quick responses.

Key features of Otter:
Allows you to import and transcribe pre-recorded audio or video files
Automatically summarizes and captures meeting slides
Allows easy searching and retrieval of important information from meeting notes in one central location
Integration with calendar, video conferencing, and cloud software
Offers collaboration features like commenting, highlighting, and revising
Provides keyword analytics
Pricing: Otter has a Basic, Pro, Business, and Enterprise plan. The Starter plan is priced at $8.33/month when billed annually, while the Growth plan is $20/month when billed annually. A seven-day free trial is available.
5. Airgram
Airgram is an AI meeting tool that records, transcribes, summarizes, and shares all meeting conversations. This Avoma alternative allows teams to share insights, collaborate and create meeting agendas easily.

Airgram helps sales teams improve their workflow when connecting with leads, delivering pitches, and closing deals, ultimately leading to increased conversion rates.

Key features of Airgram:
Supports transcription in eight languages
Offers video and audio transcription
Integrates with platforms like Notion, Zoom, Slack, and Google Meet
Creates video clips alongside meeting transcripts
Organizes different notes with customizable tags
Extracts key information from transcripts like numbers, dates, and names
Pricing: Airgram has a Free, Pro, and Team plan. The Pro plan is priced at $8.99 monthly and the Team plan is $17.99 monthly.
6. tl;dv
tl;dv (Too Long; Didn't View) transcribes and summarizes calls with customers, prospects, and teams. With this tool, you can easily summarize key moments during meetings and create bite-sized clips from recordings.

The platform allows for keyword searches across meetings and integrates with popular collaboration platforms and CRMs like SalesForce. It also facilitates effective sales follow-ups and training of new sales employees.

Key features of tl;dv:
Automatically records and summarizes during meetings
Offers time-stamped meeting highlights
Allows you to tag stakeholders and colleagues at any point during calls
Aids onboarding of new sales reps with its timestamp feature
Transcribes in 25+ languages
Pricing: tl;dv has a Free, Pro, and Enterprise plan. The Pro plan is priced at $20 monthly (billed annually.)
Wrapping Up
In the vast landscape of meeting transcription and sales enablement tools, there are lots of free alternatives to Avoma. Each of the seven alternatives we've discussed brings its unique strengths to the table, catering to a variety of needs and preferences.

But if you're seeking a tool that combines advanced transcription features, seamless sales enablement, and a user-friendly interface, Fireflies stands out from the crowd. It not only matches Avoma's capabilities but also offers additional features like Playlists, AI Super Summaries, and a GPT-powered meeting assistant that make it a compelling choice for teams of all sizes that make it a compelling choice for teams of all sizes. Plus, all Avoma customers get their data migrated when they switch to Fireflies.

With Fireflies, you get a comprehensive solution that effectively aids in your transcription tasks and sales enablement efforts, all without straining your budget. So why wait? Give Fireflies a try today and experience the difference it can make in your meeting and sales productivity.