Meetings are essential to any business operation, and accurate note-taking is crucial for making the most out of them.
Otter.ai is a popular meeting assistant that provides real-time transcription services, which has been beneficial for businesses in the past.
However, while Otter is excellent at transcribing meetings, it lacks detailed analytics, and its interface may not be the most intuitive.
Lucky for you, there are many Otter alternatives available on the market that offer not only accurate transcriptions but also advanced analytics, user-friendly interfaces, and affordability.
8 Top Otter AI alternatives
We've included both free and paid options, so no matter what your budget is, there's an option here for you.
Fireflies.ai
Trint
Rev
Vowel
Dialpad
Airgram
tl;dv
Gong.io
1. Fireflies.ai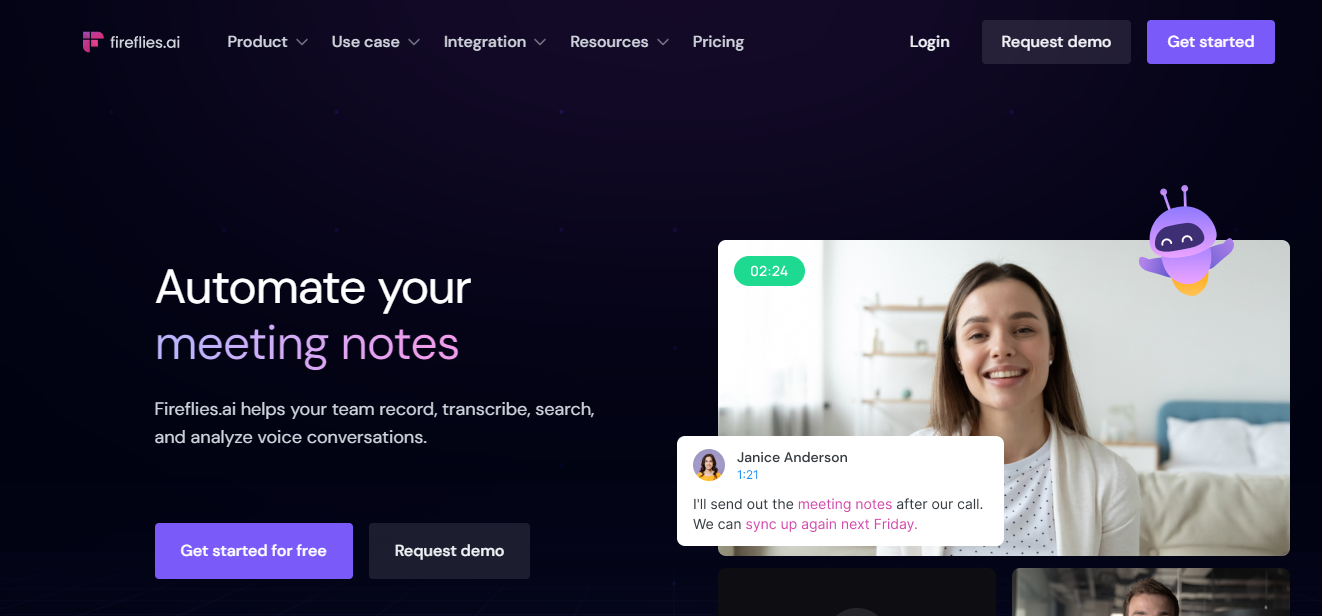 Fireflies.ai is a powerful AI meeting assistant that lets you record, transcribe, summarize, and analyze online meetings across various platforms, including video-conferencing apps and dialers.
With Fireflies, you can easily recap the minutes of a meeting without having to go through detailed notes.
The tool removes any ambiguity in note-taking and transcription with 90% accuracy, leaving you with a solid plan and action points.
It allows for seamless integration with over 50 business applications, dialers, and video conferencing tools which is a lot more than you'll find on Otter. From Salesforce or Zoho to Slack, or Notion, you can push your meeting minutes, tasks, and action items for your team automatically on the platform of your choice.
That's not all! The tool also gives you the freedom to create your integrations using its API.
It also allows you to collaborate with your co-workers, analyze meetings using conversation intelligence, automate workflows, and create a real-time knowledge base for your team.
💸
Plus, if you switch to Fireflies today, we'll handle your data migration.
Just fill out the form
, and we'll take care of the rest.
Key features of Fireflies.ai:
Record, transcribe, summarize, and analyze live meetings
Transcription in 30+ languages
Easy integration with 50+ productivity apps, video conferencing, and dialers
API for custom integrations
Chrome extension to automatically transcribe and capture Google Meet calls
Smart Search for keywords, themes, and topic searches
Soundbites for easy sharing and reference
Analytics to unlock knowledge, study insights, and improve team performance
💡
Pricing: Fireflies has a Free Forever, Pro, Business, and Enterprise plan. The Pro plan is priced at $10/user/month, while the Business plan is $19/user/month (both billed annually.) A 7-day free trial is available for the paid plans.
Related: Fireflies Pricing: Which Plan is Right For You?
2. Trint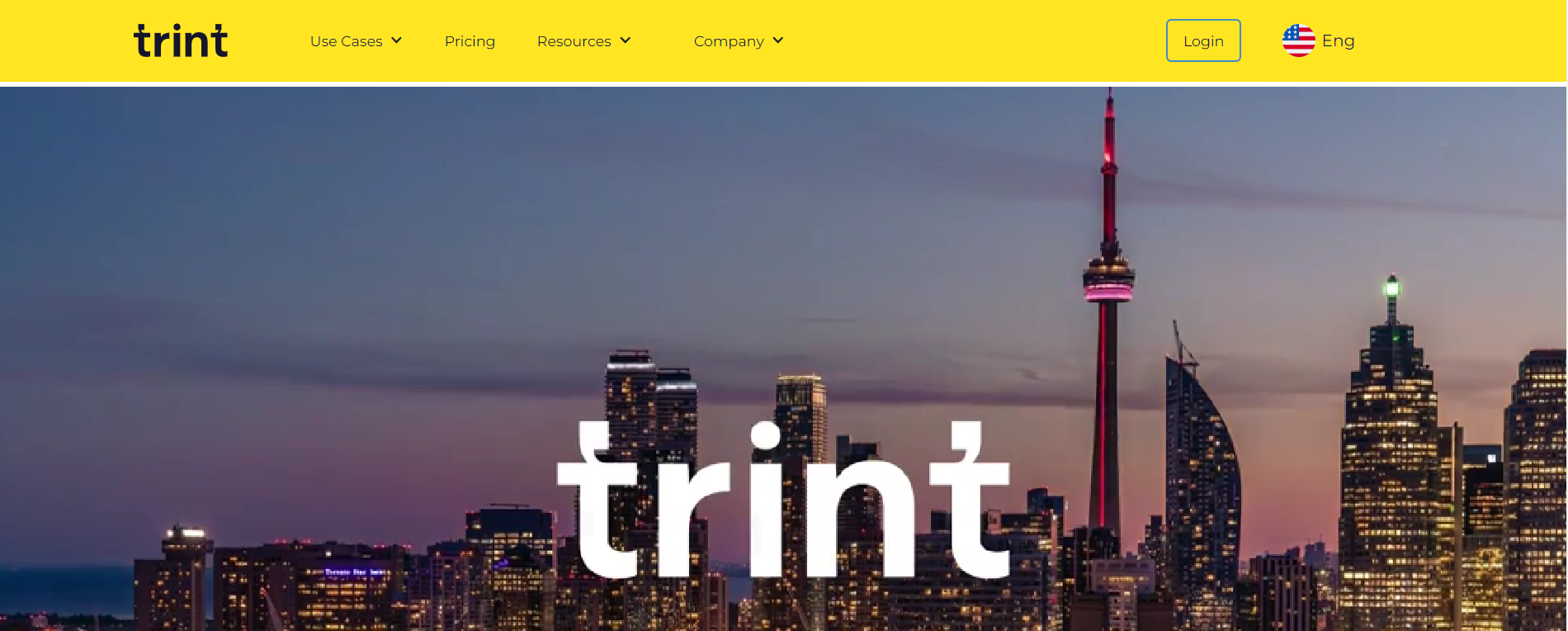 Trint is another Otter AI alternative that allows speech-to-text transcriptions from manually uploaded video or audio files. You can verify and edit your transcript using the Trint Editor.
With features like tags, highlights, and comments, this tool makes collaborating with colleagues easier. Compared to Otter AI, Trint has more customer support options and translation features but fewer third-party integrations.Key Features of Trint:
Editable closed captions
ISO-certified security
Transcribe in 30+ languages; translate in 50+ languages
Mobile app for iOS
Automated Speech Recognition feature
💡
Pricing: Trint has a Starter, Advanced, and Enterprise plan. The Starter plan is priced at $48, while the Advanced plan is $55 (both billed annually.) A 7-day free trial is available for the Advanced plan.
Related: 13 Zoom Meetings Dos and Don'ts
3. Rev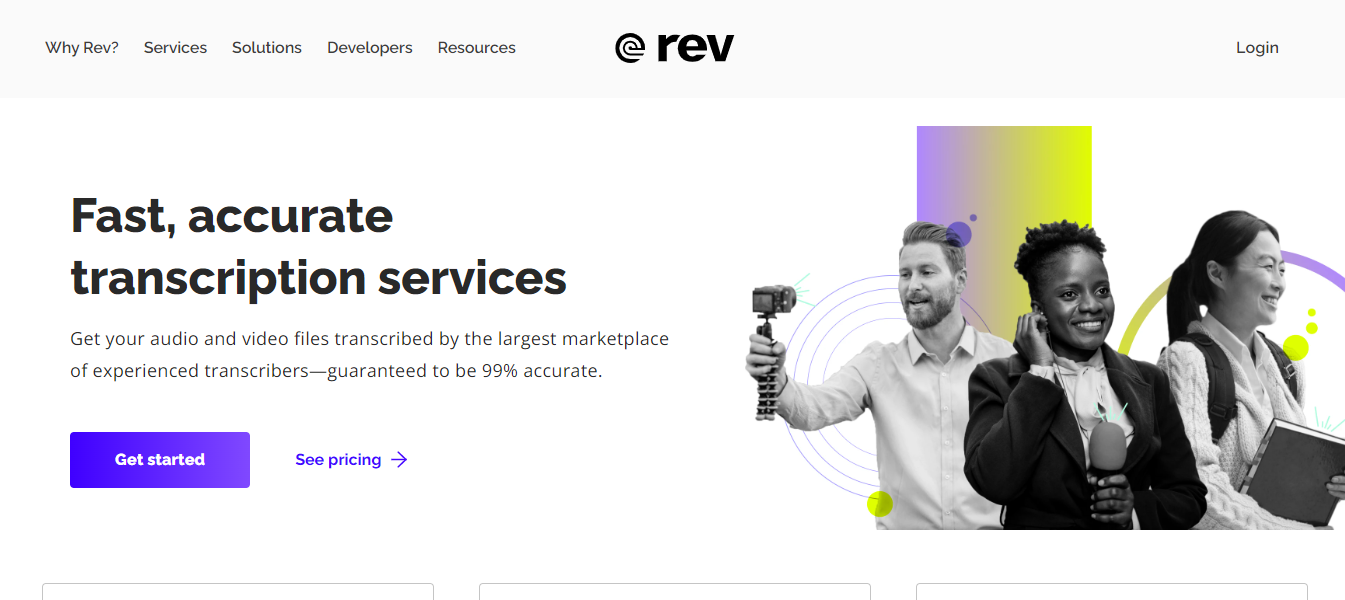 Rev is a popular alternative to Otter AI which specializes in transcriptions. It has an auto transcription feature that has a 90% accuracy rate. If you want 99% accuracy, Rev also offers a human transcription service with an average turnaround of 5 hours.
With Rev, you can upload existing video or audio files for transcription, and the tool allows for annotations and file sharing. Though this tool is a good Otter AI alternative, it doesn't allow for team collaboration and live meeting recordings.Key features of Rev:
Auto-detects speech in 22 different languages
Integrates with video conferencing software like Zoom
Offers transcripts, captions, and subtitles
Offers training resources like e-books and webinars to help you maximize the tool
💡
Pricing: Rev has a pay-as-you-go feature
 - Human Transcription: $1.50 per minute
 - Automated Transcription: $0.25 per minute
 - English Captions: $1.50 per minute
 - Global Subtitles: $5-$12 per minute
 - Zoom live captions: $20 per host
 - Rev for Business
4. Vowel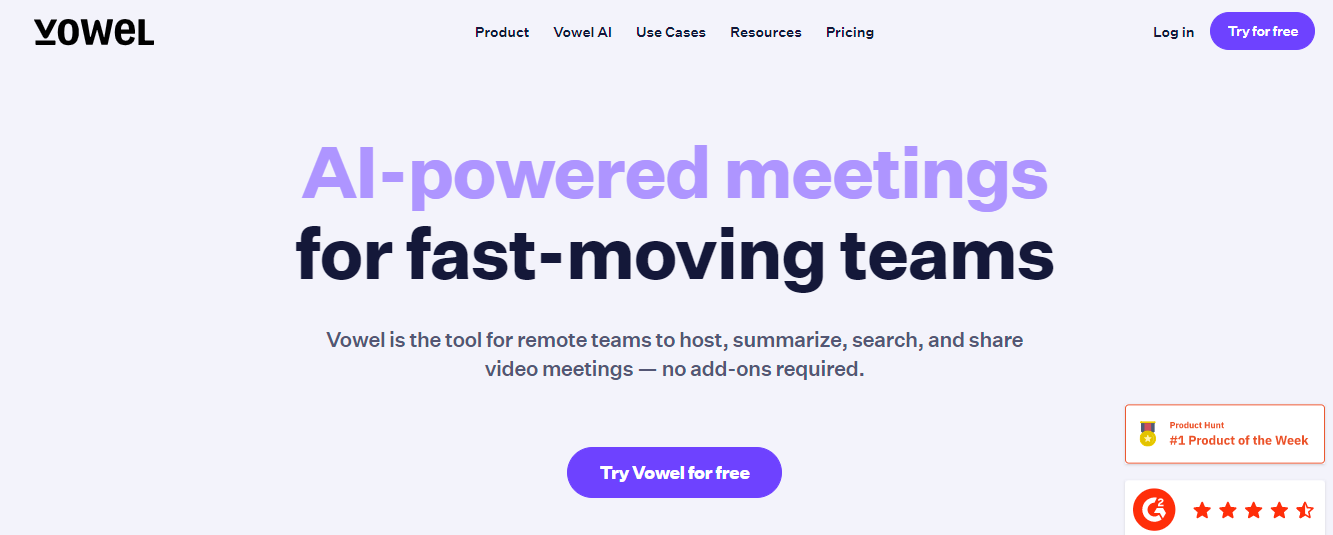 A vowel is a meeting tool that live-transcribes meeting conversations, allows users to highlight important moments, and captures time-stamped action items to the transcript for easy reference.
During meetings, participants can collaborate on shared agendas and notes to stay on track. This tool reduces the need for multiple tools by keeping all meeting-related information, including notes, transcripts, recordings, and summaries in one place.
Key features of Vowels:
Live transcription with speaker identification
Generate AI-powered summaries and searchable transcripts
Multiple transcription languages
Collaborative features
💡
Pricing: Vowel has a Free Forever and Business plan. The Business plan is priced at $16.49 (billed annually.) A 7-day free trial is available for the paid plan.
Related: Best CRM Tools: All You Need To Know
5. Dialpad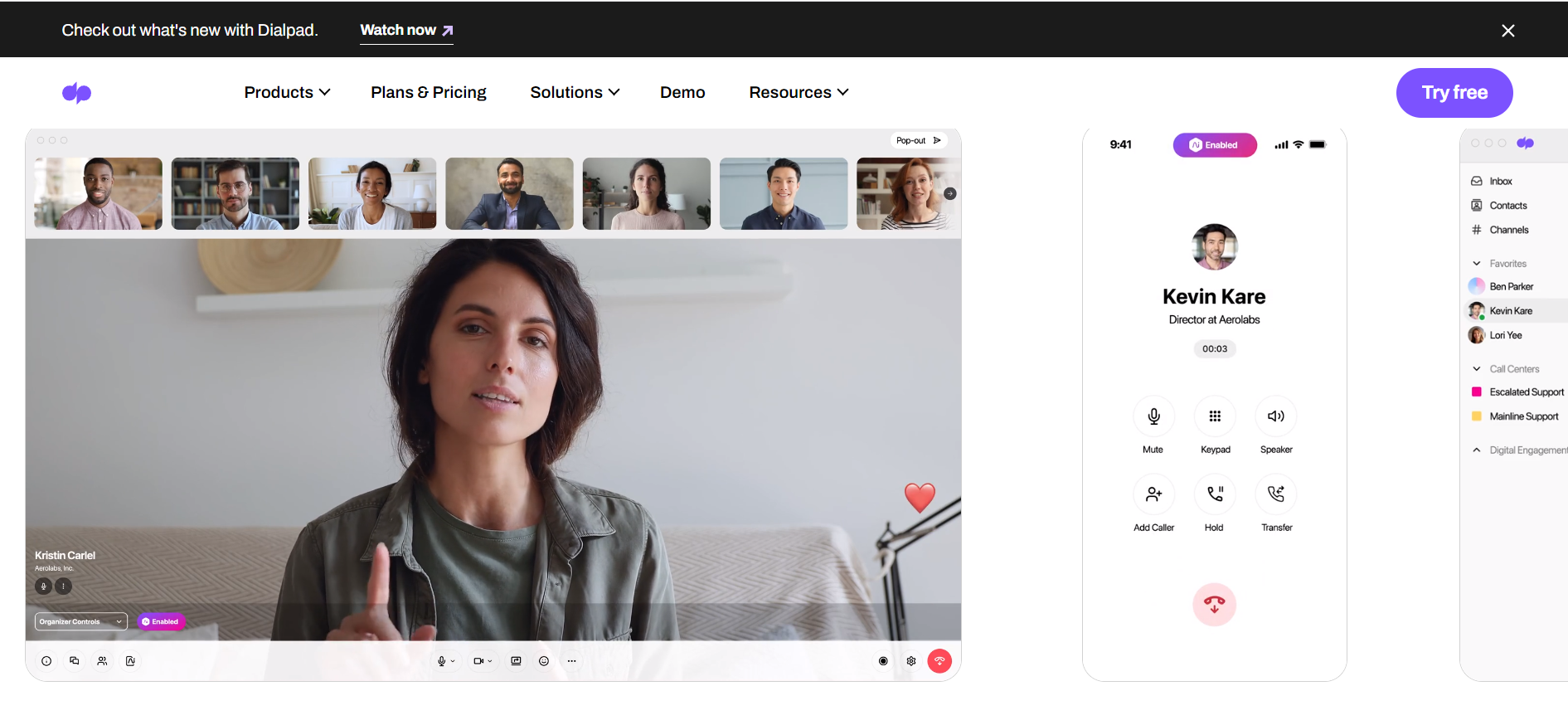 Dialpad is another Otter AI alternative that provides automatic transcriptions of meetings and calls in real-time, as well as unified phone calls, video conferencing, and messaging — all in one app. Its AI is capable of picking up keywords and phrases and can create customized moments to track them.
Plus, Dialpad's paid plan has no limits on the number of transcriptions and minutes. Unlike Otter, Dialpad offers integrations with third-party apps like Dropbox and Salesforce.
Key features of Dialpad:
Works on multiple devices (Android, iOS, Mac, Windows, browser extensions)
Free standalone video conferencing tool
Real-time voice recognition
Unified messaging and communications services
💡
Pricing: Dialpad has a Standard, Pro, and Enterprise plan. The Starter plan is priced at $15 monthly and the Pro plan is $25 monthly(both billed annually.) A 7-day free trial is available for the paid plans.
Related: 15 Uses of Voice Recognition Software Today
6. Airgram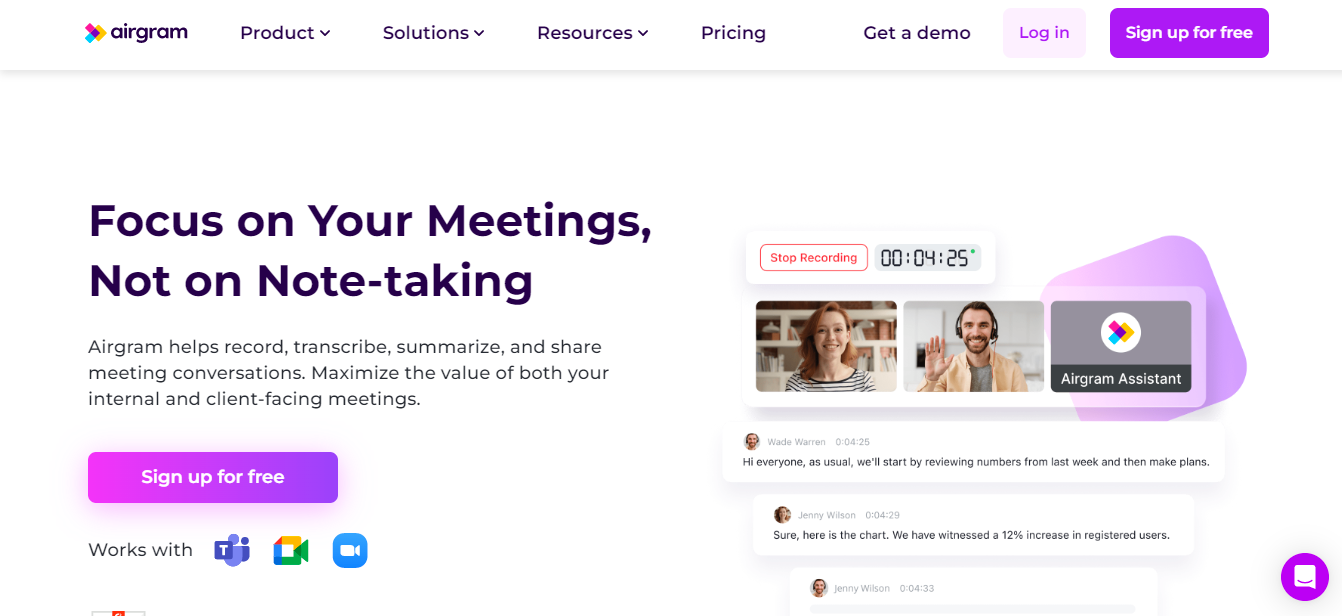 Next is Airgram, a tool that helps with meeting transcription, recording, and sharing. It has a built-in transcription algorithm that converts meetings into shareable text. Just like Otter, it supports scheduling meetings.
Airgram also offers features like meeting recording, live transcription, insights sharing, team collaboration, and meeting templates. And with its integrated rich text notepad, note-taking during meetings becomes a whole lot easier.
Key features of Airgram:
Eight transcription languages
Third-party integrations with platforms like Notion and Slack
SOC 2 and GDPR compliant
Meeting templates
Video/Audio Transcription
💡
Pricing: Airgram has a Free, Pro, and Team plan. The Pro plan is priced at $8.99 monthly and the Team plan is $17.99 monthly.
7. tl;dv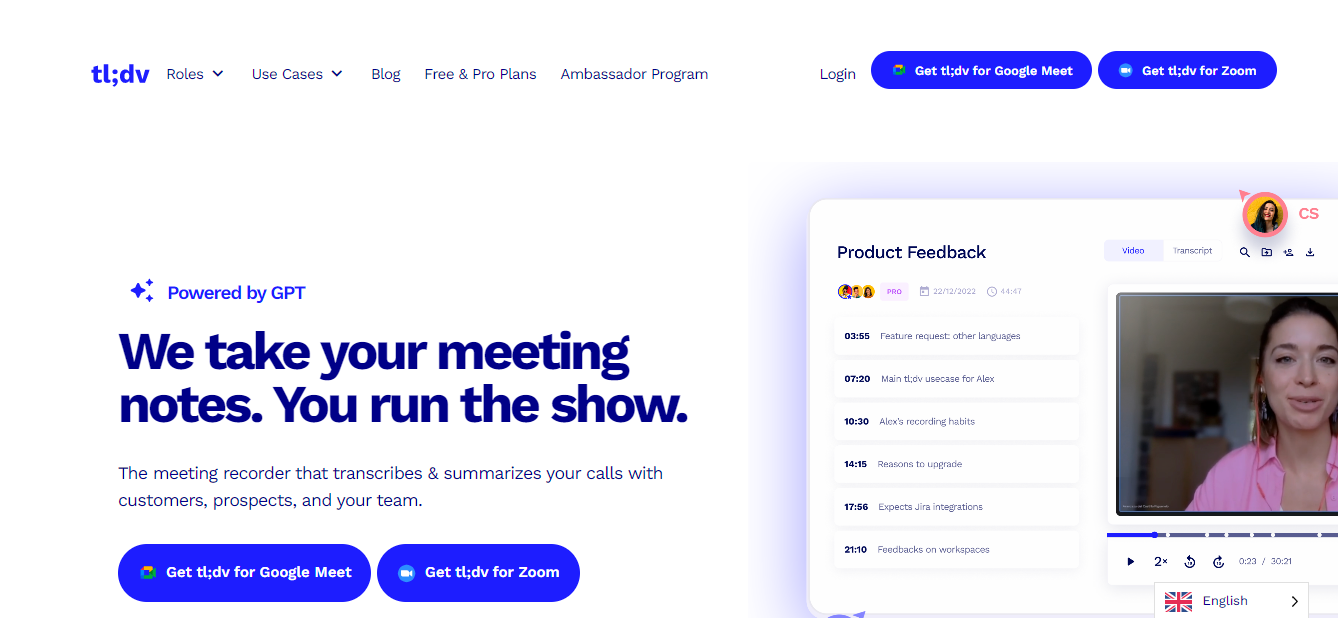 tl;dv is another Otter AI alternative for remote teams who use Google Meet or Zoom actively for team meetings and huddles. It offers accurate transcriptions in over 20 languages, with speaker detection and labeling.
tl;dv allows you to create time-stamped highlights and share them with your team members to review key details later. The tool also has a simple editing feature and offers integrations with Notion, Slack, HubSpot, and Salesforce.
Key features of tl;dv:
Live transcriptions in over 20 languages
Offers a Zoom app and Google Meet Chrome extensions
Unlimited free recordings of Zoom and Google Meet calls
Time-stamped highlights
Keyword search in transcripts
💡
Pricing: tl;dv has a Free, Pro, and Enterprise plan. The Pro plan is priced at $20 monthly (billed annually.)
Related: Why Transcribe Your Business Meetings?
8. Gong
Gong is a call transcription software that integrates with various web conferencing providers like Zoom to record, transcribe, and analyze calls. It automatically transcribes calls and analyzes the transcripts to surface insights like reps' talk ratio, customer monologues, and more.
This Otter AI alternative offers many benefits for sales teams, including searchable calls, real-time deal alerts, easier CS handovers, and faster onboarding for quota attainment.
Key features of Gong:
Integrates with popular CRMs like Slack
Analyzes conversations and provides insights on topics such as buyer questions
Provides actionable recommendations on how to improve sales pitches and overall performance
Has a Revenue Intelligence platform to help businesses win more deals
Supports 70+ languages
💡
Pricing: Gong has a customized pricing model.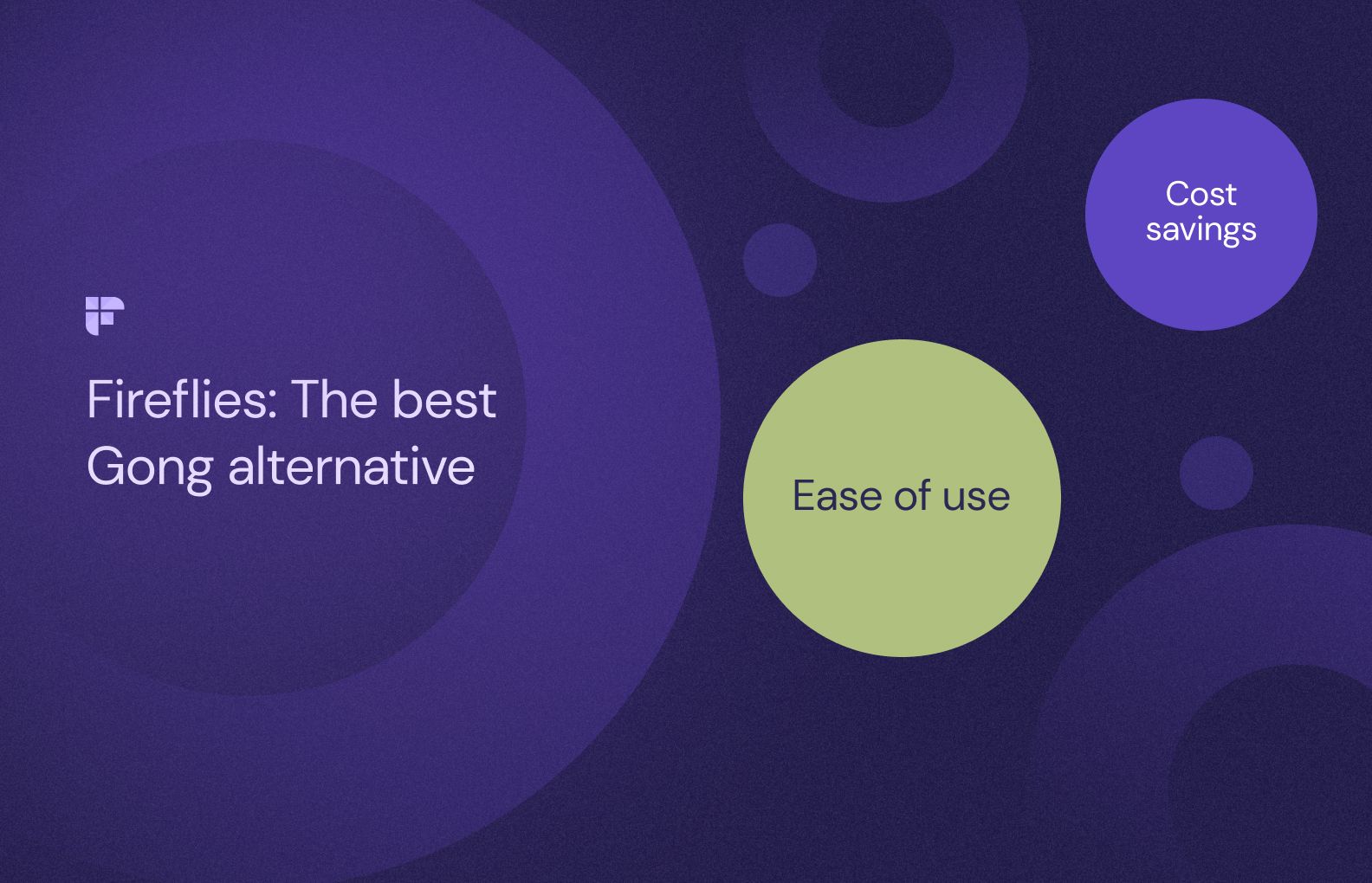 Conclusion
So, which Otter AI alternative is the best for you to use?
Otter may be good for getting meeting transcripts for an English-speaking audience. But if your business needs a multi-lingual, collaborative meeting assistant for the entire organization, Fireflies would be perfect for you.
Fireflies offers precise transcriptions in over 30 languages and effortlessly integrates with more than 50 business applications. With advanced features like AI Super Summaries and a GPT-powered meeting assistant, Fireflies is your ideal solution for streamlining your meetings, increasing productivity, and easily collaborating with your team.
Take note of everything with Fireflies.ai
Say goodbye to manual note-taking, he said, she said references, and taking hours to summarize your meeting minutes. The note-taking revolution is here.