Sales reps who turn to AI note-taking software do so out of sheer frustration. It's tedious and time-consuming to use digital note-taking apps.
You have to record, replay, and, in the worst case, transcribe each call to organize your meetings in the CRM. The result: a massive delay in following up with prospects.
High-quality AI note-taking software can solve this problem by automatically recording and transcribing video meetings. Additionally, these tools can perform several tasks, such as:
Providing meeting summaries.
Transcribing recorded video and audio files.
Searching and filtering keywords to quickly find important information in your notes.
But while all AI note-taking apps are designed to perform these tasks, some fall short in terms of:
transcription accuracy,
conversation analytics,
auto-recording,
speaker identification,
and integration with other apps.
This post lists the 6 best AI note-taking apps to help you take notes and unpack intelligent insights buried in sales calls.
Best AI note-taking apps for busy sales reps:
Fireflies.ai
Otter.ai
Sembly.ai
Gong
Avoma
Chorus.ai
1. Fireflies.ai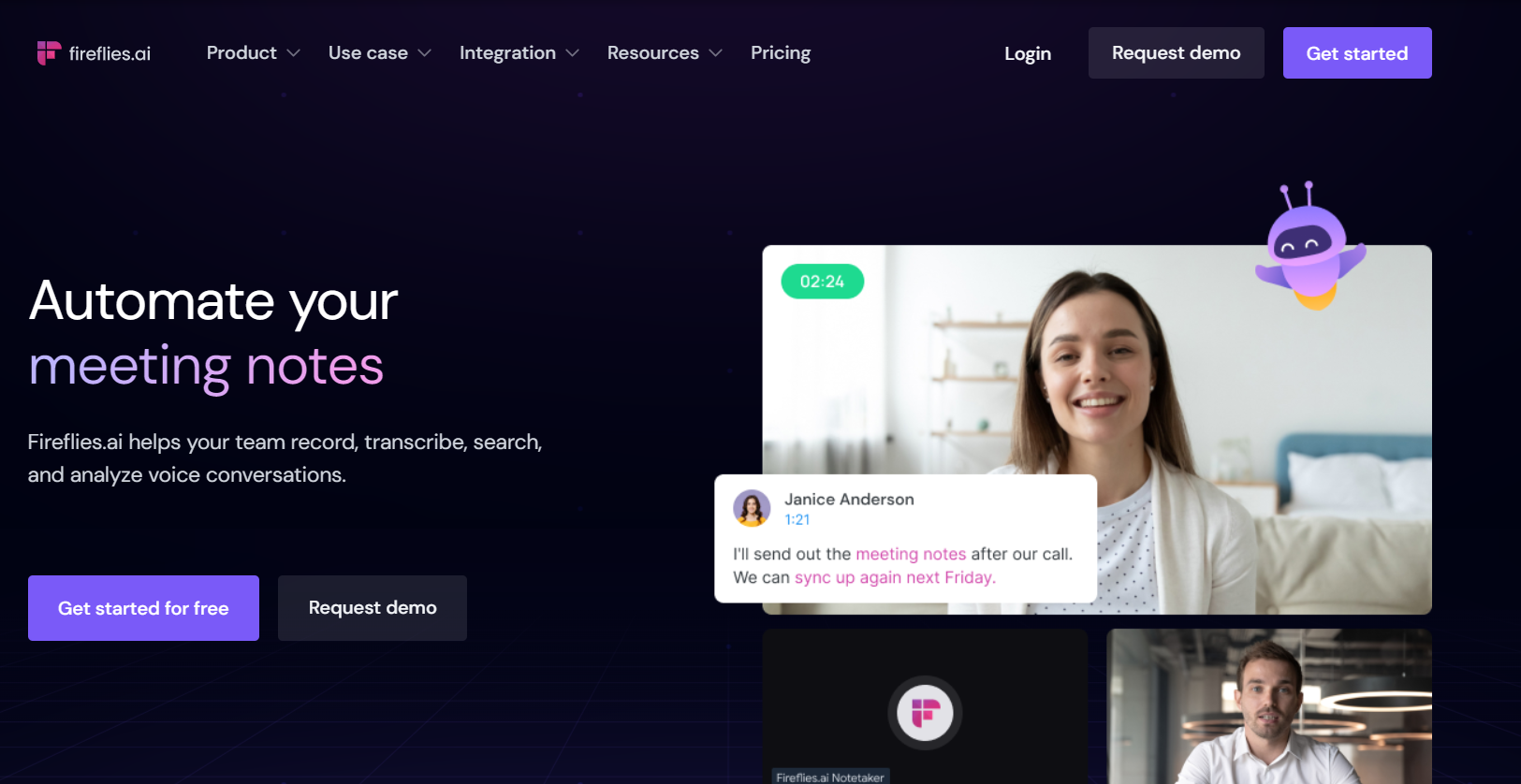 In our talks with sales reps, we hear time and again about instances where note-taking and analysis were almost impossible because the AI note-taking app:
could not auto-join a scheduled meeting (so they have to set it up for each meeting);
could not provide intelligent feedback on their sales call performance;
and required that they speak slowly (almost in a robotic manner) to ensure transcription accuracy.
Given the fact that common virtual meeting platforms like Google, Microsoft Teams, and Zoom have free transcription features, they begin to wonder: "why should I subscribe to an AI note-taking app?", "What does it do better?"
Here's why:
Joining preference: Fireflies allows you to choose when and in which meetings the bot joins. It lets you decide with whom you'd like to share the transcript. Learn how to invite Fireflies to your meetings.
Multi-language transcription: Aside from English, Fireflies AI transcription supports six other languages: German, Dutch, French, Spanish, Portuguese, and Italian. You can select your preferred language, and Fireflies will transcribe your meetings in one of these languages.
Chrome extension: Record your meetings directly from the Fireflies Chrome extension.
Auto-generate meeting summary: Get custom notes and the ability to generate emails and other content types from the meeting transcript with AI extensions.
Smart Search: Use system-generated AI filters like date and time, questions, metrics, etc., or type in the phrases in the transcription search bar to quickly find critical information and review meetings in minutes.
Add custom vocabulary based on your industry to improve transcription accuracy.
Conversation intelligence: Get a better understanding of your conversation and increase your chances of closing a deal. Get insights into the call's sentiment, your talk-to-listen ratio, silence duration, longest monologue, talking speed, and more.
Track topics: Easily track key phrases or words essential for you to close deals. Fireflies will flag and filter parts of the transcripts where these are mentioned so you can review meetings in minutes.
Collaborate: Use features like Soundbite to share parts of the call you feel can help coach others on the team. Sales managers can use Threads to annotate the transcript for sharing feedback and use the interactive buttons on the meeting markers to pin a part of the call or leave a thumbs up or down.
Integrate: Integrate Fireflies with popular CRM, project management tools, and dialers to eliminate the hassle of entering meeting notes manually.
Meeting compliance and security: Fireflies is secure and ensures meeting compliance with various call recording laws. It is SOC-2 Type II, GDPR, and HIPPA compliant.
💡
Fireflies Pricing: $10 per user per month when billed annually| Free version and free trial available.
2. Otter.ai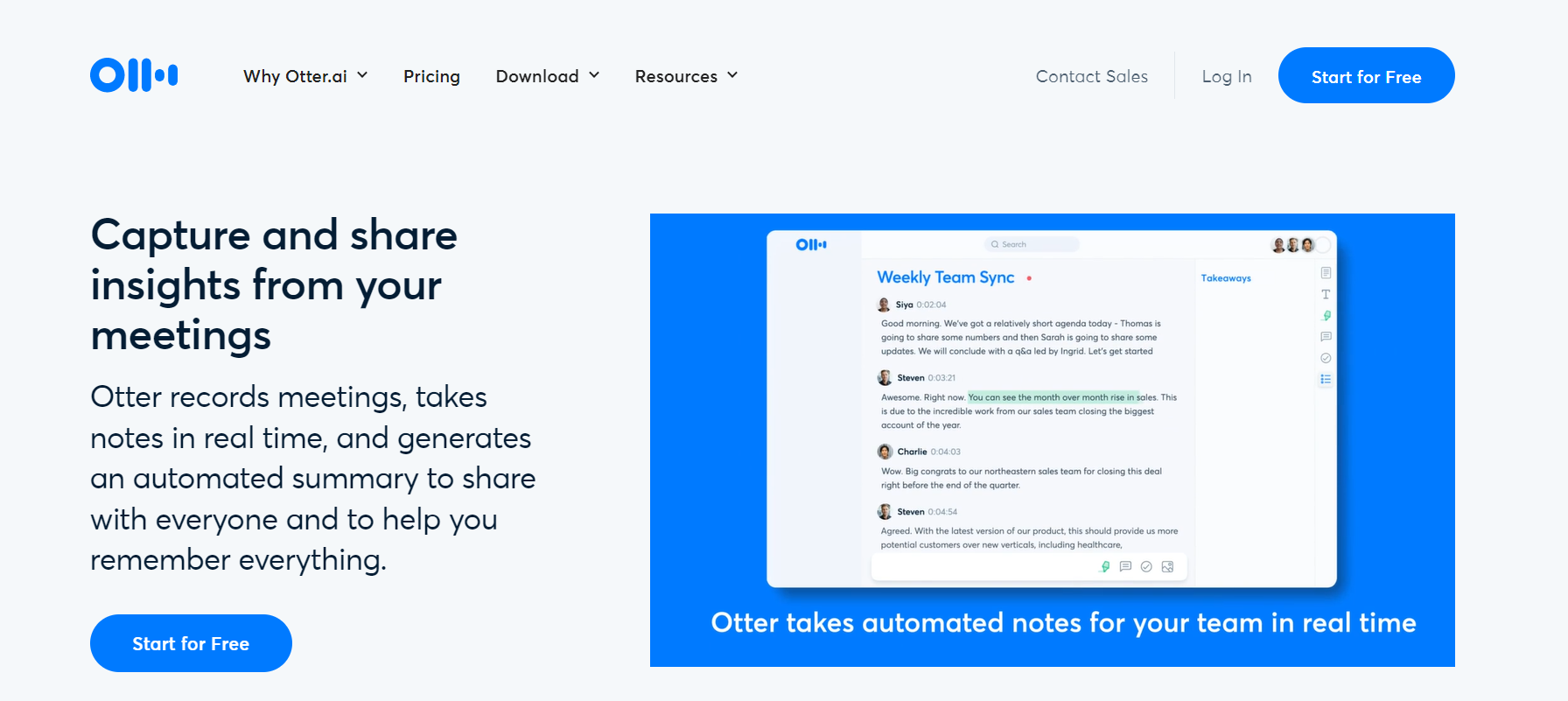 Otter is a voice meeting notes and real-time transcription service that allows you to capture and share insights from your meetings.
Otter.ai offers standard note-taking and is mainly known for its automatic dictation technology. It allows users to create detailed notes from meetings, interviews, or brainstorming sessions without manual input, making it especially beneficial for individuals users, journalists, or students.
Otter.ai provides transcription only in English and has limited integration. Some other features include:
Basic note-taking and storage capabilities
Real-time speech-to-text transcription
Basic keyword and summary analytics
Calendar, video conferencing, and Cloud software integration
File sharing and collaboration features like comment, highlight, and revision
💡
Otter Pricing: $8.33 per month per user when billed annually | Free version available
3. Sembly.ai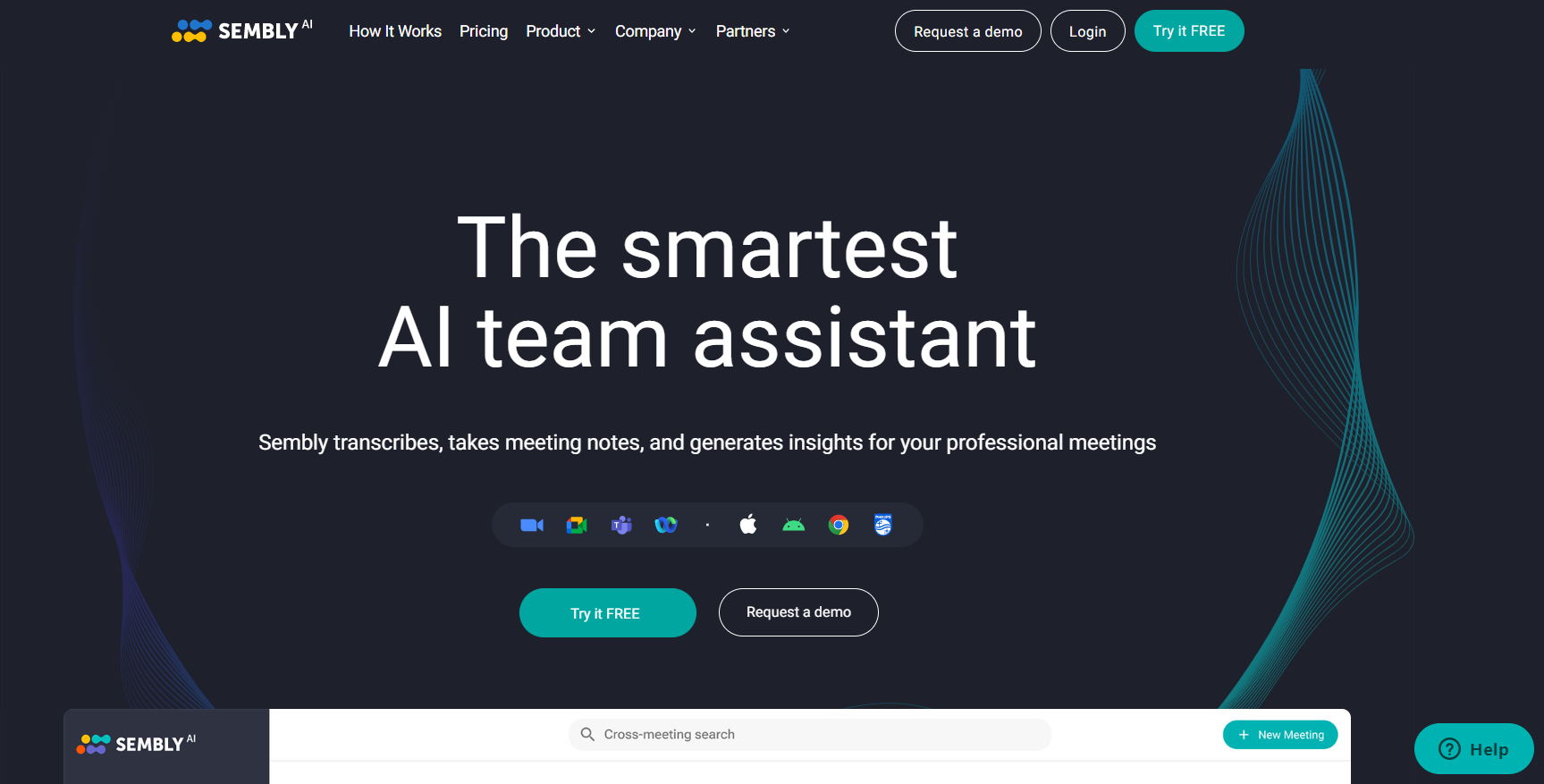 With Sembly.ai, you can turn your meetings into searchable text and highlight key discussion moments easily. It is an AI note taker that records, analyzes, and transcribes your conversations to offer meeting summaries and take actionable insights.
You can quickly join calls or meetings without installing or downloading any applications. Some notable features include:
Meeting recording, transcription, and summaries.
Limited conversation analytics, including sentiment analysis.
Integration with web conferencing platforms like Google Meet, Zoom, Webex, and Microsoft Teams.
Meeting sharing and workspace collaboration.
Limited functionalities for sales reps. Sembly.ai doesn't provide integration with CRM and detailed conversation intelligence insights.
💡
Sembly.ai Pricing: $10 monthly per user | Free version and free trial available.
4. Gong.io
Gong.io is a sales coaching and enablement platform that analyzes sales calls and meetings to identify patterns and provide actionable insights. The platform also includes features such as training and coaching tools, as well as analytics and reporting tools to help teams track progress and measure success.
It offers complete visibility into deals, team performance, and market changes. In addition to customer data, teams can also enhance performance with Gong.io's:
Deal forecasting
Market Insights
Sales coaching.
One biggest downside? Gong.io can be expensive for companies with a limited budget or small to medium-sized businesses.
💡
Gong.io Pricing: On request
5. Avoma
Avoma empowers sales teams to organize every touchpoint involved in holding a successful meeting. While the AI note-taking feature kicks in during the call, Avoma ensures you join the meeting with a clear agenda and generate insights you can share after the call.
With features such as a collaborative note editor, Agenda templates, and Meeting intelligence, Avoma's meeting lifecycle management empowers sales reps to have more productive meetings and generate better customer insights from automated meeting notes.
Avoma has limited integrations, as it only integrates with dialers, CRM, and video conferencing tools. Also, Avoma only supports calls in the English language.
💡
Avoma Pricing: $65/month/user when billed annually | Free trial available
6. Chorus.ai
Chorus.ai analyzes calls and meetings to provide sales teams with actionable insights for improving their performance. Based on the calls, the platform offers insights such as identifying critical topics discussed, understanding customer sentiment, and highlighting areas where sales reps can improve.
Chorus.ai also includes features such as training and coaching tools, as well as analytics and reporting tools to help teams track progress and measure success. The platform is designed to help sales teams increase productivity, improve communication, and close more deals.
💡
Pricing Chorus.ai: On request
Did you find your preferred AI note-taking app?
In conclusion, taking notes in sales meetings has never been easier, thanks to the rise of AI-powered note-taking apps. These six apps are the cream of the crop for capturing every word spoken, every pitch made, and every objection raised without lifting a pen.
Whether you prefer a complete transcription of your sales calls or a light and easy-to-digest summary, you can customize them based on your sales needs. So, whether you're closing deals or building relationships, there's an AI-note-taking app for you. Cheers to the future of sales note-taking!
---
This is a guest post by Lateef Maleek