You're probably looking for a Gong alternative due to one or a few of the following reasons:
You want a conversation intelligence platform for which you don't want to pay a huge upfront fee
You want a solution that is easy and quick to onboard without needing hours of training or expert assistance
A solution that integrates with all your tools and softwares
Has the highest transcription accuracy, analytics, and coaching capabilities
Easy to scale across your team and business beyond just your sales team
Constantly evolving with the latest technology like AI features and GPT 4
Fireflies ticks all these boxes and offers a lot more.
Hundreds of companies have switched from Gong to Fireflies; on average, each company saves roughly $36,000 per year.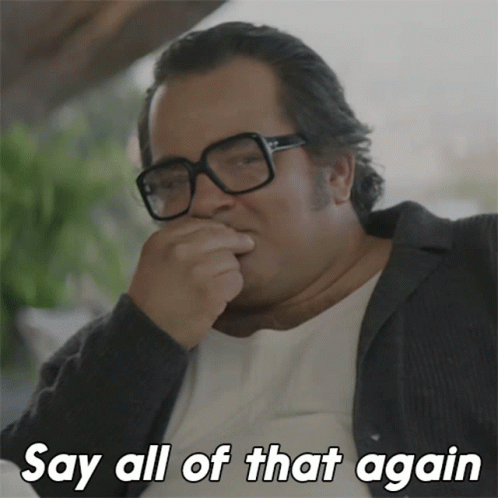 So, if this interests you, let's talk about why Fireflies is the best Gong alternative.
About Gong.io
1. What is Gong.io?
Gong.io is a revenue intelligence platform that uses Artificial Intelligence (AI) and Machine Learning (ML) to track, list, and analyze sales calls. It is one of the early movers in the space of conversation intelligence.
Enterprise sales teams use Gong.io for sales forecasting and deal predictions.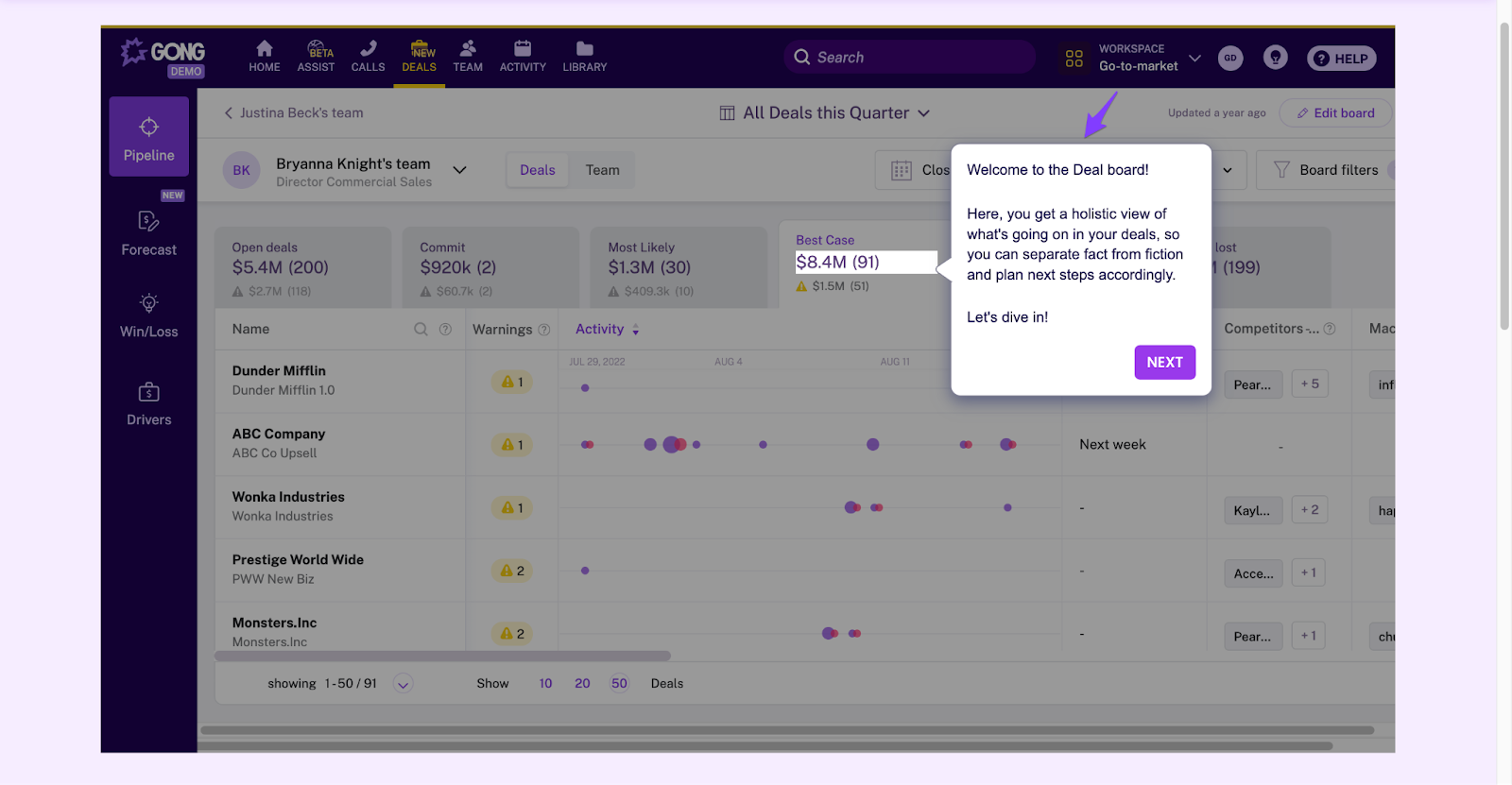 Companies use Gong.io to record and transcribe their sales call to coach their sales teams, spot areas for improvement, and identify star performers.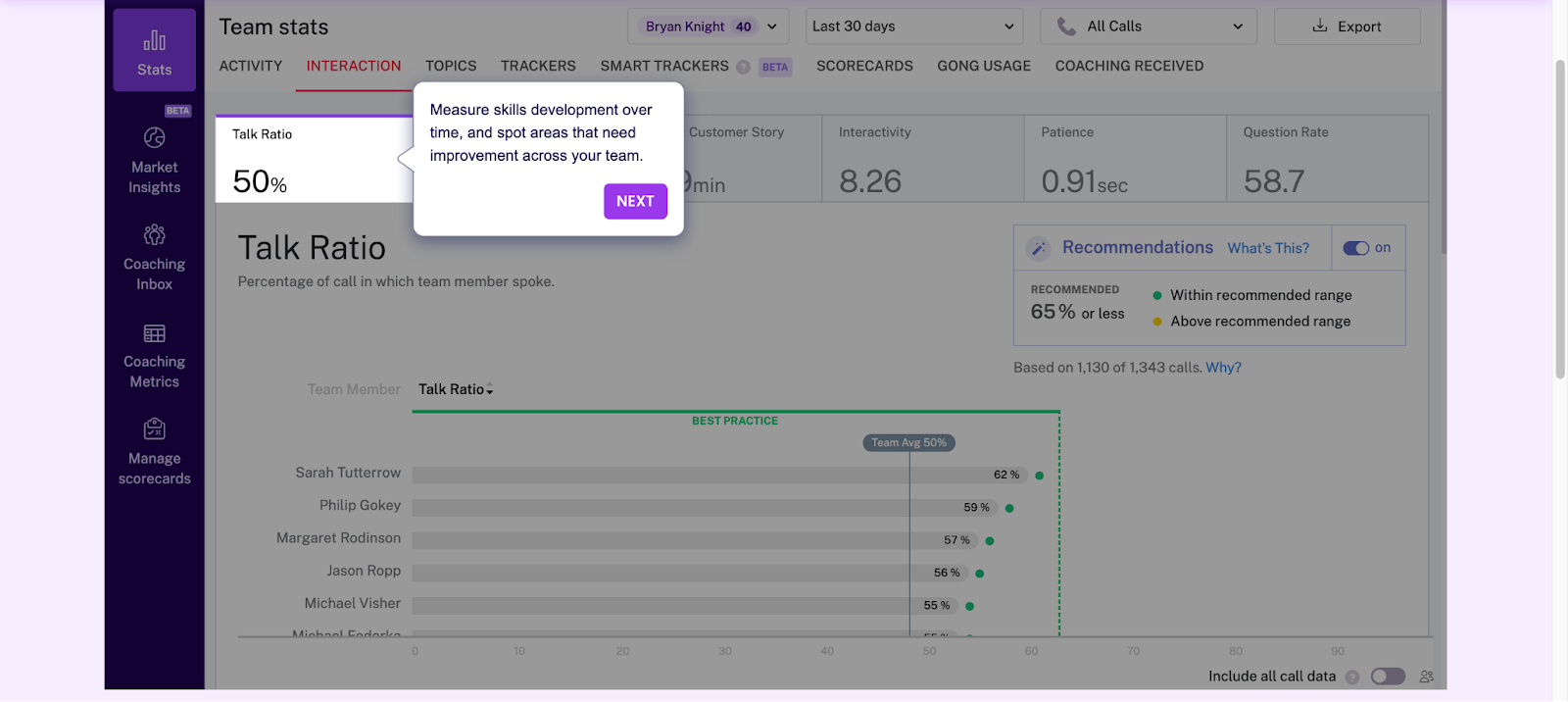 2. Key features of Gong
Gong transcribes meetings, identifies speakers, and allows you to share the call with your team
It gives you the full transcripts and lets you search within transcripts. They have a transcription accuracy of 86%. (Fireflies is more than 90% accurate and state of the art)
It gives you smart analytics like questions asked, action items, time/date, and allows you to track custom keywords like "Objections" and "Buying Signals"
Deal board visibility gives you complete visibility of your deal pipelines
Insights gives you the performance analytics of your entire sales team as well as the performance scores of individual sales reps
3. Who uses Gong.io?
Generally, larger companies with over 200 employees and $10M-50M in revenue use Gong
The VP of Sales, Account Managers, and Account Executives usually use Gong to train their sales team and get key revenue insights from the calls
Here is why you need a Gong alternative
1. High costs
If you want to use Gong's platform, you must pay a very hefty price. Gong's pricing is not publicly available. But according to online research from known sources and the Forrester report on Gong, you have to pay a hefty price if you want to use Gong's platform.
"Whereas it's nice to have all the bells and whistles, they don't necessarily need them or use them. And the majority of the time is spent reviewing calls. And, of course, the price point is a huge difference between tools like Fireflies and tools like Gong."
a) Annual platform fee
As per Gong's pricing page, Gong charges a Platform fee based on the number of users. This fee includes the following costs:
Unlimited collaborators – Anyone who wants to view your meeting or collaborate
Training – Cost of Gongs team to train you
Initial integration and Setup– Help get integrated with workflow
Unlimited data storage
Customer Success Manager
Customer support via the web
Unlimited data export
Gong Academy – Train up your team using Gongs coursesMany Gong users on Social media have mentioned that Gong charges an upfront Platform fee of $5,000. But this Forrester report claims that Gong's enterprise platform fee is about $50,000 per year.
b) Per-User Cost
On average, most businesses end up paying somewhere around $1,200 - $2,000 per user/year. Here's what the Gong pricing looks like on a per-user basis:
Here is a break of the cost Gong charges enterprises over a 3-year basis based on the number of users:
* source: Forrester Report on Gong
For a team of 100 users, Gong's annual fee is roughly $165,430. While big enterprises can afford these prices, this could be a considerable expense for most small/medium-sized businesses if they just want to record, transcribe, and analyse calls.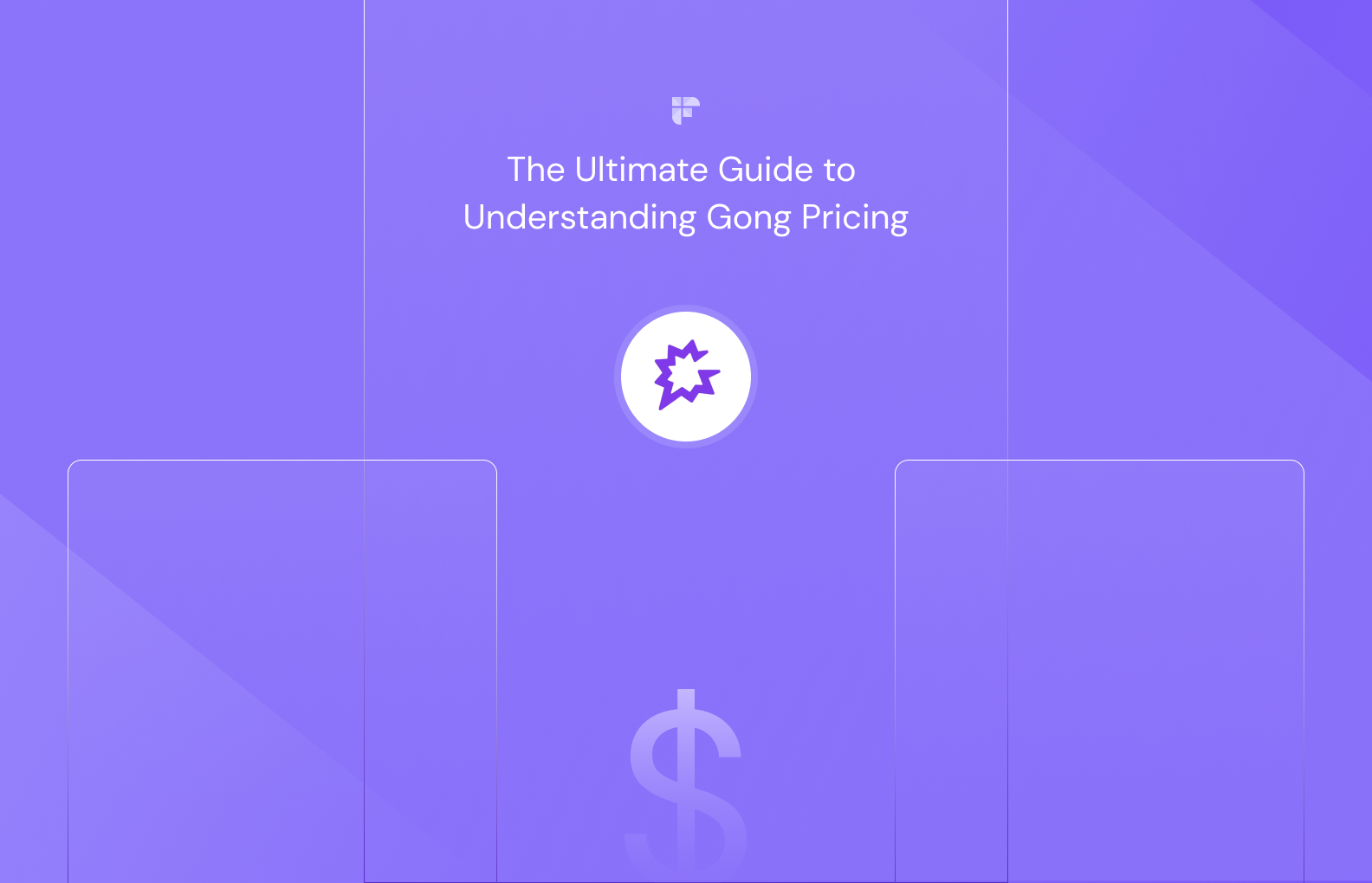 2. Hard to predict pricing
As mentioned before, Gong's pricing isn't public or easily accessible.
They provide only custom business plans and require you to buy a minimum number of seats.
Usually, customers may get a discount on their pricing plan for the first year. This non-transparent pricing makes it hard for businesses to know the costs they will incur upon renewal.
That's why we believe in being upfront with our pricing. Our transparent pricing page shows you exactly what you'll pay for, with no surprises.
For example, the Fireflies Business plan is just $19/mo/user billed annually or $29/mo/user billed monthly. That's it!
There is no platform fee, training fee, no minimum seat requirement. It's something that many of our customers appreciate.
3. Transcription accuracy
Most Gong users who switched to Fireflies claimed to have used Gong to record, transcribe and review calls. When it comes to transcription, Gong's transcription accuracy has been relatively low.
Customer reviews on G2 and TrustRadius show that Gong's call transcripts require a lot of manual effort to fix the errors, making it hard for them to share.
Moreover, Gong themselves claim their transcription accuracy to be 85-86%.
Related article: How Futurosity uses Fireflies to create accurate transcriptions and grow their business
4. Features and flexibility
Gongs features are specifically designed for the sales team, not your entire organization.
While features like deal wins and sales insights might entice your sales team, other teams, like customer success or human resources, may not find Gong so useful.
Top 8 reasons why Fireflies is the best Gong alternative
1. Save 90% of your cost
Unlike Gong, pricing at Fireflies.ai is very transparent. The Fireflies Business plan starts at $19 per user per year.
We also provide custom Enterprise pricing options if you have more than 50 users.
So, if you're a 100-person team using Gong and switch to Fireflies, you'd save more than 85-90% of your cost. Here's a rough breakdown of the costs:
Here is what a user of Gong who switched to Fireflies had to say: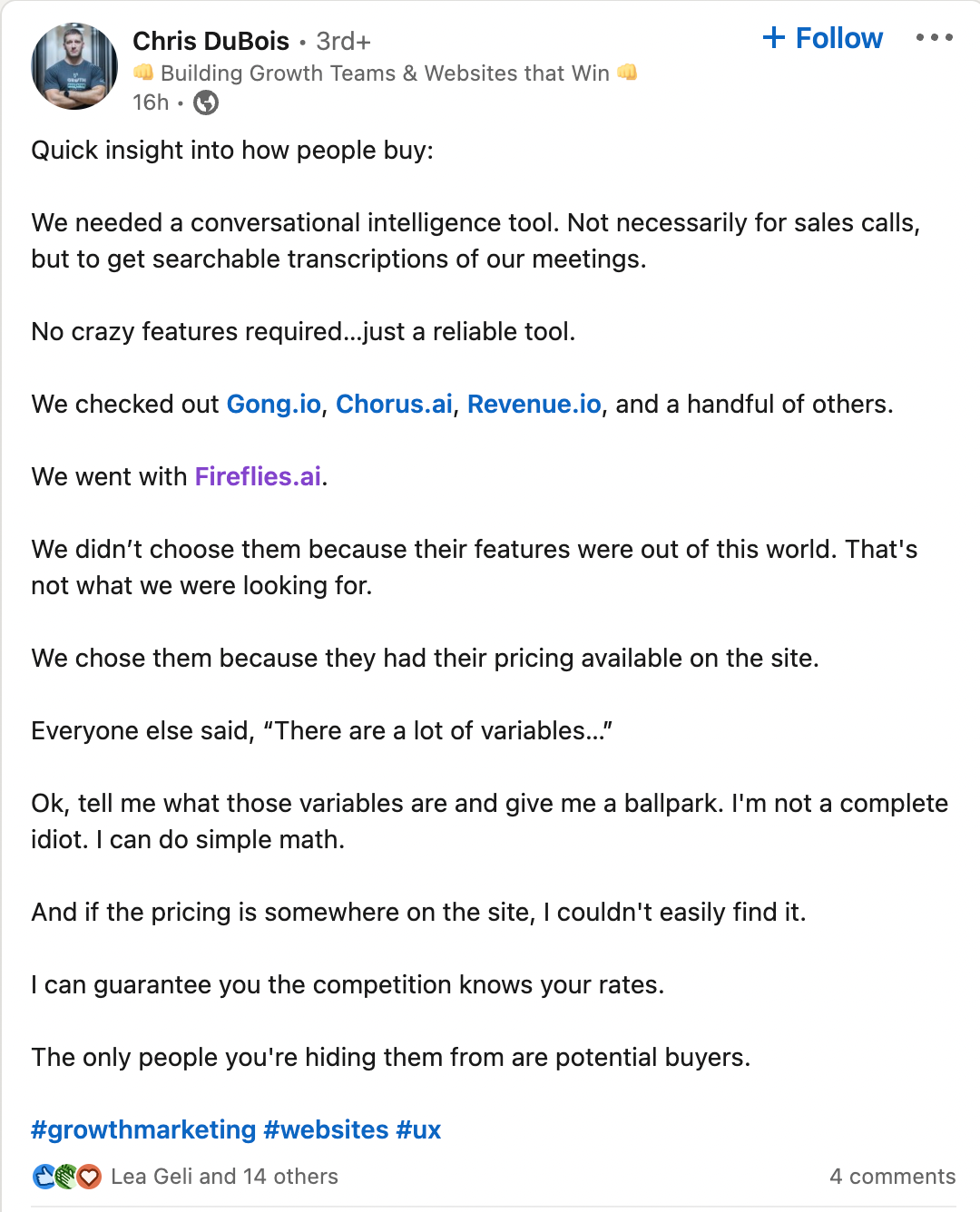 2. Transcription accuracy above 90%
Our English transcription system is trained specifically for conversations and meetings across various industries and accents. Fireflies has passed key accuracy benchmarks and has 90% accuracy for most types of meetings.
We also support Foreign Language transcriptions in Spanish, French, Portuguese, Italian, and 32+ languages.
Fireflies' post-meeting transcripts include speaker labels and timestamps.
You can download or share these transcripts with your team from your dashboard in multiple formats.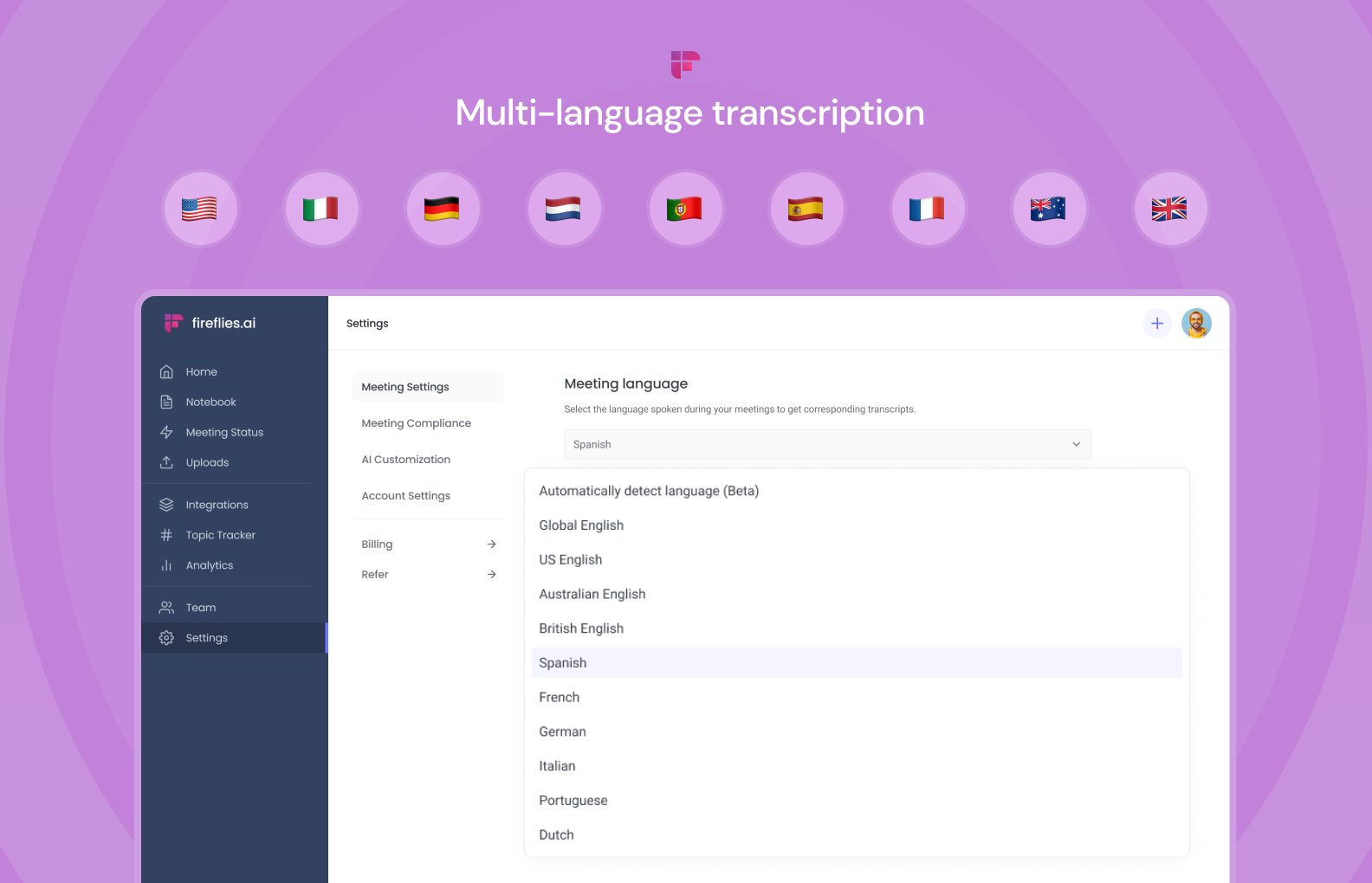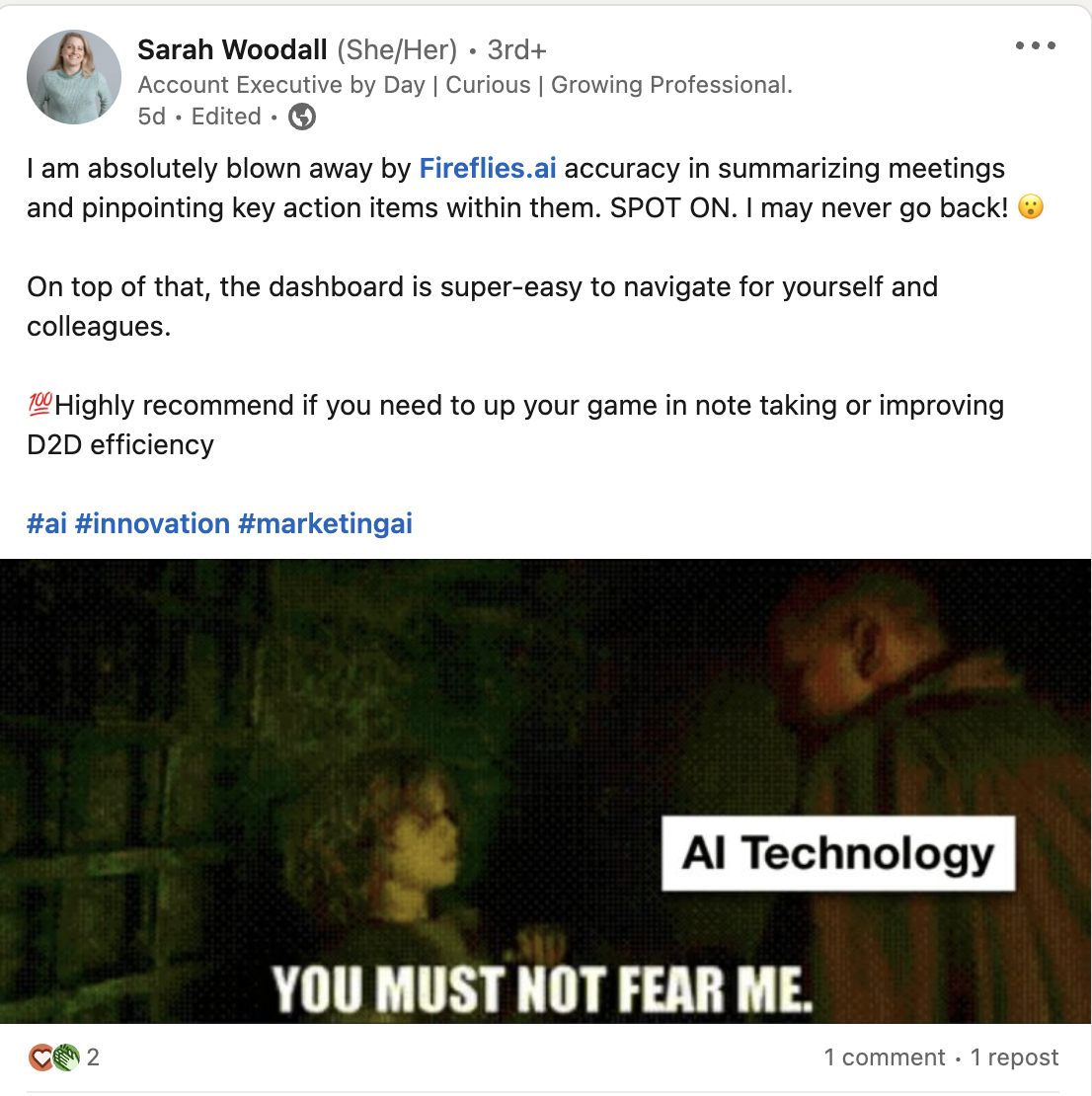 3. Super Summaries - Most comprehensive GPT-powered meeting notes
Right after every meeting, Fireflies provides AI Super Summaries—comprehensive meeting notes powered by GPT-4—that lets you review long meetings in minutes.
AI Super Summaries are highly accurate and detailed meeting summaries that include a short meeting recap, keywords, meeting outline with timestamps, detailed meeting notes, and action items. With AI Super Summaries around, you will never have to take notes manually.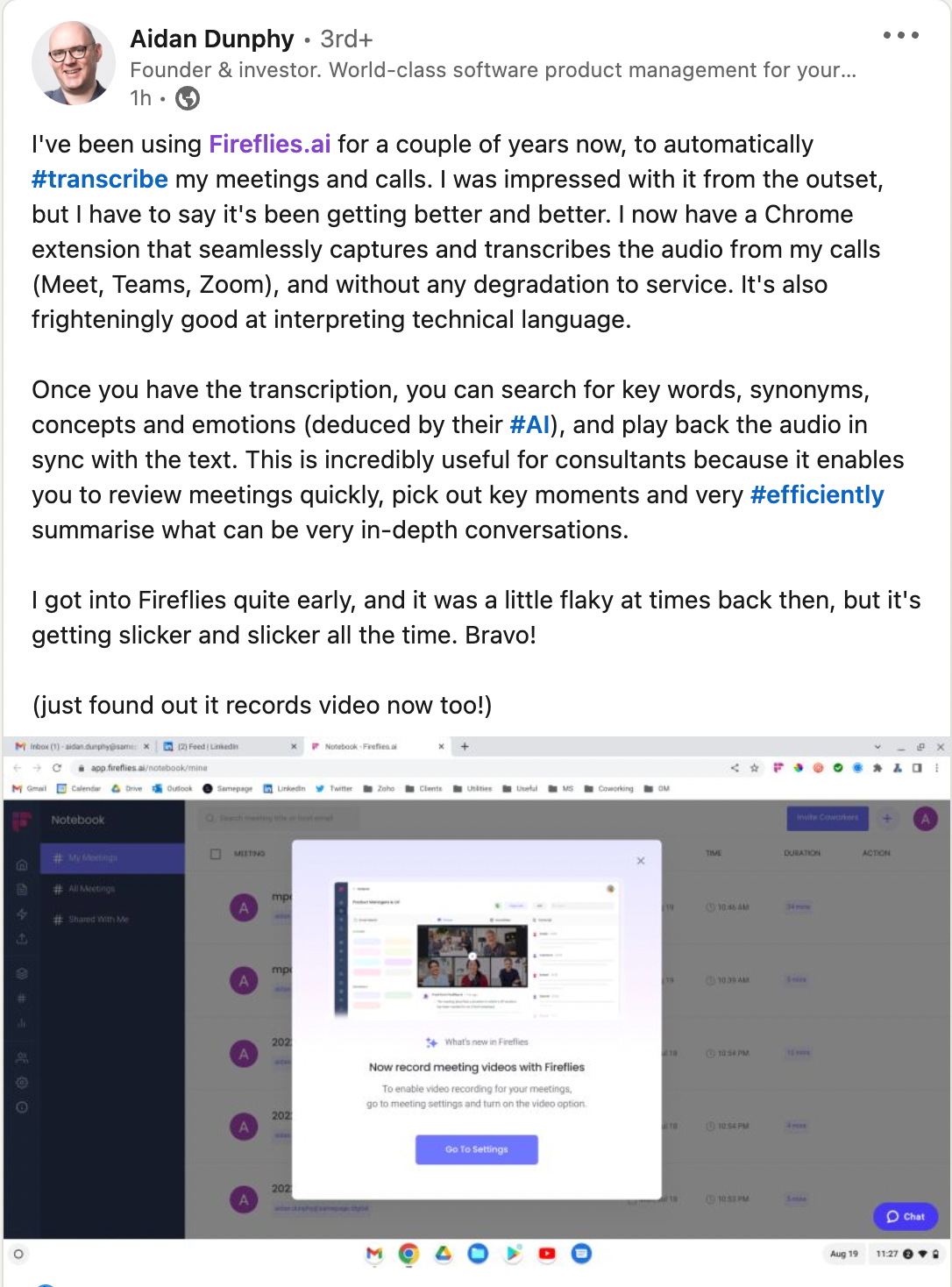 You can also download the Super Summaries as PDFs and have the summaries automatically logged into your CRMs and sent to Slack channels and other business applications.
4. AskFred - ChatGPT for your meetings
With Fireflies' new feature, AskFred, you can leverage the power of AI right inside your meetings!
Fred, your AI-powered meeting assistant, has just got an upgrade with OpenAI's GPT technology, and it's taking post-meeting tasks to the next level.
Fred can do more than just transcribe and summarize your meetings—it can also answer any questions you may have about what happened. Plus, Fred can help you with follow-up emails, brainstorm ideas for your next blog, and even write reports.
In essence, Fred brings the power of ChatGPT to your meetings and your team's entire workflow.
5. Collaboration tools: comments, Soundbites, Playlists
Fireflies lets you record videos and audio of your meeting. After recording your meeting, you can use a host of collaboration features like Thread to comment, like, and share your meetings.
You can highlight important parts of your call and create short Soundbites within a single call so that your team can go through only these highlights instead of the entire call.
You can also use the Playlist feature to create a collection of related Soundbites from multiple calls. Train your team using the key insights from hundreds of calls in a few minutes by going through Playlists.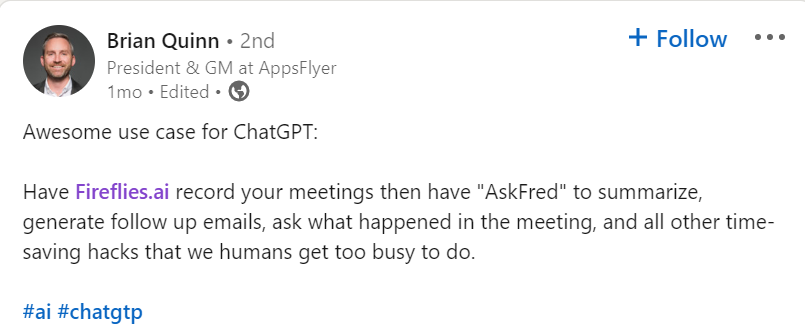 6. Get quantifiable insights from your meetings
With conversation intelligence, you can find deeper insights within your meetings. Get a suite of features like conversation analytics, speaker analytics, and team insights within your Fireflies dashboard. Here is the list of everything you would get:
a) Speaker analytics (For individual meetings):
Find speaker analytics in every meeting transcript in the left pane under Smart Search > Speakers. It gives you a distribution of how much each speaker spoke in that meeting and at what pace.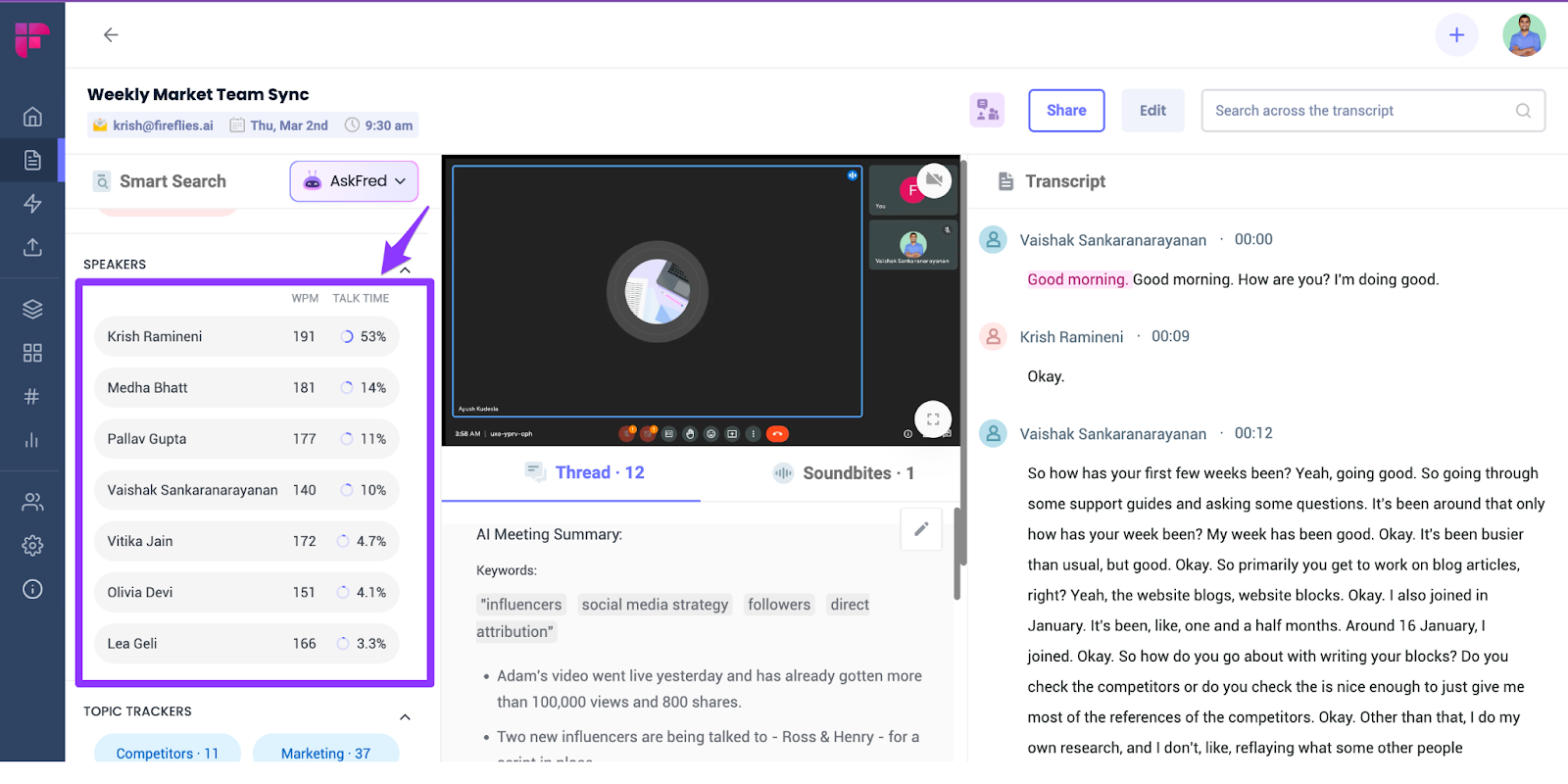 b) Custom topic trackers
Topic Trackers are keywords that you can track in your meetings. Topics help you track, organize, and search your call data.
For example, you can set up a topic tracker for Marketing and add keywords like blogs, SEO, Email outreach, and other relevant marketing-related terms.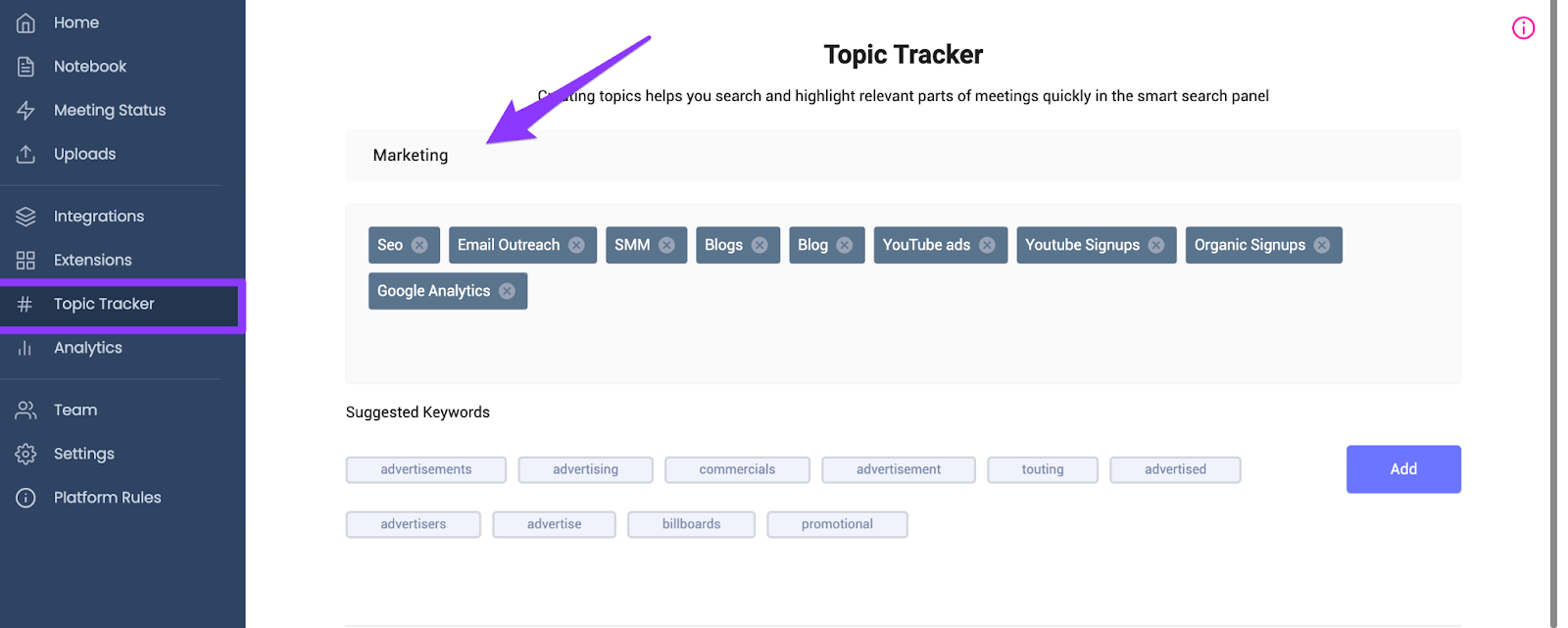 So, every time these words are spoken on the call, it gets tracked in the meeting. You will also get a count of how many times these words were spoken during the call.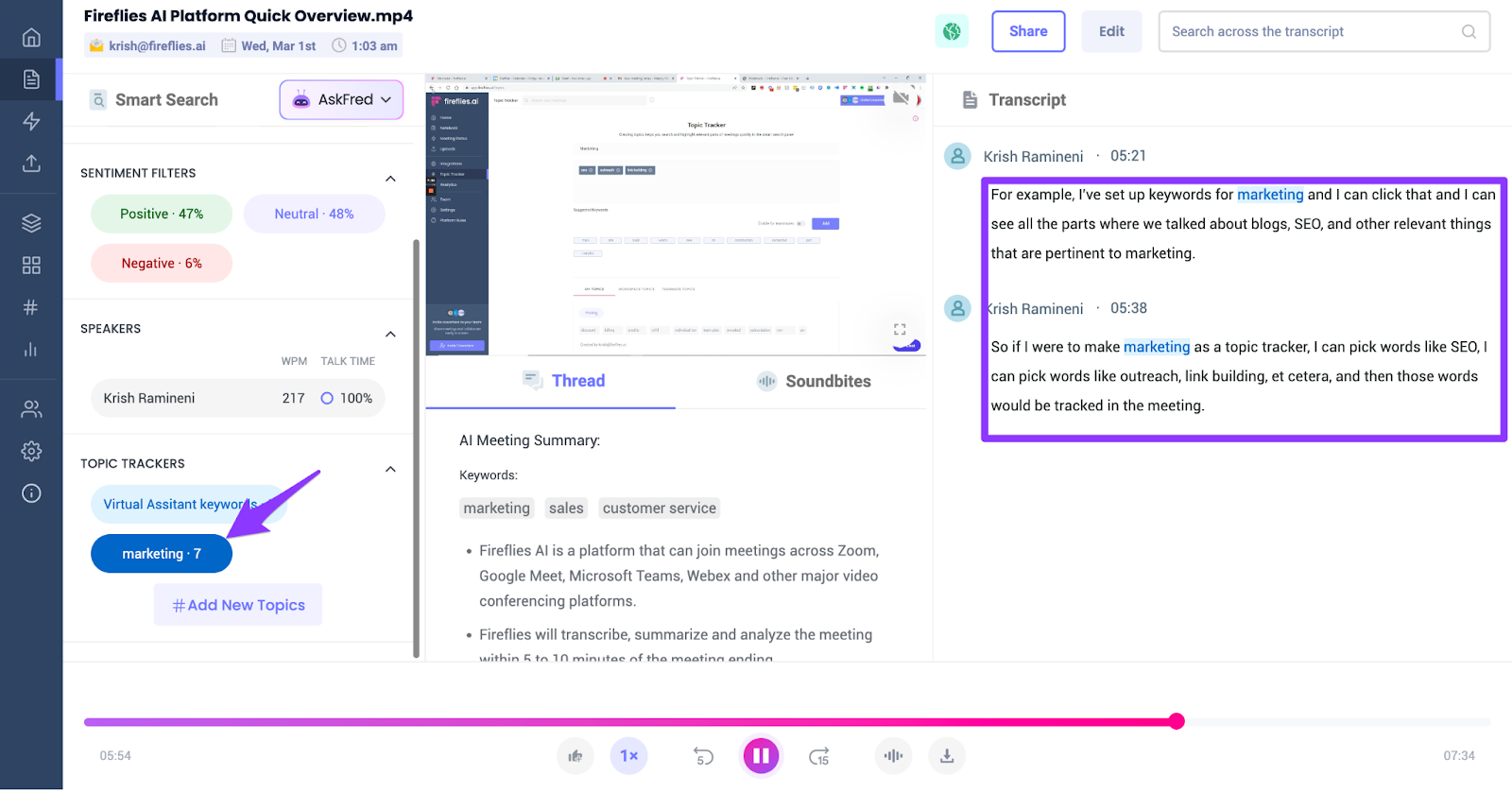 Creating custom topics lets you filter through your meetings and calls faster. Just click on the topic, and Fireflies will filter all the instances in the transcript where the term was mentioned in the meeting.
c) Conversation analytics (aggregated):
Access conversation analytics of all your meetings from the left navigation bar. Click on 'Analytics' or directly open the page https://app.fireflies.ai/analytics. There are two tabs on the dashboard: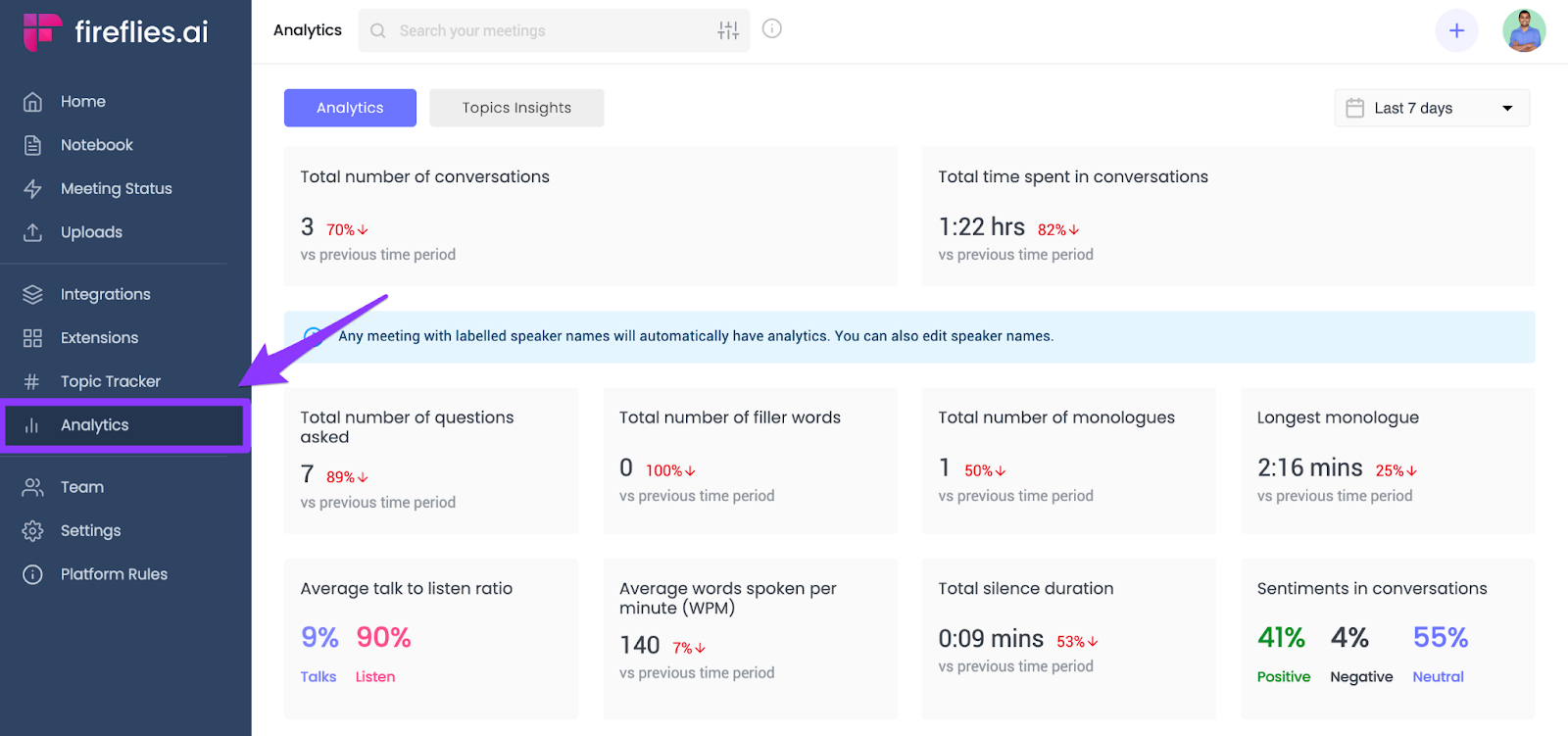 Analytics: Find the important metrics aggregated for all the meetings for yourself and your team for a given date range.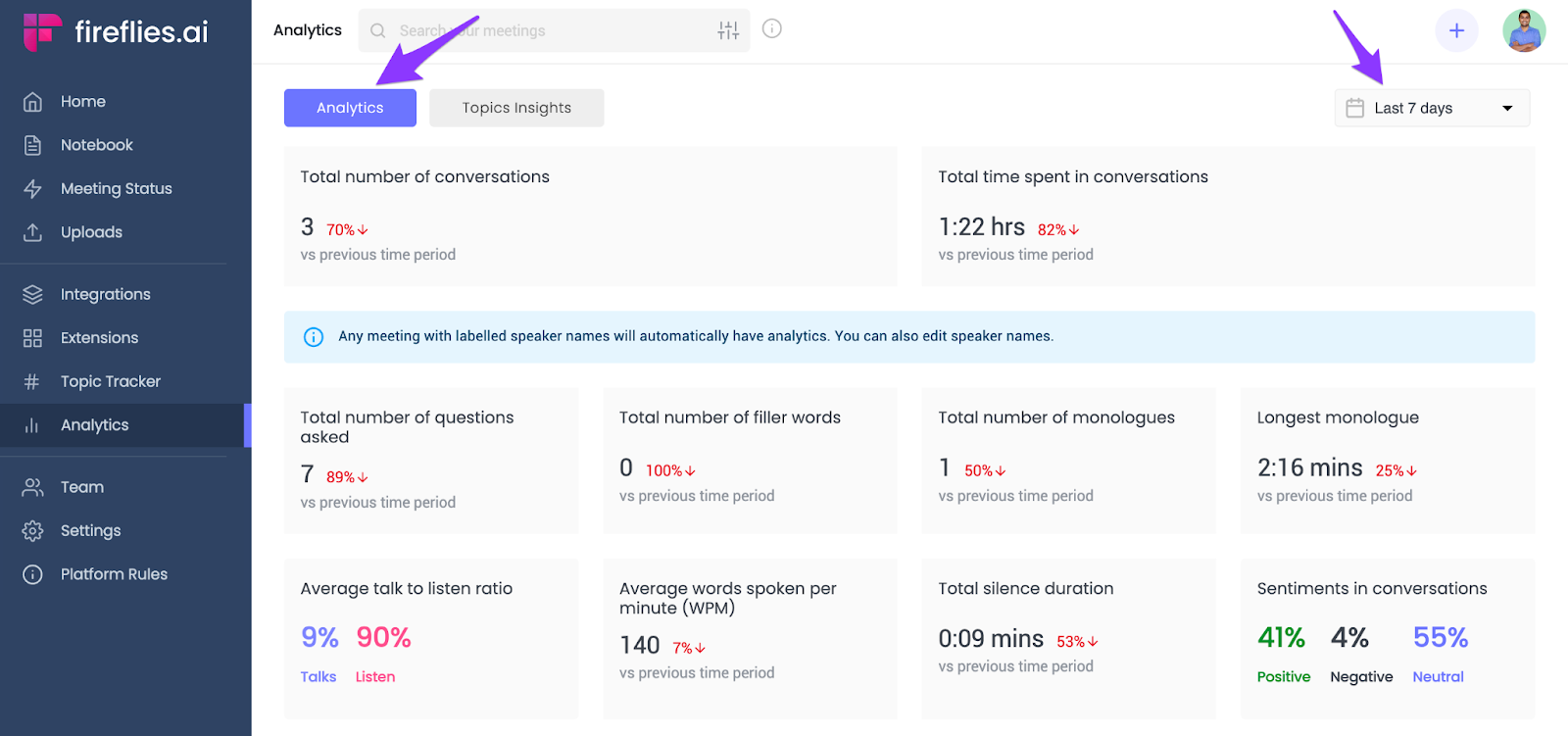 Topics insights: See all the topics and keywords from your meetings in one place.

As a team admin, you can see summary cards with data from all the meetings of all your teammates combined. You can also check different metrics for each teammate from your team and measure how they are participating and performing.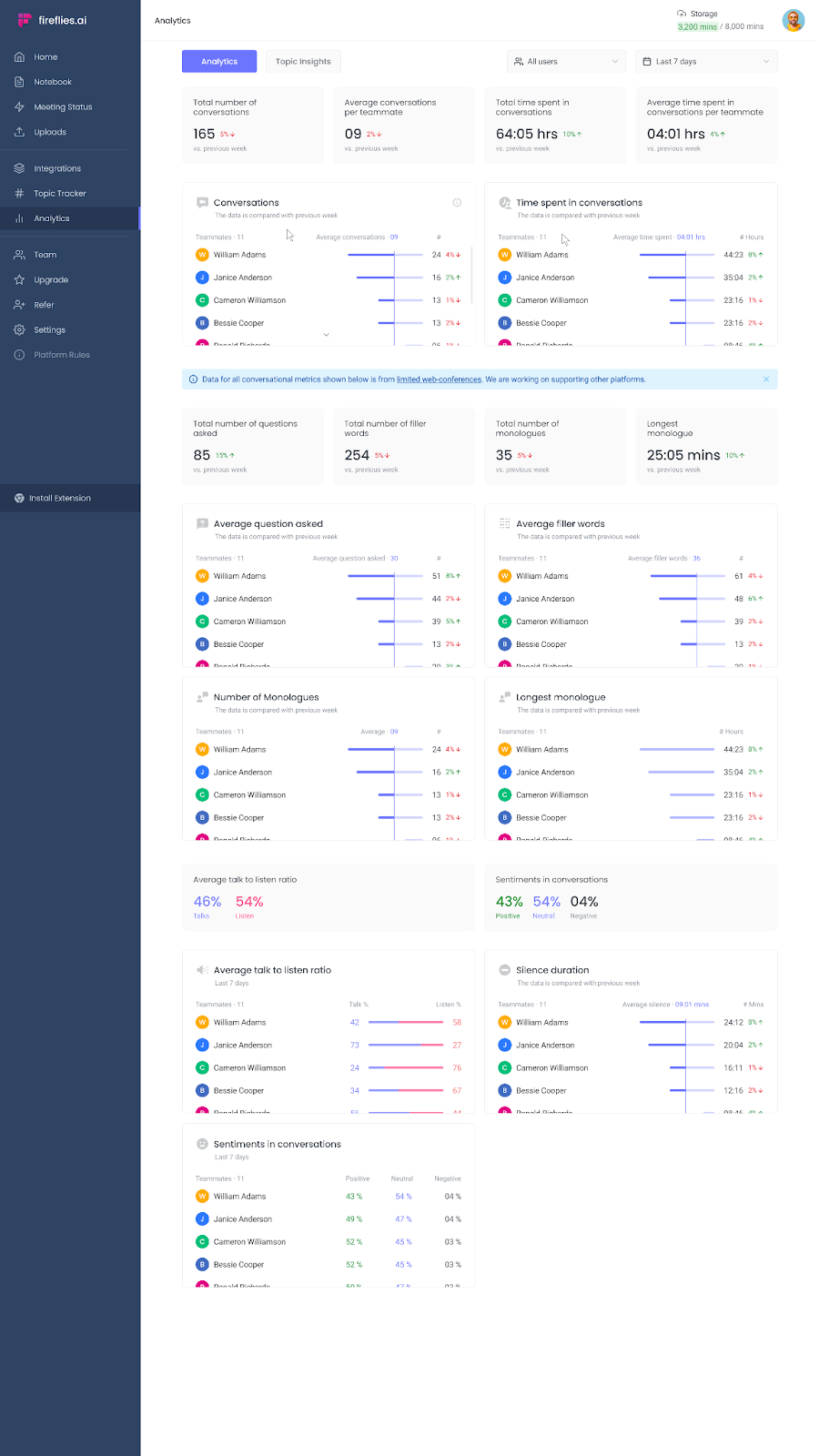 7. Integrations
Fireflies integrates with more than 50+ popular apps that you use, including CRMs, dialers, and video conferencing tools. It makes it easy to get your meeting summaries and action items available anywhere, anytime—so you can stop juggling tools and instead be in sync.
Here is the list of some of the types of apps Fireflies integrates with:
Dialers
Project Management Tools
Video Conferencing
Storage
CRM
Email
Custom integrations (through Zapier, Fireflies API)
NoteTaking
Collaboration Tools
Audio Recording Tools
You can see all our integrations here
8. Ease of use
Fireflies is easier to onboard and use. It's intuitive and, unlike Gong, doesn't require a specialist to help you automate your workflows.
All you have to do is sign up and start using the platform. You can also try out the business plan for a 7-day free trial and explore all the features without any limits.
With Fireflies' integrations, you can easily sync all your favorite apps so that when Fireflies records and transcribes your meetings, you get meeting notes automatically pushed to your CRMs, Project management apps, and other communication apps like Slack without any effort.
If you're stuck with the platform, you can always contact a customer success executive through chat or email. We also have detailed support guides that give you step-by-step instructions on how to use the platform.
Fireflies vs. Gong - Is Fireflies really the best Gong alternative?
As Fireflies offers most of the Gong features at almost 1/10th of the cost, you might still be on the fence thinking:
How can Fireflies offer all these features at such a low price?
Can Fireflies match the quality of Gong?
Here's putting an end to all these questions.
1. Fireflies Business Model
As a business, our approach is different from that of Gong. While Gong focuses on top-down enterprises within the sales vertical, Fireflies is a horizontal product that any business can use.
Our goal has been to build a horizontal product that's accessible and easy to sign up for and scale, like Slack or Zoom.
Fireflies' pricing is meant for scale and volume. Instead of paying $1,500 per year per seat, you can pay just $19 per month per user and scale up whenever needed.
Typically, when people sign up for Fireflies and start using it, other departments also realize our product's value and follow suit. And that's how we go org-wide, and the pricing makes it flexible.
2. Fireflies Quality
Just because our prices are low doesn't mean we compromise on quality.
Fireflies transcription accuracy is over 90%, and it can transcribe meetings in 32 languages.
Fireflies is also SOC-2 Type II, GDPR, and HIPAA compliant. This means our data security practices meet the highest industry standards when put to the test.
Related Article: What we think about security at Fireflies.ai
In the past two years, our product has been in meetings across 50% to 60% of the Fortune 500. It takes notes from millions of people.
Final Thoughts
In short, we help businesses scale and offer you a product your team can use daily without denting your business growth.
If affordability, quality, ease of use, and analytics are your top priorities, try Fireflies for free today. You can try our business plan for a free 7 days and see for yourself why Fireflies is the best alternative to Gong.