The Fathom AI notetaker is a reasonably new meeting tool for Zoom meetings. With its ability to record, transcribe, and summarize your meetings, Fathom can help you focus on the discussion without worrying about taking detailed notes.
But like any new tool, it has its share of shortcomings.
In this article, we'll discuss some of these limitations of the Fathom notetaker and introduce you to three fantastic alternatives that may better suit your needs.

So, let's get right into it.
3 Fathom AI notetaker limitations
Works only on Zoom
Fathom is a great tool for taking notes, but only if the meetings are on Zoom. It arguably is the biggest limitation of the Fathom AI notetaker.
Why? Because Zoom isn't the only video conferencing platform.
Indeed, Zoom is a popular name in the video conferencing market, but so are Google Meet, Microsoft Teams, and Cisco Webex.
If we talk about the approximate market share in terms of search volume, Zoom takes the first spot with 42.7%, followed by Google Meet with 31.4%.
What's more interesting is that Google Meet's share rose by 10% from 2021 to 2022, and Zoom's declined by about 5%. So, Zoom has got some tough competition.
Also, many companies are shifting their workflow to Google Workspace, which has over 9 million paying organizations. So, these companies cannot use the Fathom notetaker no matter how much they like its features. It just won't work on Google Meet.
The same is the case for Microsoft Office and other platform users.
Limited integrations
Another limitation of the notetaker by Fathom is that it has limited integrations with other tools and platforms. Fathom integrates with Salesforce, HubSpot, Google Docs, Asana, Notion, and Slack.
While these are popular and widely used tools for productivity and collaboration, they are not the only ones.
For instance, if you use a different CRM system than Salesforce or HubSpot, like Zoho or Zendesk, Fathom can't automatically send your call notes. You have to manually copy and paste, which is time-consuming and prone to error.
Similarly, if you use a task manager other than Asana or Notion, like Trello or Monday.com, Fathom won't be the best fit for you.
Doesn't support multiple languages

The third limitation of the Fathom AI notetaker is that it doesn't support multiple languages. If you have meetings in any language other than English, Fathom isn't for you.
Supporting multiple languages promotes inclusivity and allows team members who speak different languages to participate fully in meetings.
Many businesses and organizations have teams that span different countries and cultures. It's not uncommon for team members to speak languages other than English. A note taking tool that only supports English can hinder effective communication and collaboration in such cases.
3 Fathom AI notetaker alternatives

Fireflies.ai
Fireflies is the best Fathom alternative if you're looking for a versatile and feature-rich note-taking tool. It records, transcribes, analyzes, and summarizes your conversations. After every meeting, Fireflies automatically sends meeting recaps to everyone based on the user setting.
Fireflies doesn't just fix Fathom's drawbacks, it also outperforms it in every other criterion.
Fireflies works with all major video conferencing apps like Google Meet, Microsoft Teams, Webex, and more.
Fireflies has a vast list of integrations of CRMs, collaboration tools, calendar schedulers, project management tools, etc. You can use different integrations together to create your workflow with Fireflies.
For example, in the Zoho + Zoom workflow, your Zoho CRM will be filled automatically after your Zoom call.
Fireflies supports 60+ languages and three English accents (UK, Australian, and US). So, you can have meetings in one of the languages, and Fireflies will transcribe it for you.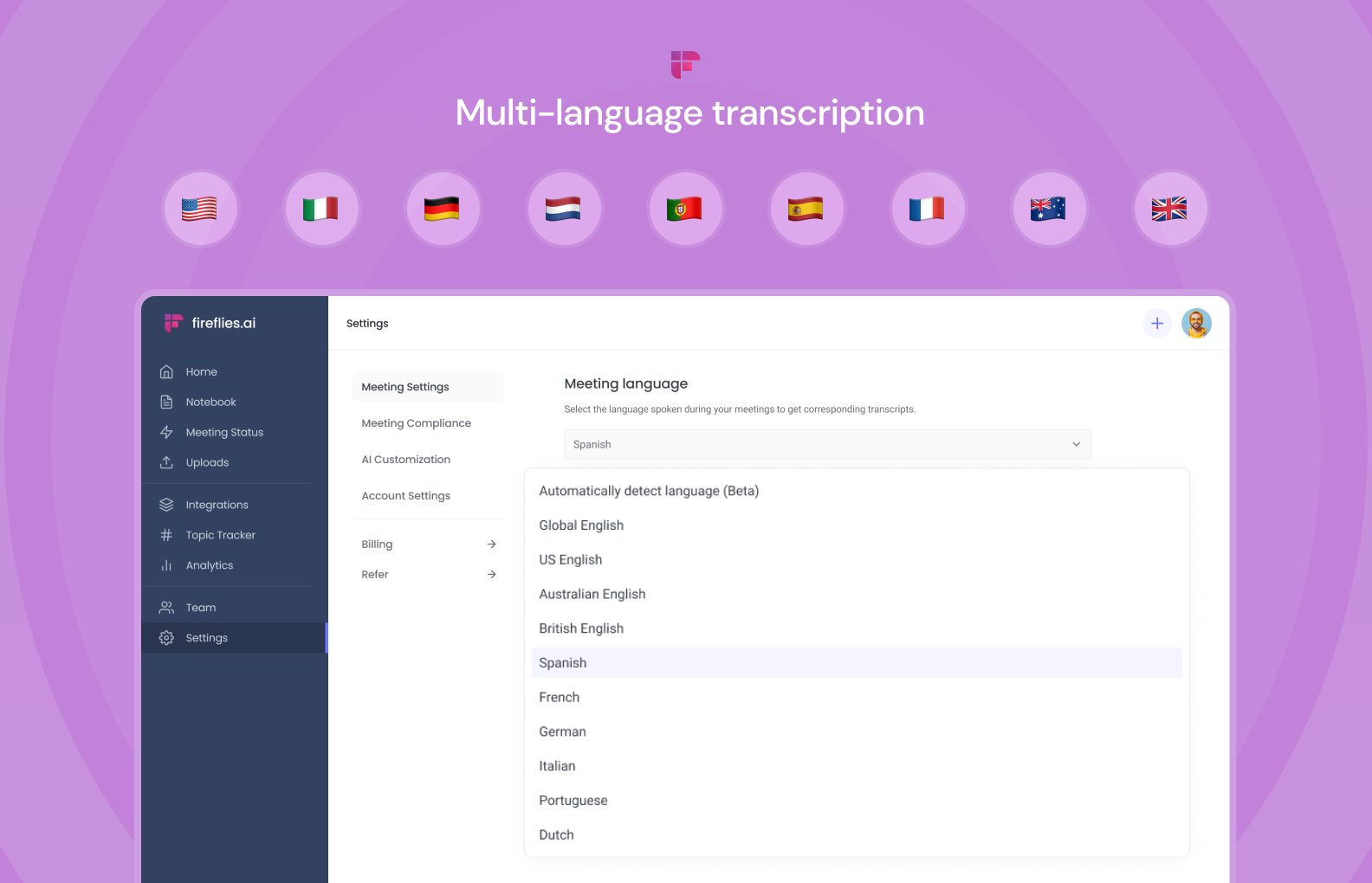 Furthermore, Fireflies has so much more to offer:
AI Super Summaries: Powered by the latest language model GPT-4, AI Super Summaries has everything you need in a comprehensive meeting summary—meeting overview, outline, bullet-point notes, action items, and keywords. It allows you to review meetings in minutes—just one look at the Super Summary is enough to know what transpired in the meeting.
Smart Search filters: You can zoom in on the key details of your meetings with Smart Search. Whether it's questions, tasks, metrics, or dates and times, Smart Search will highlight them for you—no more scanning through transcripts to find what you need.
Soundbites: Extract and share small audio clips from your recorded meeting. These clips can be anything from important information, shareable quotes, action items, etc.

Topic Trackers: Keep track of certain keywords across all your meetings. Just set up topics, and Fireflies will automatically detect and highlight them in your meeting transcripts.
AskFred: Imagine having ChatGPT as your personal AI meeting assistant. That's what AskFred does. You can ask Fred any questions related to your meetings, such as agendas, action items, or feedback. You can also use it to generate post-meeting content like follow-up emails or social media posts.
Fireflies is all about making your meeting conversations more efficient and productive. If you're looking for an alternative to Fathom that can enrich your conversations while keeping up with your needs, Fireflies is the way to go.

Pricing: Fireflies has Freemium, Pro, Business, and Enterprise plans. You can also sign up for a 7-day free trial to experience all the features of the Business tier.
The Pro plan costs $10/seat/month while the Business plan is for $19/seat/month.
Chorus AI
Chorus AI is another alternative to Fathom for note-taking during meetings. The biggest upside or downside is that it's focused on sales.
If you're looking for a tool that helps you drive your sales by helping you have better conversations, Chorus is an excellent option.
Every meeting it records is transcribed and analyzed from a sales perspective. Chorus has a comprehensive conversation intelligence feature that gives all the relevant insights on improving sales performance and closing more deals.
Like Fireflies, Chorus also works on all popular video conferencing tools like Zoom, Google Meet, and Microsoft Teams. If you want to use it for customer-facing teams, be prepared to shell out anywhere between $100 to $200 per user (estimated).
Chorus's pricing isn't transparent, and you must contact the company for a quote based on your needs.
Sembly AI
Sembly AI is another alternative to Fathom for note-taking purposes. It, too, records, transcribes, and generates insights from your meeting conversations.
Sembly AI analyzes your meetings and extracts key items such as actions, decisions, issues, risks, events, requirements, etc. What makes Sembly unique is the support for voice commands inside the meetings.
The meeting minutes and AI meeting summaries are shared automatically with the attendees once the meeting ends. You can use the meeting minutes templates for an additional layer of customization.
While Sembly AI is a great tool, it does have two major limitations:
It only supports two languages, English and French. There is no official information available regarding the support for more languages.
It's only available on Google Meet, Zoom, and Microsoft Teams. You must find another alternative if your organization uses another video conferencing platform like Webex or BlueJeans.
To wrap things up
The Fathom AI notetaker is useful for Zoom meetings. Still, it has some drawbacks, such as limited platform availability, integrations, and language support.
To overcome these limitations, we have introduced three alternatives, including Fireflies.ai, which not only addresses these problems but also offers advanced features like AI Super Summaries, Smart Search Filters, Soundbites, and Topic Trackers.
With Fireflies.ai, you can make your meetings more efficient and productive, regardless of your platform, language, or tools. So, if you're looking for an advanced note-taking tool packed with the power of AI, Fireflies.ai should be on the top of your list.