Fireflies and Otter are exceptional AI notetakers, each offering great transcriptions, summaries, and integrations.
Yet there are key differences between them.
In this ultimate Fireflies.ai vs. Otter.ai showdown, we'll examine these differences across various aspects, such as transcription capabilities, security, integrations, and more.
By the end, you'll see what sets them apart. So, read on!

Fireflies.ai vs. Otter.ai: 8 Factors to consider while choosing an AI Notetaker
1. Transcription capabilities

a. Transcription accuracy and Speaker labels
We transcribed a meeting through Fireflies and Otter to compare accuracy. Fireflies edged out Otter overall, with fewer errors and its ability to pick up accents.
A key advantage Fireflies has is the automatic speaker labeling. Unlike Otter, it identifies speakers by name and saves time on manual labeling.
b. Multi-language transcriptions
Fireflies supports transcriptions in over 60+ languages, while Otter only handles English transcripts. So, if you have a global team with diverse language needs, Fireflies is likely the better choice.
c. Real-time transcriptions
If real-time transcription is your priority, Otter has the edge. It offers live captions, whereas Fireflies is soon to release this feature.
2. Recording capabilities

a. Video conferencing platform support
When it comes to video conferencing platforms, the breadth of integrations can significantly influence one's choice. When comparing Fireflies vs. Otter, the distinction becomes clear.

Fireflies supports more video conferencing platforms than Otter. It integrates with Zoom, Google Meet, Microsoft Teams, Webex, GoToMeeting, Skype, Lifesize, and Dialpad, while Otter focuses primarily on giants like Zoom, Google Meet, and Microsoft Teams.

Beyond just platform support, the capabilities of these tools further diverge. A standout feature of Fireflies is its video recording capabilities. This is a feature that Otter, at this point, doesn't have.
b. Chrome extension
Both Fireflies and Otter offer Chrome extensions that let you transcribe meetings. However, Fireflies' extension has some unique features that give it an edge.

The Fireflies Chrome extension has AskFred for the Web, which summarizes web pages, articles, YouTube videos, and more. For example, we used it to quickly summarize a long research paper and extract key points.

Furthermore, Fireflies supports async collaboration by letting you transcribe Loom, Soapbox, and Bubble videos into Fireflies.

The Otter Chrome extension focuses only on live meeting transcription from Zoom and Google Meet. It lacks the additional capabilities of Fireflies, like summarizing web content and transcribing videos.

3. Privacy and security

a. Zero-day data retention policy
Fireflies has a 0-day data retention policy, ensuring that third parties do not store customer data. Additionally, Fireflies does not train on any user data or share it with third parties.

While Otter does not share your data with third parties, it does train its language models using de-identified user data.
b. Compliance and Private Storage

While both platforms offer GDPR and SOC 2 Type II standards for data privacy, Fireflies goes a step ahead by being HIPAA compliant, making it a big win for those in healthcare.

Fireflies also offers Private Storage options for enterprises who want 100% control over their data.

For teams dealing with confidential meetings, Fireflies stands out as the ideal choice due to its transparent and robust security and privacy policies.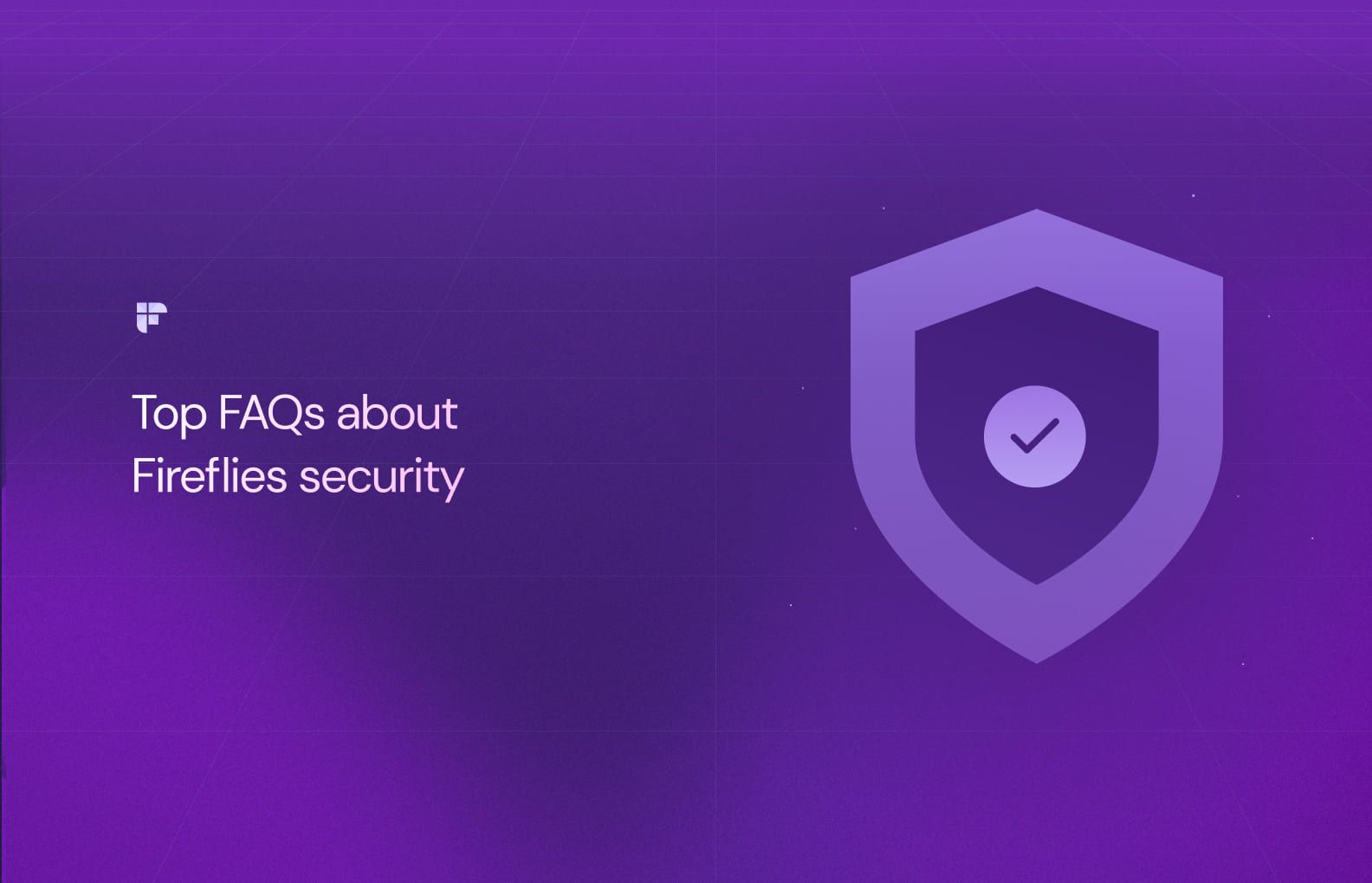 🔐
Keep your data safe. Switch to Fireflies and let us handle your data migration.
Fill out the form
to get started.
4. Actionable meeting insights

a. Customizable AI Summaries

Otter provides a general approach to creating meeting summaries, capturing key moments without much customization. This can sometimes result in overlooking crucial details.
In contrast, Fireflies provides a more tailored experience with its five-part Super Summaries.
Its strength lies in its adaptability—you can enable, disable, or customize each section to your needs with AI Apps—a feature not available in Otter.

For example, you can edit the default prompt for the Action Items section to get more detailed tasks: "List action items, deadlines, due dates, dependencies. Mention responsible people."
The result is summaries with detailed, personalized action items:

Whether in sales, marketing, or any other field, you can teach Fireflies to generate notes the way you want with custom prompts.


If you're new to writing prompts, here are 50 sample prompts to customize summaries of one-on-one meetings to help you get started.

Related: How to Edit Fireflies Super Summaries
b. AskFred offers better customizations than Otter AI Chat
Fireflies and Otter enhance your meetings with AI assistants AskFred and Otter AI chat. These assistants allow you to:

Ask questions and get key insights from your meetings like: "What were the action items for the sales team?"

Assist you with follow-up tasks such as writing emails or blogs.

Save customized prompts to automatically run after each meeting.

Yet, Fireflies edges ahead in terms of prompt customization:

You can switch the prompt's language models from basic to advanced to generate higher-quality responses.
It gives you a pre-curated library of prompts to automatically identify key information after every meeting.

While both Fireflies and Otter offer some great AI capabilities, Fireflies takes the lead in customization, offering advanced language models and a ready-made library of prompts for more effective post-meeting automation and better-quality responses.

5. Meeting Analytics
Fireflies provides unmatched analytics to optimize your team's performance. Its Conversation Intelligence delivers insights into key metrics like average time spent on calls, talk-to-listen ratio, filler word count, and more.

Dive into individual metrics and filter them by meeting type or dates to compare a team member's performance with the collective average. You can also use Fireflies to uncover recurring themes in your conversation with Topic Insights.

Track key topics in your conversations and analyze how often they come up. For example, this feature not only reveals the priorities of your customers but also enables you to, for example, pinpoint frequently mentioned competitor features. A simple click provides a deep dive into relevant conversations.
Equipped with these insights, prepare your sales reps to proactively address queries or concerns the next time a similar topic arises.

Unlike Otter's basic analytics, Fireflies transforms raw conversation data into actionable intelligence. It empowers you to refine team interactions through targeted coaching continuously. So, if in-depth conversation insights are your priority, Fireflies is the clear choice.
📊
Get deeper insights from meetings. Switch to Fireflies, and let us help migrate your data safely.
Fill out the form
to get started.
6. Integrations

If you want meeting intelligence to flow into the apps you use, Fireflies has far more integration options than Otter.
a. Get Meeting transcripts in your favorite apps
While Otter only integrates with a handful of platforms like Salesforce and Slack, Fireflies connects with over 40 apps.

This includes:
Project management tools like Asana and Trello
Team chat apps like Slack and Microsoft Teams
Note-taking apps like Notion

Fireflies also has a native Zoom integration that automatically transcribes Zoom meetings in Fireflies without needing the bot to join.

b. Automate your workflow

Fireflies also integrates with Zapier, so you can automate routine tasks. For example, you can automatically assign new leads from meeting transcripts to sales reps in your CRM.

The possibilities are endless with Zapier's thousands of pre-built automations. Save time on manual work so you can focus on high-impact activities. Otter currently lacks Zapier integration and the ability to automate your workflows.

c. Build custom integrations

If custom integration is a priority for you, Fireflies takes the lead.

You can use Fireflies API to connect meeting transcriptions and insights into your apps and workflows. For example, you could connect meeting intelligence to your email marketing platform to trigger personalized outreach based on meeting outcomes.

In summary, Fireflies is the better choice if custom integrations matter. Its API opens the door to meeting intelligence integration while Otter's options remain limited.


7. Collaboration
a. Highlight conversation and add comments
You can easily highlight significant portions of transcripts and swiftly navigate to specific parts of the conversation using time-stamped comments on both platforms post-meetings.

However, Otter provides the additional capability of real-time commenting and highlighting during the live meeting.
b. Create bite-sized meeting snippets

Both Fireflies and Otter provide ways to clip key moments from meeting recordings into reusable snippets. However, Fireflies offers more robust and automated options.

With Otter, you can only manually highlight transcript sections to create audio snippets. This requires sifting through recordings and carefully selecting clips - a time-consuming process.
In contrast, Fireflies provides multiple options to generate audio and video snippets called Soundbites:

Magic Soundbites: One-click AI automatically creates sound bites from important meeting moments.
Keyword Soundbites: Soundbites are generated based on the keywords mentioned.
Manual clipping: Users can also manually drag to select clips.
These options, especially the AI-powered ones, save you significant time from searching through meetings to find relevant clips.

Additionally, Fireflies lets you organize snippets with Playlists.

For instance, you can create a "Discovery Calls" Playlist and add Soundbites from multiple sales discovery calls highlighting key customer insights. Utilize these playlists to train your teams, create playbooks, or for seamless handoffs during hiring.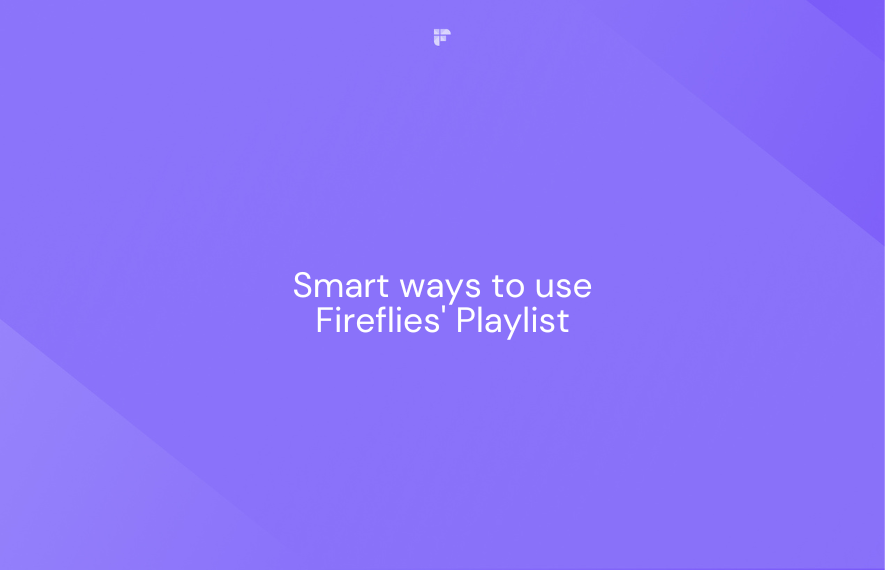 In summary, Fireflies provides a more robust and automated clipping experience through its Magic Soundbites, Keyword Soundbites, and Playlists features. This makes creating and managing meeting snippets much easier than Otter's manual highlighting.

💸
Switch from Otter to Fireflies, and let us help securely migrate your data.
Fill out the form
to kickstart your journey.
c. Searchable knowledge base

Both Fireflies and Otter enable robust organization and retrieval of meeting recordings through the following features:
Categorize meetings into customizable public/private channels
Advanced search to revisit old discussions
AI-powered Smart Search filters (e.g., by action item, date, question)
Filter transcripts by speaker and sentiment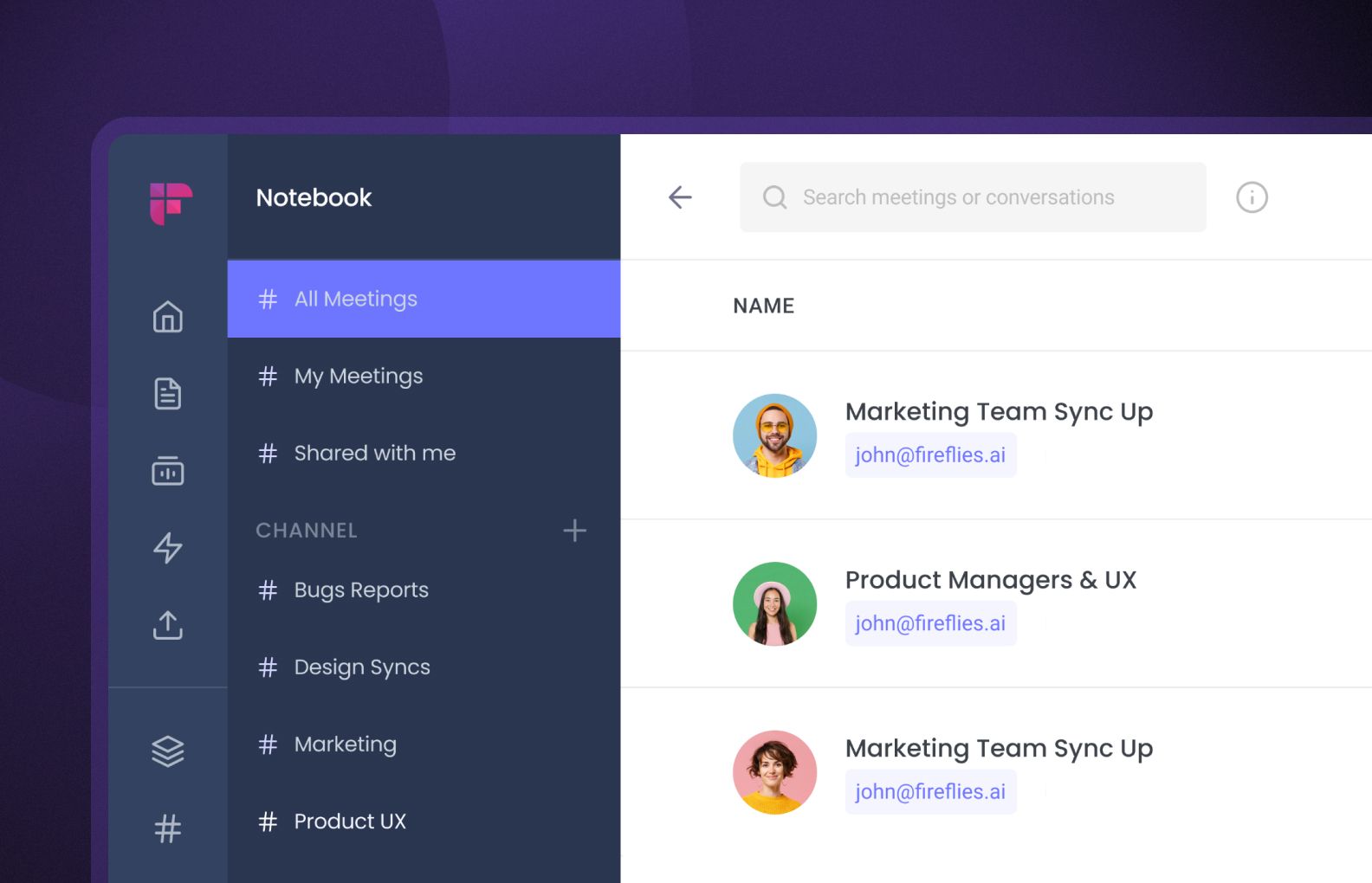 8. Flexible pricing

Both Fireflies and Otter offer free versions to try out their platforms.

Otter's free plan provides 300 minutes of transcription per month. Fireflies' free tier gives 3 transcription credits (each ~40 mins) and 800 minutes of storage. You can earn more Fireflies credits through the referral program.

For paid plans, Fireflies and Otter start at comparable price points of $10/month. However, Fireflies offers more flexibility with its 7-day free trial of its Business tier, so you can decide what features you need and choose a plan accordingly.

The good thing is that both tools aim to make pricing accessible to even smaller teams.
Final Verdict: Fireflies.ai vs. Otter.ai
Otter delivers straightforward AI transcription in real-time, creates a searchable knowledge base of meetings, and has great collaboration features.

However, it has limited integrations and meeting analytics capabilities.

In comparison, Fireflies combines transcription accuracy with more robust AI capabilities.


It provides more data security and privacy, integrates with popular tools you use, and also gives you in-depth meeting analytics.

In short, if you need a virtual chief of staff that goes beyond basic meeting transcription to boost productivity, Fireflies is the clear choice.

To help make your decision easier, we've got an offer you can't refuse!

Try Fireflies' free plan, explore its wide range of features, and get a feel of its functionality. Simply click on the signup button below to get started.

And if you're eager to unlock the full potential of Fireflies, why not give our business plan a whirl with a free 7-day trial?