You want to compare Fireflies.ai vs. Otter.ai for one or a few of these reasons:
You want to know which one can accurately and reliably record and transcribe your calls or meetings.
What are the platforms they integrate with? Do they seamlessly integrate with your preferred platforms like Zoom, Hubspot, and Slack?
Compare the unique features and functionalities of the two.
Know about their ease of use, security, and learning curve.
Compare their pricing plans.
Welcome to this ultimate Fireflies.ai vs. Otter.ai showdown as we compare these two AI notetakers head-on and see what sets them apart.
By the end of this article, you'll have all the insights you need to make an informed purchase decision. So, let's get started.
What is Otter.ai, and who uses it?
Otter.ai is a voice-to-text transcription software that picks up the voice and generates text in real-time. Its USP is its ability to generate transcriptions with high accuracy.
Students or journalists use Otter.ai to record lectures or interviews from their phones and turn them into text without spending hours writing notes.

It's arguably the best audio transcription service on the market. As a journalist, I interview a lot of people. Transcribing interviews is my least favorite part of the job. It's a tedious, time-consuming business. Otter.ai can transform a one-hour audio recording into a (fairly accurate) text representation in a matter of minutes - Matthew Hughes

It also has meeting assistant capabilities that allow businesses to record, transcribe, and organize notes from their team meetings.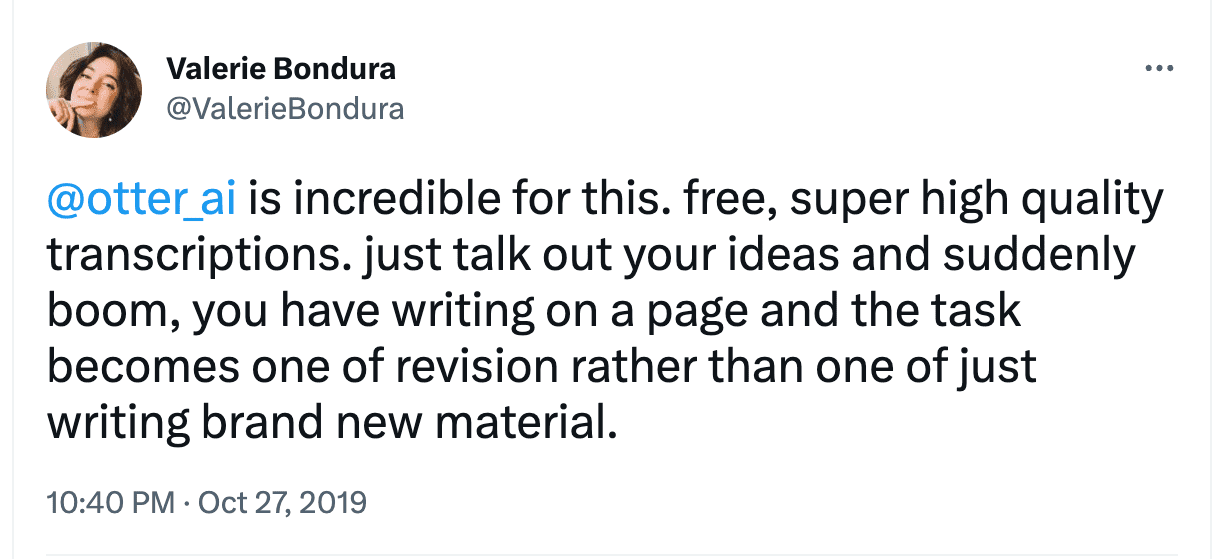 Otter.ai platform - key highlights
Capture audio from Zoom, Google Meet, and Microsoft Teams meetings.
Generate meeting transcripts and captions in real-time.
Automatically insert PPT slides into your meeting notes.
Record on the go from the Otter.ai Mobile app.
Assign action items and collaborate with your team members in real-time.
Transcribe your audio file uploads.
What is Fireflies.ai, and who uses it?
Fireflies.ai is an AI meeting assistant that transcribes, summarizes, and analyzes your meetings. Its USP is to uncover actionable insights and summaries from meetings.
So, most businesses use Fireflies to record and transcribe their meetings. Fireflies automatically sends meeting notes, recaps, and summaries to all participants.
Fireflies is the ultimate time and money saver. It helps businesses save time and money by automating the manual entry of meetings with app integrations.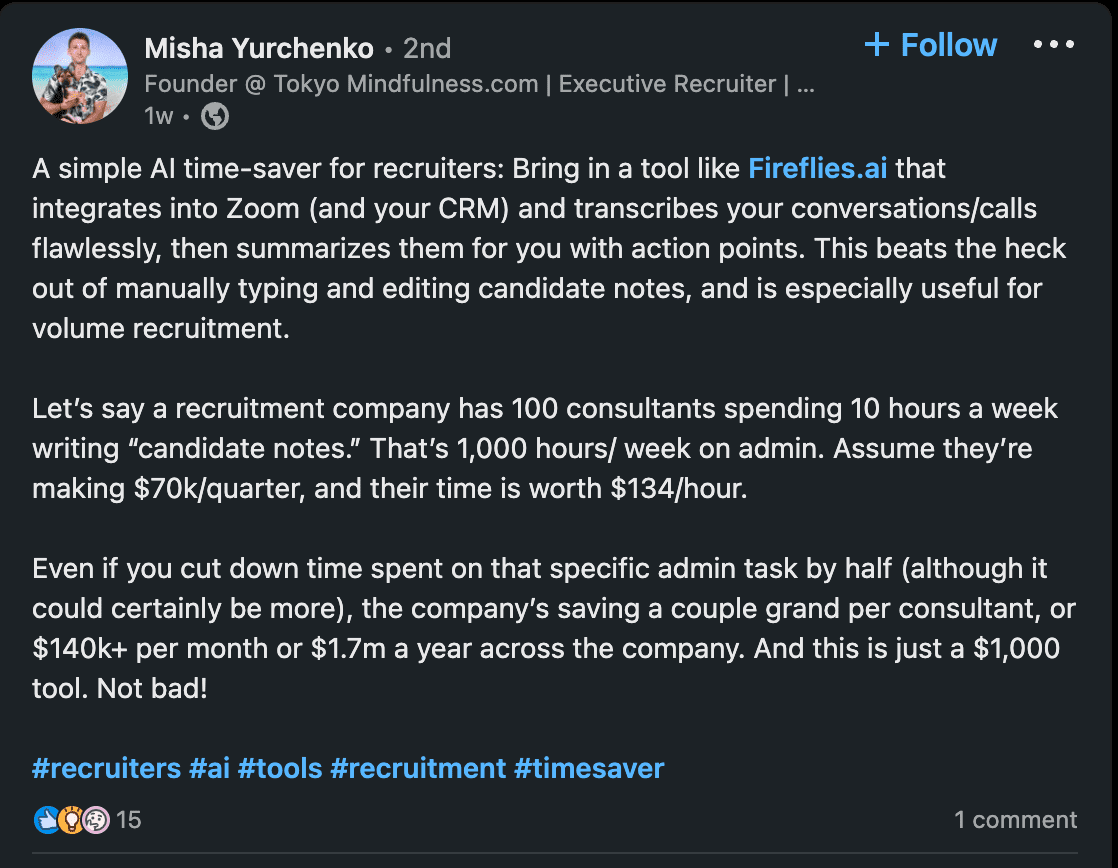 Fireflies.ai platform - key highlights
Captures both the audio and video of meetings from 10+ web conferencing platforms, including Zoom, Google Meet, or Microsoft Teams.
Summarizes meetings with time-stamped meeting outlines, notes, and action items.
Pushes meeting notes and summaries to your CRM, Slack, and 50+ apps you use.
Provides AskFred - GPT4 powered AI assistant that answers specific questions about meetings, writes follow-up emails, blogs, and a lot more.
Identifies speaker labels and provides meeting transcriptions in 30+ languages.
Curate important meeting highlights with Soundbites and Playlists to review meetings and conversations faster.
Transcribes your audio and video file uploads.
Fireflies.ai vs. Otter.ai - product comparison
Now that we know the capabilities of Fireflies and Otter, let's take a closer look at other deciding factors such as cost, product functionalities, security, and support.
To ensure a fair comparison, we'll focus specifically on the Business plans offered by both Fireflies.ai and Otter.ai, as these plans have the best features.
1. Cost and scalability
When it comes to cost, both Fireflies and Otter offer affordable pricing plans, but Fireflies edges out Otter in terms of scalability for growing businesses.
While Otter provides basic meeting transcription, Fireflies offers additional features like meeting summaries, AI-powered meeting assistants, collaboration tools, and analytics to help you get the most out of your meeting and grow at scale.
Scheduling and managing meetings can be a hassle, but Fireflies.ai and Otter.ai make it easier.
Fireflies is a great option for those who mainly use Google and Outlook calendars. Otter lets you connect with Google, Outlook, and Apple Calendar.
3. Recording and playback
Here are the different recording and playback options on Fireflies and Otter.
In summary, both platforms score equal when it comes to recording and playback options.
Fireflies is a great choice for those who use different web conferencing platforms and need to capture audio and video. Otter is better suited for those looking to transcribe meetings from their mobile app and prefer more playback speed options.

4. Transcriptions
Otter and Fireflies are well-known for their meeting transcription capabilities. However, there are some differences in what each tool offers.
Otter's is the tool to use if you need the transcription in real-time. However, Fireflies is the clear winner if you're looking for an AI meeting assistant that provides more than just transcripts, such as detailed meeting summaries and outlines.
5. Collaboration
When it comes to collaboration, both Fireflies and Otter offer some useful features. Here is a brief overview:
Should your team's workflow hinge on real-time collaboration and immediate assignment of action items, you might lean towards Otter.
Yet, when it comes to advanced collaboration offerings, Fireflies outshines. It brings a richer set of tools to the table. With features like offline commenting, Soundbites, and coaching, Fireflies steps up the game, providing a more comprehensive solution.
6. Conversation Intelligence
Fireflies is the way to go if you want to analyze your meetings and conversations.
While Otter only offers platform usage analytics, Fireflies provides much more detailed meeting analytics, insights on speaker talk time, voice commands, team insights for admins, and even individual teammate insights.
So if you want to gain a deeper understanding of your team's communication patterns and identify areas for improvement, Fireflies is the clear winner.

7. Integrations
Here are the different integrations supported by both Fireflies and Otter.ai
Based on the comparison of integrations between Fireflies.ai and Otter.ai, it's clear that Fireflies has a significant advantage over Otter. With integrations with CRM platforms, project management apps, and popular tools like Aircall, Slack and Zapier, Fireflies can seamlessly integrate into your existing workflow.
Otter.ai, on the other hand, has limited integrations that focus mostly on syncing audio and video files to cloud services like Drive and Dropbox.

8. Security and compliance
Fireflies.ai and Otter.ai offer TLS encryption and AES-256 encryption for real-time content, which are standard security features for data transmission and storage.
Overall, both platforms offer similar levels of security and compliance, though Fireflies.ai may be more suitable for healthcare and enterprise customers who require HIPAA, GDPR, and SOC 2 Type II compliance.
9. Product support
To compare the support options offered by Fireflies.ai and Otter.ai, let's break down the support options offered by both platforms.
Fireflies.ai stands a cut above Otter.ai, offering a wider array of support options.
With 24/7 assistance, priority attention, and the convenience of email and chat support, Fireflies ensures you get the help you need, right when you need it.
Now that's a service that doesn't sleep!
Final verdict: Fireflies.ai vs. Otter.ai
Here is the overall product functionality comparison between Fireflies and Otter.
As you can see, both Fireflies.ai and Otter.ai are fantastic tools with unique features and strengths. It ultimately depends on what you're looking for in a platform.
If your priority is the real-time transcription and mobile accessibility, Otter.ai could be your match.
However, if you crave a comprehensive meeting companion, one that offers insightful meeting summaries, effective collaboration tools, and an AI-powered assistant, Fireflies.ai might just be the perfect fit for you.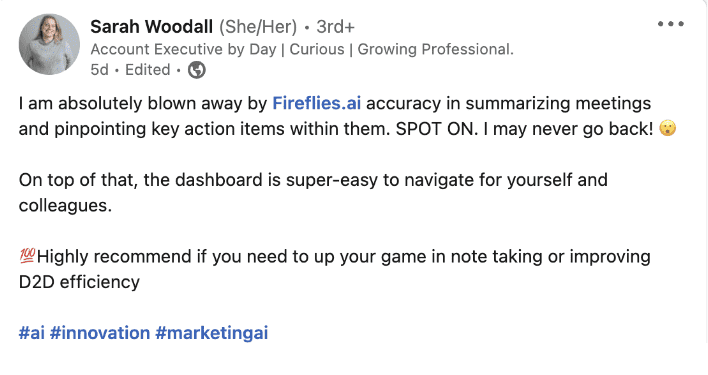 To help make your decision easier, we've got an offer you can't refuse!
Try Fireflies' free plan, explore its wide range of features, and get a feel of its functionality. Simply click on the signup button below to get started.
And if you're eager to unlock the full potential of Fireflies, why not give our business plan a whirl with a free 7-day trial?