Face-to-face meetings are undeniably beneficial, but how often are they practical? Well, not in the post-pandemic world.

According to a report by VC Daily, virtual meetings and web conferencing platforms are expected to grow by 20% every year from 2022. It's evident that video conferencing is thriving amid the rising remote workforce. But having simple virtual conference tools like Zoom and Microsoft Teams isn't enough.

To make online meetings even better, you need to empower your teams with tools that bring people together, improve efficiency, and simplify collaboration.

In this article, we'd be looking at some of these meeting tools, their functionalities, and pricing.

Virtual Meeting Tools: Before the Meeting

Meeting tools used before meetings are for scheduling and planning. They help streamline the organization of meetings; hence it's essential to evaluate them based on:

Ease of use
Functionalities
Integrations

Calendly
For Scheduling Meetings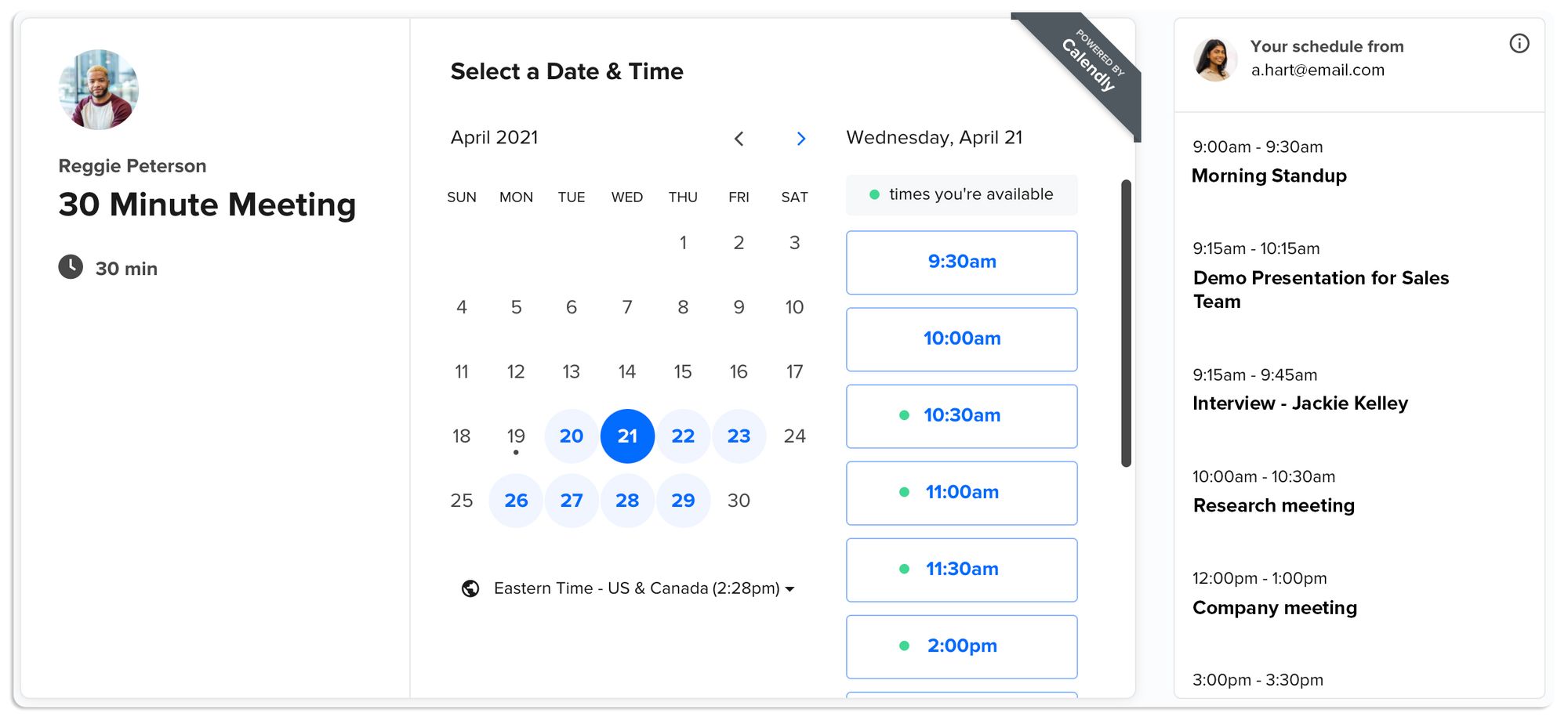 Calendly is a popular option to schedule meetings with a simple design and relatively easy-to-use features. It works with your calendar and automates scheduling appointments without getting double booked.

Calendly's integrations make it easy to use for video conferencing, analytics solutions, payments, and CRM.

Price: Calendly is free to use for individuals who want the basics. It starts at $8 per month for scheduling automation, $12 for small teams looking for more integrations and customizations, and $16 for companies that want to collaborate more efficiently.

Undock
For Prioritizing Meetings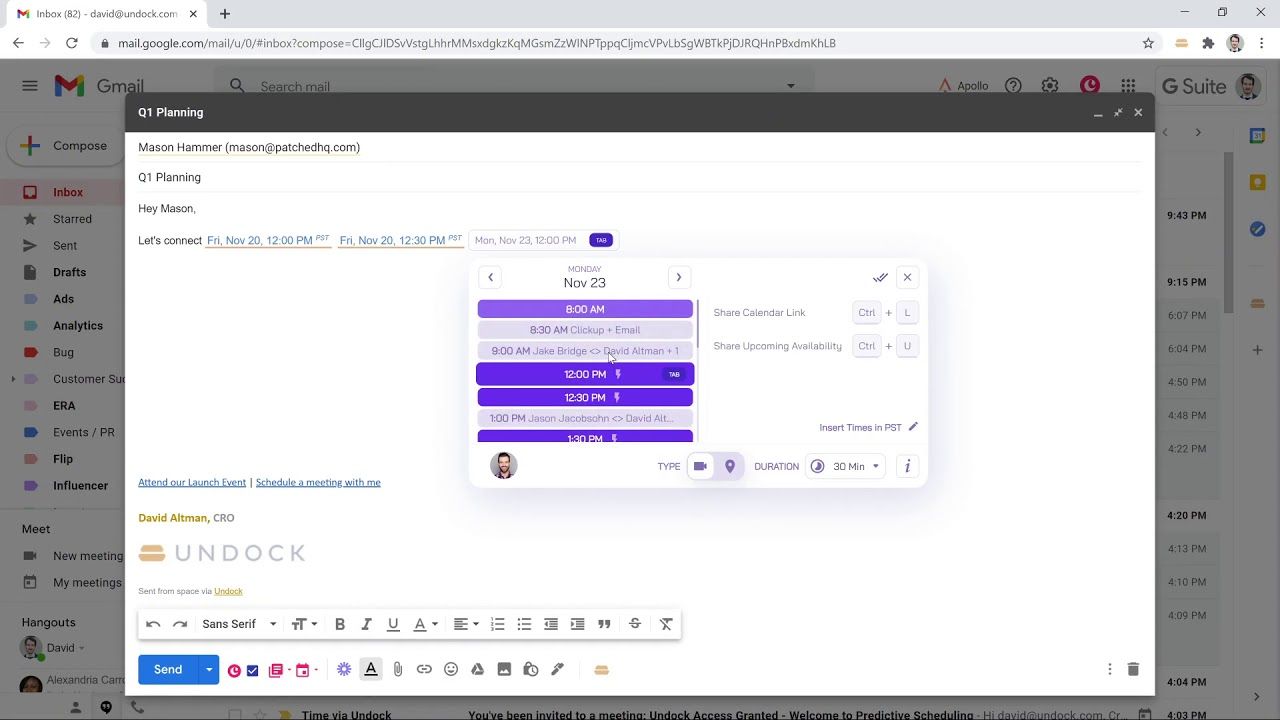 Undock integrates with your calendar directly in the email, and it's the fastest way to schedule and host meetings. Undock suggests a mutually preferred meeting time across time zones, companies, and calendars with predictive scheduling.

Undock automates your meeting preferences by learning your scheduling behavior. It allows you to  set preferred timings and daily limits in their privacy settings.

Price: Undock is free of cost for basic features. The premium scheduling and meeting features start at $10 per month for each user.

HyperContext
For Creating a Meeting Agenda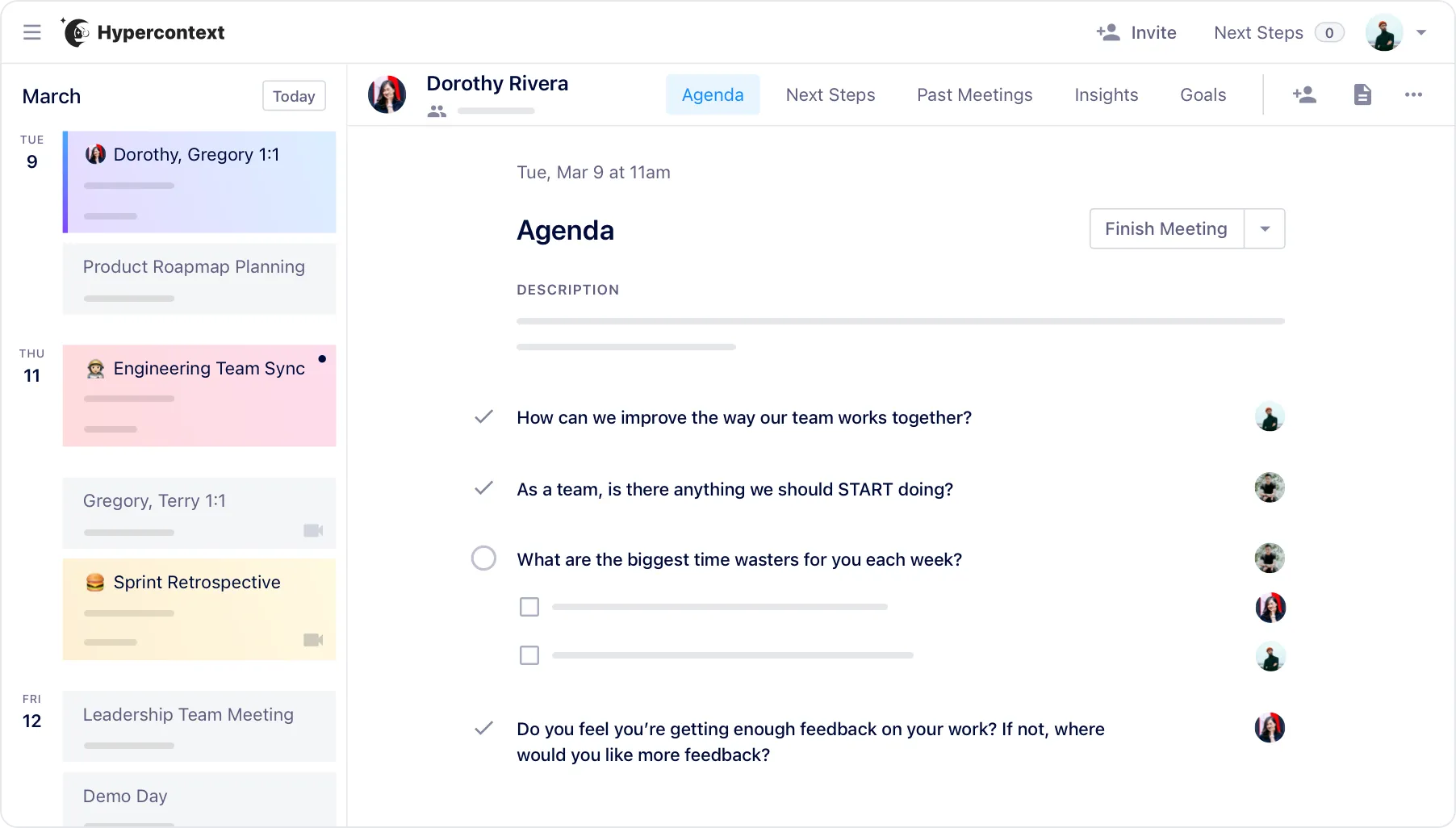 HyperContext helps you add direction to your conversations. The collaborative meeting agenda makes it easy for anyone to contribute to the discussion and tackle problems asynchronously.

HyperContext makes your conversations exciting by suggesting questions. It gives real-time employee feedback and conversational analytics to help you and your team make improvements in your next meeting.

Price: All of this is free for the base plan, but if you need AI-powered conversation insights and custom templates with 250GB storage, it would cost you just $7 per month. You could also sign up for a pro membership billed annually at $8.80/month, with even more exciting features.

Virtual Meeting Tools: During the Meeting

There are several online meeting platforms out there that remote teams use to stay connected, most of which you might already be familiar with.

We've handpicked three free online meeting tools that are similar and highlighted their not-so-similar features for you. But keep the following criteria in mind while evaluating your needs:

Quality (sound and picture)
Easy of use and set up
Integrations

Zoom
For Easy Use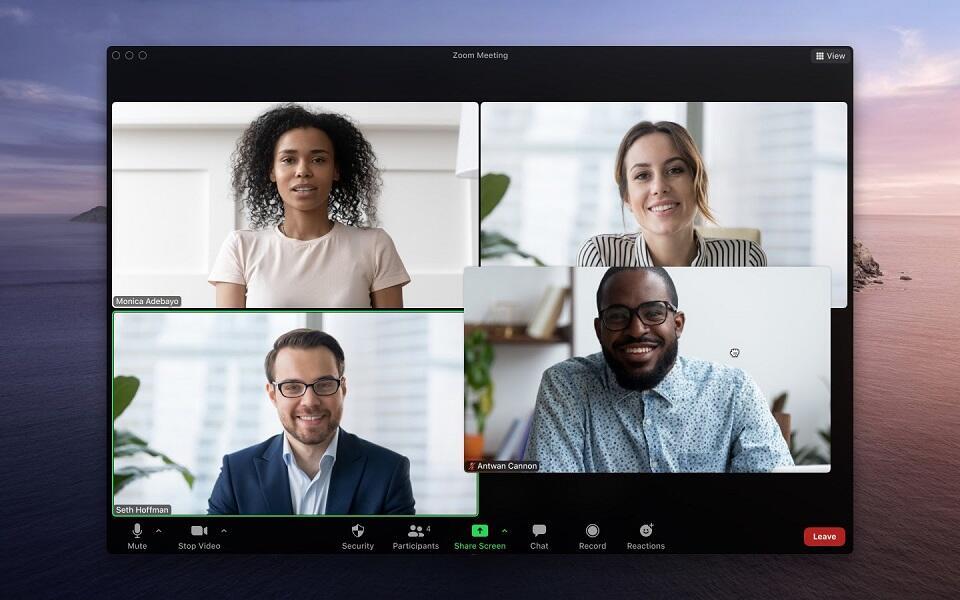 Zoom meeting lives up to our expectations and has played a vital role in the post-pandemic scenario. It's more reliable and pretty easy to use—even a school kid can join virtual classes with a meeting link.

With a clean UI, Zoom allows you to easily access your upcoming meeting details in the expanded view. The elevating search bar lets you find your contacts, files, chats, and channels in a jiffy.

Creating an account on Zoom is fairly simple. A free account gives you access to unlimited one-on-one calls and limited group calls (40 minutes per session) with high-quality call recordings.

Price: Zoom is also one of the best online meeting tools for small businesses, as you can get the pro plan for just $14.99/month for a host. The rates increase depending on the number of team members and hosts.

Google Meet
For Extensive Accessibility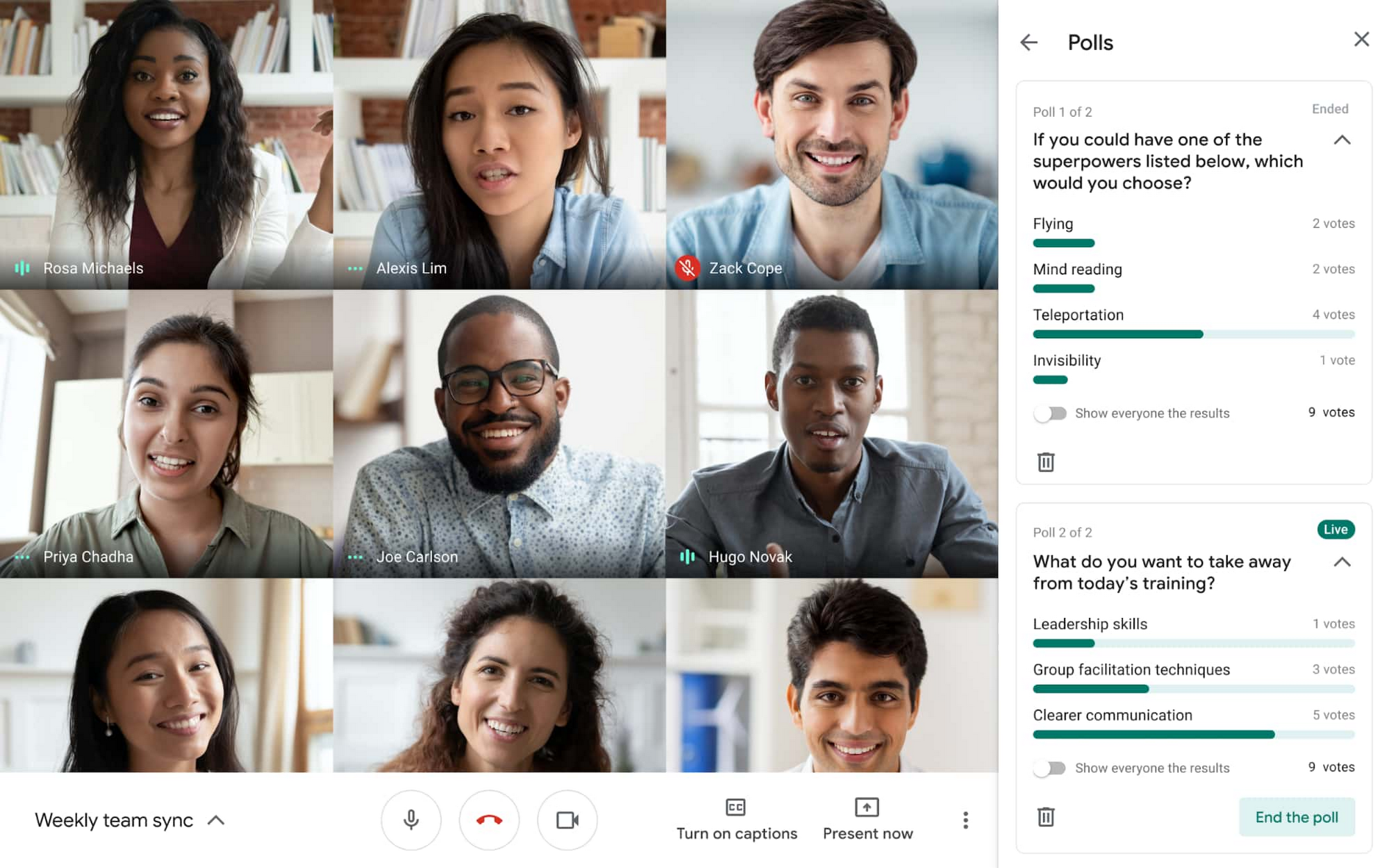 Google Meet is highly comparable to Zoom in terms of a stable connection as it uses less data when compared to Zoom (2.25gb Vs 2.40gb). However, the free version is limited to 100 participants for up to 60 minutes per meeting. This means you'd have to quit the call and join again if the meeting exceeds an hour.

Nonetheless, the pros of using Google Meet overpower the cons. It is accessible to anyone with a Google account. It has all the features from screen sharing to adding comments and live captioning. It's also compatible across all devices and easy to set up.

Price: For a business or organizational account, you can take advantage of the advanced features, including meetings with 250 participants and live streaming to up to 100,000 viewers. The pricing for individual workspace is $7.99 per month, while you'll need to contact sales to customize your workspace enterprise.

Microsoft Teams
For Interactive Communication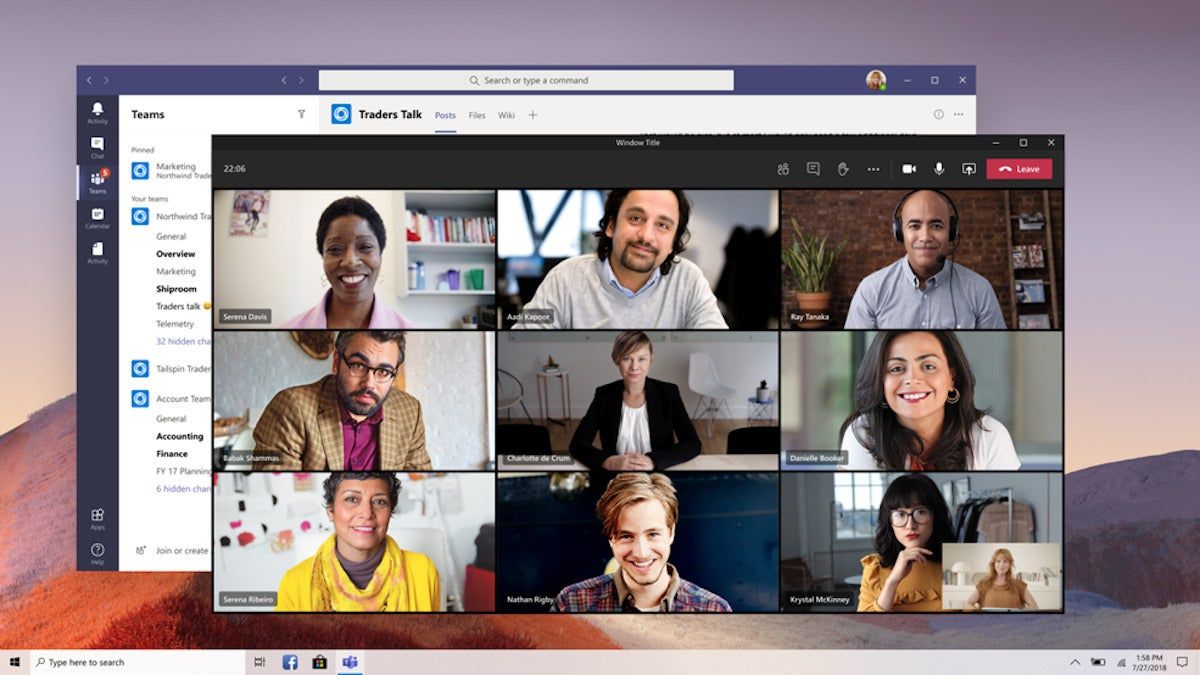 Like Zoom and Google meet, Microsoft Teams has also gained much attention ever since meetings moved to virtual environments. Teams offer workplace chat, videoconferencing, file storage, and application integration; in fact, it has replaced the famous Skype messenger and Microsoft Classroom over the past years.

Apart from the features mentioned above, Teams also allows you to set up channels for every topic of discussion. users can reply with texts, GIFs, and images. What's interesting with Teams is that you can integrate connectors or third-party services such as MailChimp, Twitter, Facebook pages, etc., onto the channels.

Price: You can use Microsoft teams for free with the base plan. This doesn't provide storage, while the paid plan gives you 10 GB per user and 1 TB per organization. Upgrading it to the paid version is going to cost you:
$5/month/user - Business Essential Plan
$12/month/user - Business Premium Plan
$20/month/user - E3 Plan

Virtual Meeting Tools: After the Meeting

We've looked at web conferencing tools that help schedule and organize meetings, but that is only half the job done. You'd need collaborative tools that make post-meeting effective. Ensure your choice for post-meeting collaboration tool includes:
Integrations
Functionality
Device Compatibility

Fireflies
For Transcribing Meetings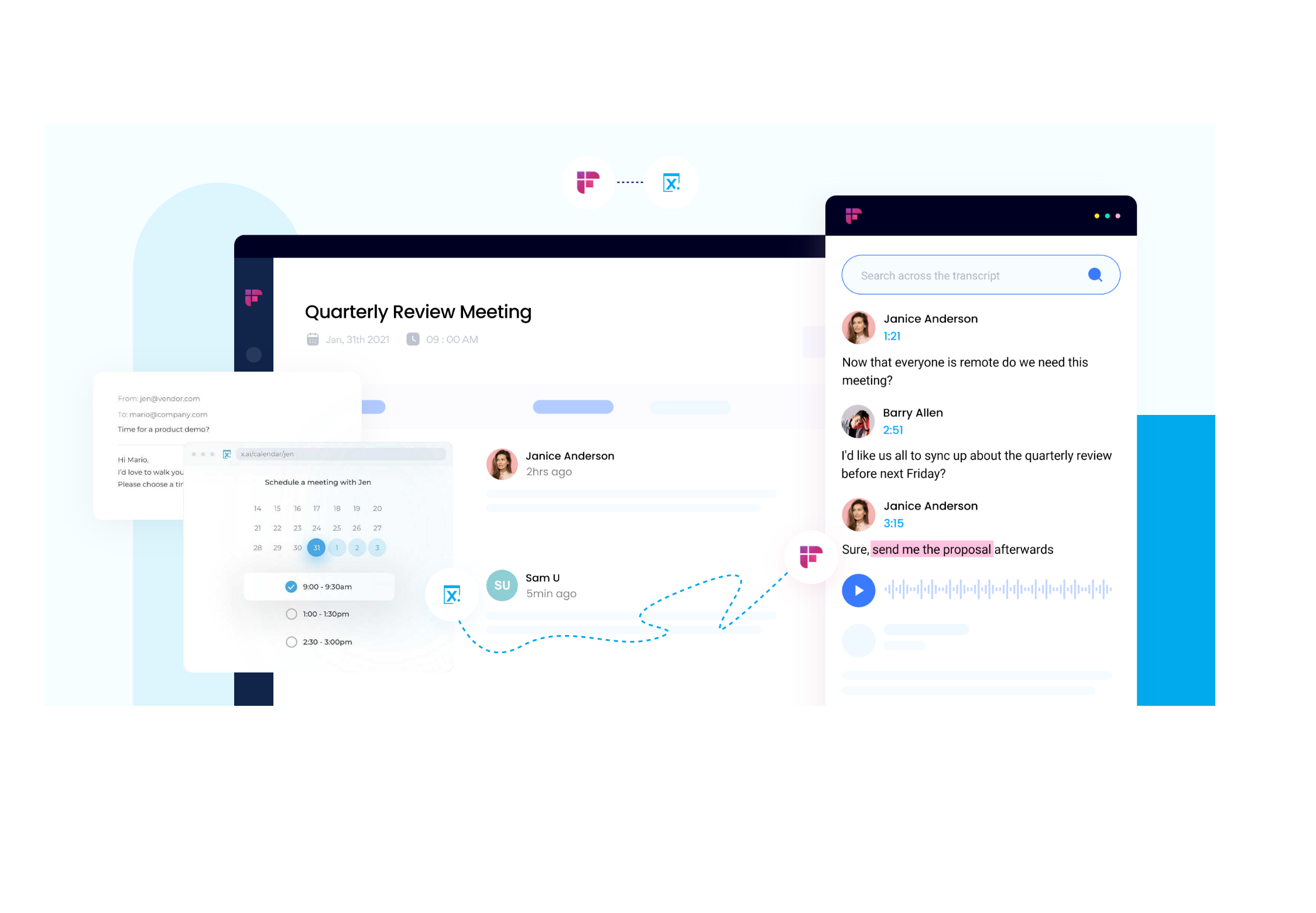 Explicitly designed for post-meeting follow-up and collaboration, Fireflies is a great all-around choice for a note-taking tool. It helps you review an hour-long call in just 10 minutes.

You can record, transcribe, and share video transcripts with anyone you wish. After you've transcribed live calls, you can access your transcript and add comments or insights to collaborate with your teammates. Fireflies also let you search across action items, sentiments, and several other highlights of the call.

The best part—you can log your meeting notes in your CRM or any collaboration apps such as Hubspot, Slack, Zapier, and a lot more.

Price: You can access all of these for free with 3000 minutes of storage. An upgrade to Pro would cost you $10/month for individuals and $19/month for businesses, with all the worthy features such as topic tracker, sentiment analysis, customer vocabulary, and unlimited storage.

Loom
For Asynchronous Meetings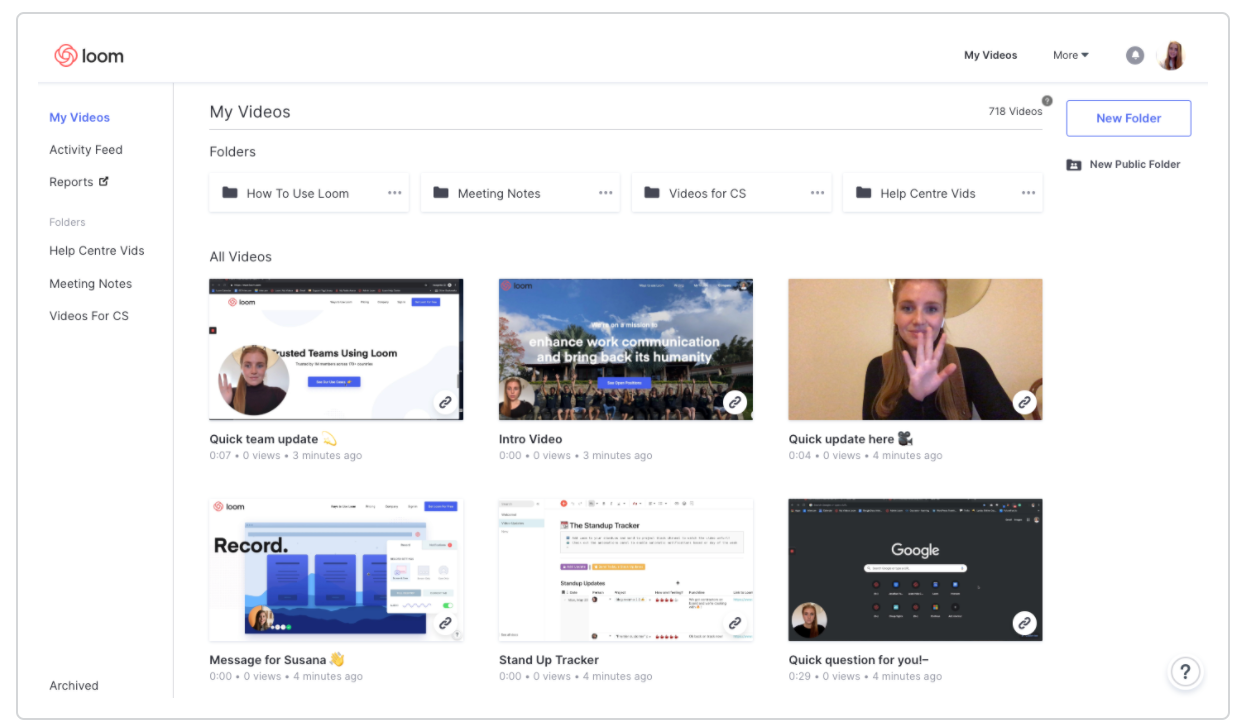 Loom is more popular as a video messaging app to record video calls easily and instantly share them. It's an essential tool for both hybrid and remote teams as it lets you and your team communicate in your own time.

This means you no longer have to schedule calls unnecessarily and experience technical difficulties. It works best if you need to walk someone through a project proposal, share feedback, or even create a step-by-step guide to use a feature. Loom makes any complex ideas shareable with visuals and voice.

Price: Loom starter plans are free, while Loom for business starts at $10 with up to 50 users. For businesses, Loom provides custom rates depending on your requirements.

Slack
For Workplace Tool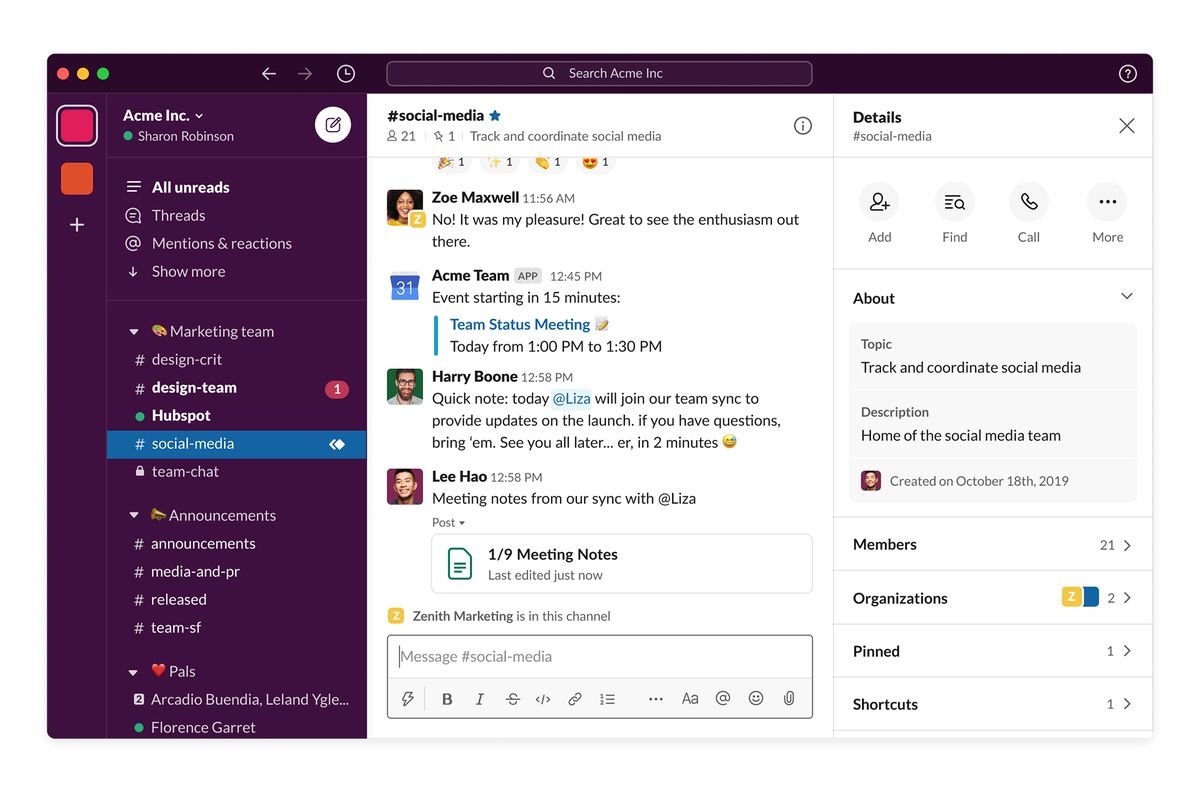 Slack is widely known as a workplace tool for obvious reasons. Slack has transformed how organizations communicate even before the onset of remote work culture.

Slack helps you connect with people both inside and outside your organization. It supports asynchronous work organized in channels, hence allowing you to access the information you need at any point in time.

From switching between messaging to video calls in a few clicks, Slack also lets you share your screen and collaborate all in one platform. Slack integrates with Fireflies and several other video conferencing platforms. Fireflies allow you to share notes automatically to the selected slack channel with a link to the transcript and audio recording.

Price: Slack has three subscription plans ranging from $6.67 to $12.50 for Pro and Business plans, respectively. You could also use customized programs with Enterprise Grid.

So Which One's Best?

Fundamentally, meeting tools must be adaptable; however, you must also consider the quality, operational requirements, and collaboration functionality before purchasing.

First, dissect your organizational needs and then think about what exactly you want from the tool. Is it just a group chat/video call? Then, a base plan of a free online meeting tool is your best bet. Alternatively, if you're looking for an online meeting tool with cloud storage, instant messaging, transcripts, and other add-ons, you might need a more premium alternative.

Regardless of what your organization does—be it e-commerce, education, or B2B SaaS—there's always a virtual meeting tool for you and your team.

Read Next: