Looking for Loom alternatives? We've got you covered.
This article explores the 10 best paid and free Loom alternatives, detailing their key features, pricing, and pros and cons.
Let's dive in.
Top 10 Loom Alternatives
Here are 10 of the top Loom video alternatives to try:
1. Clip by ClickUp
Clip by ClickUp makes it incredibly easy to record your screen or webcam and instantly share the video clip with your team. It's built right into ClickUp, an all-in-one project and task management platform—an added advantage if you're already using it.
With Clip, you can quickly capture your entire screen, a single app window, or a browser tab. When finished, Clip generates a shareable video link you can send anyone.
Clip doesn't offer much for editing other than trimming the start and end points. But its unlimited recording, easy sharing, and integration with ClickUp make it a frontrunner Loom alternative.
💡

Fireflies Tip

Transform your voice conversations into actionable tasks with Fireflies and ClickUp integration. Speak in meetings and watch tasks auto-populate in ClickUp!
Features:
Record the entire screen, window, or browser tab
Share videos via a link
Send reminders to team members about their pending tasks
Unlimited recording length
Integration with ClickUp's project management features
Pros:
Simple to record and share videos
Syncs with ClickUp workflow
Cons:
Basic editing features, like trimming
Must use ClickUp to access full features
Pricing:
A free forever version that offers 100MB storage
Unlimited and Business tiers cost $7/user/month and $12/user/month, billed annually.
Custom pricing is available for the Enterprise tier.
2. ScreenRec
ScreenRec provides free unlimited screen recording with no watermarks. You can capture any part of your screen and record system audio, microphone, and webcam.
Its simple interface lets you start recording with just one click. When done, you get a shareable link to send your video to anyone. ScreenRec has no editing capabilities, but its generous free plan makes it a considerable free alternative to Loom.
Features:
Record screen, webcam, microphone
System audio recording
Add annotations
Share videos via a link
Pros:
Intuitive single-click recording
No watermarks
Free of cost

Cons:
No video editing capabilities
Pricing:
3. Sendspark

Sendspark stands out for its focus on creating personalized sales videos at scale. It makes adding your viewer's name, company, and other details to video templates easy. Sendspark offers both a Chrome extension and a web platform.
The platform is purpose-built for sales teams to scale 1:1 video messaging. But you can also use it for client onboarding, sales training, marketing, and other communications.
Features:
Video personalization with templates, thumbnails, logos, and CTAs
Bulk video creation
Share via email, text, and social
Viewer analytics
Integrates with sales and marketing automation tools, email platforms, CRMs, and calendar management tools.
Pros:
Easy and simple to use
Easy collaboration features
Quickly make multiple videos
Cons:
Limited video editing features
Limited templates
Some features are exclusive to their Chrome extension
Pricing:
Free for up to 30 videos.
Paid plans start from $12 per month and go up to $129/month when billed annually.
4. Soapbox
Soapbox by Wistia offers screen and webcam recording directly from your Chrome browser. You can capture your screen, add webcam video, customize player themes, and view video analytics.
However, Soapbox lacks extensive editing features. You also can't see yourself while recording, making it harder to frame webcam shots. But the customizable video players and team collaboration features provide a solid Loom alternative.
Features:
Screen and webcam recording
Custom video players
Add your branding elements to your videos
Upload a teleprompter script to help you speak
Basic video editing, like trimming
Team collaboration
Video analytics to check engagement and performance
Pros:
Easy Chrome-based recording
Video player customization
Cons:
Can't see the webcam preview while recording
Limited video editing tools
Not very cost-effective for individuals or small teams
Pricing:
The free version offers 200GB of storage and 25 recordings.
Paid Soapbox plans start at $19/month and go up to $319/month when billed annually.
Custom pricing is also available.
💡

Fireflies Tip

Prefer reading to watching videos? Download the Fireflies Chrome extension to turn Soapbox videos into text. Your first three transcripts are on the house!
5. VEED
If video editing features are high on your priority list, VEED might be one of the best Loom alternatives for you. And here's why—
VEED offers an online screen and webcam recorder with extensive editing capabilities. You can combine multiple clips, add subtitles, include effects, and swap backgrounds—the options are robust for simple video creation.
However, VEED's free version is limited, and you'll need a paid plan to use all the editing features.
Features:
Screen/webcam recorder
Online video editing
Uses AI to correct eye movements and remove background from video
Audio editing to remove white noise and filler words
Visual effects
Animated elements
Pros:
Robust editing capabilities
Animations, subtitles, transitions
Cons:
Steep learning curve
Limited features in the free plan  
Pricing:
Free version
Paid plans start at $18/month for the Basic tier and go up to $59/month for the Business tier.
6. Zight
Zight makes recording screens, annotating images, capturing screenshots, and generating GIFs easy. You can instantly share all your visual creations via a simple link.
On the downside, Zight's free version limits recordings to just 90 seconds. And its interface has a learning curve. But for straightforward screen recording and sharing, Zight is a potential Loom alternative.
Features:
Screen and webcam recording
Annotation tools to highlight specific elements on your screen
Instant sharing
Integrated to tools such as Slack, Gmail, and Jira
You can also create screenshots and GIFs
Pros:
Simple sharing process
Intuitive interface
Cons:
90-second recording limit on the free version
Customer support could be improved
Pricing:
Free version to store up to 25 items.
Pro plan for individuals costs $9.95/month, billed annually.
The Team plan costs $8/month/user. Billed annually.
The Enterprise plan comes with custom pricing.
7. Snagit
Snagit focuses on screen captures and visual tutorials. Capture screenshots, record, annotate, and create shareable videos or GIFs. However, it focuses more on educational content than quick video messages. Without a free version, it may be less appealing to small teams.
Features:
Screen recorder with audio and webcam
Annotate to highlight important information
Image capture with scrolling screenshots and smart editing
Sync files to online storage like Google Drive or OneDrive
Basic editor
Turn your videos to GIFs for easy sharing
Pros:
Tailored for training content
Solid annotation tools
Cons:
Steep learning curve
No free version or monthly/yearly subscription
Pricing:
A one-time fee of $62.99
8. ScreenCastify

As its name indicates, ScreenCastify focuses only on-screen recording. You can capture any part of your screen and record system audio through its Chrome extension.
If you just need basic screen recording on a tight budget, go for ScreenCastify.
Features:
Chrome-based screen and audio recorder
Save videos directly to Google Drive
Monitor video views and engagement
Configure sharing settings to control who can access your videos
Pros:
Easy-to-use Chrome extension
Affordable pricing
Integrates with Google Drive
Cons:
Very limited video editing capabilities
Short free recording time
Pricing:
A free tier with 10GB storage to record up to 10 videos.
Starter and Pro plans cost $7/user/month and $10/user/month, billed annually.
Custom enterprise pricing is available.

9. BombBomb
BombBomb integrates screen recording, customizable branding, and viewer analytics for sales teams. It's designed specifically for prospecting, follow-ups, and closing deals with video.
This tailored focus makes BombBomb less suitable for general business communication. And it lacks full editing features. However, the Salesforce integration and activity tracking provide value for sales-focused organizations.
Features:
Screen and audio recording
Sales-focused features like Salesforce integration and viewer tracking
Salesforce integration
Viewer tracking
Email/calendar integration
Pros:
Sales automation features
Activity tracking
Cons:
Sales-team specific, not suitable for general use cases
Customer response times could be more prompt.
Pricing is on the expensive side
Pricing:
No free tier is available.
Essentials and Plus tiers cost $33/user/month and $49/user/month, billed annually.
Custom pricing is available.
10. Vidyard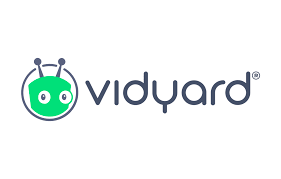 Vidyard is another screen recording tool built for sales and marketing teams. It offers easy screen and webcam captures plus detailed video engagement analytics through its Chrome extension.
While its AI-driven sales focus might not be ideal for teams just seeking quick video updates, it's a worthy Loom alternative to consider.
Features:
Screen and audio recorder
Upload existing videos
Use AI to generate sales scripts
Viewer analytics
Social sharing
Email/calendar integrations
Pros:
Robust analytics
Sales-focused
Cons:
Limited video editing tools
User interface is not very easy to understand
Pricing:
The Free tier lets you record up to 25 videos.
Pro and Plus tiers cost $19/user/month and $59/user/month, billed annually.
The Business tier has custom pricing.

Transcribe Your Loom Videos with Fireflies
If you decide to stick with Loom for screen recording, Fireflies can effortlessly transcribe your videos with one click.
Download the Fireflies Chrome extension, open the Loom video you want to transcribe and click the Fireflies icon. That's it!
The transcripts are saved in your Fireflies Notebook. You can search transcripts to find key moments in long videos or download or share it with your team members.

Final thoughts
While Loom pioneered the video messaging space, the competition has caught up. Tools like Vidyard, Soapbox, and Zight offer robust feature sets for creating, editing, and sharing video content. And the cost savings compared to Loom's premium plans make them attractive options for budget-conscious teams.
Still, Loom's intuitive interface and brand awareness give it an edge for lightweight video creation. Ultimately, consider your specific use cases and integration needs.
But with capable Loom alternatives abounding, enterprises have more choice than ever for impactful video messaging.