No more frantic scribbling or lost details. Capturing in-person conversations just got seamless.
Presenting the Fireflies mobile app, your intelligent, ever-ready personal Chief of Staff for meeting productivity. Available for iOS and Android, this companion app works around the clock to record, transcribe, summarize, and analyze your online meetings and in-person conversations with unparalleled accuracy.
Exciting? Let's dig deeper!
Fireflies mobile app: An overview
Fireflies has so far been acing the space on online meeting productivity. Our web app lets you record, transcribe, summarize, and analyze online meetings with 90%+ accuracy in 60+ languages.
The new Fireflies mobile app brings AI-powered meeting productivity to your fingertips. Whether you're in a boardroom or participating in an online Google Meet, the Fireflies mobile app captures discussions and leverages advanced AI to produce searchable transcripts, concise summaries, and shareable highlights.
The Fireflies mobile and web apps sync seamlessly so that you can access your recordings and transcripts anytime, anywhere.
🎉

Get free transcripts only on Fireflies!

Fireflies offers unlimited free transcription for all the in-person conversations you record using the mobile app.
Key features
In-app recording: Record any online or in-person meeting, interview, brainstorming session, or whiteboard discussion directly within the app.
Add to live meeting: Add Fireflies to any live online meeting directly from your phone to record, transcribe, and summarize it.
Upload and transcribe recordings: Upload audio/video files in MP3, MP4, M4A, or WAV format for automated transcription and meeting summaries.
Smart Search and AI filters: Easily skim through lengthy transcripts and filter them using Smart Search and AI filters.
AI-powered chatbot: Get answers to questions about any recorded conversation by chatting with AskFred, the ChatGPT for meetings. You can also use AskFred to create social media posts, emails, blog posts, etc., from the conversation.
Soundbites: Snip out highlights from your conversations as easily shareable soundbites. You can also collect soundbites from multiple conversations into a single playlist and create an easy-go reference for important topics.
Conversation intelligence: Quantify your conversations and derive actionable insights to understand what's working and what's not.
Topic insights: Add the topics or keywords to the Topic Tracker to track them across conversations. It gives you insights into the total number of conversations where the topics or keywords are discussed and how often they are mentioned.
AI apps: Customize your meeting summaries and notes, automatically extract key highlights as Soundbites, and get instant answers to your questions using custom prompts.
Getting started: How to download the Fireflies mobile app
The Fireflies mobile app is available for Android and iOS devices.
You can find the app in your Play Store or App Store with a simple keyword search "Fireflies AI notetaker" or use the below links:
Once installed, open the app and Log into Fireflies.
Use your existing account or Sign up for Fireflies with your Google or Microsoft account.
At this stage, grant Fireflies permission to access your calendar metadata.
🛡️
Fireflies makes no compromises when it comes to ensuring the security and privacy of its users. Our vendors, including those for transcription and LLM, adhere to a strict zero-day data retention policy for user content, ensuring your data is never used to train their AI models. Also, we guarantee all your data is encrypted during rest and in transit.
Fireflies is
SOC 2 TYPE 2
and
GDPR
compliant. We also offer
HIPAA
compliance and
Private Storage
on request.
Read:
How we think about security
and the
top 15 FAQs on Fireflies security
.
Once logged in, here's how your Fireflies mobile app home screen will look:
Your favorite features, now on mobile
Next, let's look at where your favorite Fireflies features are in the mobile app.
A: User profile
The User profile shows the details of your account, such as which plan you're on and buttons that navigate to different sections of Fireflies here.
For instance,
tap on Uploads to upload and transcribe previous recordings,
tap Topic Tracker to add topics you want to track across meetings or
select AI apps to customize meeting notes with AI prompts.
🌟
Enjoying the Fireflies mobile app? We'd love your feedback. Tap the
Share feedback
to rate us on the
App Store
.
B. Recent Soundbites
This section showcases the most recent soundbites. Tap on View all to access all the soundbites.
Similarly, the Recent playlists are also displayed on the home screen as you scroll down.
C. + Transcribe
The + Transcribe button opens a window where you can choose from various modes for recording and transcribing conversations. Here's how each option works:
Record audio—Transcribe in-person meetings.
Add to live meeting—Add Fireflies to an ongoing meeting.
Schedule meeting—Schedule future meetings on your calendar with Fireflies and add Fireflies bot Fred as a participant by default.
Upload Audio or Video—Transcribe and summarize old recordings.
D. Fireflies Notebook
Fireflies Notebook gives you an organized log of all your meetings and recordings, transcribed with Fireflies. By default, it shows your My Meetings channel. Tap on Change channel to access the meetings in your other Channels.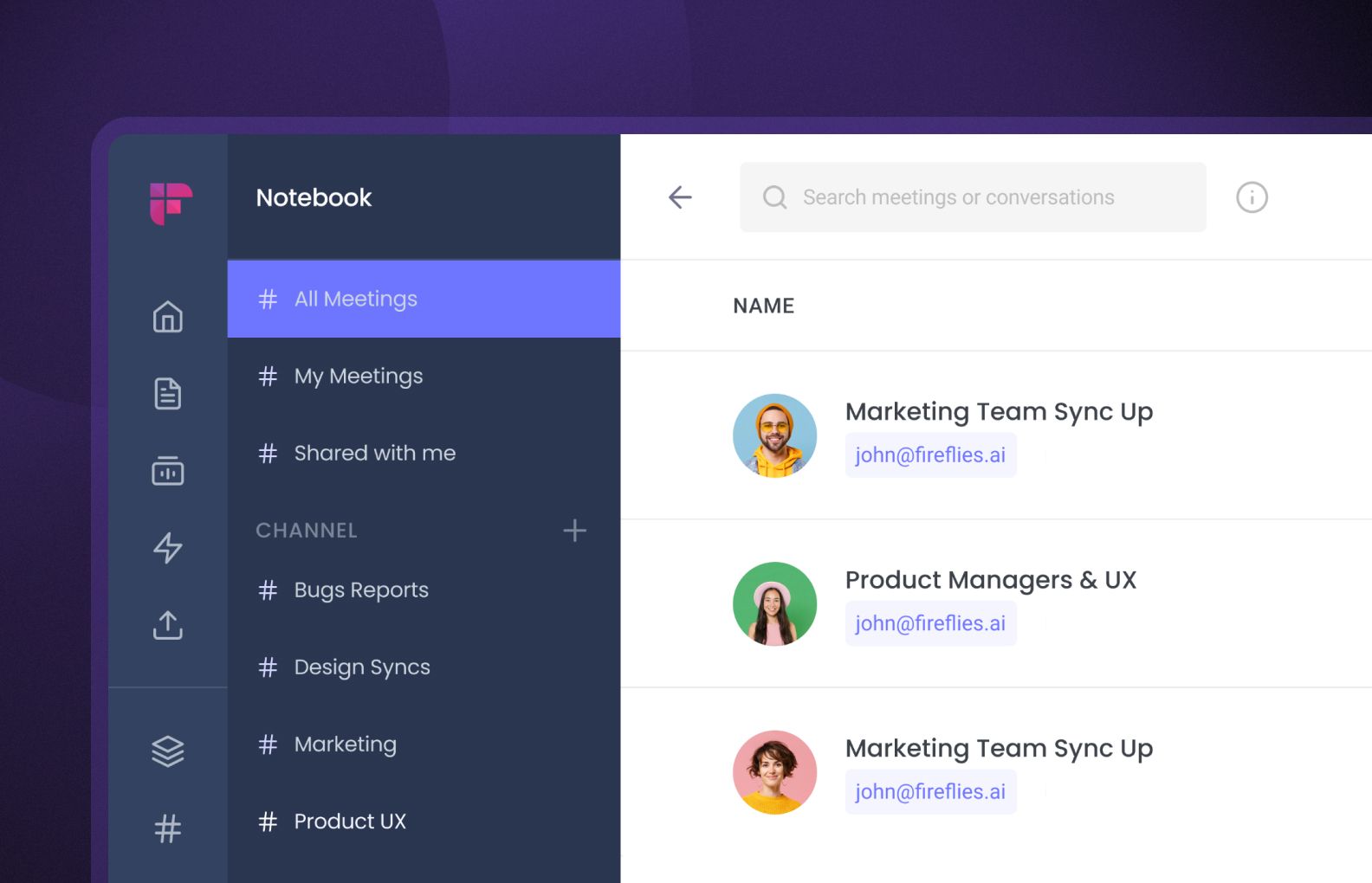 E. Soundbites and Playlists
This section takes you to the Soundbites and Playlists generated from your conversations.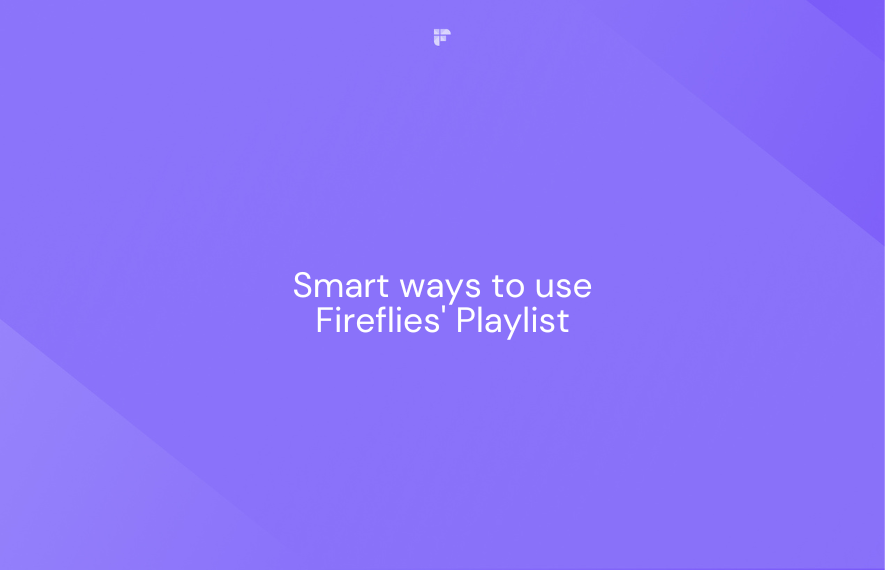 🪄
Fireflies offers Magic Soundbites that automatically identifies key moments and generate Soundbites for you. You can further personalize the output of your Magic Soundbites with custom prompts in the AI Apps section.
F. Conversation Intelligence
The Conversation Intelligence section shows analytics on your conversations on metrics such as time spent in conversations, longest monologue, questions asked, etc.
Next to Analytics is the Topic Insights tab. It gives insights into the topics you've added to the Topic Tracker.
You can also apply filters and get Conversation intelligence only for conversations that happened during a particular date range.
How to record in-person conversations with the Fireflies Mobile App
Follow these steps to record your in-person conversations with the Fireflies mobile app:
Tap the Transcribe button and select Record audio
Tap the red button and start recording
Tap the stop icon and name your audio note
1. Tap the Transcribe button and select Record audio
To start, open the Fireflies mobile app on your phone. Tap the Transcribe button at the bottom of your Fireflies' home screen.
You can see a set of recording options. Select Record Audio from it.
2. Tap the red button and start recording
Once you tap the Record Audio option, a recording screen will appear. Tap the red button to start recording.
You can see the sound waves as the recording progresses. You can pause and resume the recording in between by tapping the red pause button.
3. Tap the stop icon and name your audio note
Once the conversation is done, tap the stop icon. A window will appear, allowing you to name and upload the recording to your Fireflies Notebook.
By default, Fireflies will name your recording with the date and time you recorded the message.
Change the name as per your preference and click Upload. It will take a few seconds to process the recording, depending on its duration and your internet speed.
Once done, Fireflies will send you an email notification.
Click View meeting recap on the email message to access the recording. Or tap on the Notebook icon to access the recording from your Fireflies Notebook.
Meeting transcripts on the Fireflies mobile app
Upon opening the transcript within the Fireflies mobile app, you'll first see its video recording alongside an AI-generated summary.
Next to Summary is the Transcript and Soundbites tab.
The Transcript tab shows the time-stamped, labeled transcript of the conversation, and the Soundbites tab showcases all the soundbites generated from that meeting.
Once you move to the Transcript tab, on the bottom right corner, you can locate a search icon representing Smart Search.
Tap on it, and a set of Smart Search and AI filter options will appear.
Tap on the filter you want to apply and easily skim through the transcript.
Below the Smart Search icon, you can see AskFred.
Tap on it to chat with AskFred and quickly get answers to any questions you have about the conversation or to create content out of the transcript.
Benefits of using the Fireflies Mobile App
Fireflies' mobile app lets you enjoy the same great features of the Fireflies web app on your mobile. Here are some additional benefits of using the mobile app:
Capture in-person meetings on the go without extensive note-taking.
Create a searchable knowledge base of all your conversations—online and offline.
Generate summaries and notes anytime, anywhere via your mobile device.
Effortlessly review meetings even when you're on commute or travel.
Easily search across past conversations and find key details on your mobile devices.
Bring the power of AI into in-person conversations with the Fireflies mobile app
Whether you're in a crowded conference room or a bustling café, the Fireflies mobile app empowers you with the tools you need to have productive and effective meetings on the go.
Real-time recording, reviewing, sharing, and searching through meetings is now possible without lugging around recording equipment or being glued to your computer.
So why wait? Get the Fireflies mobile app today to capture meetings, unlock insights, and accomplish goals from anywhere. Happy meeting!
Get the Fireflies mobile app