See the text below? That's how Fireflies summarizes and transcribes French audio to text, and that too for free.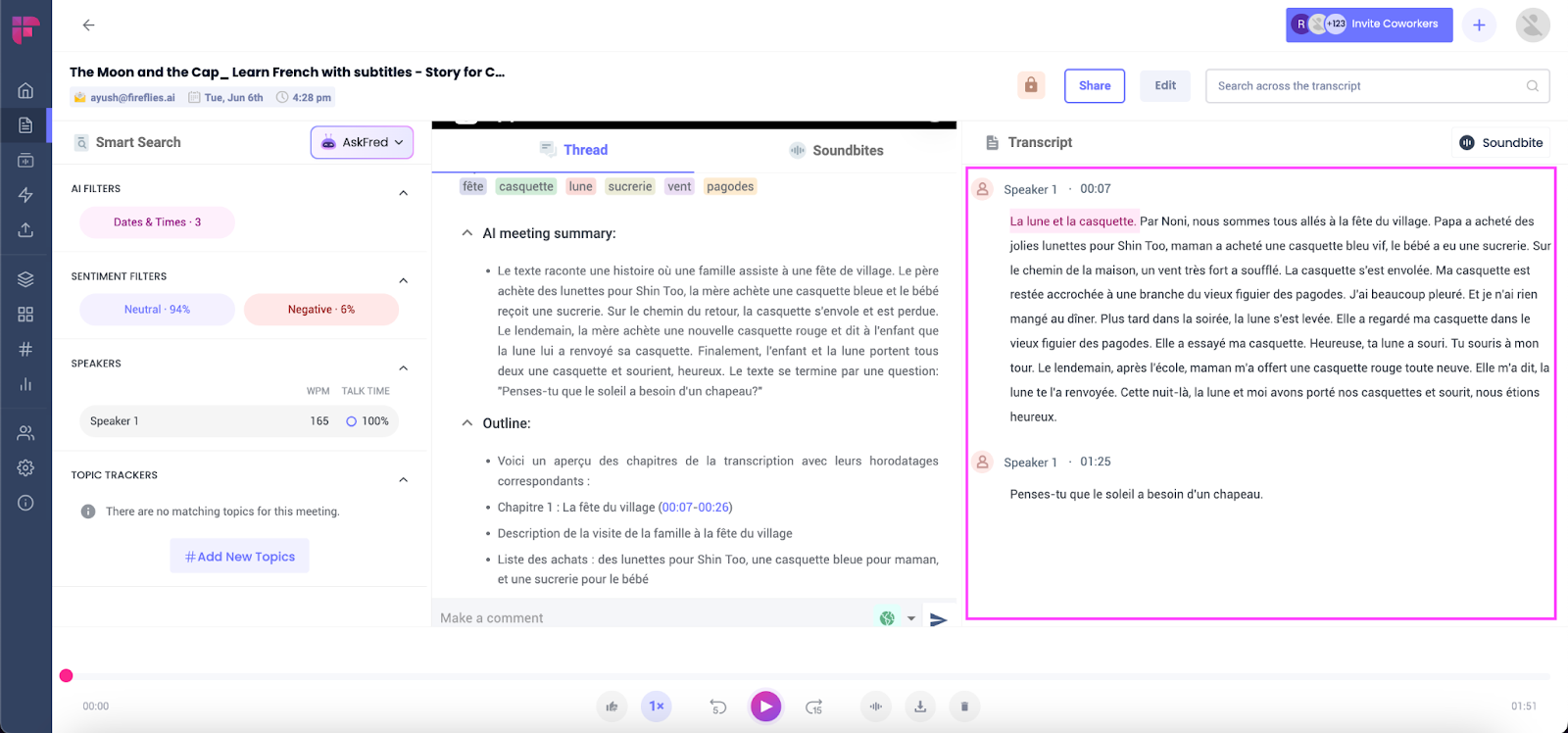 In this article, we'll provide a step-by-step guide for transcribing your next multimedia file with Fireflies and explain why Fireflies is the best French audio-to-text converter.
How to transcribe French audio for free: a step-by-step guide
Before you begin, keep your French audio or video file handy. Store it on your device for easy access and upload.
Now, here is how to upload and transcribe your multimedia files:
Step 1: Log in or sign up for a free Fireflies account.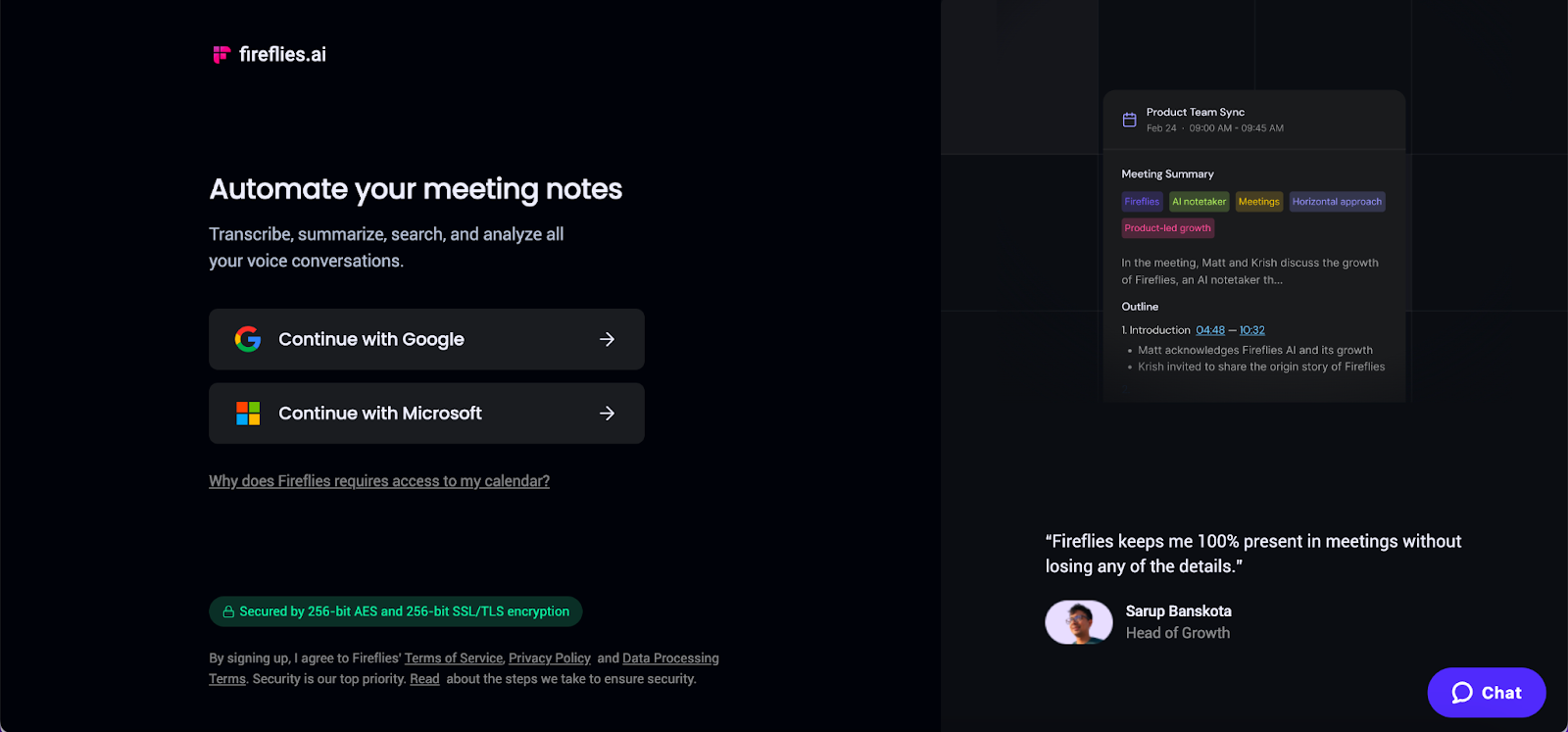 Step 2: Go to Settings on the navigation bar.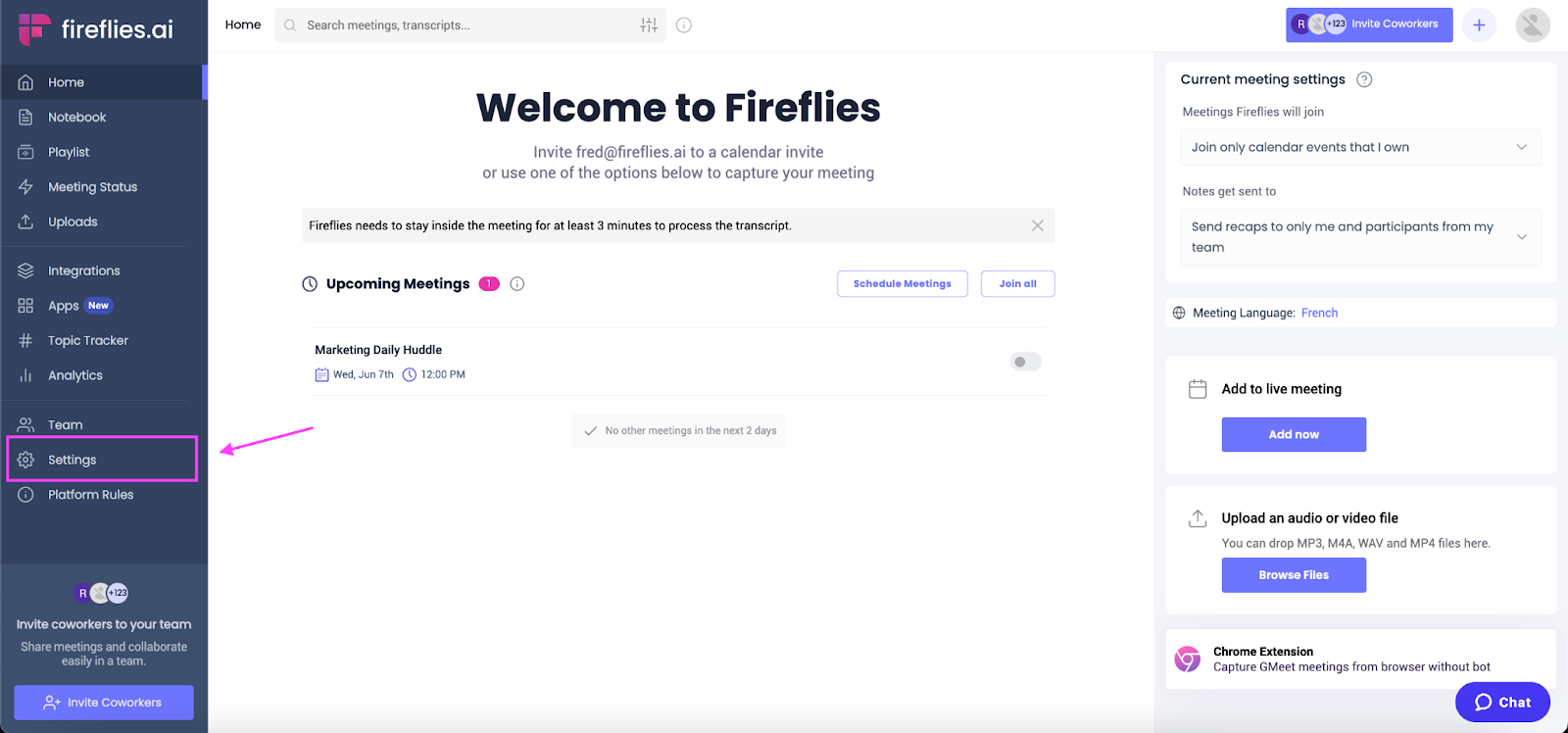 Step 3: Click the Meeting Language drop-down menu and select French.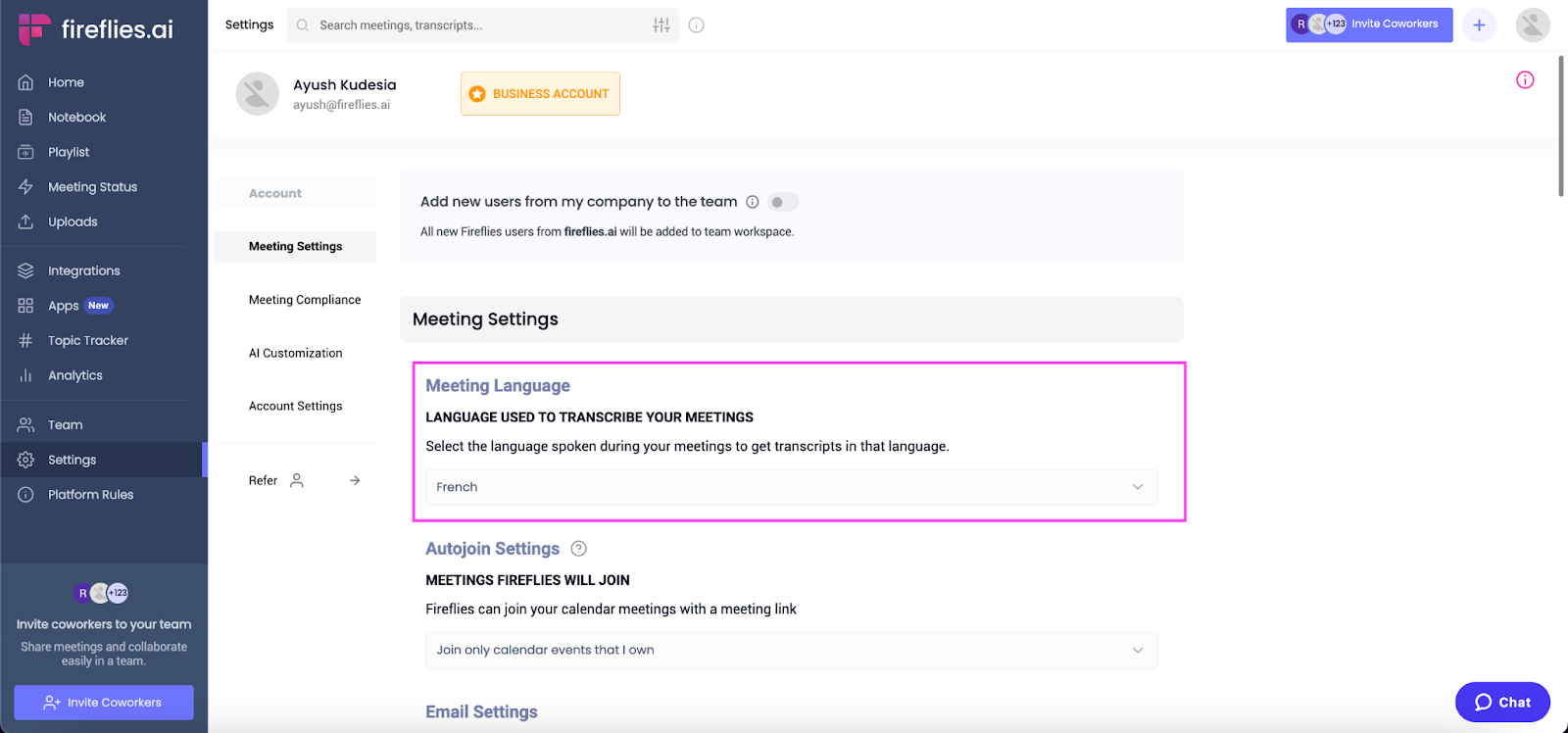 Step 4: Now click Uploads on the navigation bar.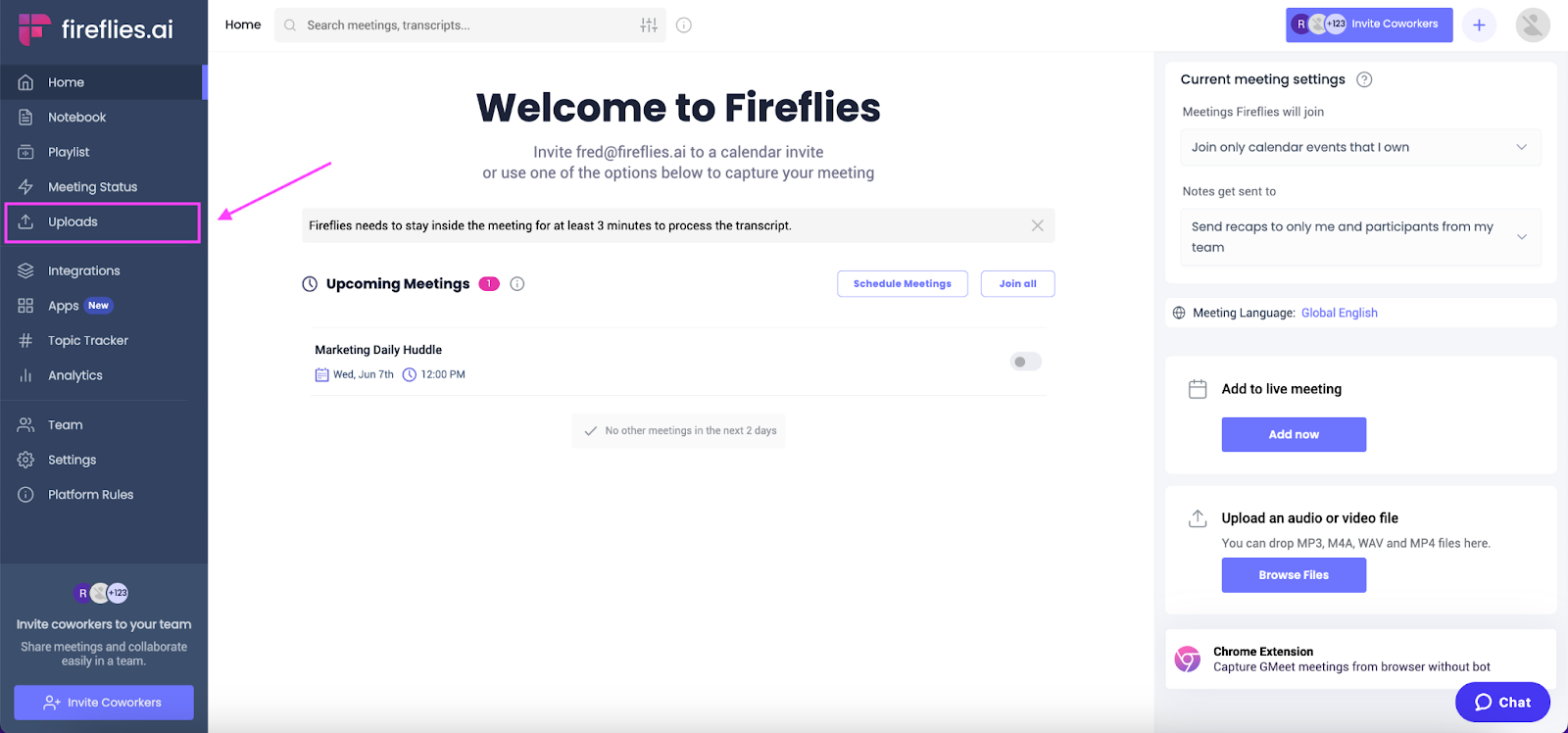 Step 5: Choose the file you want to transcribe.
Alternatively, you can drag and drop your file directly for seamless uploading. Fireflies supports four file formats—MP3, M4A, WAV, and MP4.
Step 6: Give some time for the file to upload and process. The duration will vary based on your internet speed and file size.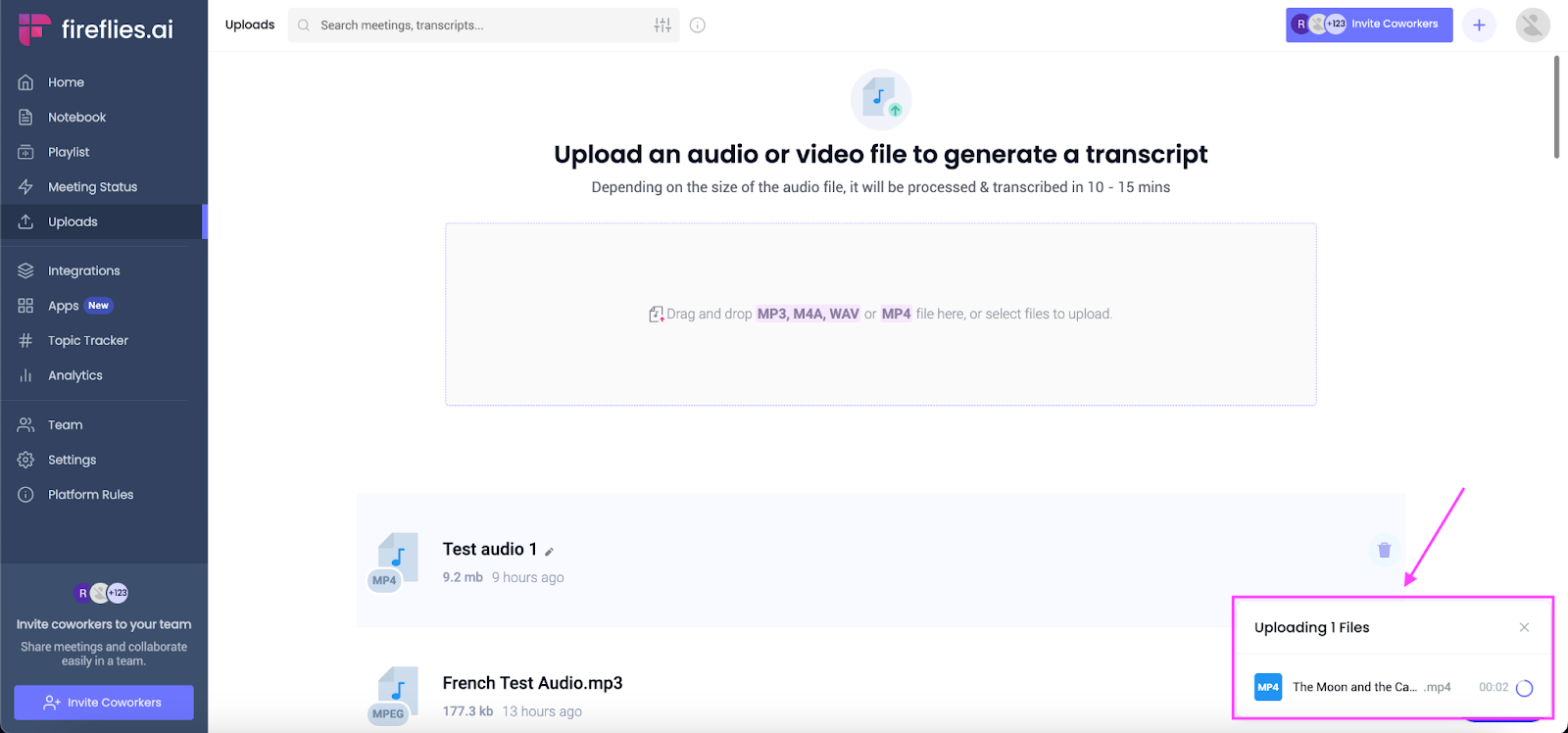 Step 7: Easily track the status of your file directly under the Uploads section.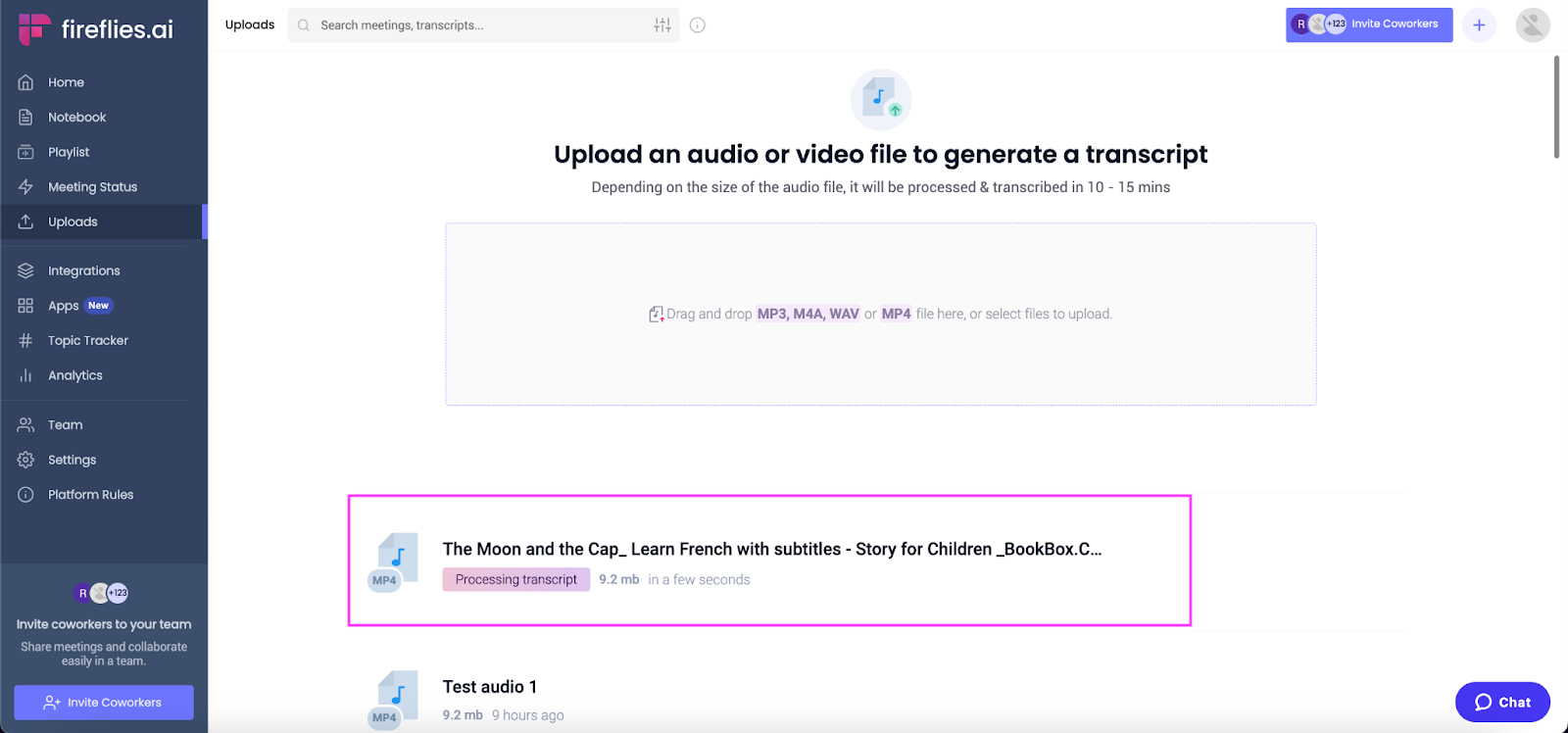 As soon as your French transcription is ready, Fireflies will send you an email to notify you.
How to download your French transcripts
Here's how you can export your French transcripts with Fireflies:
Step 1: Select the transcript you want to download from your Notebook.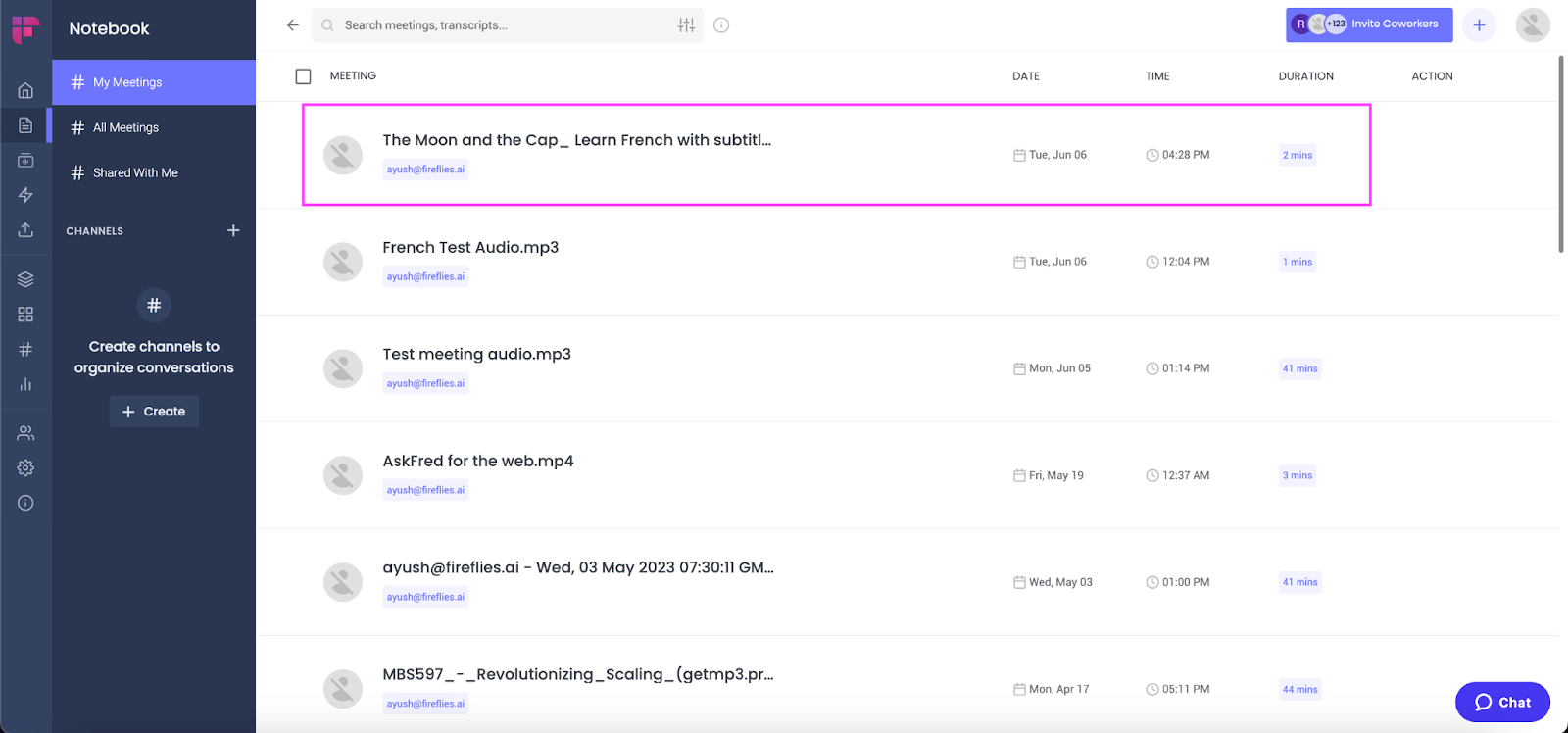 Step 2: Click the download button at the bottom.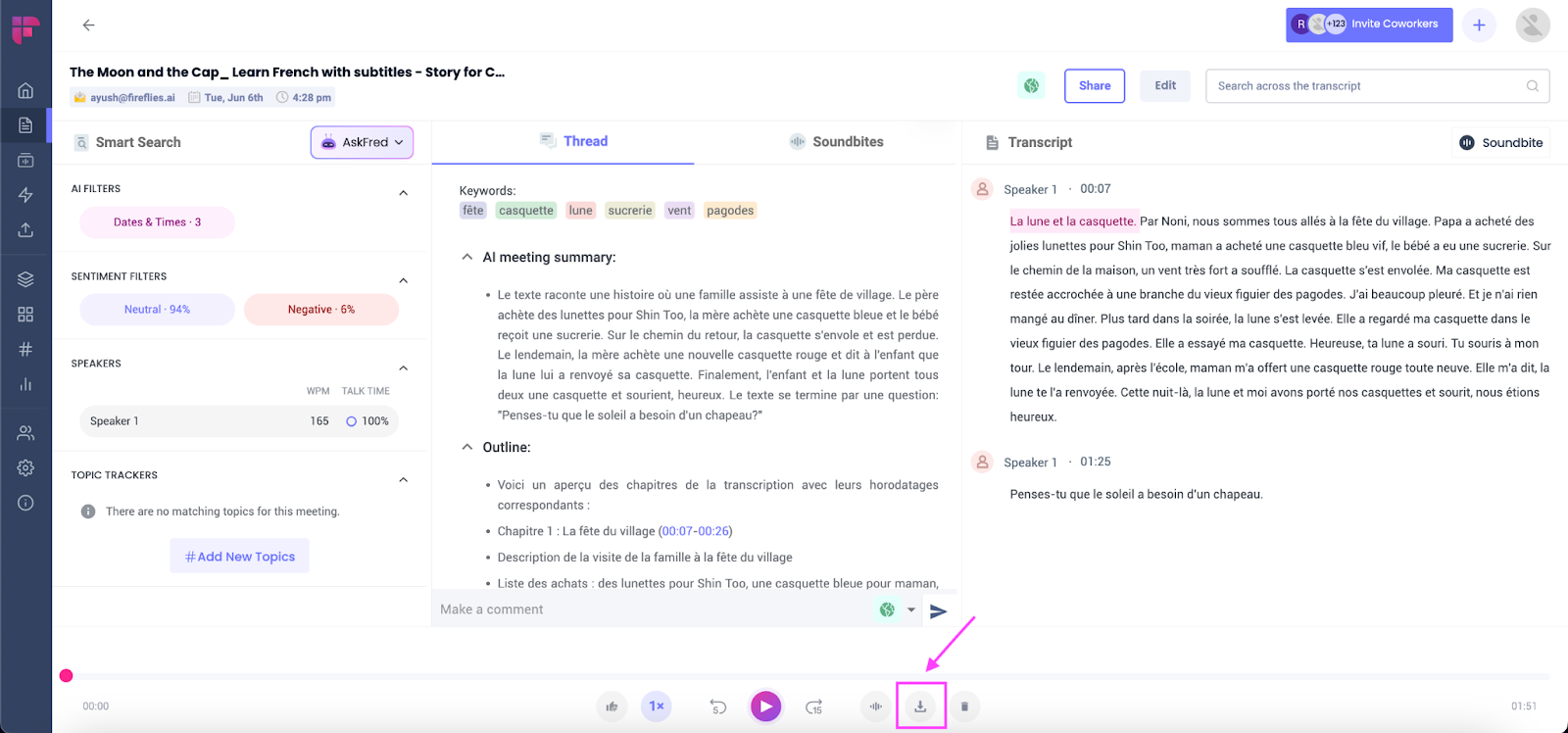 Step 3: Select Download transcript.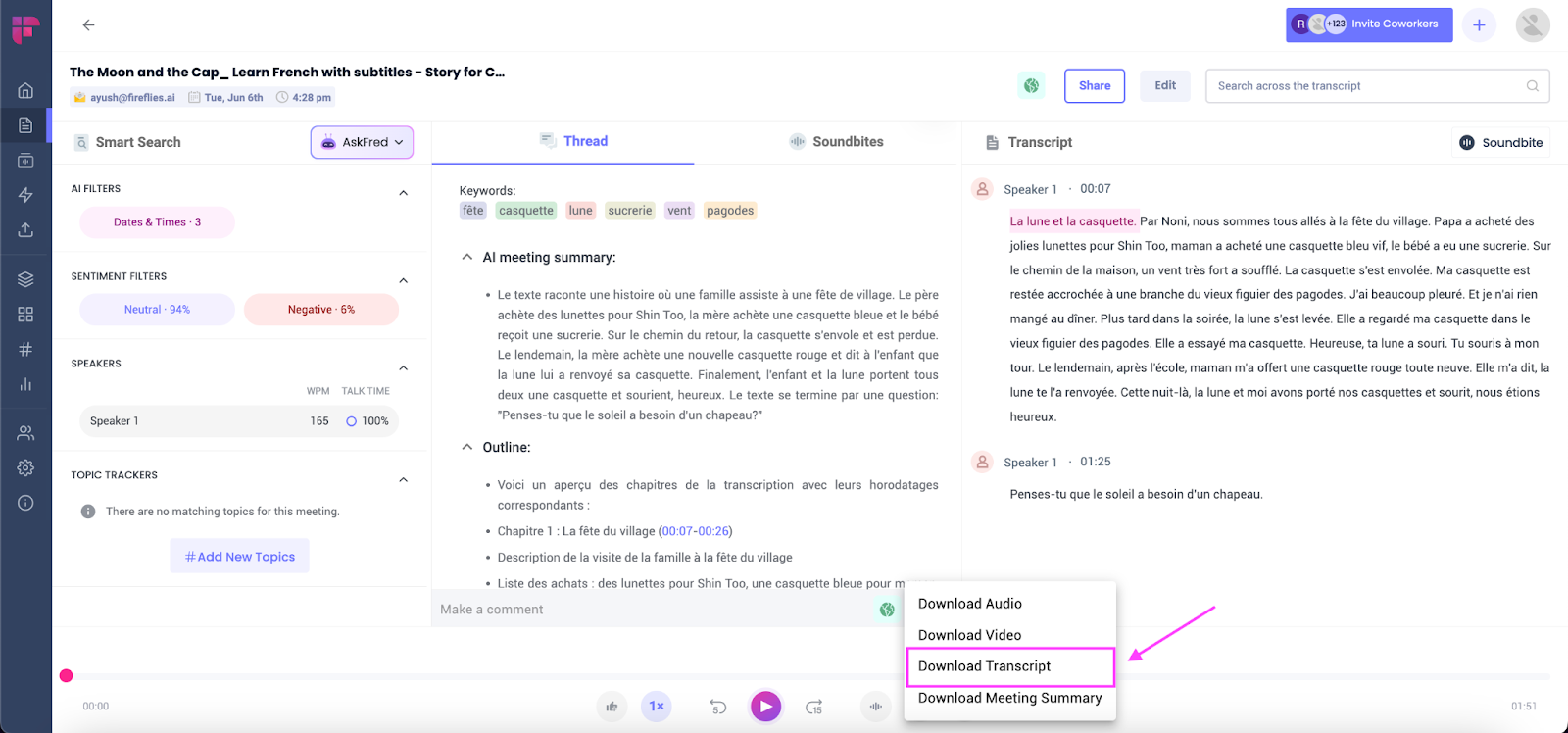 Fireflies also offers the option to download the audio, video, and a comprehensive summary of your file.
Step 4: Choose your preferred format.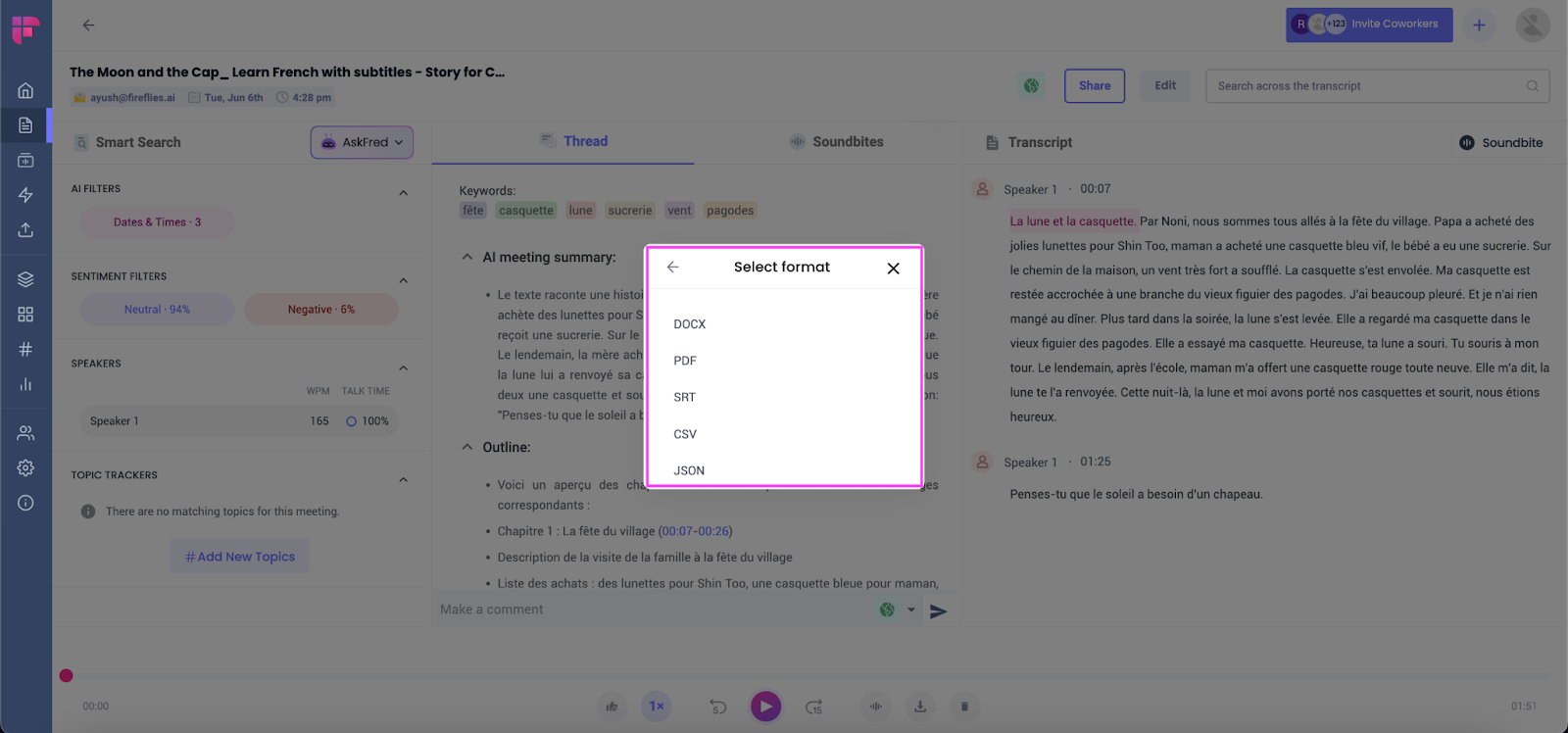 How to use Fireflies to transcribe French meetings

Apart from transcribing French audio/video files, Fireflies also frees you from the daunting task of taking meeting notes, so you focus more on the conversation.
Follow these steps to enable Fireflies to join and transcribe your meetings:
Step 1: Log in to your Fireflies account.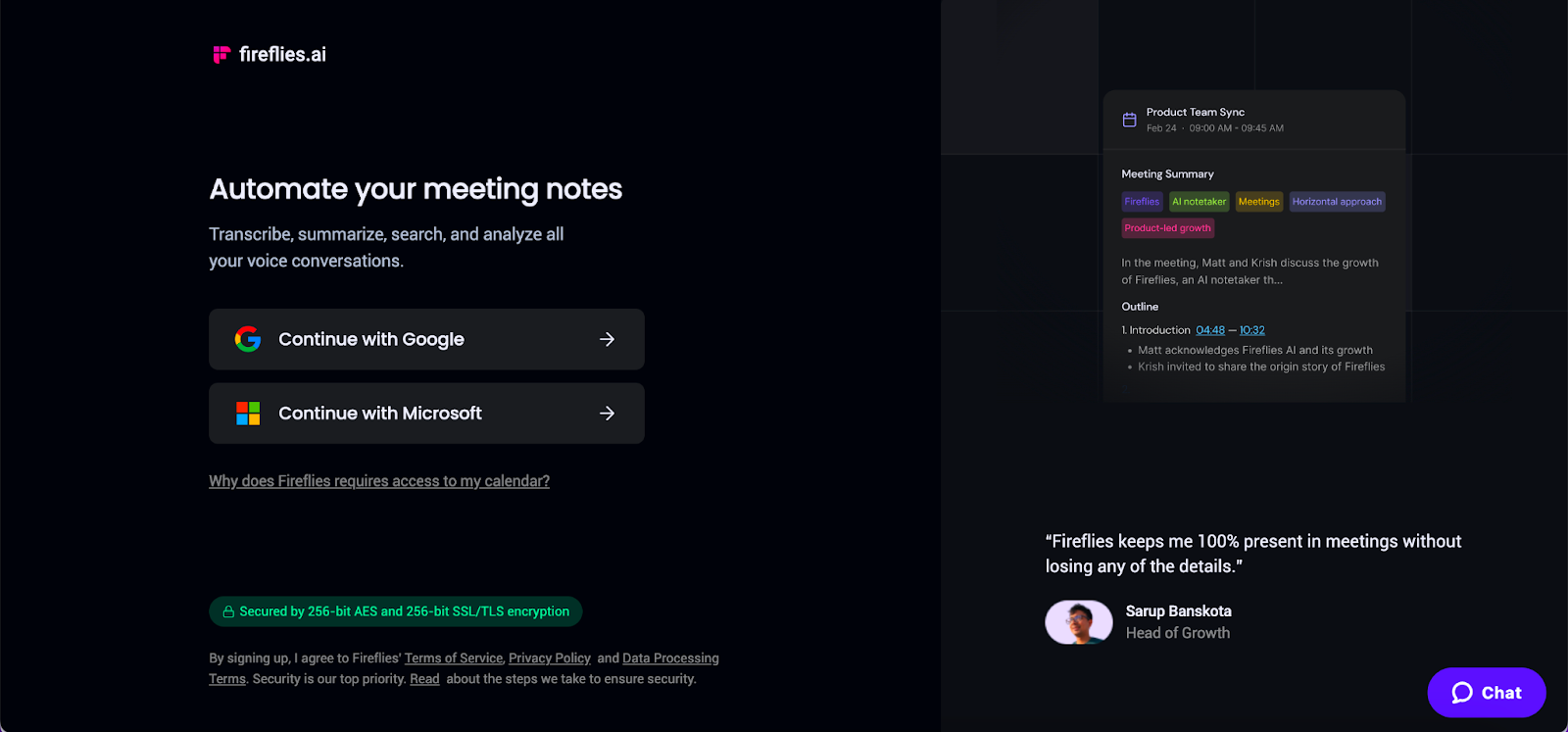 Step 2: Head to the Settings section and ensure that the default language is set to Arabic.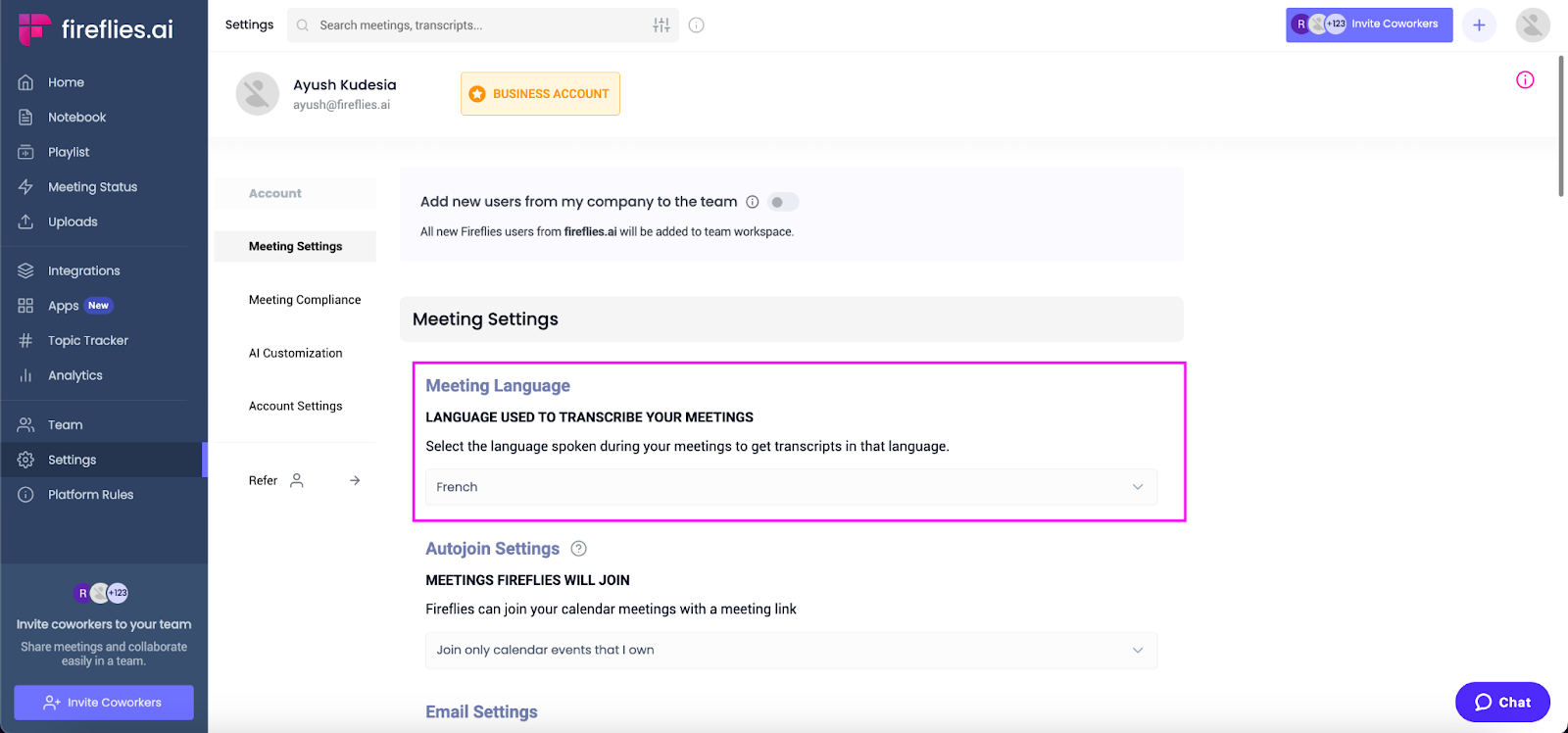 Step 3: Configure your Current meeting settings as per your requirements from the homepage dashboard.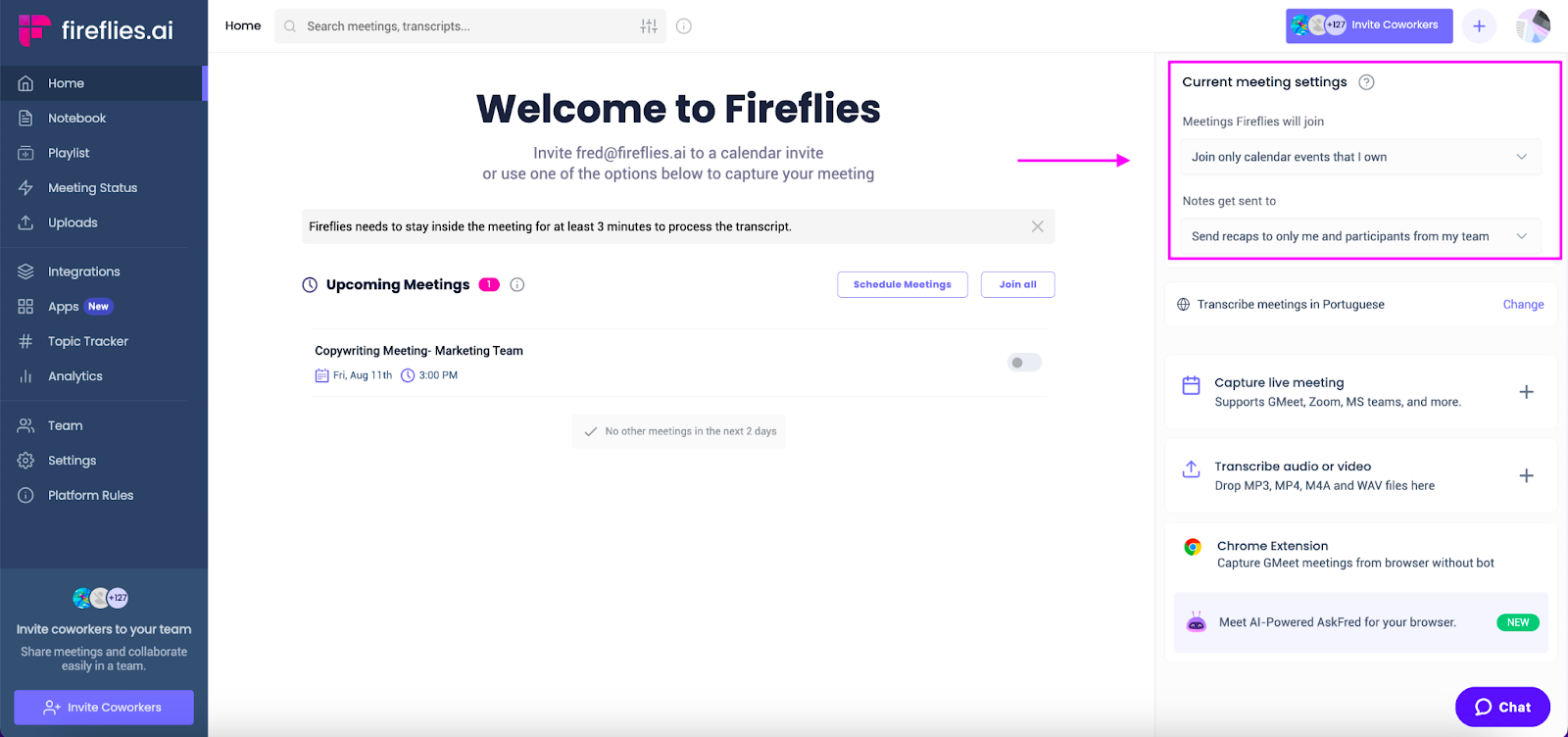 Fireflies will now join your preferred meetings and effortlessly take meeting notes with high accuracy so you don't miss a beat.
You'll find your meeting transcripts under the "My Meetings" or "All Meetings" channels of your Notebook.
Why Fireflies for French transcription?
There are several reasons why you should choose Fireflies as your preferred French audio-to-text converter.
Here are our top five reasons:

1. Cost-effective
2. Security
3. Accuracy
4. Multiple download options
5. AI Super Summary
1. Cost-effective
Fireflies offers an excellent free plan with up to 3 free transcription credits and 800 mins of cloud storage.

Each credit corresponds to one file upload. You can utilize these credits to transcribe files from 30+ languages, including French.

You can sign up for a free seven-day trial to unlock all the features of its highest paid plan.

If you require more credits and storage, Fireflies offers affordable pricing plans starting at just $10/month. You can choose the one that suits your specific needs and budget.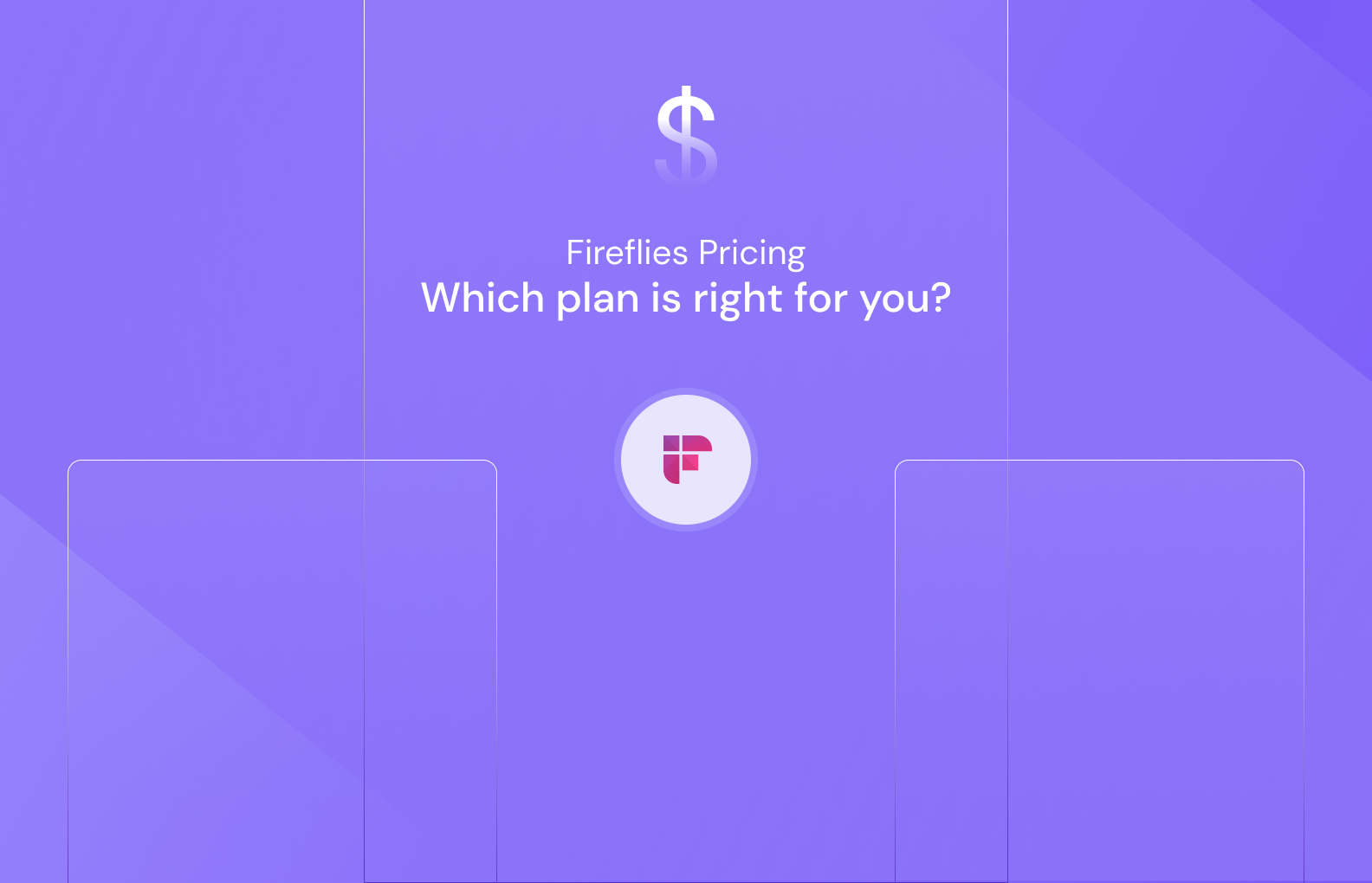 2. Security
At Fireflies, your privacy and data security is of utmost importance. Your transcripts are end-to-end encrypted both at rest and in transit. Plus, Fireflies complies with SOC 2 Type II standards to safeguard your information from unauthorized access.

Fireflies gives you full control over your data. We don't have access to your data nor does any third-party. You have the freedom to delete your recordings and transcripts whenever you wish. Fireflies strictly adheres to GDPR, ensuring that your data remains confidential.

Unlike manual transcription services, where a person listens to your audio files to transcribe them, Fireflies is an AI transcription software that automates this process and involves no humans in this process.  
3. Accuracy
Fireflies manages to deliver over 90% accurate transcriptions leveraging advanced speech-to-text technology.

The platform can handle diverse accents, dialects, background noises, and multiple speakers with remarkable precision.

Fireflies enhances the transcriptions by providing punctuation, capitalization, and timestamps for each transcript.

Additionally, Fireflies provides an online editor, making it super-easy for you to make changes to your transcript (if needed).
4. Multiple download options
Fireflies allows you to download your French transcripts in various formats. It  supports DOCX, PDF, SRT, CSV, and JSON.
5. AI Super Summary
Fireflies goes beyond typical transcription and generates comprehensive AI Super Summaries for each transcript to save you valuable time.

These summaries provide comprehensive information, including keywords, overviews, outlines, and bullet-point notes about the topics covered in your audio or video.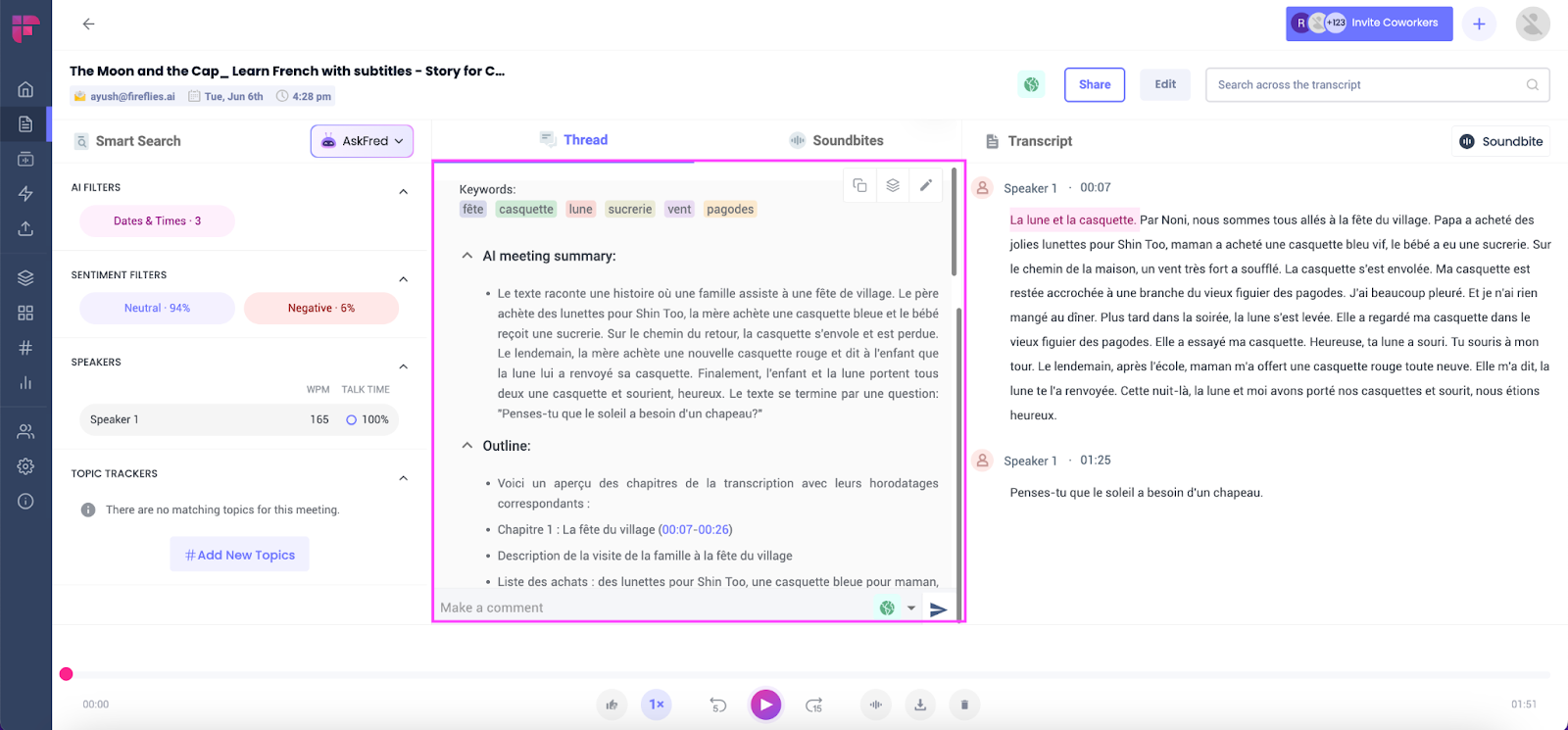 Reviewing essential information and gaining insightful takeaways from lengthy audio files within minutes becomes a cakewalk with this tool.
Final thoughts

Fireflies is your best bet when it comes to transcribing French audio to text. It makes the entire process a breeze.
Plus, Fireflies' French transcription is accurate, secure, affordable, and, more importantly, easy to use. All you have to do is upload your file and let the platform do the rest.
So what are you waiting for? Sign up for Fireflies today to generate accurate French transcriptions in minutes.
À bientôt sur Fireflies!