Looking to convert YouTube videos to text? You're in the right place.  Converting YouTube to text has several benefits, including:
It makes your videos more accessible for people with hearing impairments.
It boosts your SEO ranking, as Google can index text, not audio.
It lets you repurpose video insights into great content pieces.
You can turn videos into text for better content consumption or editing.
Here's how to convert YouTube to text. Let's get started.
Convert YouTube to text in 3 easy steps
Here's how to convert a youtube video to text using Fireflies in a matter of minutes:
Download the YouTube video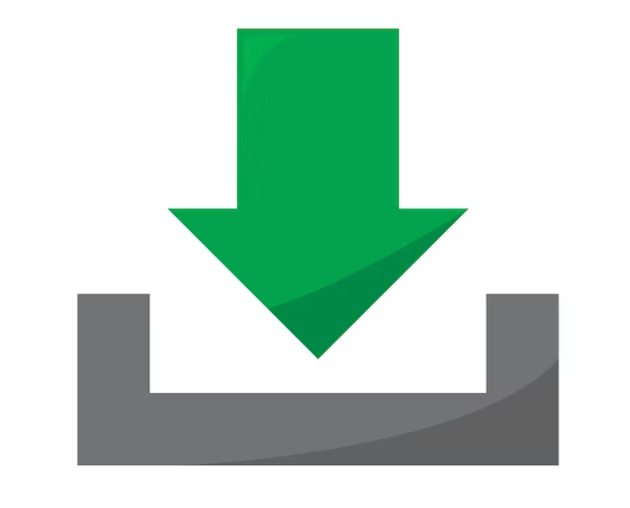 Firstly, you need to download the YouTube video you wish to convert. There are various websites where you can download the video for free. Here are a few popular ones:
4K Video Downloader: This tool lets you download high-quality YouTube videos, supporting multiple formats like MP4, MKV, MP3, and more.
ClipGrab: Another versatile tool to help you download and convert YouTube videos into various formats such as MP4, WMV, OGG, and more. Its integrated search function lets you discover YouTube videos without leaving the app.
Save-From: This website allows you to download videos from YouTube and other sites by simply pasting the video URL, eliminating the need to install a software solution on your device. It supports MP4, WEBM, and OPUS formats.
Upload the downloaded file on Fireflies
The next step is to upload the downloaded YouTube file on Fireflies.
Fireflies currently supports MP3, M4A, WAV, and MP4 files, so when you download the YouTube video, make sure it's in one of these supported formats.
To upload a file on Fireflies, follow these simple steps:
Step 1: Go to app.fireflies.ai and sign up for a free account. If you already have one, just log in.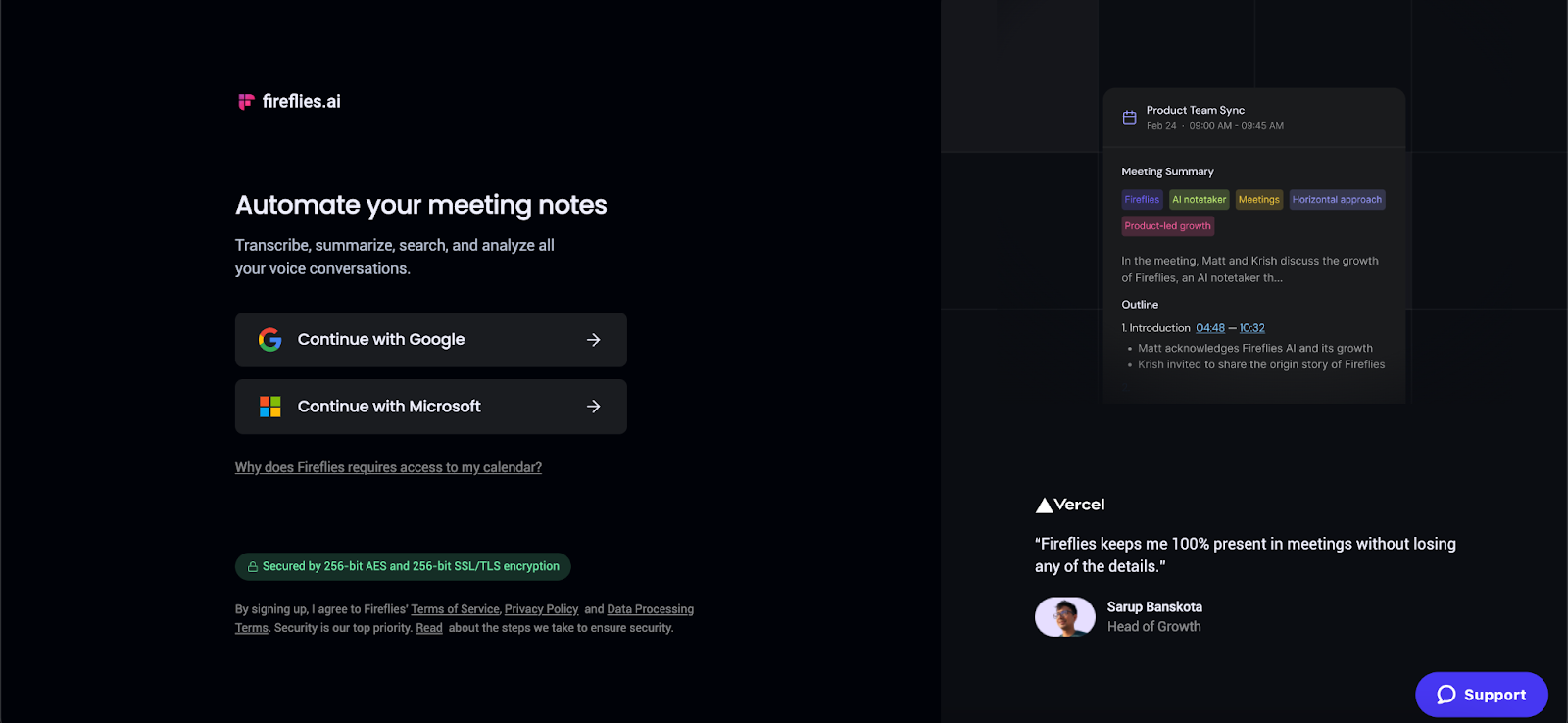 Step 2: Navigate to the bottom right corner of the Dashboard and click on Browse Files to select and upload the downloaded file.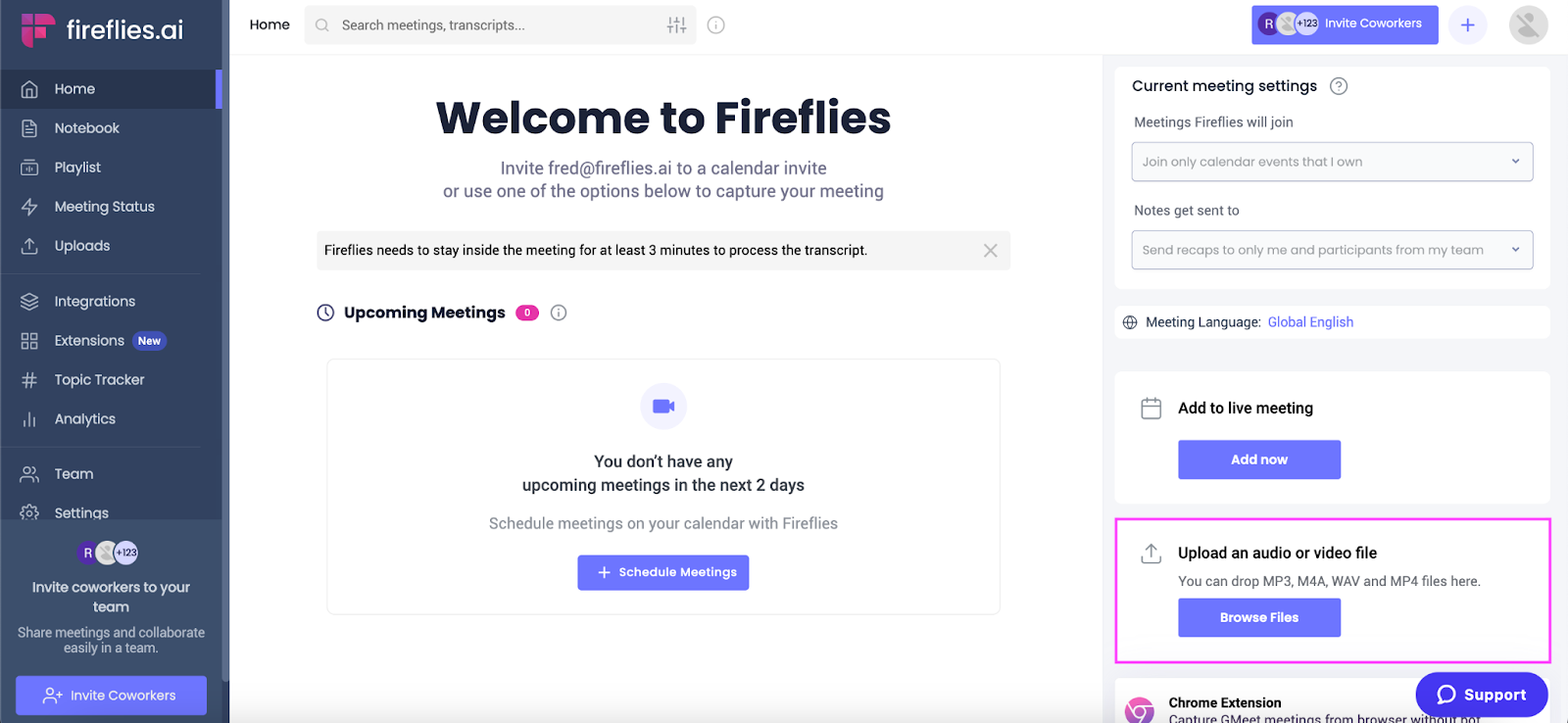 Step 3: Select the Youtube file you want to convert to text.
Step 4: Click Uploads from the left side of the navigation bar to see the status of your transcript.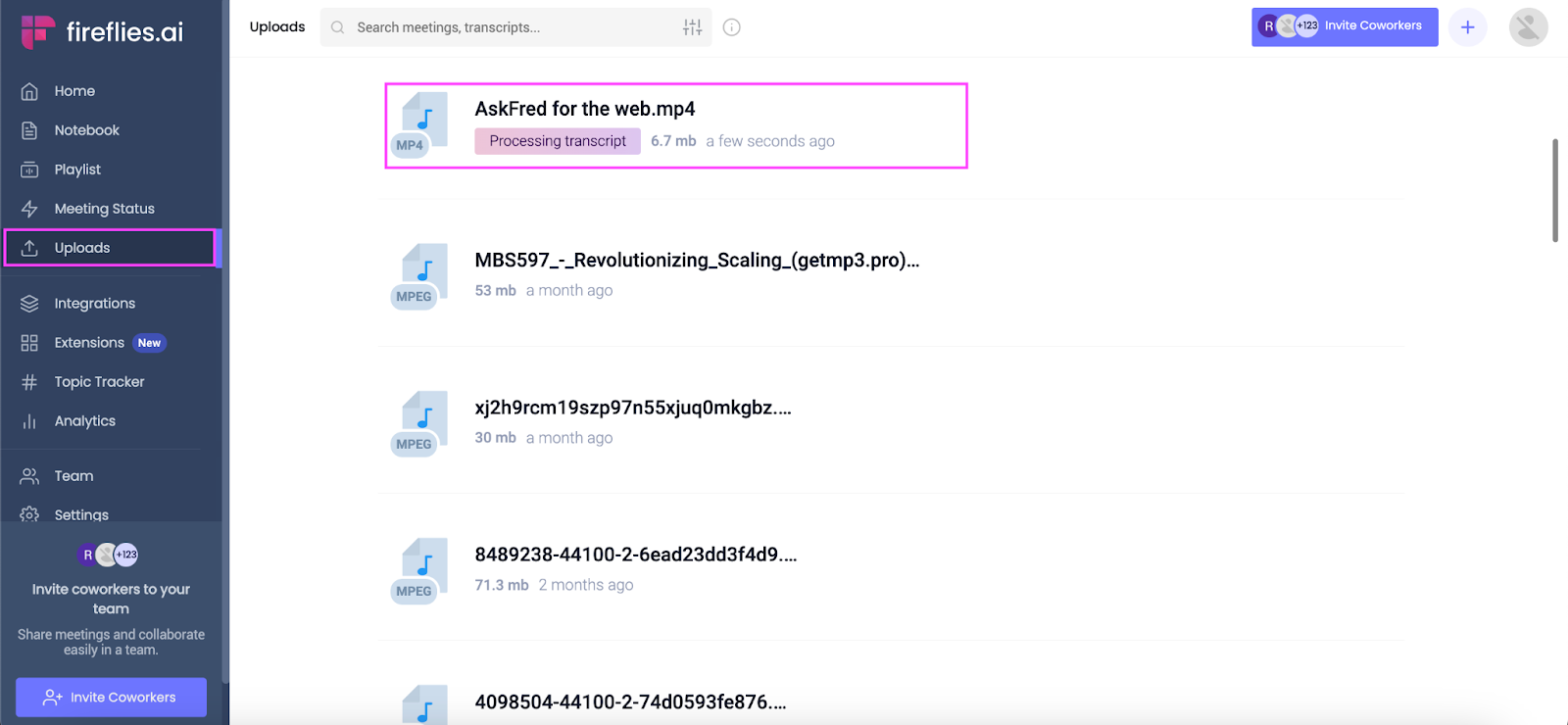 Fireflies only takes a few minutes to process the transcript. You'll get an email once your YouTube video is converted to text.
View your video transcript
Here's how to view the text of your YouTube video:
Step 1: Open Notebook from the left side of the navigation bar.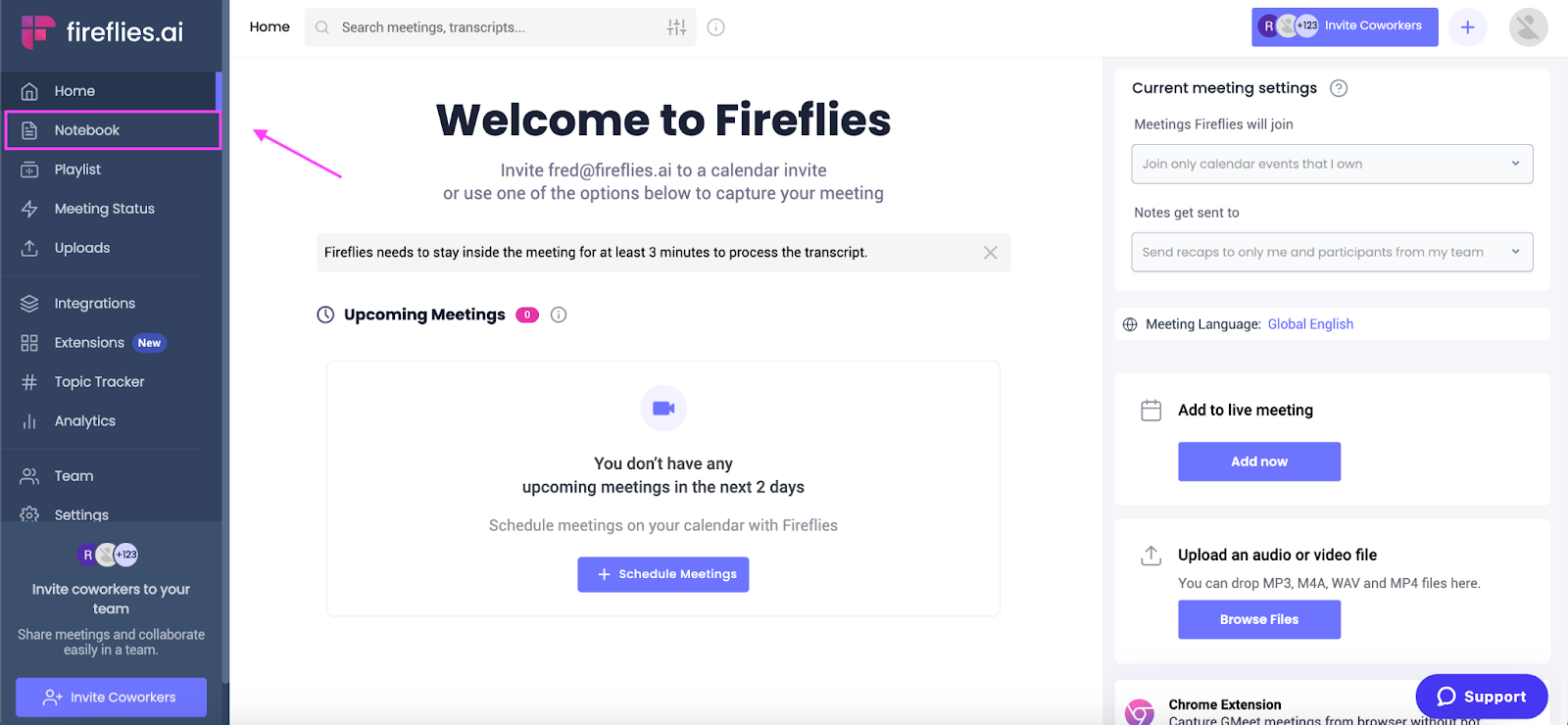 Step 2: Find the file you just uploaded under the My Meetings or All Meetings channel, and click on it.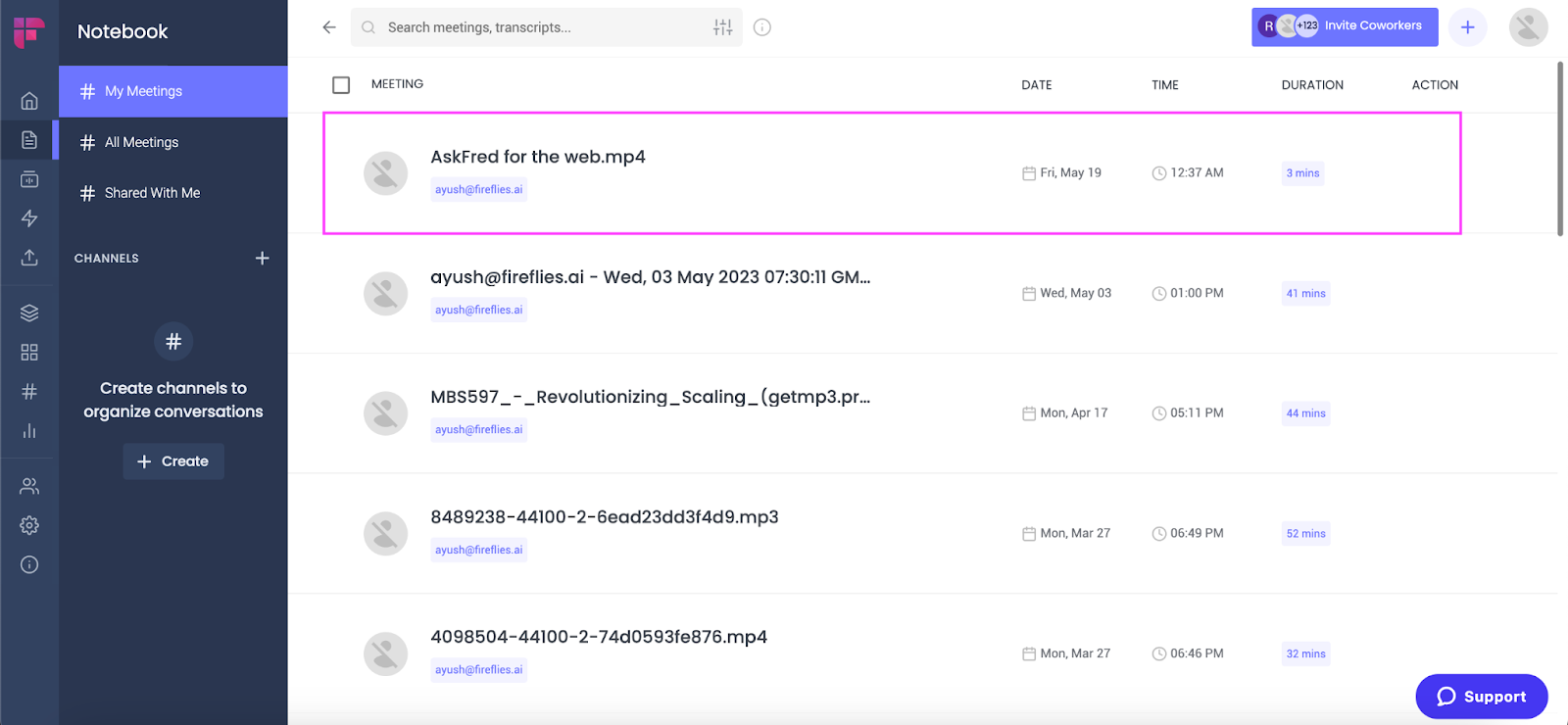 Step 3: You'll find the transcript on the right side. You will also see the AI Super Summary in the middle and Smart Search filters on the left.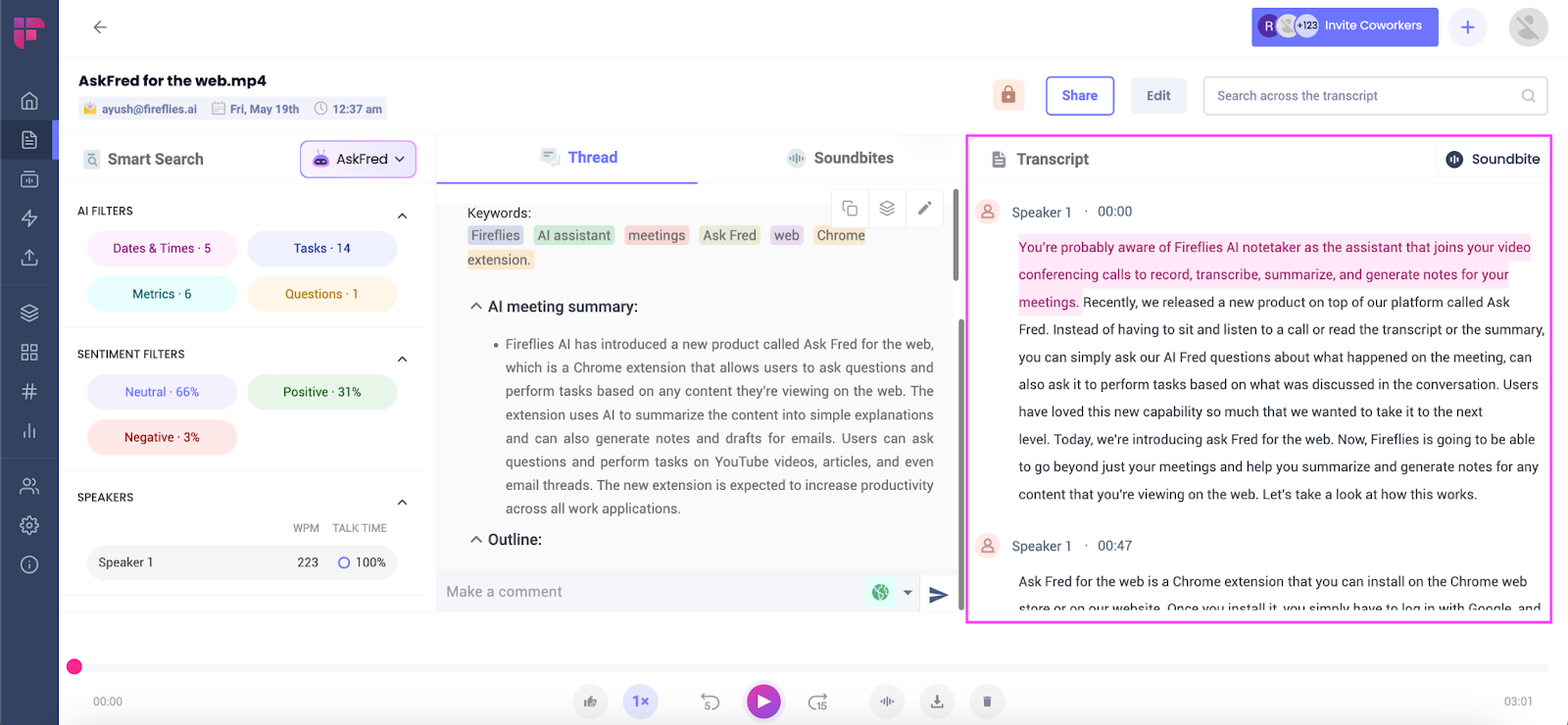 That's it. You have successfully converted your YouTube video to text with Fireflies.
You can also export your transcript or video summary by clicking the download button next to the playback options at the bottom of the screen.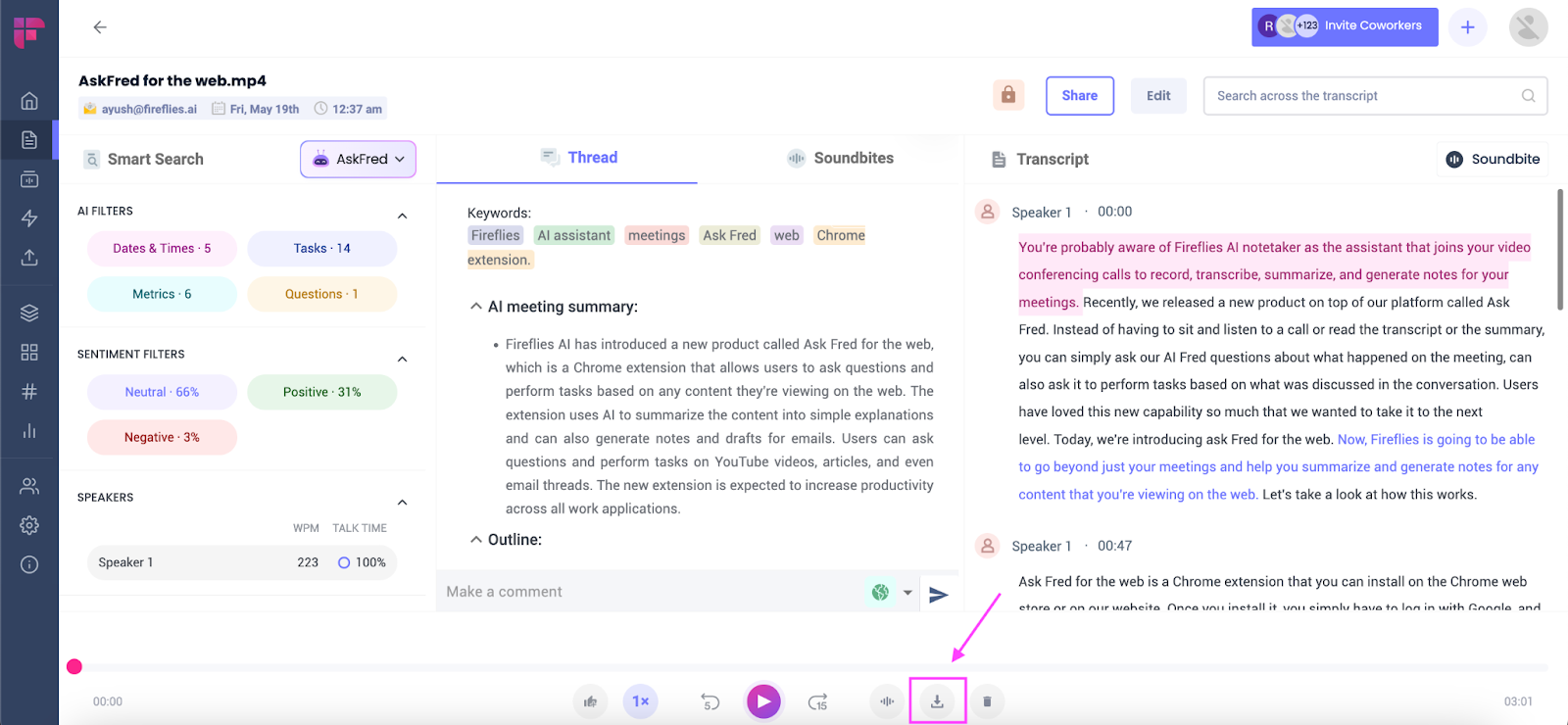 Fireflies lets you export the transcript in DOCX, PDF, SRT, CVT, and JSON formats.
Why choose Fireflies
Fireflies is an amazing YouTube-to-text converter, but it's not just a one-trick pony. Here's why you should choose Fireflies:
Supports multiple languages
Fireflies supports 32+ languages, letting you transcribe YouTube videos in your desired language.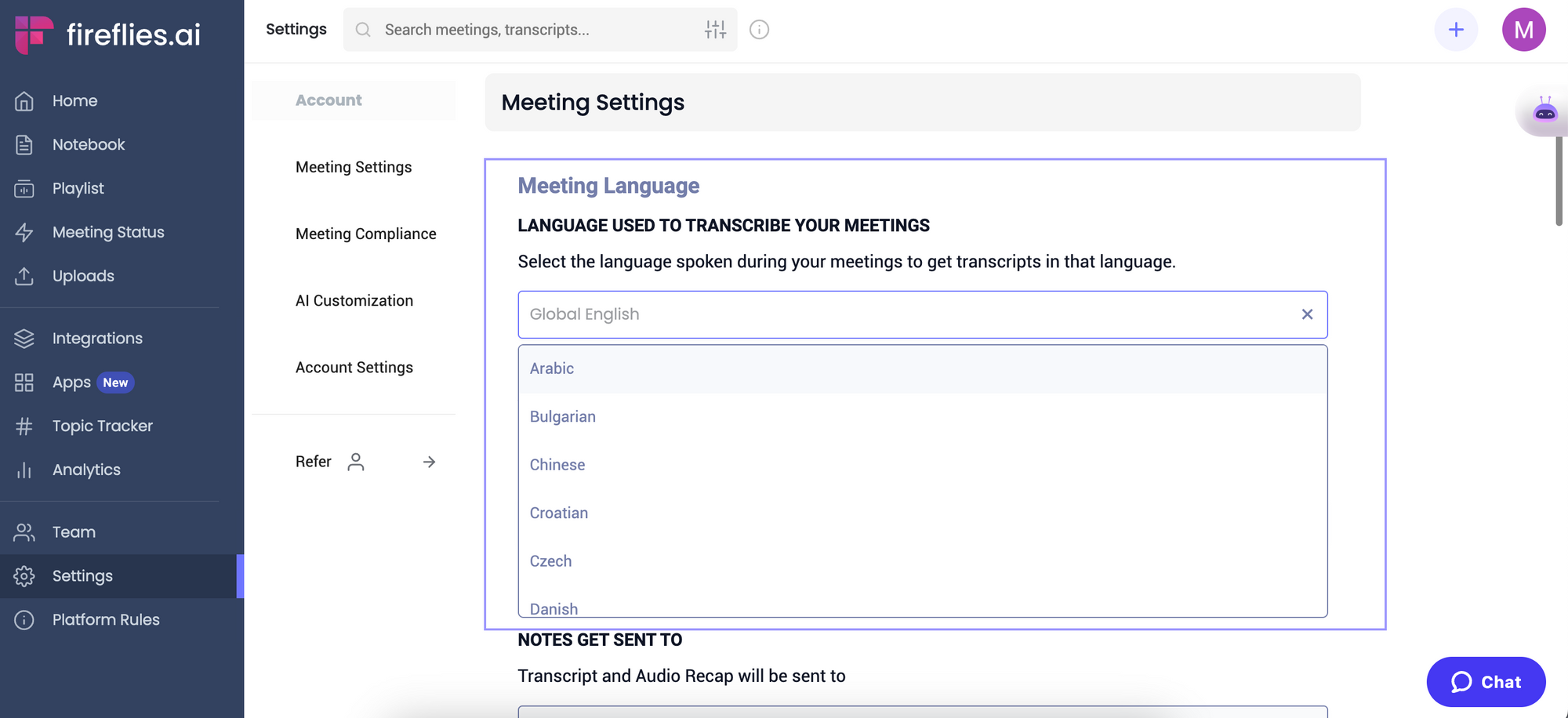 This is a massive advantage over other YouTube-to-text converters, which typically only support a handful of languages.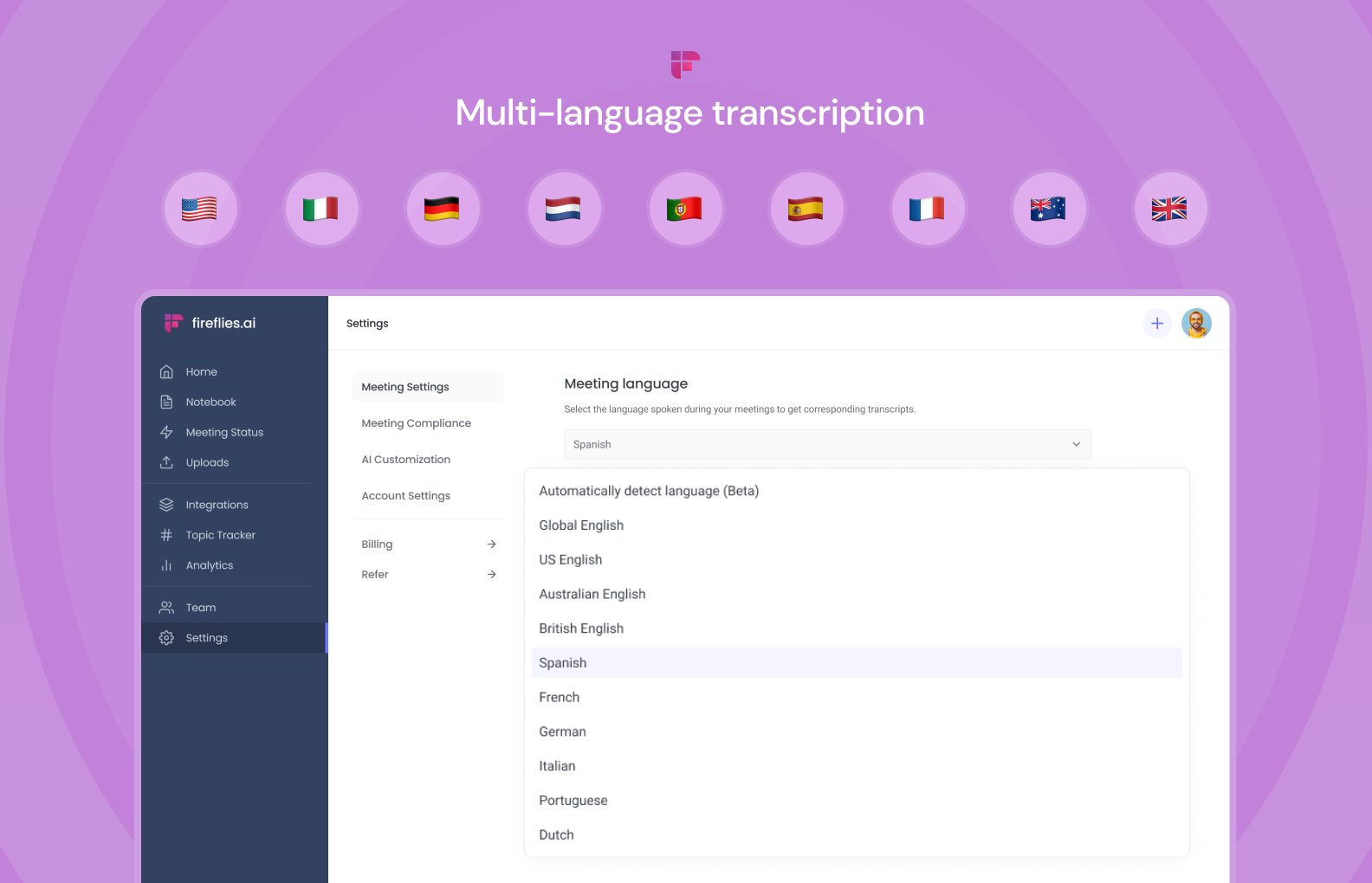 Fast, reliable, and accurate
Fireflies is an AI-powered tool that can transcribe your videos quickly and accurately. You can expect your transcripts to be ready in minutes, even for long videos.
Fireflies offers more than 90% transcription accuracy. This means you can rely on Fireflies to provide highly precise transcriptions with proper punctuation, grammar, and timestamps.
Supports multiple file formats
Convert your YouTube videos to text from various supported formats: MP3, M4A, WAV, and MP4. This flexibility sets Fireflies apart from other platforms that often limit the types of files you can upload.
Has the highest security standards
Who wants their data to be vulnerable? Fireflies prioritizes your privacy by offering end-to-end encryption and robust security features. Fireflies is SOC 2 Type II and GDPR compliant, providing peace of mind knowing that your data is in safe hands.

Quickly find the information you need
Manually searching the transcript for information is like playing hide and seek. "What was that golden nugget about savings the video creator mentioned?" Or "What did the CEO say about the new product launch timelines?" It's hard to tell unless you use the search capabilities of Fireflies.
Fireflies offers different ways to search transcripts and find information in minutes. Its Smart Search has AI-generated filters that let you quickly locate specific information like questions, metrics, dates, and times mentioned.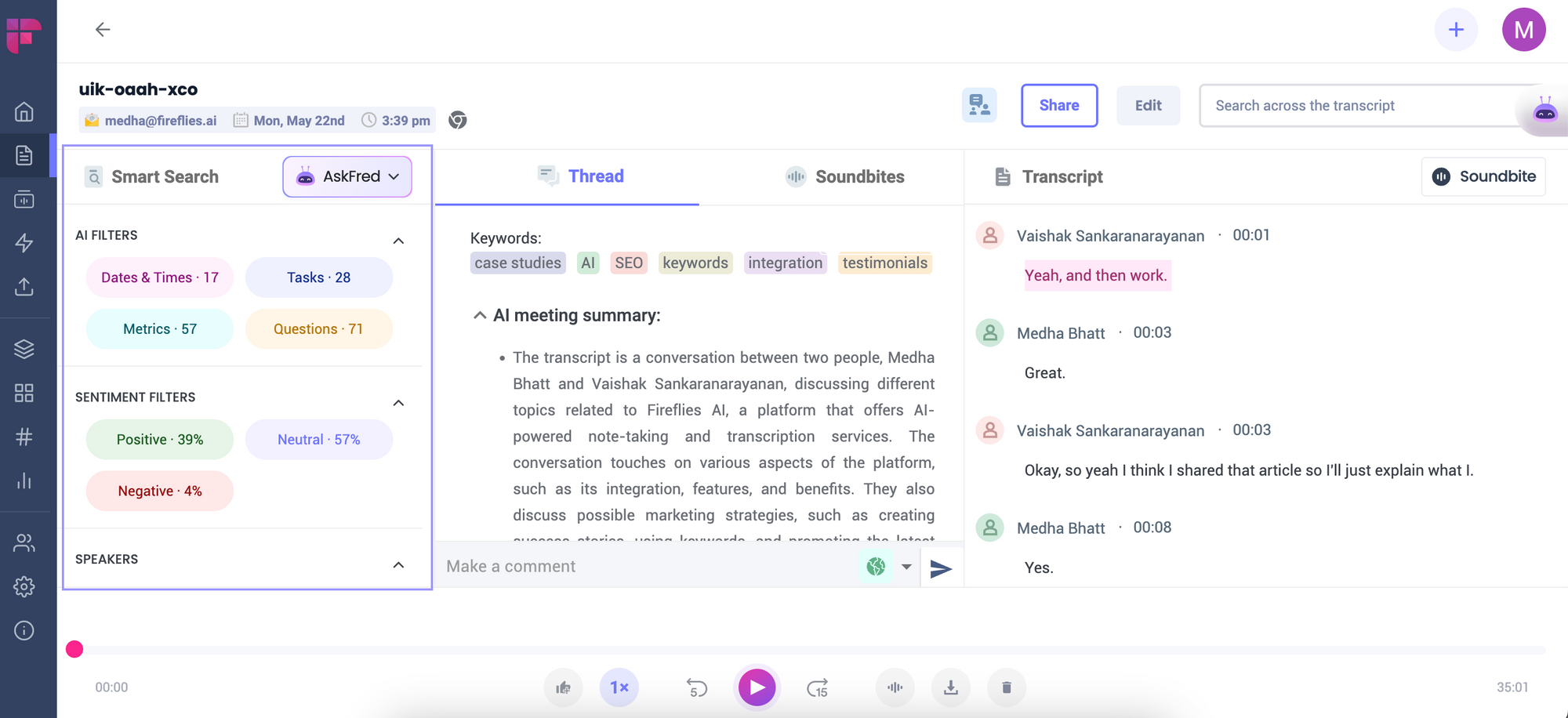 You can take things up a notch with AskFred, a conversational chatbot ready to answer any questions about the video or provide a concise summary in crisp bullet points. It can also help you generate content like compelling Twitter threads, blogs, or emails.
A knowledge base of all YouTube videos
Having a database of video transcripts enables you to store a wealth of helpful information in a text format, making it easy to access, search, and share. But the real challenge is to organize the data.
With Fireflies, you can stop worrying about that, too, by creating custom channels to organize your video transcripts. Whether it's for research, content creation, or knowledge management, you can create separate channels tailored to your workflow.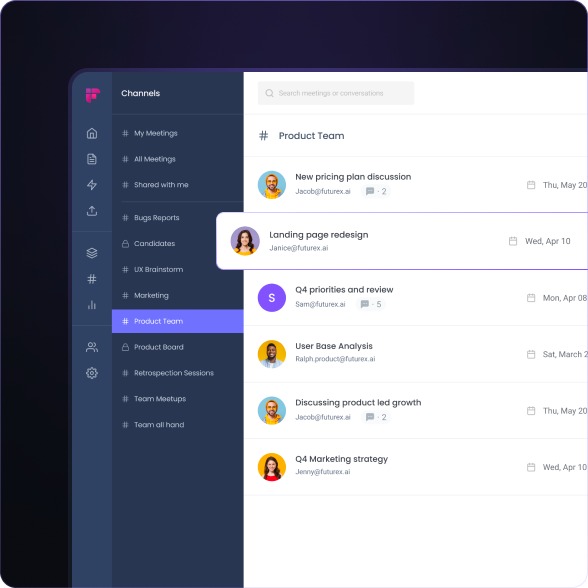 Fireflies effortlessly organizes your transcripts within these channels, allowing you to locate them easily.
Affordability
Affordability is a key factor that sets Fireflies apart. It is a cost-effective solution, but you can try it for free before spending money. With its 7-day free trial, Fireflies provides an accessible entry point for users to experience its full range of capabilities.
After experiencing Fireflies, you can subscribe at just $10/month for the Pro plan or $19/month for the Business plan, depending on the features you need.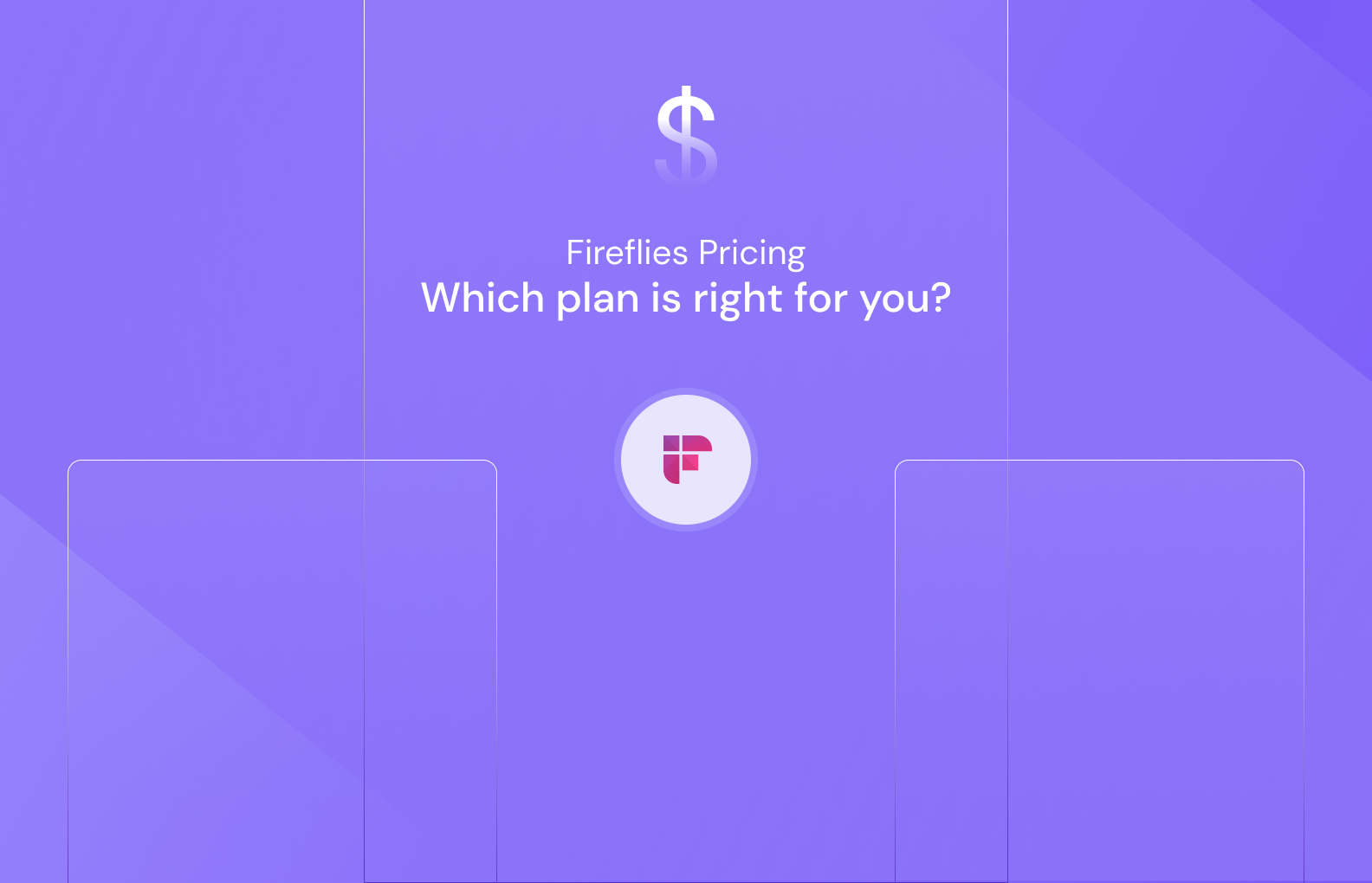 Final thoughts
In a world where YouTube reigns supreme and information is abundant, Fireflies swoops in as the superhero of transcription, making it a breeze to convert YouTube videos to text.
The possibilities are limitless with lightning-fast transcriptions, support for multiple languages and file formats, high accuracy, AI Super Summaries, and Smart Search AI Filters.

Start with Fireflies today for free!
Read Next: