Webex by Cisco is a trusted platform known for its robust features that facilitate seamless communication and collaboration within your organization.
One benefit of Webex is that it offers you a wide range of integrations with other tools and apps to further enhance your experience.
In this blog post, you'll learn about 10 amazing Webex integrations and see how they can significantly boost your organization's efficiency and productivity.
1. Fireflies
First on our list is Fireflies, an AI meeting assistant that seamlessly integrates with Webex to offer automated meeting transcription, summarization, and note-taking.
With this tool, you can keep track of your meeting discussions, access valuable meeting insights, and easily collaborate with your team.
Setting up the Fireflies-Webex integration is straightforward:
Once you connect Fireflies to your calendar (Google or Microsoft Outlook), it can detect which meetings have a Webex meeting URL. Then, you can configure your join settings in app.fireflies.ai/settings to have Fireflies auto-join calendar events or join only when you invite fred@fireflies.ai as a participant on the calendar.
Alternatively, you can add the Fireflies notetaker to a live meeting from your dashboard.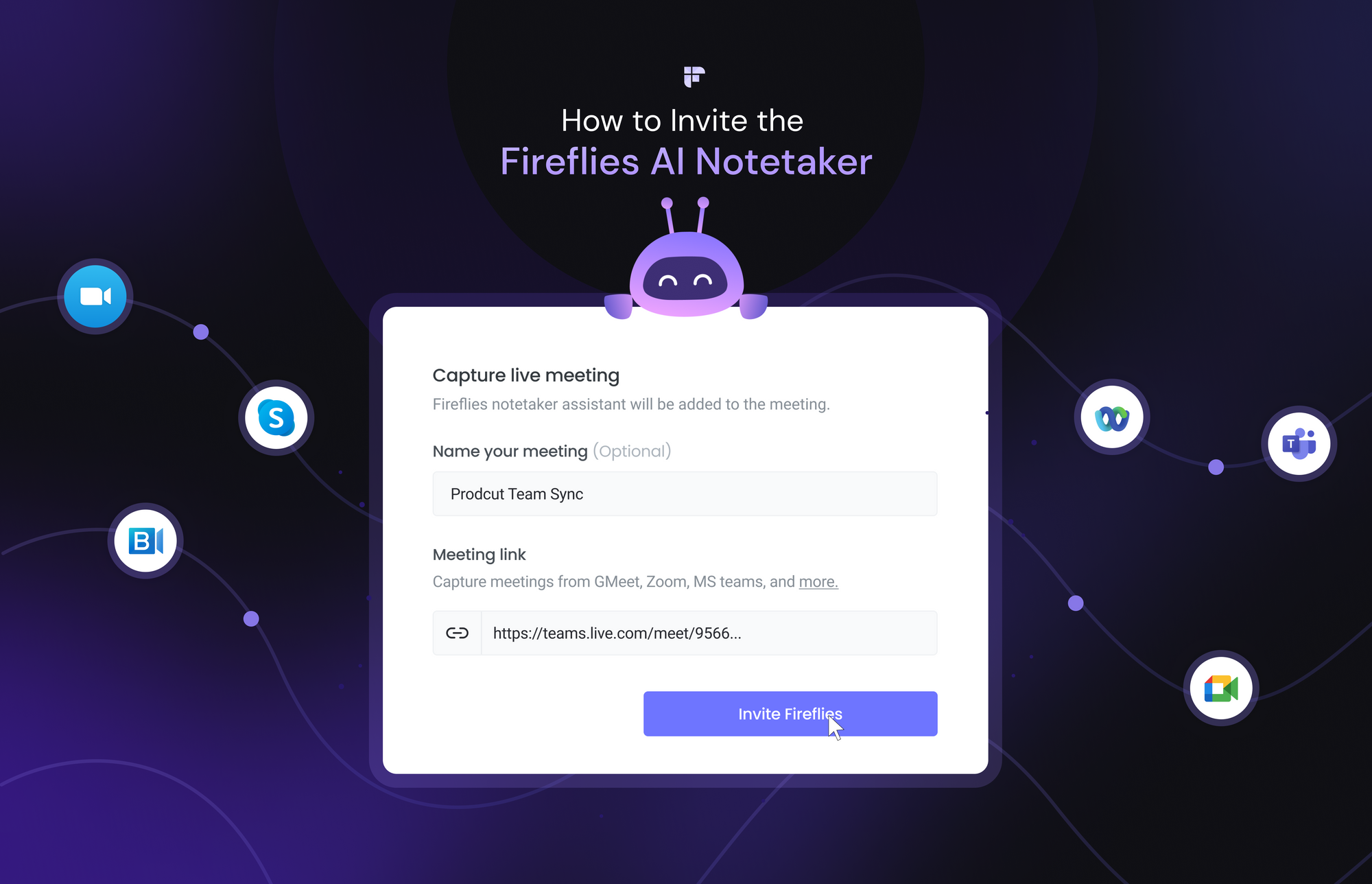 Key features of Fireflies to help you supercharge your Webex experience:
Automatic video/audio meeting recording, transcription, and summarization
Generates 90%+ accurate meeting transcripts with speaker labels and time stamps
Offers Smart Search so you can quickly review your Webex meetings and retrieve information in minutes
Lets you analyze your Webex meetings by tracking speaker talk time, sentiment, monologues, and other key metrics
Supports transcription in 60+ languages (and 3 English accents)
Integrates with 40+ apps, including HubSpot, Notion, Slack, Freshsales, Ringcentral, and more
Allows you to collaborate with your team with Soundbites (shareable snippets from recordings) and Threads (add and reply to comments within your meeting transcript)
Has a user-friendly interface for easy reviewing and editing of transcripts
Provides Channels to help you create a real-time knowledge base for your team and organize your meetings
Allows you to leverage the power of ChatGPT in your meetings with AskFred, a meeting chatbot that can answer questions about what happened during your meetings
Lets you organize important soundbites using Playlists
Automatically logs call notes, activities, and recordings under the appropriate contacts in your CRM
SOC 2 Type II, HIPAA, and GDPR compliant
Offers a private storage option to help you get storage dedicated exclusively to your organization's data
Pricing
Free forever
Pro: $18/user/month ($10/user/month billed annually)
Business: $29/user/month ($19/user/month billed annually)
Enterprise: Custom
A 7-day free trial is available for the paid plans.Automate your meeting notes & transcripts using the Fireflies-Webex integration
2. Scrum Genius
ScrumGenius is a bot designed to help agile teams simplify their daily standup and check-in meetings on Webex.
This Webex integration automates routine work-related communication, reducing the need for constant status checks and task tracking.
ScrumGenius also identifies "blockers" that hinder productivity and tracks your team's progress toward individual and group goals.
Key features:
Helps you perform asynchronous standup meetings directly over chat
Lets you set up automated reminders to ensure everyone checks in on time
Allows you to create customizable questions for monthly reports
Pricing:
Basic: $3/user/month ($2.50/month billed annually)
Team: $5/user/month or $50/user/year
Business: $7/user/month or $70/user/year
A 30-day free trial is available.
3. Zendesk
This integration lets you start, schedule, and join Webex Personal Room meetings directly from a Zendesk ticket.
You can also set up a Webex space and link it to a particular ticket. This way, you can store all relevant conversation history and content in one place, making it easy for collaborators to access.
Plus, you can access a Zendesk bot for Webex that keeps you informed about ticket changes. When a ticket status changes, you'll get a notification, and you can quickly jump into a chat or call with your team to work on it.
Key features:
Lets you quickly create, link, or unlink spaces within your Zendesk ticket
Allows you to invite customers and team members who are working on support tickets to join Webex meetings
Lets you connect the Zendesk bot to your Webex spaces, and receive customizable notifications like Ticket Created, Ticket Opened, Ticket Marked as Pending, Ticket Solved, and Ticket Closed
Pricing
Support Team: $25/user/month ($19/user/month billed annually)
Support Professional: $69/user/month ($55/user/month billed annually)
Support Enterprise: $149/user/month ($115/user/month billed annually)
A 14-day free trial is available.
4. Status Hero
This next Webex integration helps simplify project management and keep everyone on the same page.
With the Status Hero bot, you can easily compare your goals to what's getting done and avoid long and tedious standup meetings.
Key features
Helps you track and visualize daily goals
Provides goal completion metrics
Compiles and shares status reports to the Team Status space in Webex
Detects "blockers" that hinder your team's progress
Offers tons of customization options for time zones, notification times, check-in questions, and more
Pricing
Standard: $8.99/user/month ($6.99/user/month billed annually)
Premium: $17.98/user/month ($13.98/user/month billed annually)
Enterprise: Custom
A 21-day free trial is available.
5. Appy Pie Connect
Using Appy Pie Connect, you can easily integrate your Webex Meetings with Appy Pie App Maker to automate repetitive tasks, save time, and improve team collaboration.
Appy Pie Connect leverages the power of AI to handle the data exchange between these apps and prevents the need for manual data entry.
It also provides a variety of customizable and pre-built integrations and automation workflows for Webex meetings and Appy Pie App Maker.
Key features
Provides custom triggers and actions to help you create custom workflows
Lets you track the progress of a project in Webex and view it in real-time in Appy Pie App Maker
Integrates Webex with other apps to automate tasks like creating new contacts, updating customer records, sending notifications, and more
Offers real-time data syncing
Pricing
Standard: $16/user/month ($12/user/month billed annually)
Professional: $36/user/month ($30/user/month billed annually)
Business: $90/user/month ($75/user/month billed annually)
Enterprise
6. Outlook Alerts for Microsoft Office 365
With this Webex integration, you can easily keep track of important updates.
It helps you stay in the loop by notifying you when you get a new email, when a meeting is added to your calendar, or when a folder is created in your inbox.
Key features
Lets you create custom notification rules based on the "Subject" and email addresses included in your received emails
Allows you to accept or decline meeting invites right from a Webex space
Pricing
Microsoft 365 Business Basic: $6
Microsoft 365 Business Standard: $12.50
Microsoft 365 Business Premium: $22
A one-month free trial is available.
7. CloudFuze
When you integrate CloudFuze with Webex, managing your files from various cloud storage services becomes a breeze. You don't have to waste too much time searching, sharing, or organizing your files.
CloudFuze streamlines this process by bringing all your files together within easy reach, regardless of where they are stored.
Key features
Allows you to search, share, view, save, and secure files from over 40 cloud services without leaving the Webex app
Provides several required enterprise controls for Webex
Pricing
On request. A free consultation and demo is available.
8. Smartsheet
With the Smartsheet bot for Webex, you can easily plan, monitor, and accelerate your tasks. You can also receive instant notifications for sheet changes and new comments, whether in a one-on-one or a group meeting.
Key features
Allows you to add Smartsheet assets into a Webex space and work on key projects and tasks within the Webex app
Lets you share Smartsheet assets during Webex meetings and make updates with stakeholders in real time
Sends you customizable alerts and notifications when changes have been made to your sheets
Allows you to add comments to sheets
Pricing
Free
Pro: $9/user/month ($7/user/month billed annually)
Business: $32/user/month ($25/user/month billed annually)
Enterprise: Custom
9. 22Miles
With the 22Miles-Webex integration, you can streamline how your team communicates, shares information, and uses resources to create a more productive workplace.
Key features
Allows you to create, manage, and publish real-time or scheduled corporate messaging to collaborators in Webex team spaces
Integrates with Office 365 and Google Calendar to help you schedule and book conference rooms
Lets you send meeting invites that include email notifications for remote and in-office employees
Helps you broadcast emergency alerts or notifications across all workplace displays and mobile devices.
Pricing
10. PhonEX ONE
This Webex integration provides robust UC (Unified Communication) analytics to help you efficiently monitor and analyze communications within your Webex calling environment.
Through user-friendly, customizable dashboards and reports, you can intelligently track your organization's Webex Calling activities.
Key features
Integrates using Webex Calling APIs
Offers customizable reports with template-building capability, automated report generation, and delivery
Provides traffic analysis
Offers call analysis in flexible dashboards, and KPIs wallboard
Pricing
Wrapping up
In conclusion, Webex is an exceptional platform businesses can use to communicate and collaborate effectively.
And by using the 10 integrations mentioned in this blog, you can harness the full potential of the platform to effortlessly enhance your business operations.
💡

Elevate Your Business Collaboration and Communication with Fireflies!

Streamline your meeting workflow, enhance customer relationships, and boost productivity only with Fireflies.