Meeting transcription is a written record of the conversation during a meeting. It captures every word spoken and creates a searchable record to refer to later.
In this blog, we'll discuss the top 10 benefits of meeting transcription and how you can create one using AI transcription software.
So, read on to discover how to revolutionize the way you work with meeting transcription!
Top 10 benefits of meeting transcription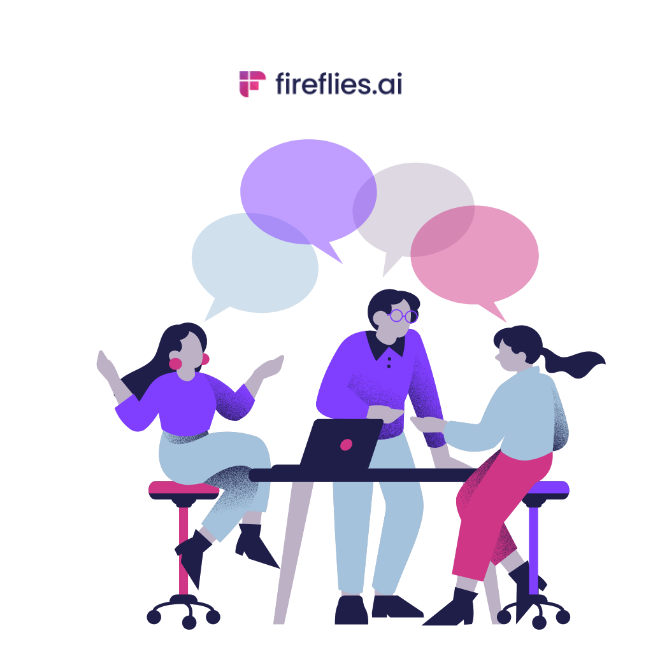 There are numerous benefits to meeting transcription that goes beyond just creating a record. Here are the top 10 of them:
Saves time
Enhances communication
Eases scheduling
Better collaboration
Aligns marketing activities
Streamlines recruitments
Improves sales techniques
Improves workplace accessibility
Facilitates training and development
Maintains a record of all conversations
1. Saves time
A meeting transcription is a searchable, written record of everything said during a meeting. You can quickly review these transcripts to get the necessary information, like key points and action items, without listening to an entire recording.
In their recent study, Cross River Therapy found that employees spend at least 33% of their work time in unproductive meetings.
So instead of losing time in meetings where your active participation is not required, employ an AI notetaker tool to attend and transcribe it for you.
This way, you can stay updated on all meeting outcomes while investing that time in more productive tasks.
2. Enhances communication
A study by Pumble found effective communication can improve a team's productivity by 25% in no time. And the easiest way to improve workplace communication is by using meeting transcription.
Meeting transcription accurately captures essential information, decisions, and actions, reducing the risk of miscommunication or forgetting important details.
You can share the transcript with meeting absentees to update them on its outcomes. This leads to transparency, better collaboration, and coordination within the team, leading to better productivity.
Also, employing an AI notetaker lets you engage in productive conversations and eliminates the fuss of manual note-taking.
3. Eases scheduling
If your team works across multiple time zones, you'd know how challenging it can be to find the right time to fix a meeting.
So, instead of trying to coordinate a time that works for everyone, you can do asynchronous meetings. Just fix a time that works for most and share the meeting transcript.
Team members can review the meeting transcription and provide necessary inputs at their convenience, avoiding the need to attend the meeting outside of their regular work hours.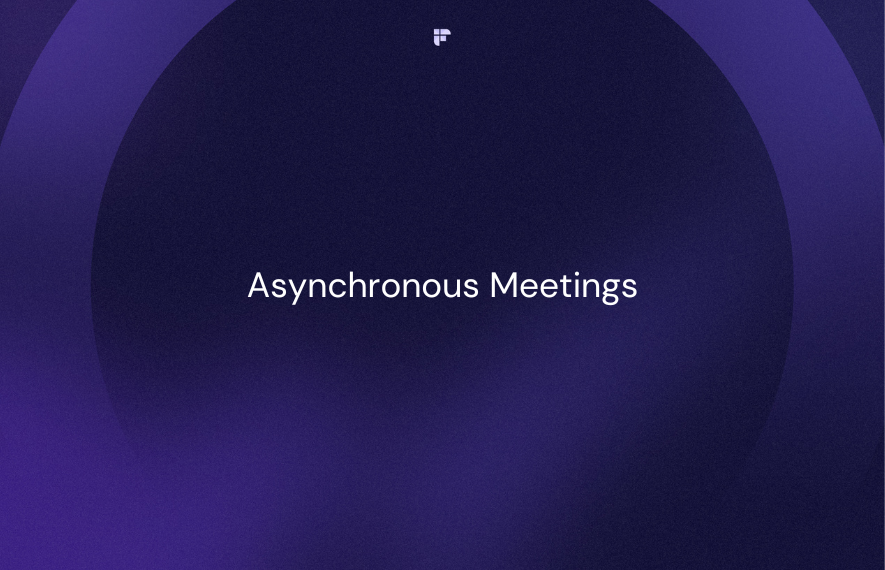 4. Better collaboration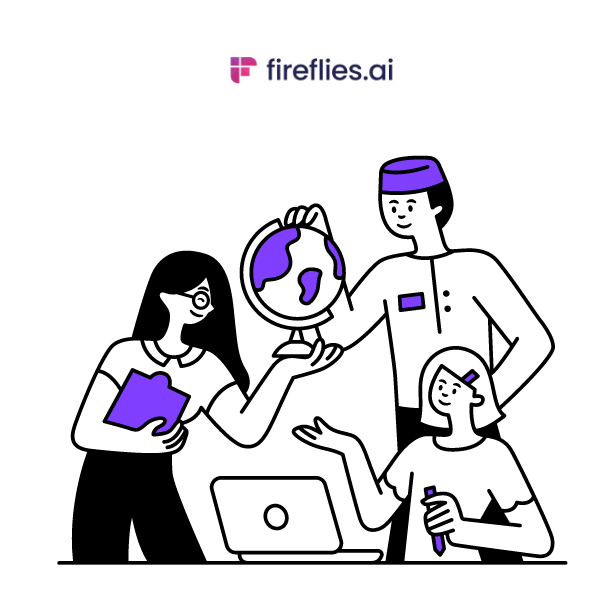 Sometimes, attendees may interpret the decisions or action items discussed during a meeting differently. This leads to misunderstandings and miscommunications.
Meeting transcription gives you a written record of the discussions. Share this among peers to ensure everyone is informed, on the same page, and working towards the same goals.
Also, meeting transcriptions are searchable and shareable. Collaborate with your team members by commenting on the transcript, integrating it with different business apps, and sharing it on various platforms.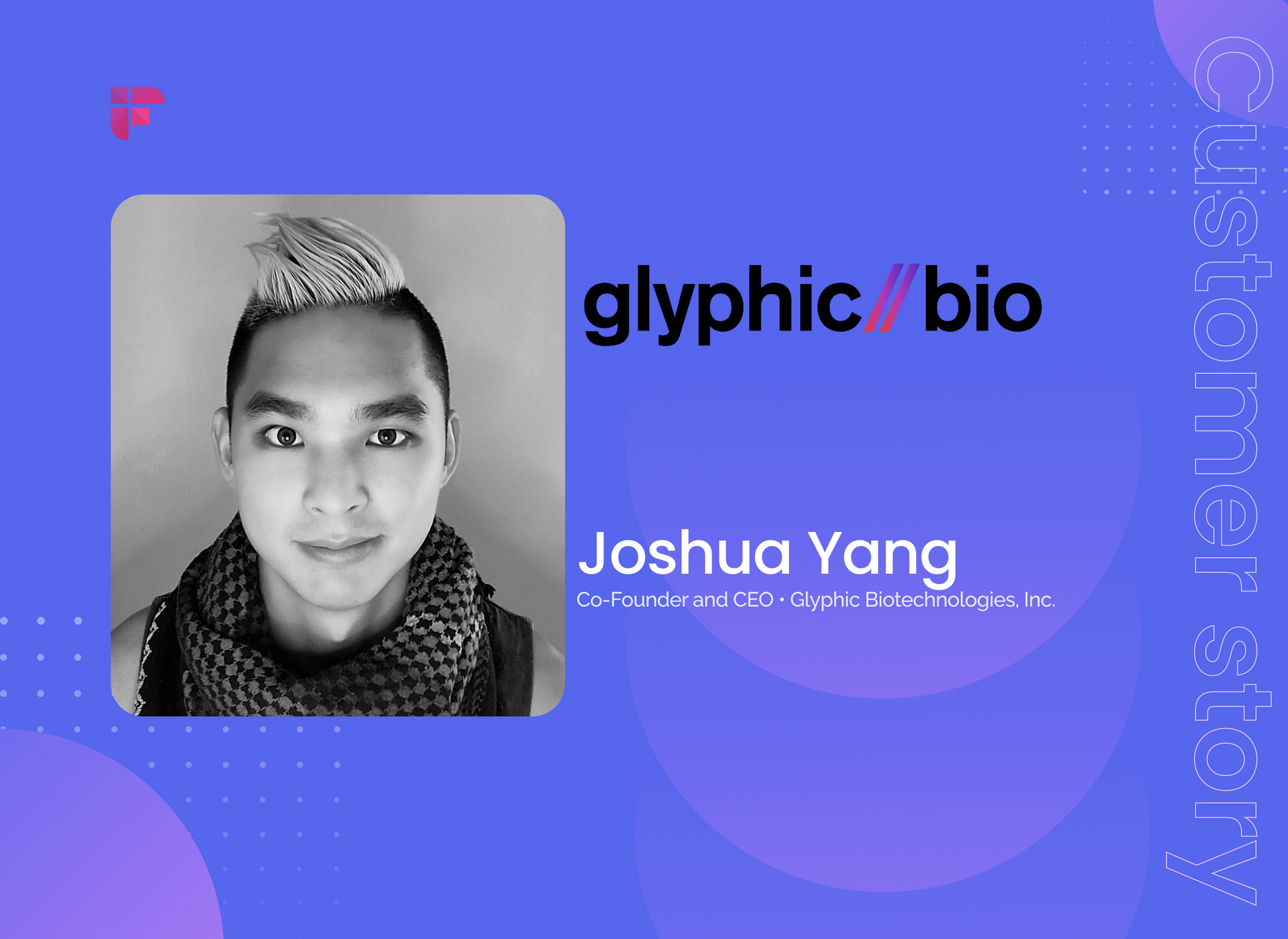 5. Aligns marketing activities
Transcribing and analyzing customer interviews can provide valuable feedback for your company, enabling you to improve product development and align your marketing activities with customer wants and needs.
Transcript analysis can also help you track your company's performance and modify its offer based on insights.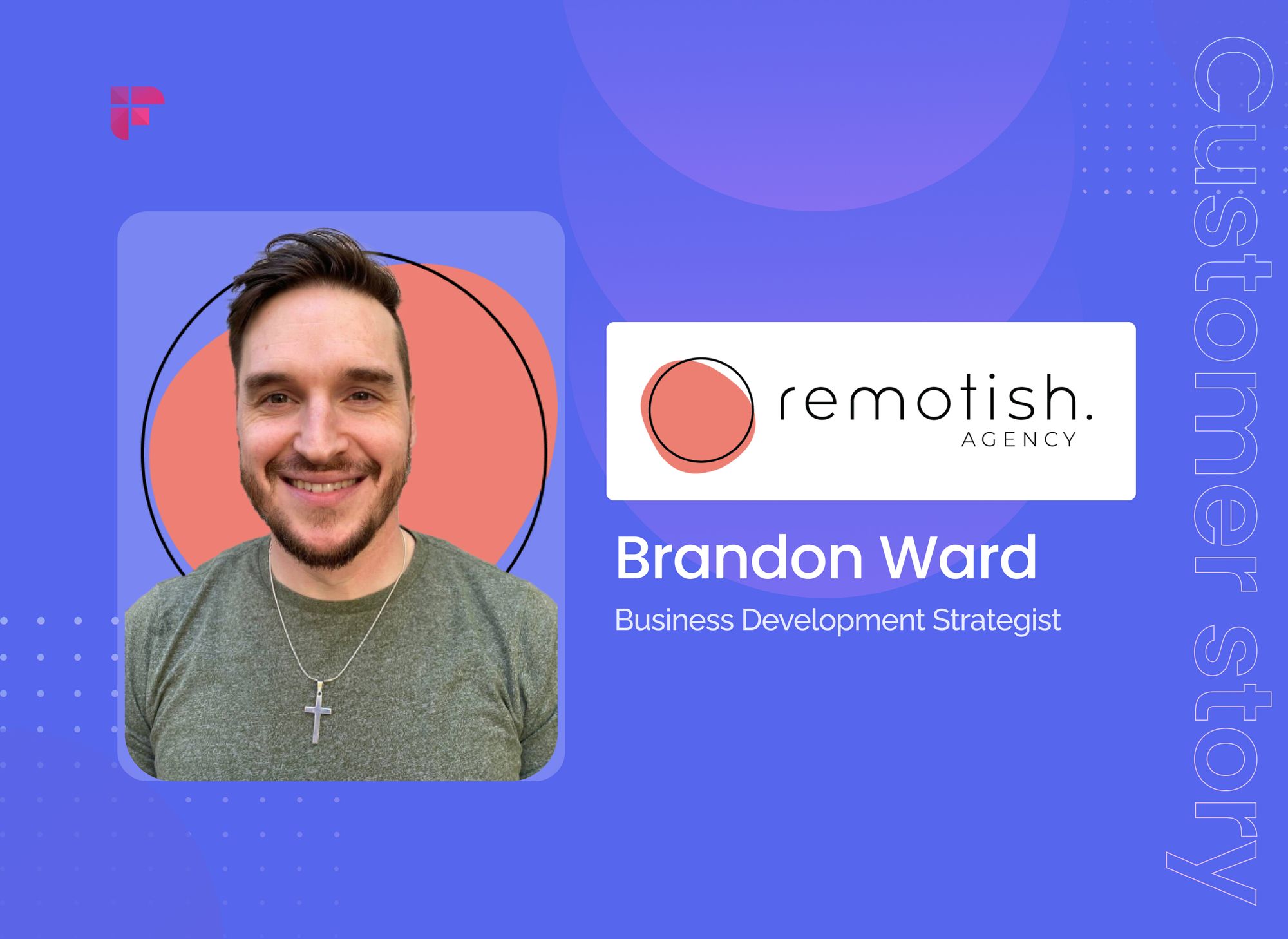 6. Streamlines recruitment
Streamline your recruiting process with automated interview transcription software. Share the interview transcript and summaries with your manager to give them a more precise, unbiased picture of the candidates without conducting numerous rounds of interviews.
This way, you can base hiring decisions on more than just CVs and LinkedIn profiles.
7. Improves sales techniques
Some meeting transcription software solutions have advanced features like conversation intelligence, including speaker analytics. This is particularly valuable for customer-facing teams like sales and customer success, who interact with clients daily.
Meeting transcription of your sales calls, along with conversation analytics, can help you identify the effectiveness of your sales techniques and strategies.
For example, you can see your reps' talk-to-listen ratio. Tweak your sales script accordingly and coach them to listen more. Similarly, if your reps use many filler words, coach them so they sound confident; or if they talk fast, ask them to slow down.
Using conversation intelligence with meeting transcription, you can refine and tailor your sales strategies to meet your customers' needs better.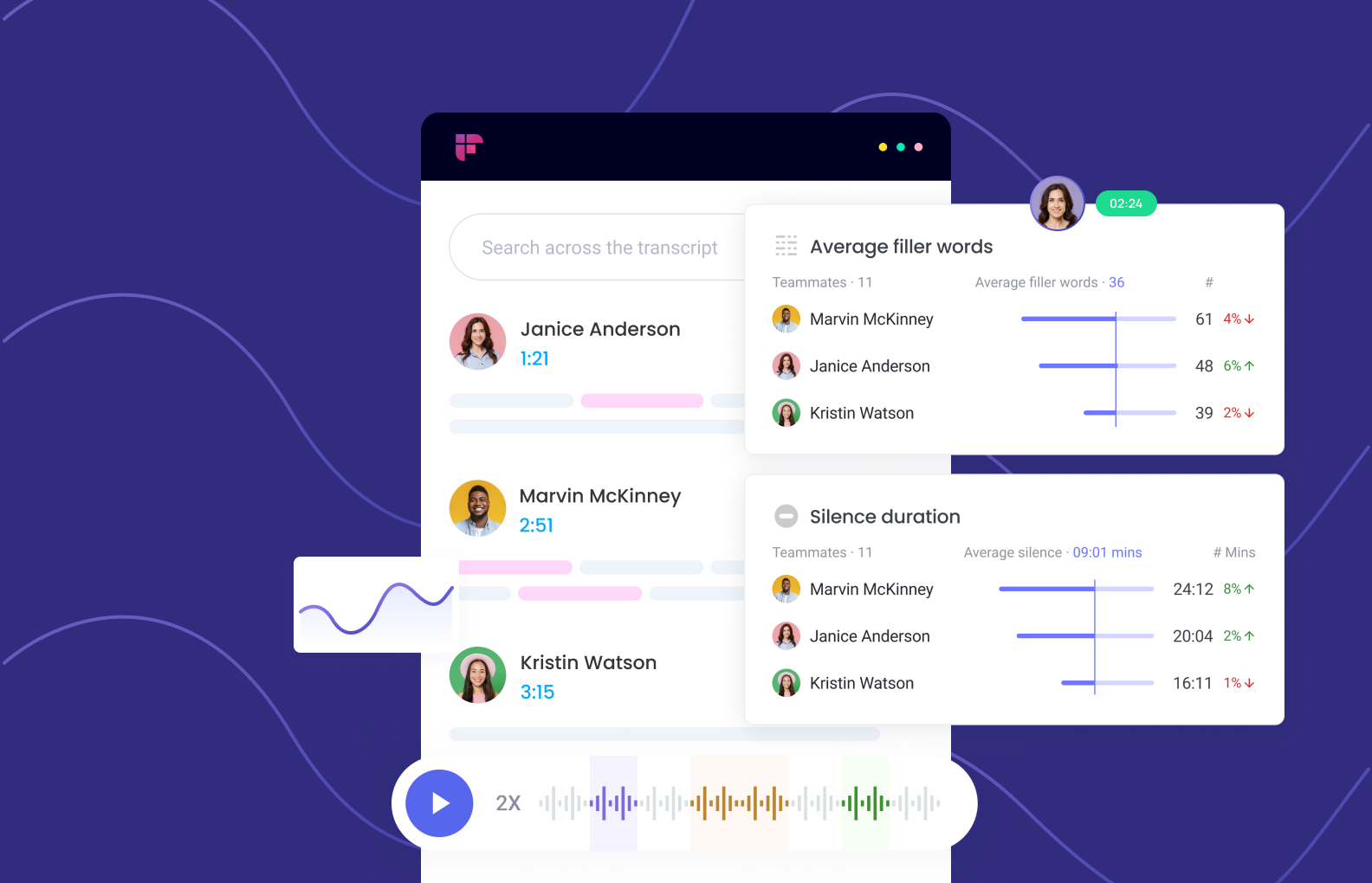 8. Improve workplace accessibility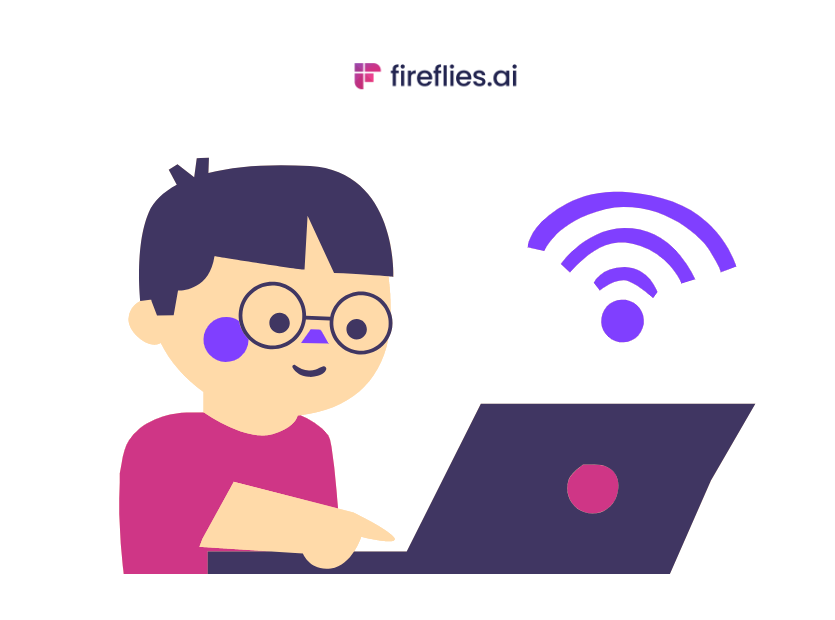 Meeting transcription helps create a more inclusive workplace where everyone can participate and contribute.
It allows people with hearing impairments or disabilities to participate fully in meetings. It can also benefit non-native speakers or people with difficulty processing auditory information.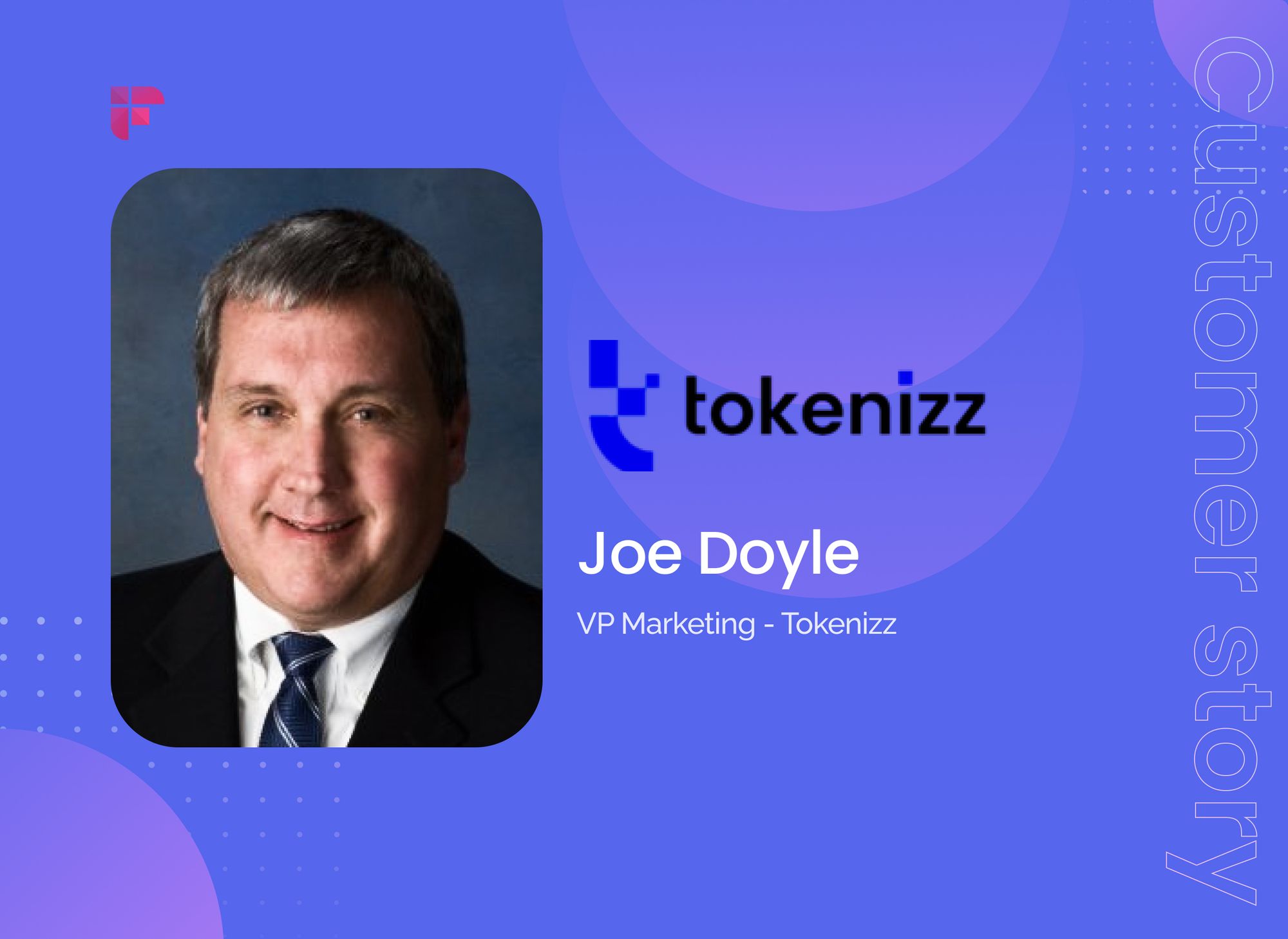 9. Facilitates training and development
Use meeting transcripts to create training materials, reinforce key concepts, or provide additional information to employees who couldn't attend the meeting. It allows team members to learn from past meetings and improve their skills.
This can be especially useful for onboarding new employees or providing ongoing training to existing employees.
For example, sales reps can read meeting transcripts of star performers and learn how to handle objections and close deals faster. Similarly, HR managers can share interview transcripts with new resources in the team for quick onboarding and ramp-up.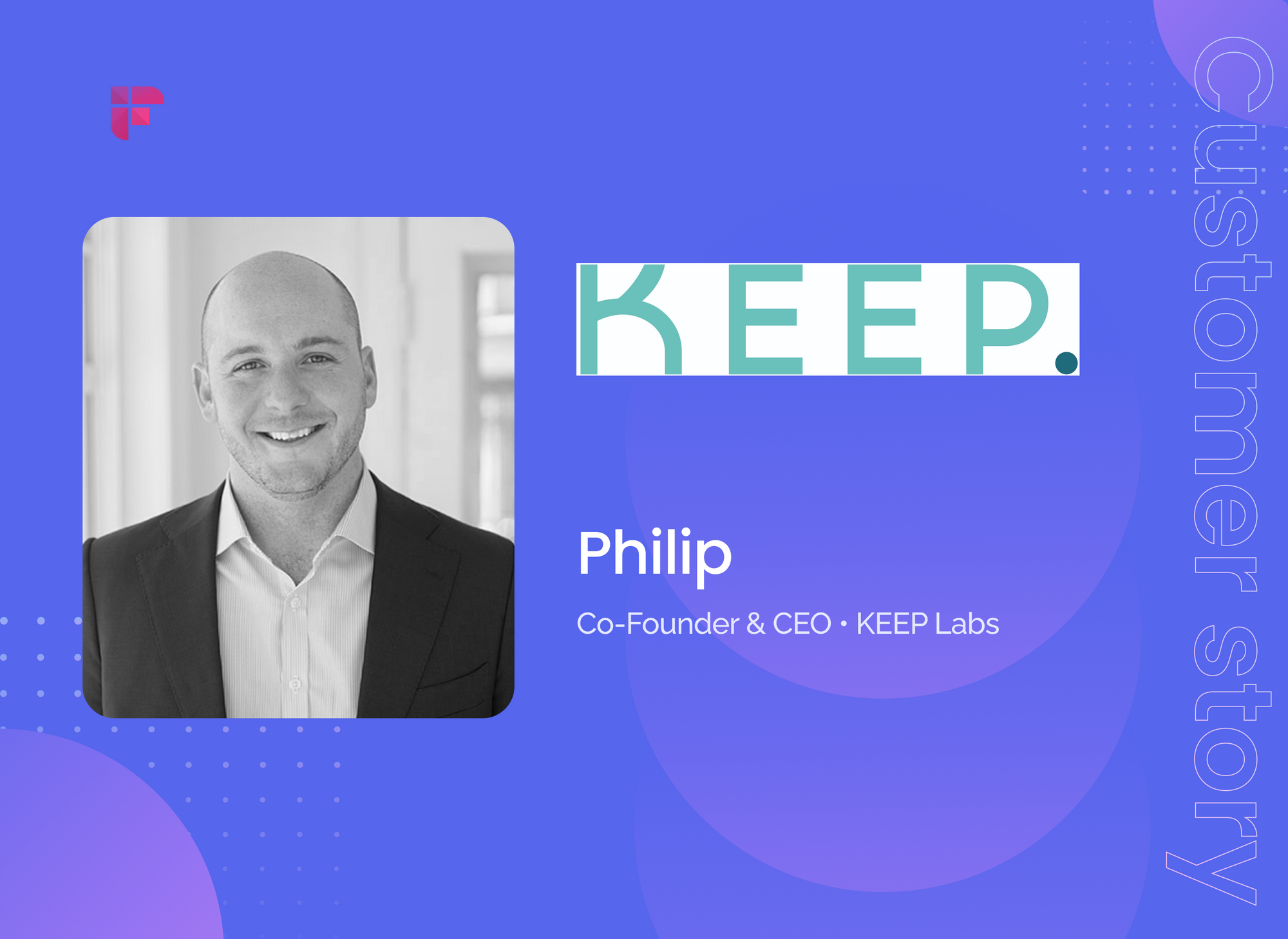 10. Maintain a record of all conversations
When you transcribe your meetings, you get a knowledge base of all voice conversations and a written record. Store this written record in a centralized location, such as a database or knowledge management system, to access and search for information later.
By creating a knowledge base of all voice conversations, you can ensure that important information is not lost or forgotten. This can help with compliance and legal requirements, as this recorded information can be used as evidence if needed.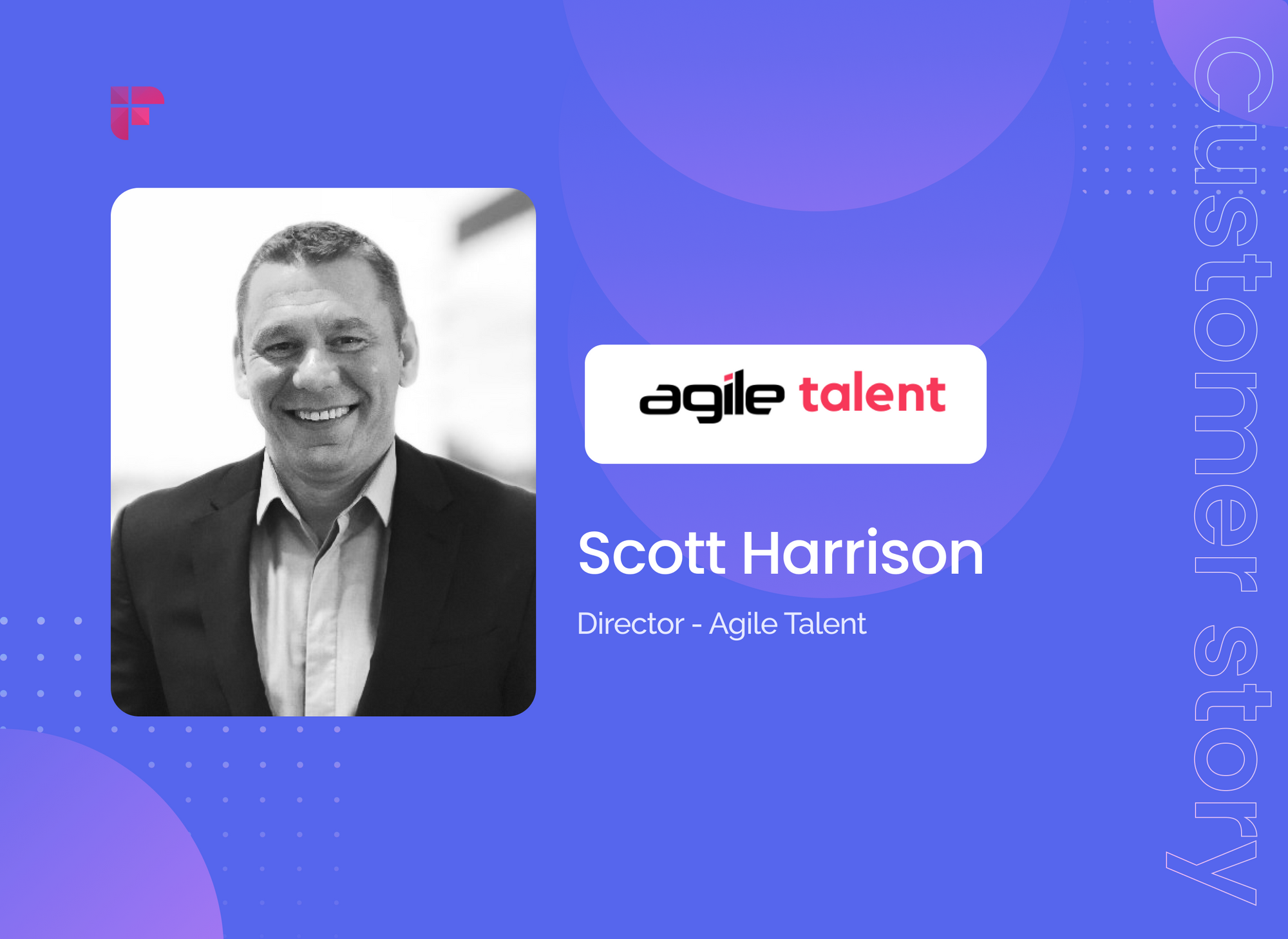 How to use Fireflies for meeting transcription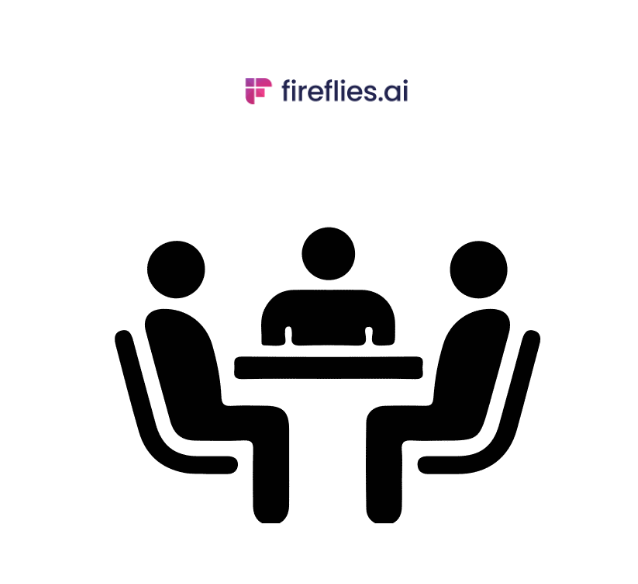 Fireflies is an AI notetaker app that helps you automatically transcribe, summarize, and analyze conversations with 90% accuracy.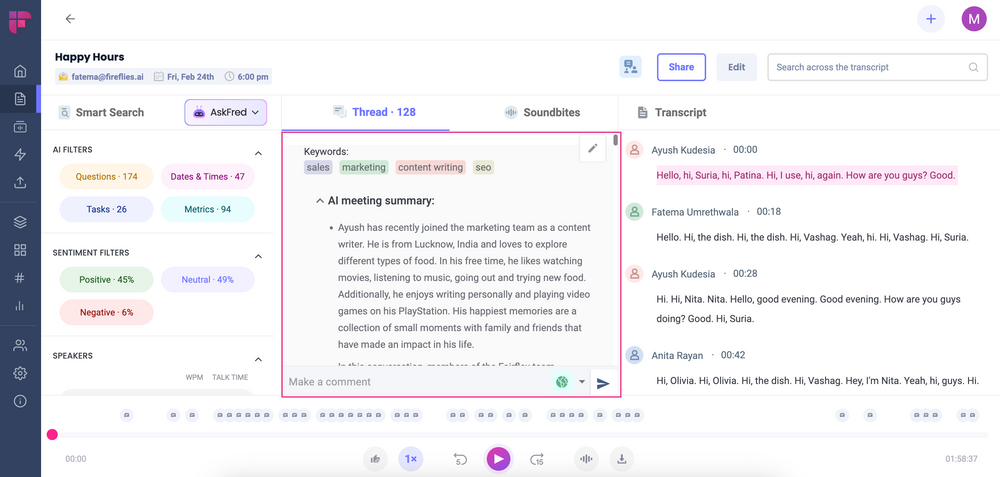 You can manually invite Fred, our AI assistant, to your meetings by adding fred@fireflies.ai to your guest list.
Alternatively, you can allow it to join your meetings based on your Fireflies account settings. Fred will then join all your chosen meetings on time, accurately capture them, and send the transcripts and summaries after they are over.
You can access these transcripts with a high-level summary from the Fireflies Notebook.
If you already have the recording of your meeting, upload it to the Fireflies Upload section to create the meeting transcription.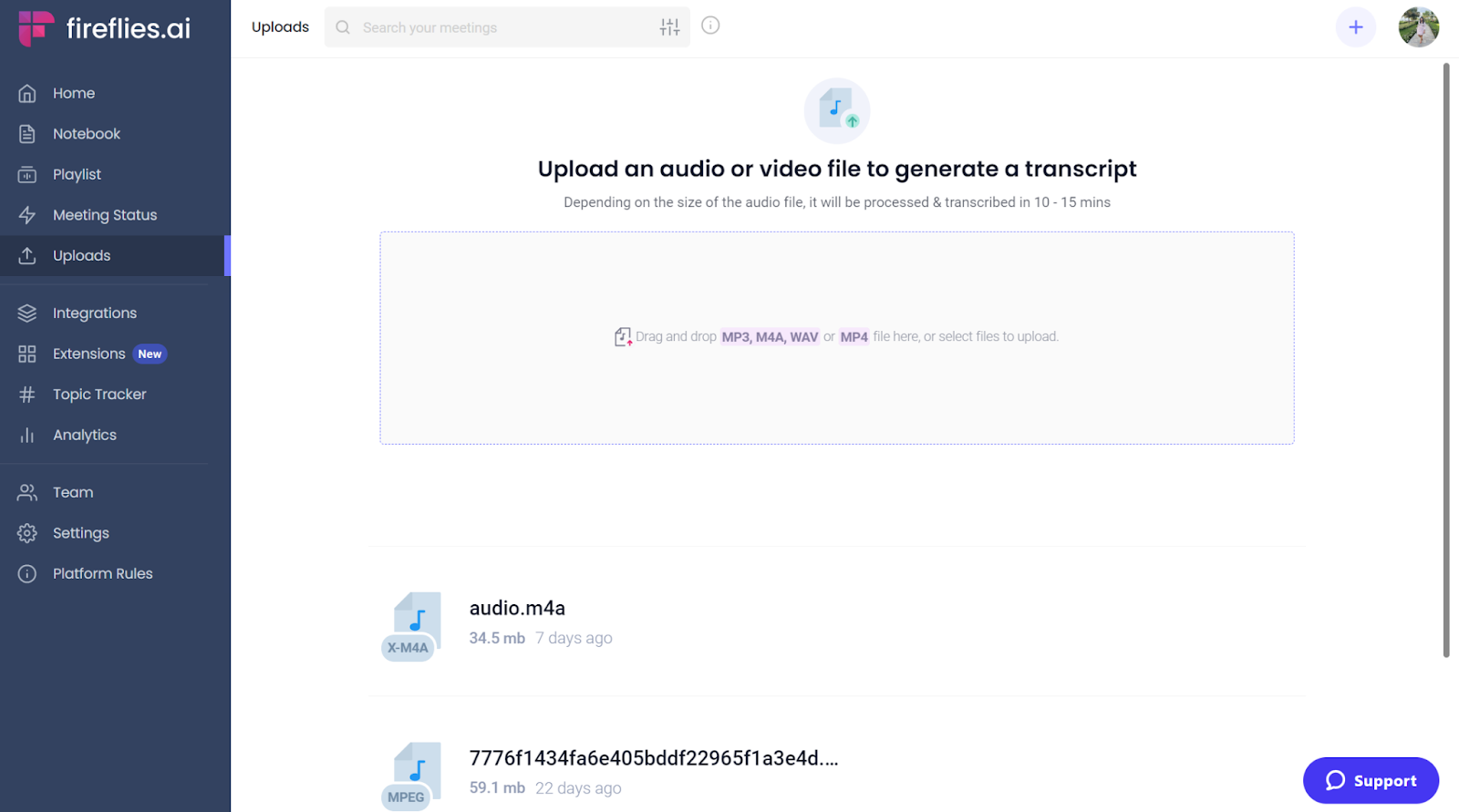 Fireflies can convert your MP3, M4A, WAV, and MP4 files in a few minutes!
💡
Learn how to upload an audio or video file to Fireflies
here
.
9 reasons you should use Fireflies for meeting transcription

There exist too many speech-to-text solutions in the market today. However, using Fireflies to create your meeting transcription comes with a powerful set of benefits.
Whether you're in sales, a recruiter, or even a podcaster, Fireflies offers unique use cases that can enhance your workflow and improve productivity. Here's how.
1. Highly accurate transcription in the shortest possible time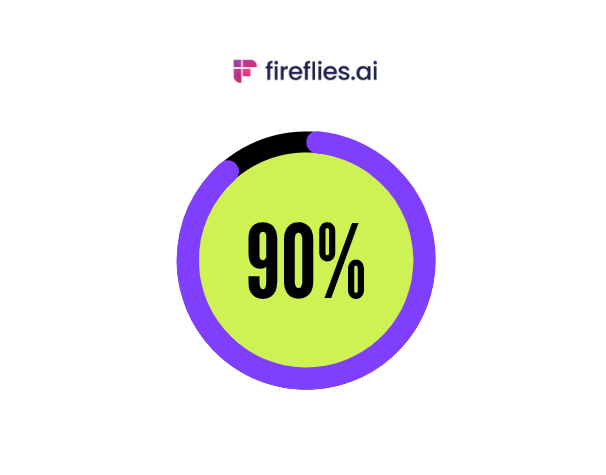 Fireflies creates meeting transcripts that are 90%+ accurate and have speaker labels and time stamps within just a few minutes, depending on the file size.
These transcripts are editable and searchable, so you know who said what, and include speaker analytics and sentiments.
2. Top-notch security system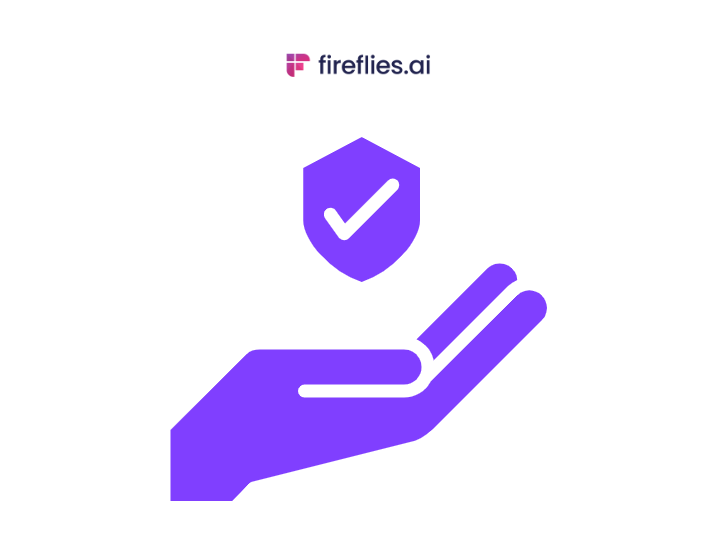 Fireflies is GDPR and SOC 2 Type II compliant. Its database is housed in a Virtual Private Cloud with AWS, and its servers are on Google Cloud. Additionally, all of your data in AWS S3 is completely encrypted both at rest and in transit.
This ensures complete privacy of your voice data because no one can access your recordings, unlike manual transcribers, who need to listen to your audio file to create transcripts.
3. AI-generated super summaries
Fireflies has recently launched AI Super Summaries to give you a quick meeting recap, valuable insights, and action items.
This summary has five parts—keywords, meeting overview, meeting outline, bullet-point notes, and action items.
AI Super Summaries lets you quickly review meetings without listening to the meeting recording or reading through the entire transcript.
4. Advanced collaboration features
Fireflies offers state-of-the-art features that enhance collaboration like:
Soundbites: Create shareable audio snippets from your meeting highlights
Thread: Add and reply to comments within the transcript
It also seamlessly integrates with around 50 video conferencing, dialers, and productivity tools like Zoom, Notion, Slack, Aircall, etc. It also has an API for building custom integrations.
Note that some of these features are available even in the free version.
5. Highly cost-effective solution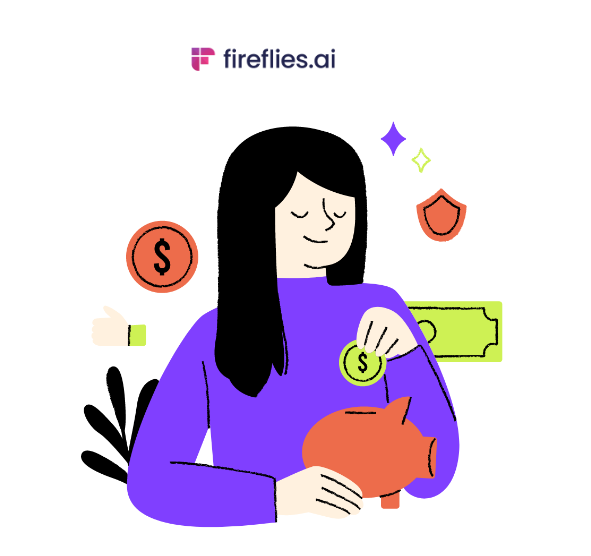 Typically, manual transcribers charge $1.30 to $3.50 per minute.
Fireflies' free plan gives up to three transcription credits and 800 minutes of storage per user at zero cost.
You can get more transcription and storage credits at just $10/seat/month, billed annually—which is still cheaper than any other transcription software or service providers.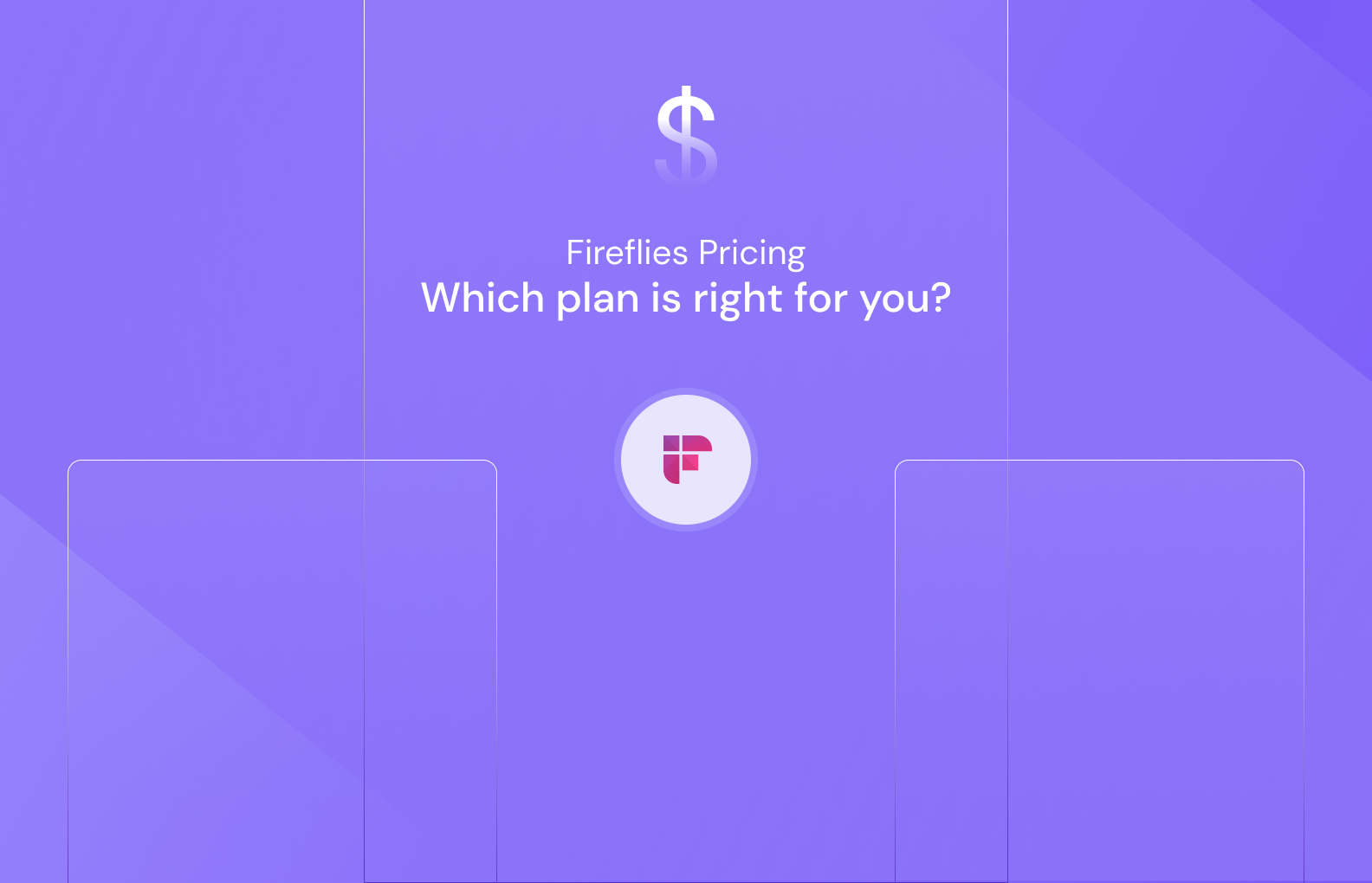 6. Multi-language transcription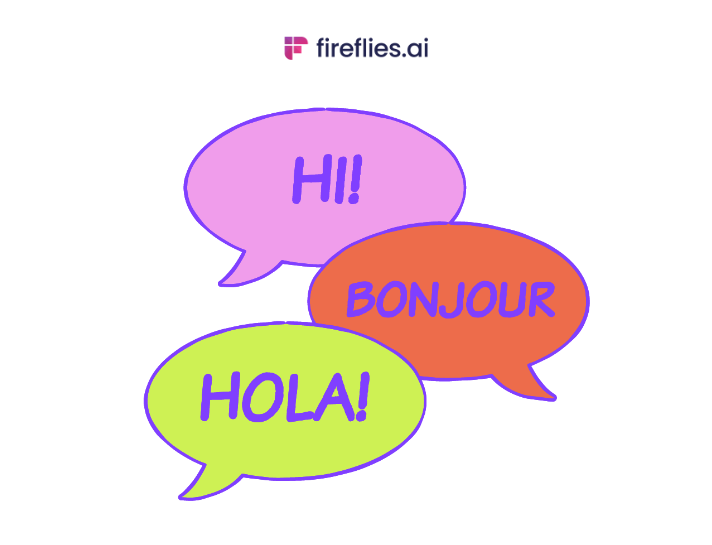 Fireflies can create transcripts in over 32 languages, including French, Spanish, and Vietnamese (more on the way), making it one of the most inclusive automated transcription software.
It also supports 3 English accents: UK, US, and Australian.
Note: Fireflies doesn't support multi-language transcription in a single meeting. Instead, you can select a preferred language, and Fireflies will transcribe your meeting notes and summaries in that language.
7. Conversation intelligence for deeper insights
Along with accurate meeting transcription, Fireflies also gives you features like conversation analytics, AI Extensions, and Chrome Extension.
These features help you:
Get deeper insights from your meetings' knowledge base and measure the quality of your conversations over time.
Review meetings in minutes.
Quickly perform post-meeting activities like drafting emails or blogs.
Directly transcribe and record Google Meet meetings and Loom, Bubbles, and Soapbox videos.
8. Advanced search features
Fireflies offers advanced search capabilities with features like Smart Search and AskFred.
Simply ask AskFred, the ChatGPT for meetings, for information discussed during the call instead of reading the transcript. You can also use AskFred can to write post-meeting emails, generate ideas for your next blog, and write reports from the transcription—simply bringing the power of GPT into your meetings.
On the other hand, Smart Search allows you to filter out information based on topics, keywords, speaker sentiments, etc.
9. Support multiple file formats
Fireflies lets you upload your recordings in four formats—MP3, MP4, M4A, and WAV.
Once transcribed, you can export the generated transcript in 5 formats with or without timestamps—DOCX, PDF, SRT, CSV, and JSON.
In sum and substance,
Meeting transcription can undeniably increase productivity, enhance collaboration, improve communication, and more.
With advanced AI-powered meeting transcription tools like Fireflies, you can not only create accurate transcripts in minutes but also get deeper insights to make data-driven decisions.
So start transcribing today and say cheers to more productive meetings.