For sales teams, Pipedrive has become essential for achieving sales success. This customer relationship management (CRM) software offers many benefits for sales teams — from helping you to create your sales funnel and track leads to analyzing sales performance.

Pipedrive's major advantage lies in its extensive integration capabilities, allowing it to collaborate with a variety of apps so you can automate repetitive tasks and save time.

In this blog post, you'll discover 10 essential Pipedrive integrations that can revolutionize and supercharge your sales processes.

Let's get started!
10 Must-have Pipedrive integrations
Here are ten of the best Pipedrive integrations that'll help you achieve sales success.
Fireflies is an AI-powered meeting assistant that automatically takes notes during calls to boost collaboration and automate workflow. This tool captures meetings across all the leading web-conferencing platforms and dialers, including Zoom, Google Meet, Webex, Aircall, RingCentral, and Microsoft Teams.

Fireflies offers an impressive range of integrations, including Pipedrive, to make collaboration a breeze. This integration lets teams automate the task of taking meeting notes and adding them within the appropriate contact.

Using the email or company name in the meeting calendar invite, Fireflies automatically sends meeting summaries, sales call details, and transcripts to the corresponding contacts within the Pipedrive CRM.

This integration eliminates manually logging notes into the CRM and ensures accurate and updated records of sales reps' interactions, enabling smoother communication, collaboration, and follow-up actions.

And that's not all! With Fireflies, you can also provide data-driven coaching, plus onboard and train sales reps faster.

How to integrate Pipedrive with Fireflies:
Log in to Fireflies. Next, navigate to the main menu on the left-hand side and select Integrations.
2. Within the Integrations page, search Pipedrive and click on the icon.
3. Click on the Connect button.
4. You'll be redirected to Pipedrive, where you can sign in to your account.
5. Afterward, you'll see that Pipedrive has been successfully enabled on your Fireflies app. Once back on Fireflies, you'll see that the Active badge has been displayed.
2. Trello
Trello is a popular collaboration tool used for managing projects with multiple team members. By integrating Trello with Pipedrive, sales teams can effectively manage their pipeline stages.

The Pipedrive-Trello integration simplifies your workflow by allowing you to create Trello cards, boards, and lists directly from Pipedrive and connect them to the relevant deals, organizations, and people in your CRM.

The new "Pipedrive Power-Up for Trello" allows you to easily share vital sales information with other departments directly from Pipedrive. Best of all, you don't have to switch between platforms to do this.

Plus, Trello users can access this shared information without having a full Pipedrive account.
3. Zapier
Zapier is an automation tool that makes it easy to connect and automate various popular apps like Gmail, Slack, and Todoist. It integrates with Pipedrive to create a centralized hub for your sales workflows.

You can perform tasks such as:
creating new leads
updating deal statuses
attaching files to accounts
recording new Calendly events as contact activities
adding new Typeform entries as deals
creating Pipedrive deals for new Gravity Forms submissions.
What's more, by integrating Zapier into Pipedrive, you can link Pipedrive with 5000+ apps. With a recent update, Zapier now allows one-to-many integrations, enabling you to create workflows with unlimited steps.
4. Quickbooks
QuickBooks is a robust accounting software that offers a wide range of features, including invoicing, payroll management, expense tracking, and VAT management.

Its integration with Pipedrive allows you to create invoices directly from Pipedrive's deal details view, eliminating the need for back-and-forth communication.

You can also create contacts and link them to your QuickBooks contacts, automatically create products and link them to QuickBooks products, and pull invoices from QuickBooks into Pipedrive.

This integration also ensures that invoice statuses in QuickBooks reflect in customer records within Pipedrive, enabling quicker actions by your sales and support team.
5. MailChimp
MailChimp is a popular email marketing service businesses use to create engaging email campaigns.

The MailChimp-Pipedrive integration allows you to effortlessly export contacts and segments from Pipedrive and send personalized emails to specific groups of customers and clients.

It also lets you define your segment criteria in Pipedrive and export your contacts to Mailchimp with just a few clicks.
6. Asana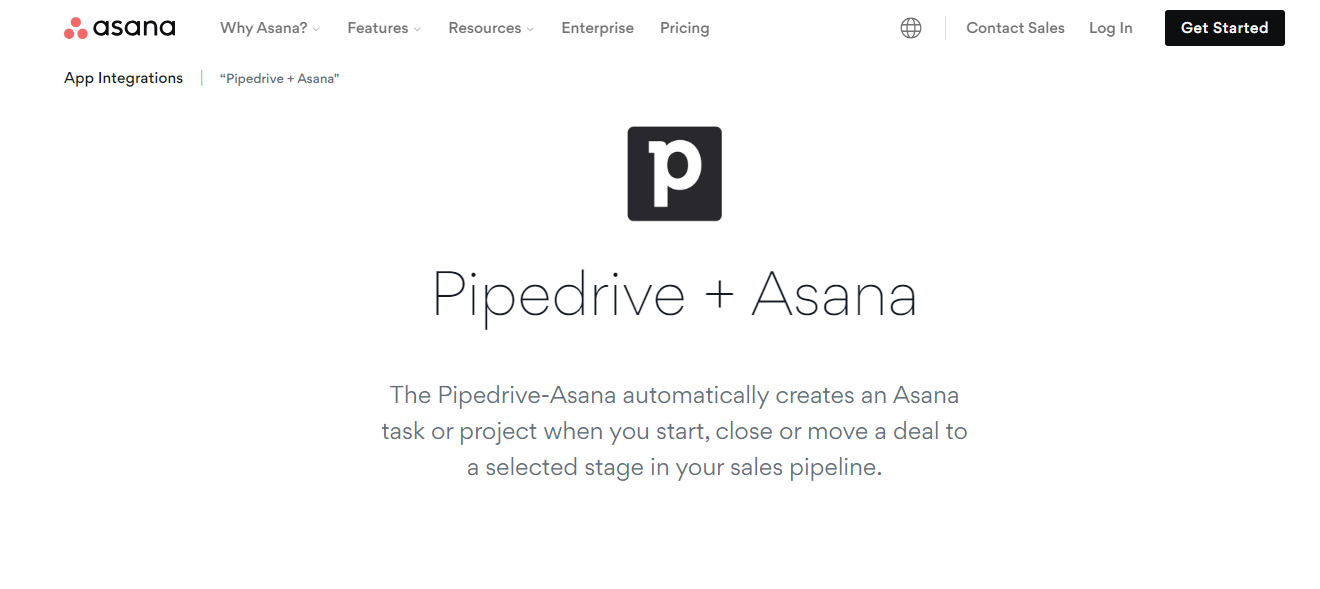 Asana, one of the most popular project management tools, integrates with Pipedrive to allow sales teams to create new Asana tasks or projects directly from Pipedrive.

The Asana-Pipedrive integration:
automatically generates Asana tasks when changes are made to Pipedrive deals
enhances communication between sales and internal teams
customizes the deal details sent to Asana tasks
You can also track team performance, foster collaboration across departments, and ensure nothing gets missed by syncing data and communication between Asana and Pipedrive.
7. TalkDesk
Talkdesk is a call center software that operates directly in your web browser.

Its integration with Pipedrive synchronizes contacts, activities, and notes in real time. This synchronization allows sales reps to completely understand the customer without the hassle of navigating multiple systems.

When a call comes in through Talkdesk, it displays the customer's contact history and information from Pipedrive, allowing users to personalize their interactions.

Additionally, you can configure Talkdesk events to automatically trigger actions in Pipedrive, saving you time and effort.
8. Zoom
One of the world's most popular video conferencing tools, Zoom seamlessly integrates with Pipedrive to simplify and streamline scheduling calls and sending meeting links.

With this integration, you can effortlessly schedule calls, join scheduled meetings, invite guests, and log Zoom calls directly within the Pipedrive app, eliminating the need to switch between platforms.

It also lets you add video calls to activities in Pipedrive without sending extra emails.
💡

Fireflies Tip

Fireflies also offers a Zoom + Pipedrive Integration to help you transcribe Zoom meetings and log them under the appropriate contact in Pipedrive.
9. PandaDoc
PandaDoc is an app that businesses use to process documents and obtain electronic signatures, making it convenient for creating and delivering sales quotes and proposals.

It also integrates smoothly with Pipedrive, enabling users to utilize its powerful features within their Pipedrive deals.

This integration enables you to build proposals within the CRM, automatically populate documents with contact and deal details, track document statuses, and access a library of document templates.
10. Intercom
Intercom Messenger is a live chat software tool that lets you quickly connect with website visitors.

By integrating it with Pipedrive, you can easily create deals in Pipedrive with just one click as you capture and qualify leads. Customer details from each chat can be automatically transferred to newly created profiles, enabling sales teams to follow up efficiently.

Also, all your conversations are automatically logged in the lead's timeline on Pipedrive, offering a comprehensive view of the lead's journey.
Conclusion
By leveraging the power of integrations, sales teams can unlock a new level of productivity and efficiency. These 10 powerful Pipedrive integrations will help you streamline your sales efforts, improve data accuracy, and automate repetitive tasks.

And, if you're looking to optimize your sales meetings/calls - try Fireflies. Its seamless integration with Pipedrive is a surefire way to drive success in your sales processes.