The ongoing pandemic has forced many companies to transition all applicable departments to remote working. This approach has saved any operational hiccups due to the contagion by allowing everyone involved to work and collaborate without meeting or being in the same office space.
Remote working can be a complementary or explicit mode of operation for businesses. However, many companies that did not already have remote work as an option may encounter some issues. While remote working itself is beneficial and has many advantages, a business may find some aspects challenging.
One of the biggest challenges is communication. If your team comprises diverse people scattered worldwide in different countries, arriving at the right work from home collaborative tool that communicates effectively can be challenging.
Similarly, no clear set of guidelines on response practices to official communications can create confusion and affect productivity.  It can potentially spiral out of control and cause financial damage to the organization as well.
These problems can exponentially multiply if you are a growing organization. New team members who may not have any experience in remote work functions will be another hurdle that worsens as new people join. Similarly, team members might not adjust to the new remote environment. All of this can become overwhelming and eventually cause irreparable damage to the organization.
The challenges associated with remote working are not insurmountable. But why do these challenges surface, and how can you overcome them?
Why Is Communication A Challenge in Remote Teams?
Remote work can be challenging for people who are used to working in the traditional office-based environment. But that is only one of the reasons why communication becomes a hassle when you switch over to remote.
A singular person isn't to blame for the communication gaps in remote teams. As at its core, communication inherently involves more than one person. Sometimes the tools used are unfamiliar, or the team manager is unable to handle the team cohesively.
Let's take a look at some of the reasons why there are communication challenges in remote teams.
Culture, Personal Life, and Style of Communication
Whether it is adopting or adjusting to a new way of working or learning the style or tools used in remote communication, every person responds differently. Also, the diversity in the team is a factor. People from different cultural backgrounds might have difficulty interacting.
Understanding all of these differences and formulating an effective communication channel can become an arduous task. Cultural norms, personality, and flexibility all should be factored into effective communication.
Let's say one of your key programmers is from a country that is 12 hours ahead of the rest of your team. Based on that, you need to have your team interactions considering this limitation because no one wants to wake up at 3 AM for a meeting.
Technical Difficulties Amongst the Team Members
Lagging internet and connectivity issues means synchronized communication is complicated and can become an irritant sometimes. It can be very awkward when team members unknowingly talk over each other or the audio or video is choppy in a video call. Team members who are new to using the tools may make mistakes such as not responding to messages or not knowing how to join the team meetings. On top of that, there might be varying degrees in the learning curve of each team member.
Miscommunication Affecting Productivity Flow
It is common in a remote work environment to get a barrage of alerts, messages, notifications, and more. A deluge of messages affects the workflow, disrupting, and delaying tasks. Similarly, any abrupt meetings and calls can also negatively impact the performance of the team.
Ineffective Communication Becomes Micromanaging
What happens when your team over communicates with a constant back and forth? When your leaders have to keep engaging with the team over updates, it will essentially stall any workflow. When no clear instructions and expectations are communicated, leaders tend to interfere in the team's work. The most significant consequence of all this is time lost and confused employees.
It is difficult to avoid many of the problems listed above, and it's also not something one person can solve on their own. However, there are solutions and practices you can implement with the team to alleviate this. Let's take a look at some of these below.
15 Useful Remote Team Communication Tips You Need This Year
Managing a remote team can be challenging, especially considering that many of the defining features of office working are absent.
Teams meetings are held online instead of in person, and daily updates happen through text or video. Many mishaps and mistakes can occur in this scenario leading to further damage to the team's well-being and the company itself.
Not having the prerequisite tools and clear-cut work standards can lead to disruptive environments.
Here is a comprehensive list of things you can do to enhance remote work performance amongst teams.
1. Setting Guidelines for Your Remote Team
Guidelines don't need to be rules and restrictions per se, but rather an explanatory note or clear step-by-step instructions on setting up video meetings, agendas, etiquettes, etc.
The guidelines can include some of the following:
How to maintain a work log?
At what times are almost all or most of the team members available?
What are the ways you hold team members accountable?
Rules for taking off from work
Meeting etiquettes
What tools/software do all team members need to use for communication
While these are more general criteria, you can also create a policy that outlines and highlights the more minute details of how communication should take place. Assigning a person who can handle the doubts and queries from the other team members can help reduce confusion in understanding the policy/guidelines.
2. Determine Main Communication Channels
Determining the preferred mode of communication is almost as important as the team itself.
In this day and age, simple apps like G-mail are nowhere near enough to serve as your primary means of communication.
It is imperative to determine the team's needs and what apps and tools are suitable for the effective working of the group. To figure out what these channels are, you need to determine what your needs are.
How to centralize all critical chats in one place?
Will screen sharing be needed consistently?
How often do you have video calls?
Does your team need collaborative tools?
Do you need shared workspaces?
Once you figure out your team's most significant needs, you can begin researching what tools and software are available to keep your remote workspace productive.
3. Redirect Short Email Conversations Into a Dedicated App
Do your employees need more emails in their daily work routine? The universal answer is probably no. While they have many conversations with colleagues daily, it helps to have a dedicated application to handle all the smaller messages. Popular apps like Skype and Microsoft Teams are a great start.
Taking away the additional pressure from having an overloaded inbox will allow employees to speed up and be more efficient. You can further enhance this process by introducing group chats and direct/instant messaging.
4. Create an Online Office Work Culture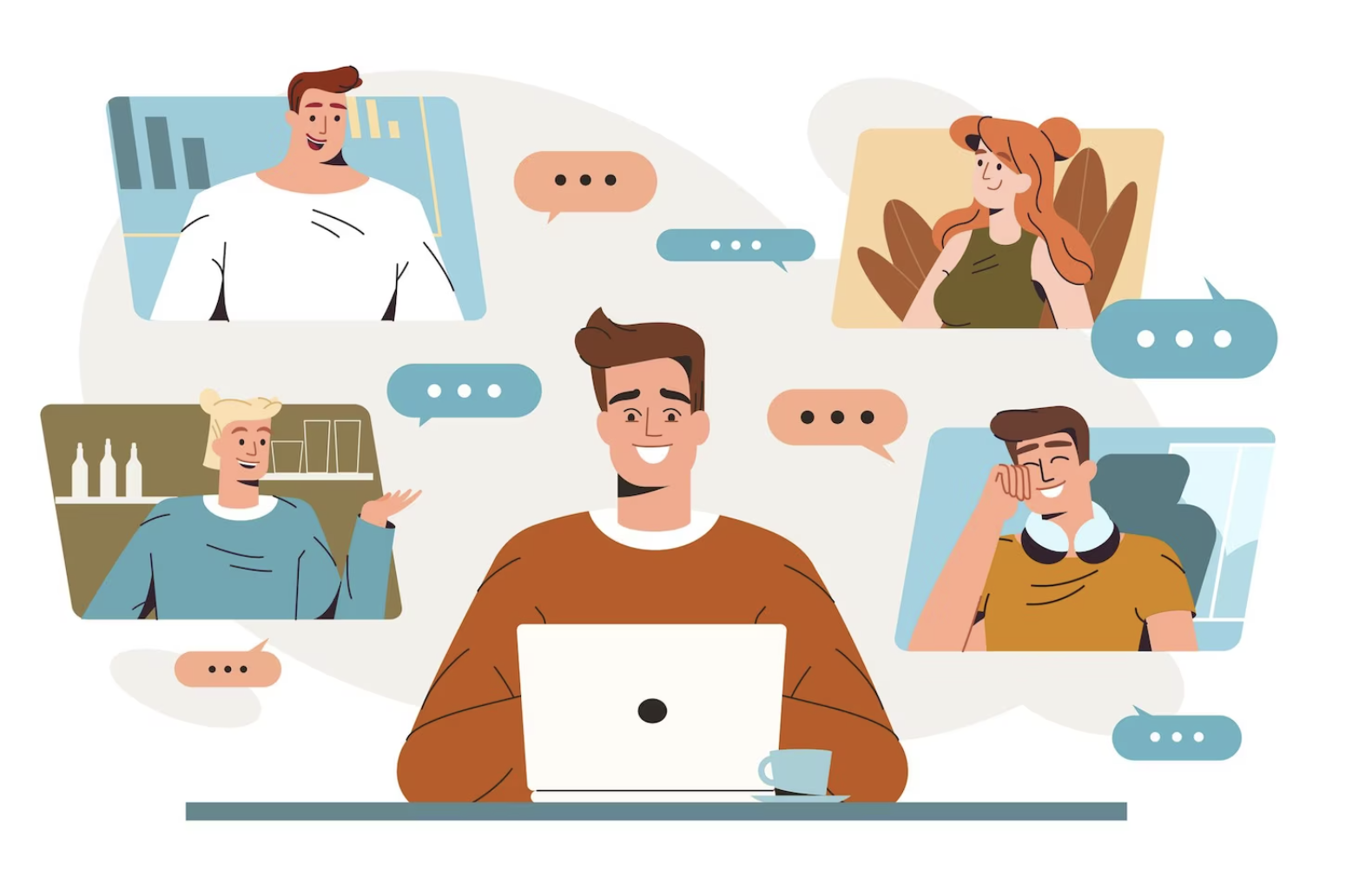 Transitioning to full-time remote work doesn't mean you lose the human aspect and camaraderie built up over the years. Even within the constraints of remote work, you can create a happy and engaging work atmosphere. Try to maintain the human touch in this distant way of working.
For starters, having a general chat or non-work-related channel can help team members unwind and hang out. Similarly, adding more depth to conversations by asking about other topics can significantly boost your team's morale.
You can even celebrate any achievements of your employees by creating images, text, or video posts. For example, let's say XYZ person completes two years in your company, you can post about it or any other communication to commemorate that.
Organizing online events or contests can also help bring together everyone, like quizzes, trivia, or even talent competitions.
5. Set the Expectations and Deadlines Accordingly
While in a remote working environment, it is easy to procrastinate. That is why having a clear mandate about work timelines and requirements can help overcome any lapses.
Checking in frequently with the team on what they're up to is essential to ensure the deadlines remain fulfilled. You can also set fixed working hours for each employee and a tracking application to log those hours.
One can also create a checklist that highlights the individual tasks that need to be done by each department/employee.
6. Create Engaging Reports and Infographics
Often, it's easier to revert to writing a Word Doc report simply because you don't have design experience or the confidence to design a message yourself.
But there are many professionally designed templates that you can use to make your information eye-catching. The project plan above could have easily been a text document, but the report is a lot more attractive by adding photos, fonts, colors, and a background texture.
The same thing goes for any numbers or data you need to present. Instead of just a table on a slide, consider visualizing some information in charts, graphs, or infographics. Visualizing data can be a straightforward way to build engagement within your remote team.
7. Use Flowcharts and Diagrams to Explain Processes
Planning projects in detail beforehand can give clarity to globally situated teams. Preparing a flowchart or diagram or even a report that everyone can view and consult is an excellent way of working.
Ideas can be much easier to explain in a visual format than just talking or writing them down. Several great apps can help with this process, like LucidChart and Microsoft Visio.
8. Use Task Management and Calendar Tools
When you've got people working from across the world, ensuring everyone is on the right track is vital. It is imperative when multiple people work on the same project. Making sure people are available at the correct times and organizing and scheduling meetings based on availability can be challenging without some help.
Creating online calendars and schedules and referencing sites like Worldtimebuddy will eliminate disorganized project cycles.
Some of the more popular tools for project management are Trello, Asana, and Google calendar.
9. Adjust Written Tone
Written communication can sometimes be misinterpreted or misunderstood. Reviewing every message before sending it off can avoid misunderstandings. Using other visual cues like emojis and diagrams alongside those messages can liven them up based on how casual tone applies to a particular communication.
10. Utilize the Best Productivity and Online Meeting Collaboration Tools
To enforce better communication for your remote team, you need the right tools to get started. Fortunately, several productivity apps are also multi-faceted and serve more than one purpose. Or in other words, tools like Slack offer various extended features that can fulfill different needs in a remote working environment.
Other collaborative tools like Google Drive and Google docs can have multiple people working together on the same project. At the same time, similar apps such as  Microsoft Teams provide both video conferencing and collaboration tools inbuilt.
11. Schedule Meetings in Advance
Scheduling off-the-cuff meetings can be distracting. Maintaining a regular schedule results in better workflows and higher collaboration between employees.
This practice also helps identify and improve the best times and dates to conduct video/audio meetings. Google Calendar is widely used to schedule all kinds of meetups, conduct remote interviews, video/audio calls, and more.
12. Set Agendas and Priorities in Advance
Before conducting a virtual meeting, it can be beneficial to send out a separate written agenda. These notices can highlight some of the following:
What are the main topics of discussion?
Purpose of the meeting
Related queries
Main takeaways
Virtual meetings can get out of hand when there is no clear direction and cause participants to go off-topic and lose focus. The last point--main takeaways-- can also be an after-meeting agenda.
13. Limit the Number of Participants
Keeping meetings short and limited to a few people creates efficiency. If a team is big, divide the tasks and hold separate meetings covering each assigned agenda. Inviting team members who have no role in the task is a waste of time and resources.
14. Utilize a Robust Video Conferencing Software
Virtual meetings are now a norm for many businesses; it is crucial to use suitable video conferencing software that caters to your needs. While selecting a video conferencing software, consider the following:
Highlight most needed features (CRM / AI / VR integration, Mobile friendly, Screen sharing, etc.)
Optimum video resolution settings
Extended functionality (Plugins, Addons or Extensions)
Security and privacy features
Ease of Use/Ease of adoption
Once you have established the requirements for your remote team, you can begin the actual search. Consider websites like G2 to get a comprehensive list and overview of several of the most popular video conferencing software available.
15. Record Important Meetings for Later Use
While video conferencing software provides the means to conduct virtual meetings, much of what happens during the session can get lost. For example, in the meeting you had last week, someone made an important point, but you don't remember what or when they said it. Do you want to sift through an hour-long meeting just to get to that particular phrase? The answer is most likely no. It is critical to use an addon to extrapolate this information and make it easy to get the info you need.
Enhancement apps like Fireflies.ai directly integrate into almost all the video conferencing software to provide accurate recording and even transcribing, all done automatically. You can easily search for the relevant information in the transcription.
Conclusion

Remote working has become a lifesaver for many organizations in recent times. While it provides the means to work and collaborate globally, communicating seamlessly and efficiently is still a challenge and a work-in-progress for many teams. Following some of the tips outlined above can help you overcome these issues.