Picture this: You're part of a dynamic sales team with a pitch-perfect product and a rock-solid strategy. You're pumped up and determined to turn every prospect into a loyal customer.
But as any seasoned sales professional knows, the road to success isn't always smooth, and demotivation is a powerful foe.It creeps in when those elusive "yeses" seem miles away, and the rejections start piling up. And when you're faced with prospects who seem as tough to crack as a bank vault, it can feel like an uphill battle that's impossible to win.
But here's the thing.
Success in sales isn't just about making the easy deals; it's about persevering through the tough ones. It's about turning those seemingly impossible prospects into your most valued clients. It's about harnessing the power of determination and resilience to rise above the challenges and keep pushing forward.
So, whether you're a seasoned sales professional or just starting your career in sales, we all need a little extra pick-me-up from time to time. Here are some sales motivational quotes to inspire and keep you going.
💡

Fireflies: Your Fast-Track to Closing Deals

Revolutionize Your Team's Sales Strategy with Fireflies: Transcribe, Summarize, Search, and Analyze Your Voice Conversations
Sales motivational quotes that inspire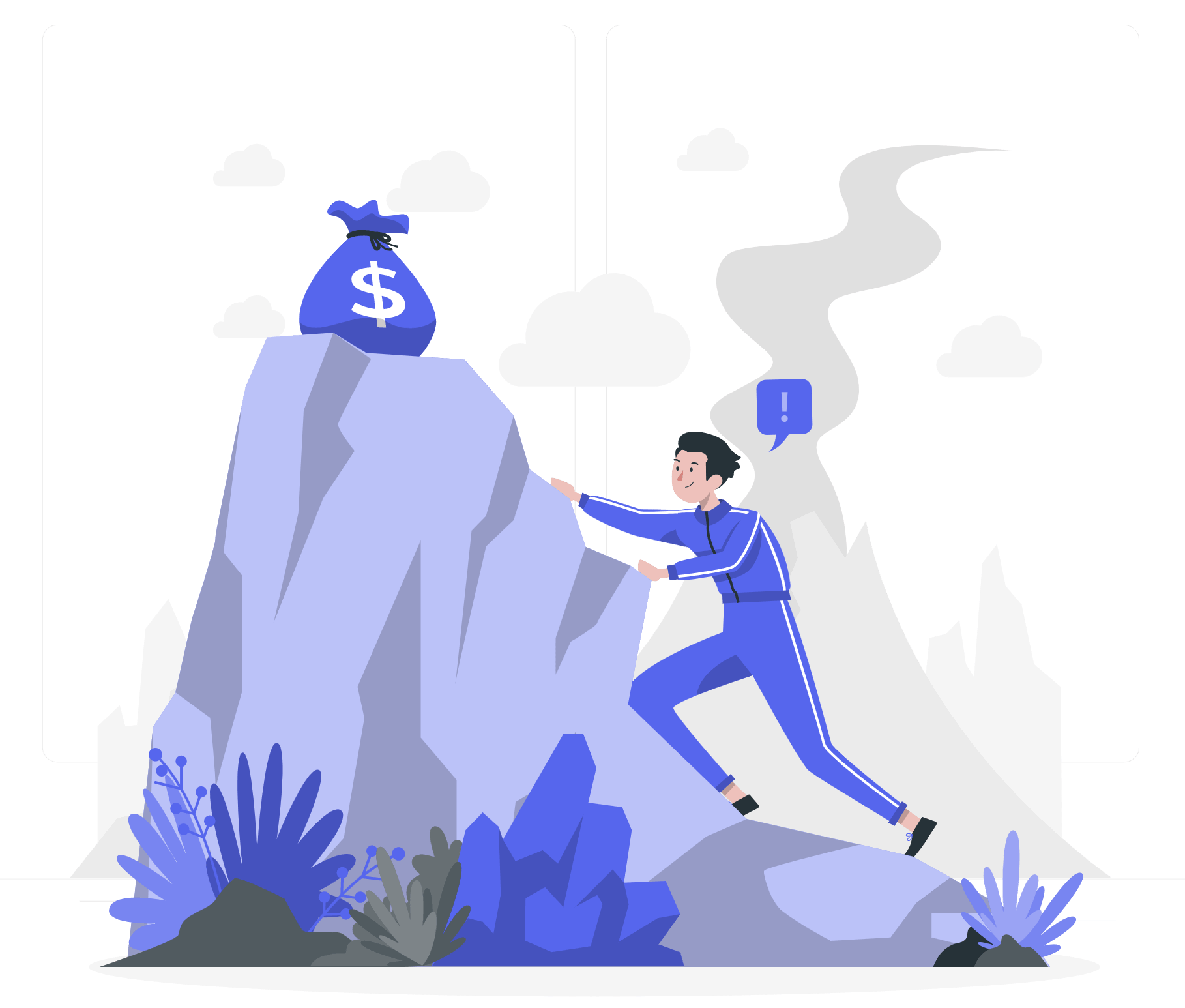 "Motivation will almost always beat mere talent." - Norman Ralph Augustine
"Sales are not about closing deals; they are about opening relationships." - Unknown
"Success is not about the destination but the journey." - Zig Ziglar
"Ninety percent of selling is conviction and 10 percent is persuasion." - Shiv Khera
"Take up one idea. Make that one idea your life – think of it, dream of it, live on that idea. Let the brain, muscles, nerves, every part of your body, be full of that idea, and just leave every other idea alone. This is the way to success." - Swami Vivekananda
"Success is not the result of spontaneous combustion. You must set yourself on fire." - Arnold H. Glasow
"The secret of getting ahead is getting started." - Mark Twain
"Learn from the mistakes of others. You can't live long enough to make them yourself." - Eleanor Roosevelt
"The only place where success comes before work is in the dictionary." - Vidal Sassoon
"I have never worked a day in my life without selling. If I believe in something, I sell it, and I sell it hard." - Estée Lauder
"The best way to predict the future is to create it." - Peter Drucker
"I am who I am today because of the choices I made yesterday." - Eleanor Roosevelt
"Success is not just about making money. It's about making a difference." - Unknown
"Your time is limited, so don't waste it living someone else's life." - Steve Jobs
Quotes on being persistent and disciplined
"All great achievements require time." - Maya Angelou
"The difference between a successful person and others is not a lack of strength, not a lack of knowledge, but rather a lack in will." - Vince Lombardi
"Winners embrace hard work. They love the discipline of it, the trade-off they are making to win. Losers, on the other hand, see it as punishment. And that is the difference." - Lou Holtz
"Don't try to do everything by yourself but try to connect with people and resources. Having that discipline and perseverance is really important." - Chieu Cao
"The harder you work for something, the greater you'll feel when you achieve it." - Unknown
"Success is the sum of small efforts, repeated day in and day out." - Robert Collier
"Motivation is what gets you started. Habit is what keeps you going." - Jim Ryun
"Today is always the most productive day of your week." - Mark Hunter
"Don't watch the clock; do what it does. Keep going." - Sam Levenson
"The most unprofitable item ever manufactured is an excuse."- John Mason
"Success is not about luck; it's about hard work and persistence." - Unknown
"Setting goals is the first step in turning the invisible into the visible." - Tony Robbins
"A successful warrior is an ordinary person with an unwavering focus." - Bruce Lee
"There is no substitute for hard work." - Thomas A Edison
"Great things are not done by impulse, but by a series of small things brought together." - Vincent Van Gogh
"Either run the day or the day runs you." - Jim Rohn
"A goal is a dream with a deadline." - Napoleon Hill
Quotes on resilience and adaptability
"All progress takes place outside the comfort zone." - Michael John Bobak
"There's always something to suggest that you'll never be who you wanted to be. Your choice is to take it or keep on moving." - Phylicia Rashad
"Change before you have to." - Jack Welch
"I thrive on obstacles. If I'm told that it can't be done, then I push harder." - Issa Rae
"Trying is winning at the moment."- Dan Waldschmidt
"Wanting something is not enough. You must hunger for it. Your motivation must be absolutely compelling in order to overcome the obstacles that will invariably come your way." - Les Brown
"The key difference between successful individuals and others isn't just strength or knowledge; it's the will to keep going." - Vince Lombardi
"Don't let what you cannot do interfere with what you can do." - John R. Wooden
"The harder the conflict, the more glorious the triumph." - Thomas Paine
"We cannot solve our problems with the same thinking we used when we created them." - Albert Einstein
"A successful man is one who can lay a firm foundation with the bricks that others throw at him." - David Brinkley
"I'm not a product of my circumstances. I am a product of my decisions." - Stephen Covey
Sales quotes that are customer-centric
"The golden rule for every business is this: Put yourself in your customer's place." - Orison Swett Marden
"Sales is not about convincing; it's about helping." - Unknown
"Don't find customers for your products, find products for your customers." - Seth Godin
"The best salespeople are the ones who genuinely care about their customer's needs." - Unknown
"Your most unhappy customers are your greatest source of learning." - Bill Gates
"Sales are not about pushing products; they are about finding solutions." - Unknown
"Remember, people don't believe it when WE say it, they believe it when THEY say it." - Shari Levitin
"Sales is not about selling anymore, but about building trust and educating." - Siva Devaki
"The best way to sell something is to stop selling and start helping." - Zig Ziglar
"Sellers who listen to buyers carefully and then give them the missing ingredients – those are the ones who stand out." - Deb Calvert
"Sales are not about transactions; they are about building long-lasting relationships." - Unknown
"Sales are about creating value for your customers." - Unknown
"Sales are a transfer of enthusiasm from the salesperson to the customer." - Zig Ziglar
"If you are not taking care of your customer, your competitor will." - Bob Hooey
Quotes for handling rejection
"Success is not final; failure is not fatal: It is the courage to continue that counts." - Winston S. Churchill
"Often when you think you are at the end of something, you are at the beginning of something else." - Fred Rogers
"Our greatest weakness lies in giving up. The most certain way to succeed is to try just one more time." - Thomas Edison
"The best salespeople are the ones who can turn objections into opportunities." - Unknown
"Failure will never overtake me if my determination to succeed is strong enough." - Og Mandino
"Treat objections as requests for further information." - Brian Tracy
"You have to learn to take rejection not as an indication of personal failing but as a wrong address." - Ray Bradbury
"Success is walking from failure to failure with no loss of enthusiasm." - Winston S. Churchill
Quotes on adopting a positive attitude
"Believe you can and you're halfway there." - Theodore Roosevelt
"Success is not the key to happiness. Happiness is the key to success. If you love what you are doing, you will be successful." - Albert Schweitzer
"The best salespeople are the ones who are genuinely passionate about their products or services." - Unknown
"Quality performance starts with a positive attitude." - Jeffrey Gitomer
"I am only one, but still I am one. I cannot do everything, but still I can do something; and because I cannot do everything, I will not refuse to do something that I can do." - Helen Keller
"Winning isn't everything, but wanting to win is." - Vince Lombardi
"Don't aim for success if you want it; just do what you love and believe in, and it will come naturally." - David Frost
"Success is not about being the best; it's about being better than you were yesterday." - Unknown
"The only way to do great work is to love what you do." - Steve Jobs
"Success is not about what you achieve but who you become in the process." - Unknown
"Your attitude, not your aptitude, will determine your altitude." - Zig Ziglar
"Sales are contingent upon the attitude of the salesman, not the attitude of the prospect." - William Clement Stone
"Success is not about competing with others; it's about competing with yourself." - Unknown
"A pessimist sees the difficulty in every opportunity; an optimist sees the opportunity in every difficulty." - Winston Churchill
"The harder you work, the luckier you get." - Gary Player
Set yourself up for success with Fireflies
In the fast-paced sales world, staying ahead of the competition requires the right tools and strategies.
Fortunately, Fireflies AI is readily available as a fantastic AI notetaker tool that perfectly complements your sales process and supercharges your ability to reach your sales goals efficiently.
And while inspirational quotes can be a great way to uplift and motivate your team, Fireflies helps take your sales game to the next level with its AI-powered meeting transcription and note-taking services.
Here's how you can use this tool to boost productivity and close sales deals faster:
Effortless meeting transcriptions
Fireflies is like your personal meeting assistant. It automatically transcribes and summarizes meetings with over 90% accuracy, helping you save time and ensuring that you never miss any crucial details or valuable insights.
Organized meeting notes
Say goodbye to sifting through messy notes. Fireflies offers neatly organized, fully customizable meeting notes that make it a breeze to find and refer back to essential points, customer preferences, and action items.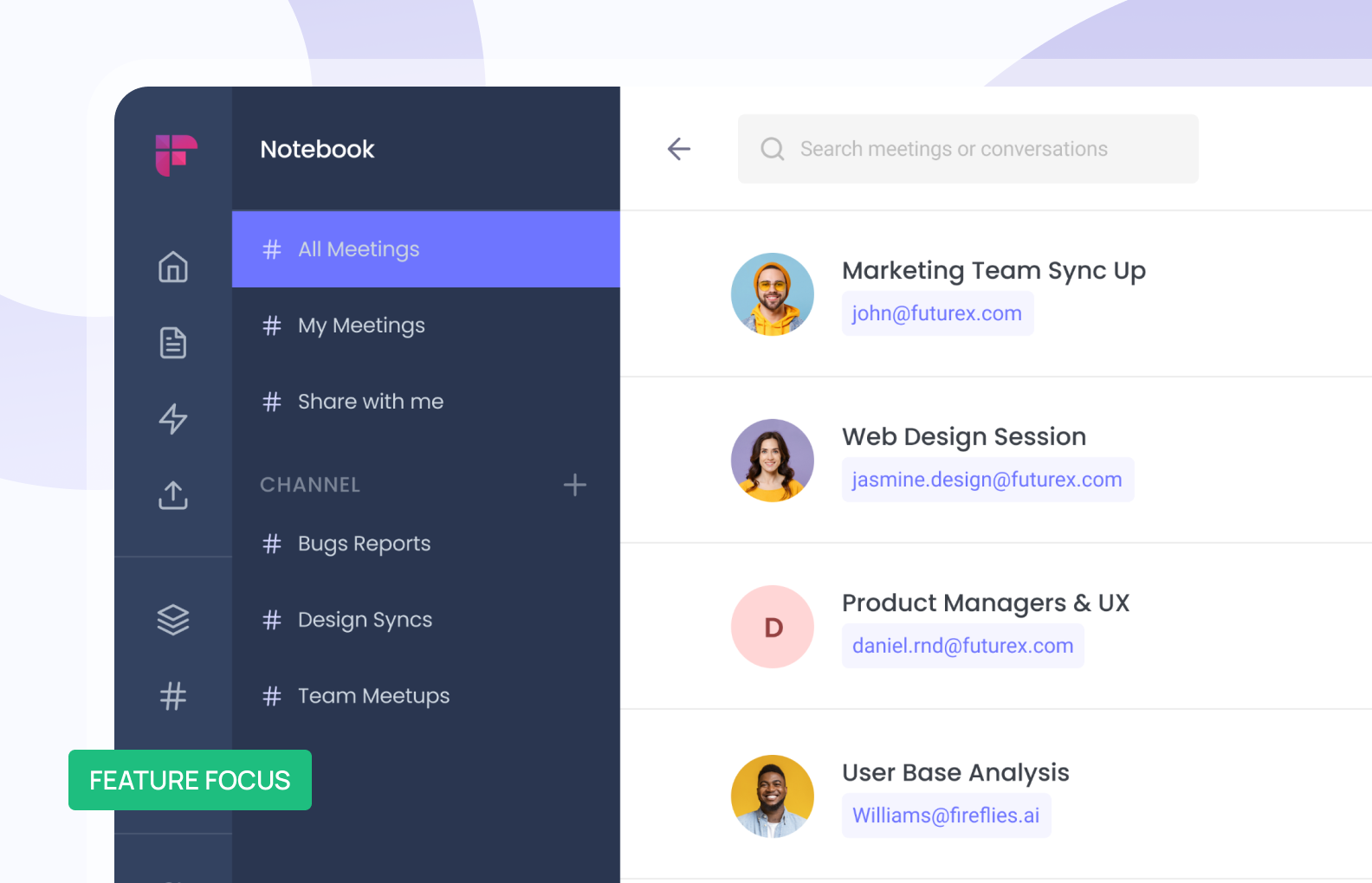 Fireflies allows you to customize AI super summaries to produce results tailored to your needs. You can customize the existing Super Summaries apps with prompts that extract the exact information you want, or you can add new AI apps to generate meeting intel the way you like.
For example, the default Action Items summary produces a list of tasks.
However, Fireflies' adaptability lets you modify the output.
You can modify this prompt to "List tasks in priority order and include due dates and assigned owners for each task."
This would produce a more detailed and prioritized action item list.
💡
Click here for AI prompts you can leverage to customize Super Summaries for
Sales calls
,
Daily huddles
, and
One-on-one meetings
.
You can use an advanced GPT language model for each section for more precision at the cost of AI credits. With this flexibility, Fireflies summaries can be adapted so you aren't limited to a one-size-fits-all generic summary.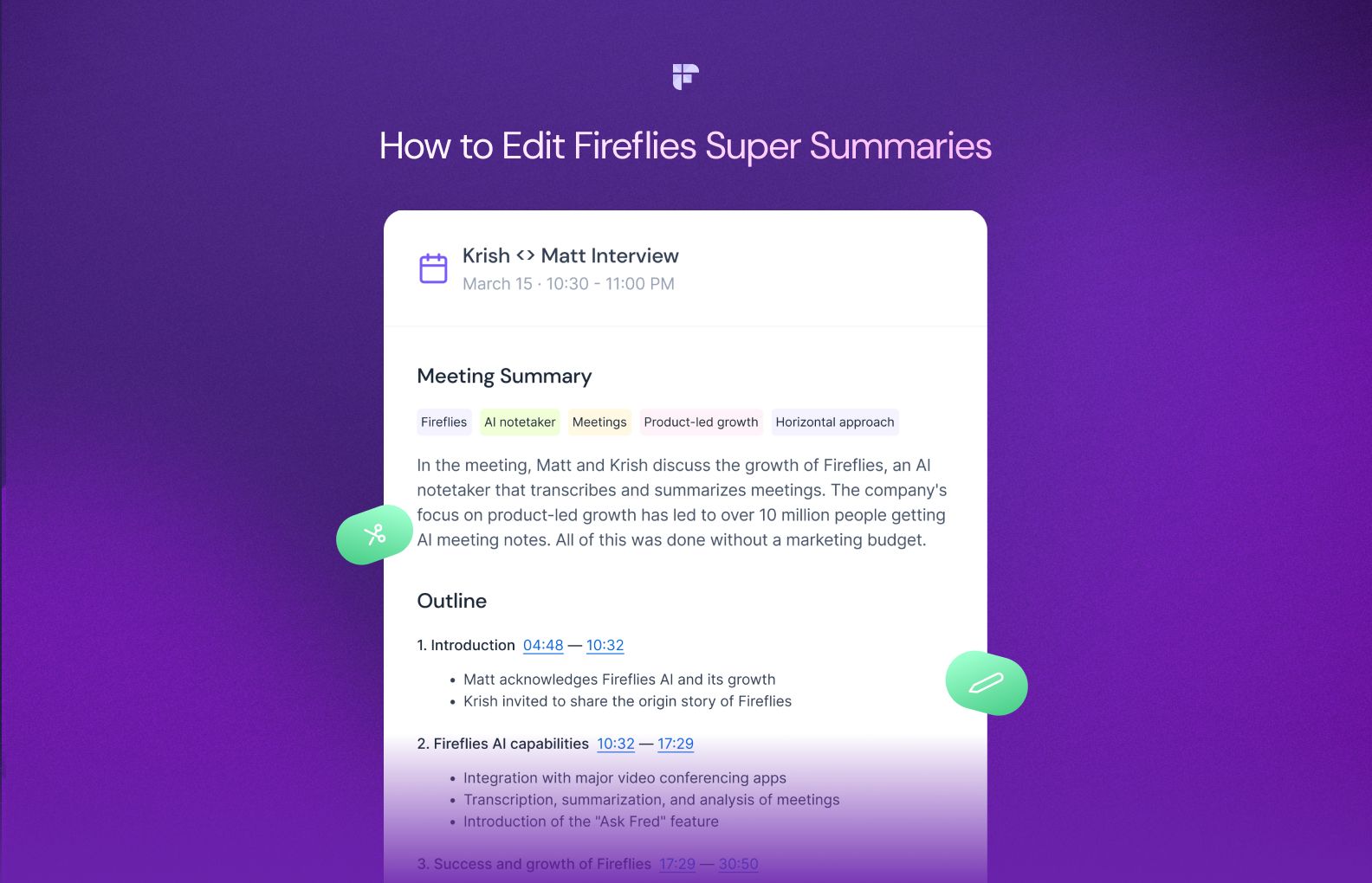 Team collaboration made easy
This platform is all about teamwork! It brings your team closer by centralizing access to meeting data and allowing team members to leave time-stamped comments in the transcript, encouraging a united and well-informed approach to client interactions. One area this shines is with soundbites and Playlists.
You can create short audio clips called Soundbites from meeting recordings in three ways:
Manually highlighting interesting sections of the transcript.
Using keywords to automatically pull out relevant moments.
AI-powered Magic Soundbites that automatically find key audio segments.
Soundbites can then be shared via link or downloaded. They are great for creating sales playbooks, coaching teams, and more.
Additionally, Soundbites can be organized into Playlists to curate collections around specific topics, objections, pricing, competitors, customers, etc.
With this robust audio clipping and sharing, Fireflies empowers teams to capture critical sales meeting moments and engage with the content.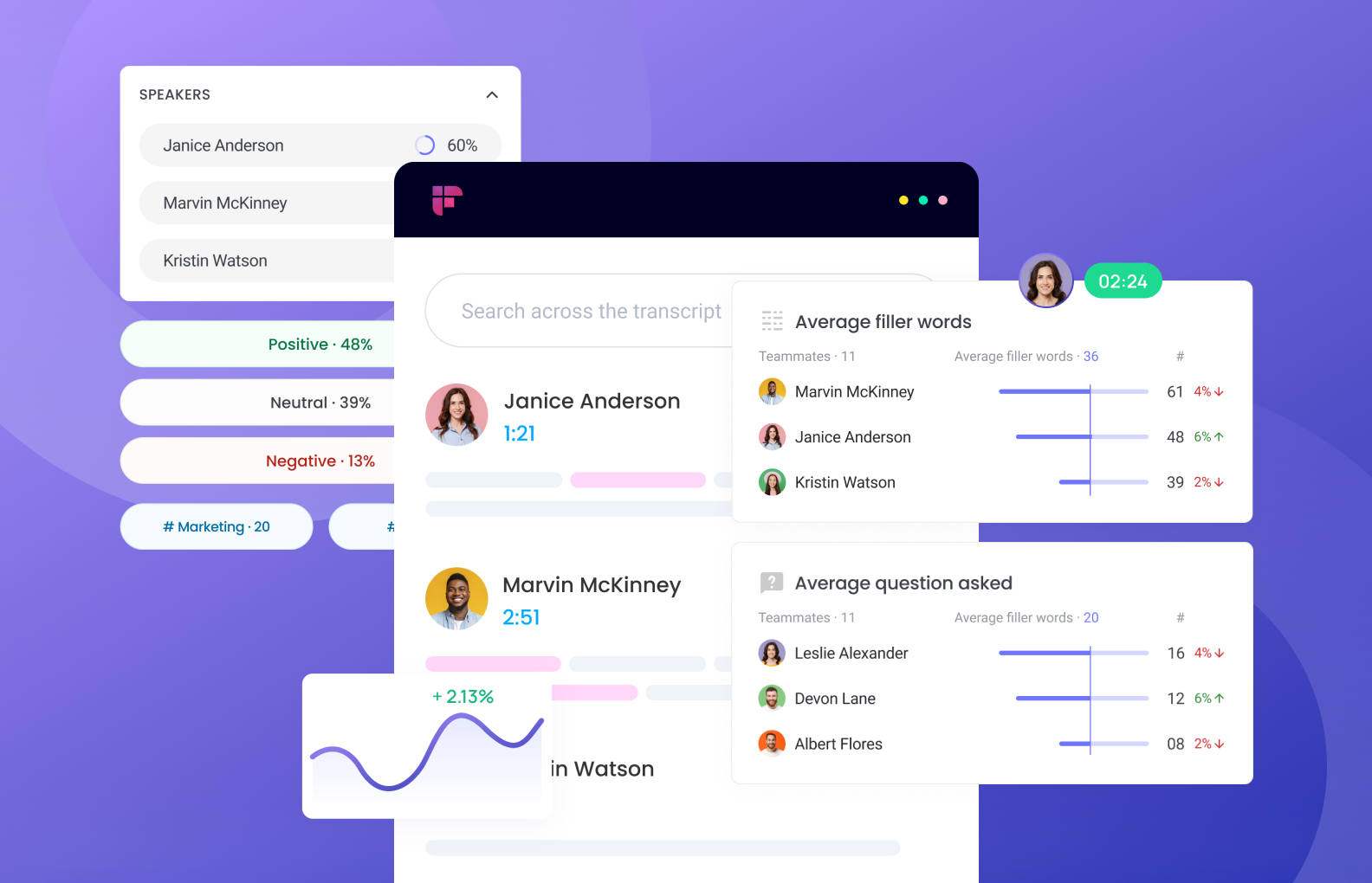 Data-driven decision-making
Fireflies Conversation Intelligence is your secret weapon for data-driven success. It empowers sales pros to capture and leverage insights from sales meetings, fine-tuning strategies, personalizing pitches, and boosting conversion rates.
Fireflies automatically tracks key metrics from sales meetings, generating critical insights like talk-to-listen ratios, questions asked, filler words used, and more.
Reps can see quantifiable data on their overall strategy and have granular visibility into individual meetings.
These conversation insights enable sales leaders to pinpoint what's working versus areas needing improvement. They can fine-tune pitches based on trends in customer sentiments. They can coach reps on asking better questions and avoiding monologues.
Ultimately, the continuous insights extracted from Fireflies' conversation intelligence allow sales organizations to base decisions on hard data rather than gut feeling.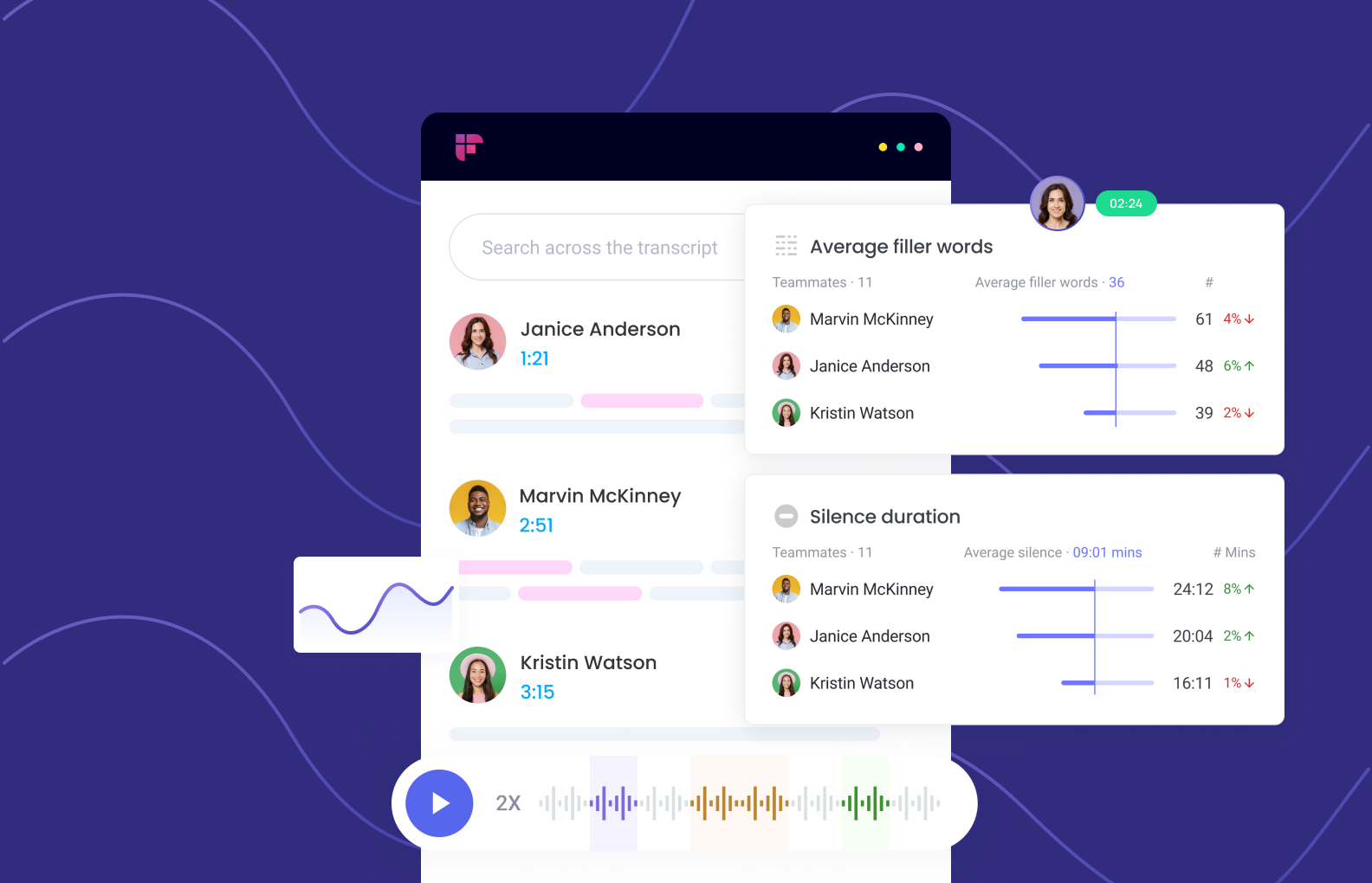 Stay agile with streamlined workflows
Sales professionals are always on the move, and Fireflies keeps up. It seamlessly integrates with your communication and CRM tools, including Salesforce, Hubspot, Freshsales, Aircall, Slack, and Notion.
This opens up powerful automation options:
Meeting notes and summaries can automatically sync under the associated CRM contact, eliminating manual data entry.
Voice commands make creating tasks in project tools like Monday or Trello easy.
Transcripts and notes can automatically be shared to a preferred Slack channel.
Even in-person sales meetings can be transcribed via the Fireflies mobile app and synced to the CRM contact.
With turn-key integrations and custom API options, Fireflies significantly streamlines sales workflows. Data flows seamlessly between tools, enhancing automation and ensuring you can access your meeting data wherever you are. Stay flexible and responsive to your client's needs effortlessly!
In conclusion
Motivational sales quotes are like a fountain of inspiration and encouragement for your sales team.
Get creative with them – spark conversations during team meetings, sprinkle them into your daily emails, or hang them around the office to cultivate a culture of inspiration and positivity.
And here's the golden rule: It's not all about the numbers; it's the spirit and attitude that propel your team toward success. Keep that enthusiasm blazing, and you'll be sure to witness your team reaching new heights!