Interview transcription software makes the transcription process of interviews fast and accurate.
In this blog, we will explore:
5 best software for transcribing interviews
The top features of these tools
Their pricing, supported languages, and more!
So, whether you're a journalist, researcher, recruiter, or someone who needs to transcribe an interview, read on to find your best-fit interview transcription software.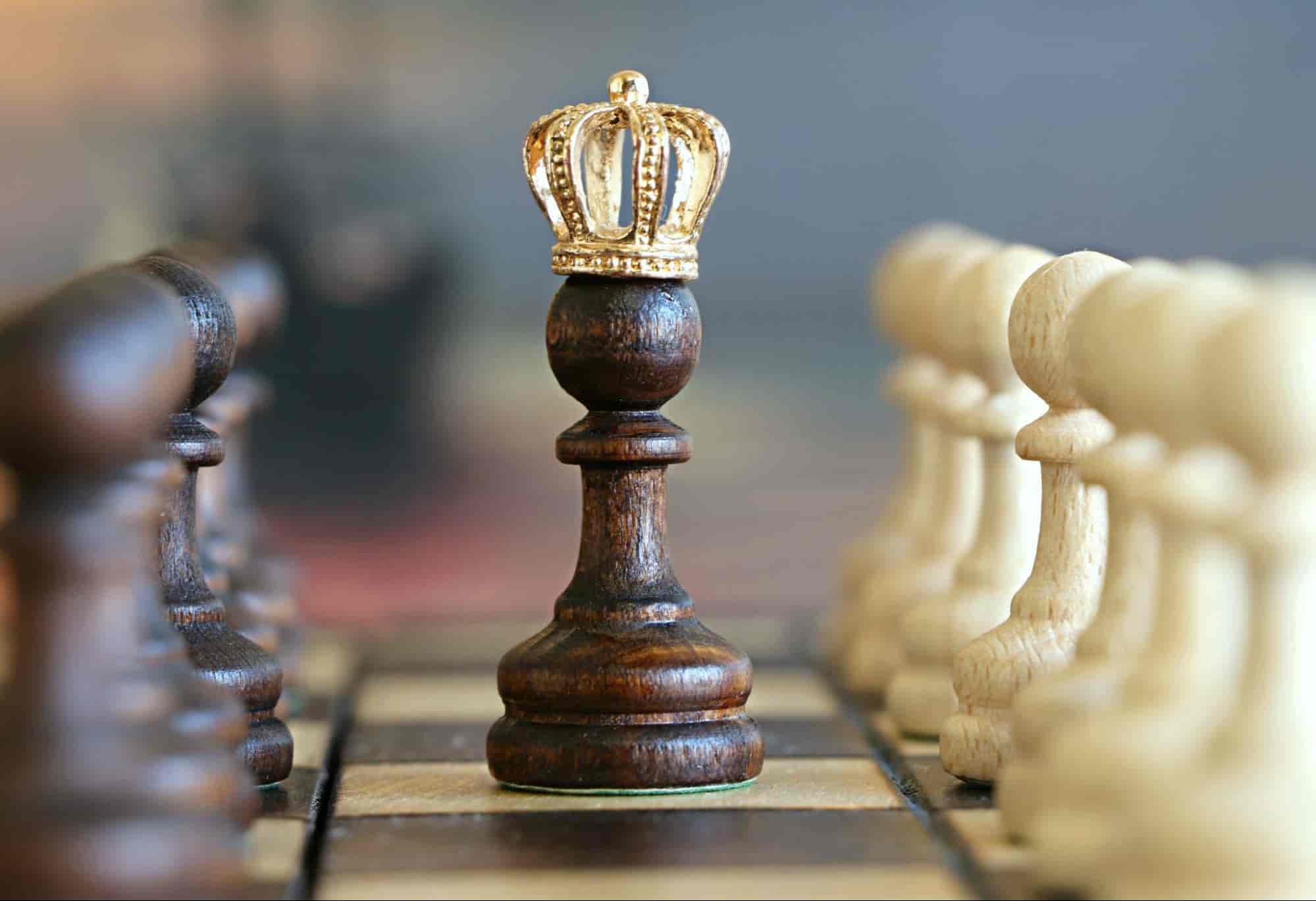 5 Interview transcription software
According to Gartner, an average interview can last anywhere from 30 to 60 minutes, and the best way to analyze and document these interviews is by creating transcripts.
However, transcribing interviews manually can be tiring and time-consuming. So, here are 5 tools you can use to effortlessly create accurate interview transcripts in minutes.
Fireflies.ai
Happy Scribe
Temi
3PlayMedia
Trint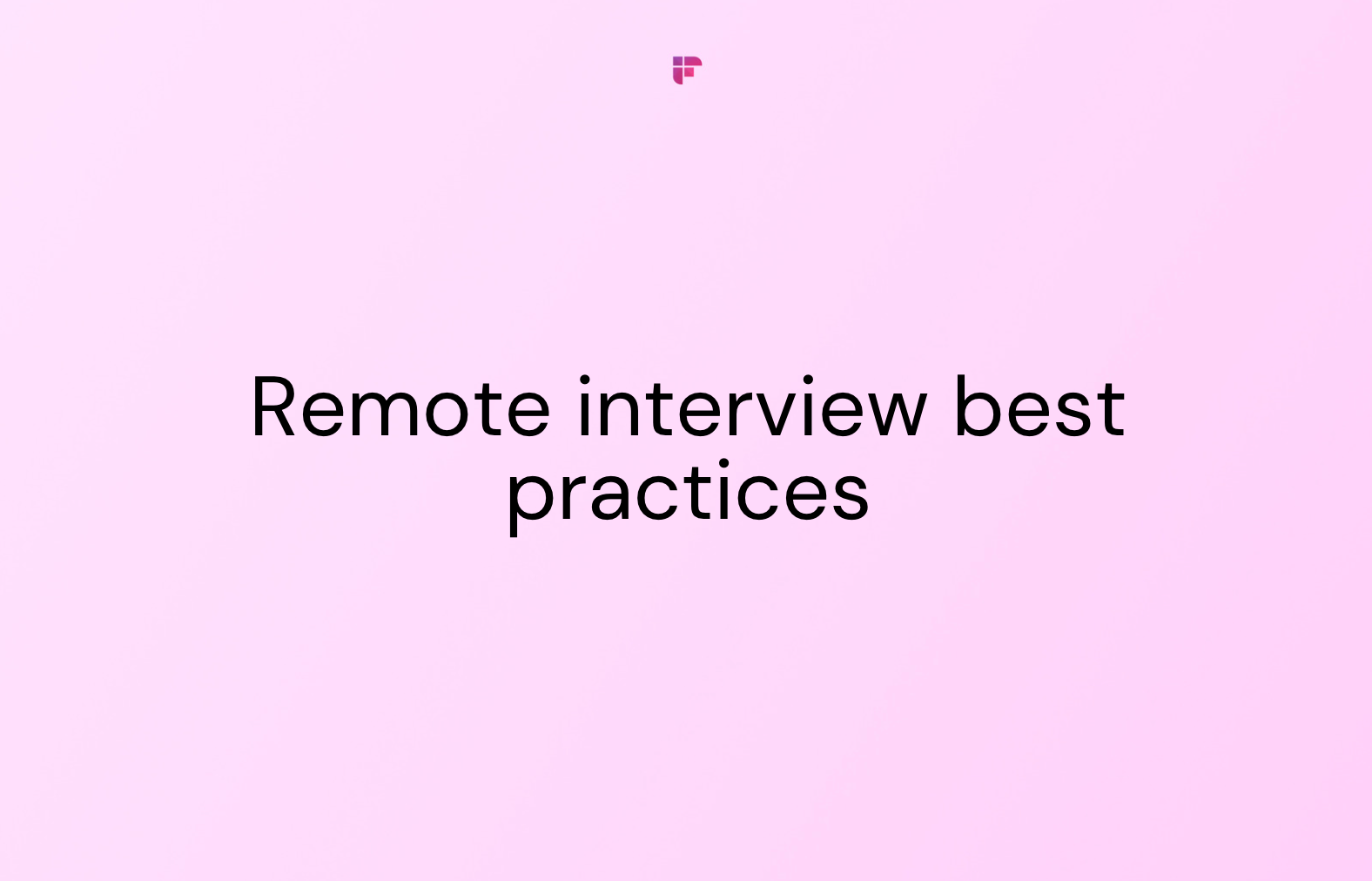 Fireflies.ai
Fireflies.ai is an AI note-taking app that transcribes, summarizes, and analyzes conversations with 90%+ accuracy.
Just invite Fred, the AI assistant, as a silent attendee to your interviews to automatically record, transcribe, and summarize the interview. You can even upload the interview recording to create transcriptions in just a few minutes.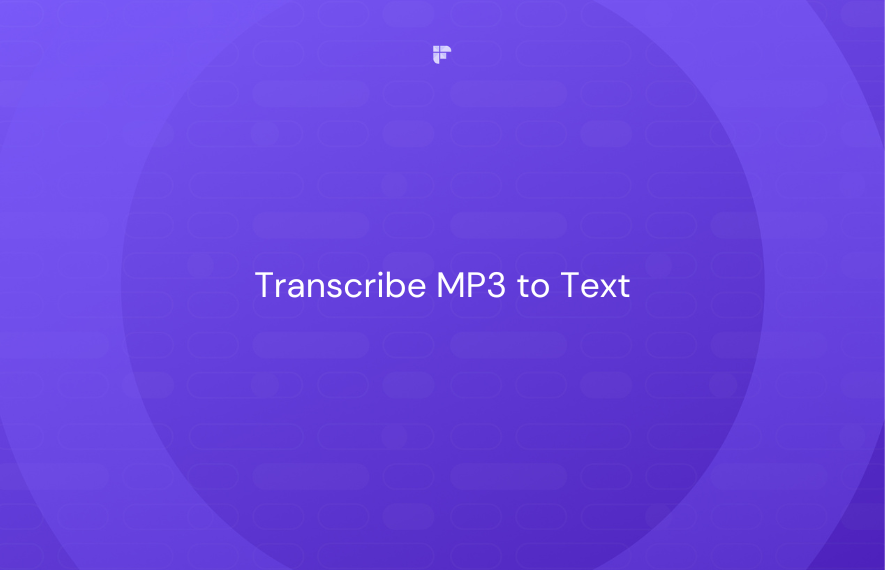 Top features
Record, transcribe, summarize, and analyze live meetings.
Create interview transcripts by uploading audio/video files of any size in one of the four formats—MP4, MP3, M4A, or WAV.
Download transcripts in 5 formats—Docx, PDF, SRT, CSV, or JSON.
Identify speakers in online meetings so you know who said what and analyze speaker sentiments.
Generate transcripts in one of the 30+ languages.
Seamlessly integrates with 50+ video conferencing, dialers, and productivity apps, including Zoom, Zapier, Notion, Slack, Aircall, etc. It also has an API for building custom integrations.
Change the playback speed based on your comfort level.
Use the Chrome extension to capture and transcribe Google Meet calls and videos from Loom, Soapbox, and Bubbles.
Highly secure—SOC 2 TYPE 2 & GDPR compliant. Your data is end-to-end encrypted, and the transcription is entirely automated, meaning no human intervention is required.
Additionally, Fireflies also gives you meeting summaries and other collaboration features that let you review interview transcription in minutes. Some of these features are:
Threads: leave comments and reactions on any part of the transcript.
Topic Tracker: Add keywords and phrases you want to track and search during calls. See when and how often those words came up during a call while reviewing the post-meeting transcript.
Add custom vocabulary so the notetaker can identify all the words used specifically in your industry.
AskFred: ChatGPT for meetings that answer any questions you have about what went down during the interview. Ask Fred to create post-meeting content from the interview transcript, like blogs, emails, social media posts, etc.
Transcription languages supported
Transcribe interviews in one of the 32 languages, including German, Dutch, French, Spanish, Portuguese, and Italian.
It also supports three English accents: UK, Australian, and US.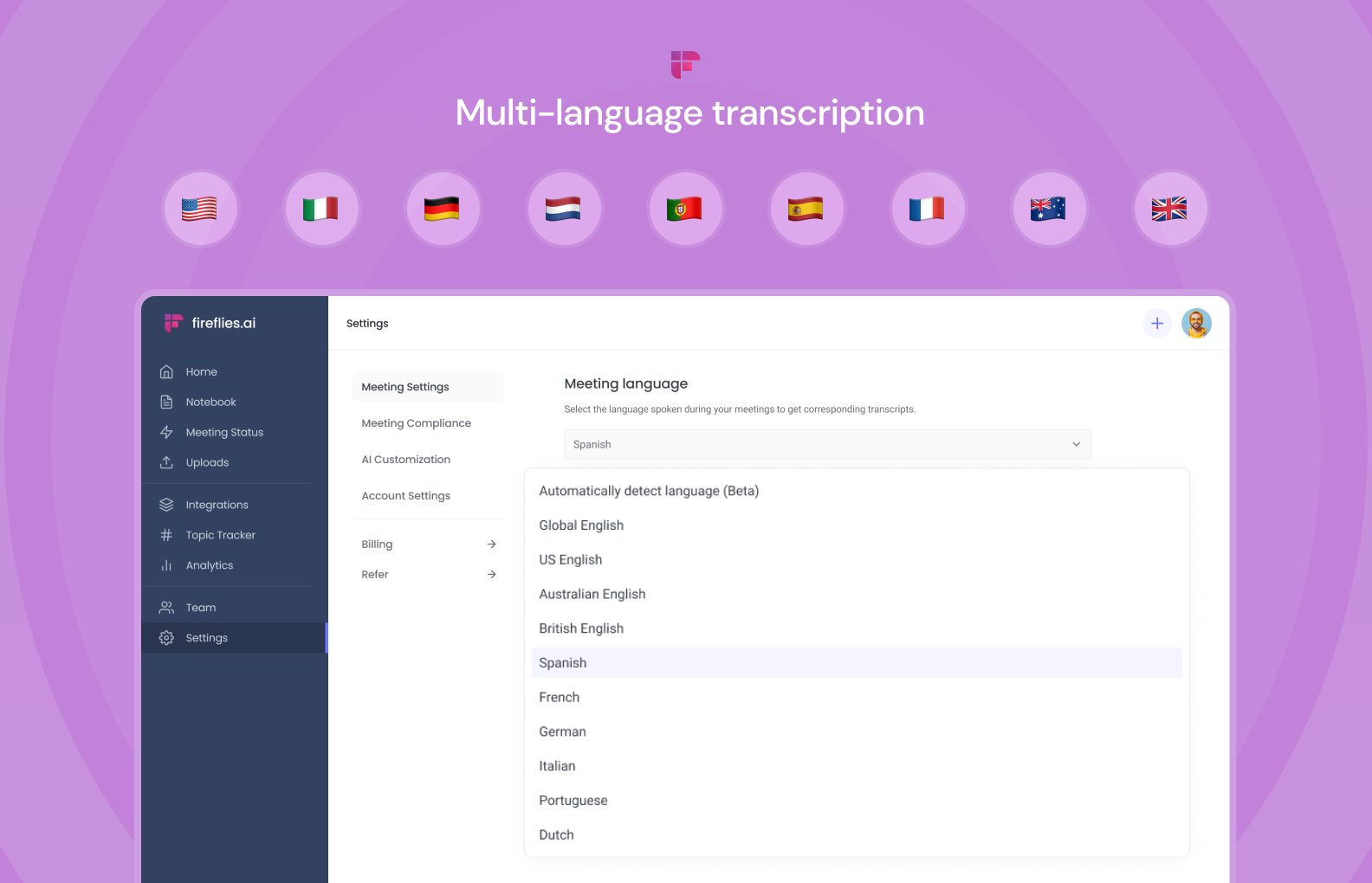 Pricing
If you plan to use Fireflies as an interview transcription software, you can start with the free version, which has limited transcription credits and access to its basic features. For more advanced features like conversation analytics, video recordings, and storage, consider upgrading to one of the following paid plans:
Pro Plan: $10 per seat/month, billed annually.
Business Plan: $19 per seat/month, billed annually.
Enterprise: Custom pricing based on the number of seats.
All the paid plans offer unlimited transcription credits. However, the Pro Plan gives only 8000 minutes of storage credits, whereas the Business and Enterprise plan offers unlimited storage too.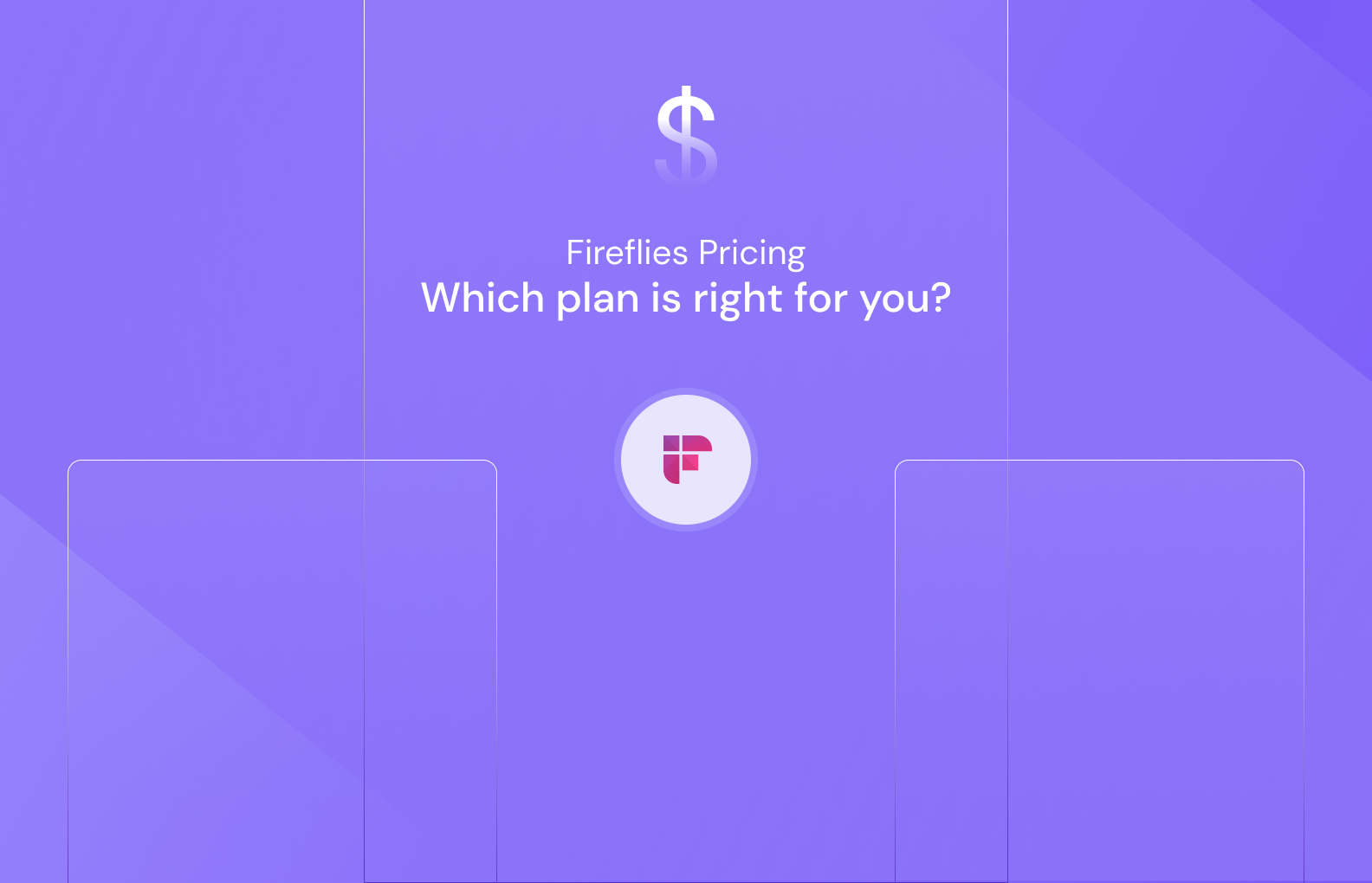 Happy Scribe
Happy Scribe is a transcription and subtitle service platform. Use it to create transcriptions of an interview.
You can record the interview independently and then upload the file in Happy Scribe to get the transcription. Happy Scribe offers automated and human transcription services with a guaranteed 85-99% accuracy.  
Top features
Upload a file of any size to create transcripts.
It offers both AI-generated and 100% human-made transcriptions. The human-made transcription service delivers a 99% accurate transcript in 24 hours, whereas the automatic transcription software generates an 85% accurate transcript in 5 minutes.
Collaborate better with your colleagues, comment on the transcripts, make reactions, etc., using its interactive editing window.
Export your transcript in 11 formats, including .txt, .srt, and .doc.
Seamlessly integrate with Zapier, YouTube, and 1000+ more apps.
Transcription languages supported
Happy Scribe supports over 60 languages, including English, French, Spanish, Portuguese, Italian, Polish, German, and Dutch.
Pricing
Happy Scribe transcription pricing can be expensive if you have to transcribe hours-long interviews. Its pricing is as follows:
Automatic transcription: $0.20 per minute
Human-made transcription: $2.25 per minute
Temi
Temi is a video and audio interview transcription software that can create transcripts in just 5 minutes.
Once you upload the interview file to the software, it creates an editable transcription file which you can further review and edit to ensure 100% accuracy. Once finalized, you can save & export your transcript in any format, such as MS Word, PDF, SRT, VTT, etc.
Top features
It guarantees 90%+ accuracy for a good-quality audio file with little-to-no background noise.
It has in-built speaker identification and custom timestamps.
It uses a proprietary algorithm that guarantees the fastest turnaround time—creates transcripts in less than 5 minutes.
Transcription languages supported
Temi helps you create transcripts for audio/video files in English only.
Pricing
Temi offers a free trial for one file under 45 minutes. You can create additional transcripts for $0.25 per minute.
3PlayMedia
3Play Media provides closed captioning, transcription, and audio description services using automated tools and human transcribers.
If security is your primary concern, 3PlayMedia could be your ideal audio interview transcription software. It is a highly secure, HIPAA-compliant, and accessibility-compliant software that makes it the best choice for handling sensitive information like medical records or lawsuits.
Top Features
Highly secure—legal, HIPAA, and accessibility compliant.
It provides dual language transcription. If your interview is a mix of English and Spanish, this audio interview transcription software can create a transcript including both languages.
Scalable, flexible, and customizable—It can accommodate numerous workflows, formats, and turnaround times to match your needs.
It allows you to preload any keywords, technical vocabulary, or special instructions to enhance accuracy.
It offers a dedicated account manager to help review your goals and update you with accessibility news.
It uses 11 patent, unique and proprietary datasets and operates on advanced processes and workflows—speech recognition, human editing, and human Quality Analysis to ensure 99% accurate transcription.
Transcription languages supported
3PlayMedia provides transcription services in 27 languages, including Arabic, English, Spanish, Chinese, Dutch, and Hindi.
Since native speakers do the transcription services for most languages, human intervention is involved, and your data is accessible to people transcribing your files.
Pricing
It offers two pricing plans—Express and Enterprise.
Express plan pricing is $2.95 per minute for English Transcription. The Enterprise plan pricing is customized as per your specific needs.
Trint
Trint is an AI-powered video and audio interview transcription software. It helps you convert speech to text files that are editable, searchable, and collaborative as a Google Doc.
You can simply upload your file to the Trint Upload section and click transcribe to create accurate transcription in just minutes. It also offers an iOS app to capture and transcribe live interviews or phone calls in real time.
Top features
It can identify speakers automatically
It allows you to add custom vocabulary
It enables you to record and transcribe live interviews.
It seamlessly integrates with Zapier, Zoom, and Adobe Premiere
It provides translation services in 50 languages
It is highly secure—ISO-certified security
It provides powerful, accurate, and time-coded in-built search facilities
Transcription languages supported
Trint can transcribe in 33 languages, including Arabic, Italian, French, Hindi, Ukrainian, Spanish, Malay, German, Korean, and Greek.
Pricing
Trint offers 3 pricing options as follows:
Starter: Transcribe 7 files for $48/user/month
Advanced: Unlimited transcriptions for $60/user/month
Enterprise: Custom pricing
If you do not have any interviews or need any transcription services in a particular month, you can pause your Trint subscription and only need to pay $5 for Trint to keep your already uploaded files safe.
Final thoughts
There you have it, the top 5 interview transcription software to streamline your transcription process.
While Fireflies.ai creates accurate transcription in 32 languages in minutes and offers extremely helpful features like AskFred, Threads, and Soundbites for just $10/seat/month, Happy Scribe delivers human-transcription services in 24 hours.
Temi is the fastest, Trint transcribes in 33 languages, and 3PlayMedia offers HIPAA-compliant security.
The choice is yours. Choose the one that best serves your needs without burning a hole in your pocket. Happy transcribing!