Zoom transcription helps you convert the audio of a Zoom meeting into text. It can be a lifesaver for busy professionals looking for ways to review meetings in minutes, share notes with colleagues, or maintain a record of their conversations.
But how do you transcribe Zoom meetings? This blog will tell you exactly that and then compare how Zoom's native transcription compares to third-party transcription software.
So, let's dive in and ensure you never miss a beat in your online meetings!
How to transcribe Zoom meetings

There are two ways to transcribe your Zoom meetings:
Use Zoom Native transcription
Automated meeting tools
Use Zoom Native transcription
Zoom's native or in-built transcription feature lets you download a text transcript of all audio captions and chats of a Zoom meeting.
It is only available on the Pro, Business, Education, or Enterprise tiers and not on the free plan. You also require account owner or admin privileges to access this feature.
Here's how to enable Zoom Native transcription:
Step 1: Make sure you've enabled cloud recording.
Sign in to your Zoom admin account.
Go to Account Settings, and click on the Recording tab.
Enable Cloud Recording and save the settings.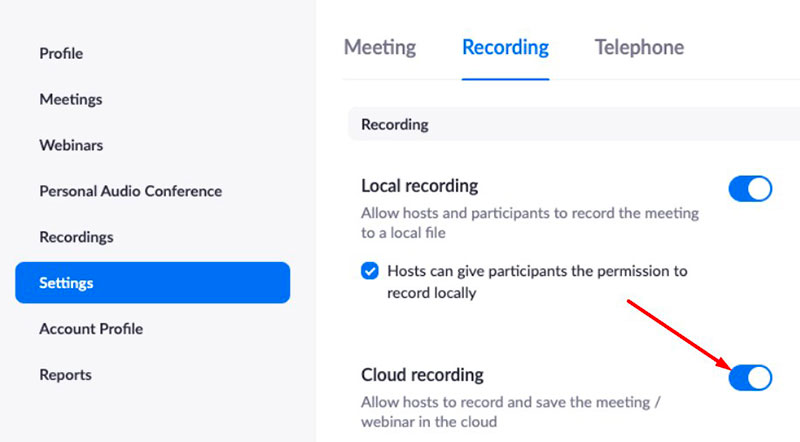 Check the Create audio transcript box in advanced cloud recording settings and hit Save to confirm.​​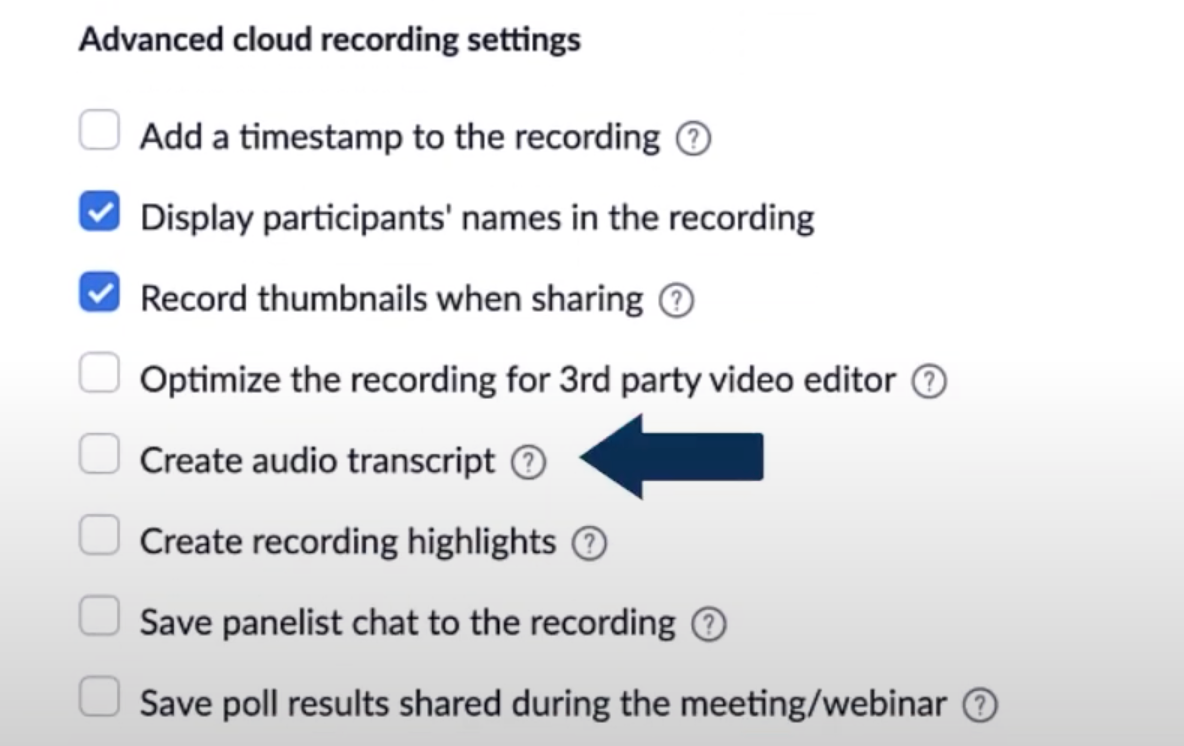 Note: You can only transcribe meetings saved on the Zoom cloud. Zoom cannot transcribe recorded sessions saved on your device.
Step 2: Download your meeting transcript
Go to Recordings from the navigation menu of your Zoom account.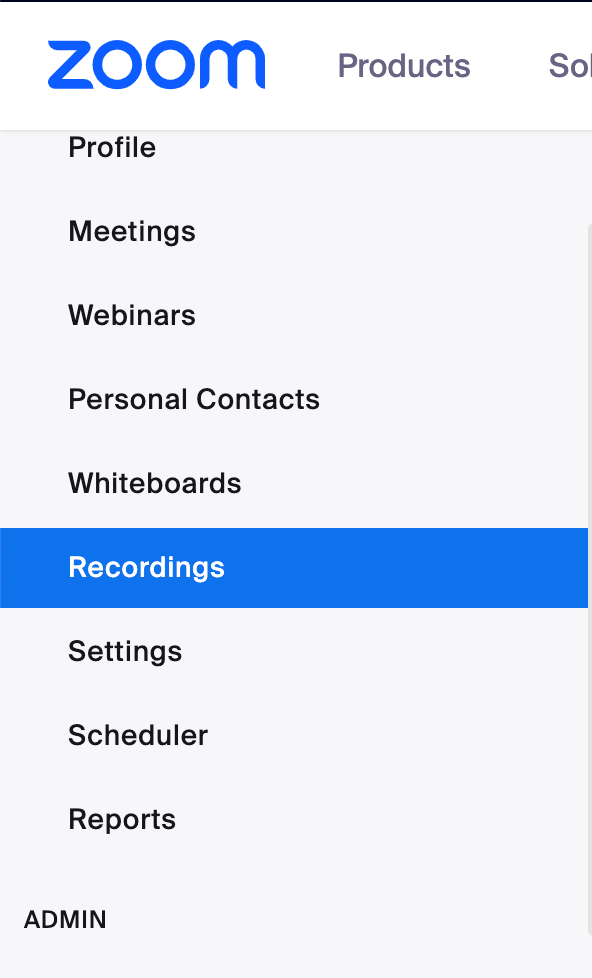 You'll see a list of your recorded meetings saved on the cloud.
Click on the meeting you want Zoom to transcribe.
The cloud recording includes video, audio recordings, and Close Captions, which are your meeting's transcript.

Click on the download button to download your transcript in the VTT format.
That's it. Your Zoom meeting transcript will be downloaded and saved on your device.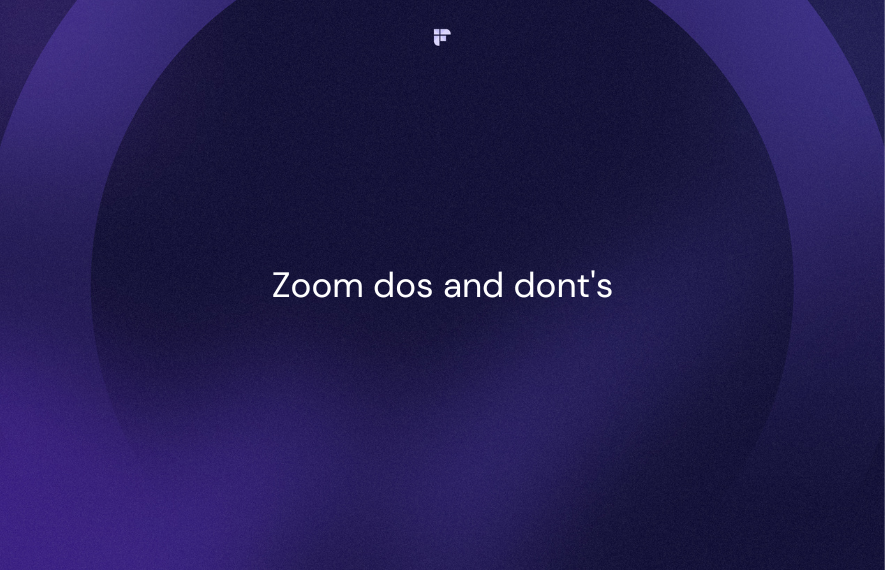 Automated meeting tools
Zoom's native transcription is great if you want to create a basic transcript of your meetings. It only gives you the transcript, timestamps, and speaker labels.

Automated meeting tools can enhance your Zoom transcriptions and offer many additional features. One such tool is Fireflies, an AI Notetaker that integrates with Zoom and other video conferencing platforms and provides you with rich and accurate transcripts of your meetings.
That's not it. Fireflies highlights the key points and generates action items from the conversation. You can also easily edit, share, and search your transcripts to review your meetings in minutes.
Fireflies can transcribe your Zoom meetings in two ways:
Inviting the Fireflies AI Notetaker bot to your meetings
Zoom Native Integration With Fireflies
a. Inviting the Fireflies AI notetaker bot to your meetings
Step 1: Create a Fireflies account with your Google or Outlook account if you are a new user. Login if you're an existing user.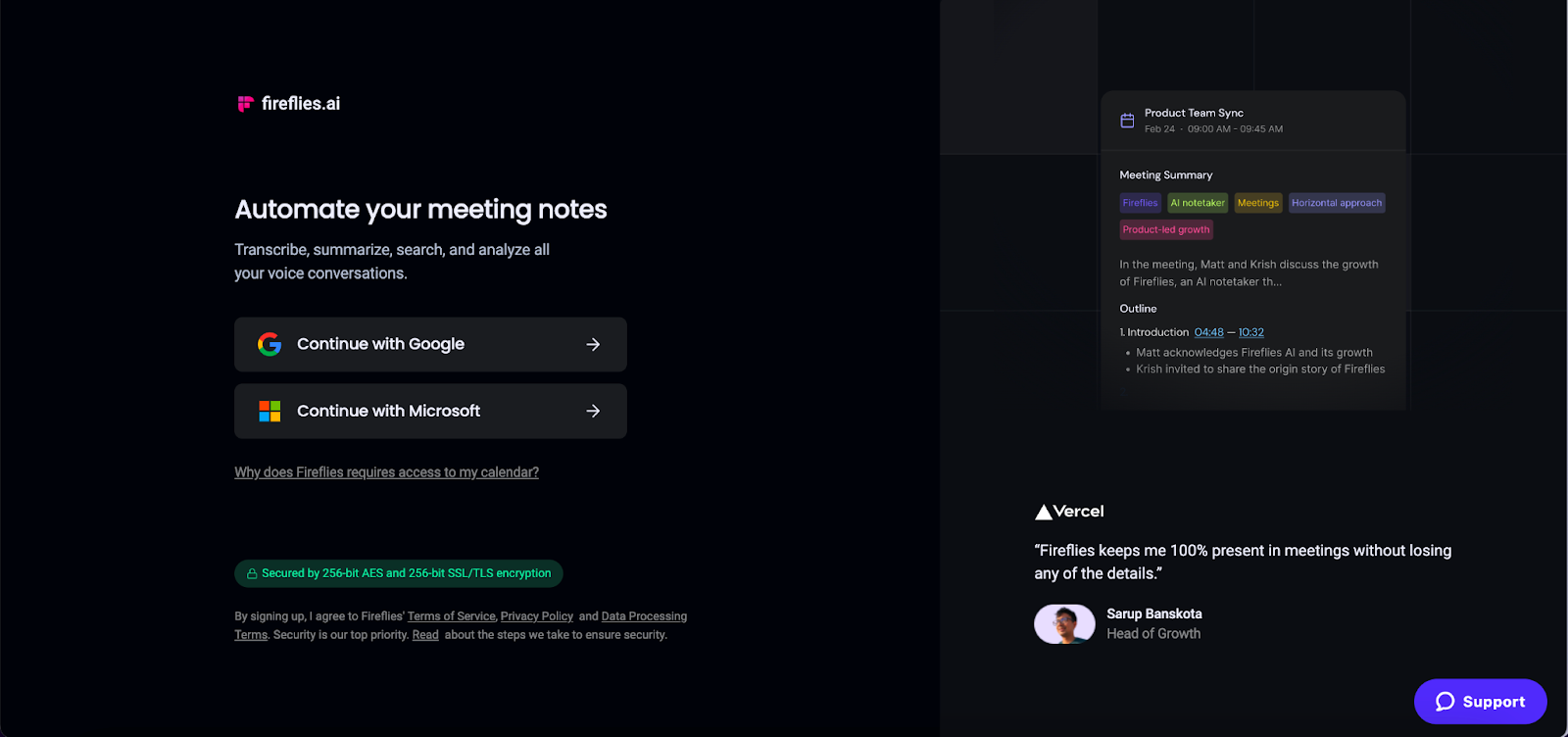 Step 2: Customize Your current meeting settings to decide which Zoom meetings Fireflies should automatically join. Here's a detailed guide on how to invite Fireflies to your meetings.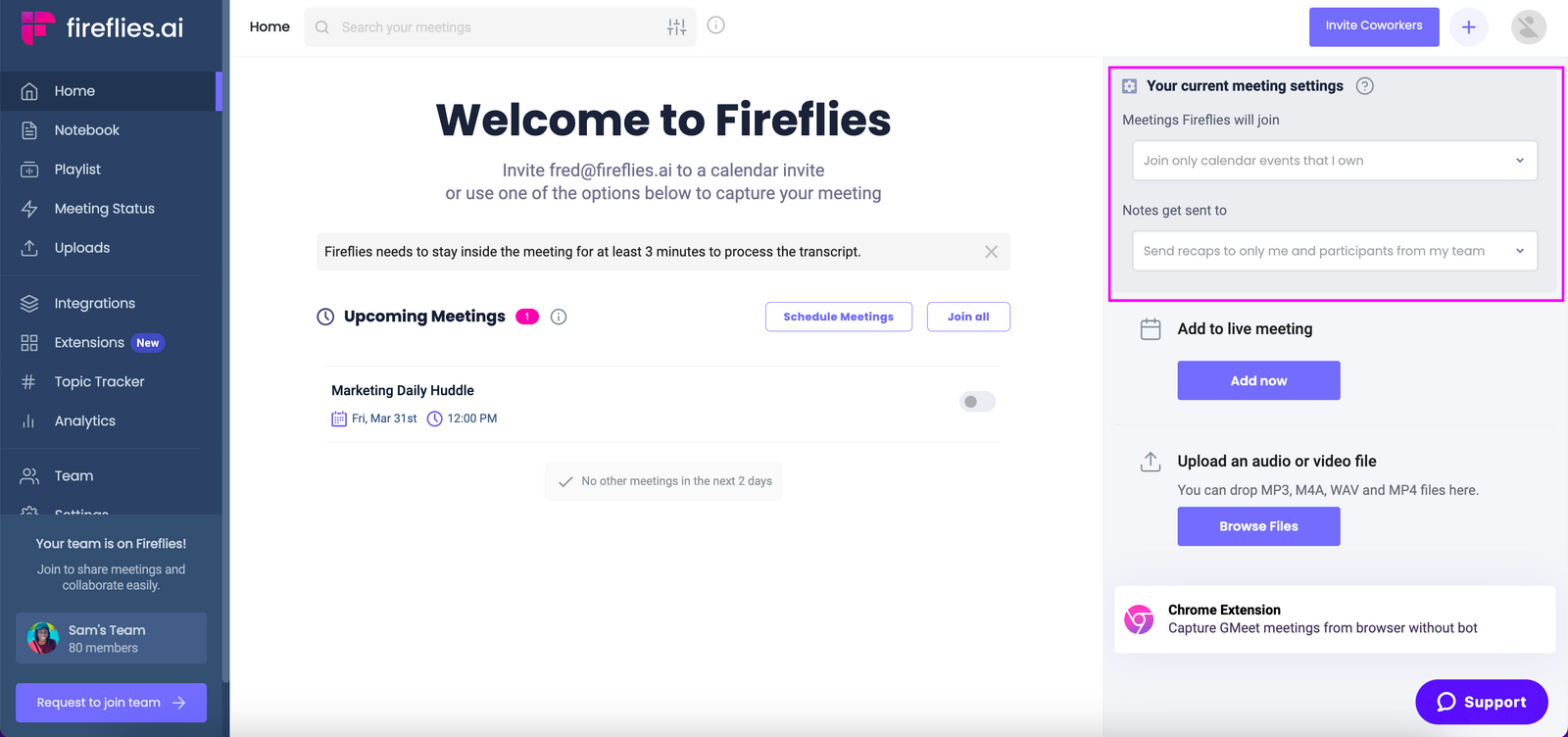 That's it. Fireflies is now ready to join, record, transcribe, summarize, and analyze your Zoom meetings.

You can also add Fireflies to manually join a live meeting in the Add to live meeting section on the homepage.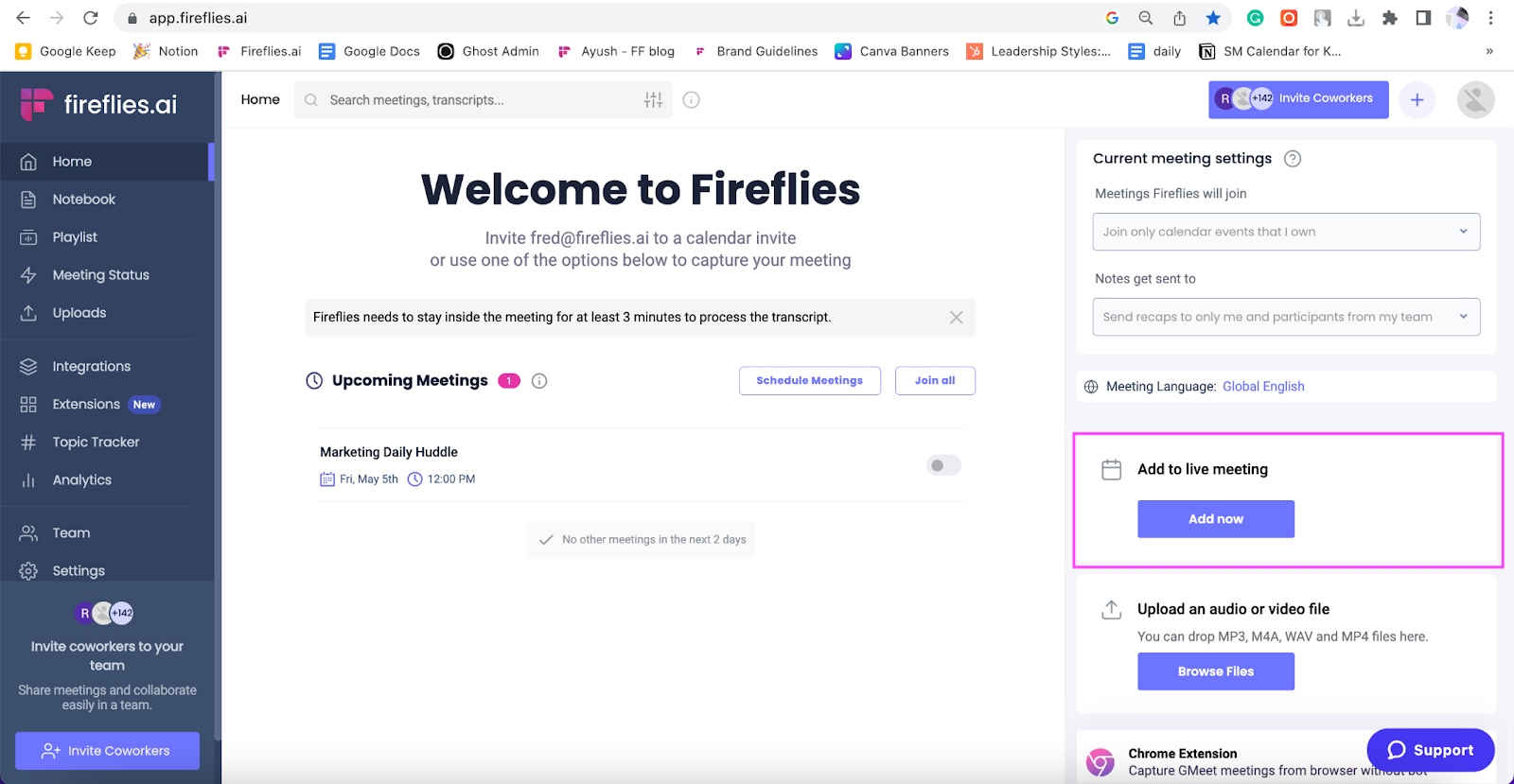 Once you click on Add now, enter the following details: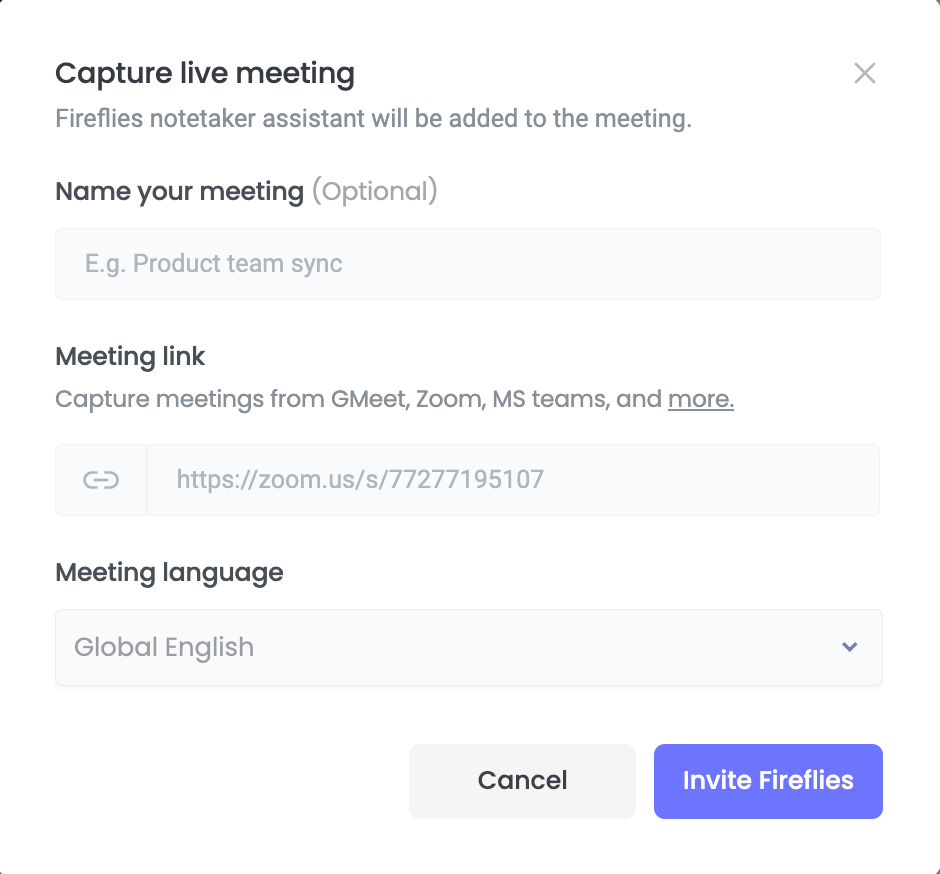 Add the Zoom meeting link, select the meeting language, and Fireflies will join the meeting within three minutes to record it.
b. Using Zoom Native Integration with Fireflies
Fireflies' Zoom Native integration automatically transcribes and saves your Zoom meeting transcripts on your Fireflies Notebook as soon as it ends.
Here's how you can enable it:
Step 1: Log in to your Fireflies account and open Integrations from the navigation menu.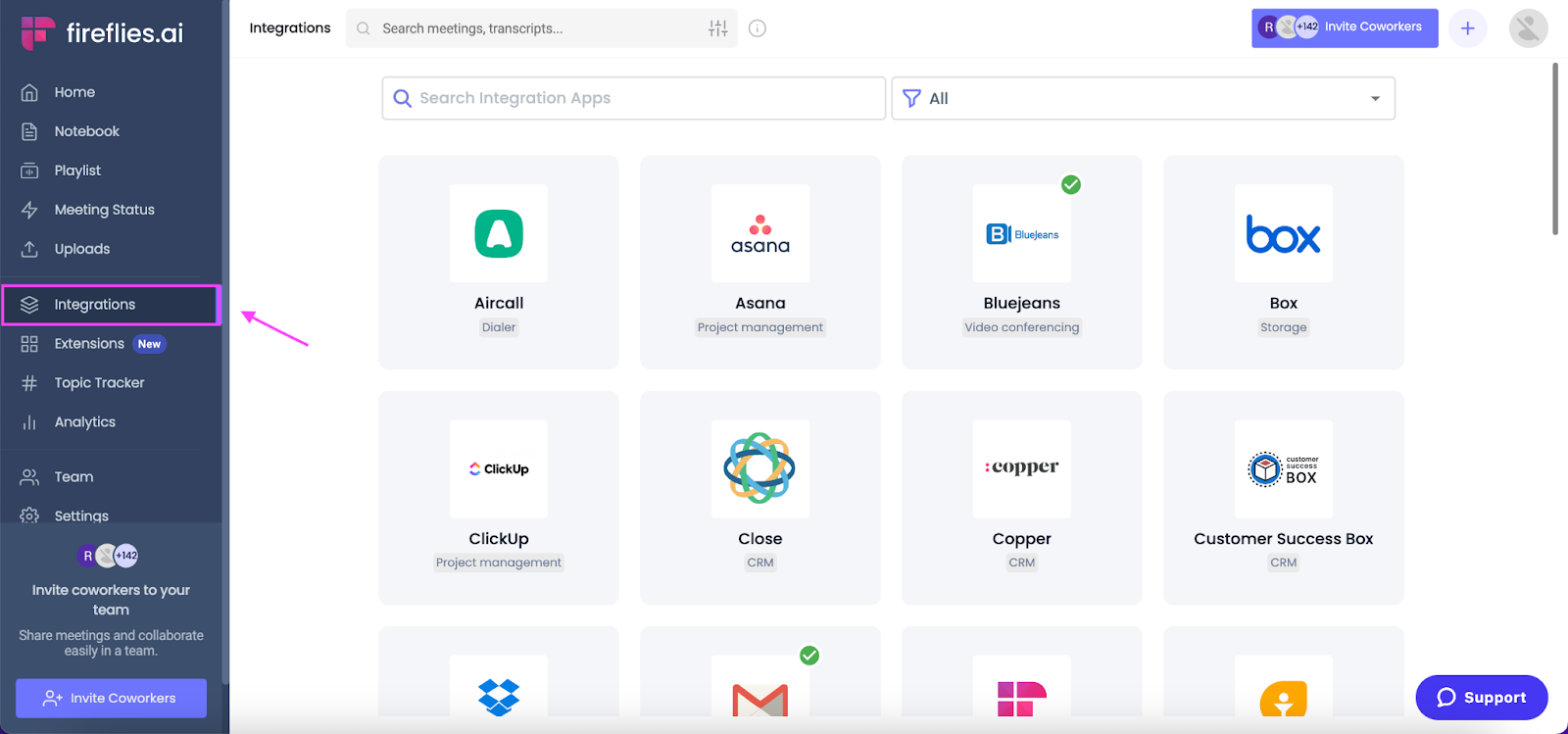 Step 2: Search for Zoom, and click on Zoom Native.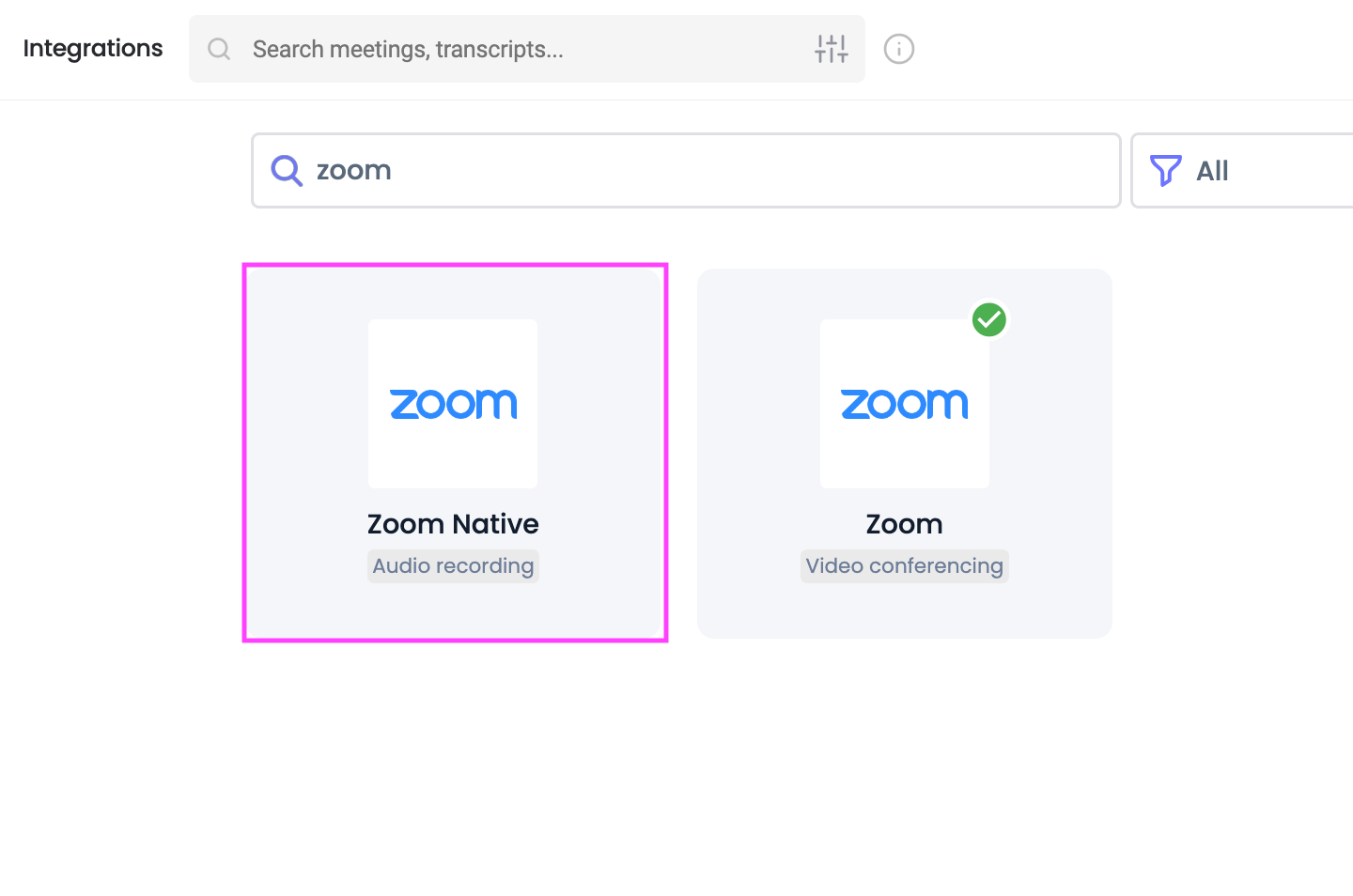 Step 3: Click on the Connect button.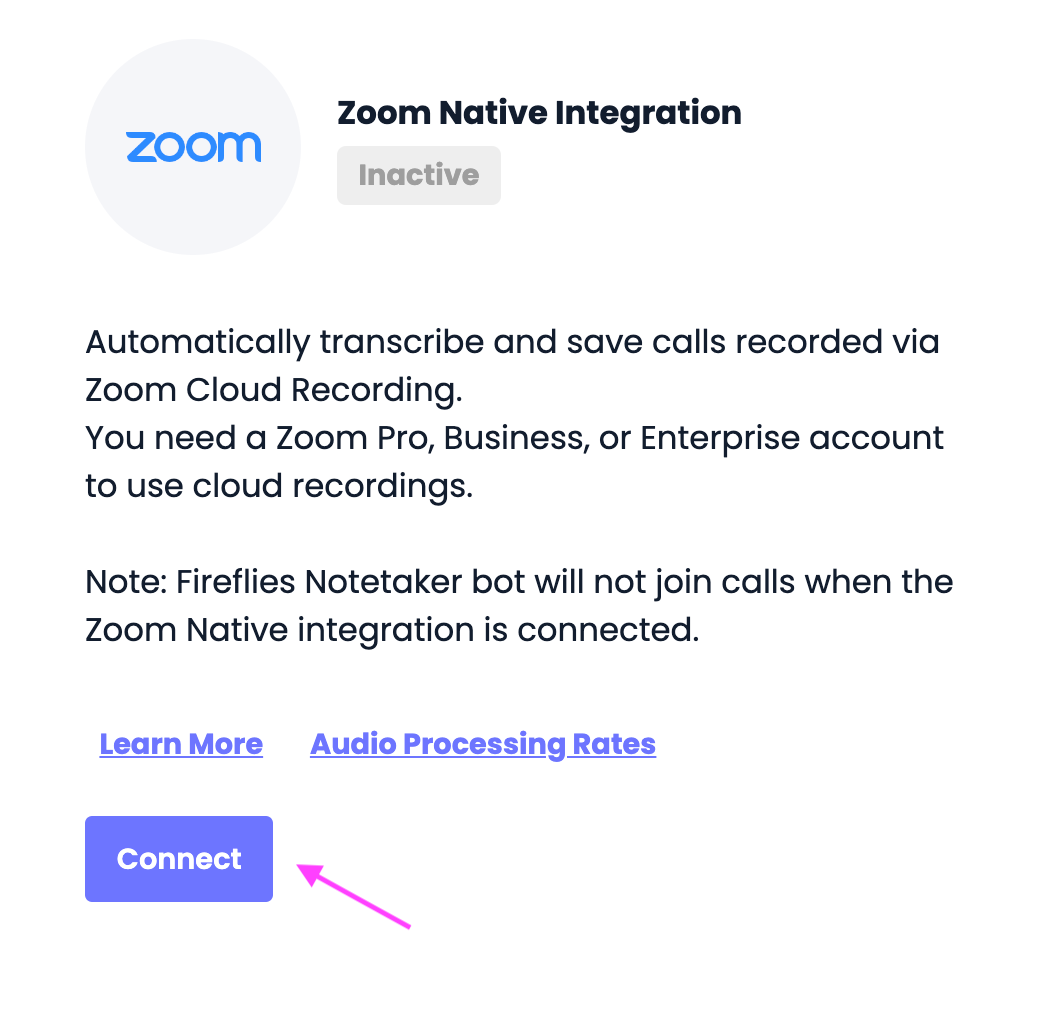 Step 4: Enter your Zoom account credentials to integrate Fireflies.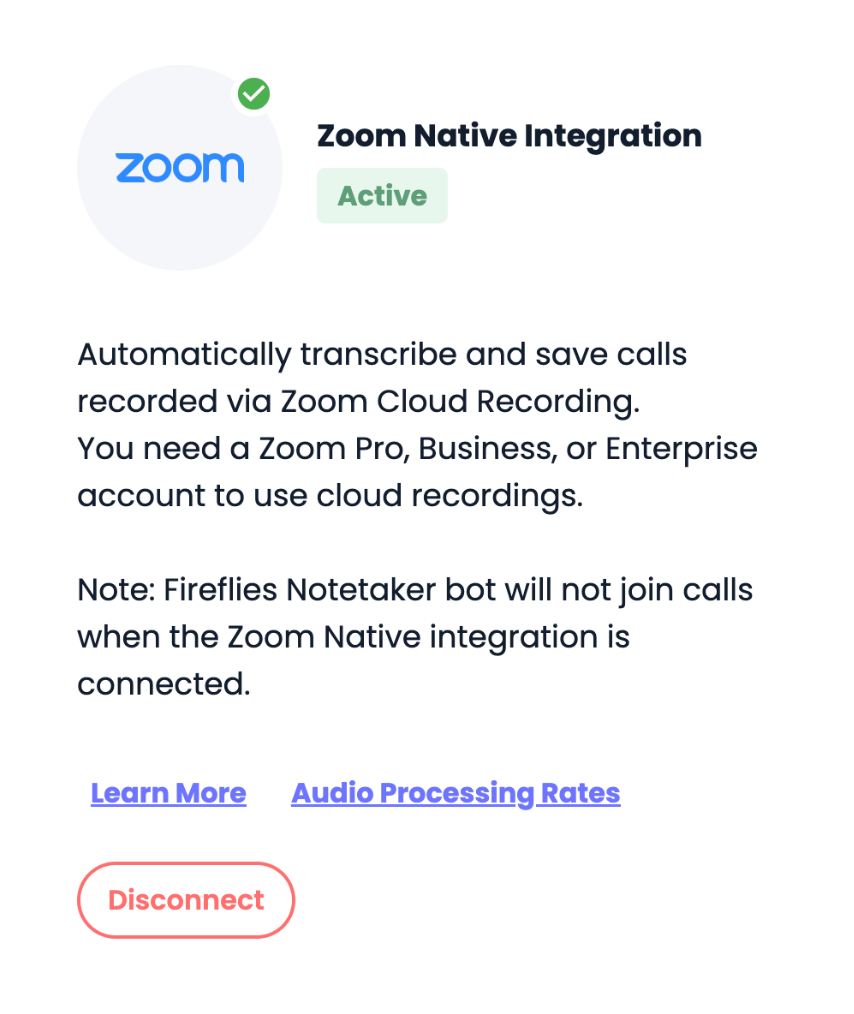 That's it. Your Zoom Native integration with Fireflies is complete, and all your cloud-recorded meetings will now be transcribed automatically.
You can view, edit, and share your meeting transcripts from the Fireflies Notebook.
Zoom Native integration slightly differs from the standard recording of meetings using the Fireflies bot. The Fireflies bot works on all popular video conferencing platforms, while the native integration works only on Zoom.
With this integration, you can automatically transcribe your Zoom cloud-recorded meetings, eliminating the need to invite Fireflies to your meetings.

To learn more, you can check out our Zoom Native integration guide.
Zoom transcription vs. Fireflies: head-to-head comparison
Zoom transcription and Fireflies are two different ways to transcribe your Zoom meetings, but how do they compare regarding features, accuracy, and more? Here is a head-to-head comparison to give you a better idea: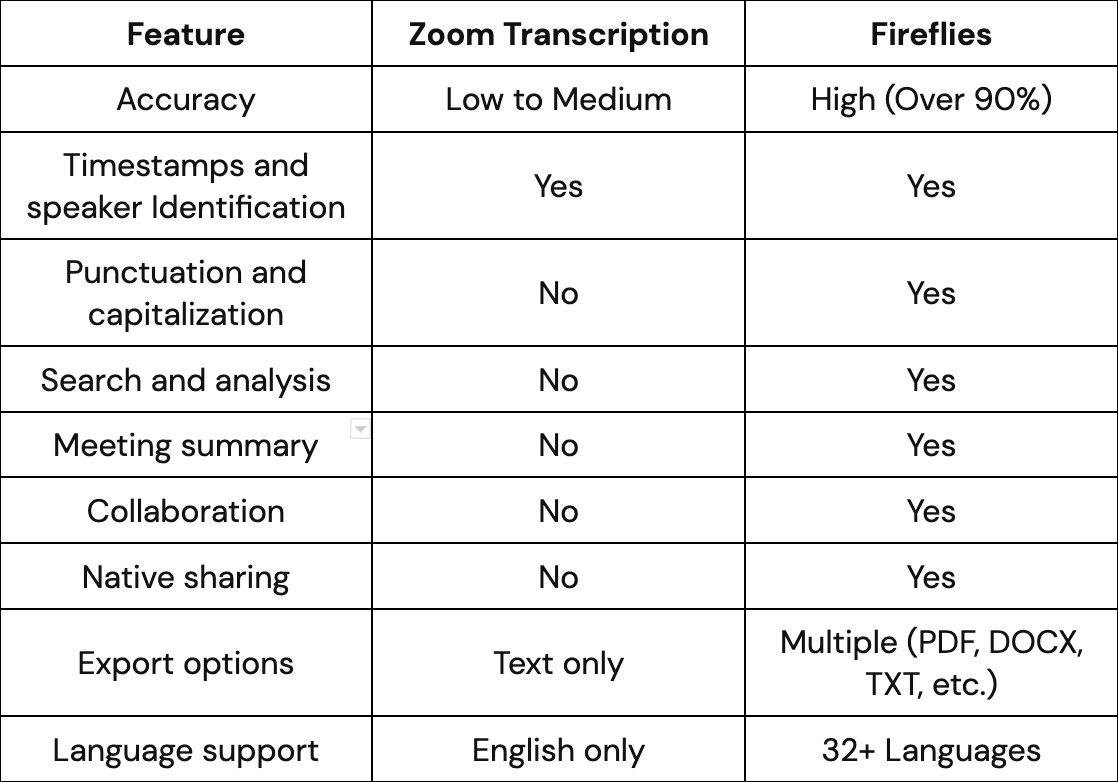 Now, let's compare them in detail.
Accuracy
Fireflies has over 90% transcription accuracy. No data is available on the accuracy of Zoom's transcription feature. But, according to sources, it's not very accurate.
Timestamps and speaker Identification
Fireflies and Zoom both offer transcripts that include timestamps and speaker identification labels. However, Fireflies takes it one step further with its speaker labels that allow you to search for specific information easily.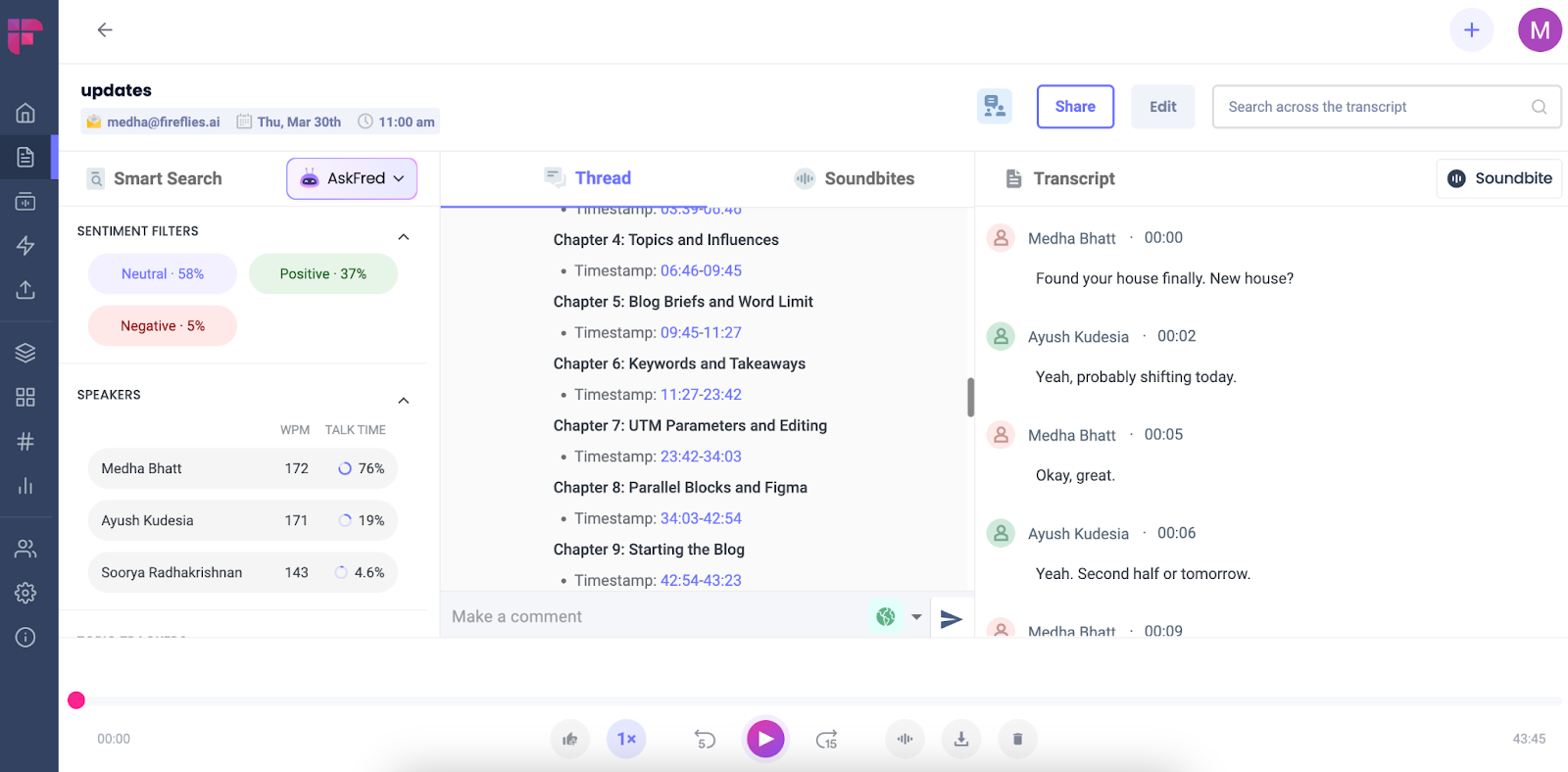 When you click on the speaker name, the color changes to dark gray, and Fireflies only shows what that speaker said during the meeting, along with timestamps. This is incredibly helpful for quickly finding and reviewing information in minutes.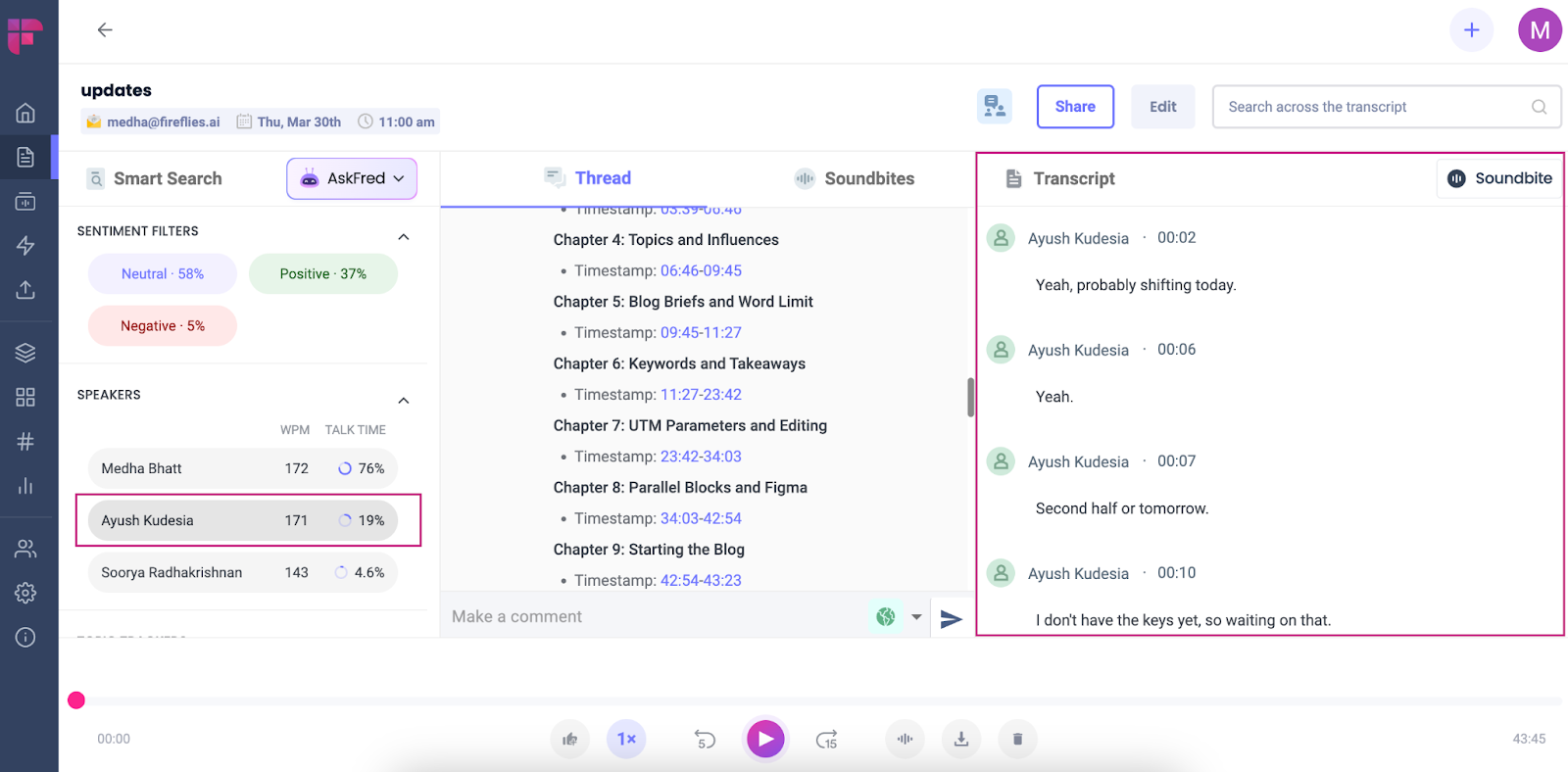 Punctuation and capitalization
Fireflies is much better at transcribing conversations due to its rich AI capabilities. The sentences have proper punctuation and capitalization, so you'll spend little to no time editing the transcripts to make them more accurate.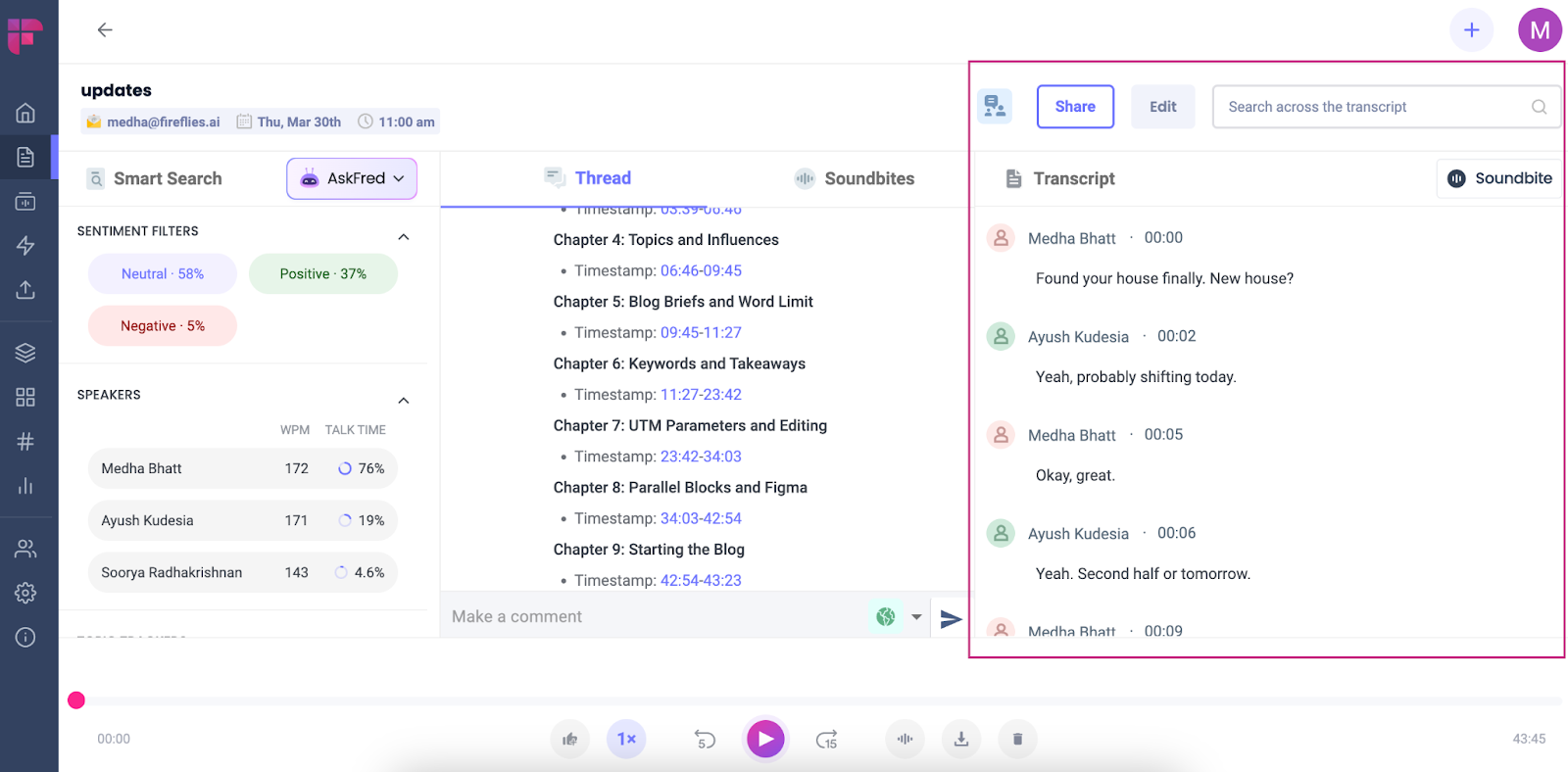 On the other hand, Zoom's transcripts are not so well-written, and you'll need to edit them thoroughly.
Search and analysis
Fireflies Smart Search filters key tasks, questions, and other metrics so you can quickly find important information in the meeting. Click on the filters, and Fireflies will pull up all the related information.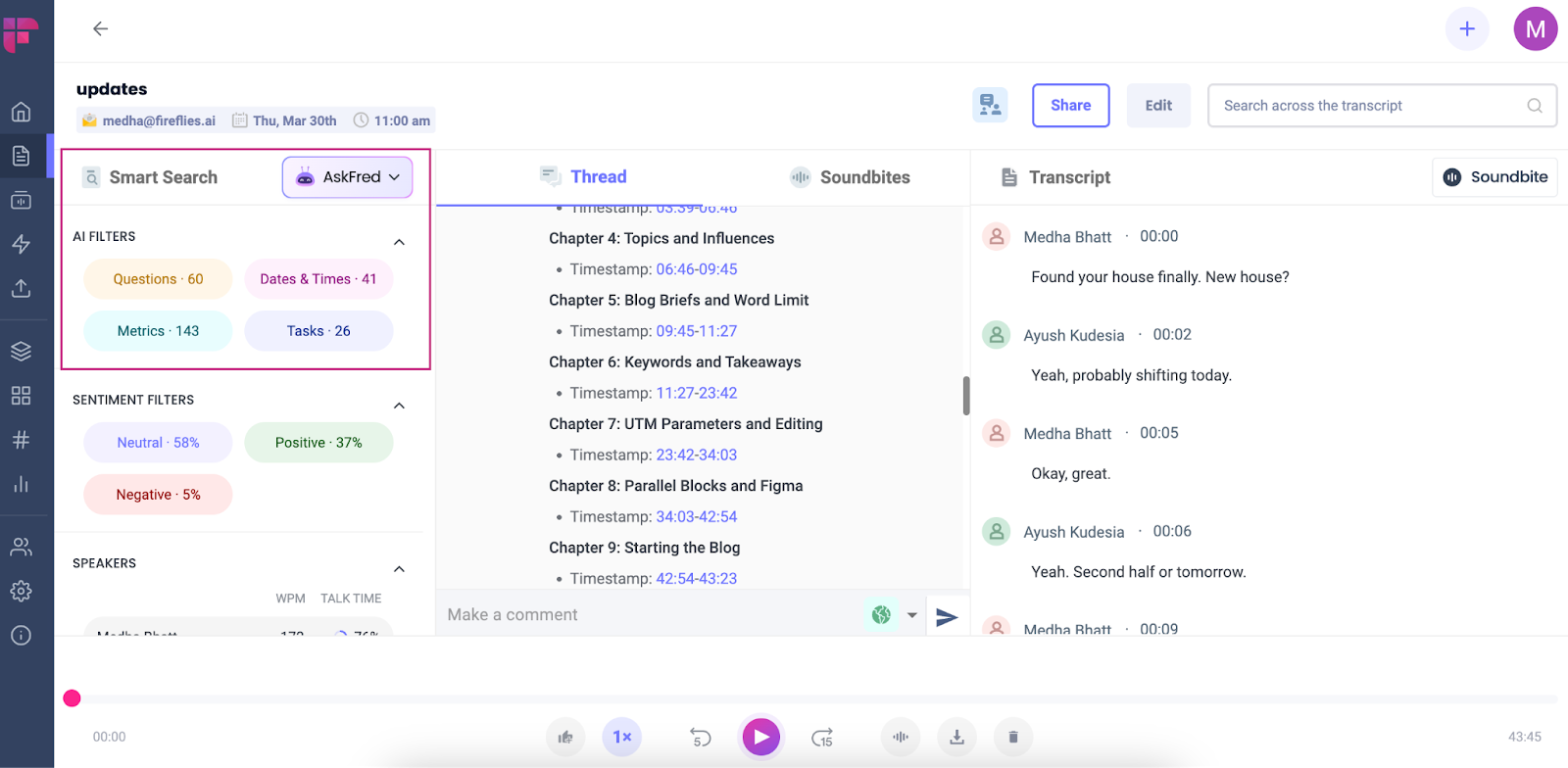 For example, if you want to see what all questions were asked during the meeting, click on Questions.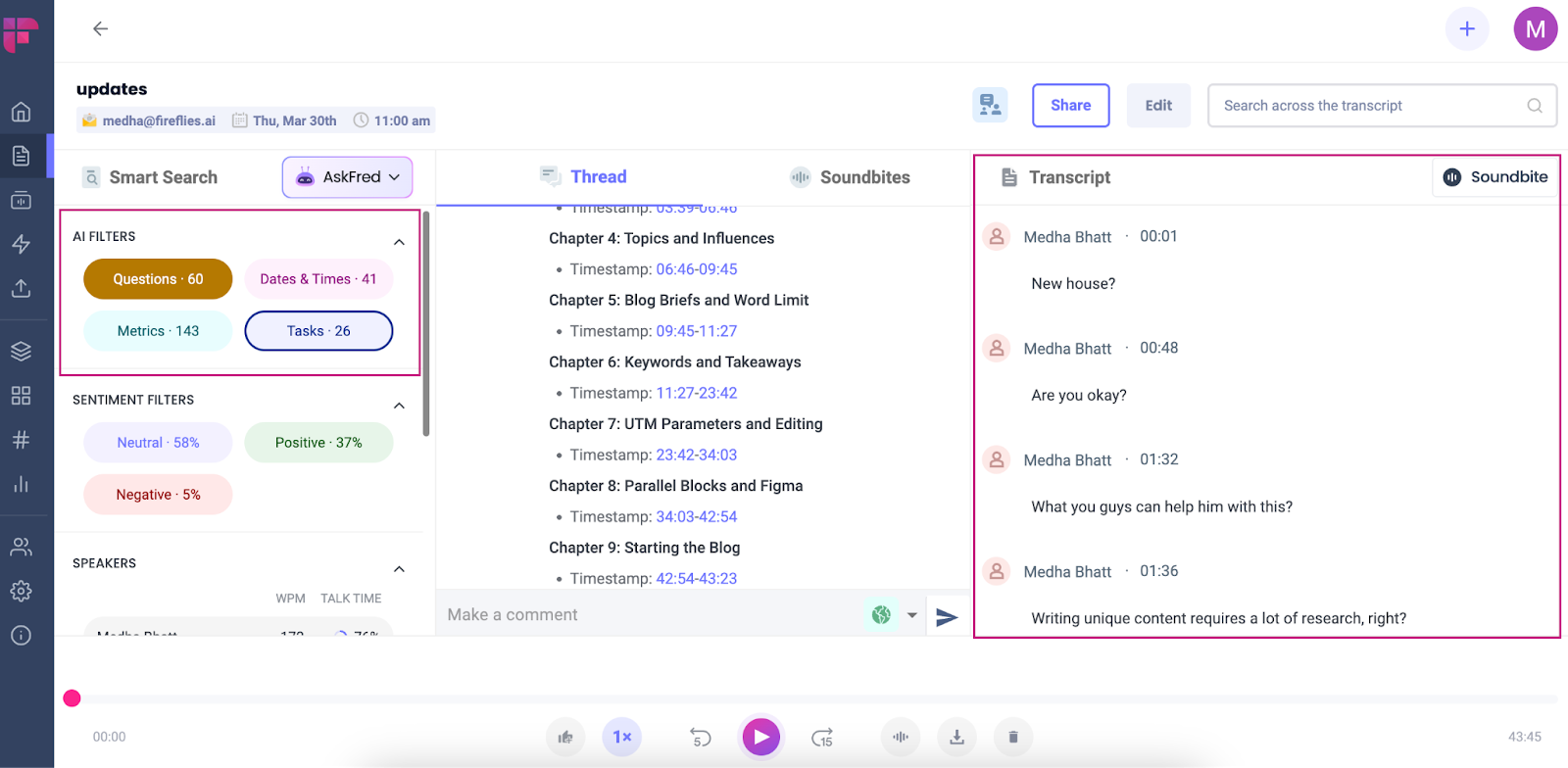 If you want to see all the tasks and questions discussed during the meeting, just click Questions and Tasks.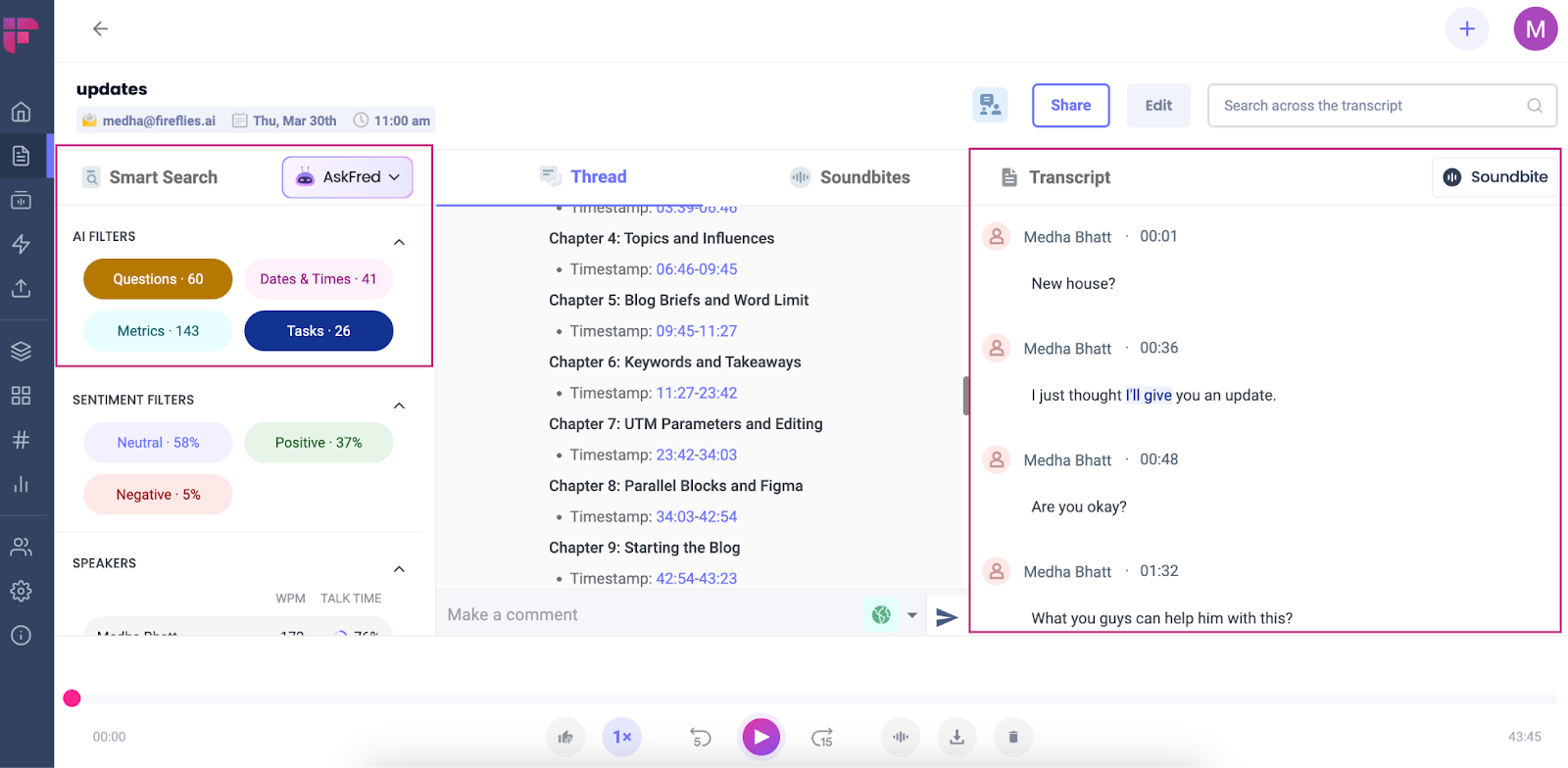 Fireflies also allows you to filter the transcript based on positive, negative, or neutral sentiments. This feature enables you to identify areas of agreement and disagreement more quickly and efficiently.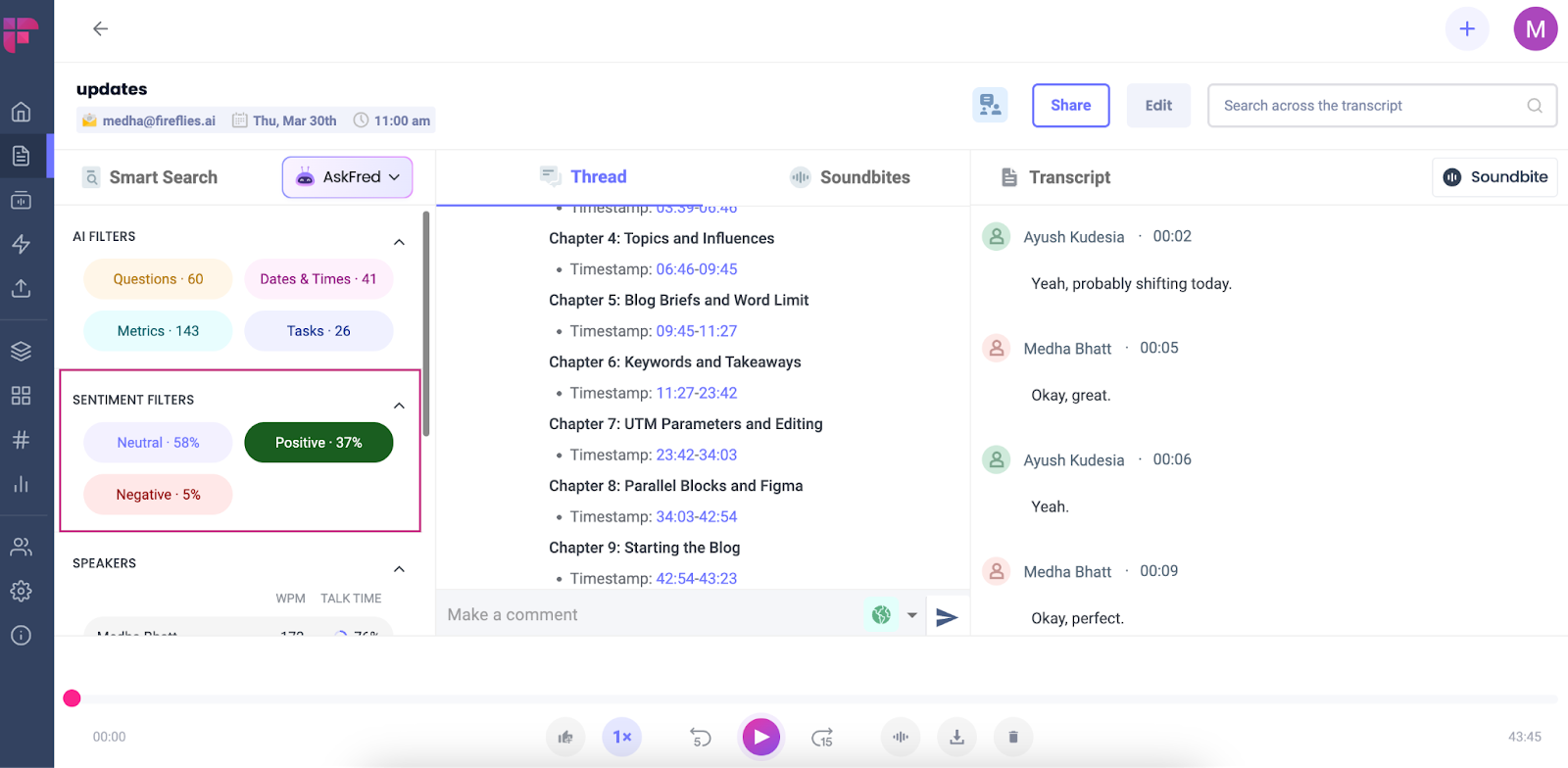 You can also use Fireflies' conversation intelligence capabilities to analyze your meetings to identify speaker talk time, sentiments, longest monologue, silence duration, total time spent in conversations in a selected time frame, etc.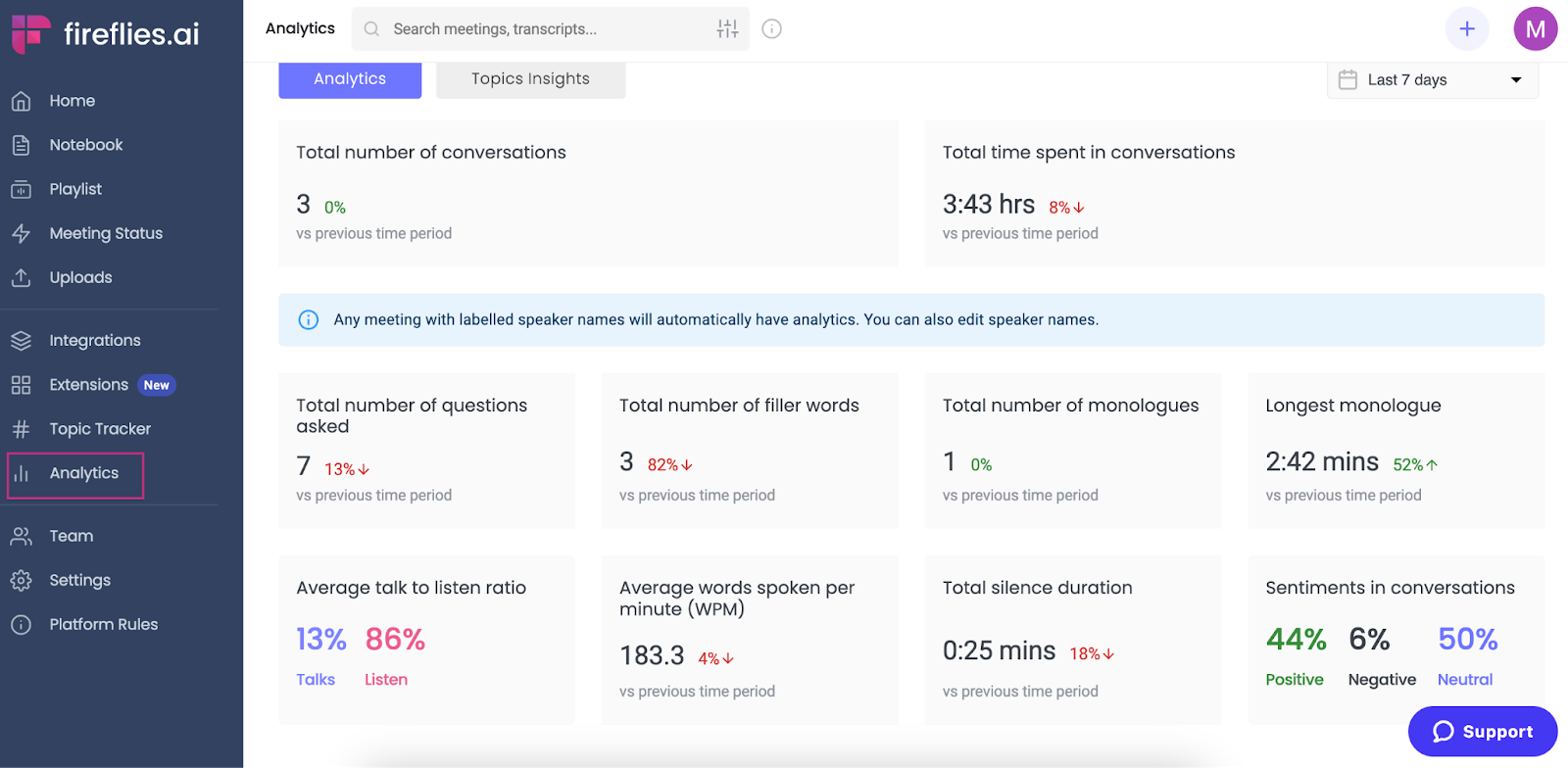 Related: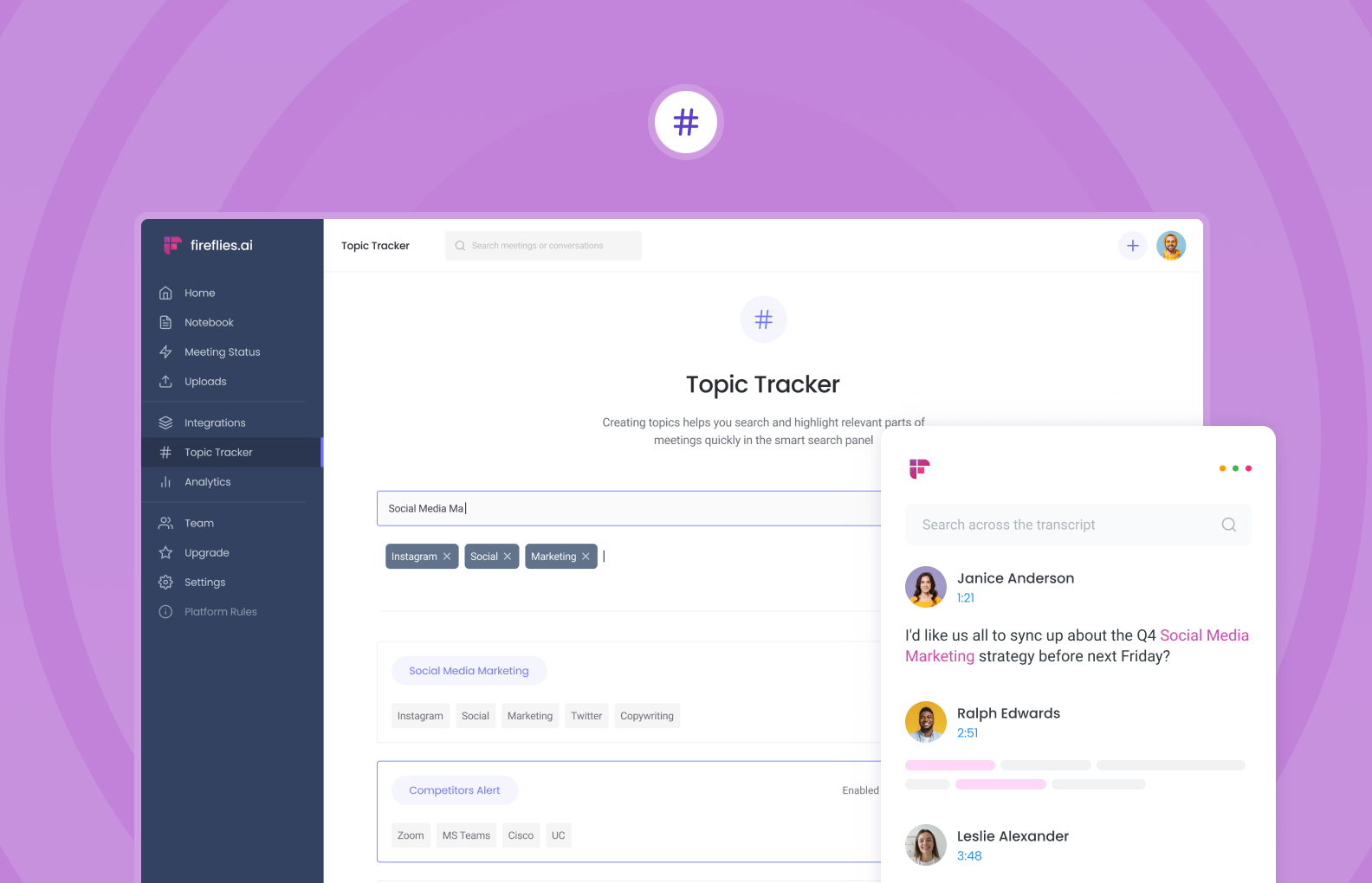 Meeting summary
Fireflies automatically generates an AI Super Summary of every meeting. The system-generated summary is the best in class, including keywords, meeting outlines, bullet-point notes, and possible action items.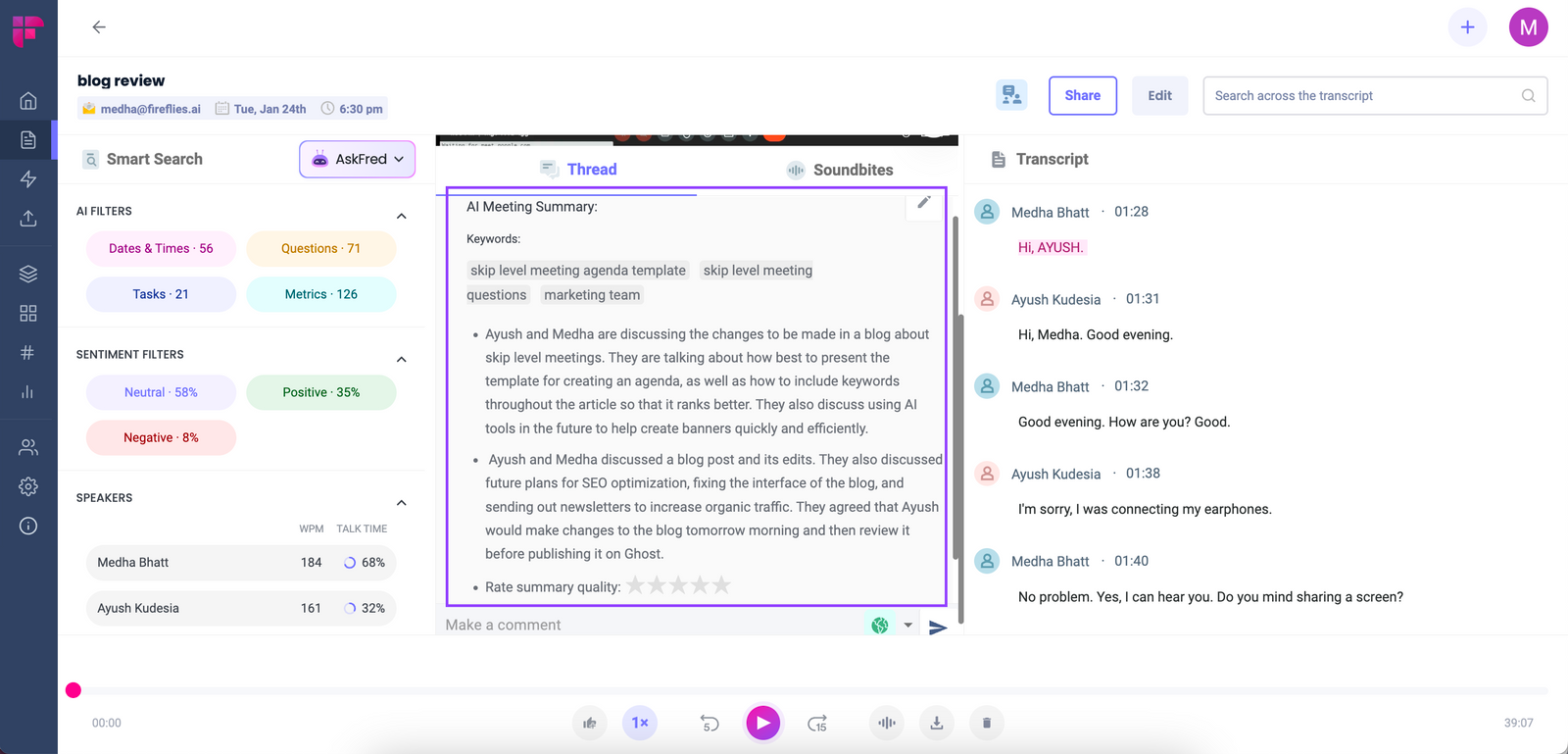 Zoom's native transcription does not include a meeting summary.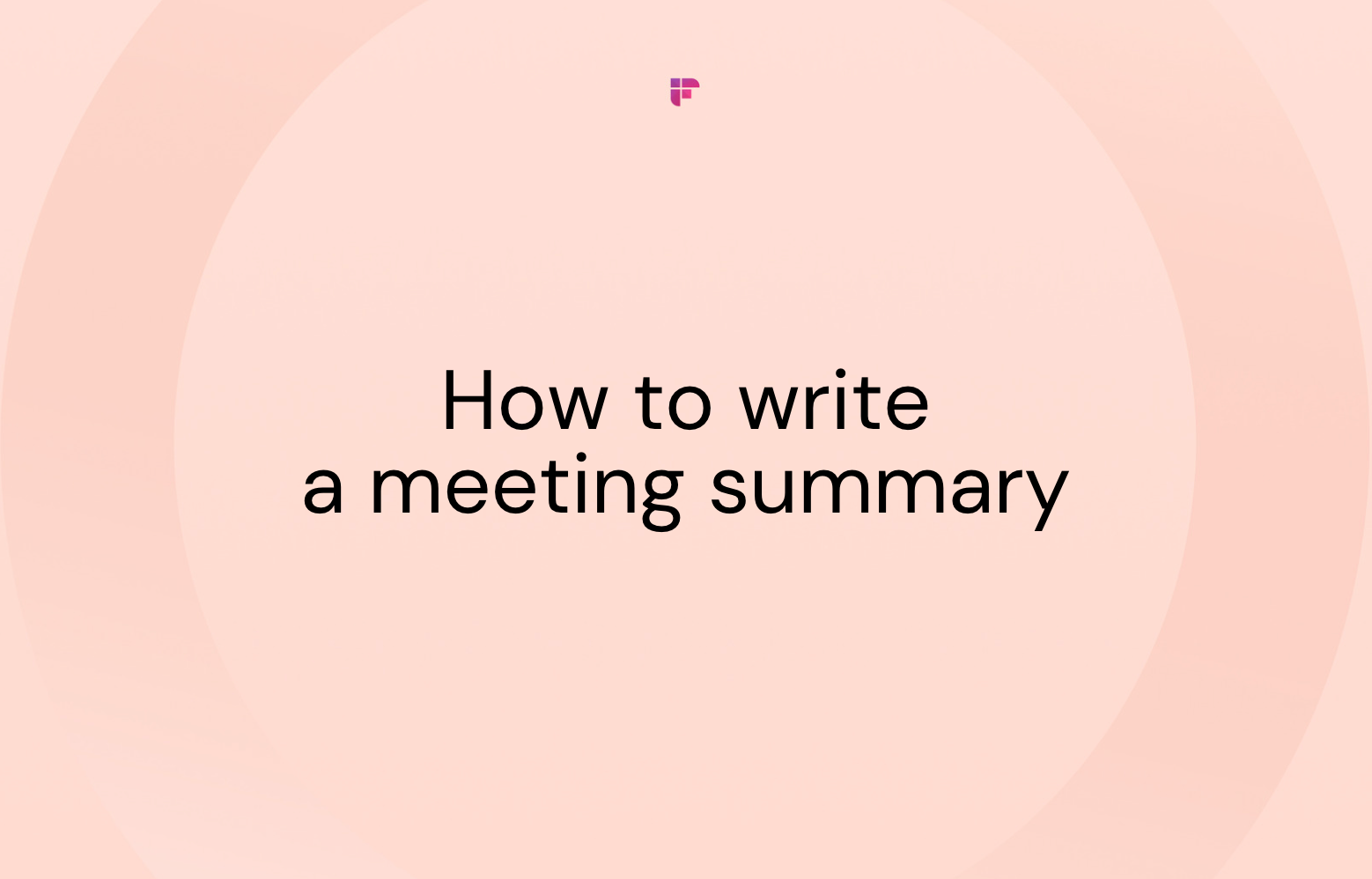 Collaboration
With Fireflies, you can collaborate with your team members. You can share, comment, highlight, and edit the transcripts together. Create and share soundbites of important meeting sections or leave a pin or thumbs up or down on the meeting marker to highlight important moments. Zoom transcription does not have any collaboration features.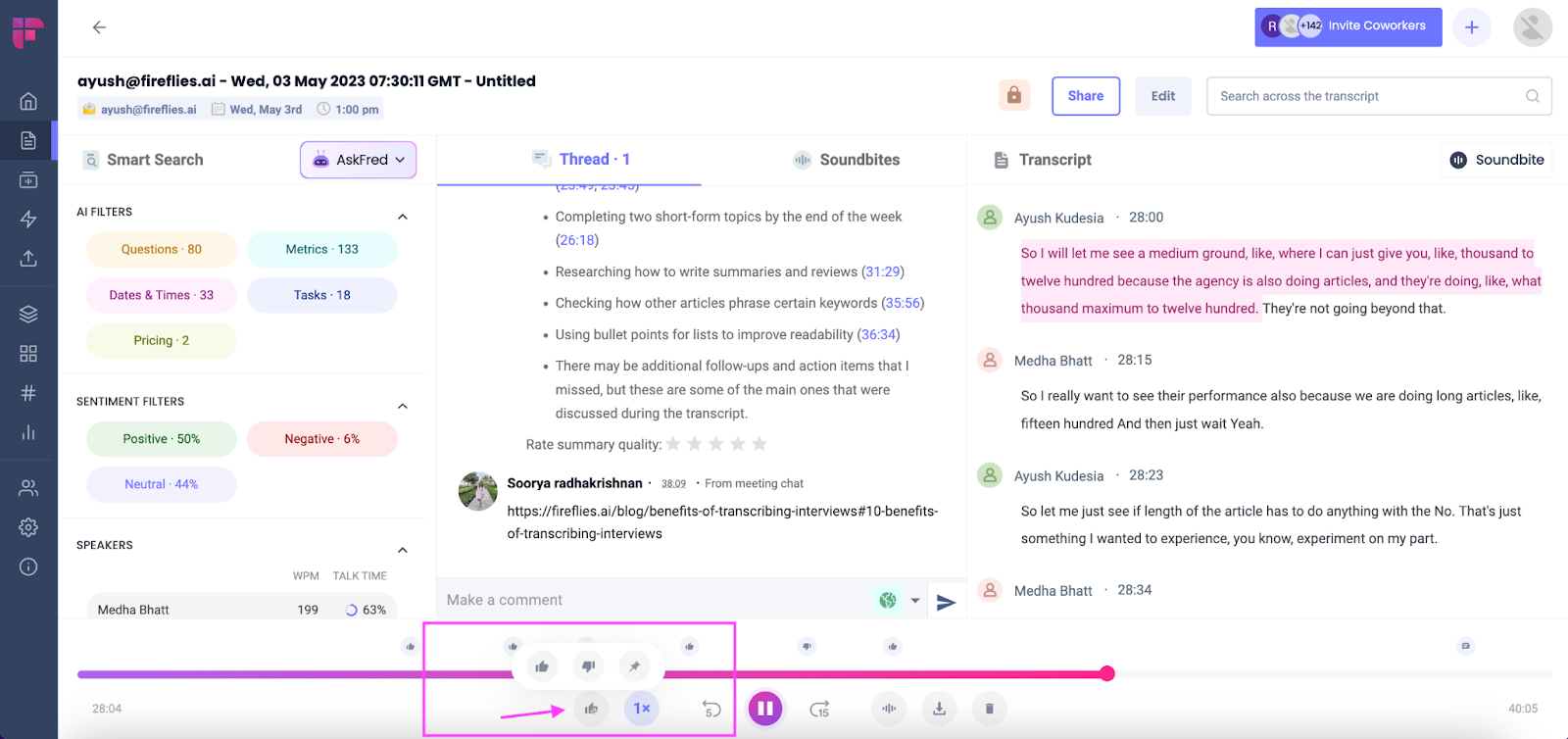 Native sharing
Fireflies integrates with various tools and platforms you use, such as Slack, Salesforce, HubSpot, Asana, etc. You can automatically send your transcripts and meeting summaries within these tools and sync your data.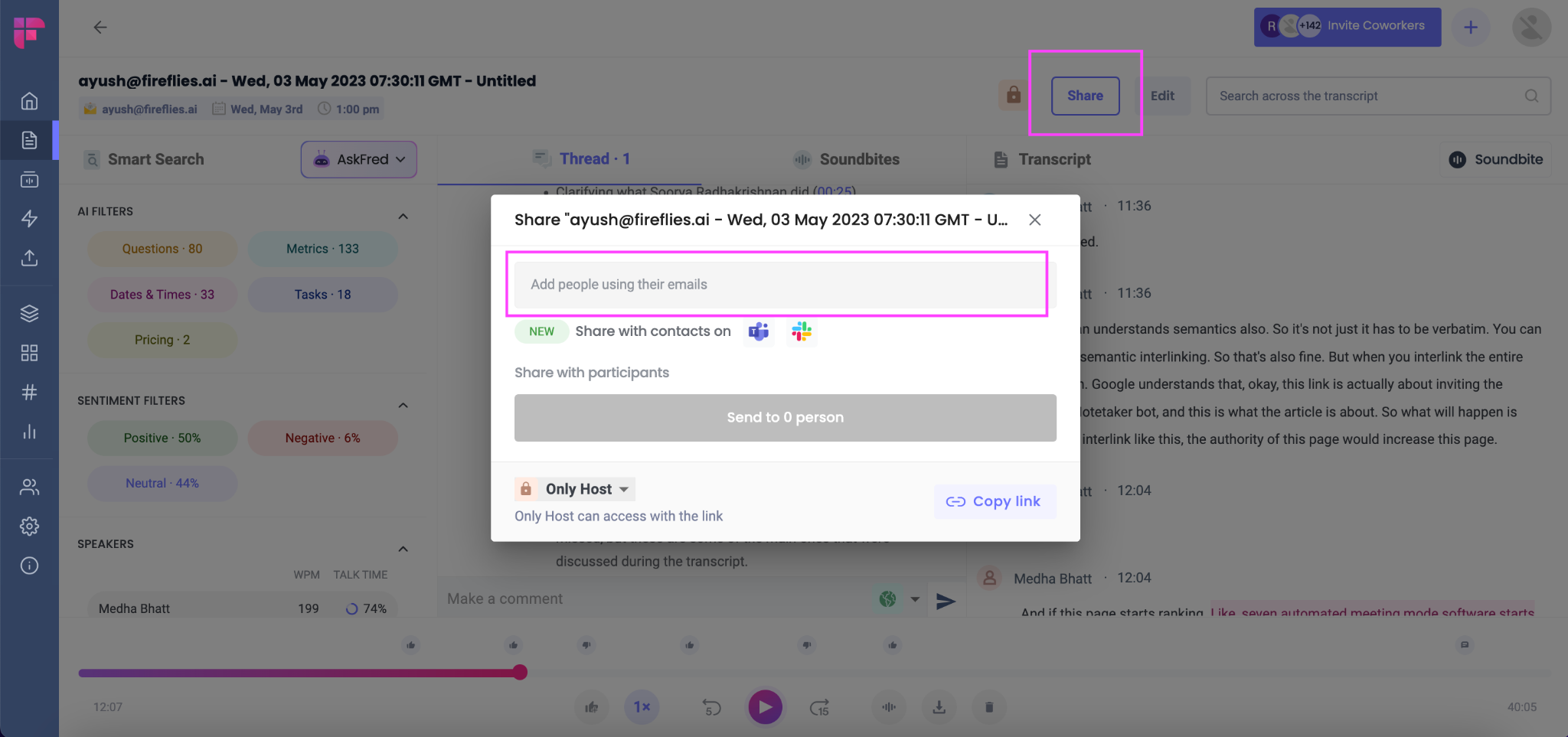 Zoom transcription does not have any native sharing options. You have to download the transcripts and manually share them.
Export options
Fireflies allows you to export your transcripts in different formats, including PDF, DOCX, and .txt. Just click on the download button below the meeting marker.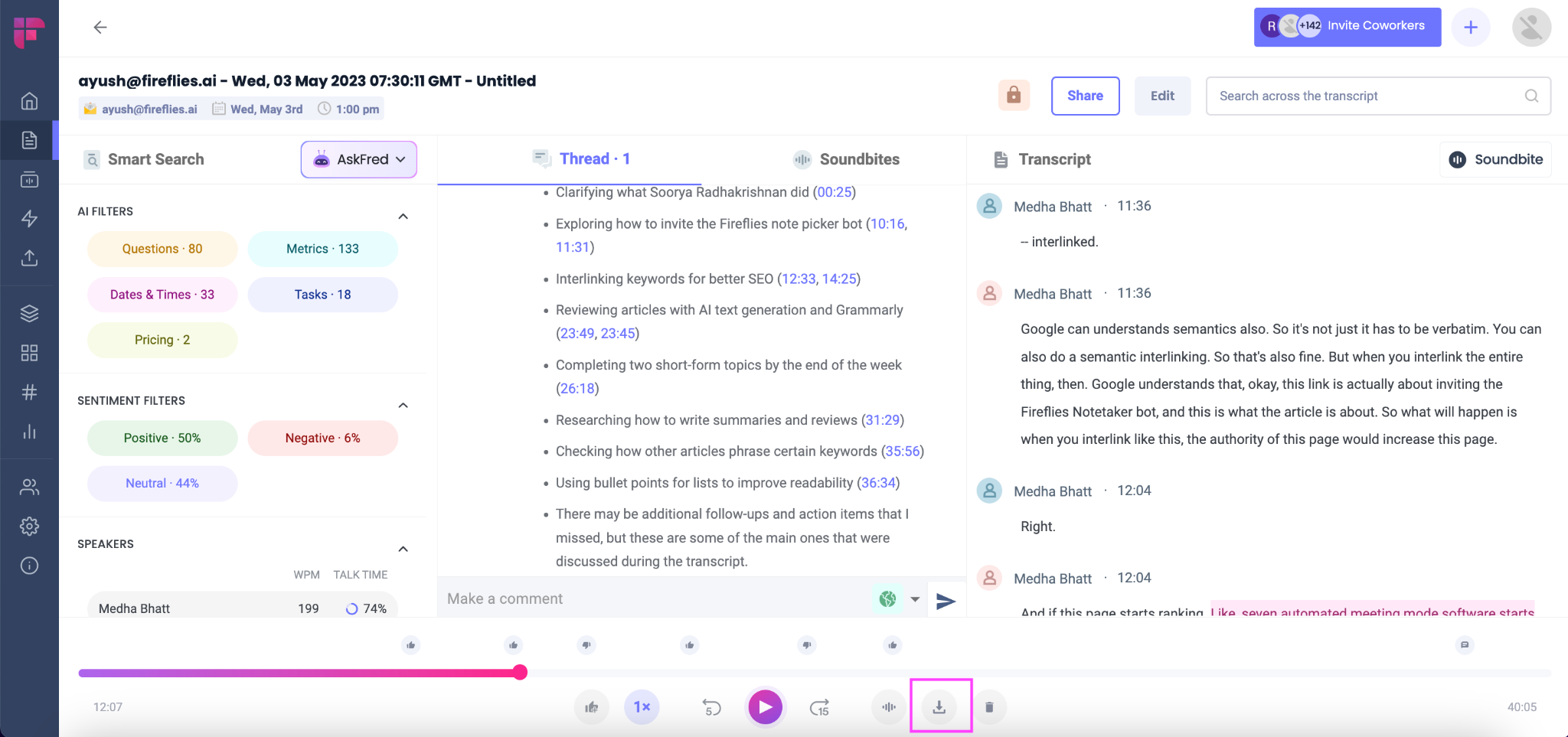 You can also export the meeting audio or summary based on your use case.
Zoom transcription only allows you to export the transcripts as text files. You cannot export the audio recordings of your meetings.
Language support
Fireflies currently supports over 32 languages, so you can transcribe your meetings in any one of the languages you prefer. Right now, Fireflies does not support multiple languages in the same meeting. In contrast, Zoom transcription only supports English.

Final thoughts
Well, there you have it! Two different methods for transcribing your Zoom meetings.
If you're looking for a quick and easy way to get a basic transcription of your Zoom meeting, the native Zoom transcription feature might be a good option for you. It's built-in, so you don't have to search for additional tools, and it gets the job done, even though it's not very flexible and reliable.
On the other hand, automated meeting tools give you advanced features and more functionality. You can save time with accurate transcripts and valuable meeting summaries, share, collaborate, and do a lot more.
Finally, it's for you to decide what's best for you and your business. Over to you now!
Read Next: