Cross-functional meetings have become a vital aspect of modern business collaboration.

These meetings bring together diverse perspectives, knowledge, and skills, fostering innovation and efficiency. They break down silos, encourage communication, and enable cross-departmental problem-solving.

In this blog, we'll delve into cross-functional meetings' benefits, challenges, and best practices, empowering you to maximize their potential for your organization. Keep on reading!

What are cross-functional meetings?
A cross-functional meeting is when individuals from different departments or disciplines come together to work on a specific project or objective.

Instead of solely relying on individuals from a single department, these teams bring together diverse skills, knowledge, and perspectives.

For example, a cross-functional team at a clothing company could include designers, production specialists, marketers, and sales representatives collaborating to create a new clothing line.

The designers bring creativity and style, production ensures feasibility, marketers develop a strategic campaign, and sales representatives provide insights into customer preferences. Together, they deliver a fashionable and marketable collection that meets customer demands and drives business growth.
Benefits of cross-functional meetings
Cross-functional meetings offer a plethora of benefits to the company. Here are some:
1. Diverse insights
By assembling experts from diverse fields, unique perspectives emerge, leading to innovative solutions. This collaborative approach accelerates progress, leveraging team members' collective skills and knowledge. It fosters out-of-the-box thinking and inspires innovation through varied viewpoints, driving impactful outcomes.
2. Enhanced problem solving
Cross-functional meetings excel at tackling complex challenges. With each member contributing their expertise, they bring a diverse range of solutions to the table. Observing situations from different perspectives leads to unique contributions, enhancing problem-solving capabilities. Collaboration maximizes efficiency and resource utilization, surpassing the benefits of separate disciplinary meetings.
3. Stronger communication
In cross-functional meetings, clear and concise communication fosters idea sharing. These meetings break down barriers, align goals, and enhance collaboration. With varied expertise, team members can effectively communicate complex information and offer valuable insights, like prioritizing budget items or explaining intricate financial details to strategists.
How to organize a cross-functional meeting
To ensure a successful and productive cross-functional meeting, try following these steps:
Before the meeting:
Set clear objectives: Clearly define the purpose of the meeting and the specific outcomes you aim to achieve and share them with the attendees.
Prepare an agenda: Create a detailed agenda that outlines the topics to be discussed, including time allocations for each item.
Invite relevant stakeholders: Send out the meeting invites well in advance, providing the date, time, location (if in-person), and any necessary materials. Ensure that the invitees clearly understand their roles and why their presence is essential.
Gather pre-meeting input: Reach out to participants before the meeting to ensure that all relevant perspectives are considered during the session, giving them a sense of involvement from the get-go.
During the meeting:
Facilitate open communication: Encourage active participation and foster a respectful environment where all opinions are valued, and differences are embraced.
Stick to the agenda: Assign time limits to each agenda item. If a topic requires in-depth discussion, allocate additional time or consider scheduling a separate meeting specifically for that topic.
Promote collaboration: Encourage cross-departmental collaboration by facilitating brainstorming sessions or group activities. Create opportunities for team members to exchange ideas, share expertise, and build upon each other's contributions.
Document Key Points and Decisions: Assign someone to take thorough meeting minutes, capturing meaningful discussions, decisions, and action items.
After the meeting:
Share detailed meeting minutes: Prepare a comprehensive summary of the meeting. Share the minutes with all participants, allowing them to review and confirm the accuracy of the information shared.
Follow up on action items: Regularly check the progress of the action items and address any challenges that arise. Send reminders to the responsible individuals and provide necessary support or resources to help them complete their tasks.
Gather feedback: Ask for participants' suggestions on enhancing future cross-functional meetings and address any concerns or issues raised during the discussion. Use this feedback to refine your approach and make future meetings more effective.
Cross-functional meeting agenda templates
Here are three cross-functional meeting agenda templates you can use to get started:
1. Ideation meeting template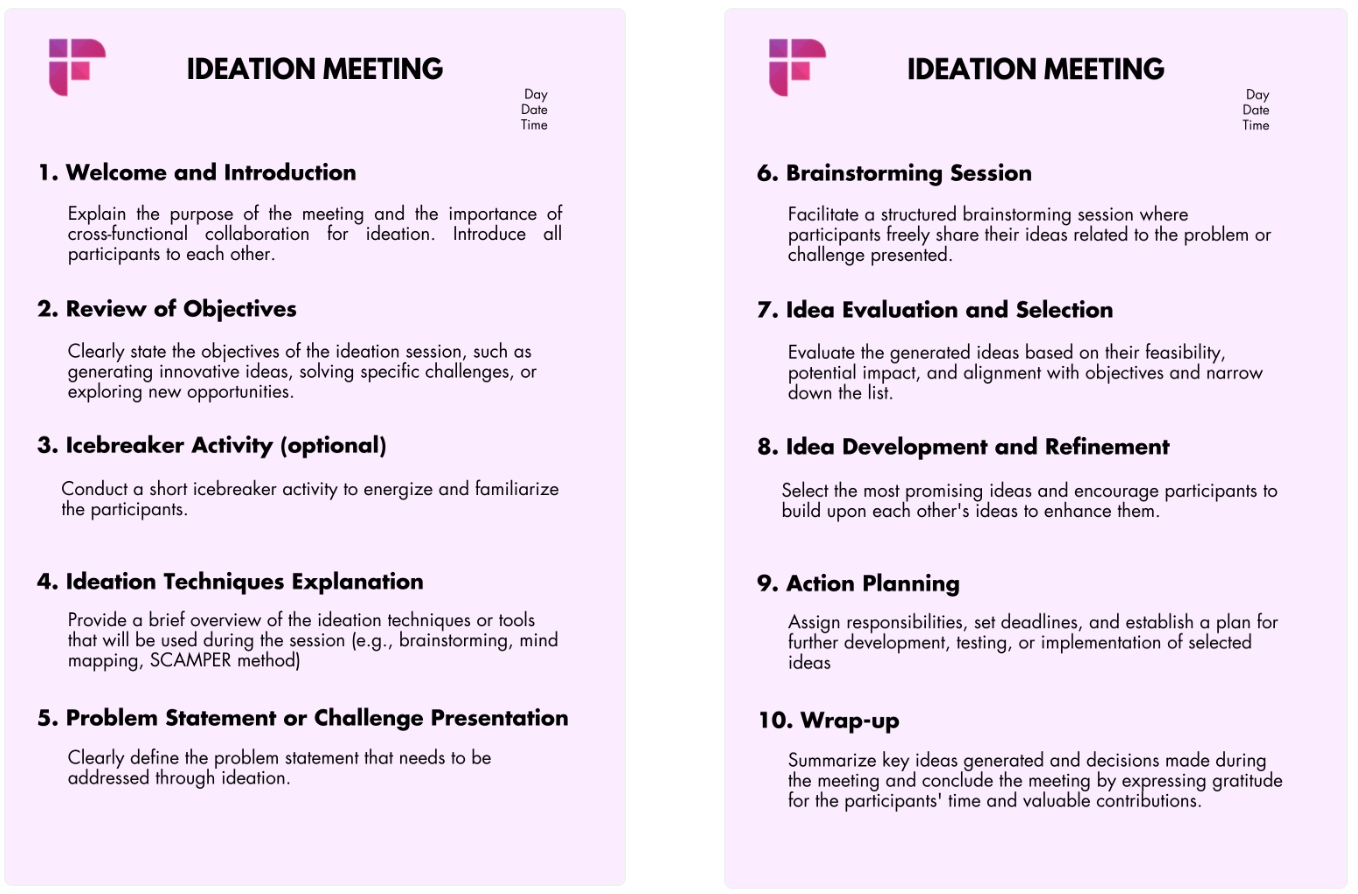 These meetings foster creative thinking and idea generation. Team members from different departments come together to brainstorm innovative solutions, explore new opportunities, and generate fresh ideas to drive business growth or overcome challenges.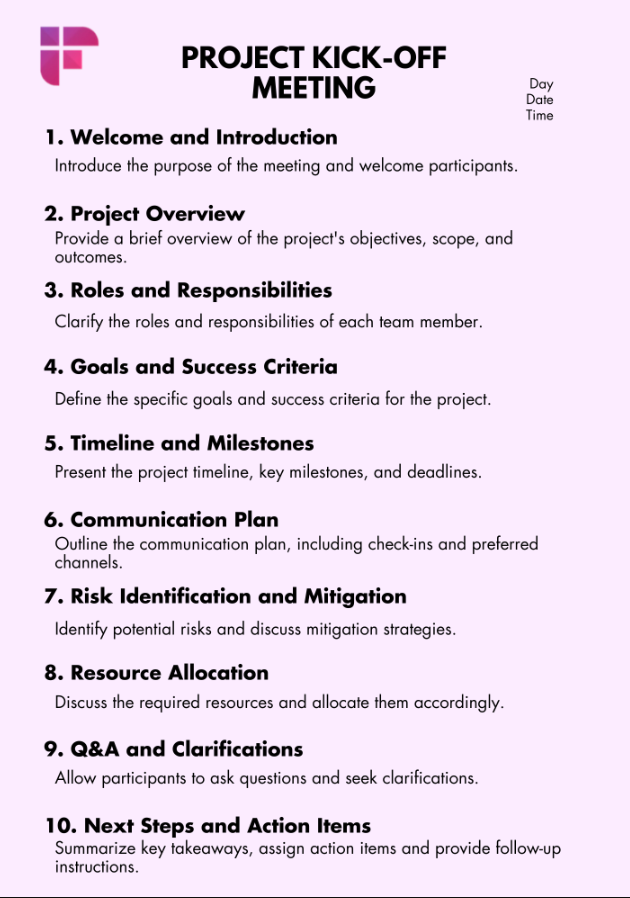 These meetings occur at the beginning of a project and involve team members from different departments coming together to discuss project goals, deliverables, timelines, and roles. The purpose is to align everyone and set the project on the right track.
Maximize your cross-functional meetings
In cross-functional meetings, there can be many points, opinions, and important info to capture. Which, for one person, can be a lot. With Fireflies, however, the headache of manual note-taking is no longer a burden.
💡

Fireflies Tip

Say hello to effortless collaboration. Streamline your cross-functional meetings like never before.

Fireflies automatically records and transcribes your meeting notes with 95% accuracy. Plus, it integrates with project management tools, syncing meeting minutes, and even offers language support in over 30 languages.

It's like having a personal assistant that keeps everything organized and flowing smoothly.