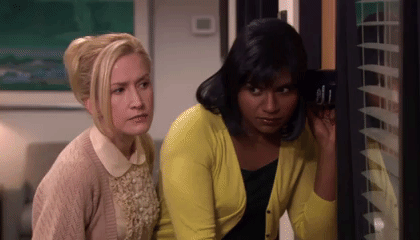 If you've ever wished to capture audio from your Chrome browser effortlessly, you're in for a treat.
This article will introduce you to the five best Chrome audio capture tools, carefully handpicked and categorized based on their use cases.
Whether you're after high-quality recordings, advanced editing features, or effortless capturing from specific sources, this blog will take you to what you need.
Read on!
5 Best Chrome audio capture tools
In today's digital era, audio recordings have become essential for communication, expression, and documentation.
Whether you're a podcaster, marketer, salesperson, educator, or someone who simply needs to download a song, these 5 Chrome audio capture tools are for you:
Chrome Audio Capture to record simple web-browser-based audio
Fireflies Chrome extension to record Google Meet meetings
Veed to record audio for demos and presentations
Nimbus Clarity to record audio and video messages
Mediasave to record soundtracks
1. Chrome Audio Capture to record simple web-browser-based audio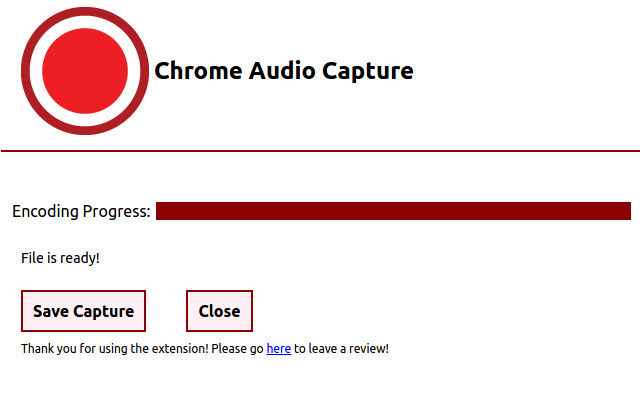 If you're looking for a tool to capture simple Chrome audio that is less than 25 minutes, the Chrome Audio Capture extension is your tool. It allows you to record Chrome audio on the current tab.
Here's how to capture audio on Chrome using Chrome Audio capture:
Install the Chrome Audio Capture extension. Next, play the Chrome audio you want to record in a new tab, click on the extension's icon and click Start Capture to begin recording.
The recording stops once you click Stop Capture, or the 20-minute time limit is over. Then, a new tab will automatically open, asking you to save the recorded file. Click Save Capture and download the recording on your device.
Pros
Supports recording audio on multiple tabs simultaneously.
Easy to use with built-in hotkeys to start and stop recording.
Allows you to control the quality of your audio recording file.
Provides the option to mute the tab that is being recorded.
Cons
Does not allow you to record audio from YouTube due to copyright restrictions.
No option to pause the recording.
No editing tools and limited output formats— MP3 and WAV
2. Fireflies Chrome extension to record Google Meet meetings
Fireflies is an AI-powered meeting assistant that helps record and transcribe Google meetings directly from the browser.
Install the Fireflies Chrome extension to your browser. Click on the Fireflies icon on the top right corner of your browser and sign in with your Google account.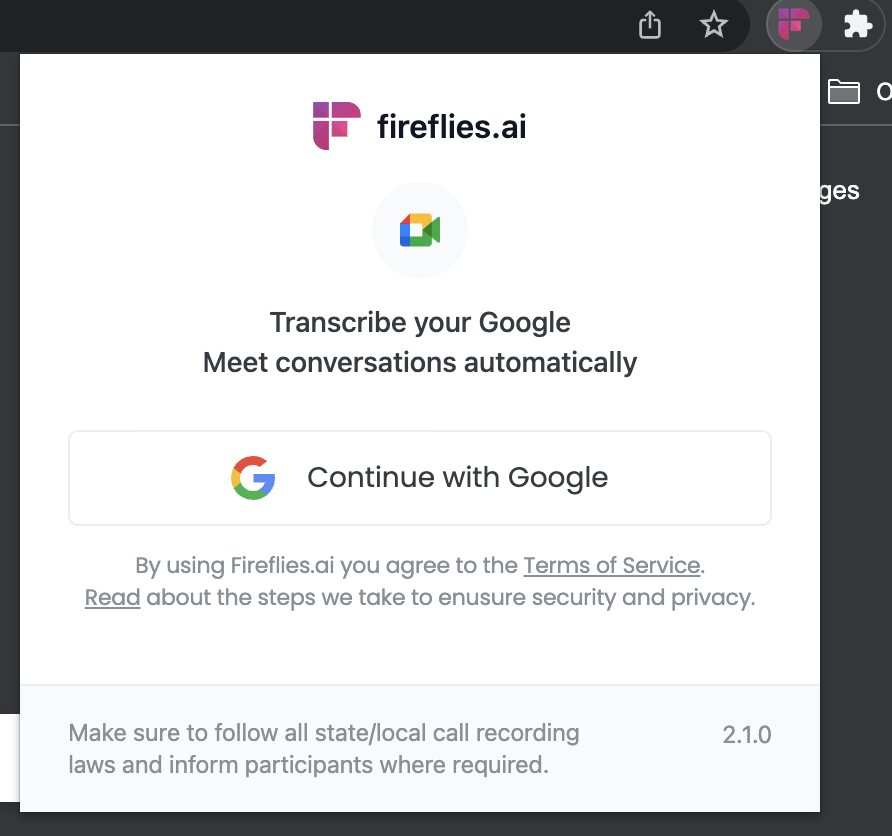 The next time you start a Google Meet, Fireflies will automatically start recording and transcribing it.
A few minutes after the meeting is over, Fireflies will send an email recap of the meeting to you over an email.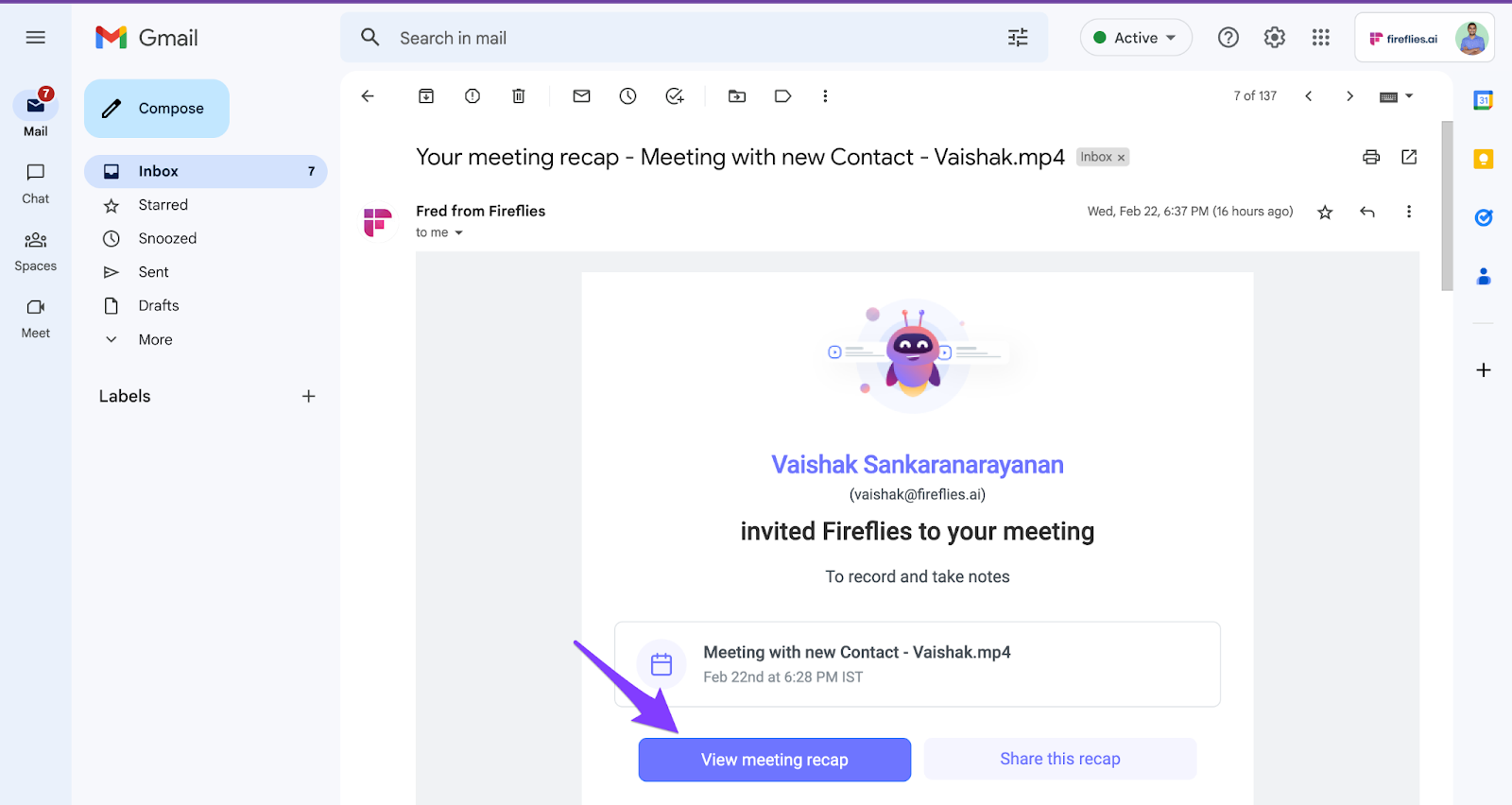 You can also find the meeting recording, its transcript, an AI-generated super summary, and other relevant details in the Fireflies Notebook.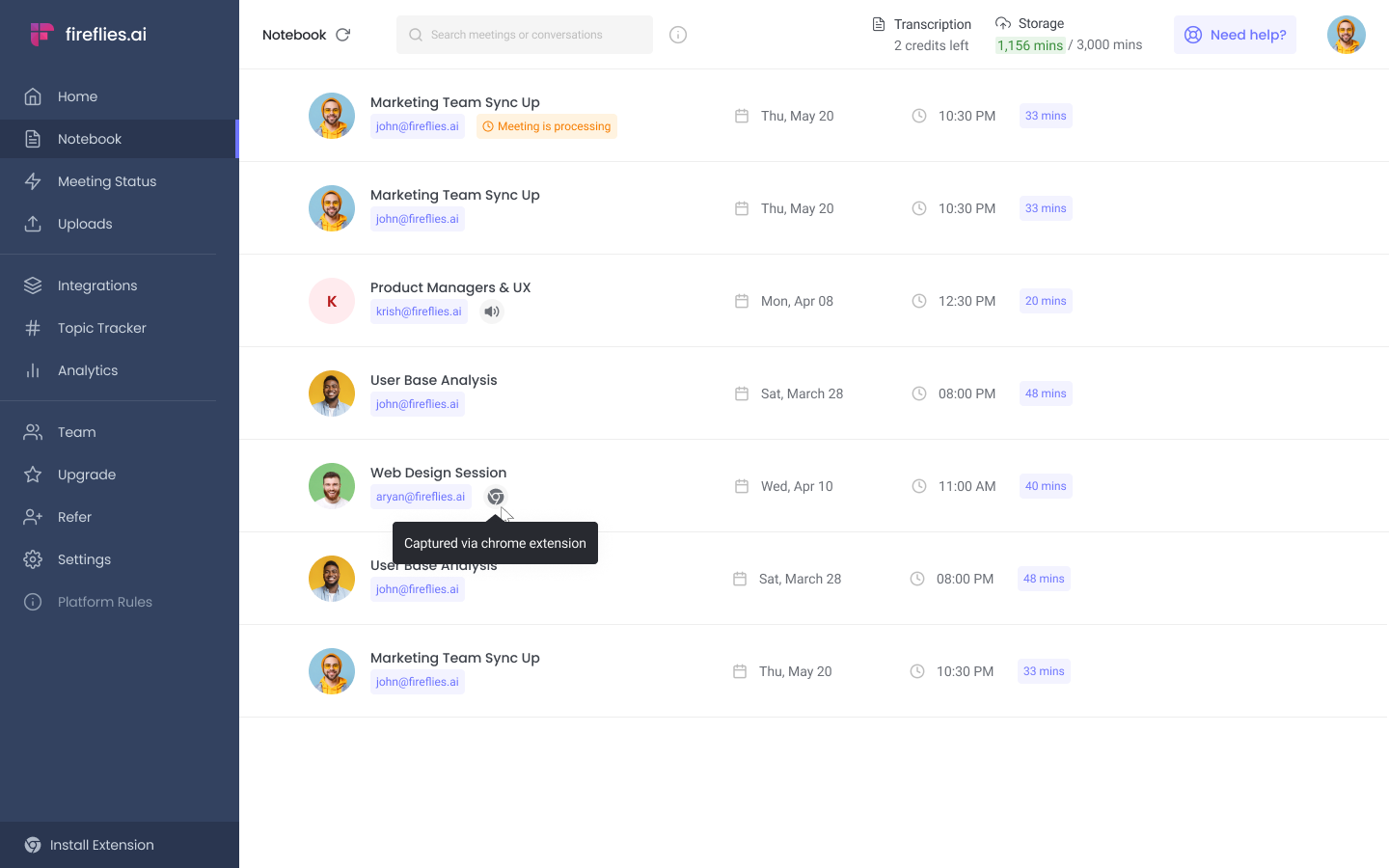 Note that the auto-capture feature will be enabled by default when you install the Fireflies Chrome extension.
If you only want to record specific meetings, simply click the Fireflies Chrome extension icon and turn off auto-capture.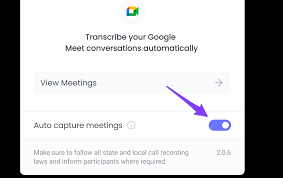 Or else you can stop the recording anytime by clicking the Fireflies extension's icon and pressing Stop.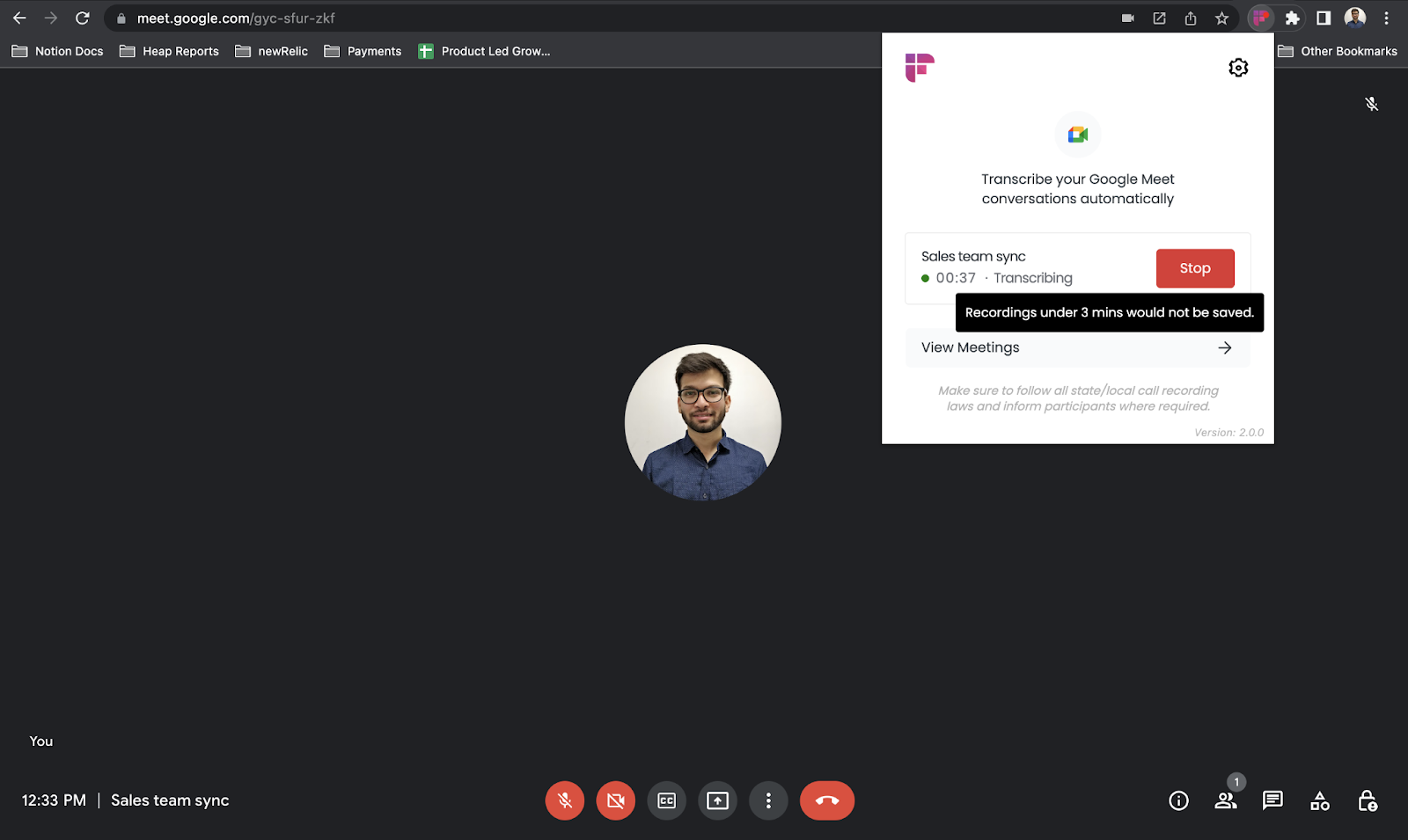 Pros
Apart from recording meetings, it transcribes and summarizes the conversation with 90% accuracy, timestamps, and speaker labels.
There is no duration limit.
You can download the recording in MP3, M4A, WAV, or MP4. You can also download the transcripts in 5 formats—PDF, DOCX, CSV, SRT, or JSON.
Provides collaboration features like Threads that allows you to leave comments and reactions at specific parts of the recording.
Provides deeper insights into meetings with conversational intelligence—speaker analytics, total time spent in conversation, talk-to-listen ratio, call sentiment, average word spoken per minute, and so on.
Enables you to snip out and share important parts of the recording as Soundbites.
Allows you to control the playback speed in 5 levels—1x, 1.25x, 1.5x, 1.75x, and 2x
Enables you to create a Playlist of sound bites in one place from multiple recordings.
Offers advanced smart search capabilities to find any information shared in a meeting within seconds.
Provide chatbot assistance with AskFred, which brings the power of ChatGPT into meetings and answers any questions you have about the conversation. It can also automatically develop other forms of content, like social media posts, emails, blog posts, etc., from your conversations.
Offers AskFred for Web, the AI chatbot that can summarize or answer any questions about the content of any article, audio, or video from any web source open in your browser.
Integrates with around 50 popular apps, including storage and collaboration apps like Notion, Dropbox, Slack, and Box.
Highest security standards. Your transcripts are end-to-end encrypted at rest and in transit. Fireflies is also SOC 2 Type 2 and GDPR compliant.
Cons
Requires a stable internet connection.
Does not record meetings or calls that are under 3 minutes.
🤑
Pricing
Fireflies Free Plan gives you 800 minutes of storage and up to 3 transcription credits (when you sign up from your official email).
Alternatively, you can explore all its premium features by signing up for the 7-day free trial to their Business Plan, the highest subscription tier.
For unlimited recording and transcription credits, subscribe to the paid plan that starts from $10/seat/month.
Click here to find which pricing plan is right for you.
3. Veed to record audio for demos and presentations
If you need a Chrome audio capture tool to record audio and simultaneously capture your screen, pick Veed.
Veed is a powerful Chrome audio capture tool that simultaneously records audio, screen, webcam, and microphone. You can use it to record manuals, guides, product demos, presentations, and more.
It is easy to share and offers other collaboration tools like comments, video editors, add stickers, animations, etc.
To record with Veed:
Install Veed's Chrome audio capture extension to your browser.
Select the layout in which you want the recording.
Click the Red button to start or end the recording.
Pros
Automatic subtitles.
Allows you to add annotations, attach sticky notes, reactions, etc., to the recording, and collaborate with your team.
Offers video editing tools.
Provides multiple recording layouts.
Allows you to trim important parts and share them with others.
Automatically detect and remove background noise.
Cons
High turnaround time.
60-minute duration limit per recording.
🤑
Pricing

Free for recordings up to 10 minutes long. For unlimited recording, subscribe to the paid plan that starts at paid plans starting at $12/month.
4. Nimbus Clarity to record audio and video messages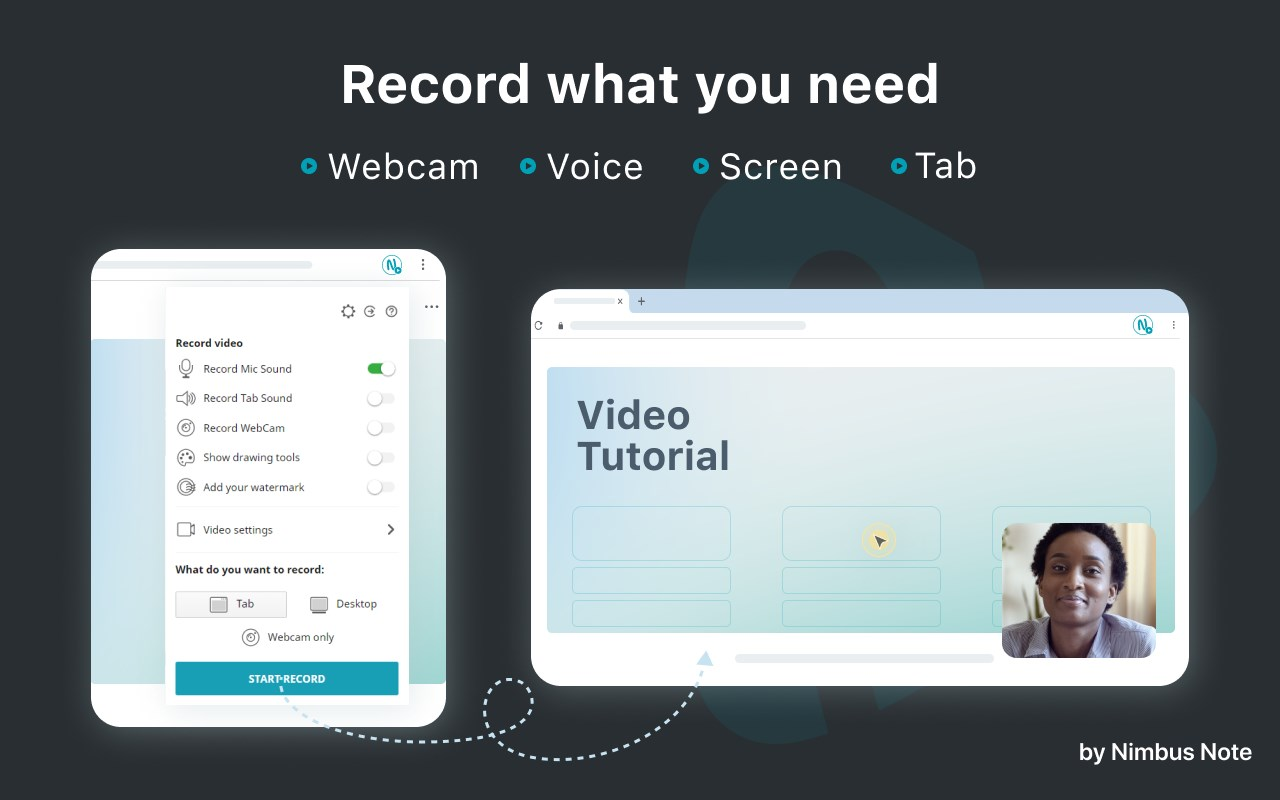 Have you read the Vimeo report that says 80% of people prefer video over text?
Nimbus Clarity is a Chrome audio capture tool that allows you to create video or audio messages along with a screen recording and share them instantly.
Simply install its Chrome extension to your browser, and anytime you want to record a video or audio for your audience or peers, click the icon and press Record video.
Pros
Fast turnaround time—allows you to create quality videos within minutes.
Allows you to add a watermark to your recordings.
Allows adding files, embeds, pictures, text, tables, etc., within the recording.
Enables you to annotate the recording with texts with blurs, text, frames, arrows, etc.
Works offline.
No duration limits.
In-built editing and trimming tools.
Cons
No transcription tools
Limited export options
🤑
Pricing

Nimbus Clarity paid plan starts at $4/user/month.
5. Mediasave to record soundtracks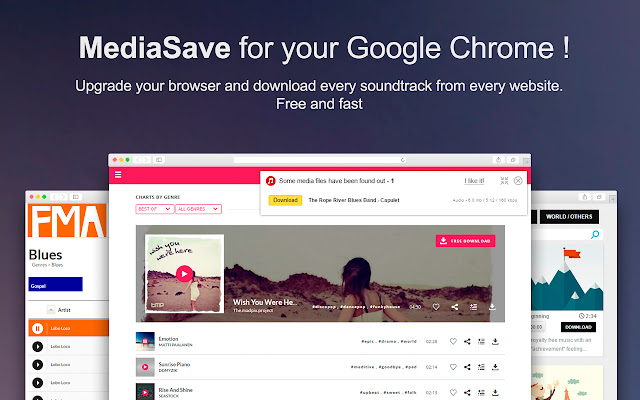 Want to download your favorite songs, audiobooks, or podcast episodes in just one click? Install the MediaSave Chrome extension.
MediaSave is an easy-to-use Chrome extension that allows you to download any audio from your Chrome browser effortlessly.
Open the browser and start playing the audio you want to download. A small window with the option to download the file will appear automatically in the top right corner of your browser. Click download, and that's it!
Pros
Easy to use, one-click downloads.
Allows you to download the file and play the audio simultaneously.
Determines file name correctly.
Shows the duration, file size, and bitrate of the audio file.
You can download the file in multiple formats—mp3, mp4, webm, wav, vn.wave, etc.
Cons
Does not have a transparent privacy and security policy; hence, data tracking is possible.
Does not work on Spotify, YouTube, and SoundCloud.
Factors to consider when purchasing Chrome audio capture tools
Choosing the right audio capture tool from the many options available isn't easy.
Here are a few factors you should consider before purchasing a Chrome audio capture tool:
Compatibility
Features and Functionality
Ease of use
Audio quality
Privacy and security
1. Compatibility
Ensure the tool is compatible with your Chrome version and the operating system. Double-check if it supports the specific audio sources you intend to capture, such as streaming platforms or browser-based applications.
2. Features and Functionality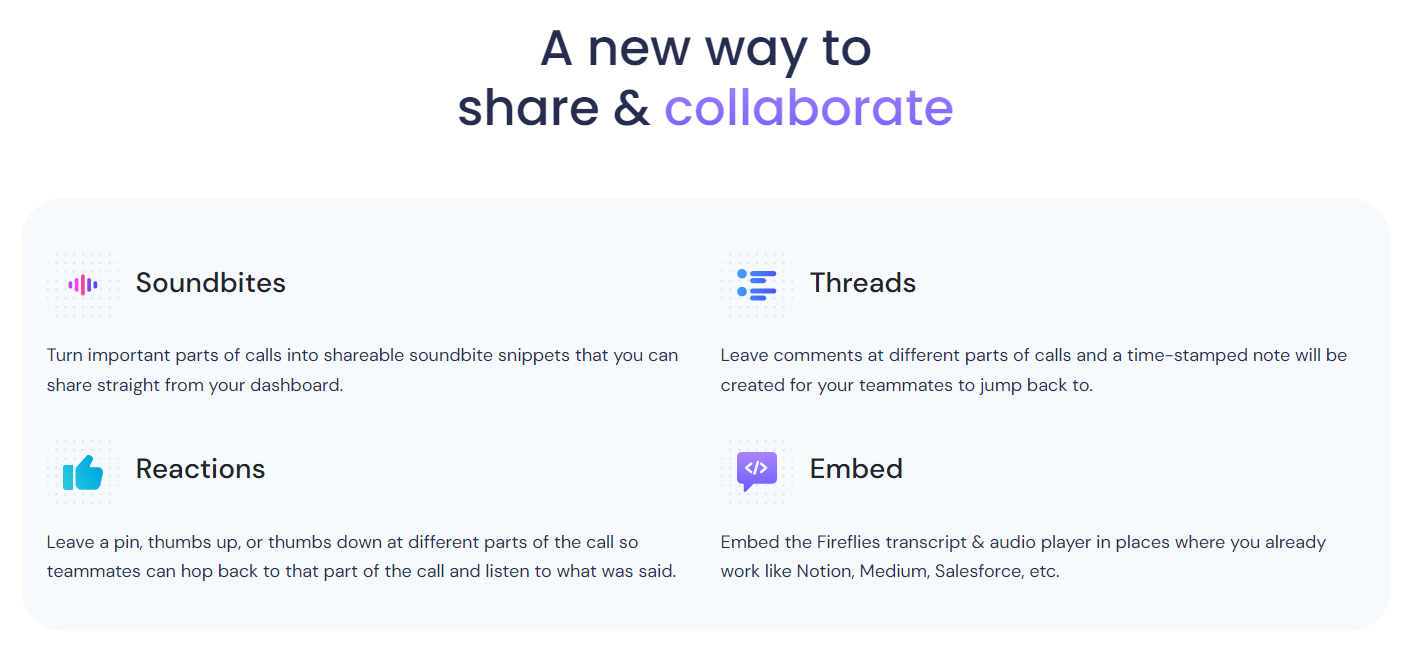 Evaluate the tool's features to determine if they align with your requirements.
For example, if you require basic editing functionalities, such as trimming or merging audio files, check if the tool offers built-in editing features or supports seamless integration with third-party editing software.
🧑🏼‍💻
Explore the features of Fireflies
here
.
3. Ease of use
Consider the tool's ease of use and user interface. A well-designed and intuitive interface can significantly enhance your experience and streamline the audio capture process.
4. Audio quality

Look for high-quality audio capture tools to ensure your recordings sound clear. A reliable tool should consistently capture audio without interruptions or crashes.
5. Privacy and Security

Prioritize tools that respect your privacy and maintain the security of your captured audio. Ensure they comply with relevant data protection regulations and provide encryption or secure storage options.
Final note,
While Chrome Audio Capture excels as a simple web-browser-based recorder, Veed and Nimbus Clarity offer advanced features that make collaboration on the recordings effortless.
Whereas to record Google Meet, Fireflies is the best choice. It not only just records but also transcribes and summarizes the conversation with 90% accuracy. Also, it meets all the qualifications a Chrome audio recorder tool should possess—compatible, user-friendly, secure, and more.
Go ahead, explore these tools, and unlock your audio recording potential in Chrome. Happy capturing!