Gong pricing isn't easily available. You can't just find it by simply changing tabs on its website.
Instead, you must book an appointment with their sales team to get any details on the Gong pricing model.
This blog post attempts to demystify the fog around Gong.io pricing. We'll look at the pricing tiers and the features included and infer a relative cost.
Read on to discover if Gong fits your budget!
Too lazy to scroll? Here's a TL;DR version of the blog powered by AskFred for Web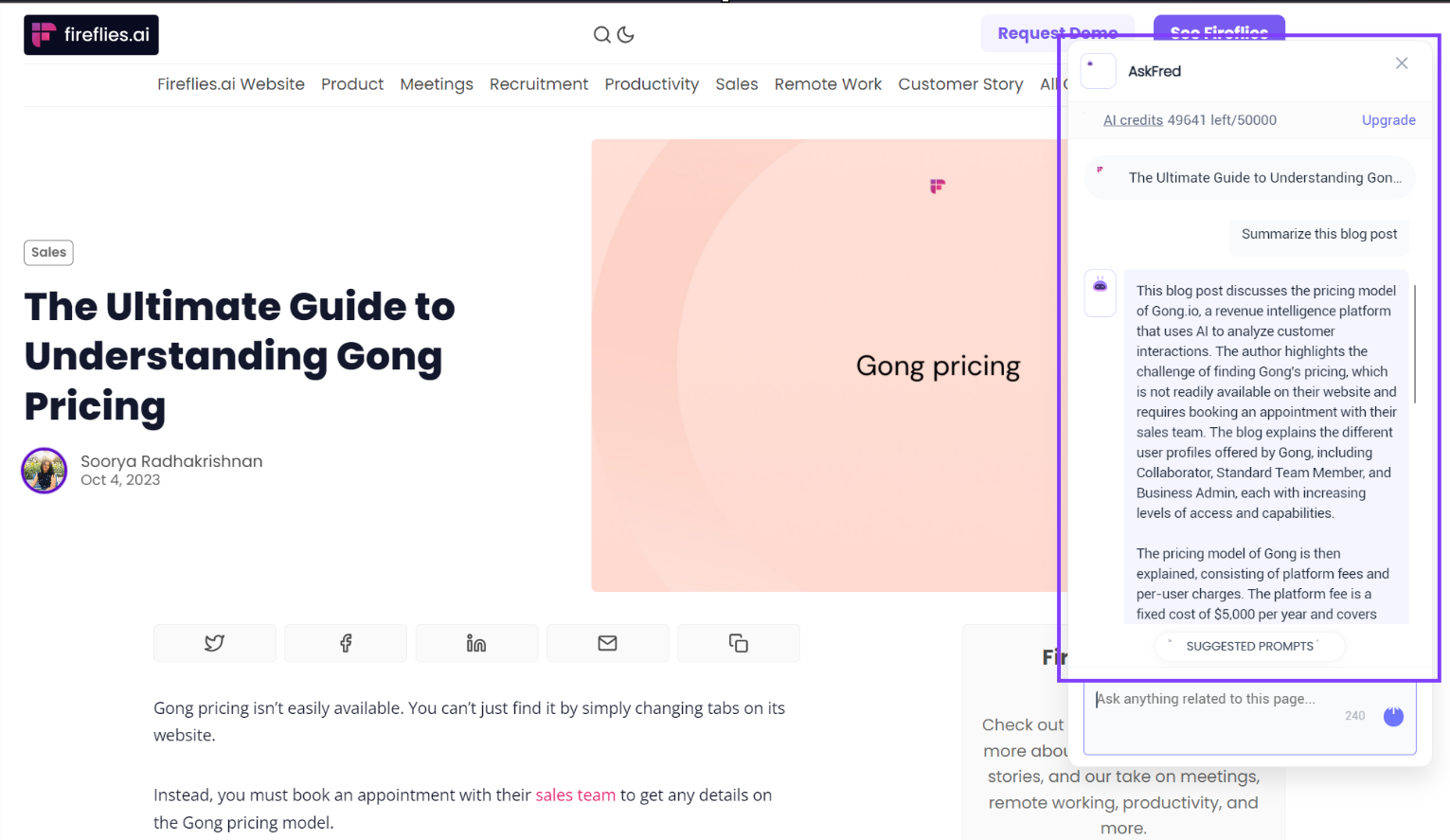 Interesting? You can also summarize any web page, wiki, YouTube videos, and more with AskFred for Web!
What is Gong.io?
Gong.io is a revenue intelligence platform that uses AI to analyze customer interactions like sales calls, meetings, and emails. It automatically transcribes these conversations and applies natural language processing to uncover insights.
Sales teams can leverage these insights to have more effective customer conversations, close deals faster, and accelerate revenue growth.
Key capabilities of Gong.io include: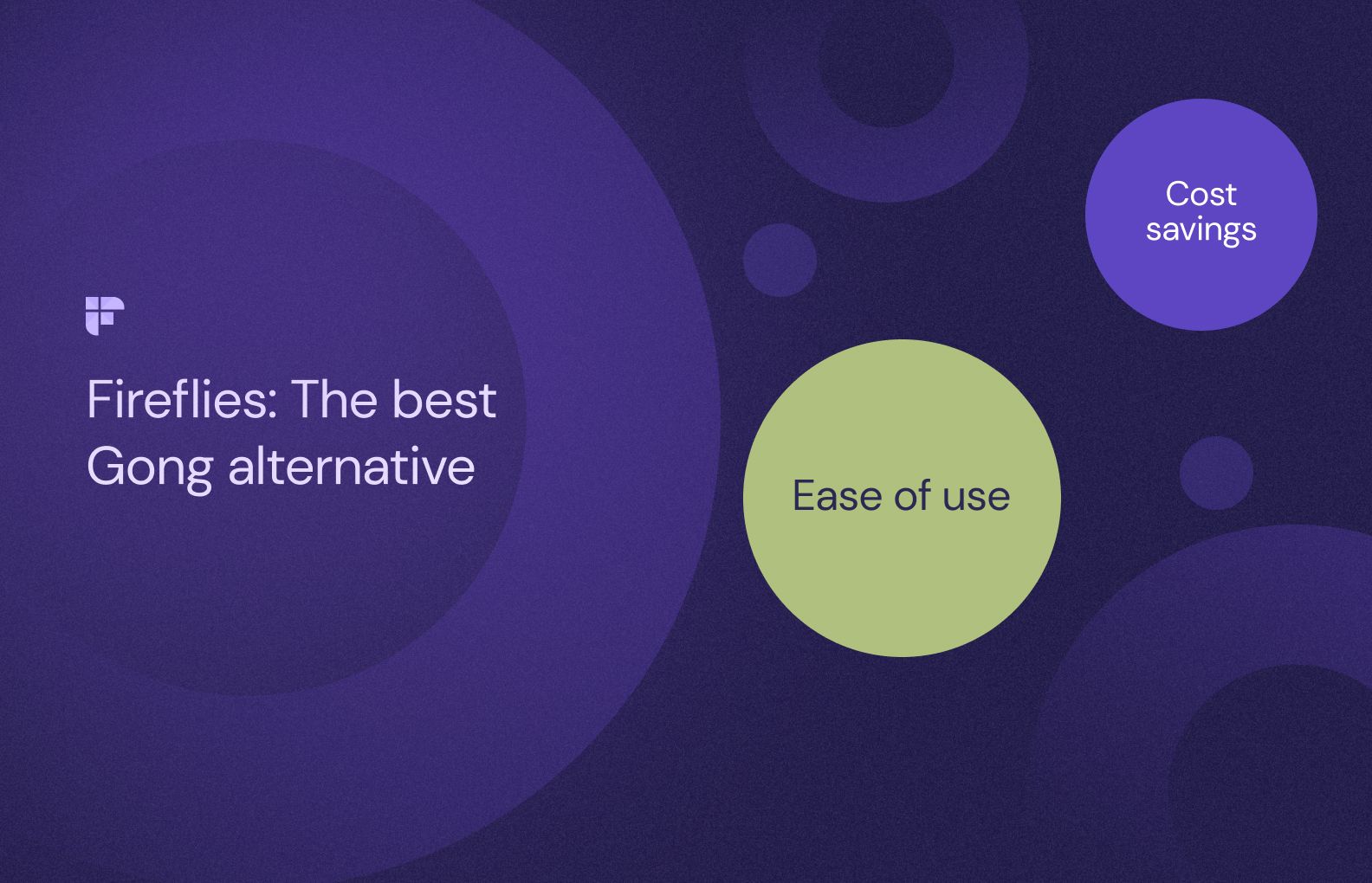 Understanding Gong pricing
Before diving into the pricing, it's important to understand the different profiles or seat types Gong provides.
Gong offers three core user profiles with increasing levels of access:
1. Collaborator
The Collaborator profile lets stakeholders listen to call recordings, receive alerts, and view conversation insights in read-only mode. They can search and edit call libraries, add topics and comments, and see individual account timelines.
This profile is intended for users who need to access Gong's limited functionality. Collaborators cannot record their customer conversations using the Gong notetaker.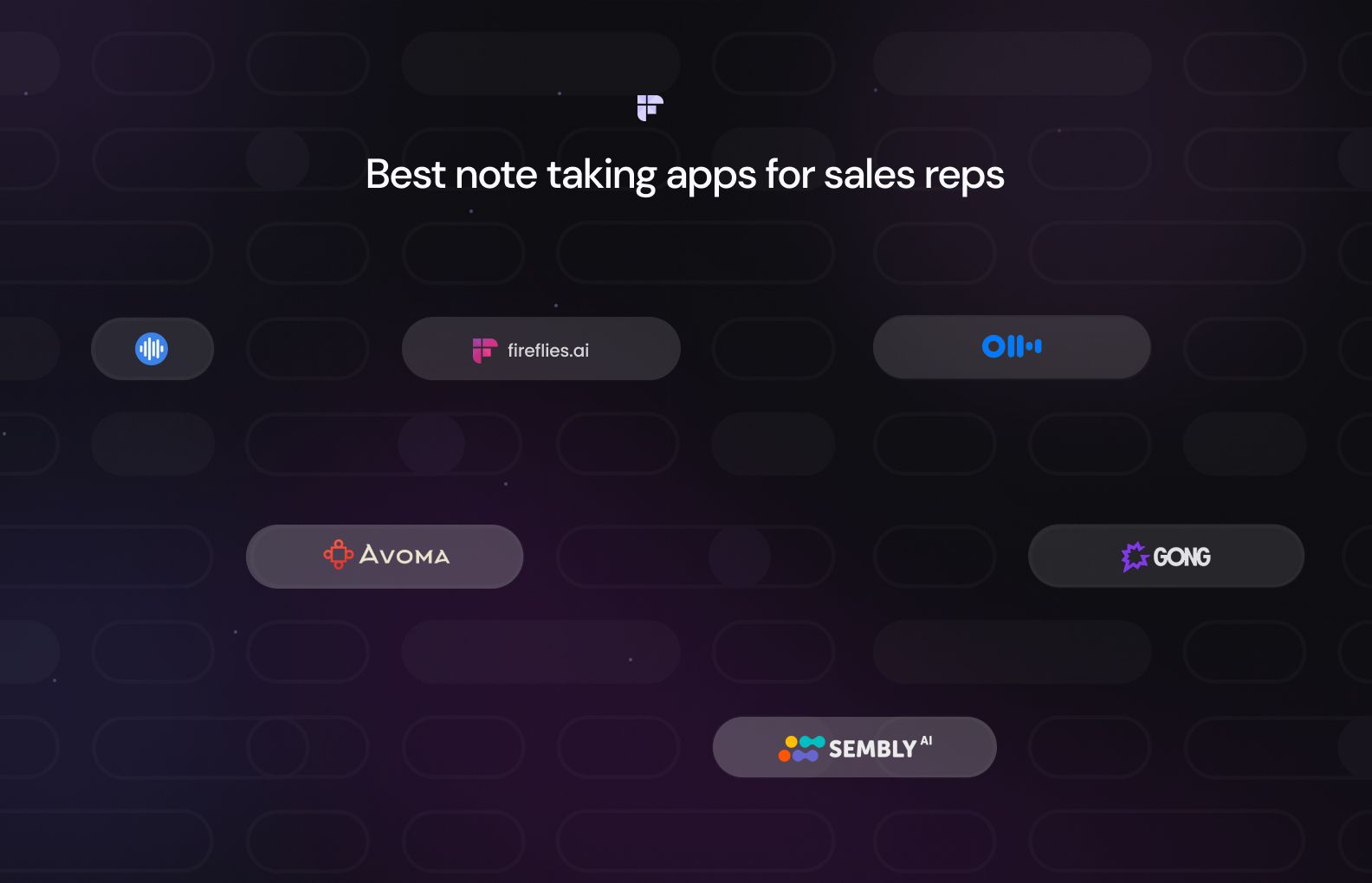 2. Standard Team Member
The Standard Team Member has additional capabilities like scoring calls, using the mobile app to record, and accessing deal tracking, coaching tools, and conversation analytics.
This role can take full advantage of Gong's platform to record, analyze, and improve sales conversations.
3. Business Admin
The Business Admin profile provides administrator privileges to optimize data, configure scorecards, delete recordings, and manage folders and streams.
This role can oversee the platform configuration and support end users.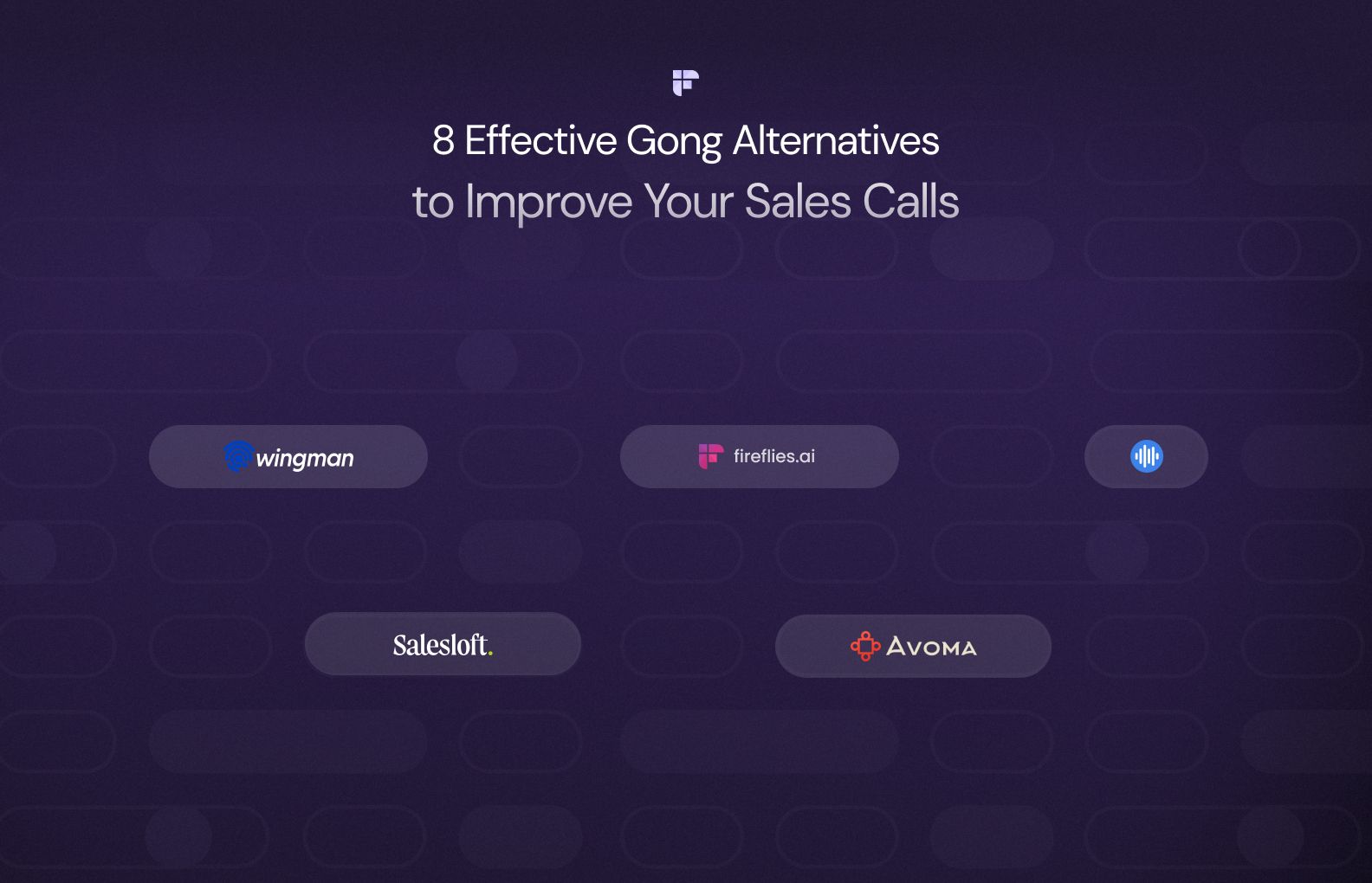 Gong software pricing
Gong uses a two-part pricing model that includes Platform fees and Per-user charges.
Gong pricing: Platform fees
Gong users on social media confirm that irrespective of the number of seats you purchase, Gong charges an upfront sum of $5,000/year as Platform/license fees.
A 2021 Forrester report says Gong's platform fee can go up to $50,000 annually.
The platform charge covers the following benefits:
Unlimited collaborators
Training for managers and employees
Initial integration
Unlimited data storage
Customer Success Manager
Web support
Unlimited data export
Gong Academy knowledge portal
Gong platform fees cover the charges for Collaborator seats. You need not pay additional per-user charges when adding a Collaborator to your Gong workspace.
Gong pricing: Per-user charges
Gong's pricing can range from $1,200 to $1,600 per year for a Business Admin or Standard Team Member.
The Gong pricing model varies based on the number of users on the platform. To determine the total cost, you must factor in both the platform fee and per-user charges.
For example, let's say a company has 100 users that need access to Gong, and the Gong platform fee is $5,000/year.
In this scenario, the pricing will be:
Platform Fee: $5,000 per year (fixed cost)
User Cost: 100 users x $1,440 per user = $144,000
Total Cost: $5,000 (platform) + $144,000 (users) = $149,000/year
Discount: 10%
Final cost: 90% of $149,000 = $134,100/year.
So, for a 100-person sales team, Gong's annual subscription can cost at least $134,100.
Gong pricing FAQs
1. How much is the cost per user?
You must pay Gong a fixed platform fee of $5,000/year. The per-user prices come additionally to this cost.
Gong pricing per user ranges from $1,200 to $1,600 per year, depending on the number of seats you subscribe to.
<49 seats: $1,600/user/year
50-99 seats: $1,520/user/year
100-249 seats: $1,440/user/year
249+ seats: $1,360/user/year
Gong gives a discount of 5-15% for subscriptions above 50 seats.
2. Are integrations free of cost?
Gong does not charge anything extra for integrations. Once you become a paid subscriber, you can integrate Gong into your existing tech stack and gain full visibility into your deals without incurring any extra cost.
3. Is it possible to get discounts?
Gong does not offer any discount for purchases below 49 seats. For purchases of 50 or more, you can get a discount anywhere between 5 to 15%.
Gong is one of the finest tools to capture customer interactions and understand them through AI. It gives you actionable insights that, in turn, drive your sales conversions.
However, spending around $1,200 per user annually might not be feasible for everyone.
Instead, use Fireflies.ai to get more value from your meetings at up to 90% reduced cost. Plus, we provide secure data migration to all Gong customers. Fill out this form to get started.

Fireflies is a GPT-4 powered AI meeting assistant offering various features to streamline the meeting experience. From capturing online and in-person conversations to transcribing and analyzing them and generating meeting notes the way you want, it creates a searchable knowledge base of all your voice conversations.
Fireflies conversation intelligence provides unmatched conversation insights at the speaker and team levels. You can filter these by date, teammates, meeting types, and more to identify red flags, provide data-driven feedback, and create sales playbooks.
With Fireflies, you won't have to ever worry about the safety and privacy of your voice conversations—its safety and security standards lead the industry. Fireflies is GDPR and SOC 2 Type 2 compliant with a zero-day data retention policy. You can also request for Private storage and HIPAA compliance as an add-on.
Apart from this, Fireflies is loaded with features that help you create a winning sales team. Use it to:
Click here to read the Benefits of using Fireflies.
With Fireflies' out-of-the-box CRM integrations, all meeting minutes are directly synced into the CRM so your reps can focus more on selling than administrative tasks.
Learn how Fireflies eliminates manual data entry and ensures all customer information flows directly into your sales workflow by integrating with: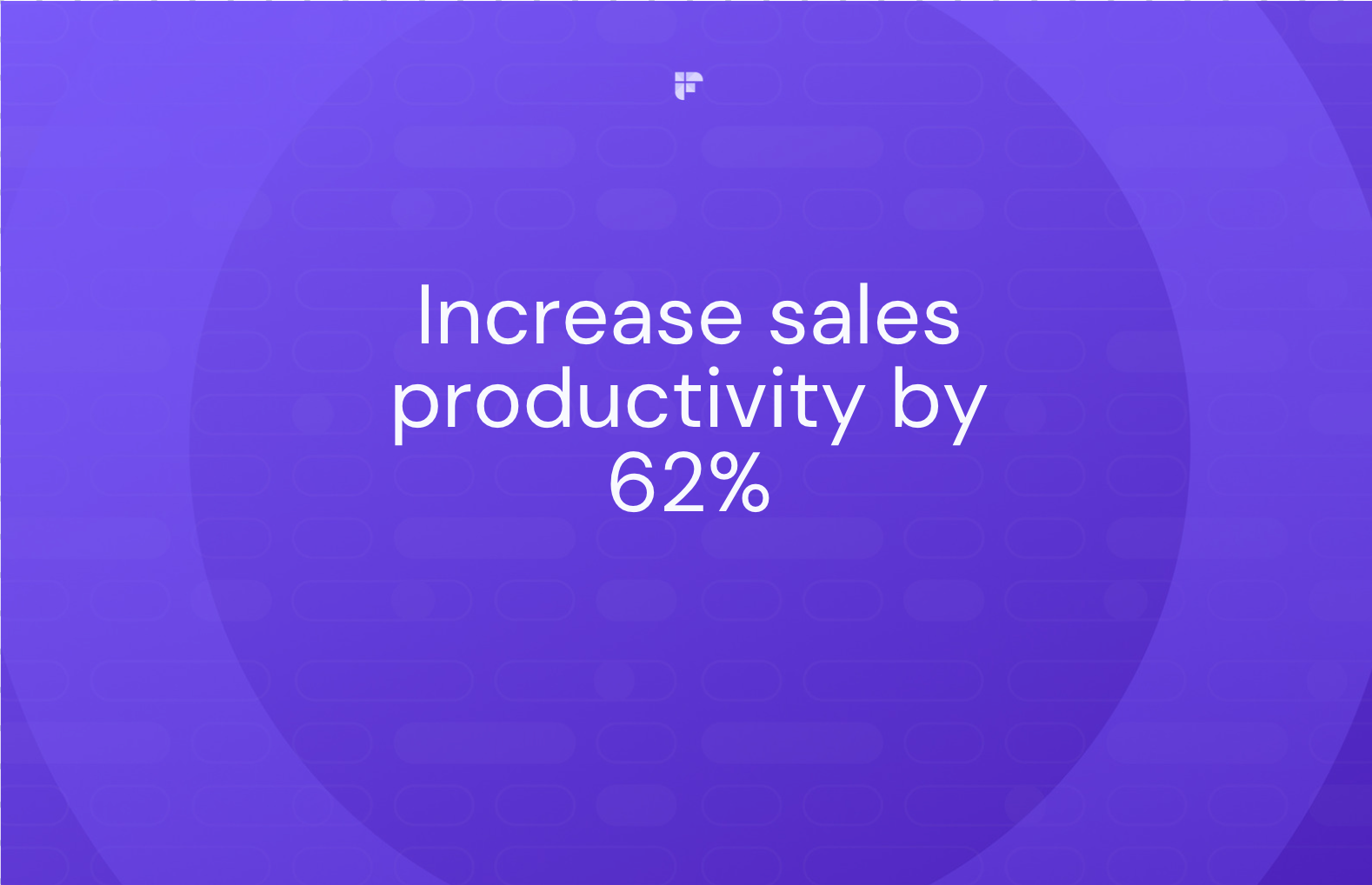 Fireflies has a transparent pricing policy where its highest tier, business plan just costs only $19/user/month.
Hundreds of companies have already switched from Gong to Fireflies, and on average, each saves at least a $36,000 per year.
Fireflies offers a 7-day free trial where you can explore all the features of its highest-paid plan to make an informed decision before taking the leap of faith. You need not hop on a demo call or talk with a sales representative to experience Fireflies.
Ready to save up to 86% of your costs with smarter tools? Sign up for the free trial now!